I've had a pretty crappy day today but I don't really think I should be allowed to whinge about it since it has become blatantly obvious that most of the angst was totally self inflicted.
I had my nails done this morning – have finally found a nail tech who not only does a nice job but seems to work really fast which is great because sitting still for the other chick was really killing my back. Did a little book shopping and picked up some Sharpe novels because it would appear the bastards are changing the damn covers…. so have to get the full set now. Watched while Yale, in a masterful display of geekery, told the Optus guy about all the features and benefits of his own products. Popped into the newsagent and checked out the cover of the Woman's Weekly 😐 ummm…. yeah… so not going there right now. Bought a dead chicken and some fresh bread for lunch. Came home and pottered for the rest of the day – and was surly and predisposed to be irritable throughout.
The Small Child made me into a Superhero today using the Superhero Factory that's been doing the rounds of the internets…. thought it was kinda cool that maybe he sees his Mom like this (Wings. Wings are good but I've no idea why I'm bald :S) –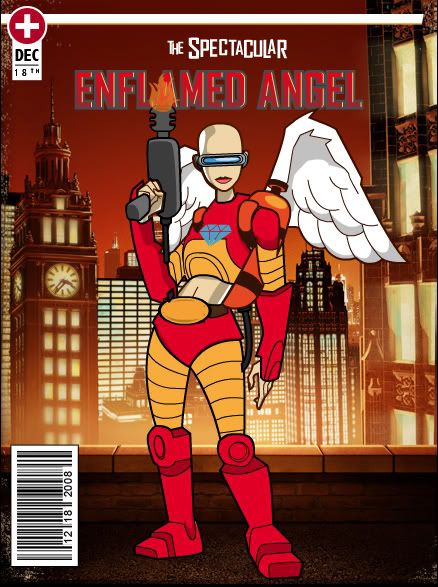 Thought this one wasn't quite Pepto-Bismol enough for me so I had a go at making one too. Interesting name the thing spat out for my chickie "Sergeant Whipped Lash"???