Alas!!!  A disaster has befallen our heroes!!!  I went to pull out my camera yesterday and was greated by the ominous text … Memory Card Failure !!!  Nooooooo!  How could this be?  I haven't done anything to you, you little traitorous memory card, you!  How could you fail me now???  And with 200 odd of my photos on it???  If I sound like I'm crying I really, really am!  I need new shoo-hew-hews!!!
🙁  Grrr fucking memory card death.  🙁
Anyway, back on topic – we met the people from our tour yesterday, there are three Americans, one lone Canadian, one lone Kiwi and the rest are Aussies… and only three guys counting Dr Nick.  Hopefully should be a pretty good bunch, but you never know… :S  Actually, as a connoisseur of human folly, I have great expectation of finding at least a couple of them to be particualarly entertaining in a 'circus people' kinda way…. keep you posted.
This morning, woke up bright and early with the intentions of going to see the Dolambache Palace which is across the Bosphorous on the other side of Istanbul… but at the last minute did a quick check in the Lonley Planet and discovered that like a lot of stuff all across Europe – it's closed on a Monday!  Grrr… glad I checked though… will just have to try and catch it when we get back to Istanbul after the tour.
So instead, this morning we headed to the Egyptian Spice Bazaar to have a look at the… well… the spices and stuff :S  The Spice Bazaar was quite different from the touristy Grand Bazaar we went to ealier in the week…. loads of consumables being sold all over the place…. spices, nuts, dried fruits, turkish delisht everywhere, teas, coffees and all good things.  Most of which might present a bit of a challenge to bring home, but I reckon I'll give it a try on the way back 🙂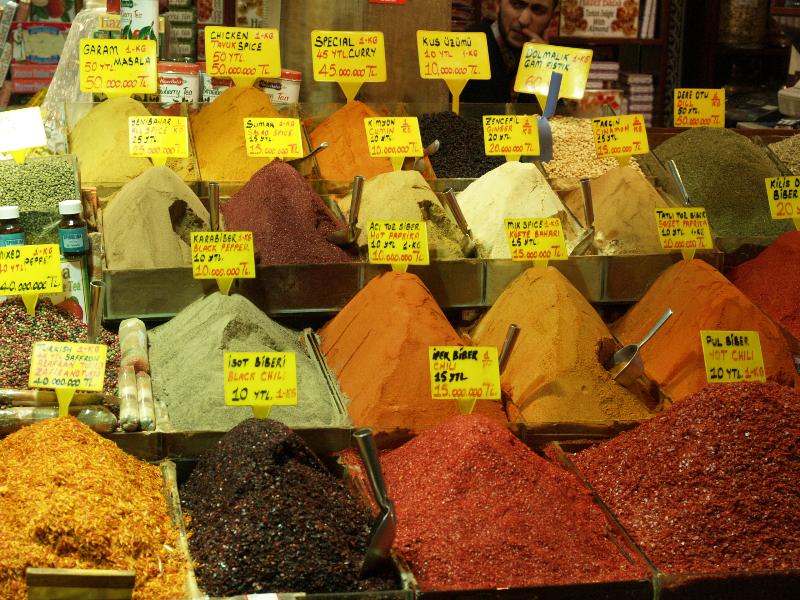 After that – we went to the Beyazit Mosque for a sticky beak.  Another beautiful mosque, though it's not so large as some of the others we went to see earlier in the week.  It amazed me how many of the tourists we saw wandering in paid absolutely no heed for the culture and tradition of the mosque's community and were wandering around inside with their heads uncovered. At the door to every mosque is usually a fellow advising tourists to remove their shoes and to cover their heads, so nearly everyone woman going into the place has their head covered at least when they go in, but loads of them show no respect and uncover once inside, which I find really odd.  Last thing I would ever want to do is insult people… never know what sort of trouble that could lead to!    
When I was in Istanbul last trip, we had a rather arrogant Kiwi guy on our trip – affectionately nicknamed SanQuentin… you know the type – knows everything, blokey, arsehole bouncer type.  Anyway we were all getting ready to go into the Blue Mosque on that trip and a priest outside the mosque was trying to tell SanQuentin's wife to cover her legs up and was telling her she was too sexy and gesturing towards her knees.. not a problem, until idiot SQ decides to strike the priest!!!  Yes ladies and gents, this guy is so stupid, he decides hitting a muslim holy man is a good idea!  It took a lot of persuading from our guide to keep him out of jail!  should have let him get taken away… mutter mutter mutter…
Tonight – off on an overnight train to Ankara… which is the capital city of Turkey.  We saw on the news that there was some sort of bombing in Ankara this week but we were unable to read or understand any of the news reports….  eek!  wasn't expecting the terrorism to be so close to our doorsteps when we're on holidays!  :S    Well, that's a lie, but I wasn't expecting it until I got to Pakistan maybe!!!  🙂  We'll just have to be alert… but not alarmed…..  !!!  😀
.