Finally got a decent sleep last night – only took an entire bottle of red on top of the usual drug cocktail.  :/  Wooo… Happy New Year.
Ait Ben Haddou is as gorgeous in the sunrise as it was in the sunset.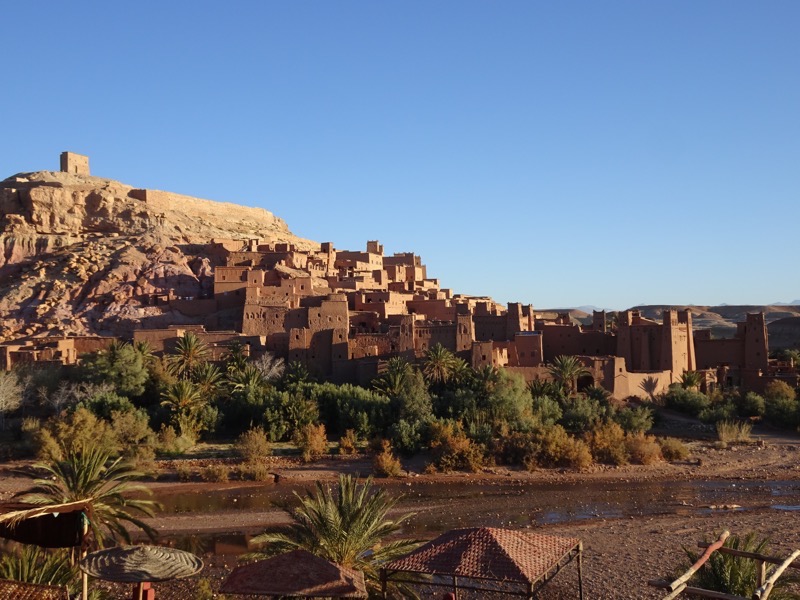 We started out day off this morning with a spot of rug shopping at a local women's weaving cooperative.  The Berber style of rugs prevalent throughout Morocco is quite distinctive.  They're very busy and have a lot of motifs (many of which are for good luck or fertility) that repeat through the patterns.  They're also really asymmetrical compared to other hand made rugs that you usually see coming out of Eurasia and the Middle East.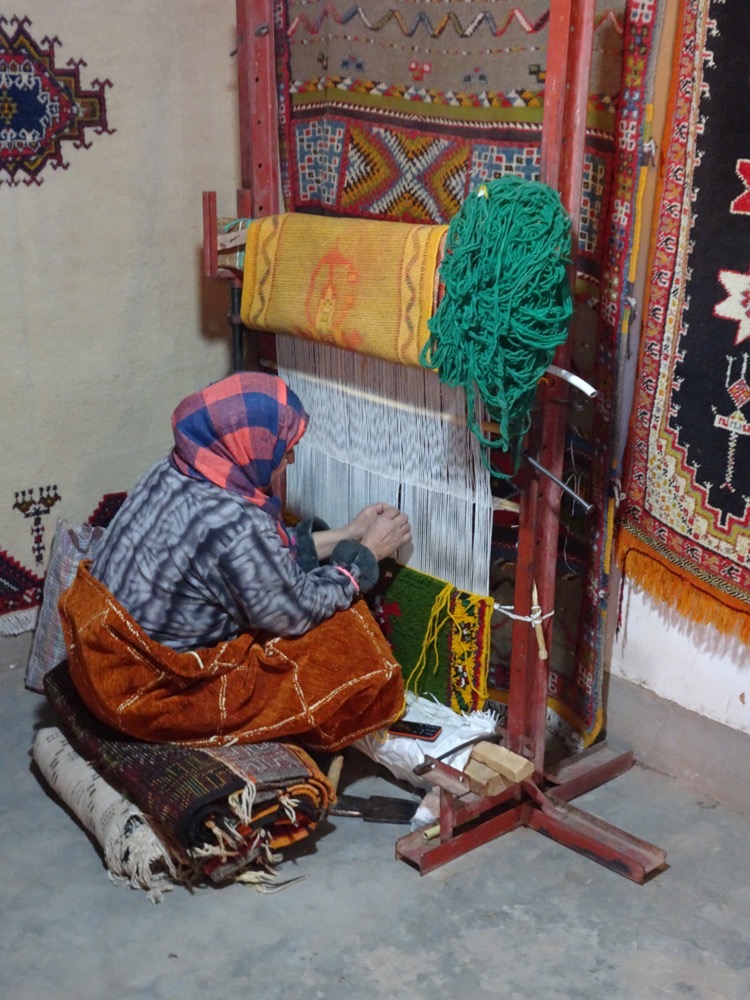 The boys looked very exciting for their second foray into Berber home furnishings.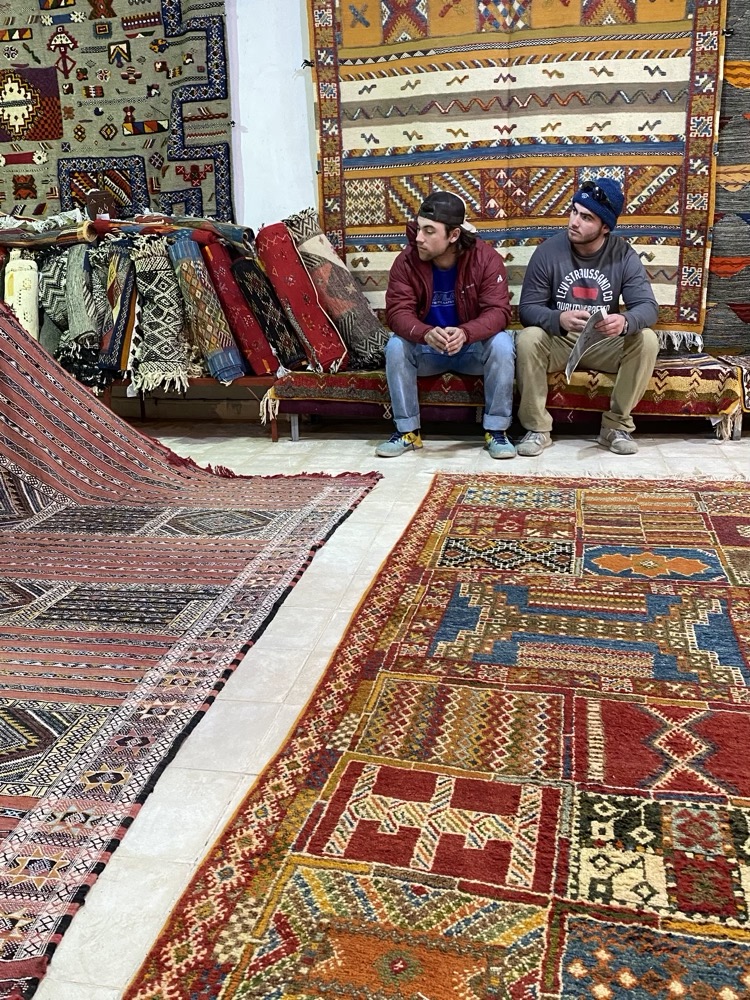 Our hosts laid out about 100 rugs for our viewing pleasure… some of them gorgeous, some of them downright hard on the eyes.  We seemed to have an extraordinary shopping experience this morning.  These rugs actually had prices on them, which is unusual in places where you expect to barter (ie: where they really truly want to fleece the tourists good and proper), and the marked prices were quite reasonable compared to what we had seen in other rug shops in the various medinas.
Like many other cultures I have visited, the traders here believe if they offer a good bargain for the first customer of the day, then they will have good sales all day.  So you can sometimes get a nice bargain if you happen to be the first in the door on any given day… but today we were the first customers of the day, on the first day of the new year, which happened to be the first day of trading of the new decade.  Our salesman told us 'This morning is special day, so this morning for all of you, I make special prices'. And far-out was he true to his word!  The prices tumbled from the marked prices without any haggling or difficulty whatsoever.  One couple was looking at a rug marked 6000DH and they picked it up for 3200DH.  Another guy was looking at once for 4000DH and he scored it for 2300DH.  I think our salesman was either particularly superstitious or at the very least a strong adherent to tradition.  Allah bless his cotton socks.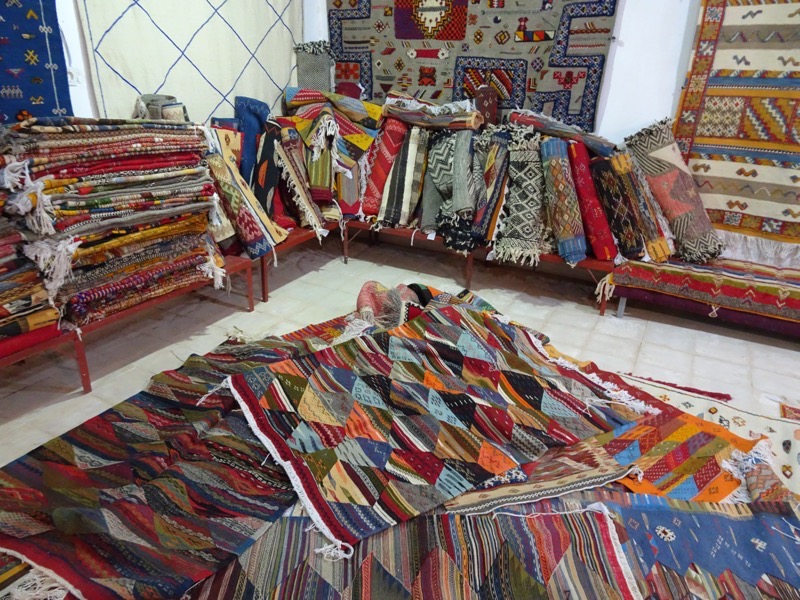 Mr K getting worried for his wallet…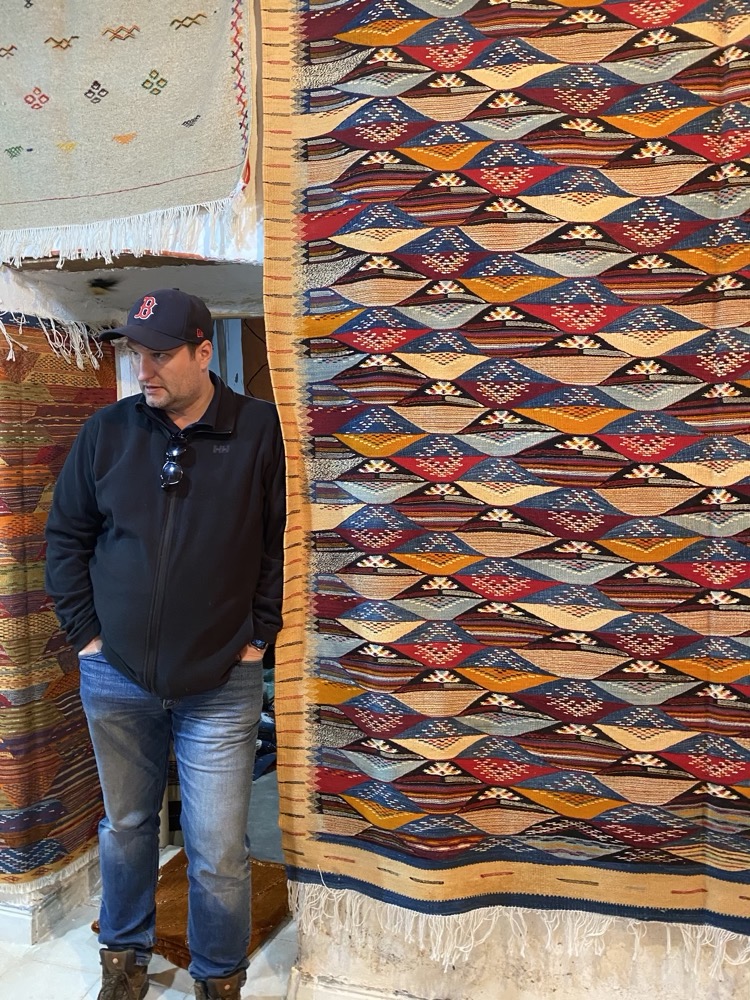 In the end, our small group of sixteen purchased seven rugs – and for a fraction of what they would have cost in Fez or Marrakech, and with no bullshit bartering at all.  There were smiles all round.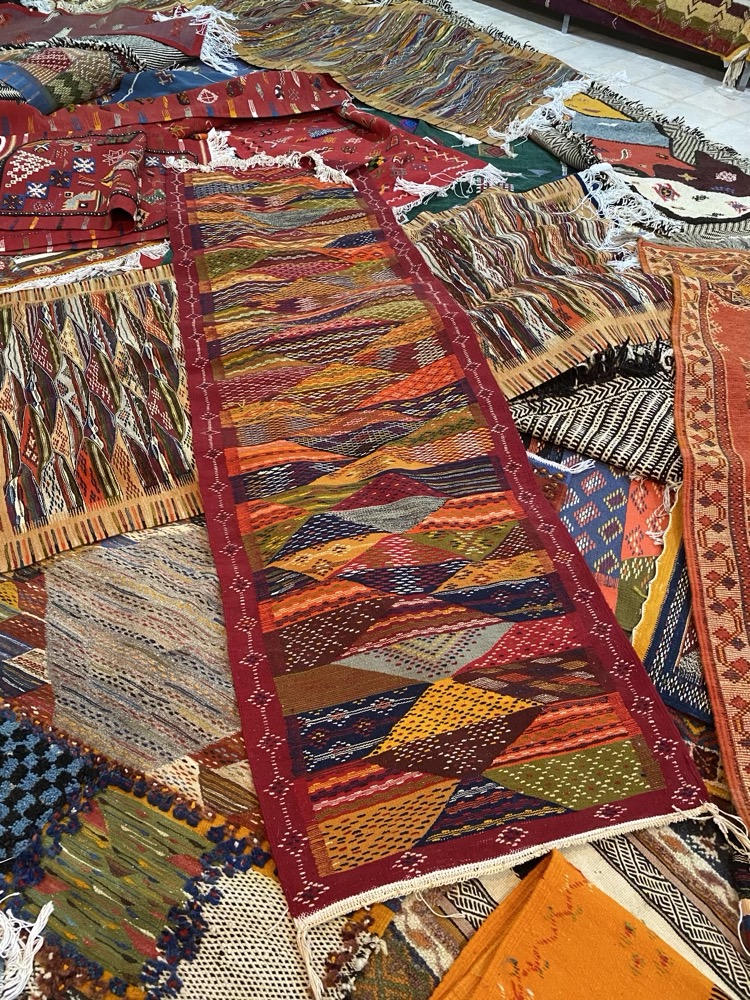 Then we were off in our little bus, with Mohammed at the wheel, into the desert heading towards Zagora.  On the way out of town, we got to see some of the large movie studios that have grown up around Ait Ben Haddou – I guess when you have the whole production crew in place, and are using the location, there's no point moving everyone to another studio area when you can just build a studio in Morocco.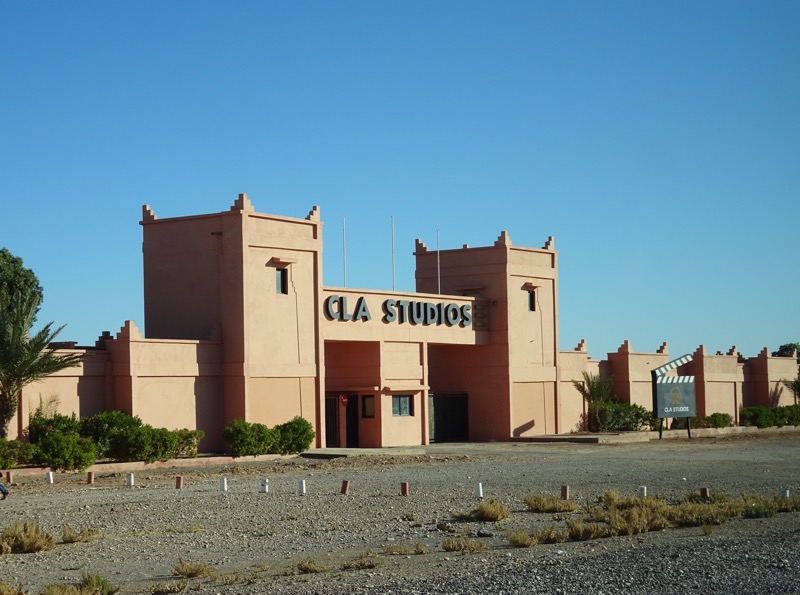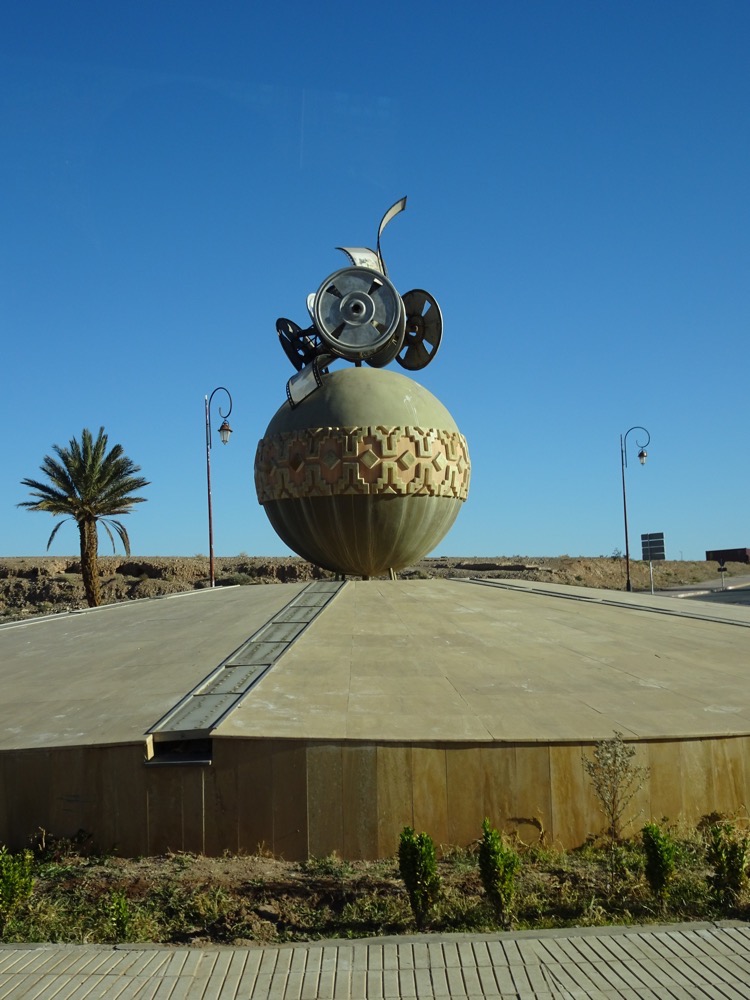 Very quickly though we were into the mountains again and into the pass.  Unlike the terrain around Aroumd which was formed by glaciers, this entire area was formed by volcanic actions however many millions of years ago.  You can see the swirling layers of rock that form the desert.  It's so dry here and barely a tree in sight.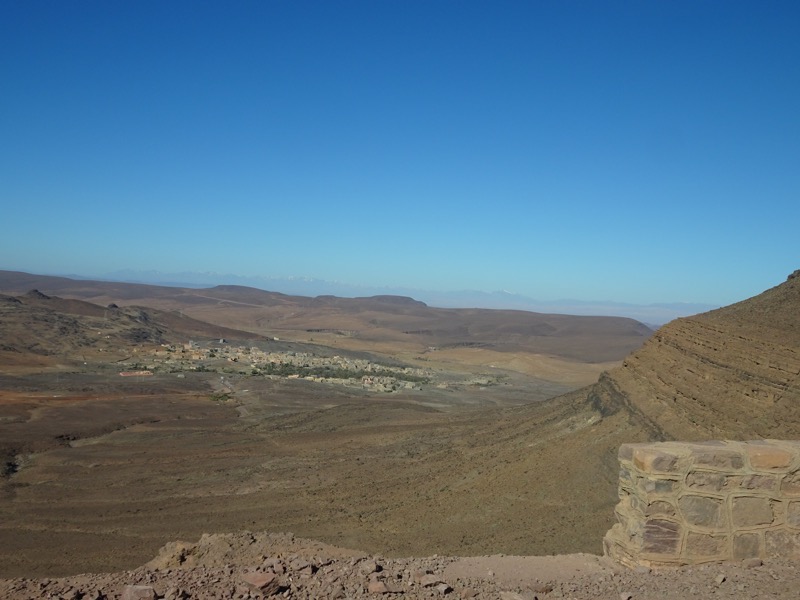 It beggars belief as to why you would bulid here, but there are the Berber people who live in these walled towns, and Bedouin and nomadic people who used to raid them all fighting for resources in the region.  Each little town has a kasbah or fortress which can be retreated to when the nomads or Bedouins come invading…?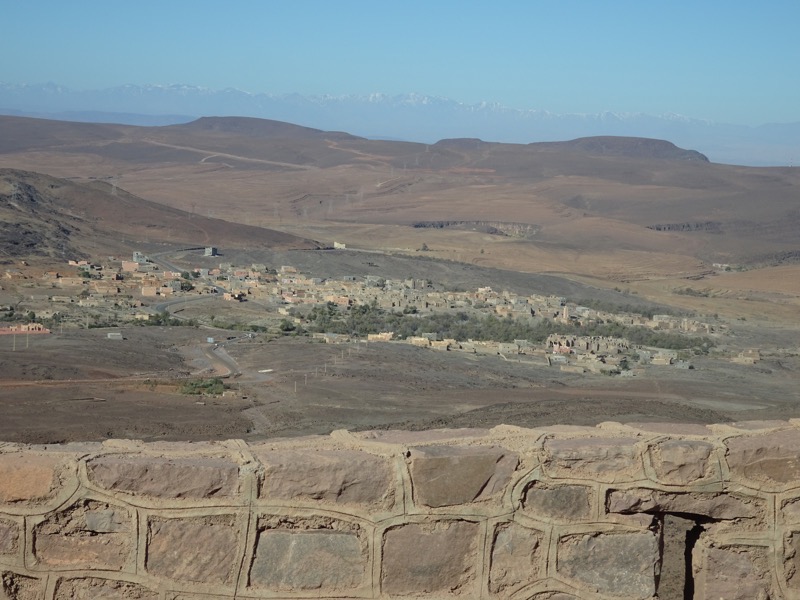 The scenery was really impessive, enormous rocky canyons, and steep cliffs as we approced the mountain pass which was 1800m above sea level (much lower than Aroumd at 2640m).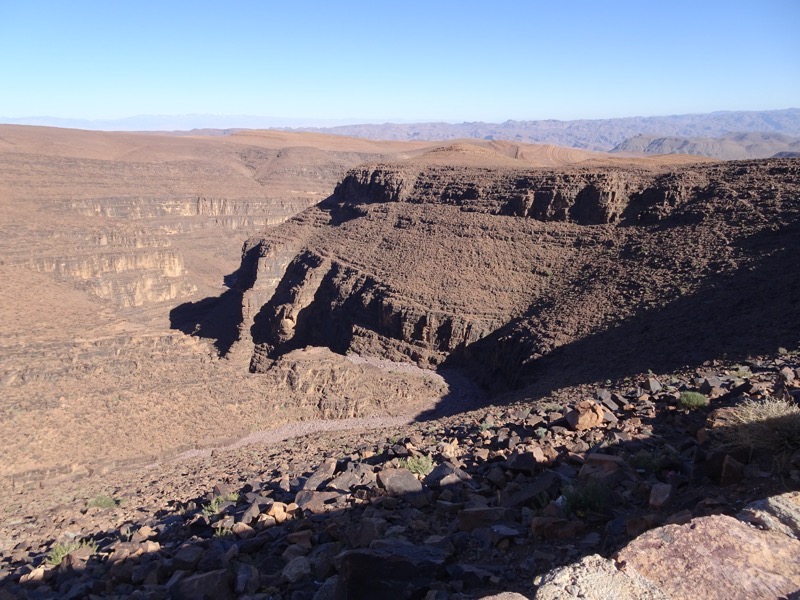 The rock formations were enormous and amazing… and unbelievably, on occasion, we could see handfuls of little black dots on these extremely arid areas.  Little black dots that would turn out to be goats and a shepherd.  Unfortunately, I didn't manage to grab a photo of one of these herds of goats (herd? flocks? pack?  *shrug*  (Fuck who what the collective noun for a group of goats is?).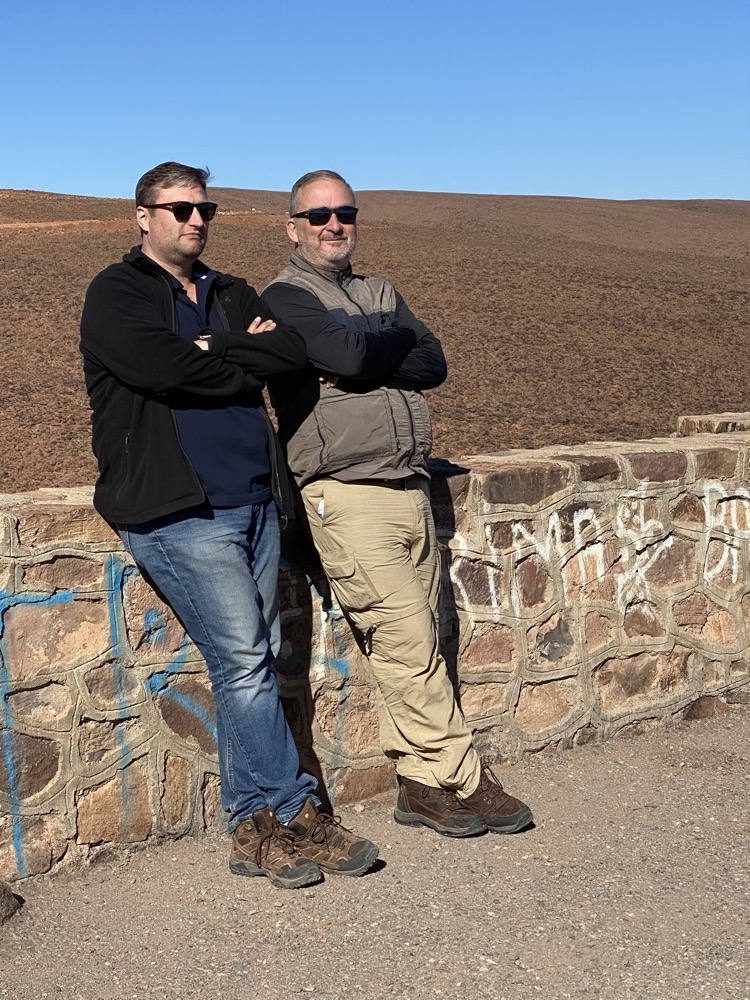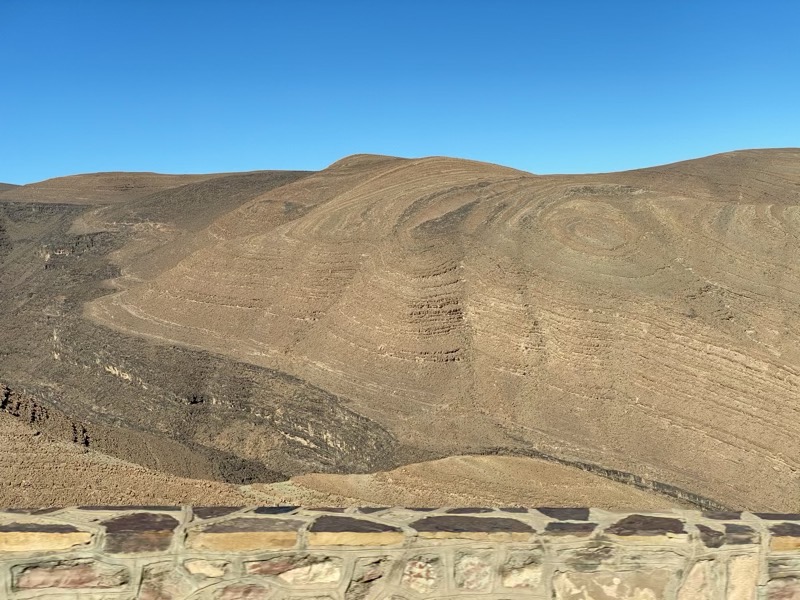 Once we had passed the pass, we found ourselves in the 'oasis'.  Now this confused me somewhat – I always though an oasis was a spring of some sort in the middle of the desert.  A kinda Disneyeque situation where there's nothing but sand in every direction and suddenly a small pool of fresh water with four or five palm trees… but not so!  This oasis spans 200kms down the valley and supports an enormous amount of people, commerce and agriculture.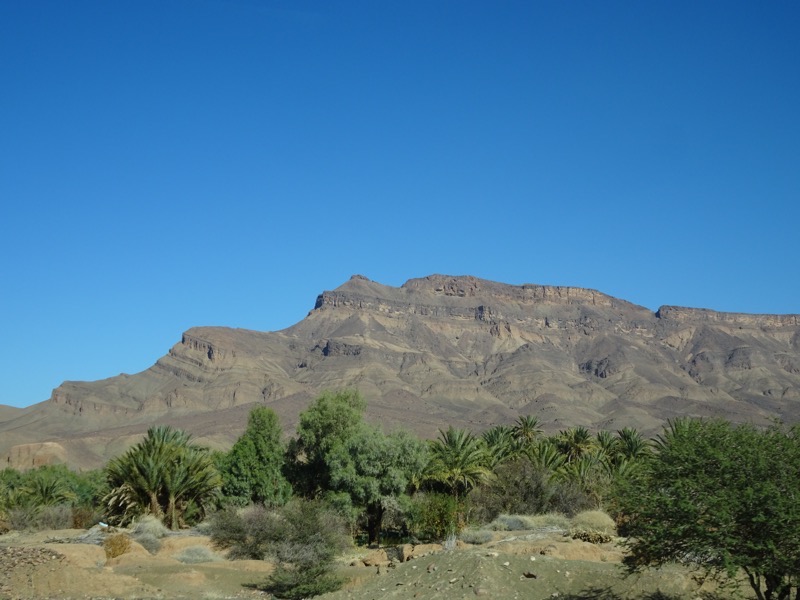 The mountain is Mt Kissane, and the oasis here supports and enormous date palm industry which spans the entire 200km length.  It was along this oasis that we stopped for a picnic lunch at a 'truck stop' (which looked more like a fancy hotel).  At lunchtime, I asked Samirr if he could enquire about the young woman from Aroumd who had tried to jump from the mountain… being stuck on the bus for hours, my mind kept wandering back to how the lack of education and bullshit religious superstitions may have driven this poor woman to desperation – he made a phone call and found out that she suffered only a broken leg and a broken jaw, and was due to have a surgery on both today.  I'd like to think she will get the medical attention she needs for her epilepsy, and her subsequent mental health issues… but I somehow strongly doubt it.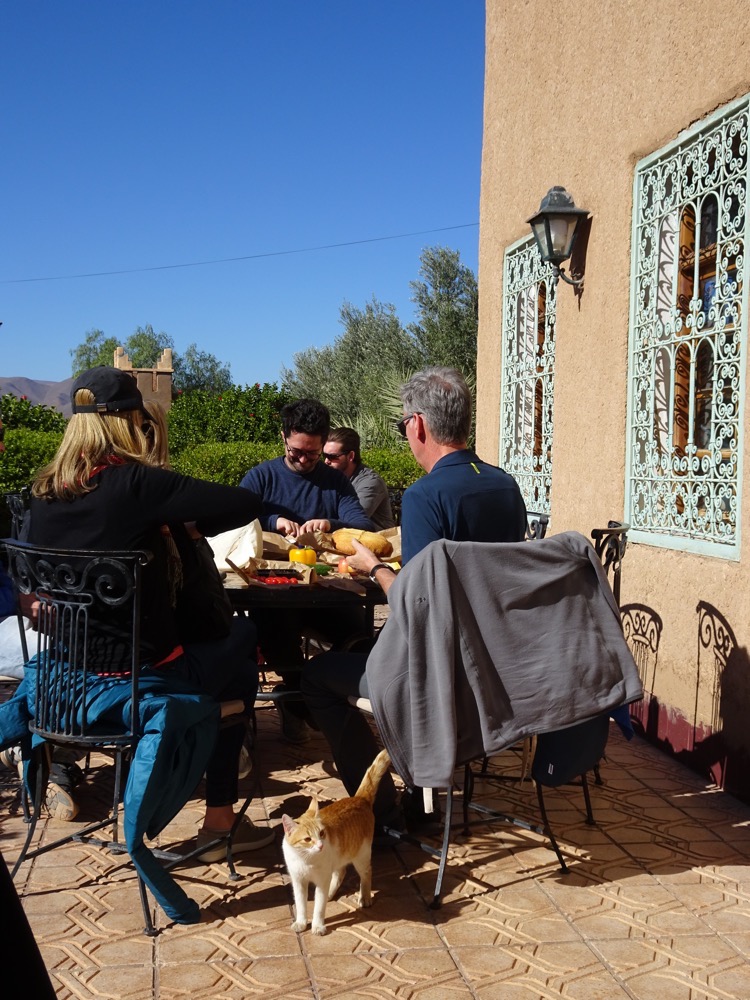 Anyway.  Another day another earworm. Every time Samirr mentioned the oasis, I could hear 'Midnight at the oasis, send your camel to bed…' going through my head.  We followed the palms and the mountains for a few hours.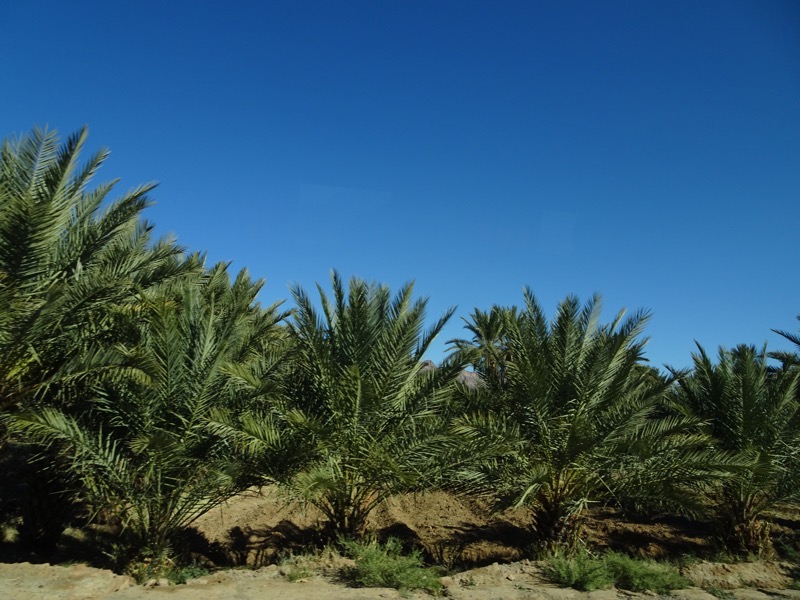 With beautiful, typically Moroccan vistas in every direction – this is more like what I expected  Morocco to look like, not the lush green rolling hills of the north. This was the only that I actually saw the water source that was sustaining all this growth: the Draa River which feeds the entire valley.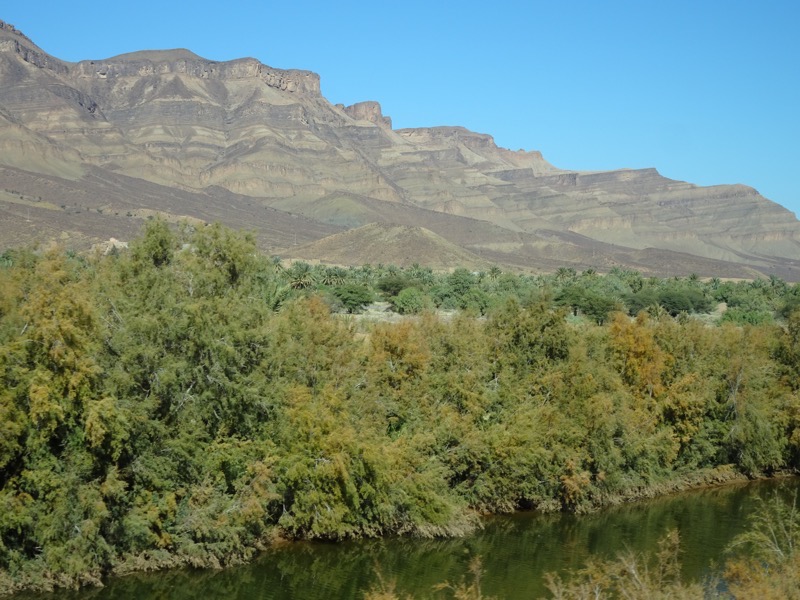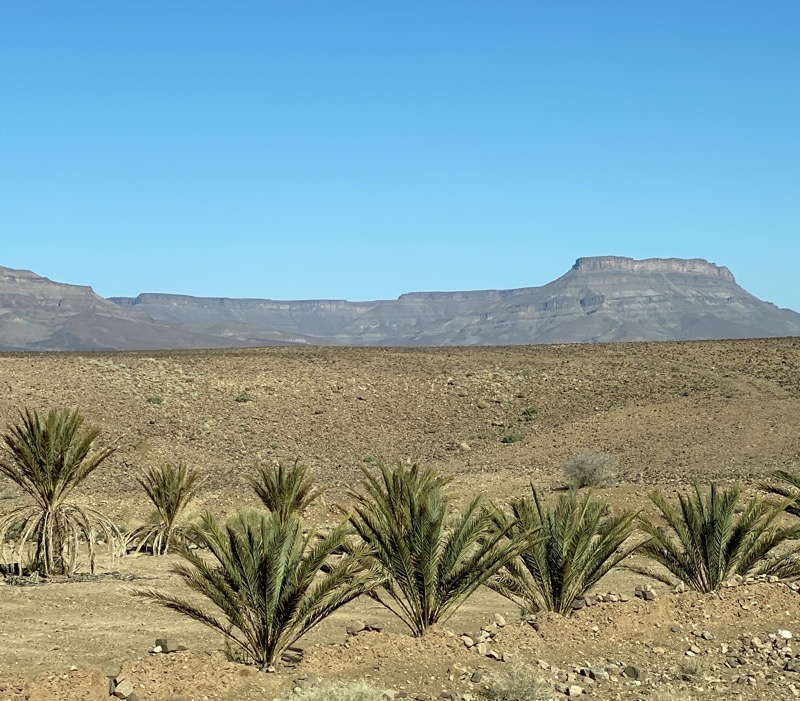 We did one stop and it was date palms as far as the eye could see.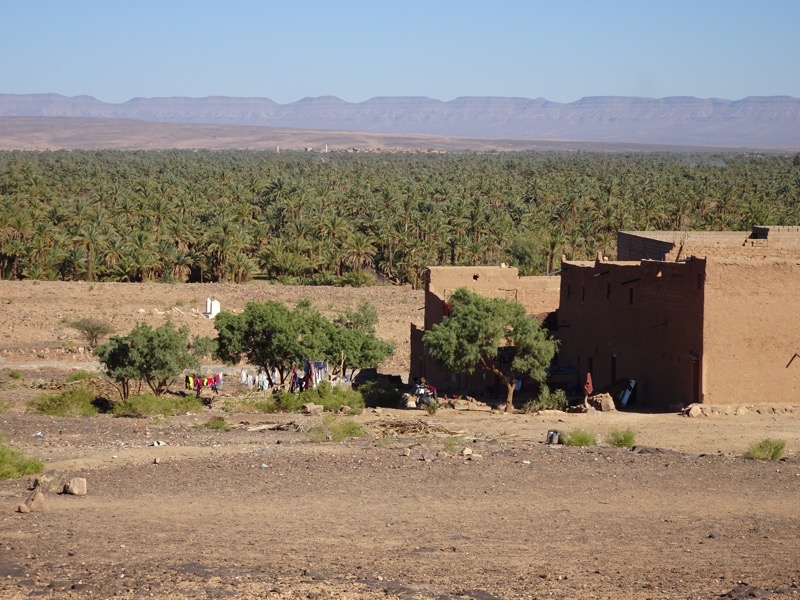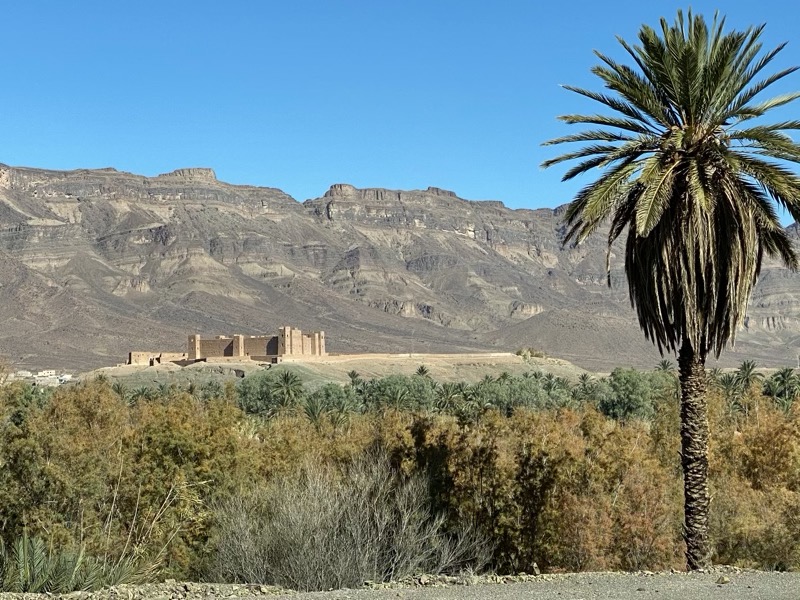 Eventually, our drive came to an end and we arrived at Zagora.  Zagora is the major town in the Draa River valley. So anyone in the entire Drâa-Tafilalet region in this part of the country comes here for major supplies. The town is flanked by the mountain Zagora from which it derives its name.
Our hotel, Le Tinsouline is our jumping-off point to the Sahara camps, as is tradition for most tourists it seems, because there is scant little to do in th is town, yet it's full of hotels and tourists.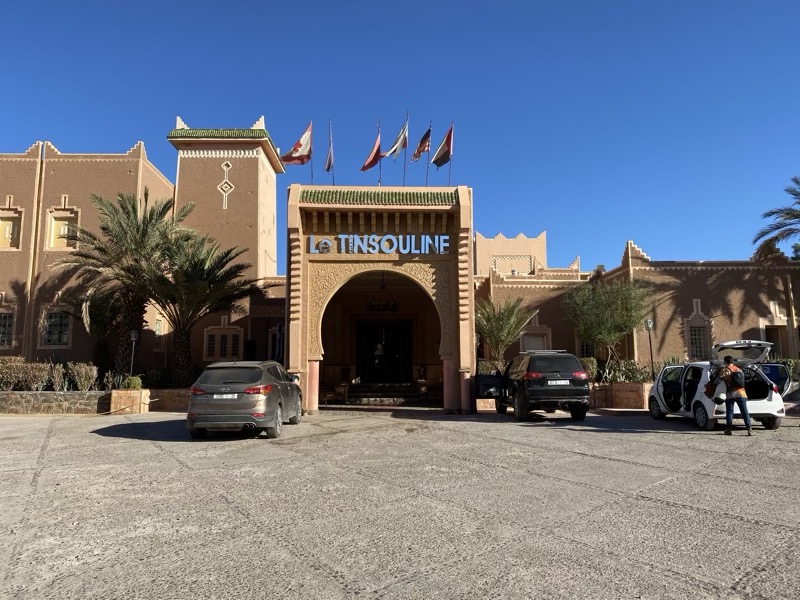 Pretty swish for being in the middle of nowhere.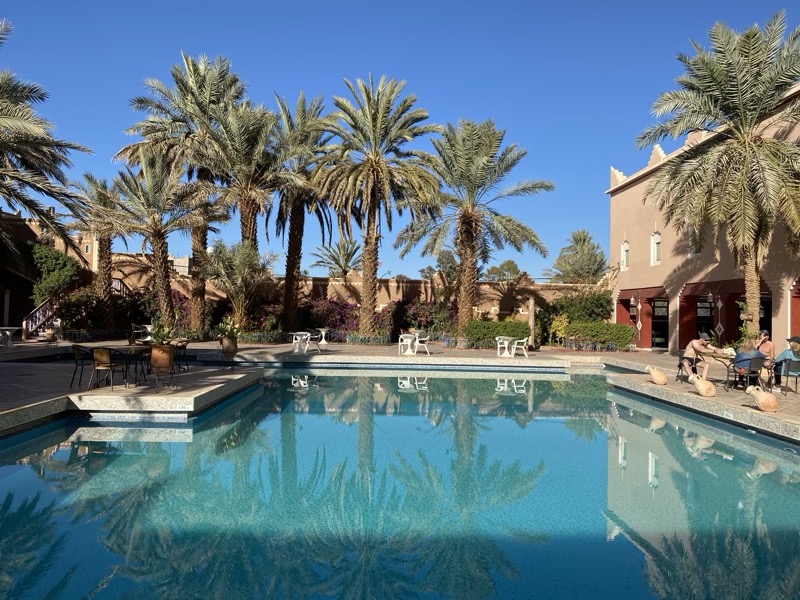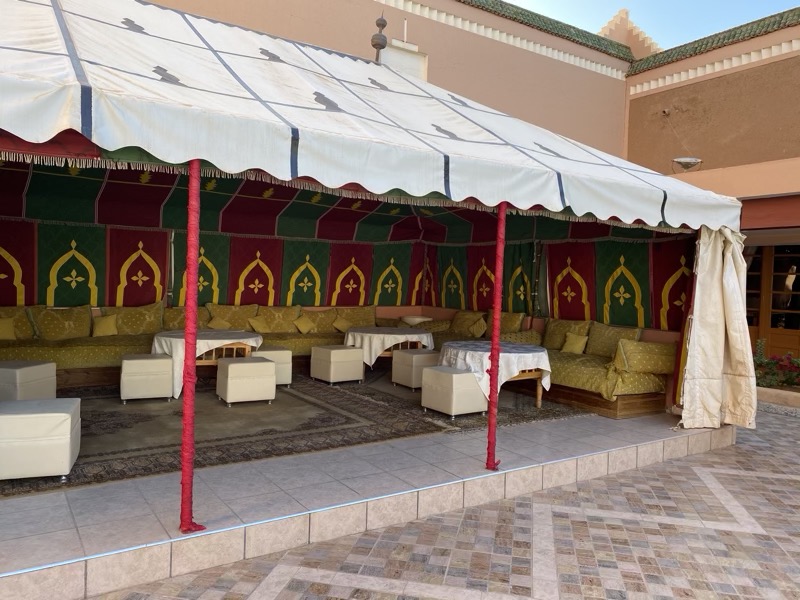 After we got settled, we went for a 'gently walk for an hour and a half through the date palm trees of the oasis', which turned out to be nearly a 6km walk, an easy third of which was over fucking sand dunes.  Nice one!  I wasn't wearing my boots, just sneakers, and was exhausted from five hours being jostled around in the bus for most of the day, and here were expecting a nice easy walk in the cool of the palm trees, and instead, we were slogging over two kms of fucking sand dunes to see… well, I still don't really know what?!
Le sigh.  The walk started out okay.  We walked through the oasis and the date palms.  The locals only keep the fruit-producing palm trees, if they don't produce, they get cut down for building materials.  Each tree is capable of yielding 60-120kgs of dates per year, which are harvested by hand.  Inside the oasis in the middle of the palm trees are homes belonging to the land owners many of whom own about 50 or so palm trees, as well as small Riad guesthouses where people like to stay in the summer as it is so much cooler in the oasis than out in the town.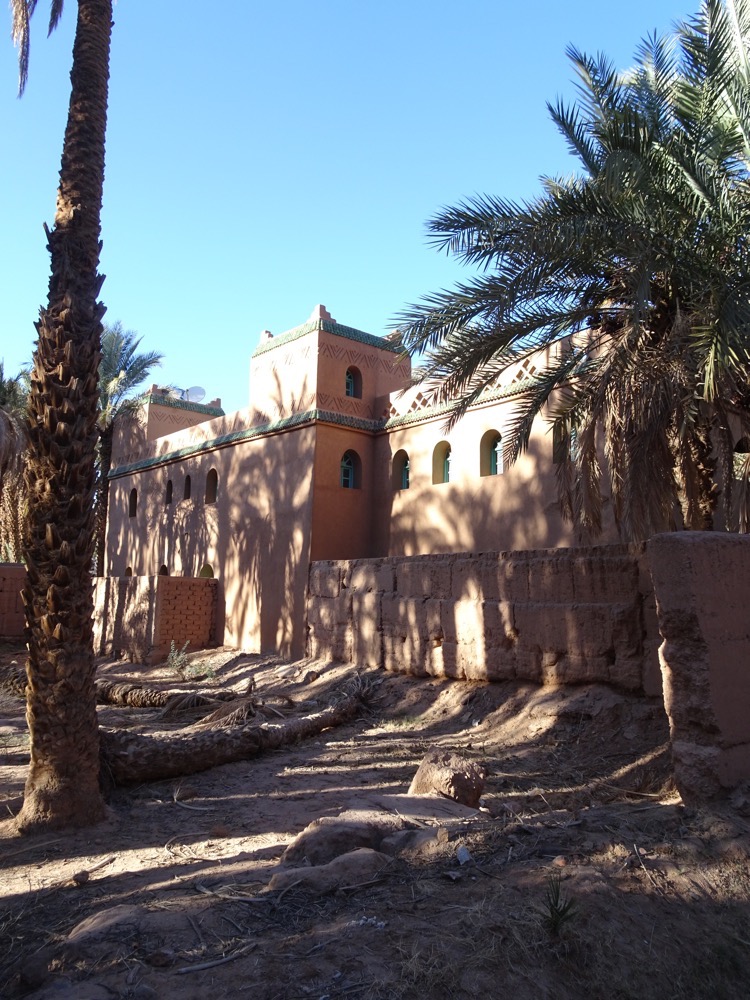 Following the paths through the palm trees in the oasis was a bit like winding through a medina – lots of nooks and crannies, cool door ways and arches.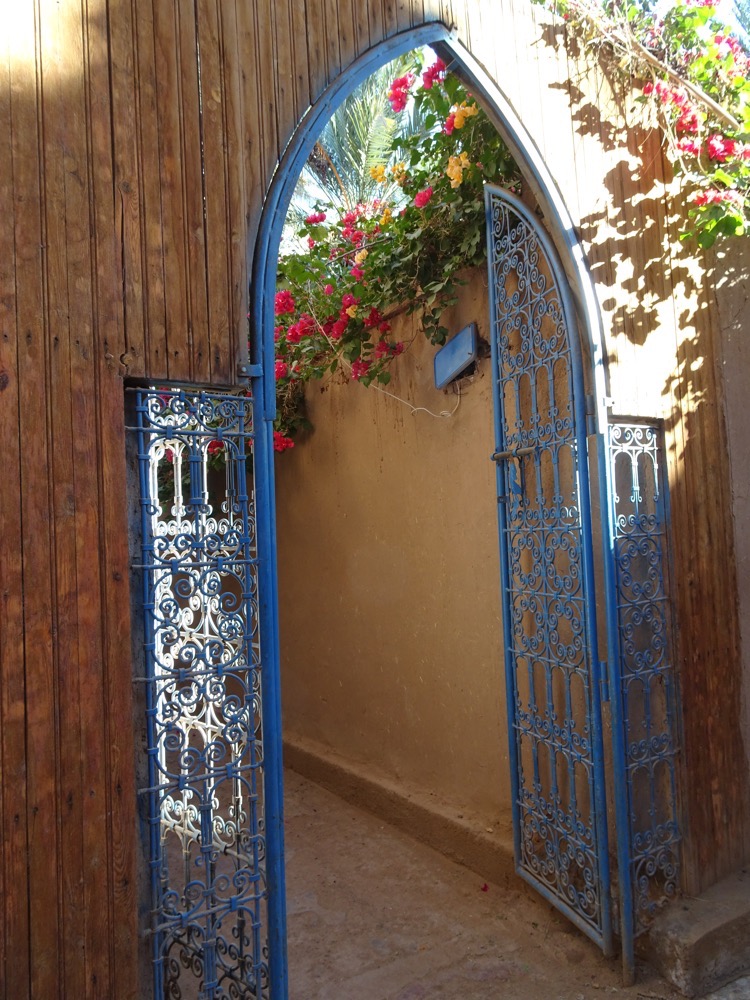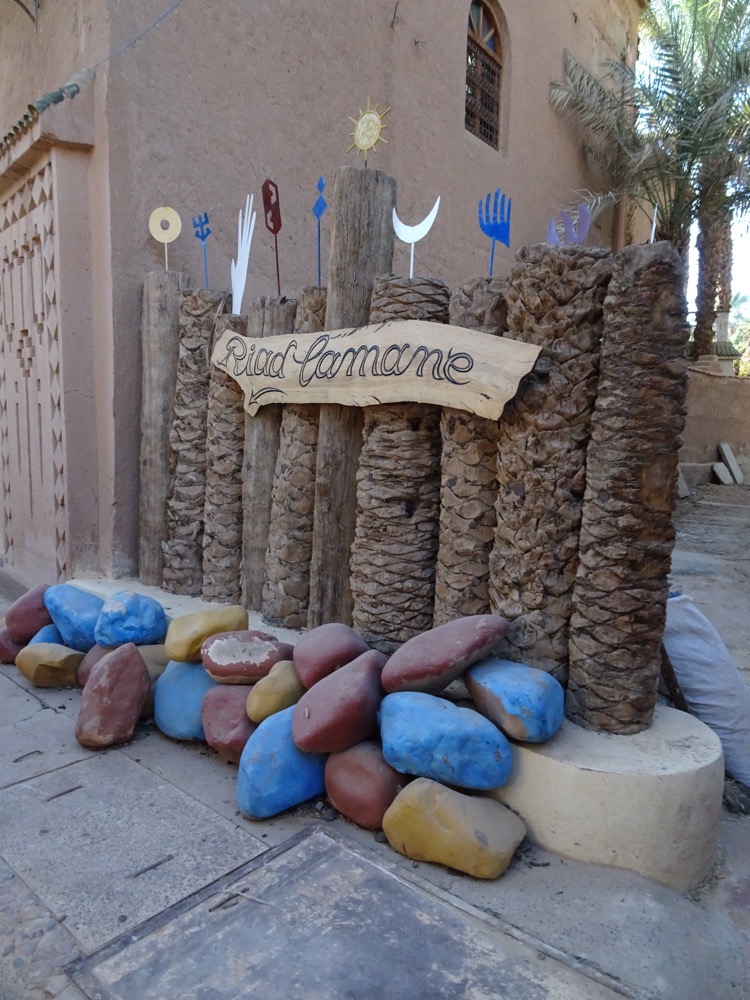 Many impressive building facades and doorways, that you would never know was in here among the palms.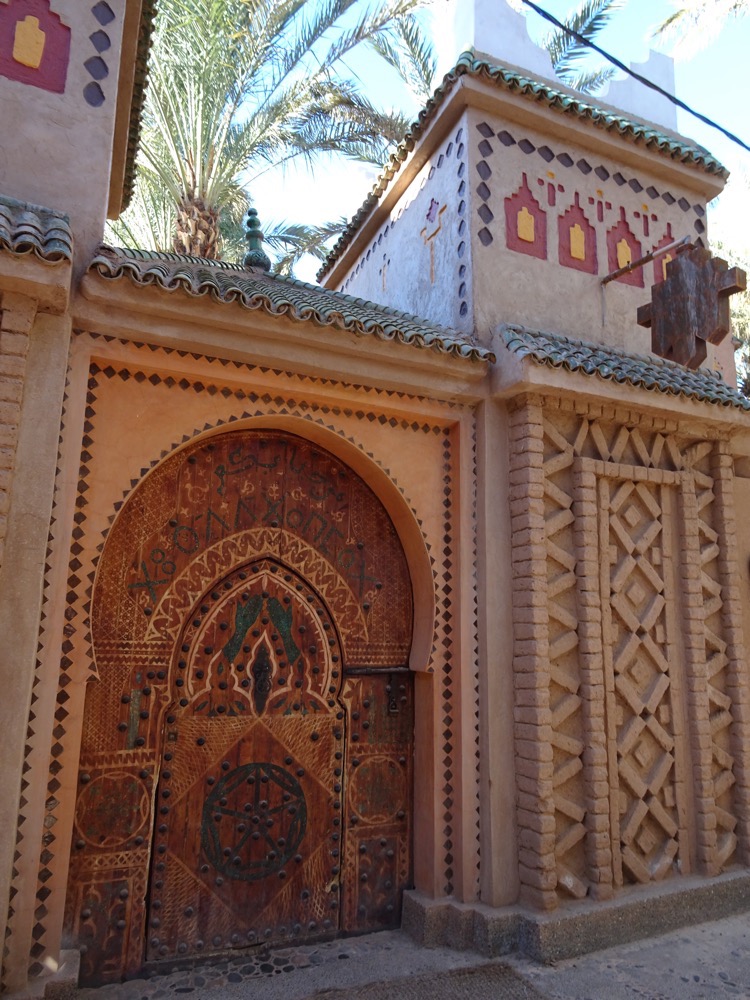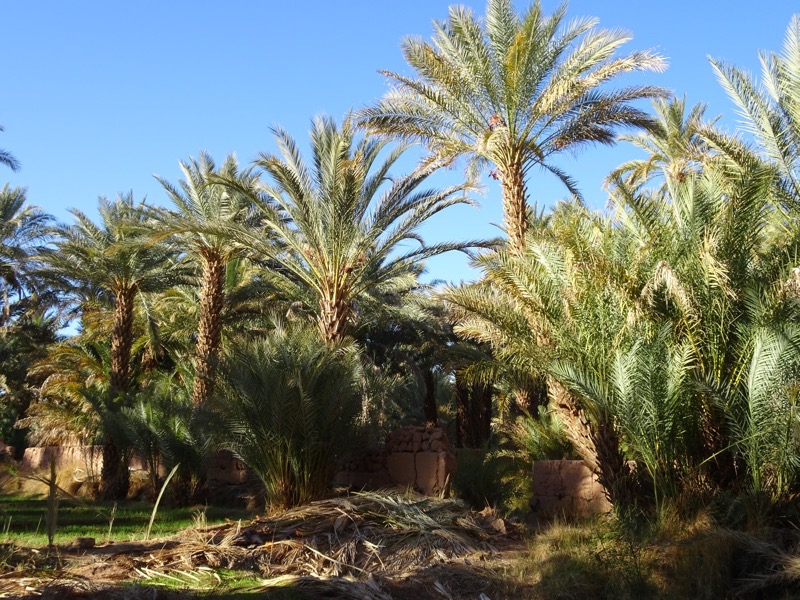 At the base of the palms, there are small spaces of other produce being grown – turnips, henna, lucerne, alfalfa and the like.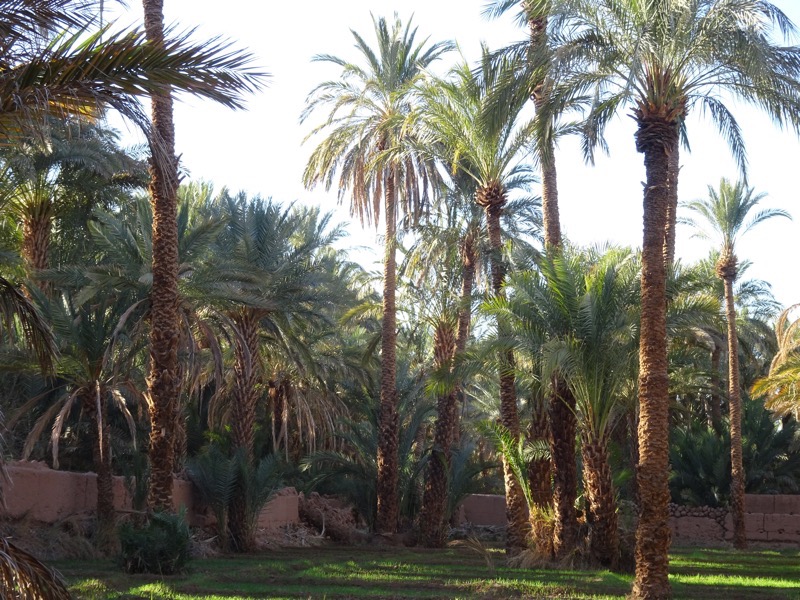 Samirr demonstrating how the locals climb the palm trees to trim the fronds off the trees.  The trees themselves can live and keep bearing fruit for a century, but the fronds get cut off every five years or so.  These fronds are used as a building material – primarily in the building of fences.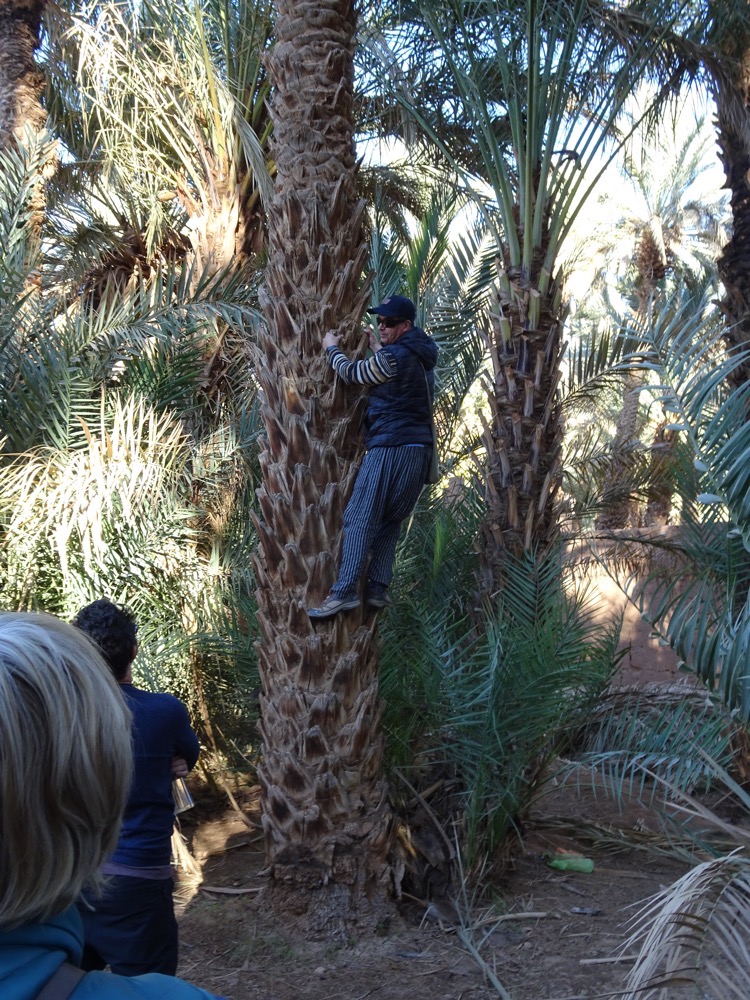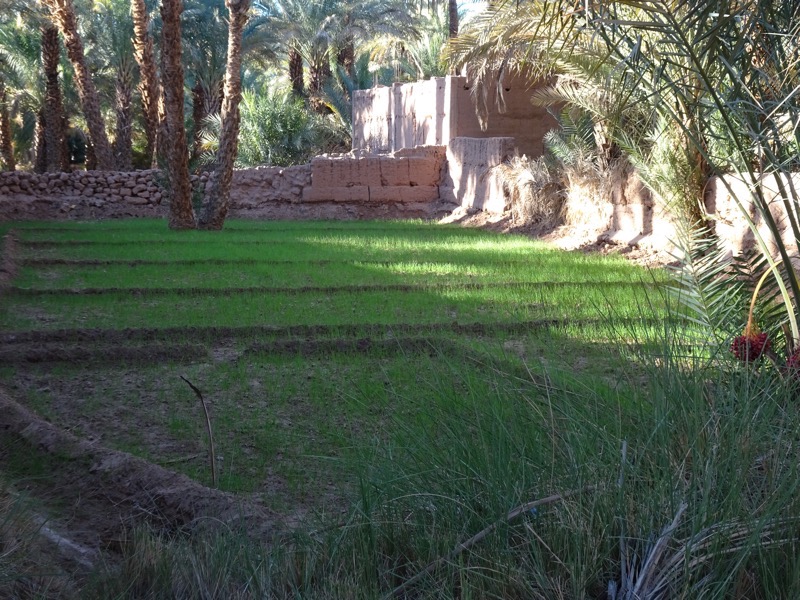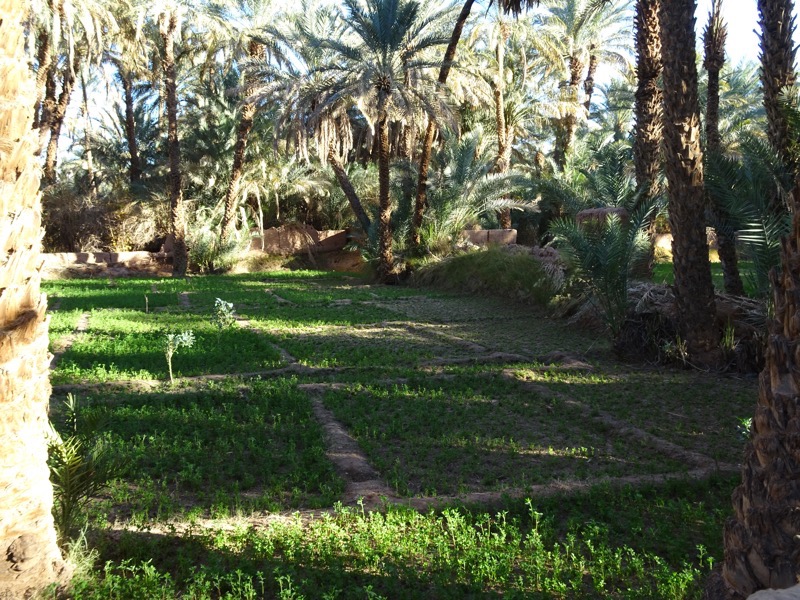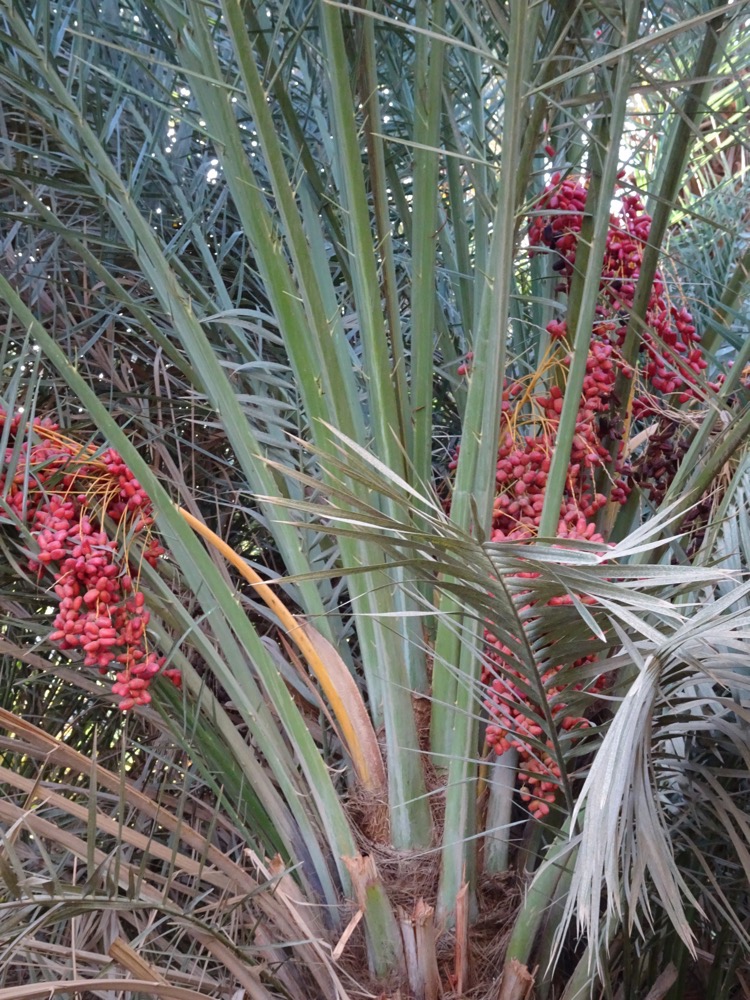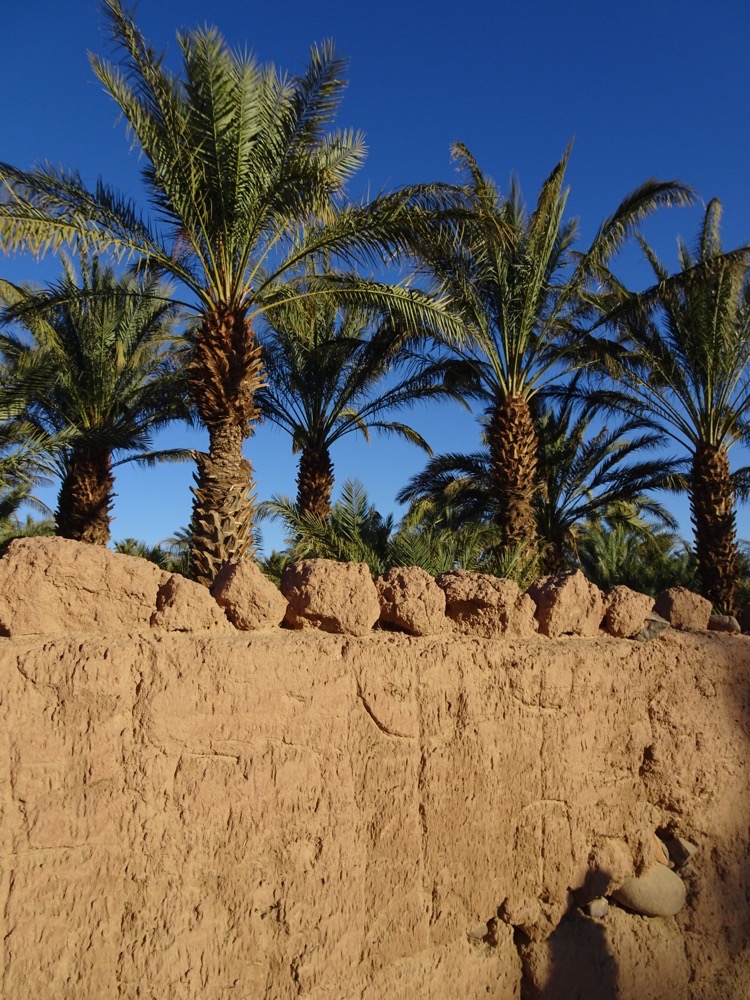 Here is where we saw the fronds coming into use as fencing – the oasis is a naturally occurring space thanks to the river that runs through the valley, but the Sahara is an ever-changing landscape that encroaches and retreats where it pleases.  Here, in the oasis, the people have learned how to try and keep the Sahara at bay, by making fences to stop the sand dunes from overrunning their water sources and changing the geography. They weave the fronds into fences which are then laid out in a grid or checked type arrangement, so when the sand storms come, they hold back the sands.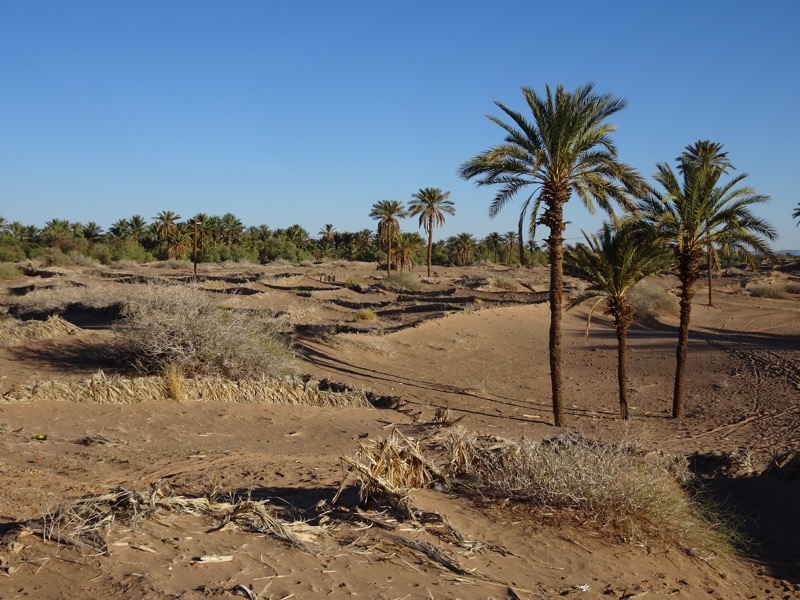 Fresh fencing.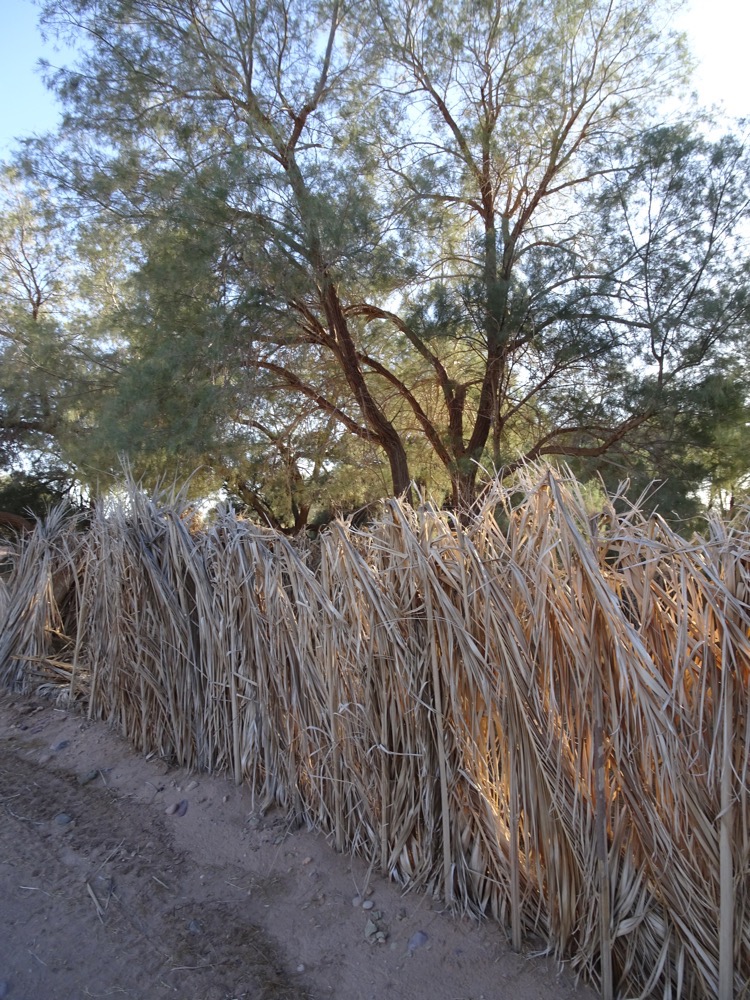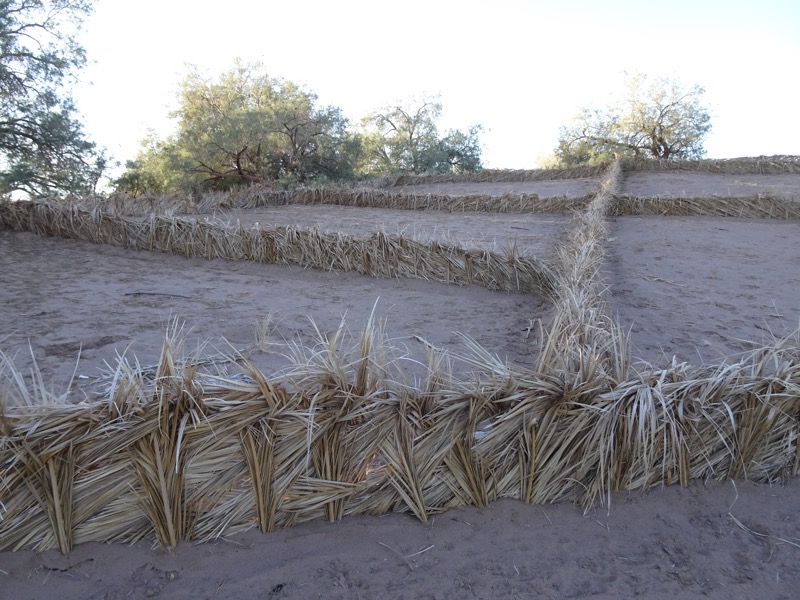 It was roughly at this point that I got sick of the walk in the sand dunes and lost the energy to look around me properly and keep taking photos – I was in a lot of pain, was trying not to throw up, and working hard on reminding myself to keep breathing.  But it's one of those shitty things – I was kinda committed, and it's hard to know whether to pull the pin or not, because at this point it could be further to try and walk back the way we came than to keep going to fuck knows where?  Additionally, I don't want to impact the entire group's walk just because I'm falling apart – some of them might have actually been enjoying this?!  Samirr had told us we were going for a 'gentle walk through the palms' but here we were up and down small sand dunes and my hips and back were like 'wtf this doesn't resemble the brochure' – I had zero energy for it but had to keep plodding on.  Eventually, our walk went ended back at a Riad I recognised called La Soleil du Monde, where I could have waited for the mad bastards that actually wanted to walk 2kms in the sand to see very little more of I know not what?   :/
I can walk, especially on flat ground and will quite happily walk until my feet are ready to fall off when there's actually something interesting to see – but trudging along not knowing how much further we had to go or if there was anything worth seeing at the end of it is really stressful for a chronic pain sufferer.  The whole time Samirr was so far in front of me that I had no way of asking him any questions either.  By the time we were finished, I was gritting my teeth, feeling hot and bothered from failing to breathe properly and my pain was through the roof.
Thankfully, we were heading straight back to the hotel and had time for a shower and a heatpack before dinner.  While I had tried to explain to Samirr that I had limited capacity for some things at the beginning of the trip, he obviously didn't really understand.  I had to take Samirr aside and let him know how difficult this walk turned out to be (especially after five hours of being jolted around on the bus), how his description of the outing was misleading and that I simply can't make good decisions based if he is going to be so vague.  I can't tell you how much I HATE having to admit defeat in a situation like this.  It's almost as much as I HATE having to share half my life story and medical history with a relative stranger just so they can understand what I'm talking about.  Honestly, I'm not sure why he thought I have been always asking for so many details about each walk we were doing:  'how far is it', and 'how high do we go', and 'how many steps are there'… maybe he just thought I was fucking lazy and didn't want to go to some places?  This is where having an invisible illness really works against you.
Anyway, I was sufficiently recovered from a shower and an hour on a heat pack that I managed to hobble over to the restaurant for dinner. It was kinda touch and go, Mr K was getting so worried, he was talking about us ditching the remainder of the tour entirely and heading back to Marrakech – something I would never want to do!  I haven't come all this way to miss out on the Sahara.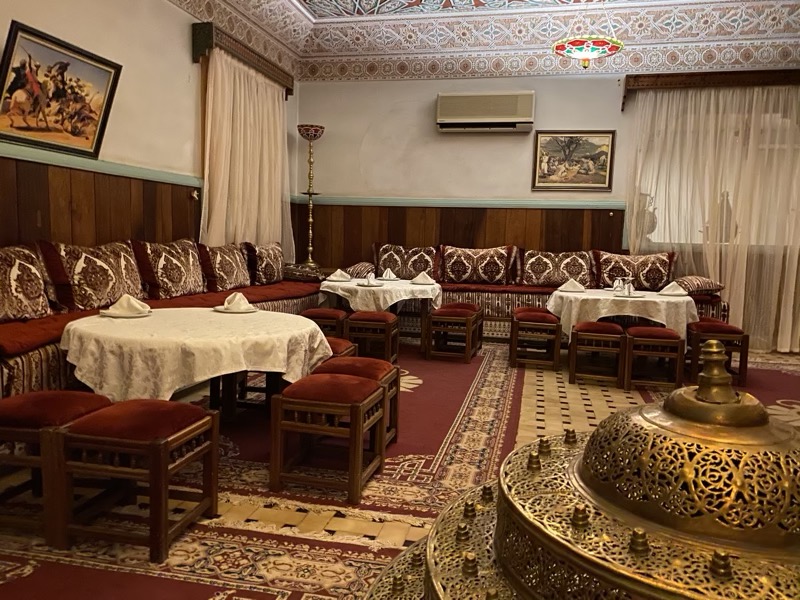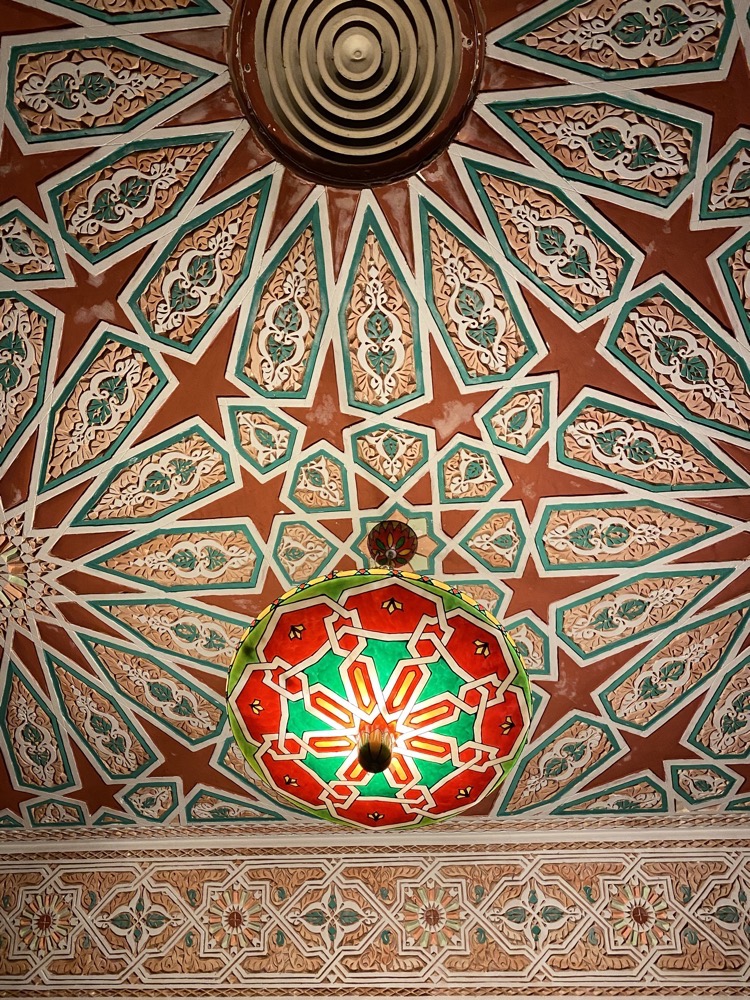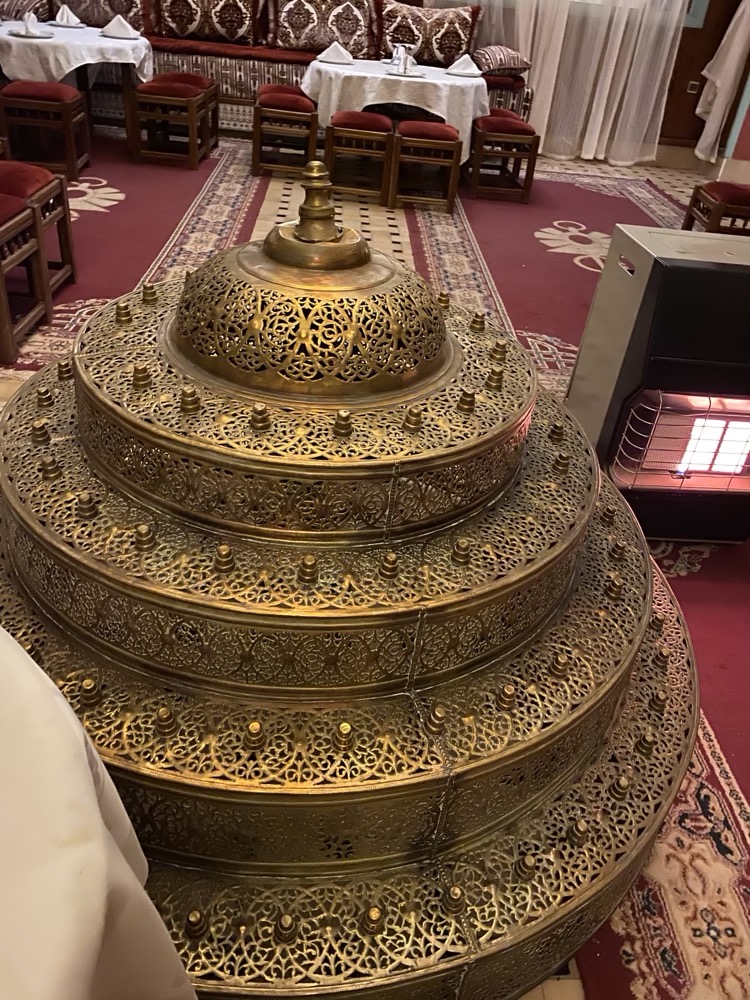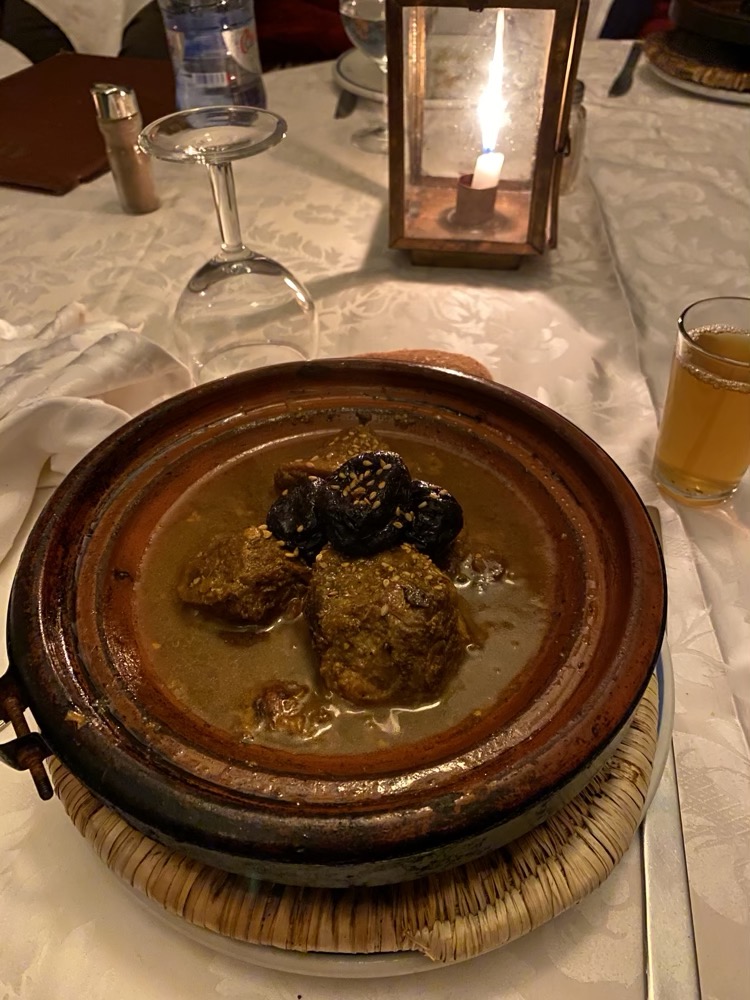 Dinner was in a really pretty restaurant and I had the veal and prune tagine which was really tasty, and then back to the room and onto the heat pack again and well, bed soon.  I have a feeling tomorrow is going to be another big day…