"Once wedded to Nature there is no divorce – separate her you may and hide yourself amongst the flesh-pots of London, but the wild will keep calling and calling forever in your ears. You cannot escape the "Little Voices."

~ Frank Wild
Woke up feeling like shit and coughing up crap. Dammit. It's been going around the ship since Day 1 and I was hoping to avoid it.  I distinctly remember someone with a horrid sounding rattly cough sitting directly behind me during our lifeboat drill when we first embarked in Ushuaia, but there is not much you can do to avoid picking up bugs in the confined and enclosed space of a ship.  So yeah, feeling pretty ordinary, possibly have a bit of a temperature but I rugged up for our zodiac excursions anyway…
This morning we are planning to do a land excursion and zodiac cruise at Danco Island. Danco lies in the southern end of the Errera Channel. It is relatively small at only 1.6kms long, but for being so small has quite a high 'peak' measuring 180m. There are also lots of beautiful rolled icebergs that tend to collect in this shallow area of the Errera Channel and as we are finding all along the Peninsula, Danco is home to more Gentoo penguins – approximately 3476 breeding pairs (which I thought was rather specific for being an approximation!). Last century, Danco was also home to the British Antarctic Survey's Station 'O'. The station was closed in1959 when the work was completed and the hut was removed in 2004 but there's a plaque indicating where its location was.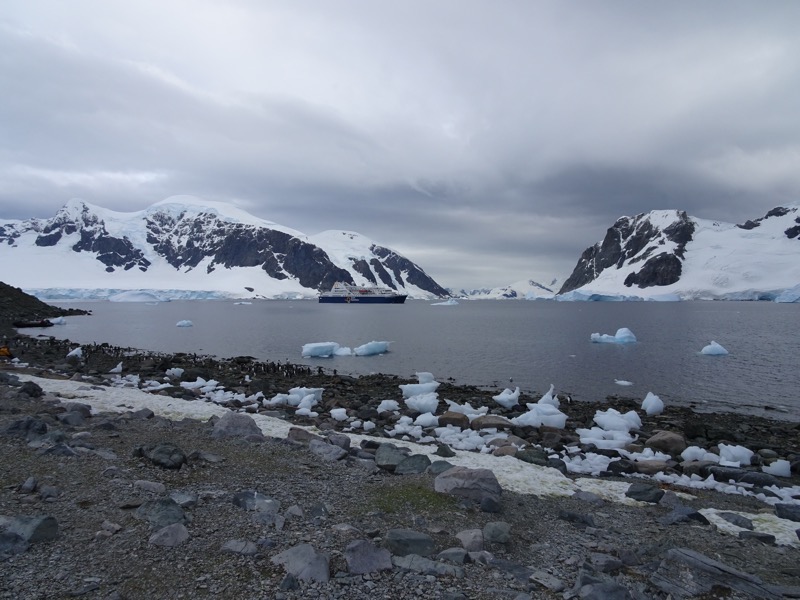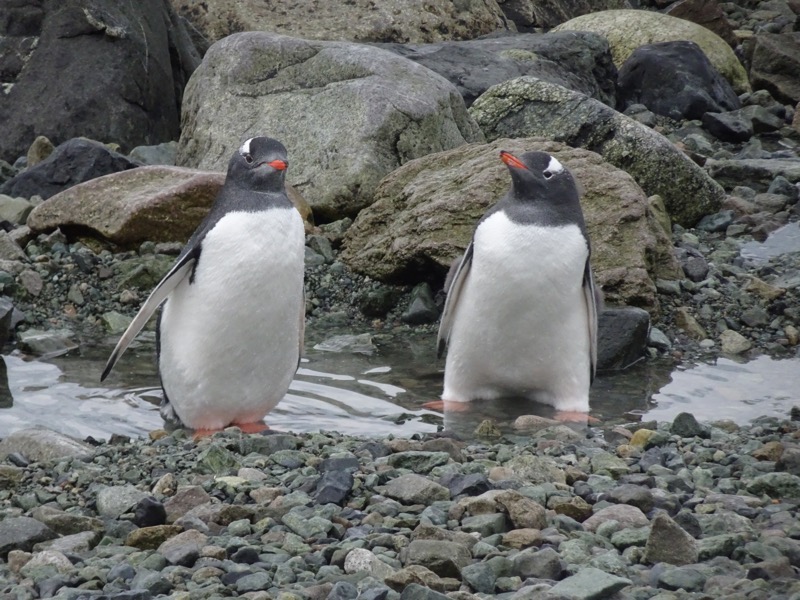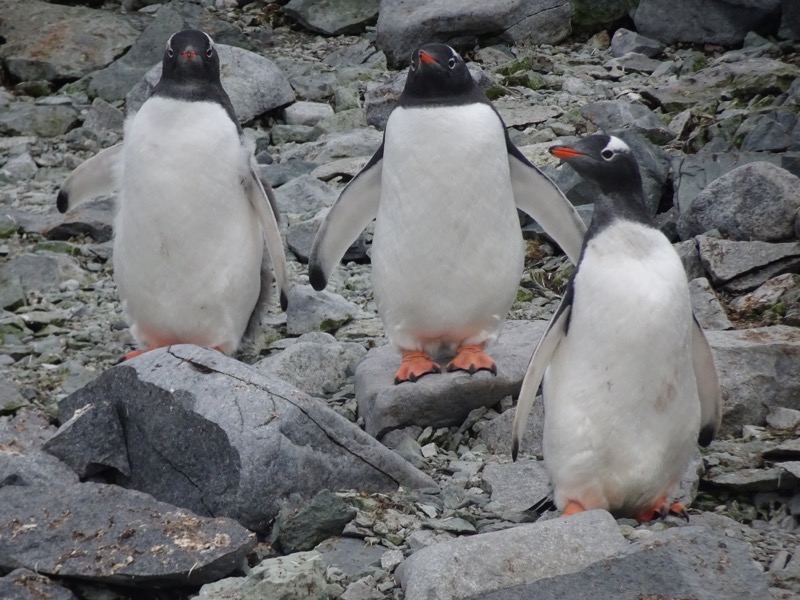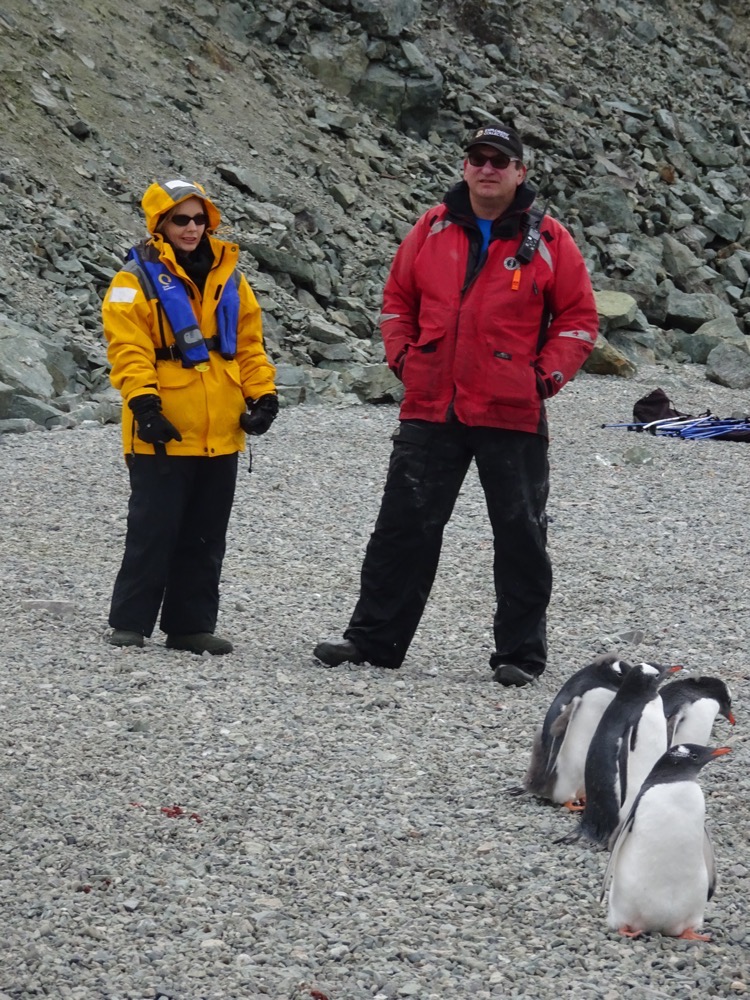 More little juveniles learning to swim – they are so funny to watch, hopping in, falling about and hopping straight out again.  The more time we spend with the penguins, the more character and personality we seem to be attributing to them.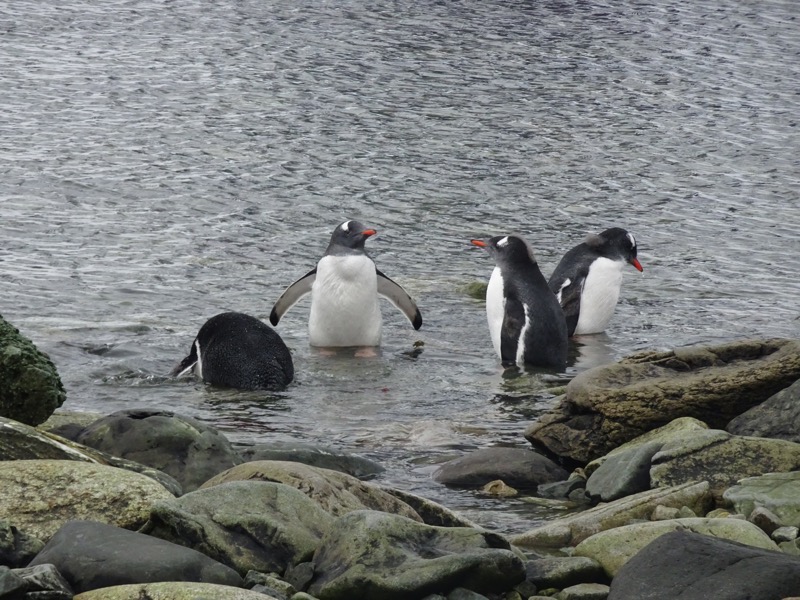 Yep, that'll keep you warm…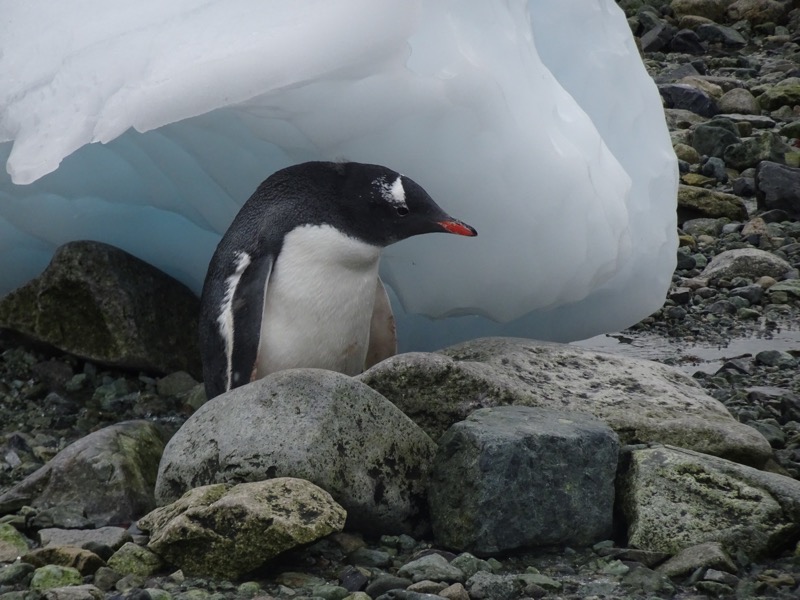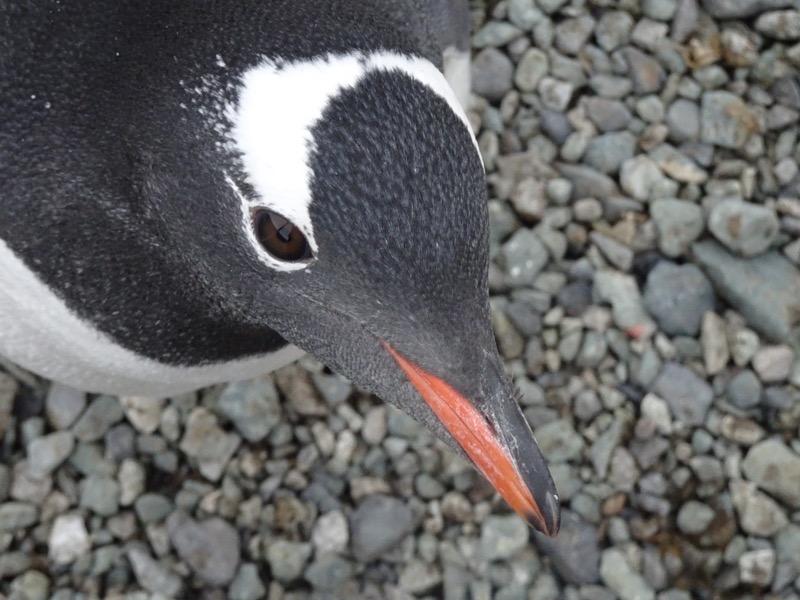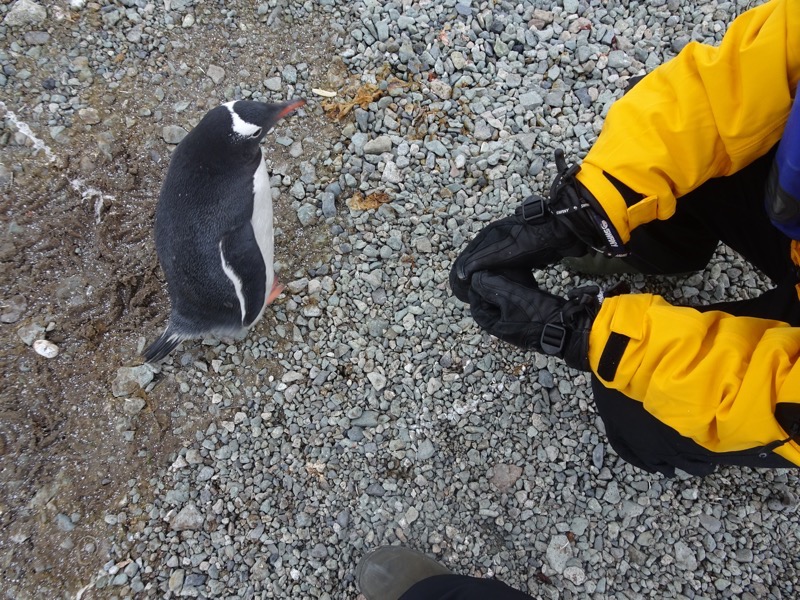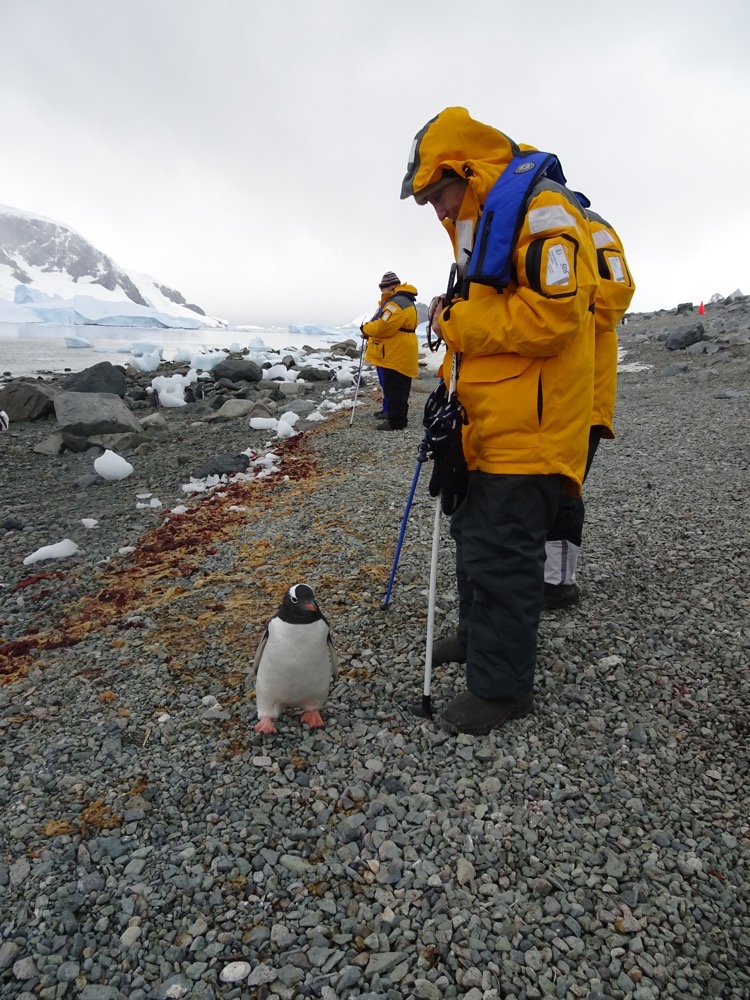 What you looking at?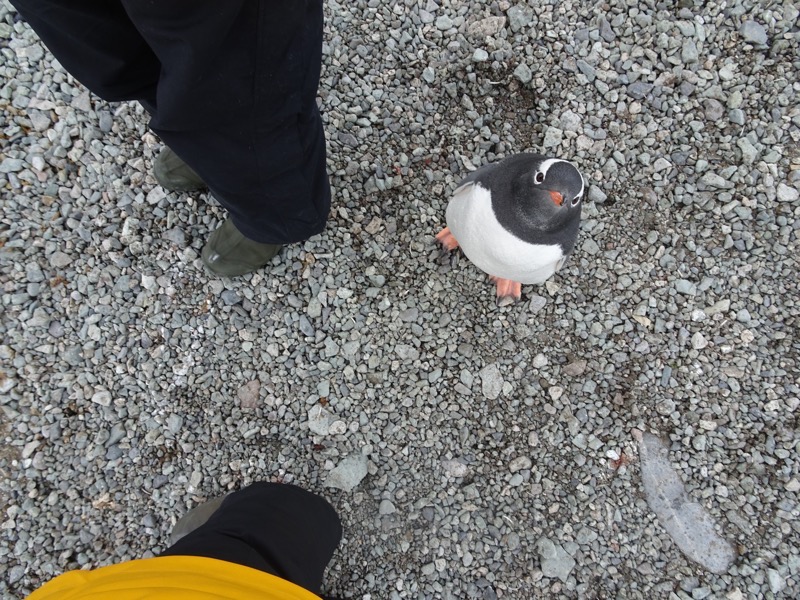 Hey!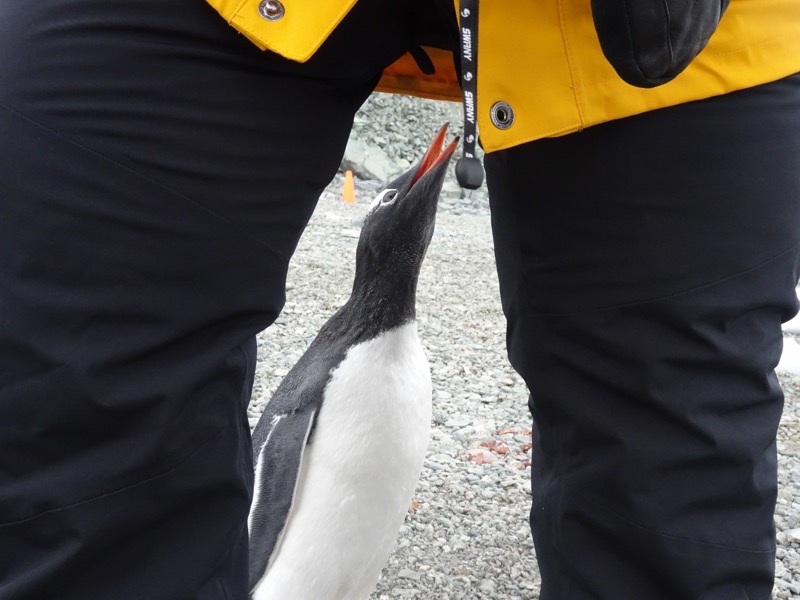 Run, Gentoo! Run!
Photo by Arthur: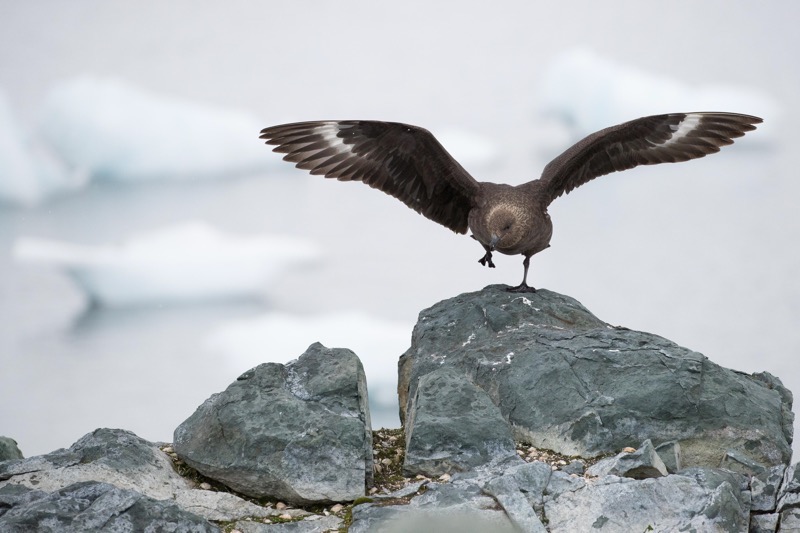 Photo by Lorenzo:
We had a wonderful time ashore with just light snow and a bit of a cool breeze.  One of the most fun things to do is just to find a quiet rock and sit on it.  We have a policy of not encroaching on their space and trying to stay about 5m away from the penguins so as not to scare them or cause them to feel chased – but if they come towards where you are, then that's fine.  So if you just sit and wait for a while or even just stand still long enough, the penguins will come and visit you.  We had quite a few curious little fellows biting at our jackets, boots and gloves as they came and checked us out.
After our visit to Danco, we hit the zodiacs in the stillest and calmest conditions we had yet encountered.  It was only now that we stopped moving that the snowy conditions actually started to feel cold, (Mind you, that could be because I might have been running a bit of a temperature as well…?  who knows?).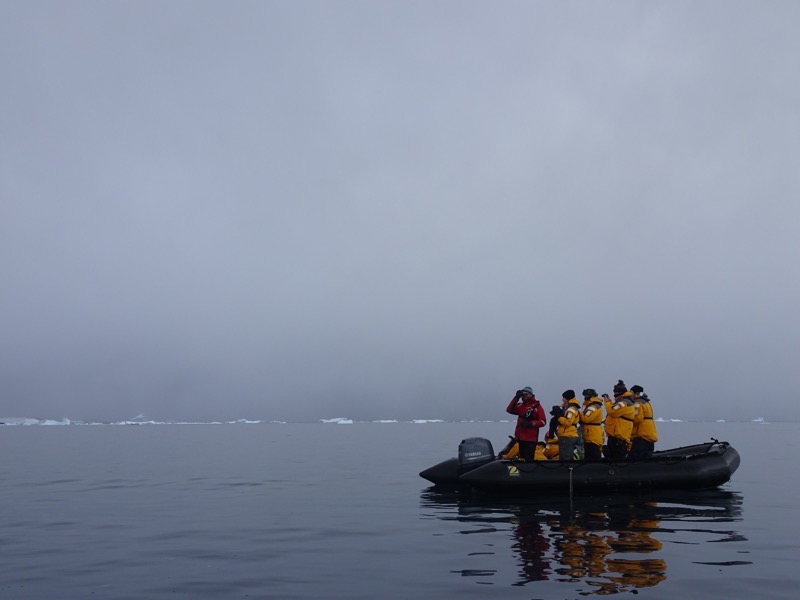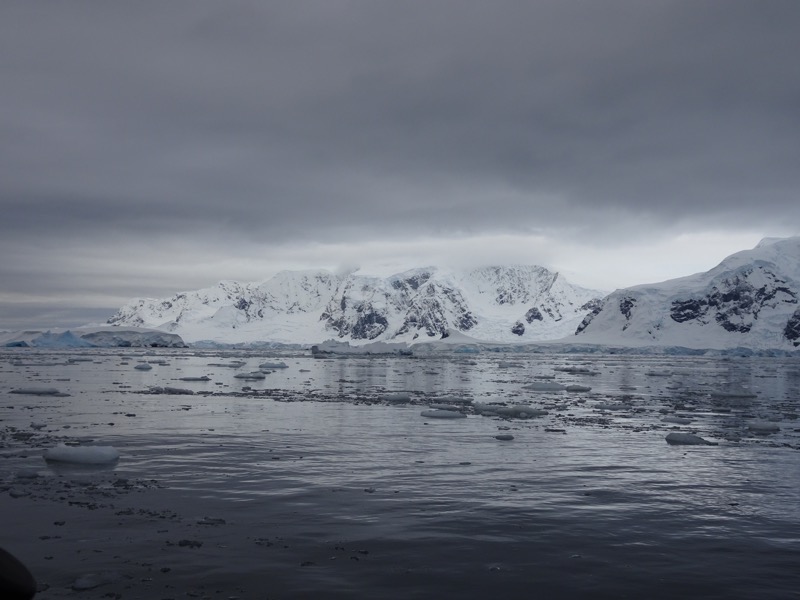 Driving the zodiac through the brash ice is a strange feeling, a bit like scraping along a sandbar for ages.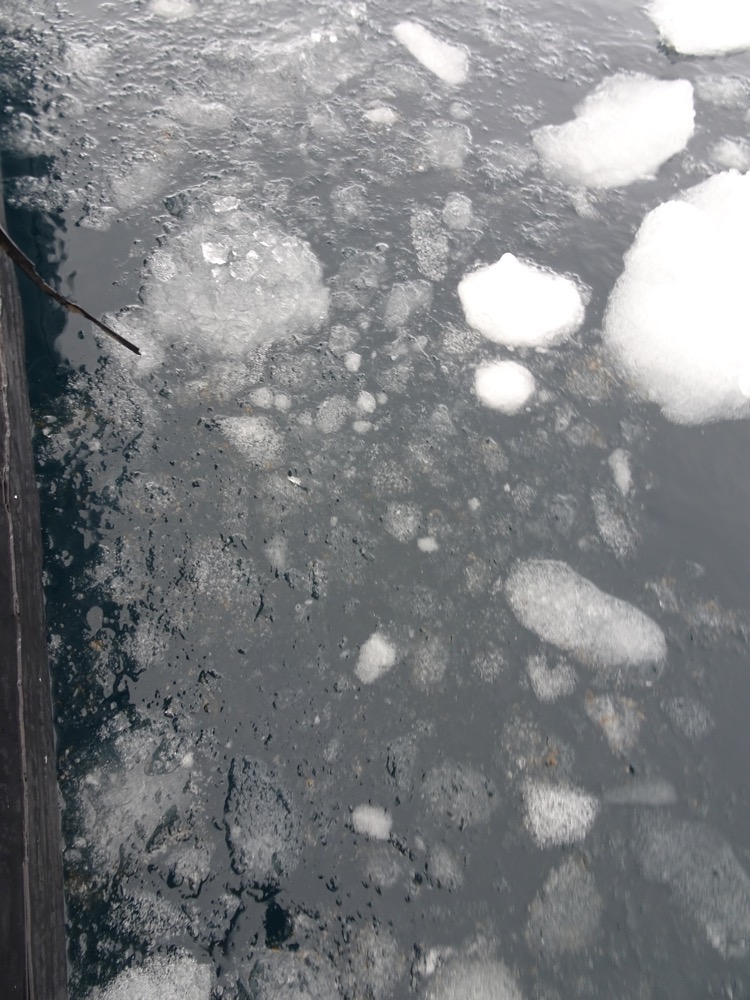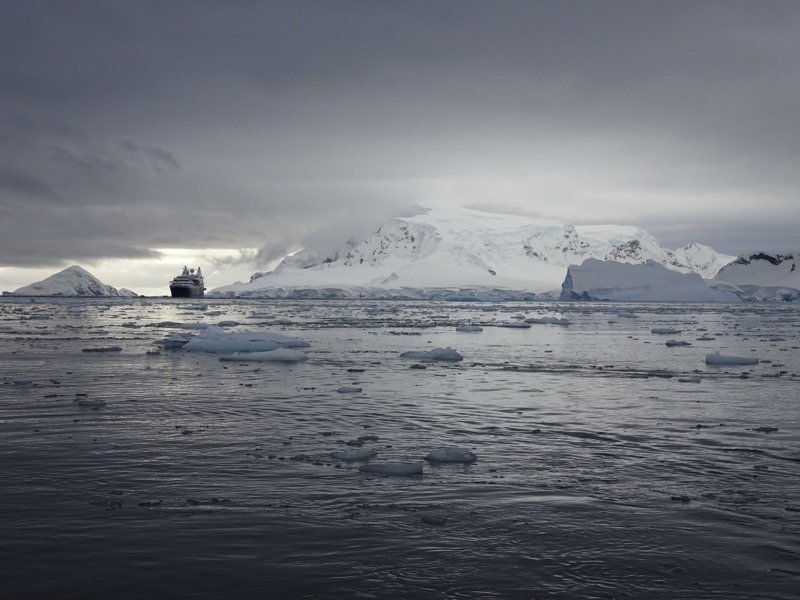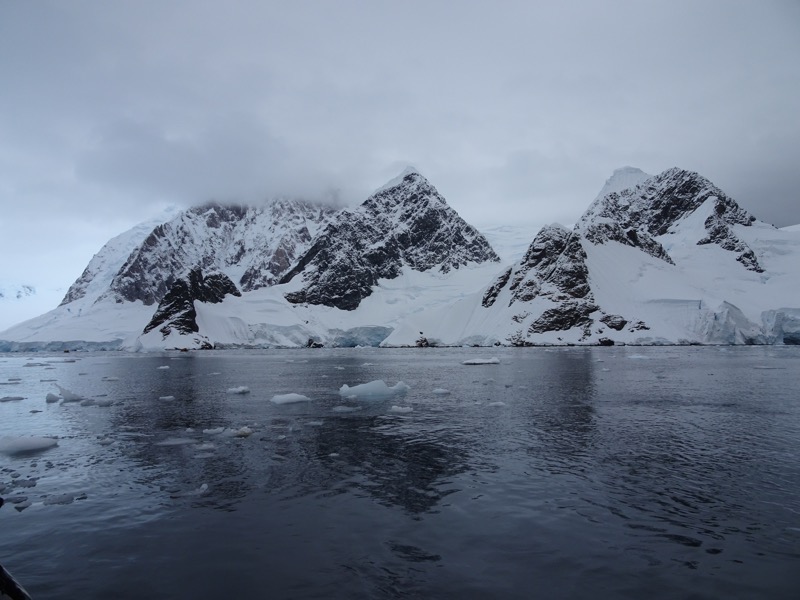 Most of the whales we met this morning were just lolling about logging. It seems they tend to be more active in the afternoons when they are awake and feeding more.  We saw some other wildlife this morning – mostly birds and a few crabeater seals.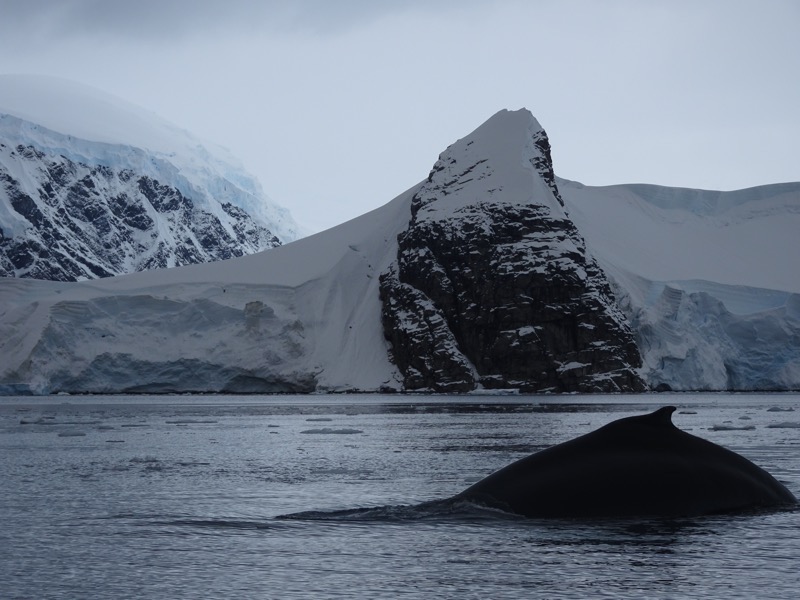 Photo by Barry: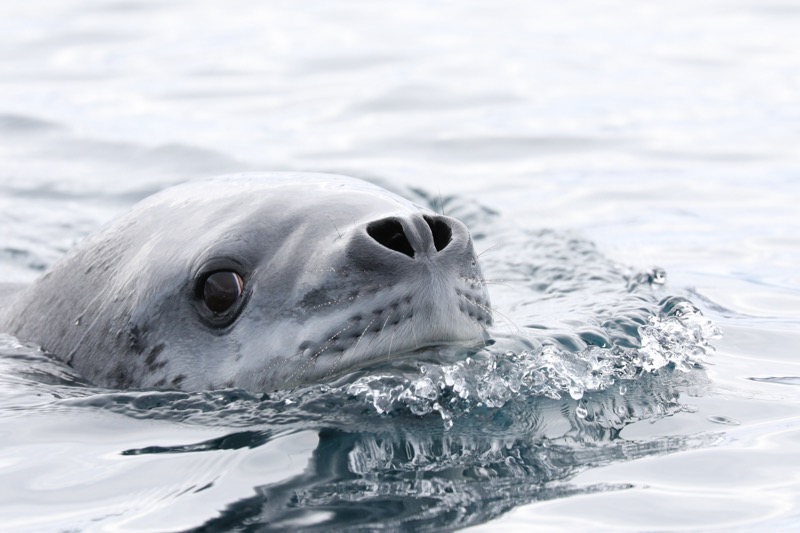 Photo by Arthur: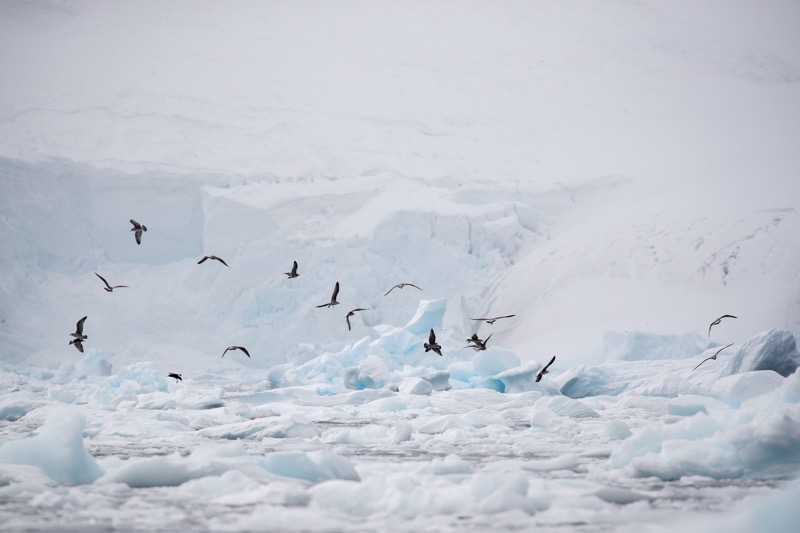 Photo by Jayn: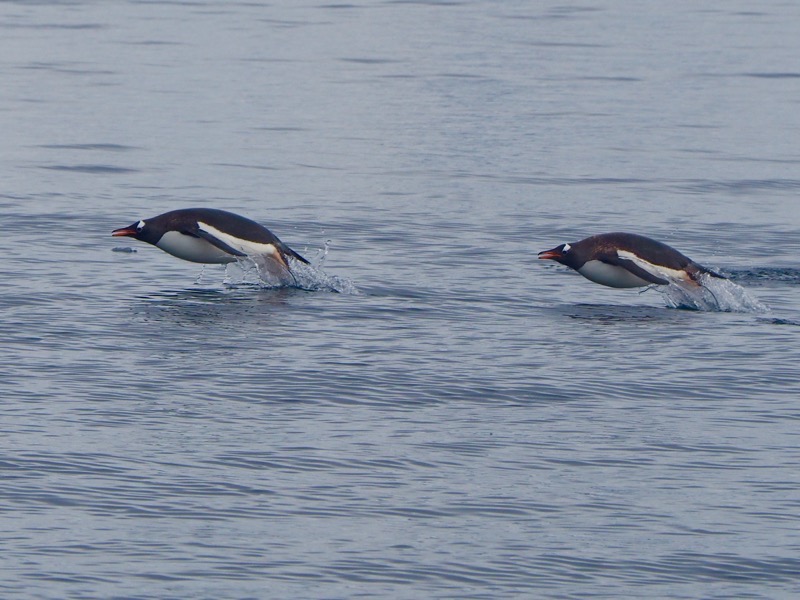 Photo by Arthur:
And of course, more beautiful icebergs.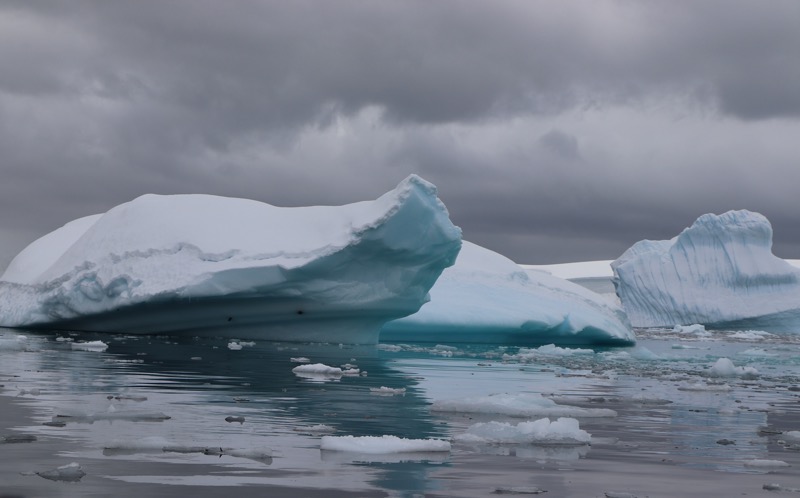 Went back to the ship to warm up and have some lunch and we met a man at lunch today who seemed to be the first person I have met here who doesn't seem excited or even appreciative to actually be here.  It's truly weird how much he stood out compared to the other passengers.  There is an odd phenomenon on cruise ships, whereby you often encounter people who only seem happy when they have something to complain about!  No, I'm not kidding, they are on holiday and floating in a luxury hotel where they can do as little or as much as they like, and have all their needs catered to – but they will still find plenty of things to complain about.  This guy is probably one of them and I can't decide if he's a sorry old sod or just a complete prat. Anyway, he sat down and started immediately complaining about the food that we've been enjoying on the ship – everything is too salty, too spicy or too strong, for his liking but he mentioned this in such a way as to disparage the choices we had made for our lunches?! We then watched him have a small token bowl of soup for lunch, followed by three trips back to the dessert table for ice cream, strawberry jam roll-ups and some sort of pudding.  He was also the sort of person who would not shut up… about himself.  He was in the Australian Navy 'back in the day' and was telling us that he'd heard a rumour that we may have to outrun a storm on the way back to Ushuaia… whereupon he launched into a story about being stuck on a navy ship caught in a storm that 'came out of nowhere back in '84 off the coast of Coffs Harbour'. There were apparently 25m swells, their ship (can't remember what type of ship he said it was, some sort of warship or frigate), was riding up the huge waves, 'teetering at the top a bit' and then plunging down into the sea with the bow going about 50' into the ocean, which made the ship jag and jerk as it came back out of the water – the feeling was apparently scary as hell and he thought he was going to meet Neptune. He said you couldn't walk around the ship without being slammed into the walls and the most dangerous things was attempting a flight of stairs as there would suddenly be nothing under your feet – the Captain he claimed, literally left marks from his fingernails dug into the deck on the bridge.
He then proceeded to subtly start playing the Travel Game with us – first person on the ship to do so – telling us all the bigger and better and more remote places that he had been to (Seriously? more remote than Antarctica?) … from Coldfoot Alaska for 'the best viewing of the northern lights in the world – you know, way better than Iceland or Greenland', to Svalbard in northern Norway 'that you can't get to by road, you can only get there by supply ship'. He was obviously well travelled and for some reason he wanted us all to know it and then I figured out why… He proudly proclaimed that he had only been ashore the first day of this trip and now that he'd 'stepped foot on Antarctica', he'd been here he didn't need to go ashore again.  I couldn't understand his attitude, he had spent all this money and come all this way and didn't seem to feel the need to get the most out of the voyage?!  I wanted to roll my eyes and say, 'Yeah, I've been to Bangkok; airports count, yeah?' but instead, I proceeded to goad him (just a little) by saying 'Well actually, our first landing site wasn't strictly speaking on the Antarctic continent, as Stonington is just one of the small islands off the Peninsula." He completely ignored my comment and changed the topic. I didn't catch his name and I am only mentioning him here because everyone has been so delightful and full of an adventurous spirit, but this guy had come all this way, seemingly so he could say he had been here but was completely disinterested in actually *being here*. I'm rather hoping that he doesn't sit with us again, and I'm thinking of avoiding the entire greater Sydney region in case I ever have the misfortune to run into him again.
Anyway, lunch was lovely and we managed to get a few hours to warm up before our afternoon excursion to Wilhelmina Bay.  Wilhelmina Bay is located between the Reclus Peninsula and Cape Anne, along the west coast of Graham Land… yes, Graham Land.  My Dad always wanted to come to Antarctica, I think that is how it has ended up such a thing in our imaginations, and we get here and discover there is a Graham Land, a Graham Island, a Graham Harbour and a Graham Channel – it kinds feels like he was meant to be here and I'm sorry that he never got to visit this place before he passed away.  But I digress… Wilhelmina Bay was discovered by Adrian de Gerlache during the haphazard Belgian Antarctic Expeditions of 1897-99 and was named for Queen Wilhelmina of the Netherlands who was 18 years old at the time and reigned until 1848. It is a large 24km wide glaciated bay containing many islands and we are going there because it is a favoured whale hangout.
I very nearly piked, as I was feeling rather exausted from the morning's excursions and the coughing was wreaking havoc with my back pain, but for the first time in my life the FOMO (Fear Of Missing Out) seriously got the better of me and I trussed myself up in my Michelin Man get up and went out anyway – I mean, what if *today* was the day that we saw *THE* David Attenborough Antarctica moment where the orca hunts a seal off an iceberg and I missed it beacuse I have a bit of a cold?  Nope.  Not going to happen!  🙂
So I added an extra layer of clothing, because it seemed extra cold today (yes, I am pretty convinced I am running a temperature now) and out we went – for a rather eventful and exciting afternoon of very active whale watching in the most beautiful, moody and atmospheric area imaginable.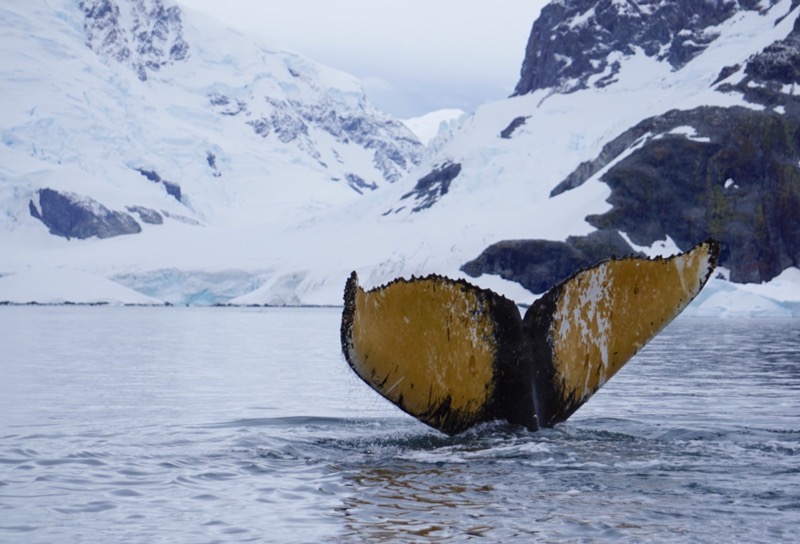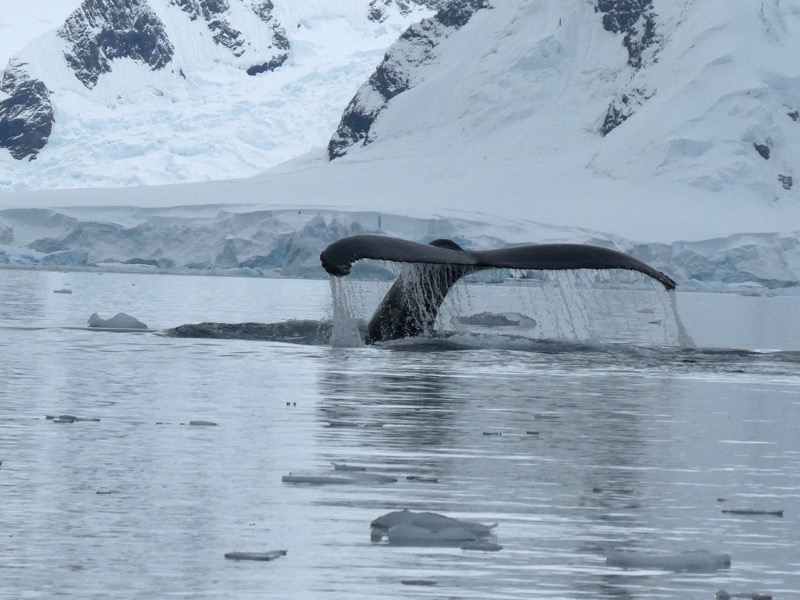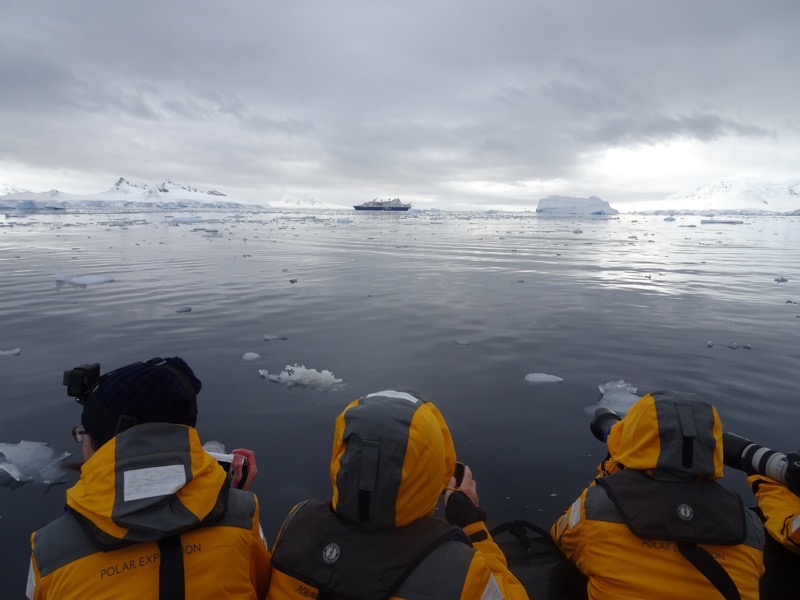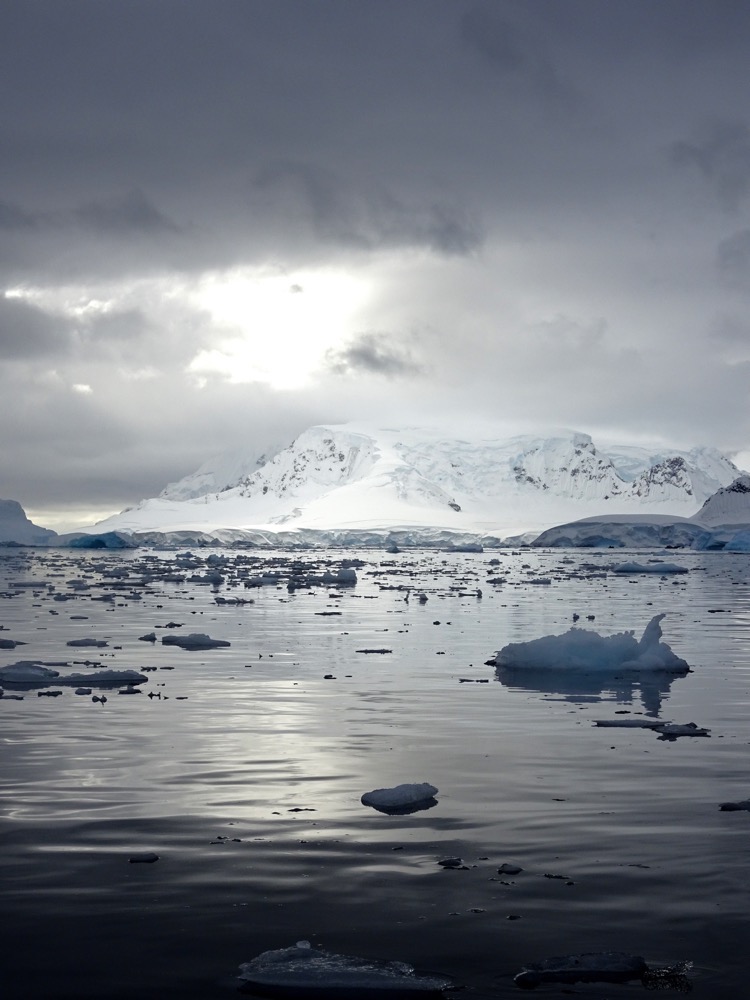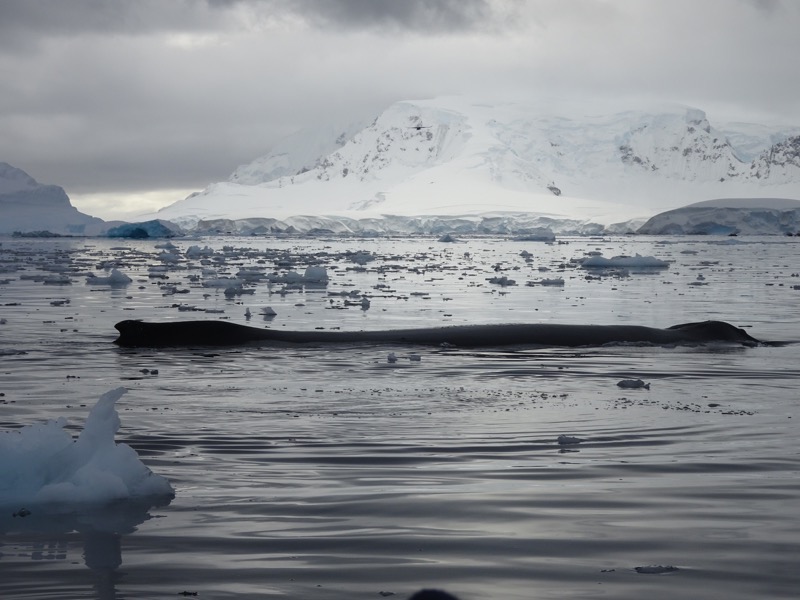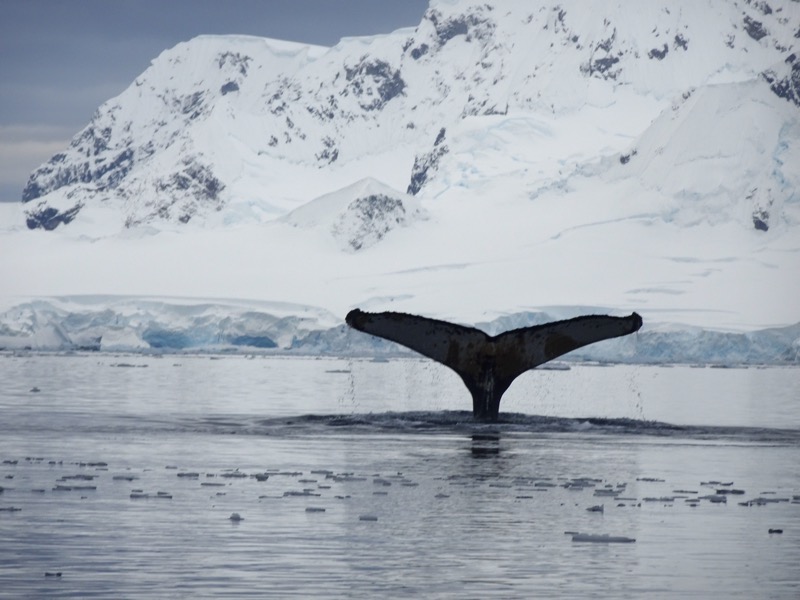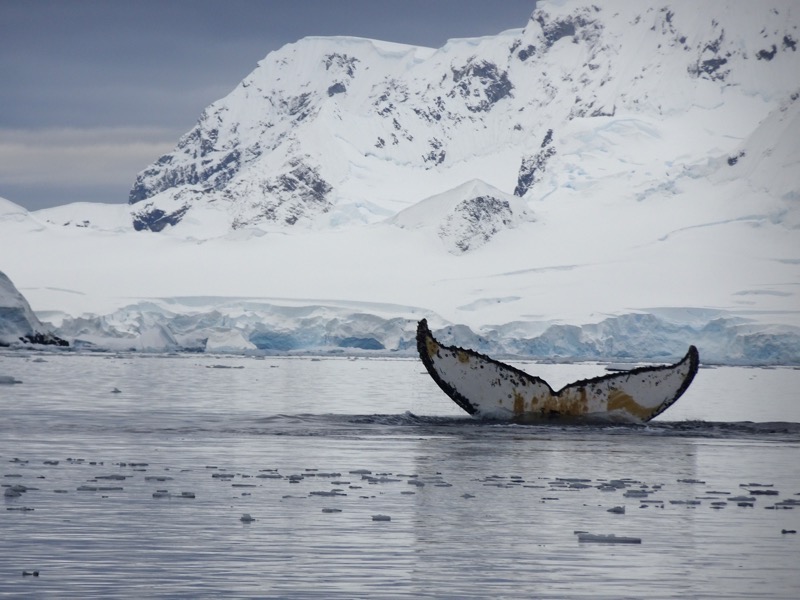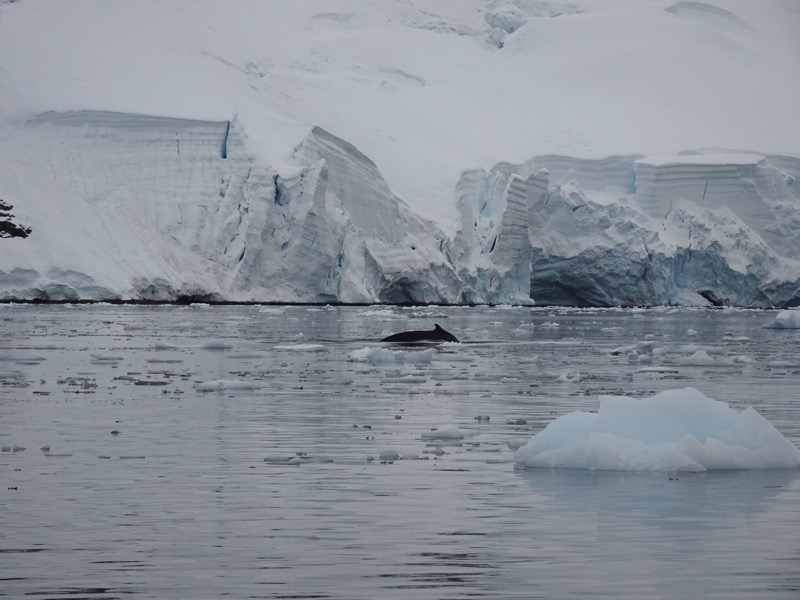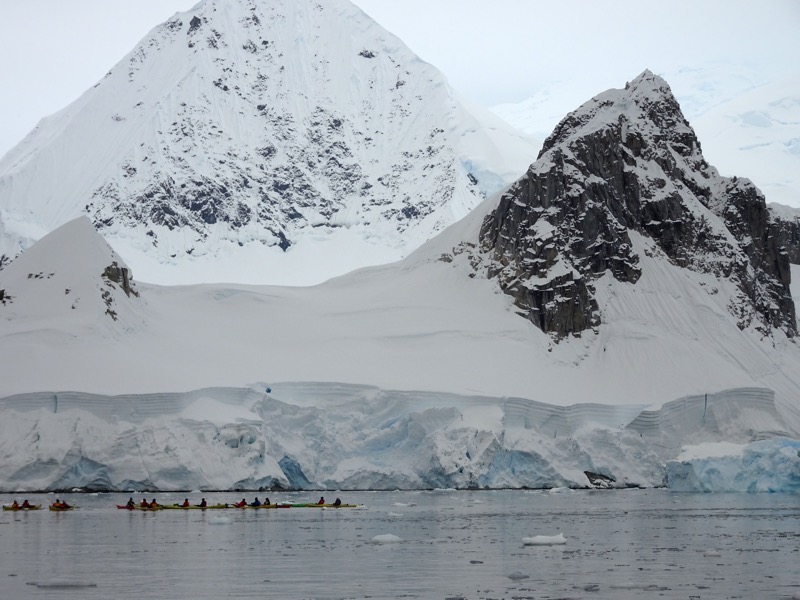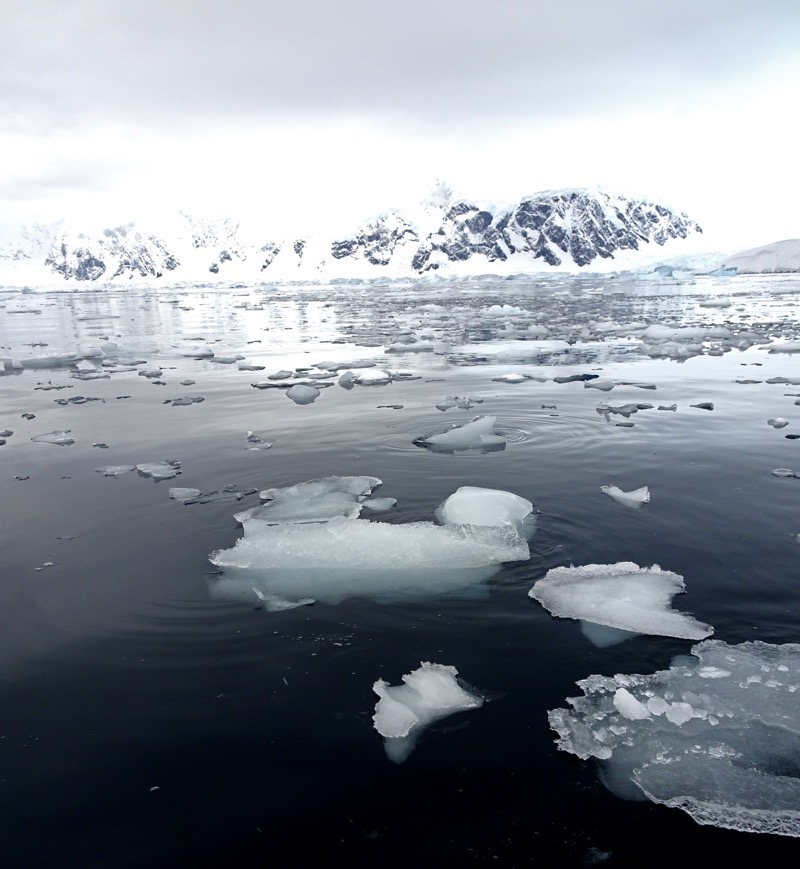 Landscape photo by Acacia:
Uncredited, unfortunately, I assume one of the kayak guides took it: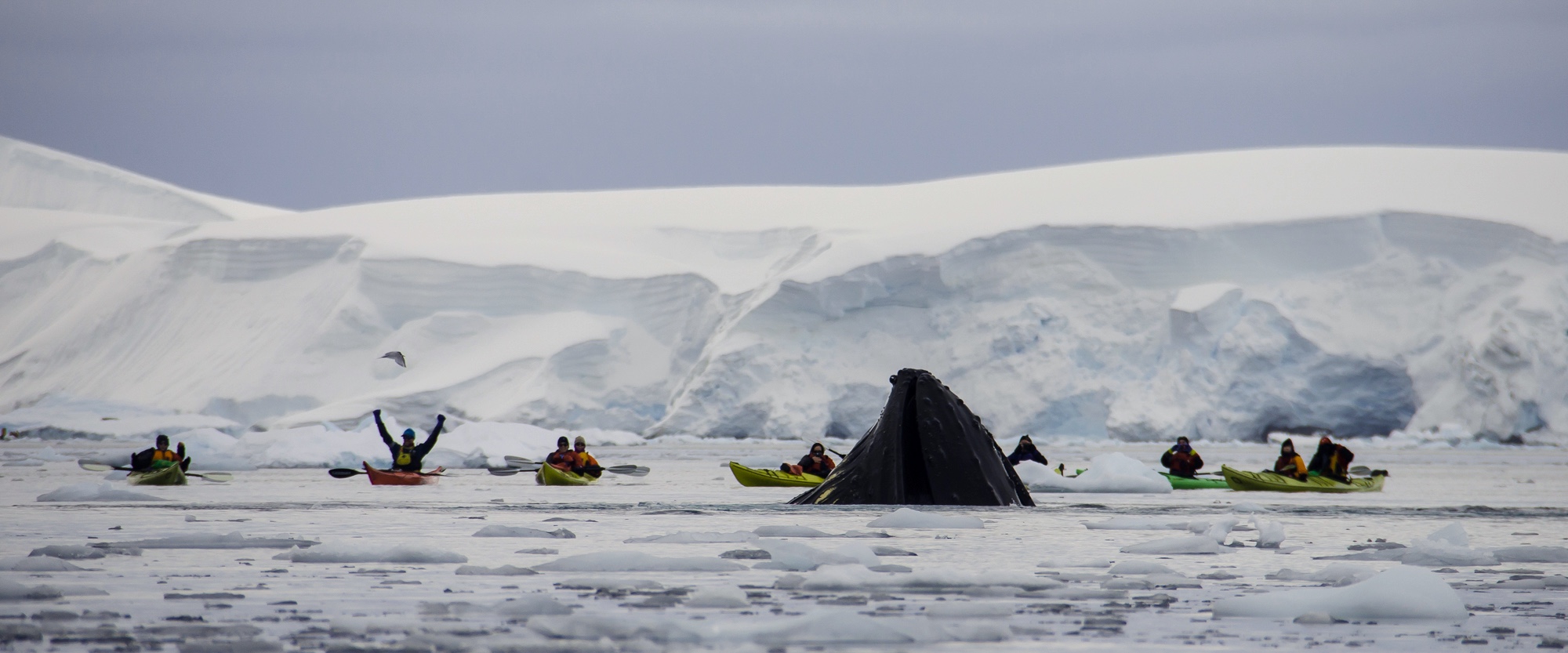 Photo by Leanne: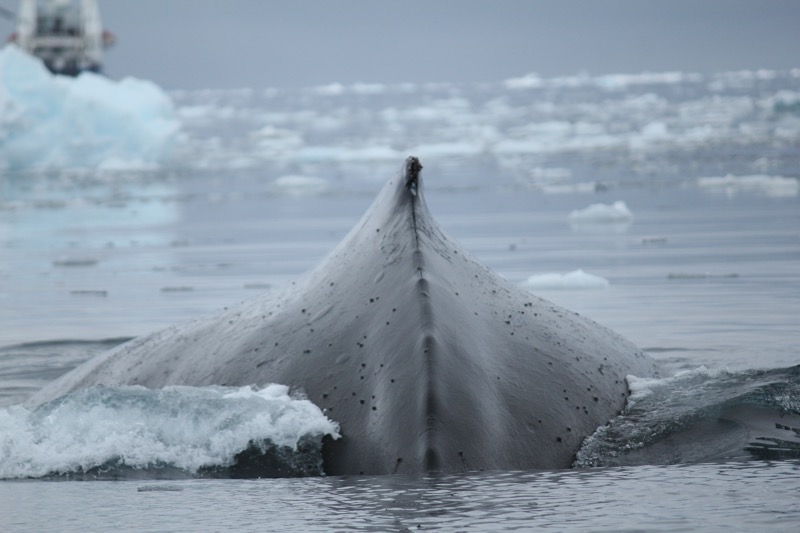 Photo by Leane: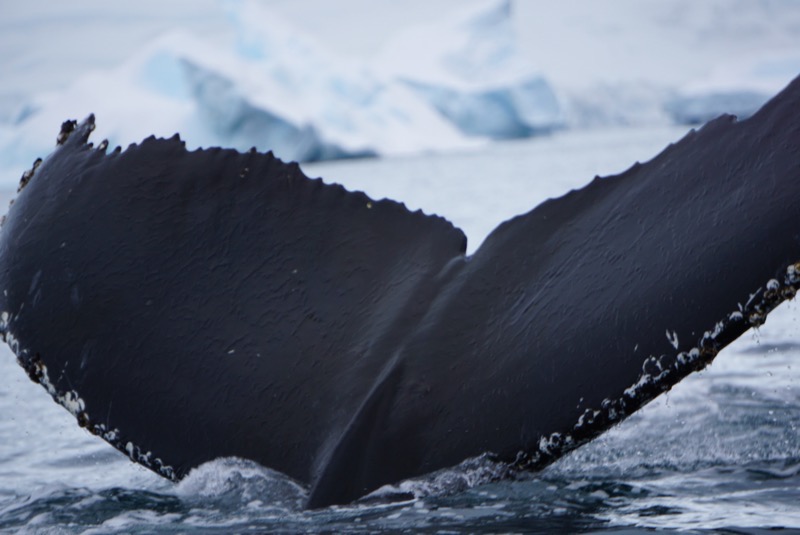 Back to the ship and it was very shortly time for our debrief/recap and then onto a BBQ on the back deck for an evening of dining al fresco! Yep, no shit – Gunter, our head chef and his entire team cooked up a storm out on the open decks and we had a crazy hat party.
Today just happened to also be Aunty Mary's birthday which made it doubly special… who else can say they had an outdoor BBQ in Antarctica to celebrate their 69th birthday?! I mean, seriously.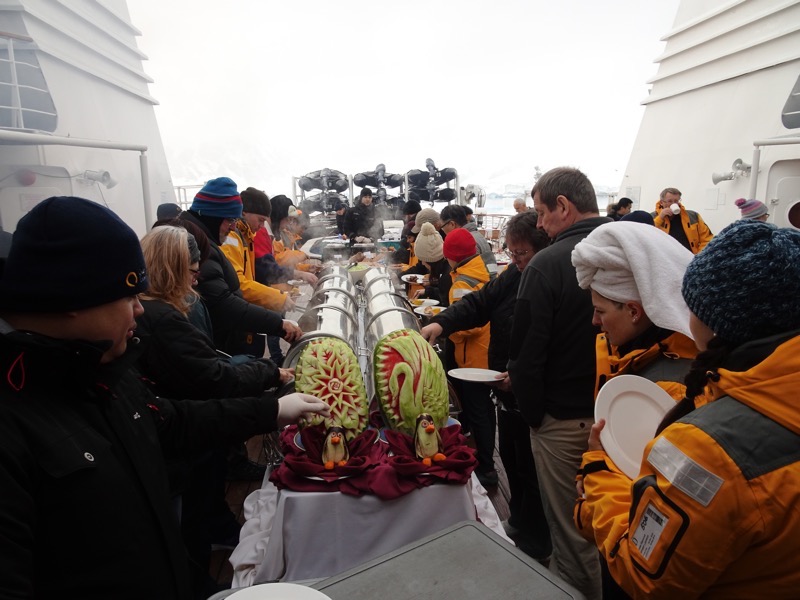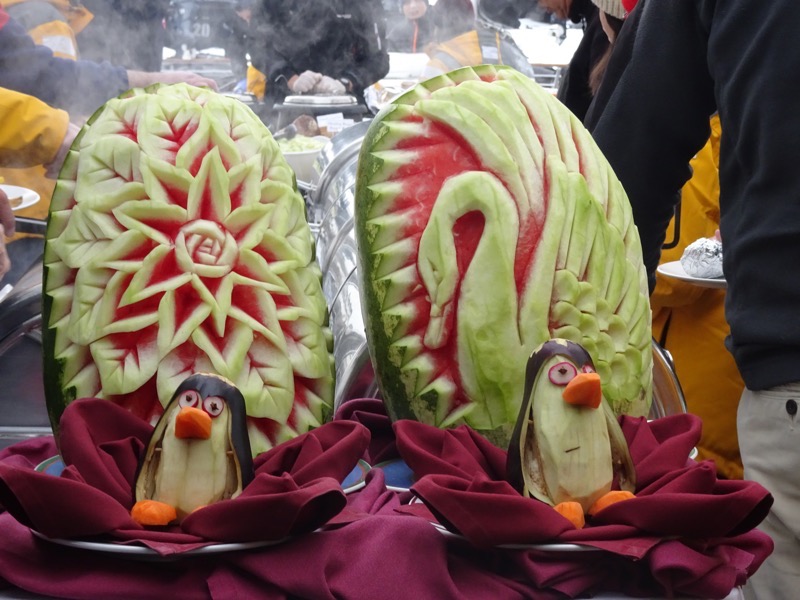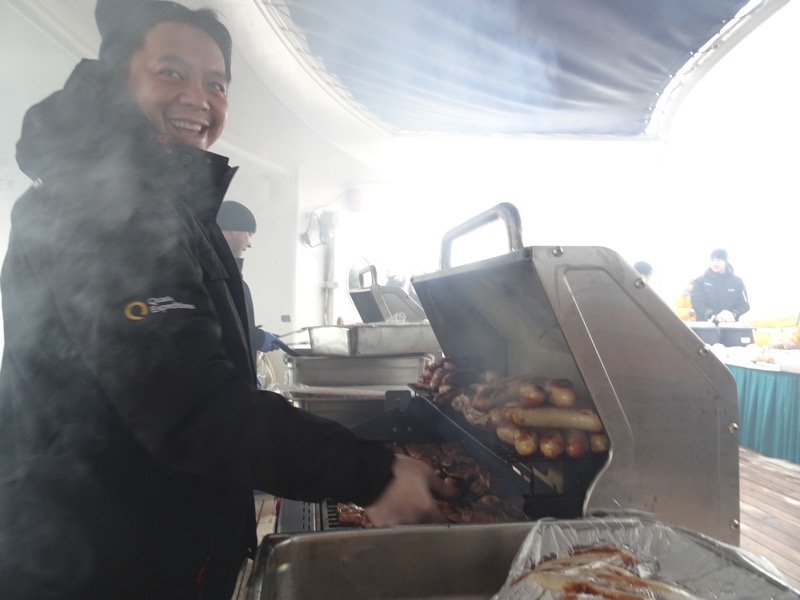 Happy Birthday Mum!  <3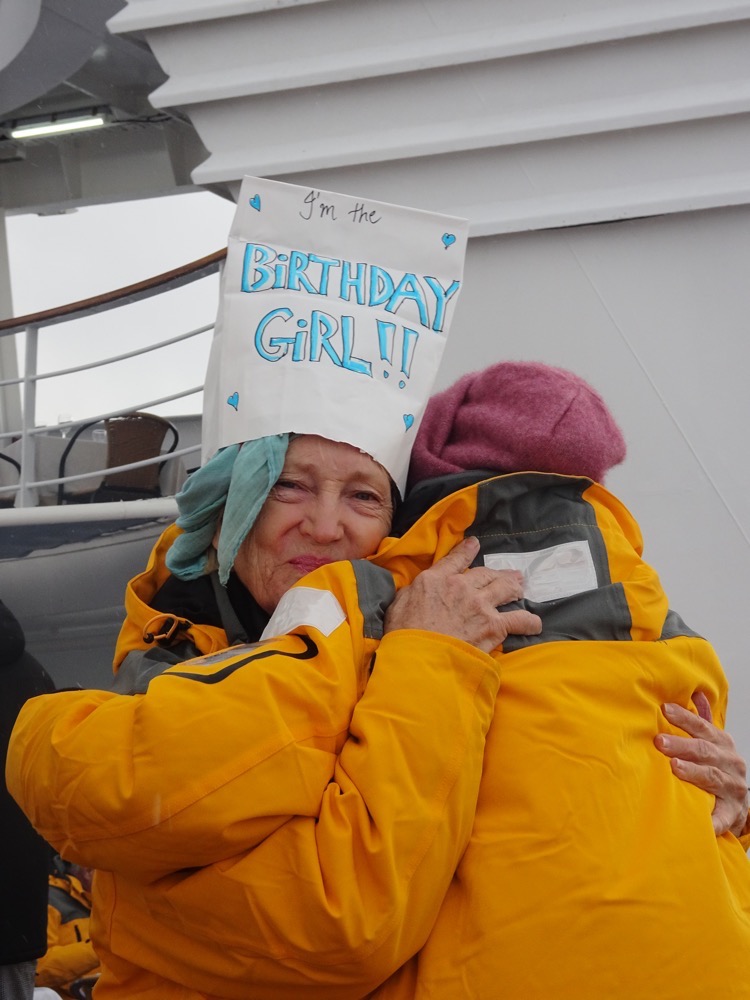 Alex, our Ukrainian Maitre D' and some of his servers came and sung Happy Birthday.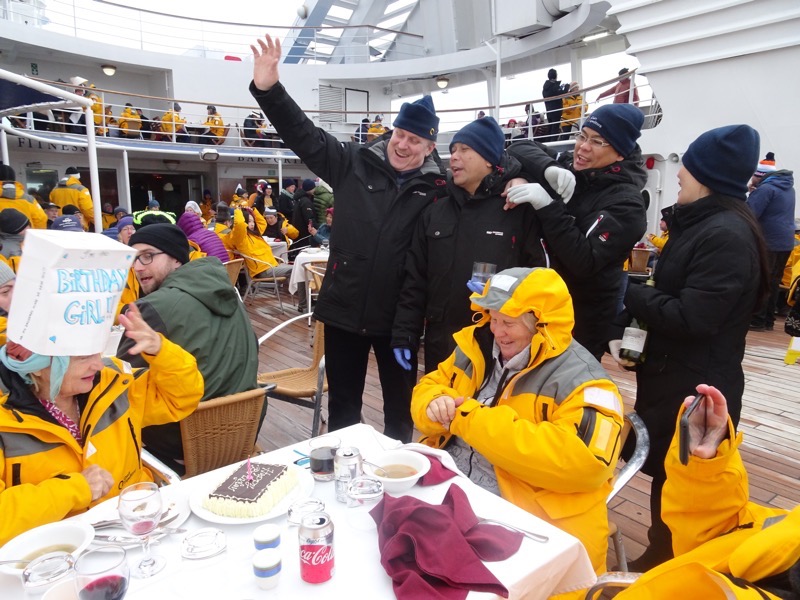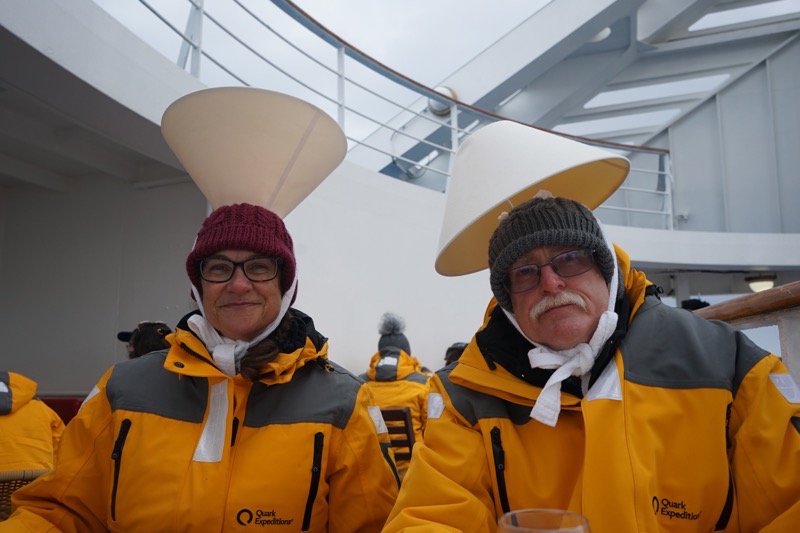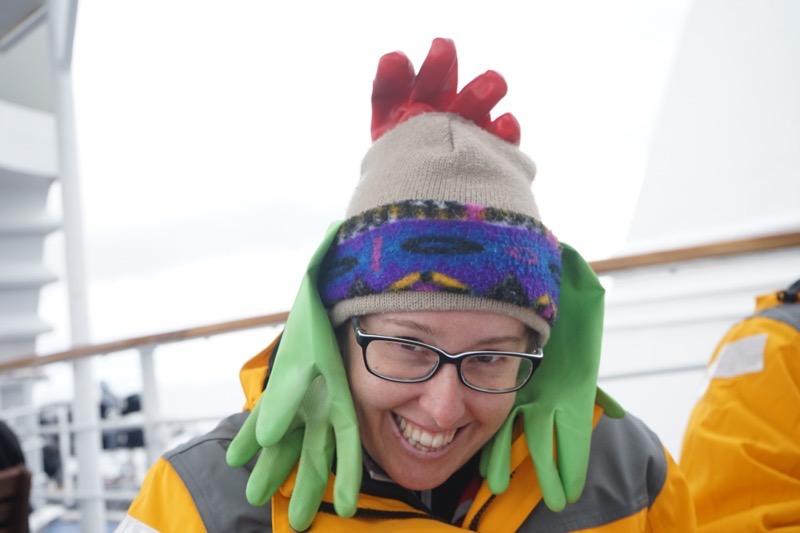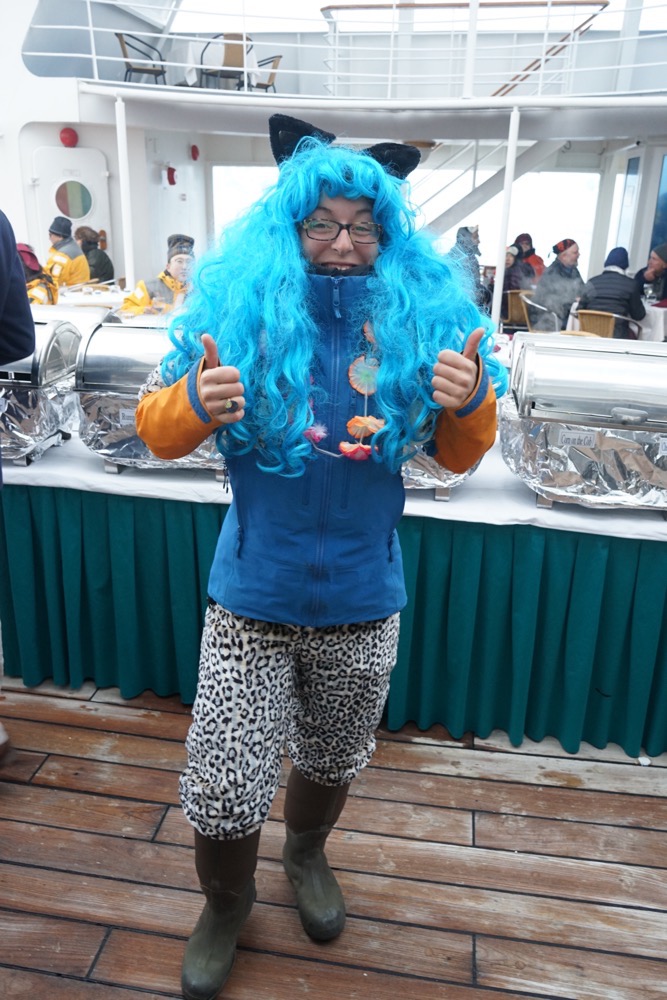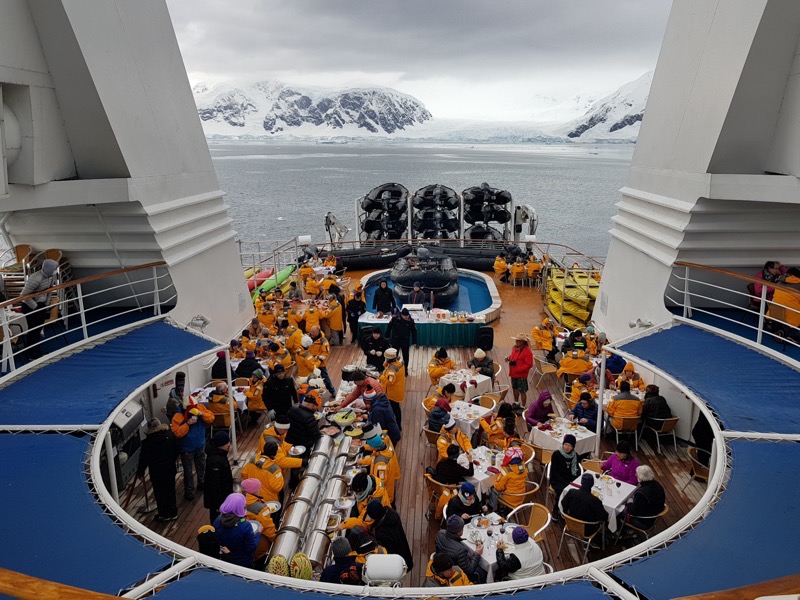 A great finish to another excellent day in Antarctica.  I'm loving this voyage – it's simply unbelievable.