Just how many 'Trips of a Lifetime', can a person squish into one lifetime?  Well, looking at my travel history, I'm thinking as many as you want to prioritise in your life!  We have one car. I don't like fashion.  I don't shop for shoes (ever – it it's avoidable!) We're sensible with money (most of the time) and we don't miss out on much – but we think of money spent on travel and travel memories is money well spent.  So onwards with planning more adventuring!
For this years trick – we are off to JAPAN.  Well, it started as a trip to Japan, but now it's a trip to Japan, China and Hong Kong!  And I am sooo excited!  We are flying to Tokyo in early July and having 11 days in Kyoto and Tokyo to take in the Gion Festival and check out the crazy anachronisms in Tokyo – Mr K is planning on climbing Mt Fuji, while I onsen of course!  Then we have booked to go on a 17 night cruise all around the country to see some of the more remote areas of Japan that travellers don't get to that often.  Going with Princess of course (can't let that Elite free laundry thing go to waste!).

This trip is on the enormous and very impressive looking Diamond Princess.  We haven't been on this ship before, but it's about 1/3 bigger than the Sun/Dawn and Sea Princess ships that we sail on out of Australia.  Should be pretty interesting… I'm keen to try out the Japanese Baths in the Sanctuary.

After our 28 days in Japan (did I say how much I was looking forward to the Gion Festival in Kyoto?), Mr K and I are flying to China!  We are doing an organized tour, which is rather uncharacteristic for us, as we usually prefer to be self proppelled which gives greater flexibility, but when you don't know two words of the local language and customs are so entirely different to what we are used to in the West, it kinda makes sense to get onto an organised trip.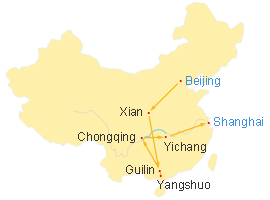 Our 14 nights takes in Beijing, Xian, Guilin, Li River, Yangshou, Chonquing, a 3 night Yangtze River Cruise, Yichang and Shangai.  Places I never thought I'd get to travel to.  We'll be seeing the Great Wall of China, the Forbidden City, the Summer Palace, the Terracotta Warriors, the Yangtze Three Gorges Dam and loads of beautiful scenic places in between… I am particular fascinated by the Reed Flute Caves.  It looks like other limestone cave systems that has been lit up with beautiful coloured lighting systems to make a kaleidoscope of colourful stalactites and stalagmites.  Looks gorgeous and otherworldly!

After China (I'm going to copy the full itinerary into the bottom of this post) we are heading off to a short stay in Hong Kong for Mr K's 40th birthday – I have no idea what we are going to be doing in Hong Kong yet… I haven't got that far!  🙂  Hopefully I'll find somewhere cool for us to stay and some fun things to do before we head home.
So much travel and so many adventures… I am truly fortunate.
Day 1 Arrive in Beijing
Your guide will greet you outside the baggage claim area at the Beijing Capital Airport with a welcoming sign and then take you to the pre-booked hotel. The rest of the day will be left on your own to explore this amazing city.
Day 2 Beijing
Begin your explorations in Beijing today by paying a visit first to the largest city square across the world, Tiananmen Square. The square is one of the most beloved sites among Chinese citizens, especially the flag raising and lowering ritual held here at dawn and dusk, draws in scores of spectators every day. Opposite to the square across the road is the magnificent Forbidden City, one of the most recognizable landmarks and cultural symbols of China as the former royal residence for five centuries. After your tour of the Forbidden City you will continue your day with a visit to Summer Palace, the massive garden and summer resort for royal members only during the imperial times. (B+A La Carte Lunch)
Day 3 Beijing
The tour today starts with the remarkable Temple of Heaven, where emperors of Ming and Qing Dynasties performed ceremonies and rituals to pray for good harvest and blessing on the country. Afterwards, you will be taken to the Mutianyu Great Wall, a comparatively less tourist-trodden part of the 1,400-year-old fortification system. An easy, comfortable round trip cable car transfer over the picturesque scenery is included while certain amount of time would be given for you to climb the wall. Lunch will be served at an elegant restaurant. Our touring concludes with a stopover at the Bird's Nest and Water Cube on your way back to hotel. (B+L)
Day 4 Beijing-Xian
After breakfast, hop on a rickshaw for a Hutong Tour through the most characteristic, maze-like neighborhood. Afterwards, you would be taken to the railway station for the high speed rail train to Xian, which takes approximately 5 hours, and along the way, feel free to admire a total different scenery of the countryside. Upon arriving at the Xian North Station, the tour guide would pick you up and escort you to the hotel. (B)
Day 5 Xian
The highlight of the tour today lies in the world-renowned Terra-cotta Warriors and Horses. It is reputed as the largest underground military base in the world. After lunch, you will have the opportunity to explore the ancientXian City Wall, the largest and best-preserved wall extant in China now, running 13.75km, enclosing the old capital. In the middle of the old block of Xian stands the Great Mosque, the oldest and biggest Islamic mosque in the country, determined to have been built in mid-7th century. Around the mosque is the Muslim Street that is bustling every day with loads of the most authentic fine eateries and souvenirs shops. Also we would stop at the nearby Bell Tower & Drum Tower Square for some great photo opportunities. (B+L)
Day 6 Xian-Guilin
After breakfast at the hotel, the tour guide will take you to the Xian Museum, a museum housing 130,000 pieces of archeological items, located right at the foot of the Small Wild Goose Pagoda, one of the two most significant Buddhist pagodas in Xian, which was built around early 8th century. After enjoying a special A La Carte lunch, you will be transferred to the Airport for your flight to Guilin. Upon arrival in Guilin, you will be met by your guide and transferred to your hotel. (B+A La Carte Lunch)
Day 7 Guilin
After breakfast at the hotel in the morning, start today's tour with the Reed Flute Cave, a huge cave featuring a walk of about 500 meters, lined up by countless grotesque yet thrilling stalactite formations; and Elephant Trunk Hill, the most representative and favorable landmark of the city of Guilin, which is apparently a hill bears quite some resemblance to an elephant standing in the water. Later in the day, a trip to the Seven Star Park is also on the schedule. (B+A La Carte Lunch)
Day 8 Guilin-Yangshuo
This morning your guide will meet you at your hotel and transfer you to Zhujiang Pier for your impressive cruise on Li River towards Yangshuo. Upon arrival, you would be transferred to a local family for the authentic rural China experience. On the way there, please take your time to admire the gorgeous country view of Yangshuo. Check in to the hotel at Yangshuo and enjoy your night out on the small town. (B+L)
Day 9 Yangshuo-Guilin-Chongqing
This morning, drive back to the airport in Guilin to catch the flight heading Chongqing. Your Chongqing guide will pick you up from the airport and take you to the Panda House at Chongqing Zoo where you would have a close encounter with the adorable giant pandas. Later in the day, visit the historic Ciqikou Old Town which is an old town dating back to the turn between 10th and 11th century. Before the day ends, embark your luxurious Yangtze River Cruise ship which will weigh anchor at 10.30pm. There is a necessary Safety, Orientation & River Briefing presentation for you upon embarkation. (B+A La Carte Lunch)
Day 10 Yangtze River Cruise
Sail along the Yangtze River today. Go ashore for an excursion to Fengdu Ghost City or Shibaozhai, depending on the water level condition or different cruises. The exciting Captain's Welcome Party will be held in the evening. Just sit back and enjoy the Chinese folk dancing and music performance, and be a part in it. (B+L+D)
Scenic Spots: Fengdu Ghost City is dubbed as the final resting place for all souls in Chinese mythologies, hence the series of temples and grotesque images ubiquitously found in town. Shibaozhai is a 56m or so tower leaning against the Yuyin Hill. The tower and the land around it were specially isolated and encircled by a moat after the Three Gorges Dam project in 2003, rendering it a gargantuan bonsai besides the Yangtze.
Day 11 Yangtze River Cruise
Continue sailing pass the jaw-dropping view of the Qutang Gorge and Wu Gorge. Disembark for an excursion to the Small Three Gorges, also known as Lesser Three Gorges, consisting of Longmen, Bawu and Dicui Gorges. Later take an excursion to Badong and experience a small wooden boat trip on the magnificent Shennong Stream. Return to the ship and enter the western section of the Xiling Gorge. In the evening, the cruise ship is slated to pass through the massive ship locks if weather permits. (B+L+D)
Day 12 Yichang – Shanghai
After breakfast, you will disembark for a visit to the grandest hydroelectric project in the world, the Three Gorges Dam. Indulge yourself with a tour around the colossal dam and perhaps the phenomenal scene of millions of tons of water being discharged if it happens to be rain season. Then go back to the ship and prepare for the check-out. As the ship arrives at Yichang, your guide will meet you on board and take you to have lunch. Afterwards, you will be transferred to the airport for your flight towards Shanghai. Upon arrival, your Shanghai guide will meet you and transfer to the hotel. (B+L)
Day 13 Shanghai
This morning commence your tour of Shanghai with a visit to the Shanghai Museum, a massive museum housing over 140,000 pieces of artifacts, displaying the history and cultural scene of Shanghai. Later you would take a walk at The Bund, the most prestigious landmark and best-preserved demonstration to the glamour of the old Shanghai, and Nanjing Road, the busiest shopping area in the metropolis or even across the whole China. After lunch, visit Yuyuan Garden, where you can marvel at the stunning view of the garden and have the most local experience by strolling around the nearby Chenghuang Miao bazaars, and New Spot (XinTianDi). Enjoy a Huangpu River Cruise to appreciate the scenery of Shanghai at last. (B+A La Carte Lunch)
Day 14 Depart from Shanghai
According to your flight schedule, our tour guide will pick you up at the hotel and drive you to the airport to catch your homeward flight. (B)