So, Wednesday now. Woke up absolutely stuffed from the drive yesterday and heading into the park the night before. Already my back was regretting the decision to go on the Goofy Sky School roller coaster ride with the Small Child last night – yes, I'm blaming that ride, as it was way too aggressive and jerky and no where near as much fun as the others!
The main perk of staying at the Disneyland Resort with its completely incompetent staff, is getting into the park an hour early before it is open to the general public. So up we get at 6am to have a bite, get dressed and hit the park by 7am. The early opening alternates between Disneyland and the California Adventure Park, and today it was the California Park's early hour
We went in and went straight for the Cars. Had a quick spin and picked up some Fast Passes for later in the day. Then decided to go through the Soaring ride which is a large IMAX sized flight simulation of flying over California. Very impressive… your feet are off the ground and you're banking with the action on the screen, it really feels like you are flying through the air.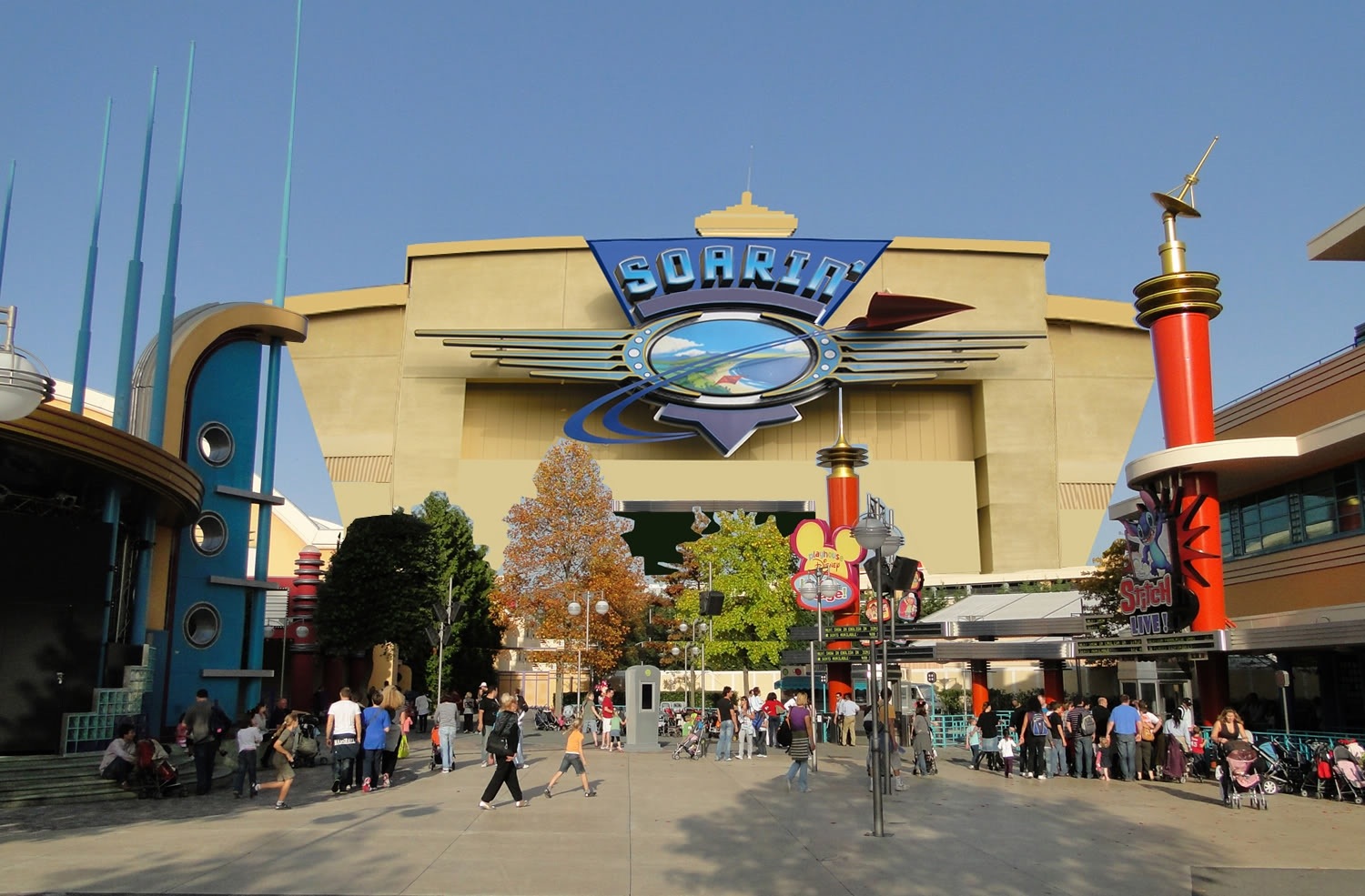 Then onto the Grizzly Rapids which is one if those round rafts that goes down a very wet rapids trip. We got thrown around and thoroughly drenched and thought this was a ride best done at lunchtime during the heat of the day!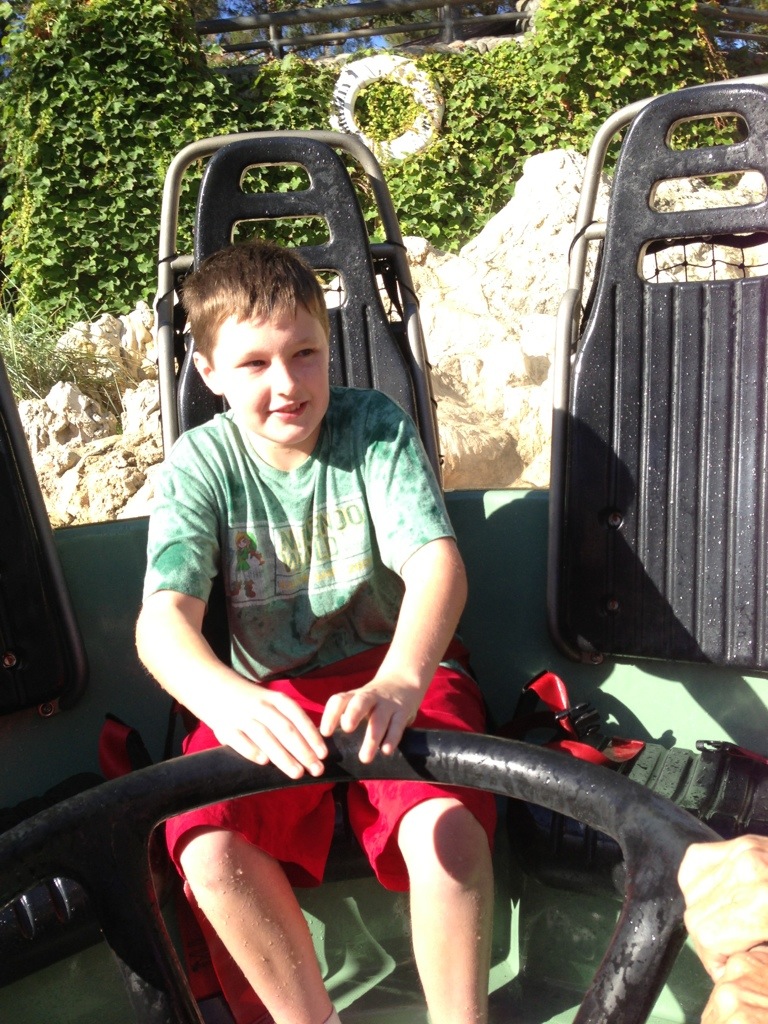 After we dried off a bit, we then decided to try the California Screamin' roller coaster in Paradise Bay. Where we hit a wee hiccup… there was no way no how that the Kid was going on that roller coaster. Period. It's a very very fast and extremely high ride with plenty of twists and drops and I've upside down loop. I tried coercion, cajoling, pleading, bribery, lightly veiled threats (to withhold junk food!) and no way! He was not budging one little bit. Apparently Dad had told him he didn't have to go on anything he didn't want to and he was sticking with it!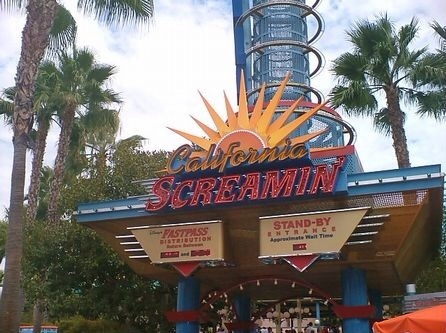 Ok, so be it (personally, if have taken the $20 and closed my eyes, but) he was adamant he wasn't going. So we threw out bags at him and went without him. The California Screamin' roller coaster then became my all time favourite ride I've ever been on in my entire life! Talk about an adrenaline rush… so fast, so smooth, not at all jerky or painful and I LOVED it! We got off and excitedly reported to the Small Child that it was better than Cars, and that he should come too… but he wouldn't be moved. So we went again without him. 😀 Got us some fast pass tickets for that!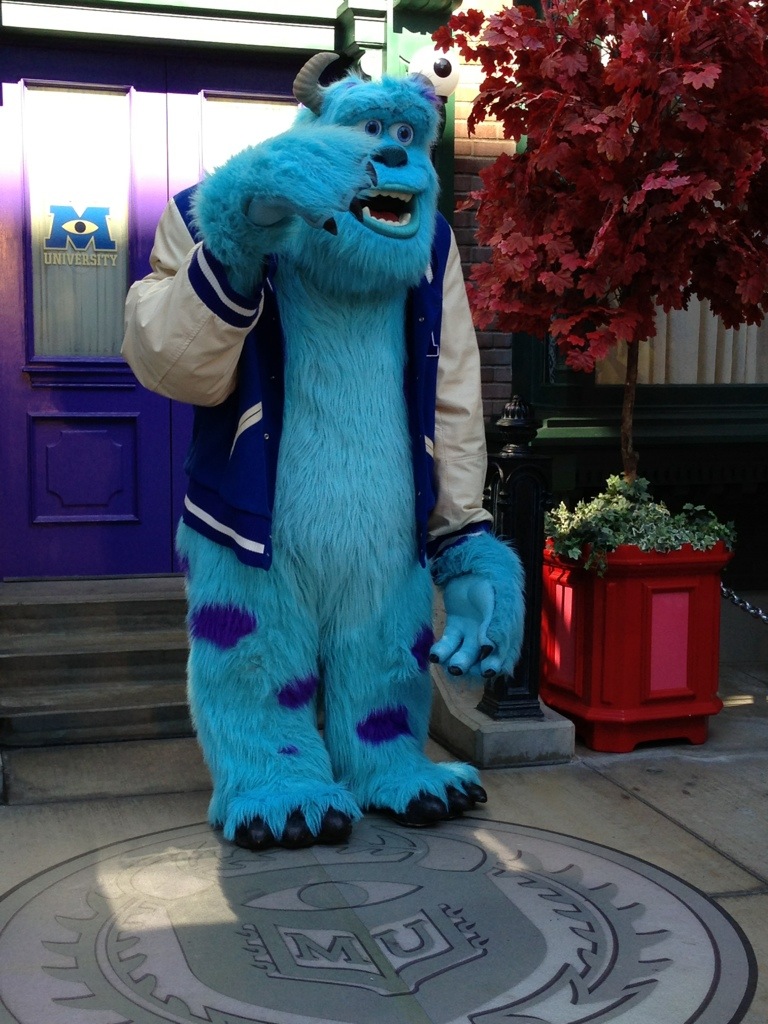 By now both parks were open and we thought we'd finally go into Disneyland. First stop, Star Tours – it was on his list. The line was about 25 minutes and this was the longest wait we had over the entire three days we were there. We inched through the queue trying to stay out of the sun and chatting with other people in line. We eventually got into the ride and Angus loved it. Personally I'm not a Star Wars fan so I didn't think it was worth the wait but that's just me. The show has obviously been updated over the years as all the new characters from the later movies appeared in the ride.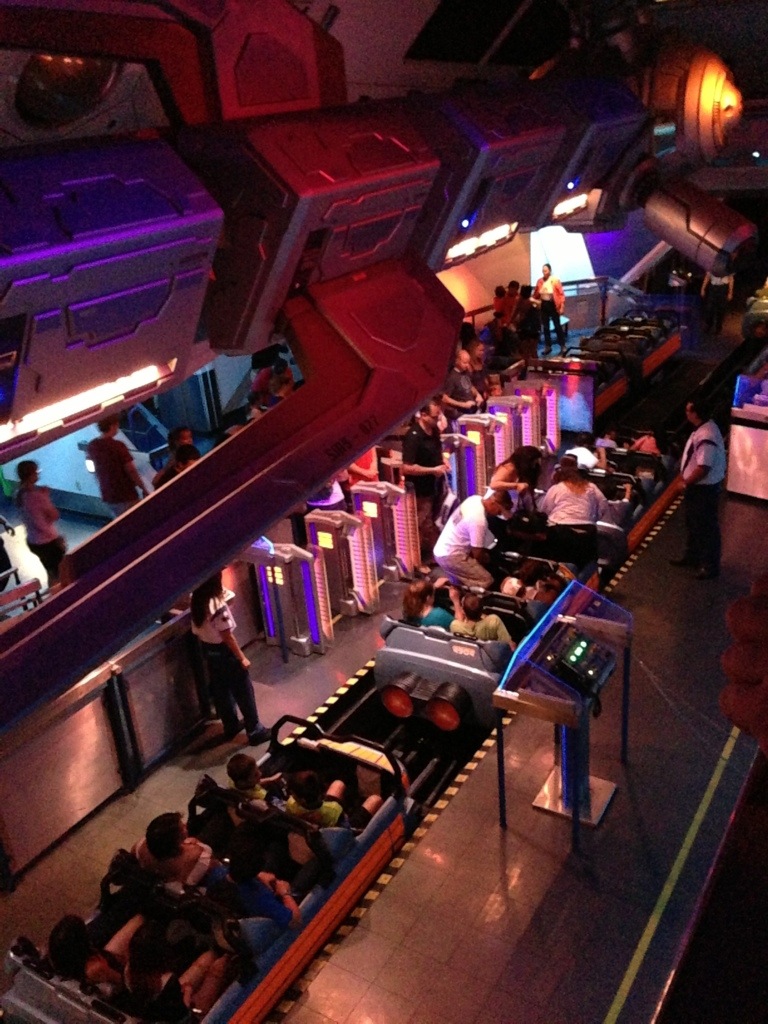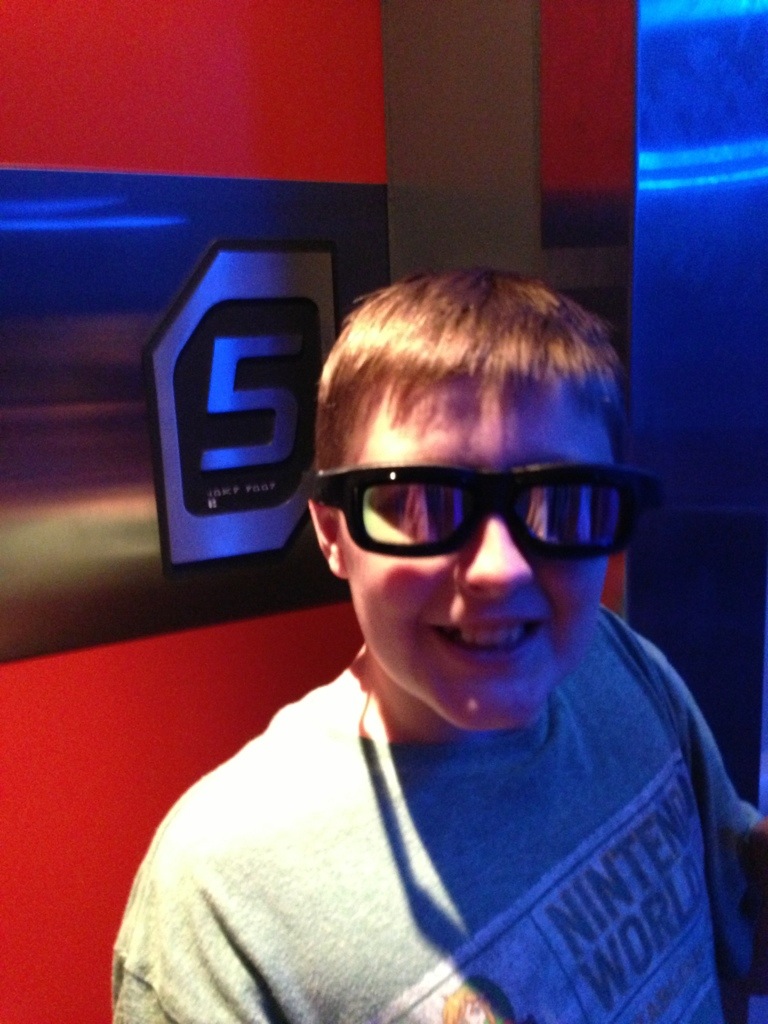 After that onto Space Mountain only to find a 50 minute queue had already formed. Time to whip out the golden 'sorry we screwed you around' ticket… And straight to the head of the queue. No problems getting the Kid to go on this ride. He hopped into the car, bucked his seatbelt and was raring to go… even though he had no idea what was in there. And shit by the end if it I wish I didn't find out what was in there. Most of you probably know that the whole thing is in a darkened environment which is very low tech with its fairy lights and mirror ball effects to give the rider the sensation of hurtling through space. Only ready it still thrills is because you have no idea where you're going or what is coming next. It's loud and jerky and way too aggressive by half. I got so thrown around in that thing… yet the Small Child loved it!
Unbelievable. Couldn't get him on the nice smooth newer rollercoaster over the way but this old jerky thing he loved it. We told him it was scarier and much worse than the California Screaming but he wasn't buying still. Sigh…
We did a few more rides about the place and by then it was heading towards midday and we'd been at it for five hours already. To avoid dehydration and/or sunstroke and to preserve our feet and/or sanity, an executive decision had been made earlier in the day to get out if the midday sun and go see a 12:30pm showing of the Lone Ranger in the Downtown Disney area for a couple of hours respite… best idea I ever had.
We hightailed it out of the park, picked up some hotdogs for lunch*, and spent a couple of hours in the air con with some frozen cokes*, our shoes off and kicking back.
Movie was pretty good, the break in the heat of the day was even better. After the Captain Jack Sparrow, I mean Tonto was all done, we head back into the California Park with our California Screamin' rollercoaster Fast Passes which had just expired while we were in the cinema (they stopped honoring expired passes in Feb apparently because Fast Pass queues in the late afternoons were getting as bad as regular queues from people storing then up all day).

As we were walking in there we were trying to convince the Small Child to give it a go if they let us use the passes. He didn't want to, but eventually he said 'Alright, I'll give it a go.' as he fully expected us to be turned away due to the expired passes. But, bad luck kiddo… the nice lady let us in when I explained we had had to leave the park because we were heat affected, and the alarm on his face as we made our way up the fast line, was priceless. We were in the rollercoaster within minutes and there was no backing out. Off we went. Such a friggin fantastic ride. I looked over at him and he was screaming – but also laughing and grinning from ear to ear. We get off the ride feeling dizzy and the verdict: 'That was awesome! Can we go again?' Bloody hell, little nutter. Sometimes he should ignore Dad and just listen to his Mum!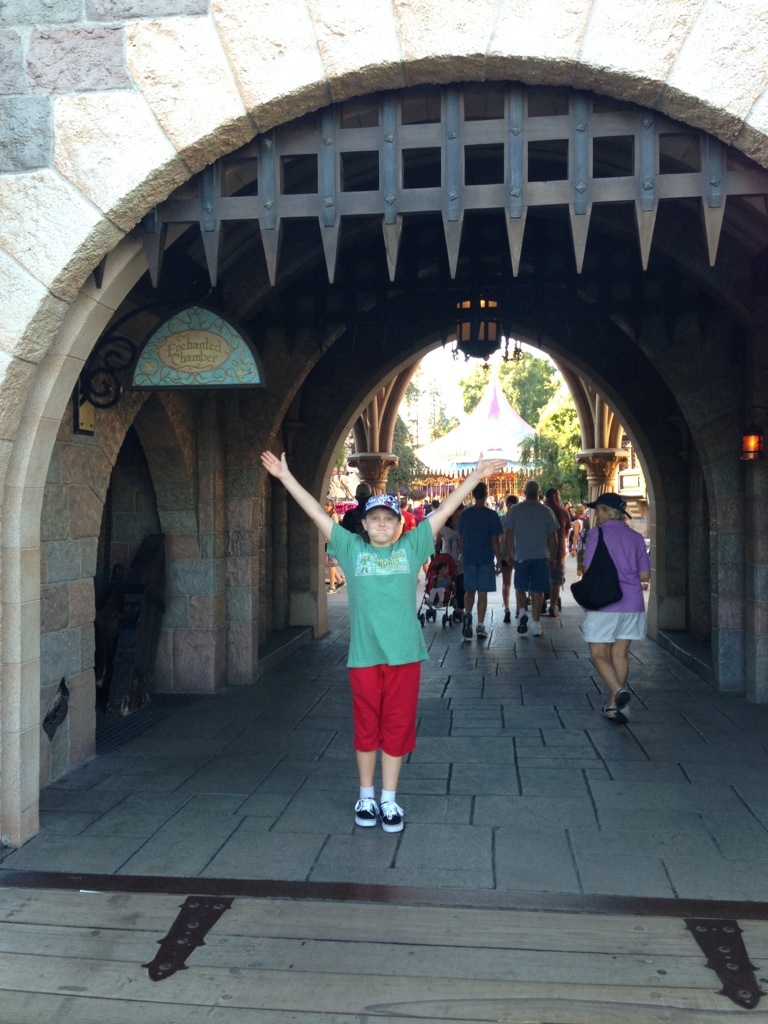 After that it was back to Disneyland… Thankfully our Fast Passes for Space Mountain had expired, and this time the line checker was not so generous, so I was spared being thrown through the dark jerky washing machine for a second time.
Instead we checked out Adventure Land, Frontier Land and the New Orleans Quarter, doing all the old favourites – Pirates of the Carribean, the Haunted Mansion etc etc. It becomes apparent pretty quickly that these rides are older, less sophisticated and in bad need of updating to keep up with their flashy new California neighbours. No doubt this is why the Big Thunder Railway was closed atm, to make way for a new improved, more modern rollercoaster.
Anyway, we had some dinner and were hanging around for the fireworks over the teeny tiny building they call a 'castle' in Fantasyland. Got shooed off by security guards from our various perches at least twice, and ended up in the crush on Main Street with everyone else anyway. Now we had managed to avoid long queues all day so far, but waiting around for the fireworks… there's no 'out'. My feet were sore, my tummy was a bit upset (probably due to the inundation of crap food) but most of all, my back was absolutely screaming by this time (about 9pm). My shoulders felt like they were covered with burning needles and my lower back felt like someone had stabbed me with a hundred knives – just sharp sharp pain that wasn't going anywhere. Couldn't turn my head without beck spasm and starting to stiffen up really bad. Worst bit, to be totally honest – I couldn't give a fat rats about fireworks. Seen one show, seem 'em all in my opinion. In my entire life, I've never bothered to go see the Brisbane River Festival's big Sky Fire thing… cos I just don't give a shit. But there we were, standing for over half an hour to watch some lights and fire and loud bangs and smoke over Disneyland castle set to some well worn musical numbers.

Ooh. Aah. Pretty. Lets move on.
After that Angus high tailed us over to the Buzz Lightyear Astro Blaster ride, where you use a 'laser gun' to shoot down the Emperor Zurg. This was a great interactive ride. You're in a car going around a course and shooting at targets with your laser. The system somehow keeps score and you can compete with your fellow riders. Awesome fun. The kid was a bit disturbed that Mum got a higher score than he did though! I think he thought his video game expertise would win the day but he forgot Mum is a sporting shooter.
After that we called it a night and joined the walking wounded through Downtown Disney back to the hotel… it's just like watching a slow moving zombie apocalypse. Everyone is do stuffed and weary they're ambling, loping, waddling and limping their way out of the park.
Until tomorrow… :S