New room with new bed proved to be worth its weight in gold.  Slept much better, which is to say I feel like I had some sleep compared to last night on the 'you people knew this stupid bed was broken and I bet it will still be broken next month'. So be it. Someone else's problem now and a really shitty Trip Advisor review for you guys.
We are heading to Warsaw today, but first, we are planning on heading a ways in the opposite direction to the Wieliczka Salt Mine.  Located in the town of the same name, the mine has been open since the 13th century and produced table salt right up until 2007, making it one of the oldest salt mines in operation. Throughout that entire time, the royal mine was run by the Żupy krakowskie Salt Mines company.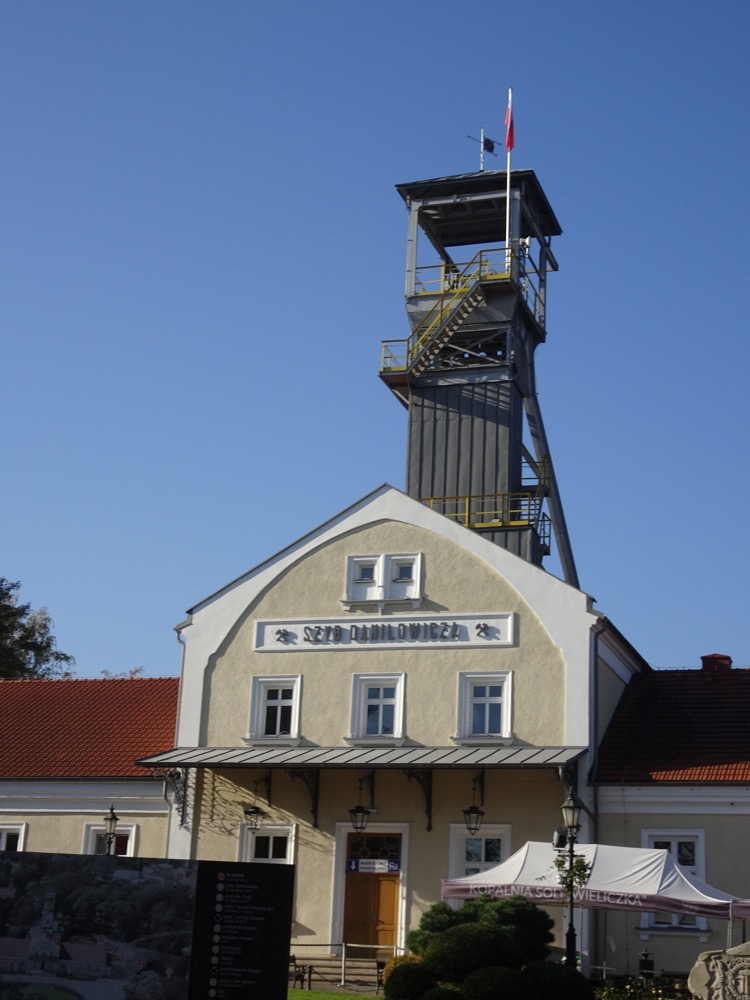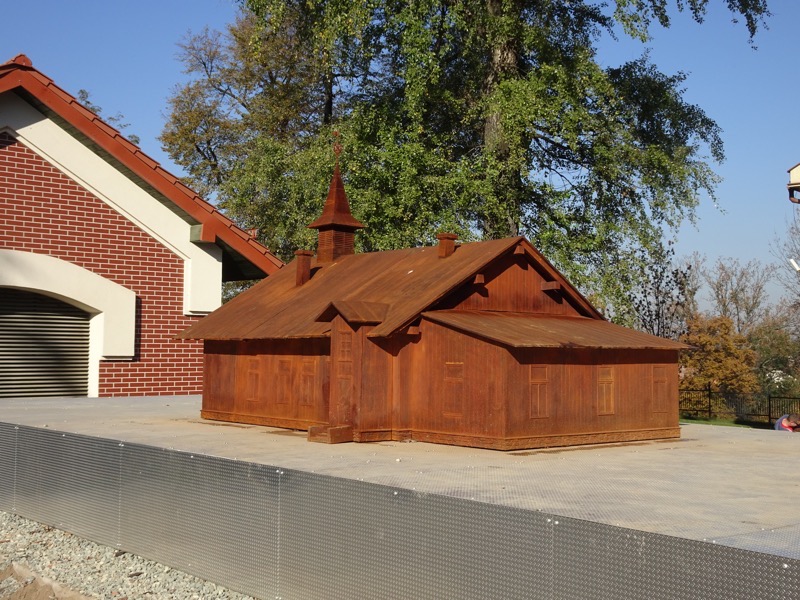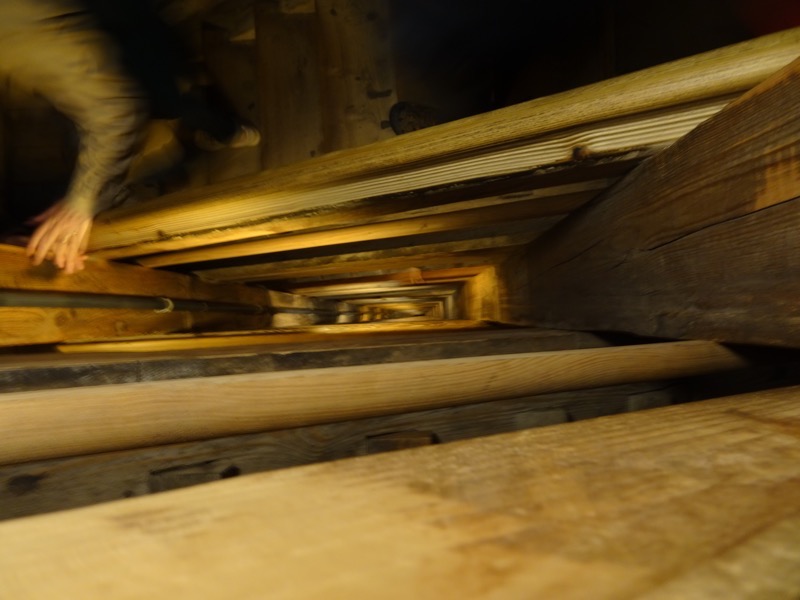 The Wieliczka salt mine reaches a total depth of 327 meters and is over 287 kilometres long. Since the mined ceased commercial operations it has become a major tourist attraction – there are underground chapels and an enormous reception room that is used for private functions, including weddings, loads of statues and some underground brine lakes.  The tourist route goes only 135m underground (which is plenty, trust me!) and follows a 3 km guided tour.  To initially get down to the first levels of the tours, visitors need to go down 64m via a timber spiral staircase of some 380 steps – which, given the low ceilings and tight space is a bit like walking down a 40 storey building fire escape stairwell.  There are many more sets of wooden steps so that visitors end up on the third level down at 135m and a total of approximately 800 steps down to get to that level.
Thankfully, a ridiculously claustrophobic lift returns you to the surface in an elevator that has four cars and holds 36 persons (nine per car) and takes about 45 seconds to make the trip.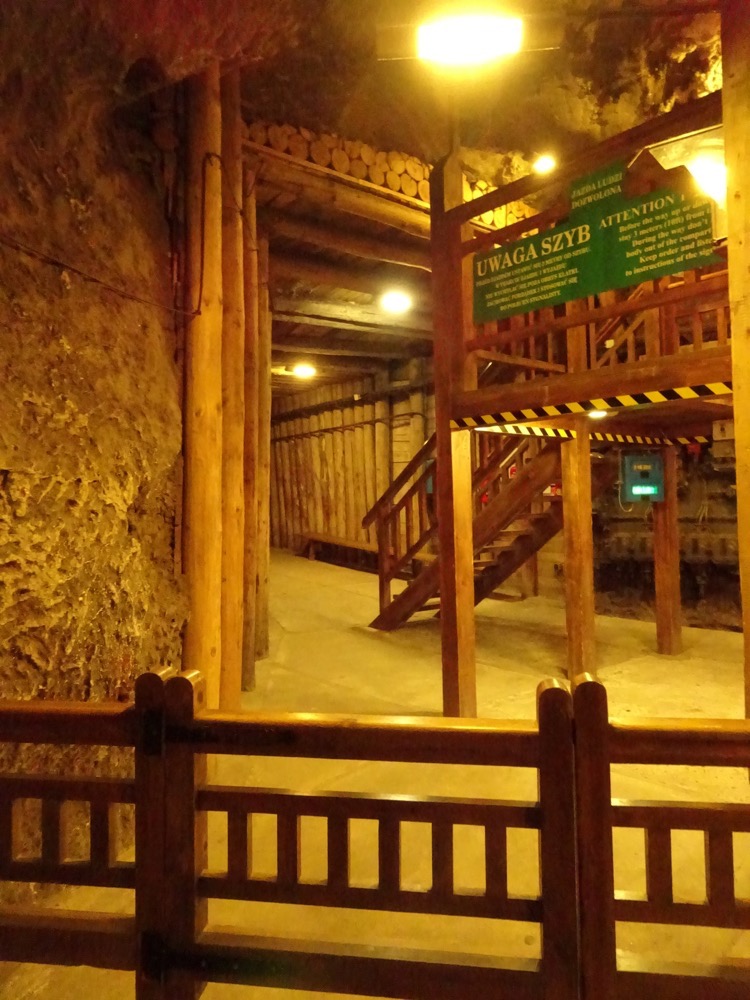 Everywhere we look is salt. Salt walls, salt floors, salt ledges, nooks and crannies.  The rock salt naturally occurs in various shades of grey and looks more like unpolished granite.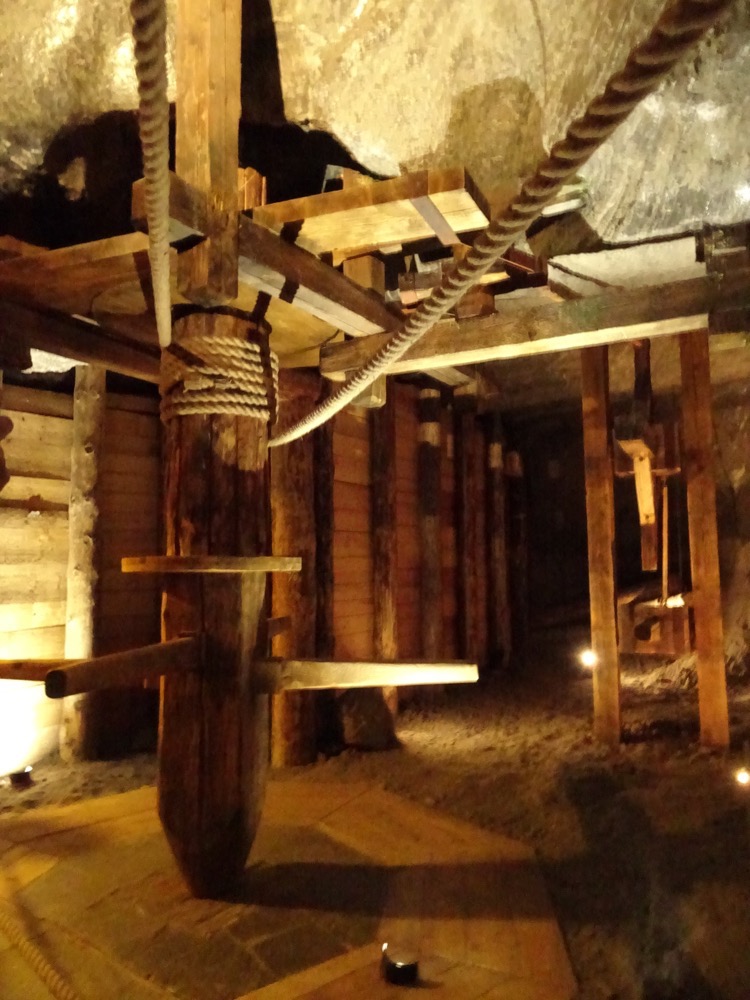 There are many pully systems and horse treadmills throughout the mine to assist miners in moving large amounts of the heavy product to the surface.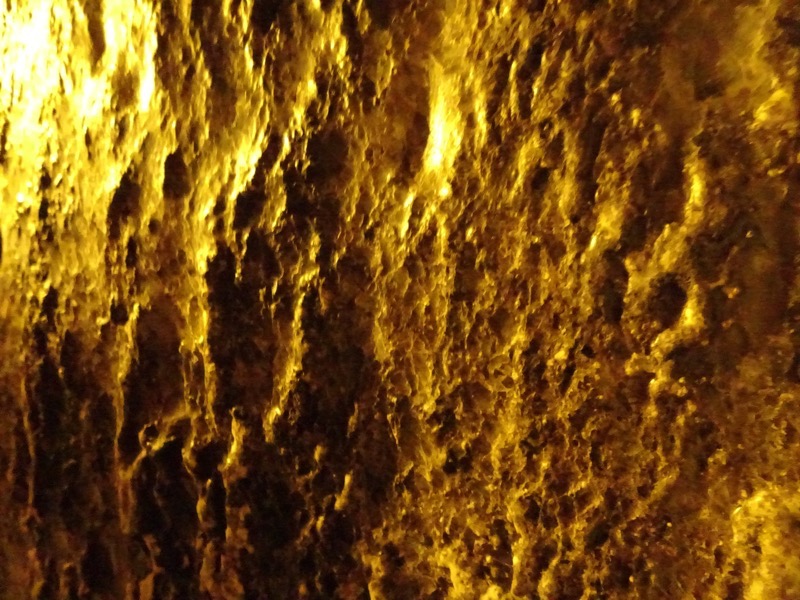 Throughout the mine, there are many statues carved out of salt.  Some, more contemporary artworks have been carved by modern sculptors, but many have been carved by amateurs – gifted miners who worked on these sculptures during their own time.
Copernicus statue carved from salt: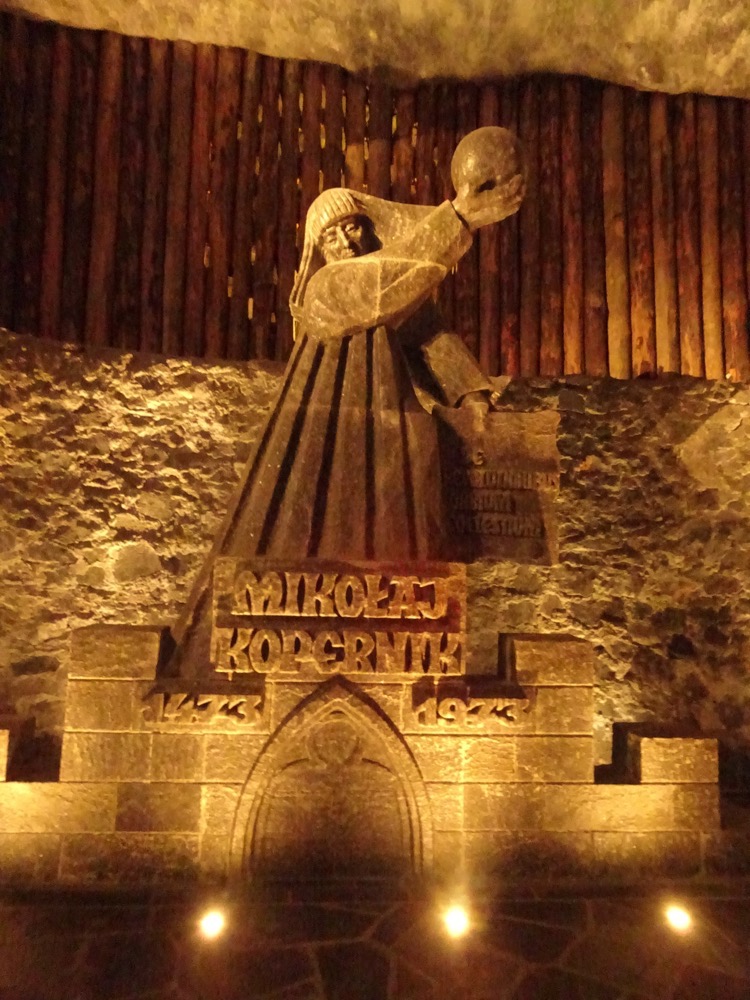 The story of how the mine allegedly came into being…
"In the 13the century a young Polish prince, called Bolesław, of the Piast Dynasty, decided to get married and for his wife chose a beautiful Hungarian princess of the Arpad Dynasty, the daughter of King Bela IV, Kinga (or Kunegund, as she is sometimes called).
When Bolesław's proposal was accepted, the loving father asked Kinga what she would like to get from him as a wedding present, what she would like to take to her husband and the new country. Kinga replied that she wanted no gold and jewels since they only brought unhappiness and tears. She wanted something that could serve the people she was going to live with. Her request surprised the king greatly – she asked for salt.
The king was determined to keep his promise. He offered Kinga the biggest and most prosperous salt deposits in Hungary* – the Marmaros salt mine. However, nobody knew what Kinga could do with the treasure.
On her way to Poland, the princess visited the mine. She kneeled to pray next to the entrance and – to everyone's surprise – suddenly threw her engagement ring inside. She gathered a group of the best Hungarian salt miners and told them to follow her.
When the party arrived in Poland and was approaching Kraków, Kinga stopped and asked the miners to look for salt. They started digging and suddenly hit something very hard. It was a lump of salt. When they broke it, everyone saw what was hidden inside – Kinga's engagement ring!
That is how the Hungarian princess brought salt to our country. Right now in Wieliczka, there is the most famous salt mine museum."
*This area once was in Hungarian territory.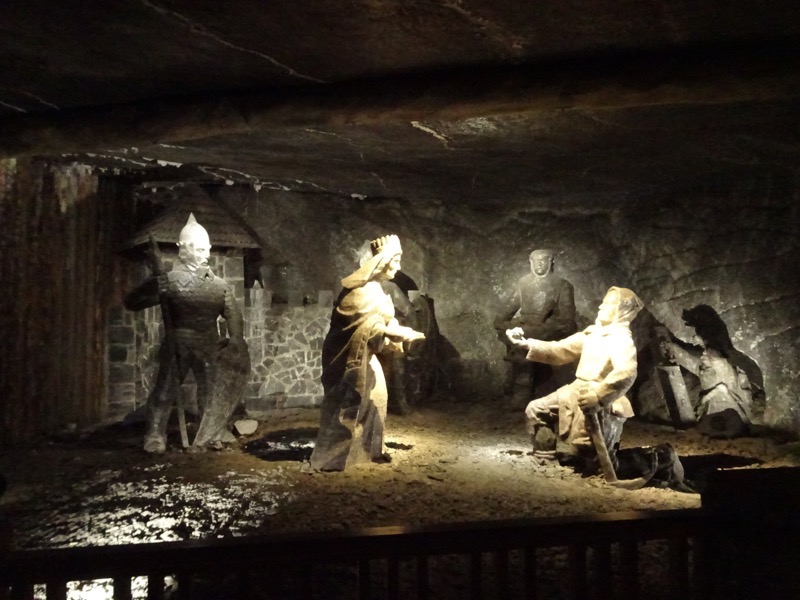 And the scene depicted is a diorama carved of salt.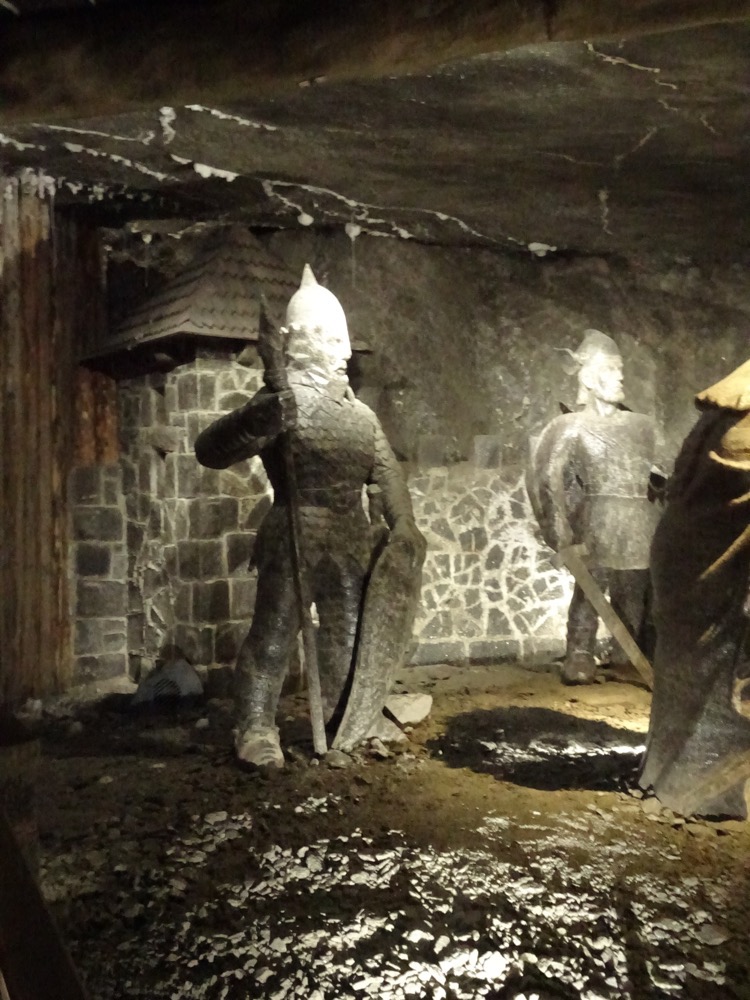 The St Anthony's Chapel.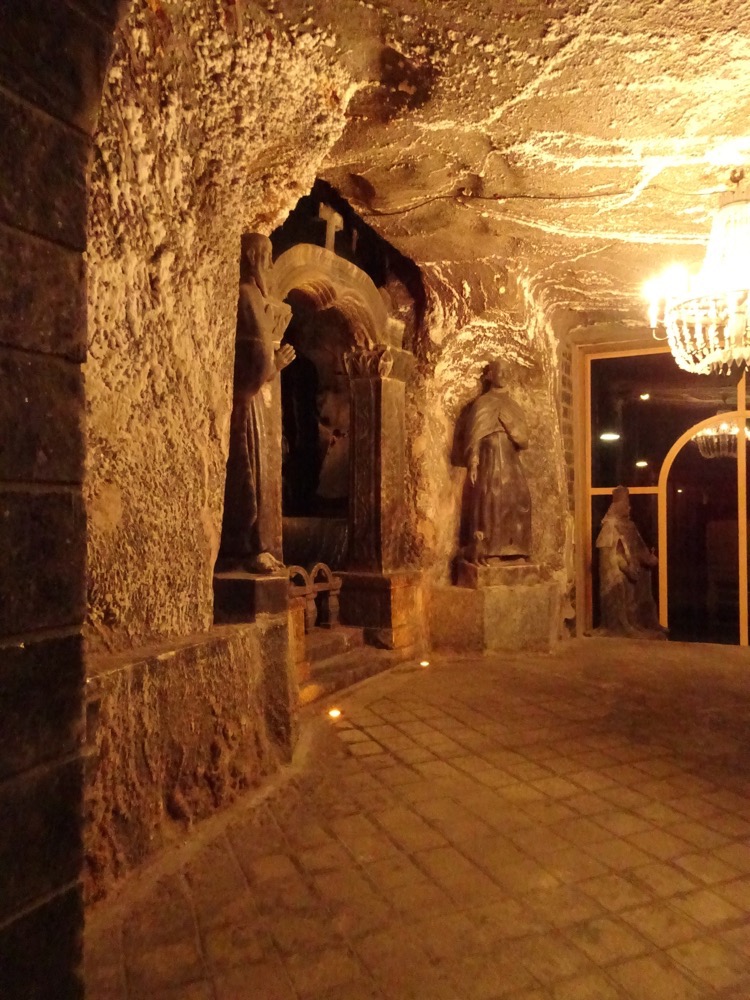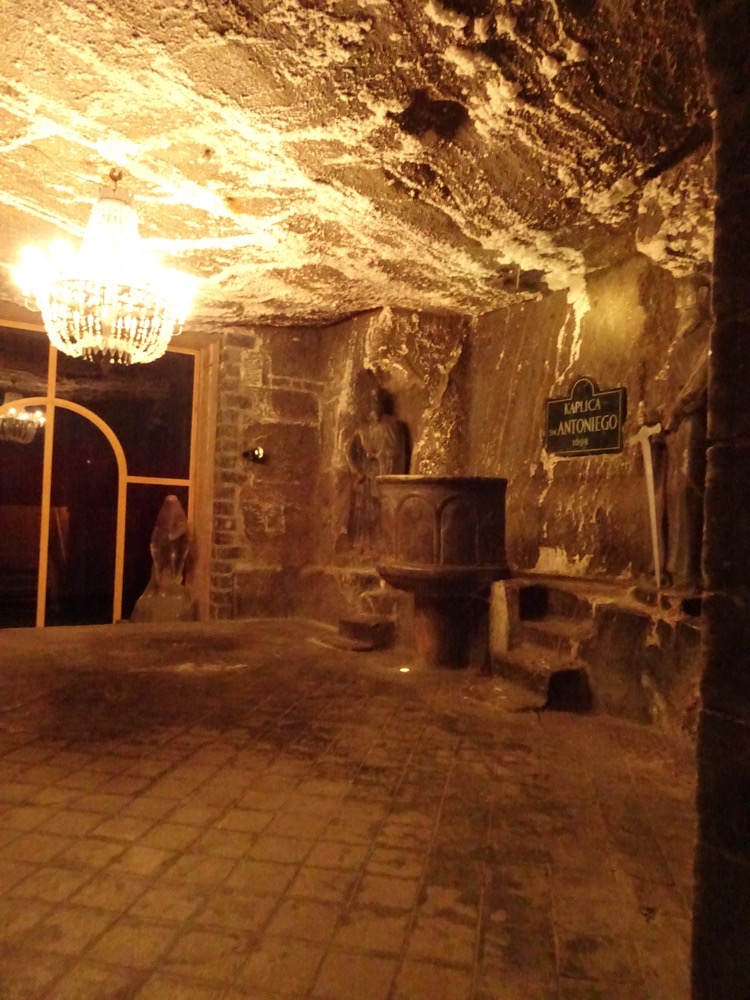 Secondary crystalised salt forms on the walls and ceiling of the mine as water seeps through the rock above.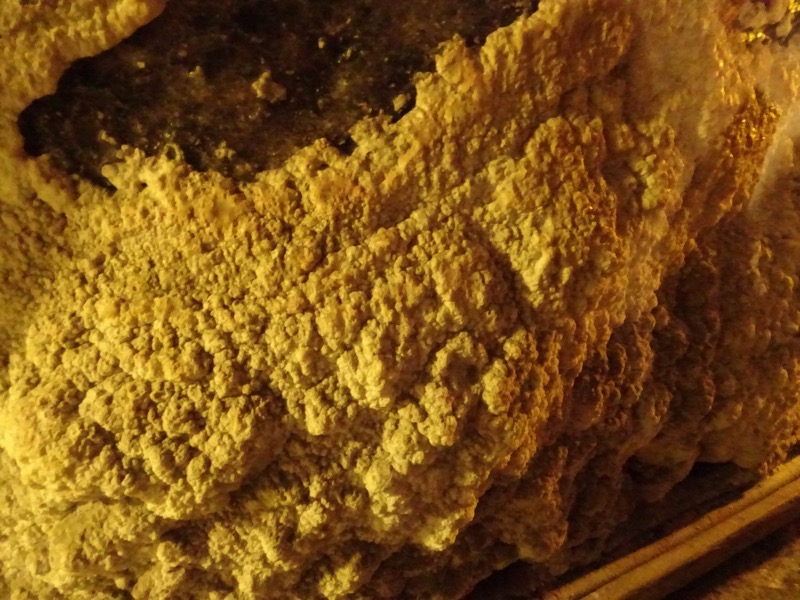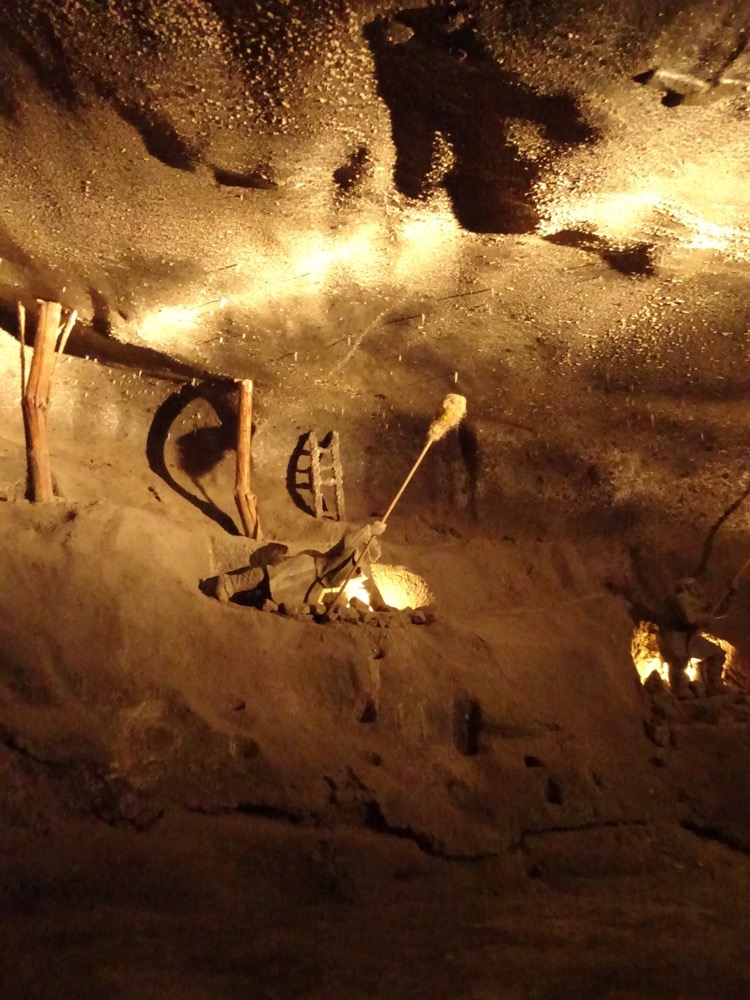 One of the most dangerous things about mining salt (indeed about mining anything this far underground) is the risk of fire.  The salt mines were particularly prone to fires from gas escaping as new veins of salt were mine.  Therefore one of the most dangerous jobs down the mine was to crawl down the newly created tunnels with a long flaming torch literally burning out pockets of colourless gas, which could cause explosions if the gas deposits were large enough.  It was a very dangerous job but apparetly very well paid work.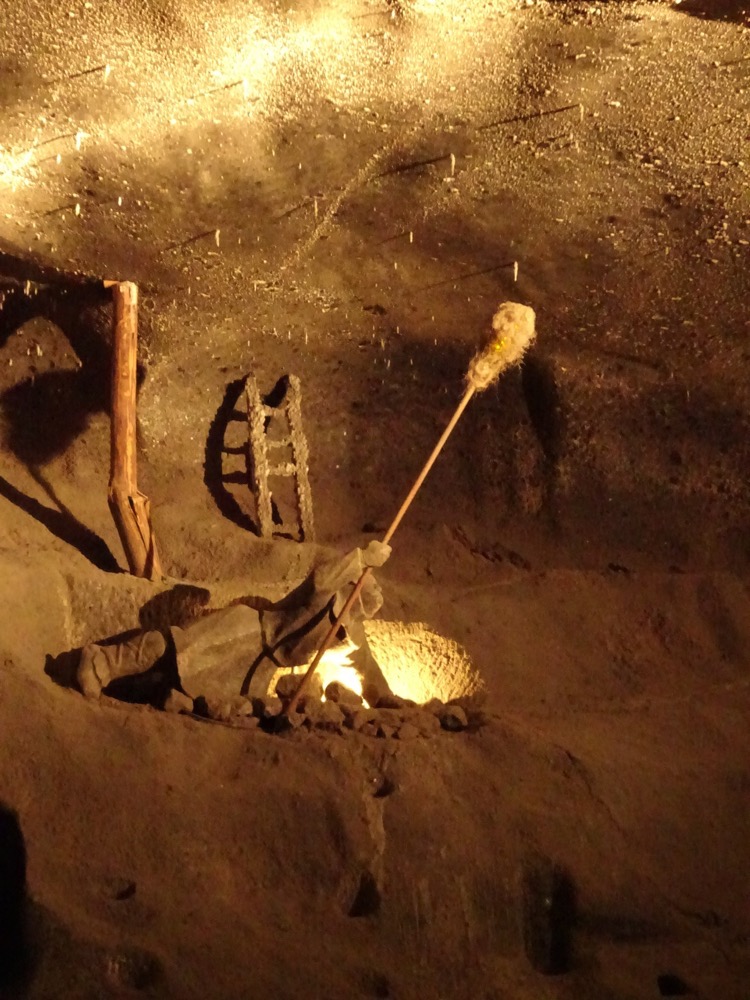 The visible patterns and designs have been hand cut into the walls and floors.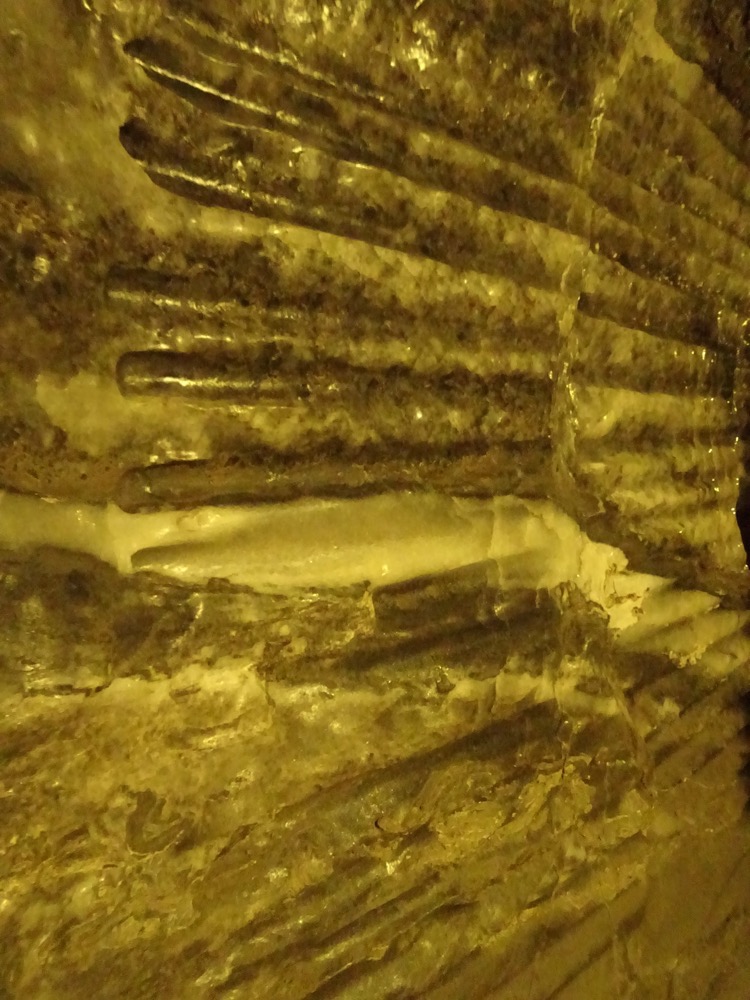 There were many workhorses used in the salt mines – once down the mine, they spent their entire lives down there as it was difficult to get them in or out.  So naturally, they needed stables, with feed storage and all sorts.  Hay stocks would bring mice, which meant they eventually brought down cats and the whole place sounded like a bit of a menagerie.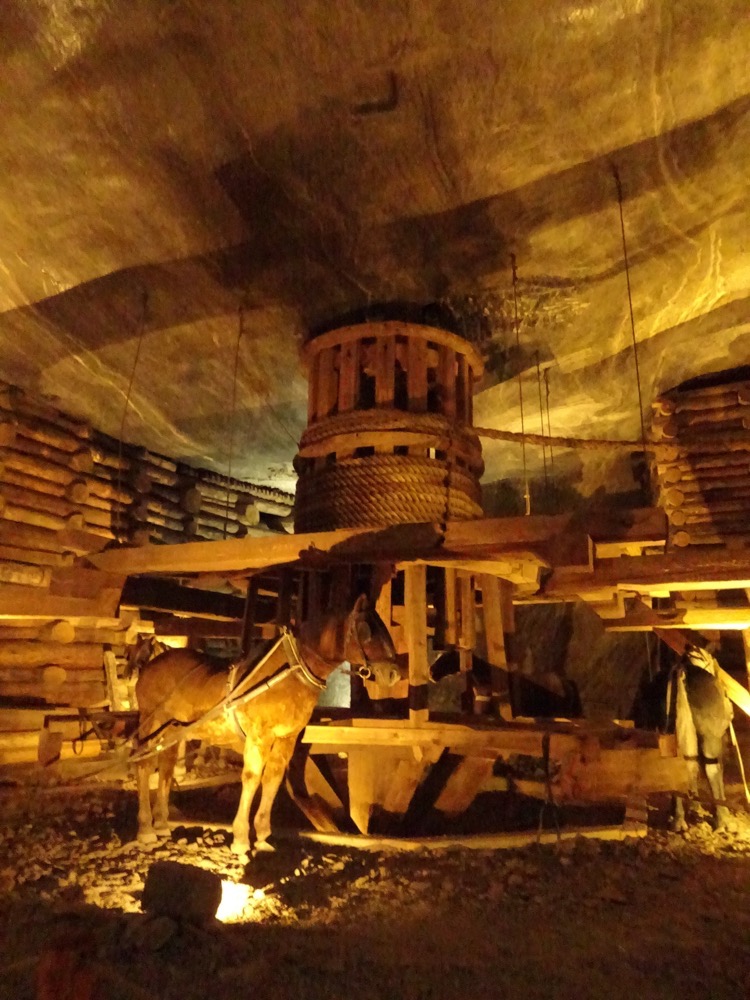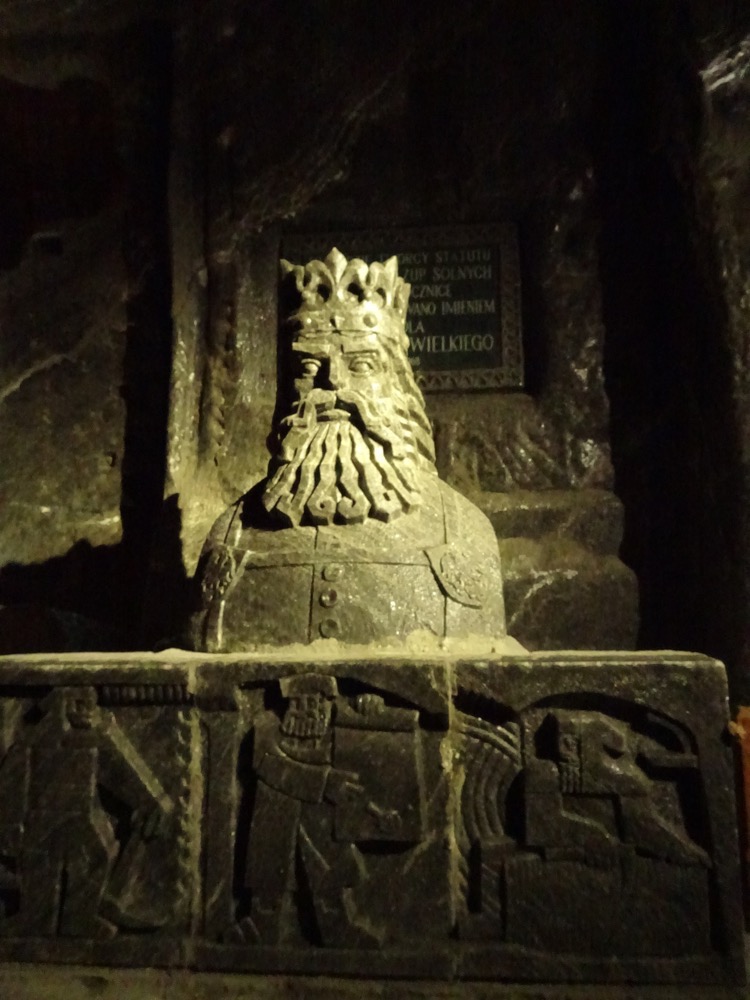 An old winch system: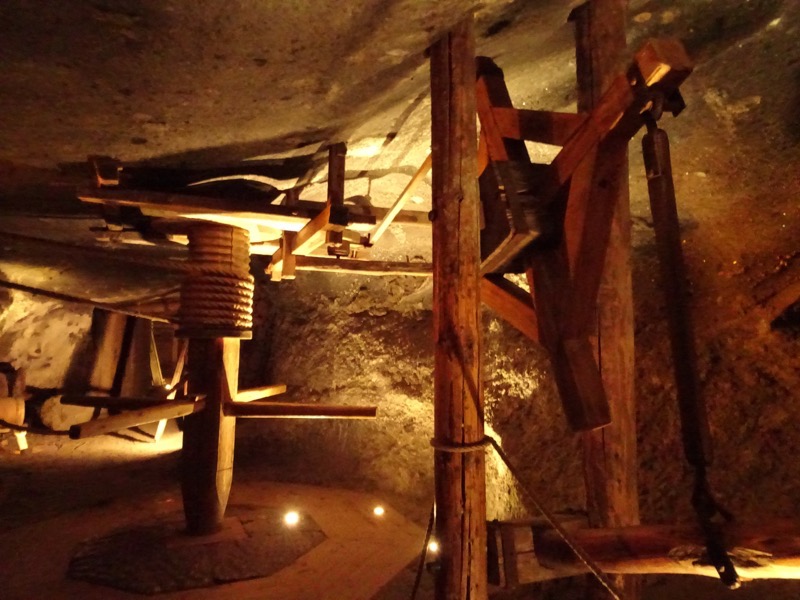 This photo is unfortunately not very clear, but these were 14th century stairs that miners would use to descend the mine, carved into the salt.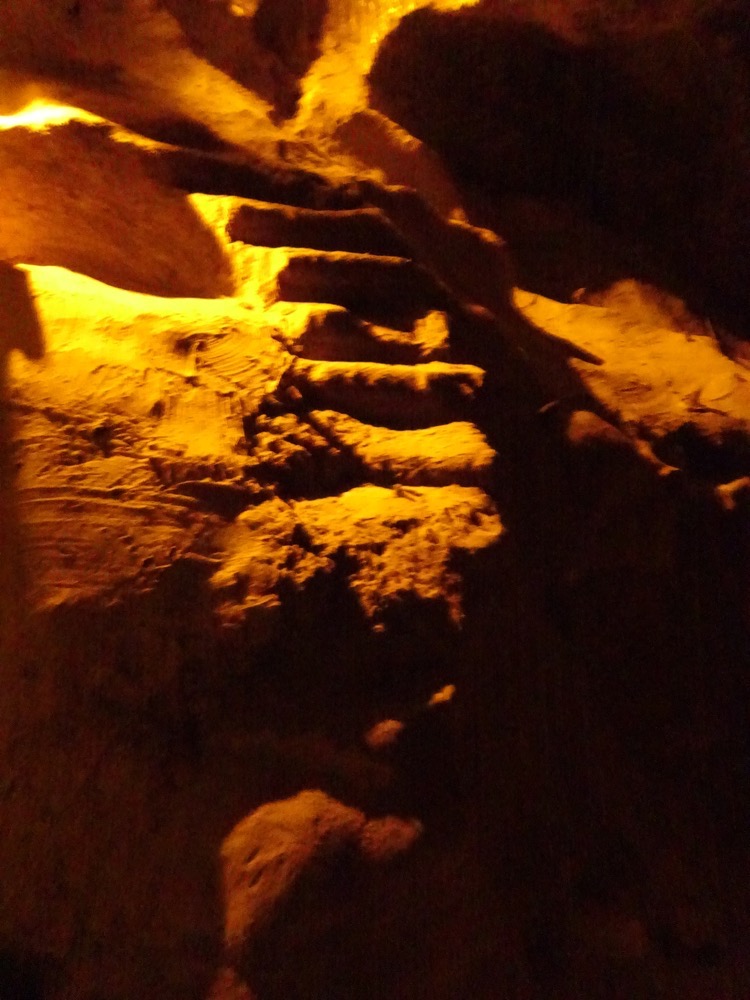 Looking down to the second level: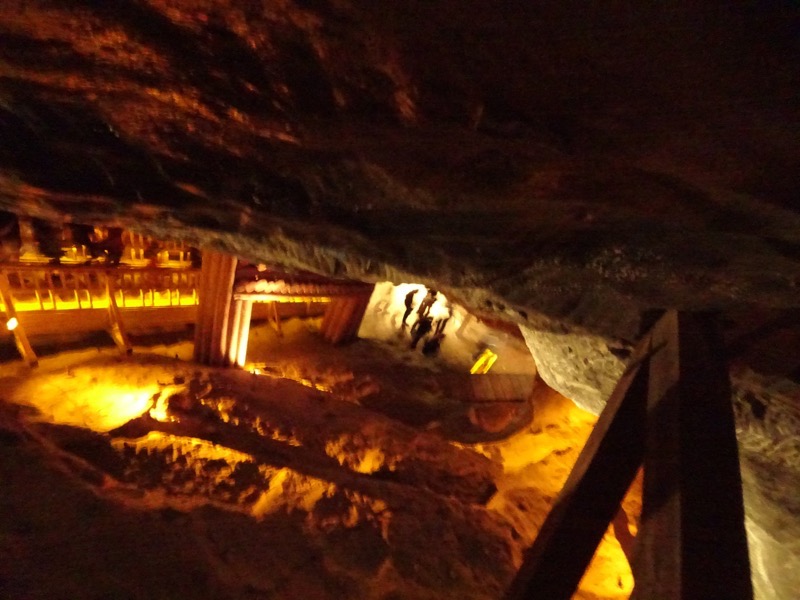 Gnomes start to appear dotted around the place, carved out of very clear white rock salt.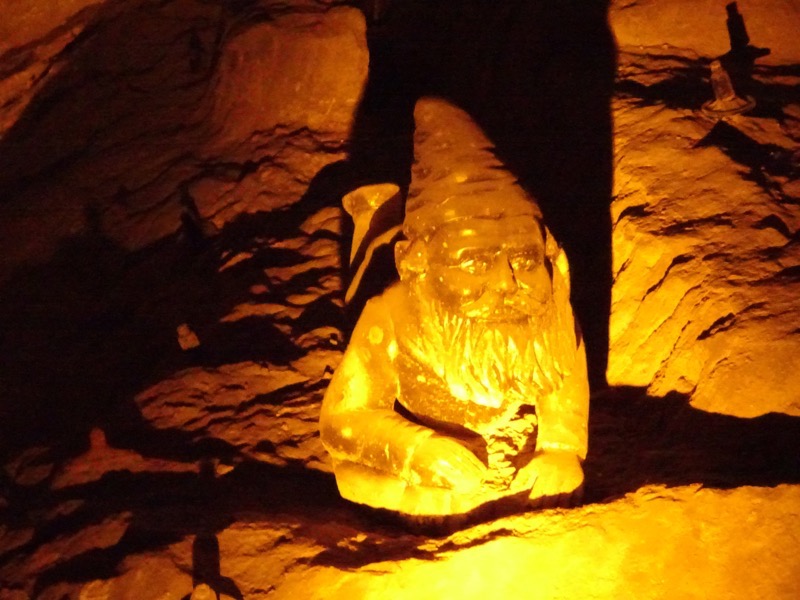 Where we just came from: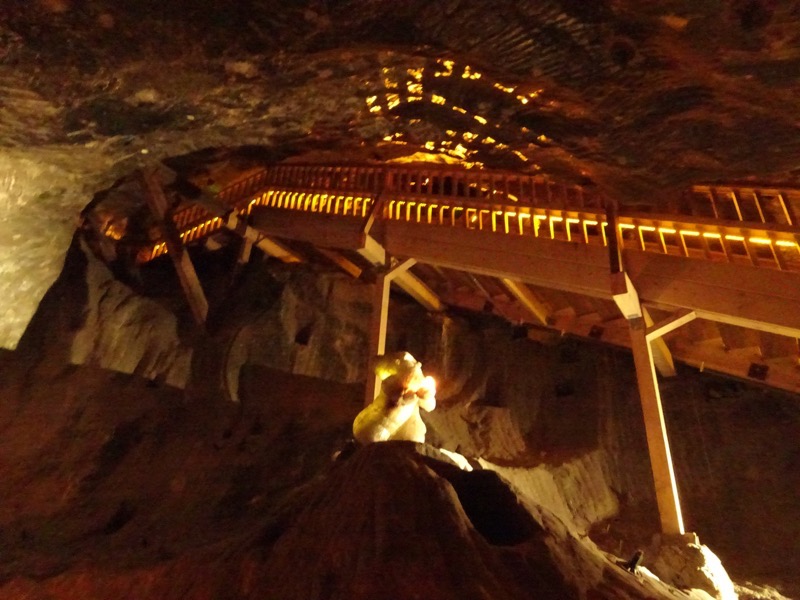 A brine creek directed to a bowl.  Our guide kept telling us to lick the walls or taste the water – it's so salty that no bacteria can survive on the surface, and even though the mine has over 1.2 million visitors a year, she assures us that no one ever gets sick from licking the walls.  I kinda believe her, but didn't feel the need to try it. The water however was extremely salty.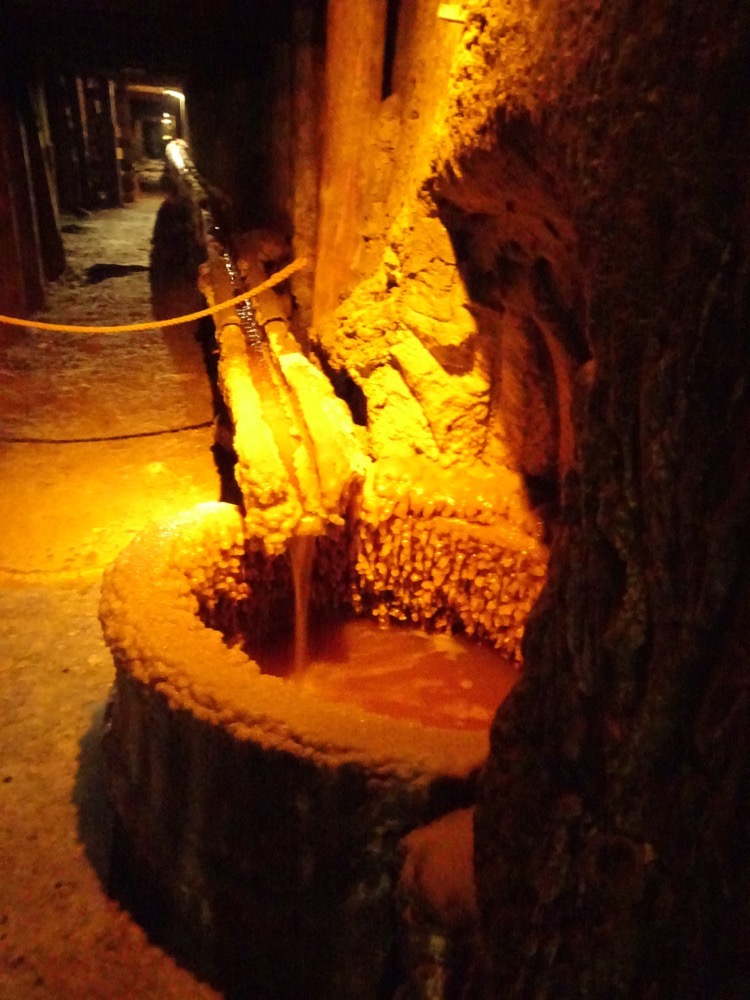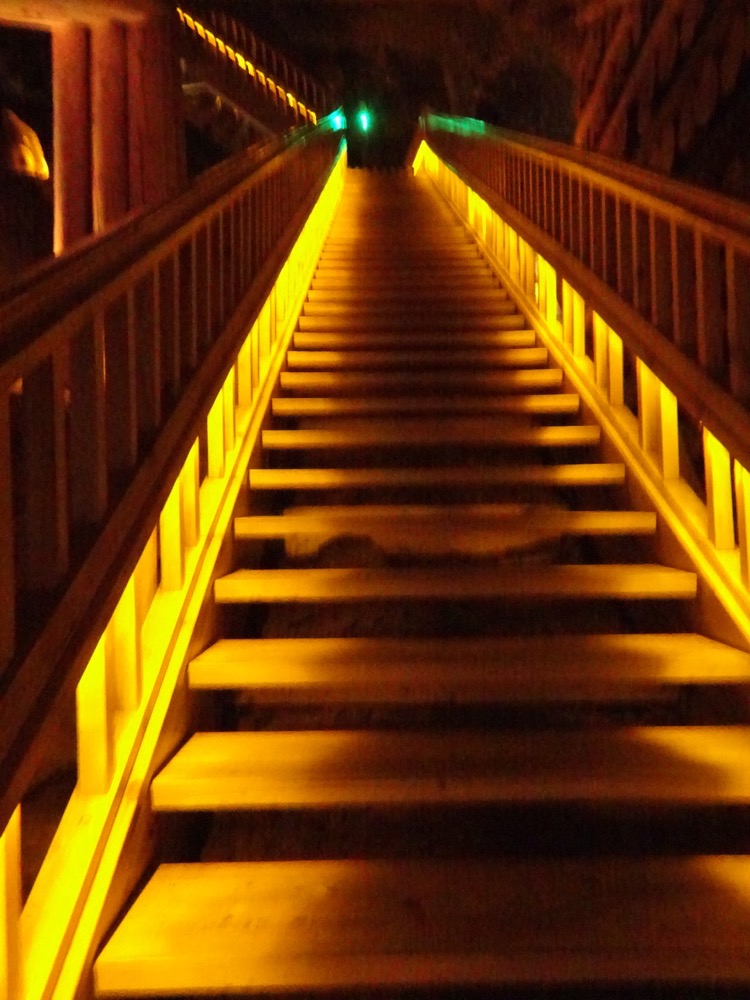 A recreated foreman's office off a mine tunnel: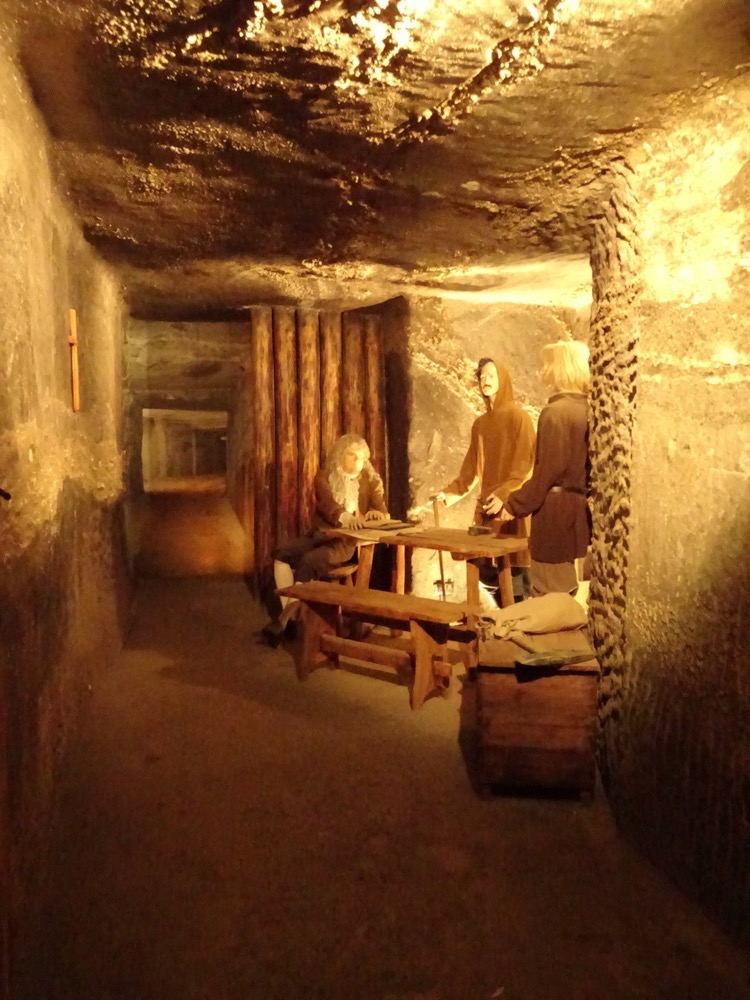 A vignette of many gnomes doing various mine jobs: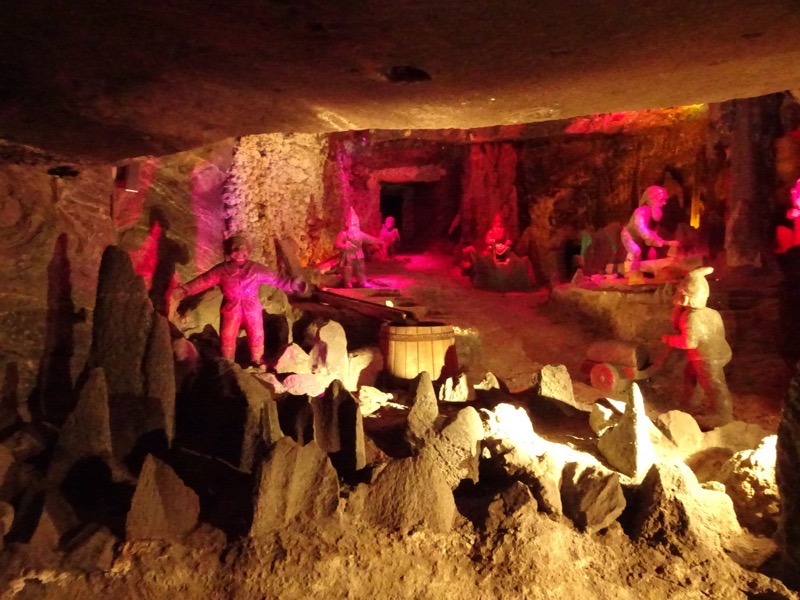 Another small chapel space to the virgin Mary:
Love the salt floor 'tiles'…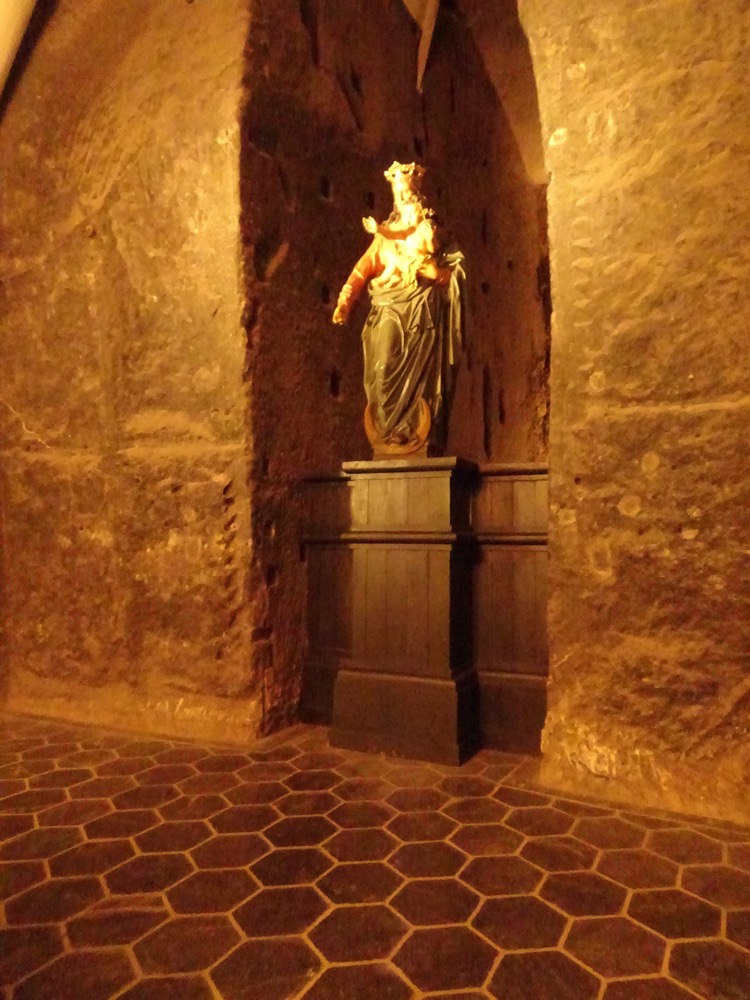 Some of the chambers have been reinforced with timber, which miners kept painted white.  They had no electric lighting down here and had small tallow lamps or torches only.  The white allowed for the light to be reflected around more easily and create better lit conditions.
A chandelier made of salt rock crystals: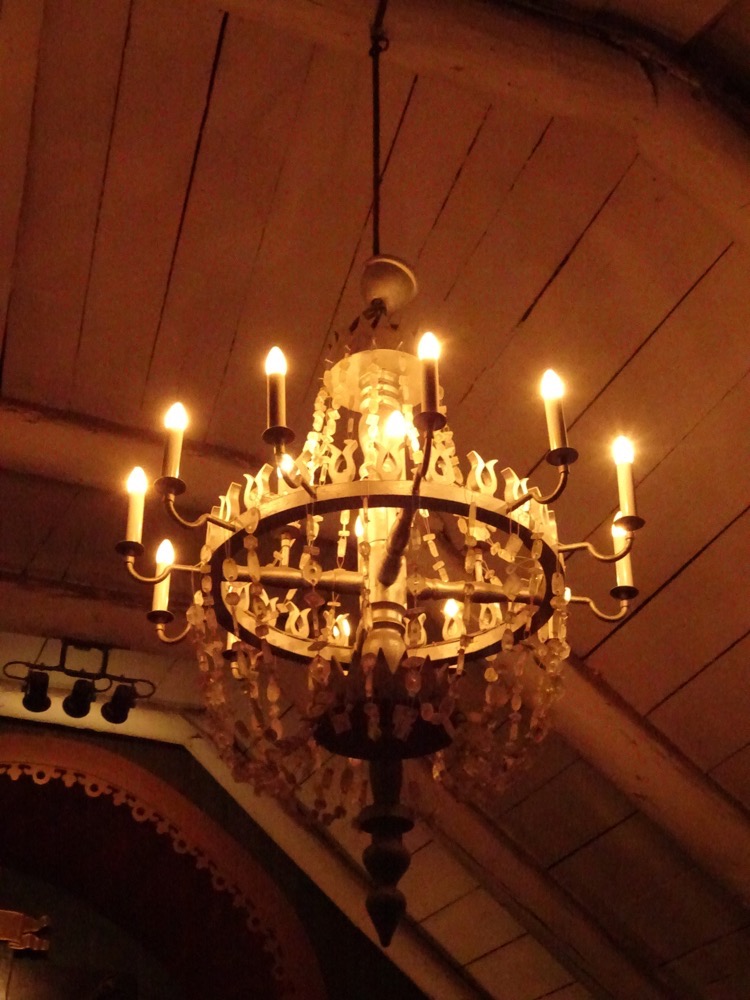 Another small chapel.  Mining is serious business that needs a lot of praying.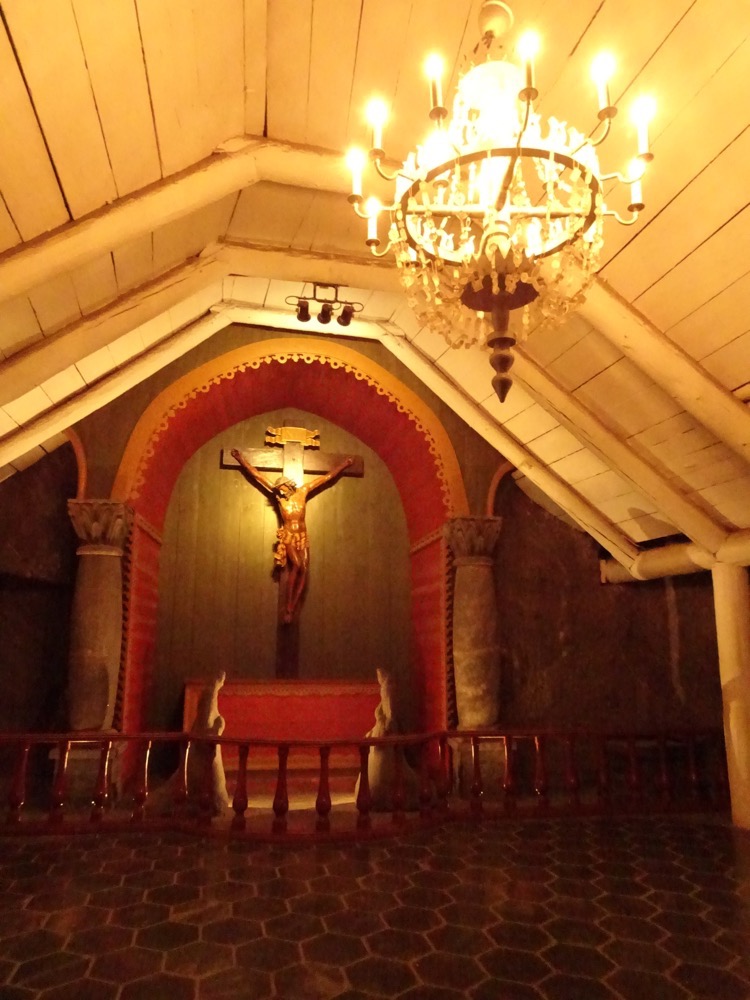 So then we enter the King's Chapel – a chamber which has the world's largest underground church.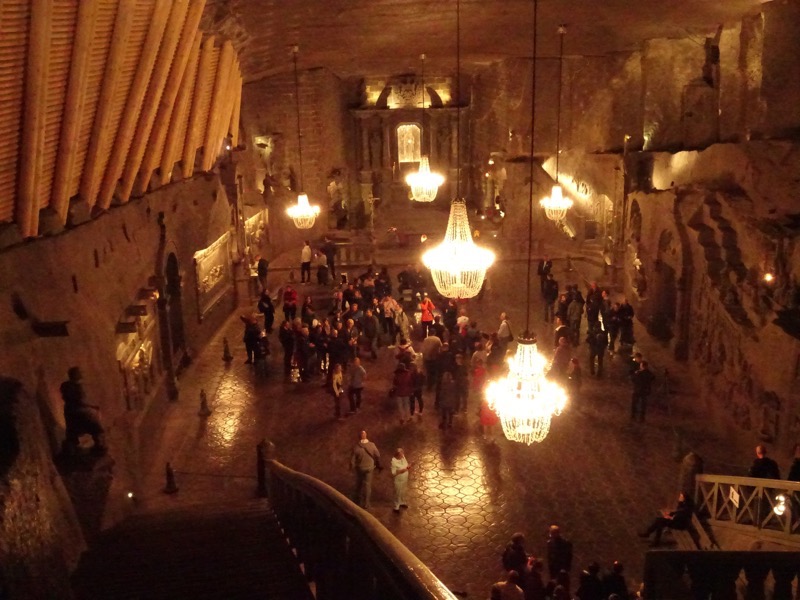 Lit by five enormous rock salt chandeliers, a huge wooden staircase bring visitors to the salt floor which is 64m underground now.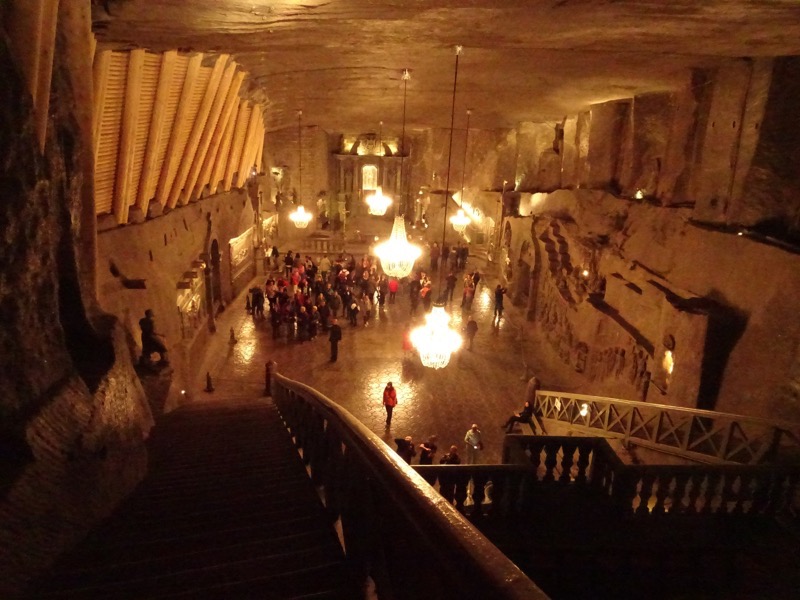 Lining the walls are carvings of various artistic execution done by miners: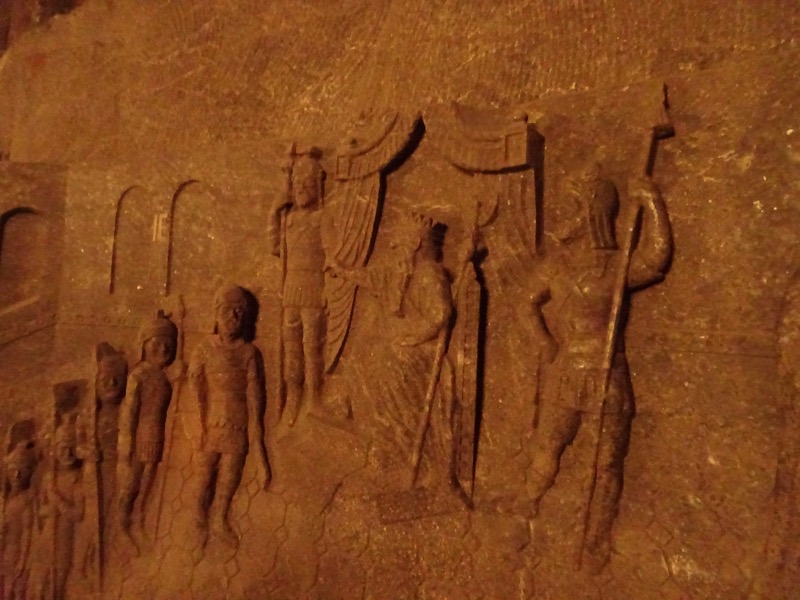 I love the floor!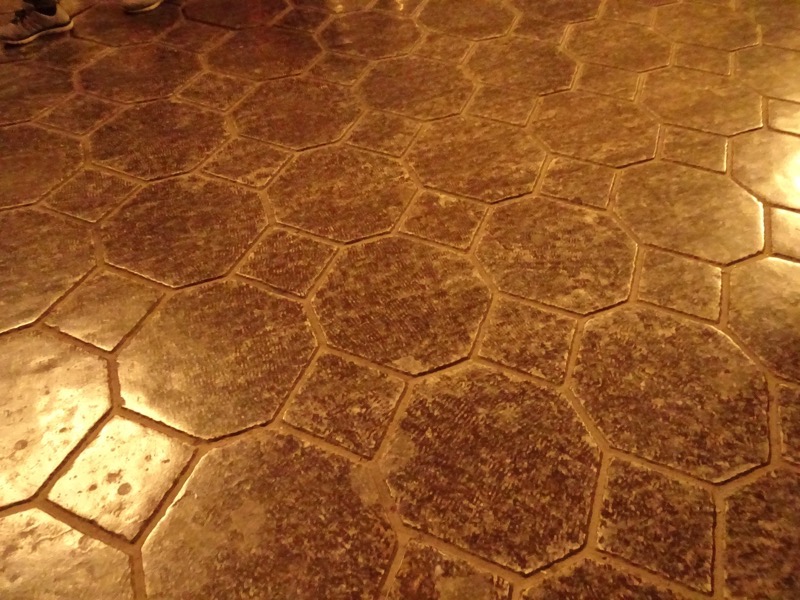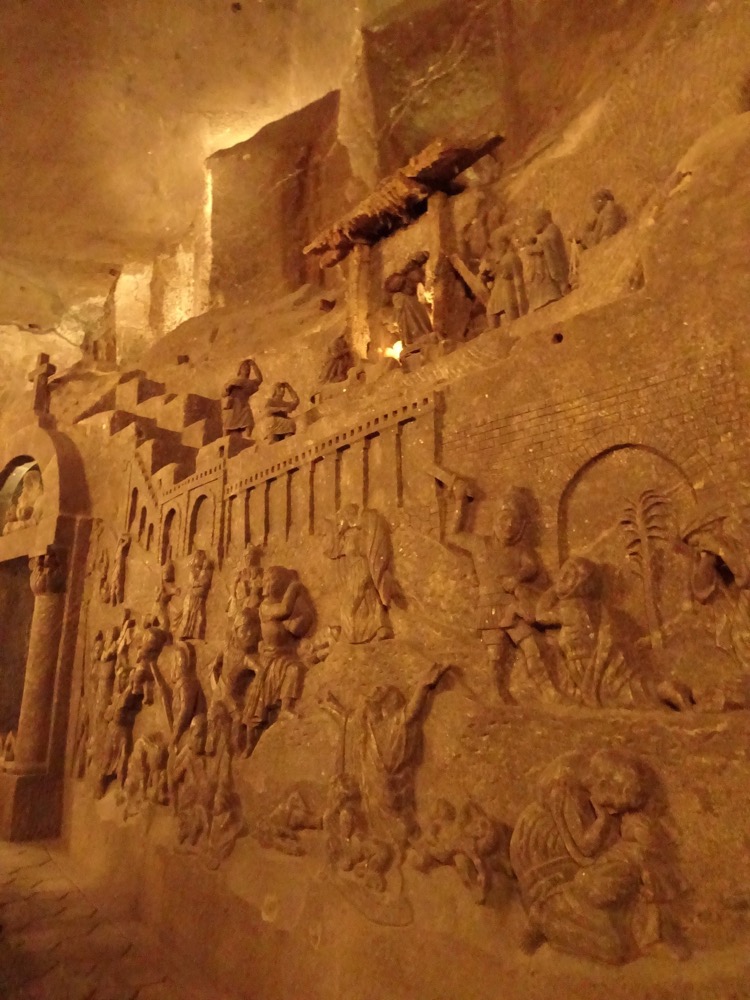 The salt rock crystal chandeliers are over two meters in drop: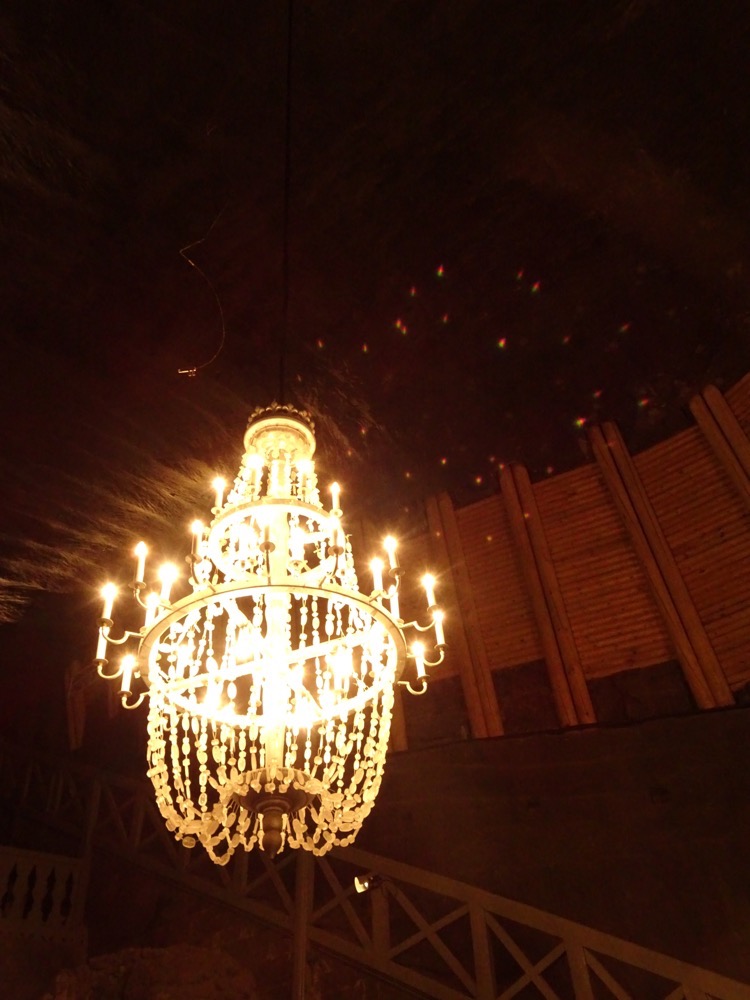 The King's Chapel.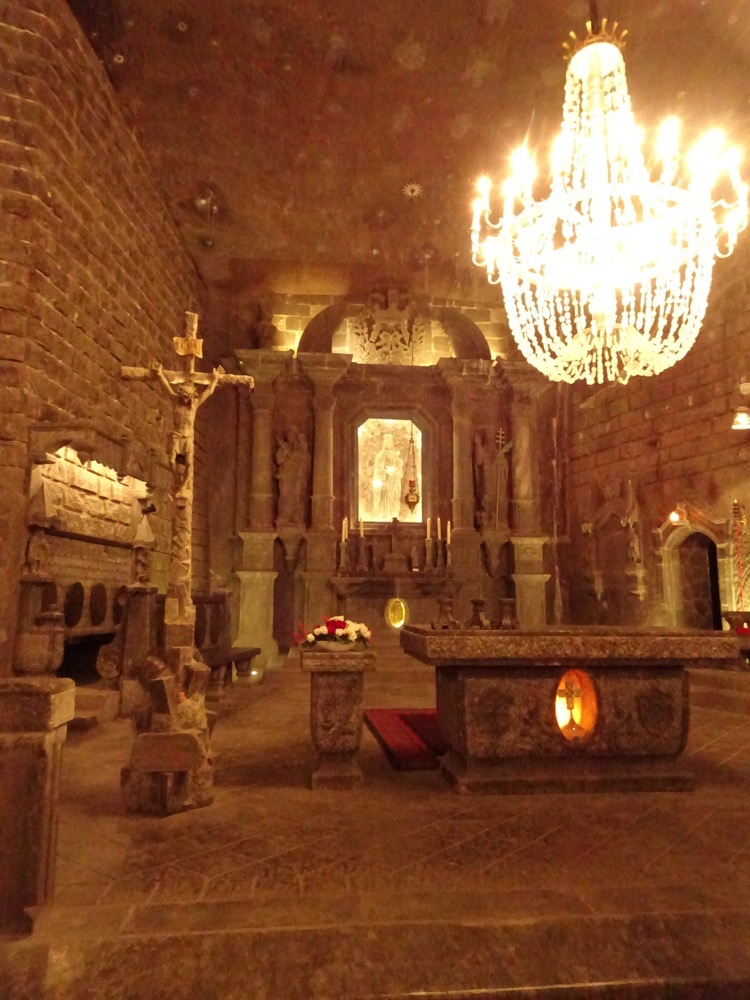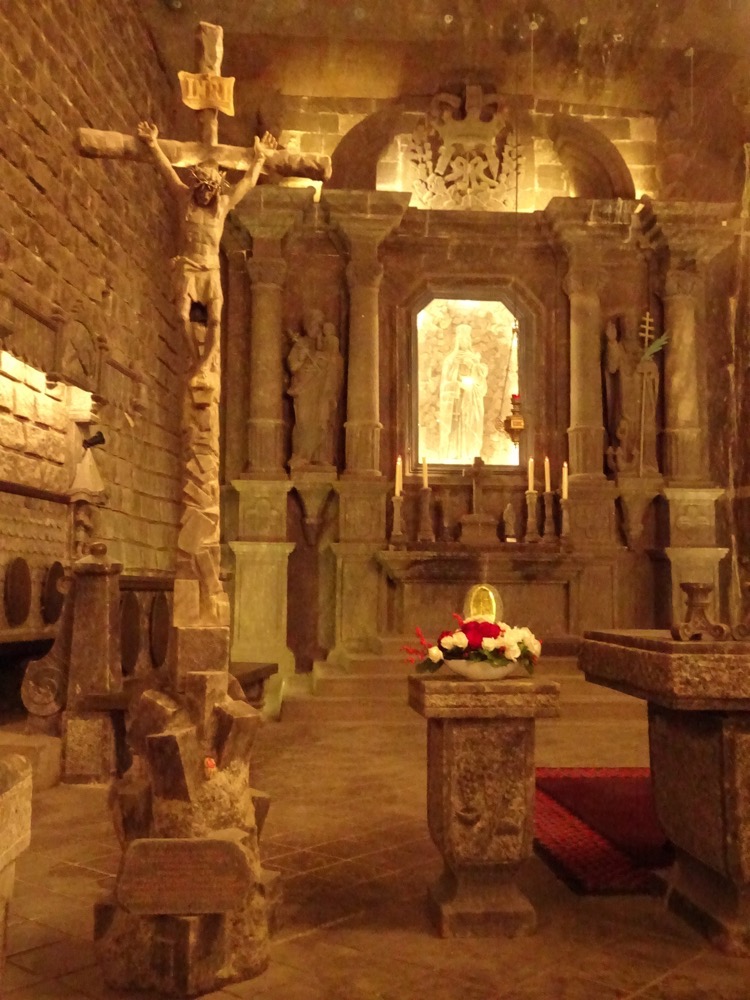 Salt rock statues, salt rock columns, salt rock candlesticks, salt rock altar, salt rock kneelers, pews, salt rock tabernacle…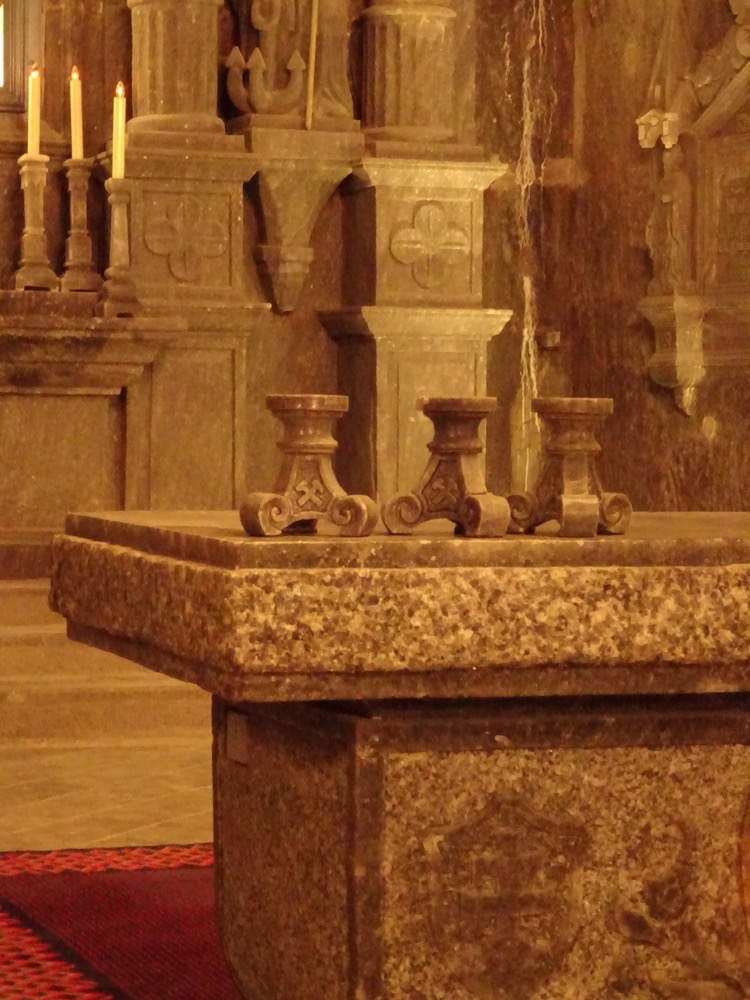 Even the bollards to keep the tourists in line are carved out of salt.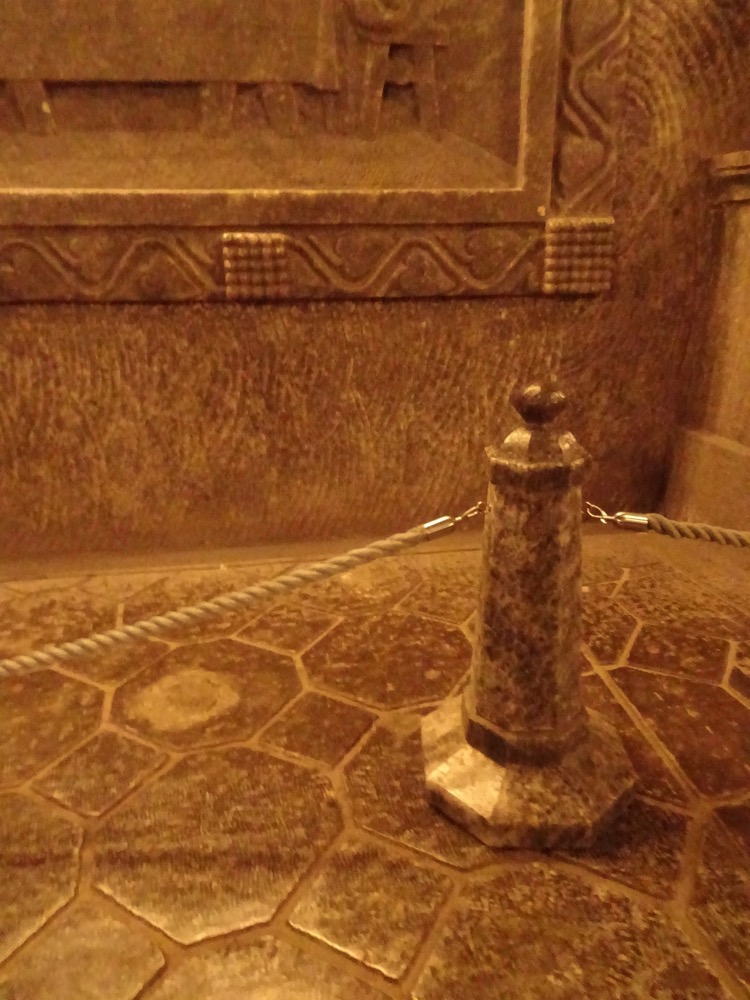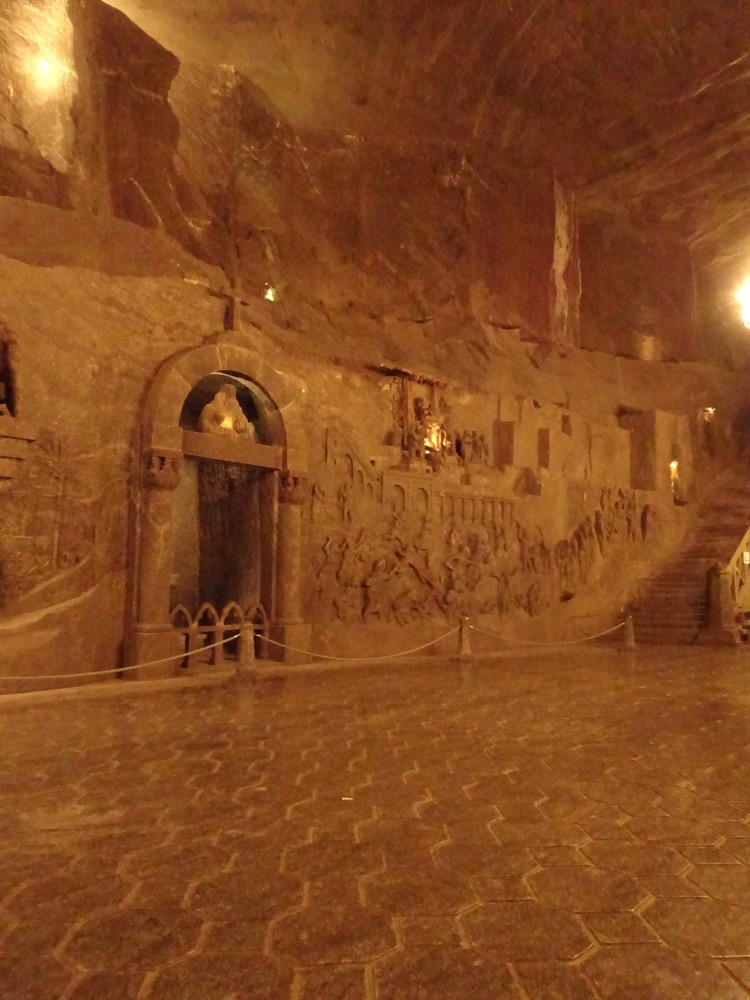 Further down the mine there are some enormous salt water lakes.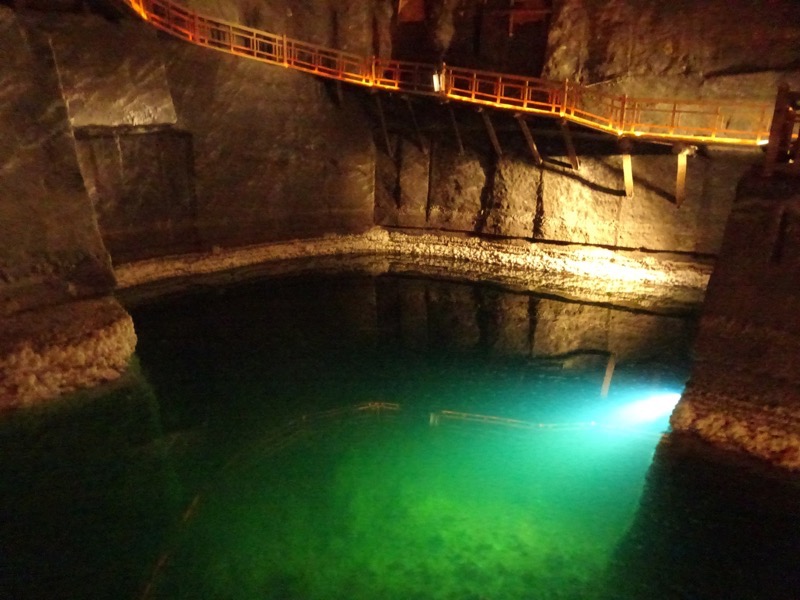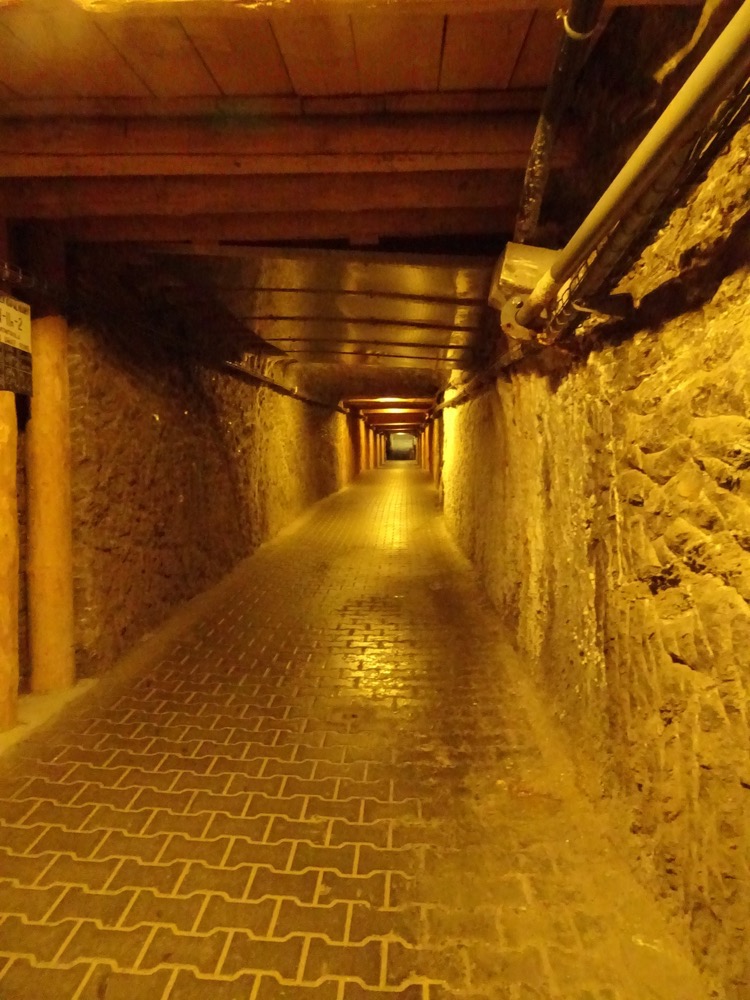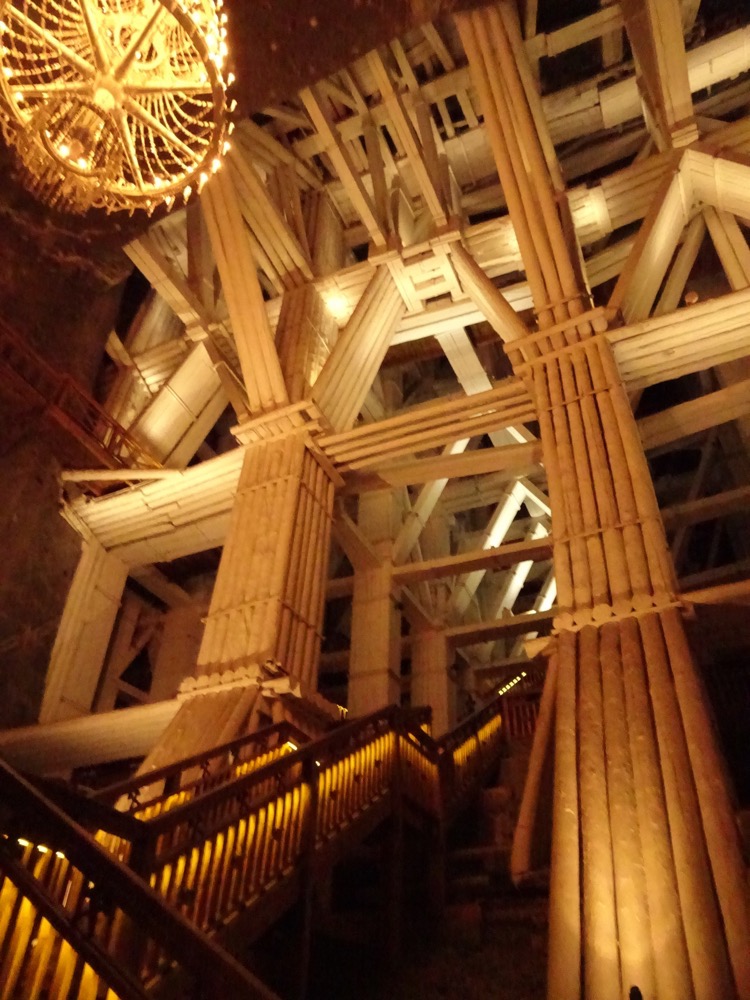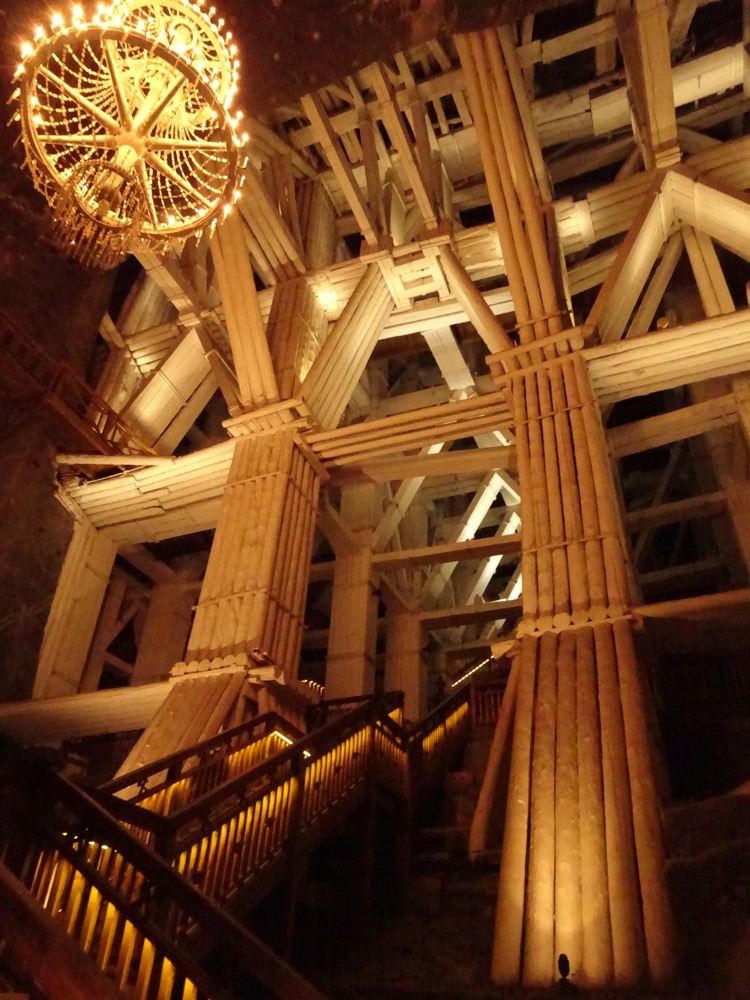 The largest salt rock crystal chandelier in the complex – over 3 m long, hangs in a chamber near an enormous timber structure that was used to move salt up through the mine.  Carpentry was another important job here.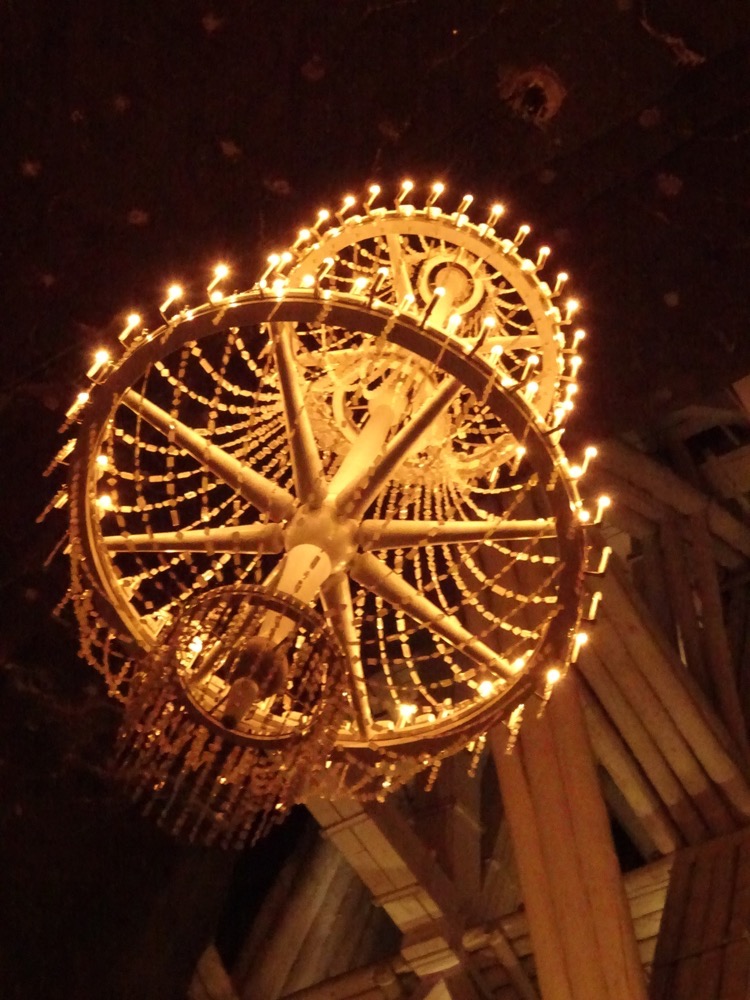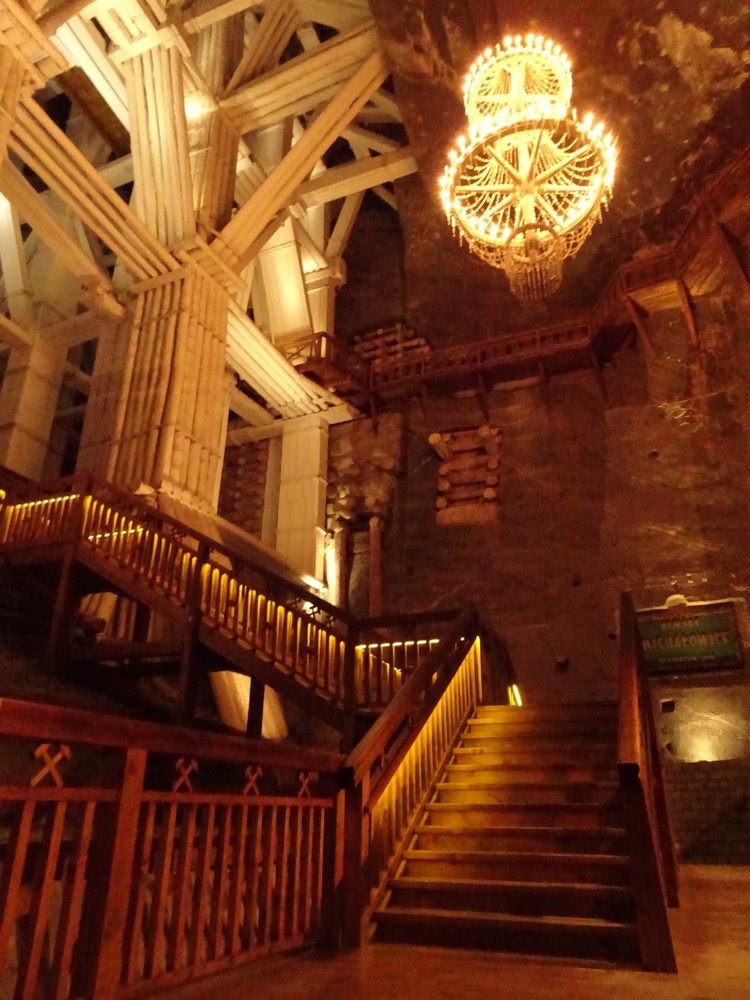 Goethe: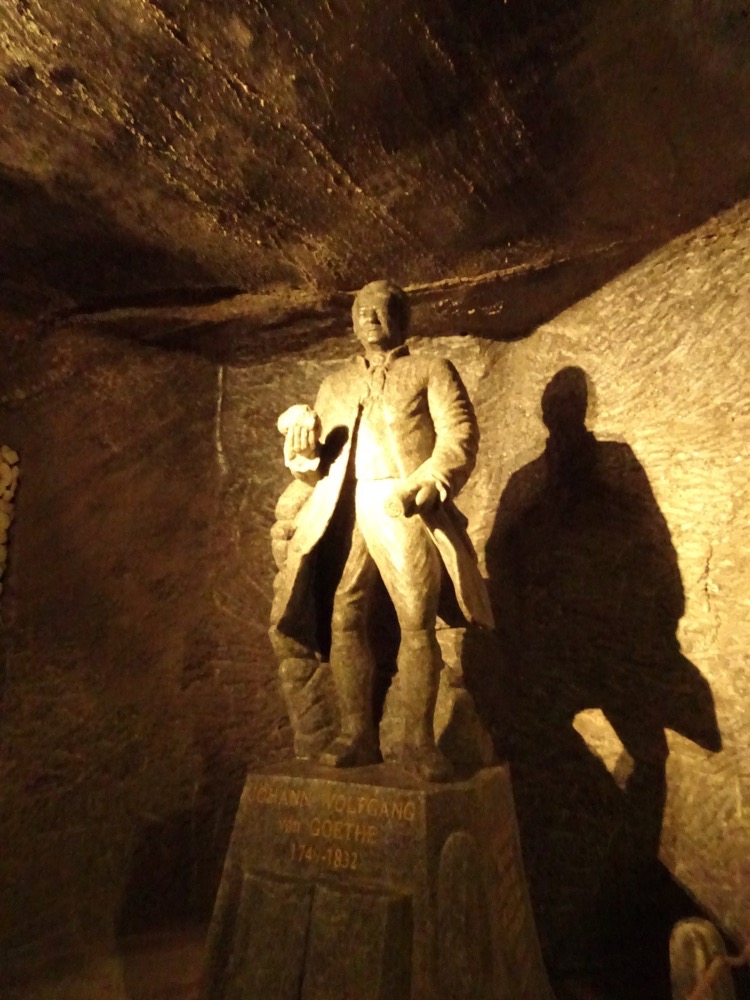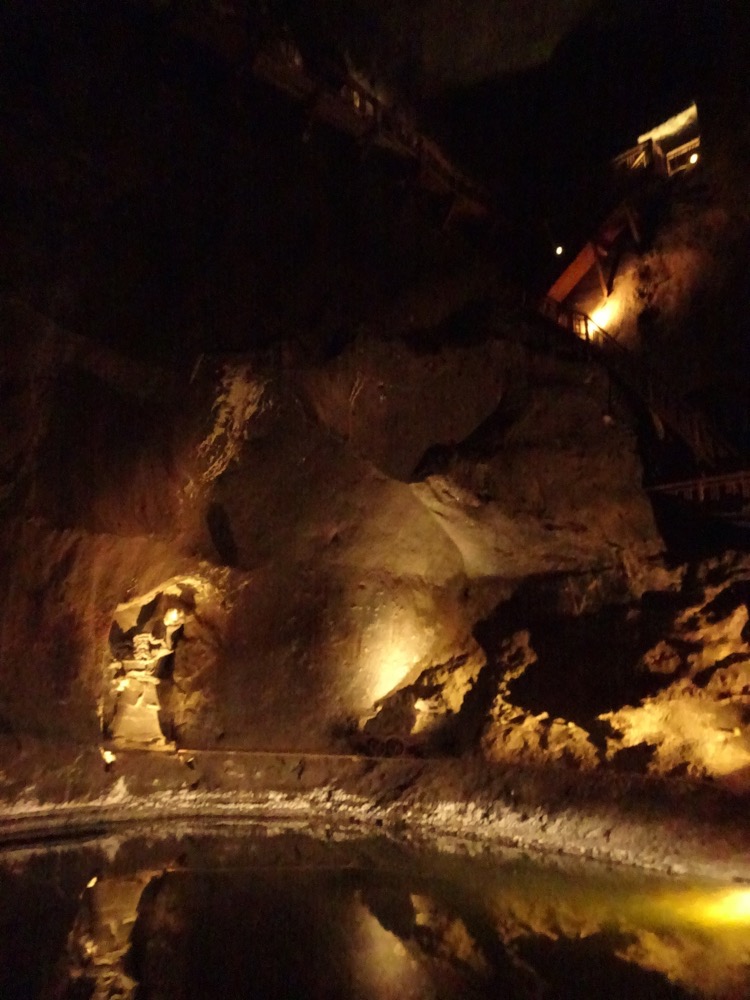 Looking down towars the third level of the tourist route: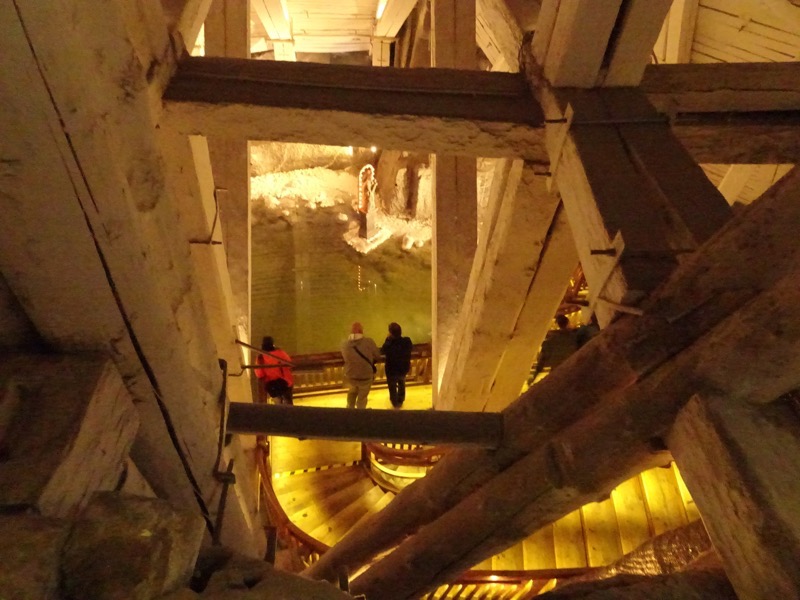 Apparently tourists used to be moved about using ferry boat rides here through some of the smaller tunnels of the mine until a tragic drowning incident occurred in the Jozef Pilsudski Chamber.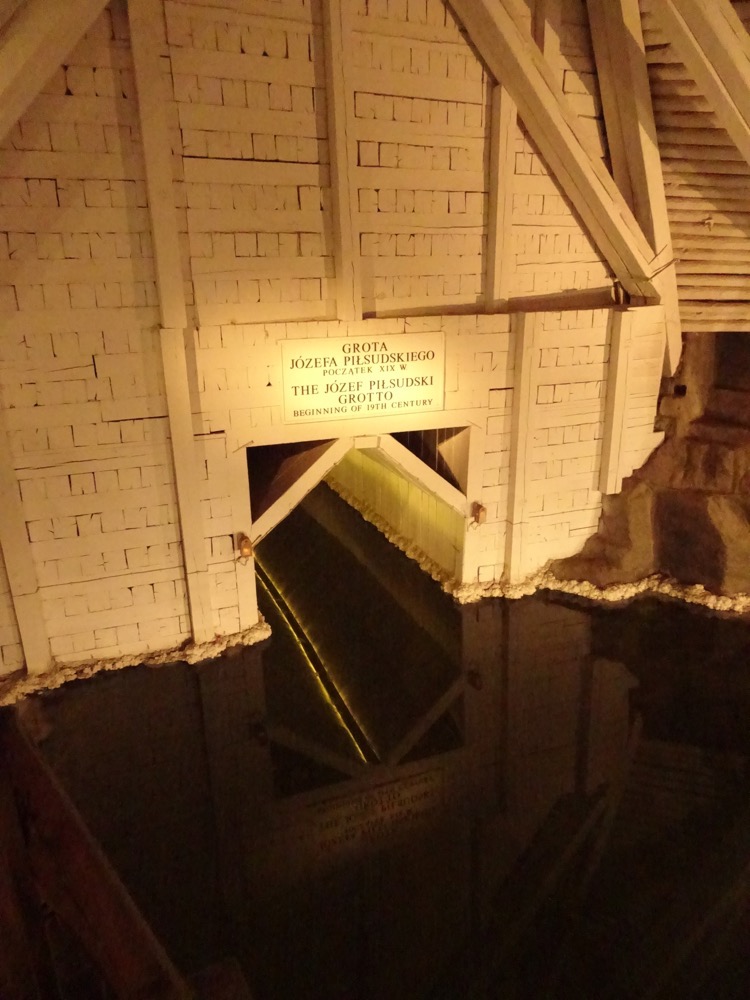 A ferry boat capsized and five people were trapped underneath it. In theory it should be impossible to drown in water this salty as everyone is so bouyant, but the boat was so heavy that the people couldn't get out from under it, so they suffocated. That is why there is now a statue of St. John Nepomuk, the patron saint of the drowning.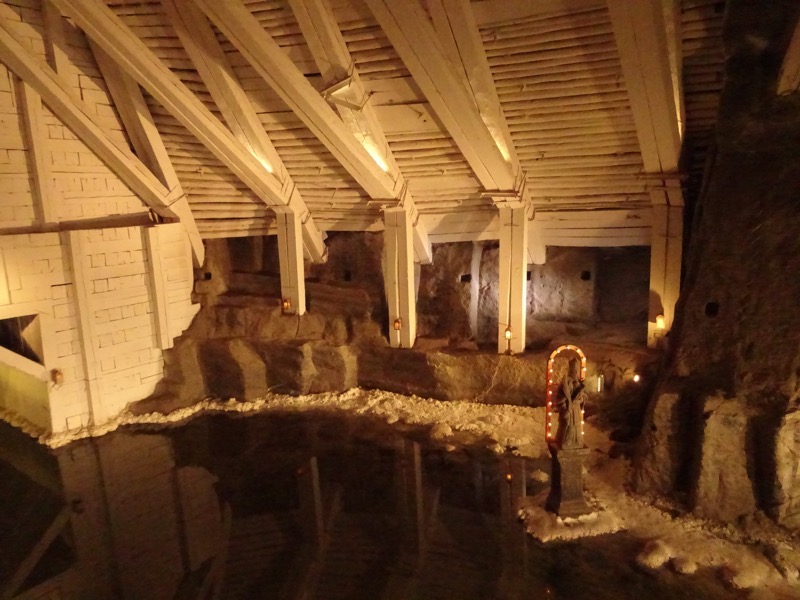 This is the tallest chamber in the tourist route – at 36m high.  It is also the location of the World Record Deepest Underground Bungee jump.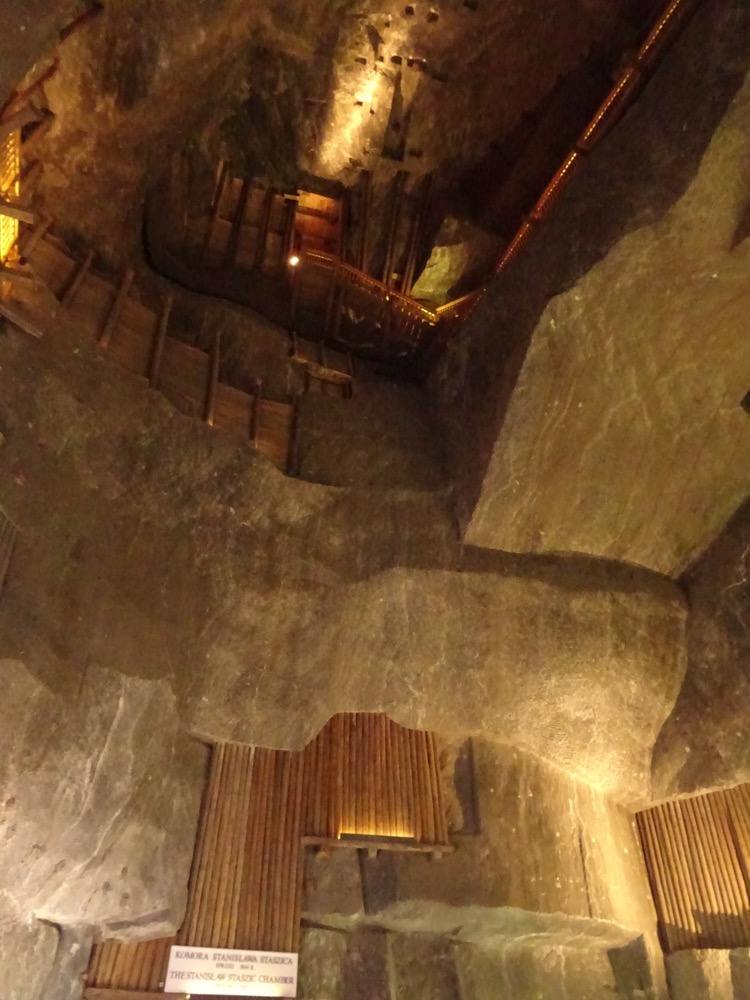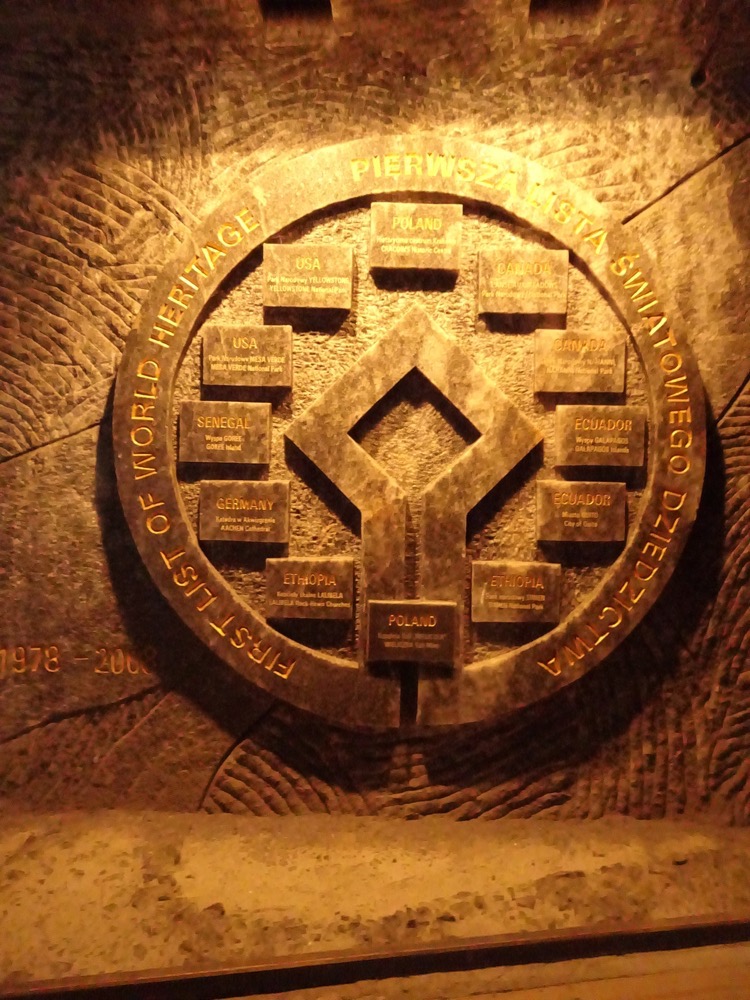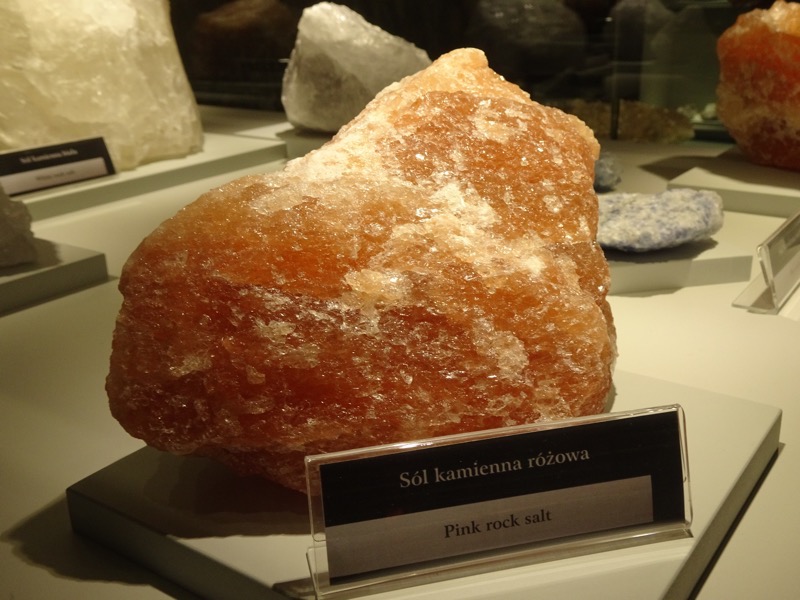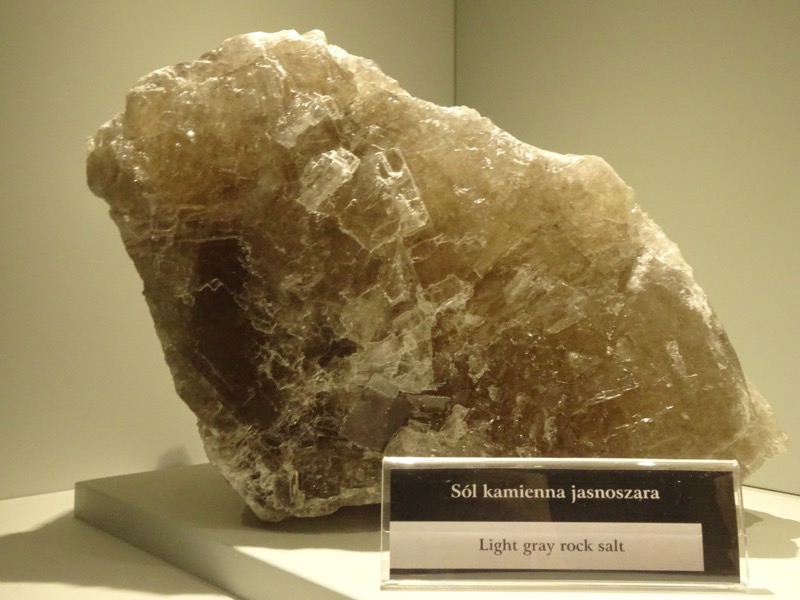 Reception centre for weddings etc.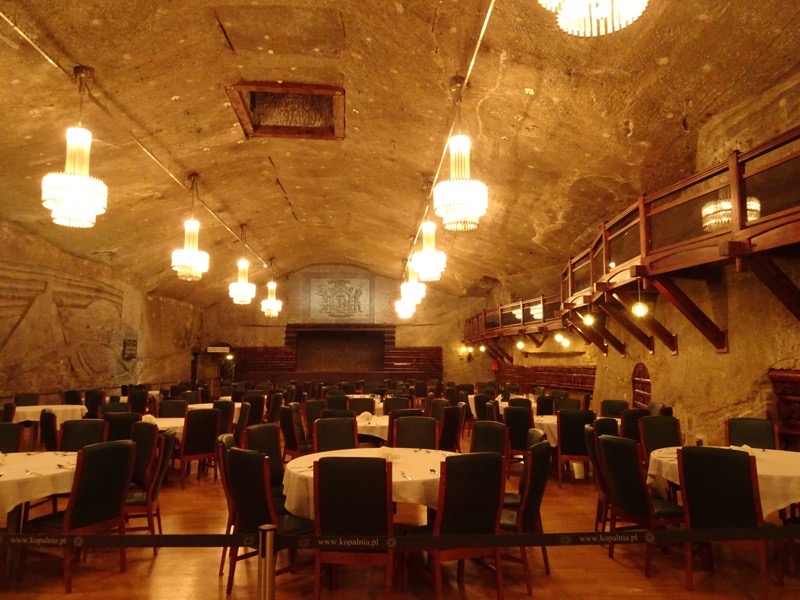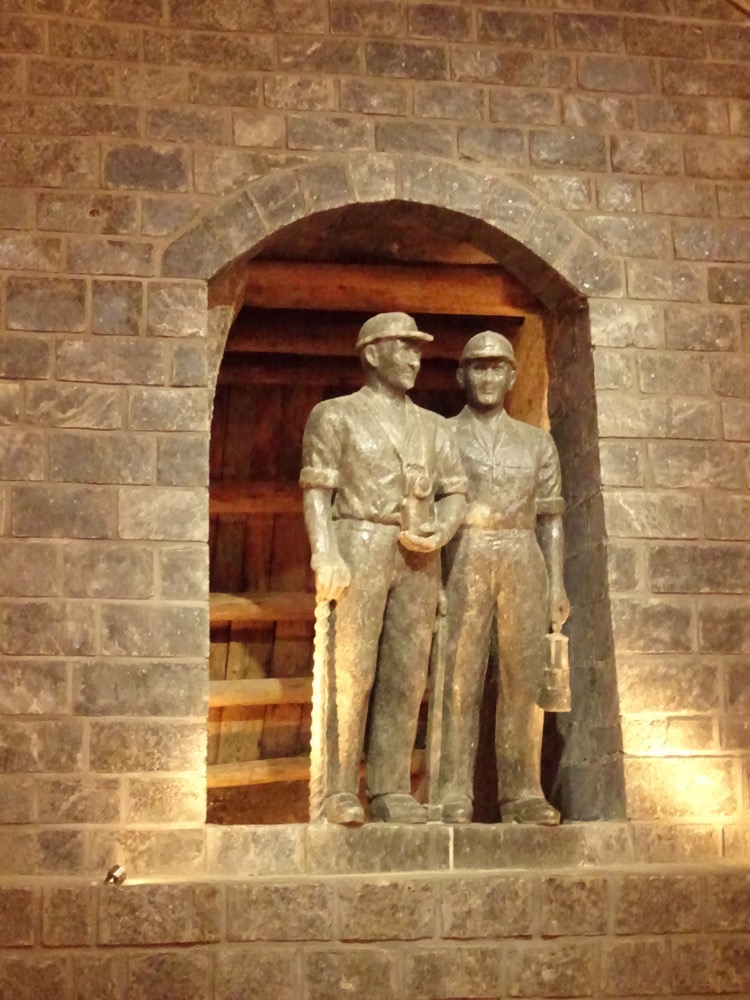 There are multiple gift shops mostly selling gifts made from – you guessed it – salt.  None of which would last very long in a humid tropical environment like Brisbane.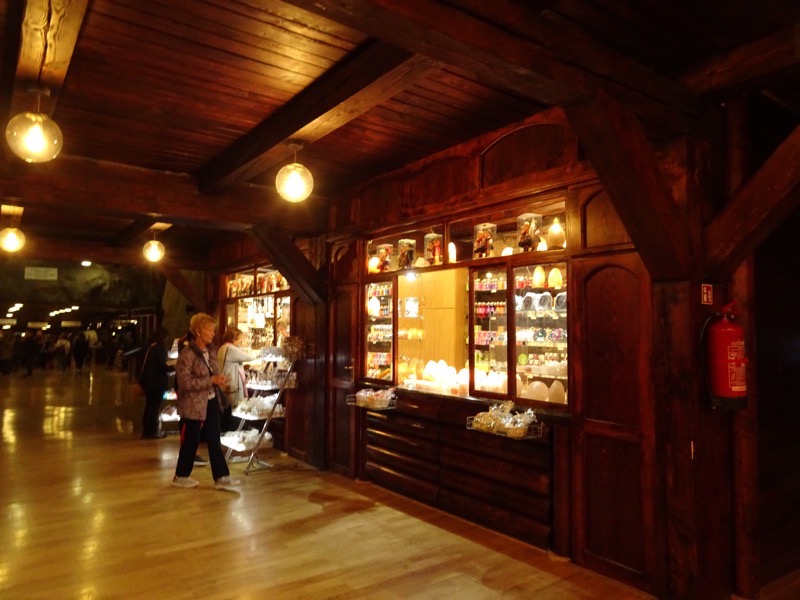 Another small chapel on the way out of the mine.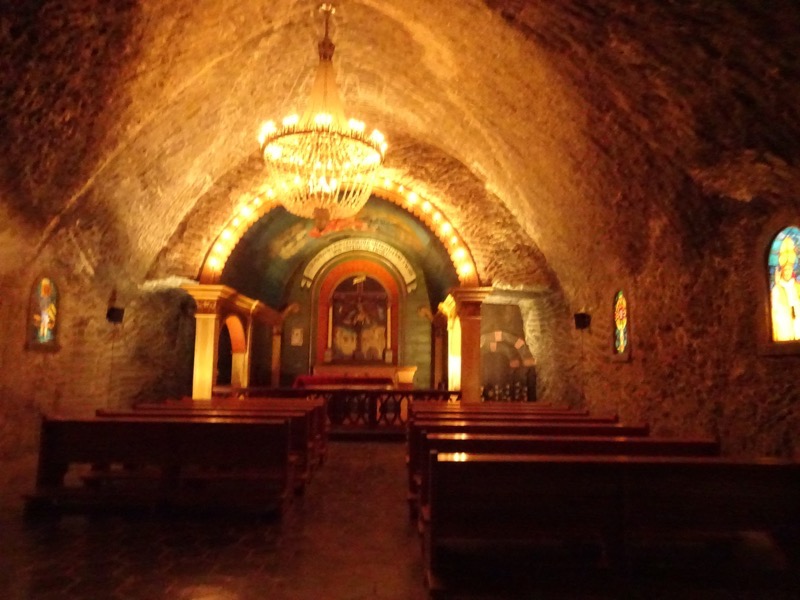 All up it was a very slick tourist operation that takes you on a visit through the mine. Our guide was interesting and informative and she only made one joke about us being nice to her because she was the only person in the group who knew the way out.  It is a veritable labyrinth of tunnels and chambers and you could see how easily you could get lost.
After our mine visit, it was time to hit the road and head to Warsaw.  Thankfully we had a trusty hire car for this segment of the journey and we were not going to find ourselves standing around for two hours on a train platform in yet another shitty transit.
Polish drivers are mad bastards though – dashing in and out of traffic without indicating.  Speed limit signs appear to be 'suggestions' only, and the route from one major city to another kept changing from fantastically fast dual carriageway to windy little back streets through small villages.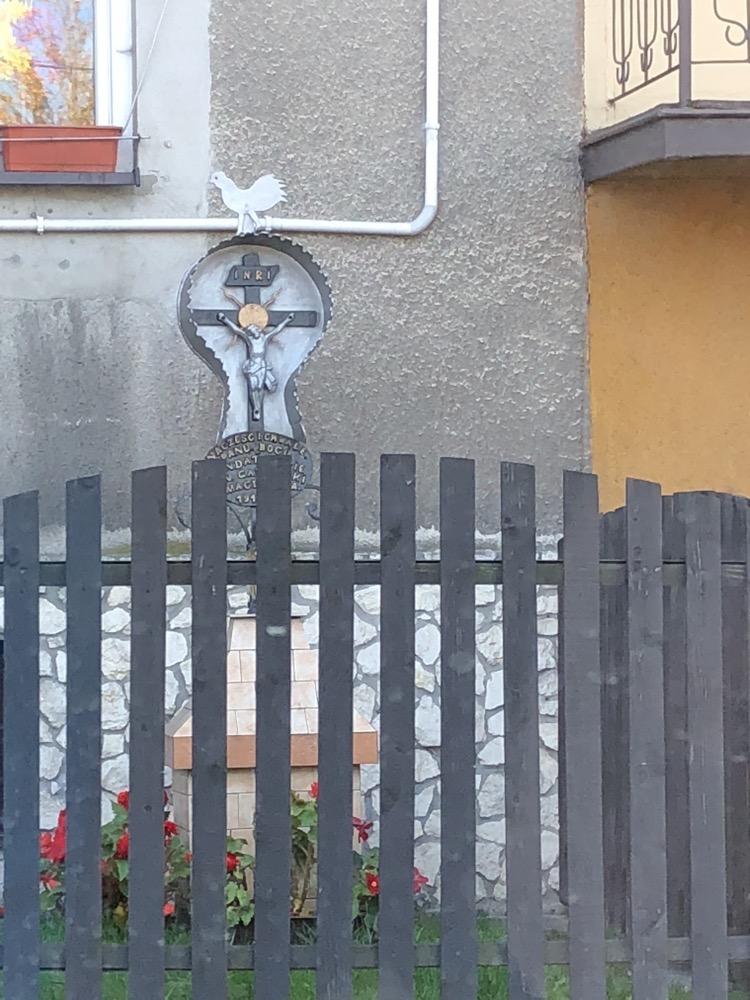 Amazingly dodgy servo lunch: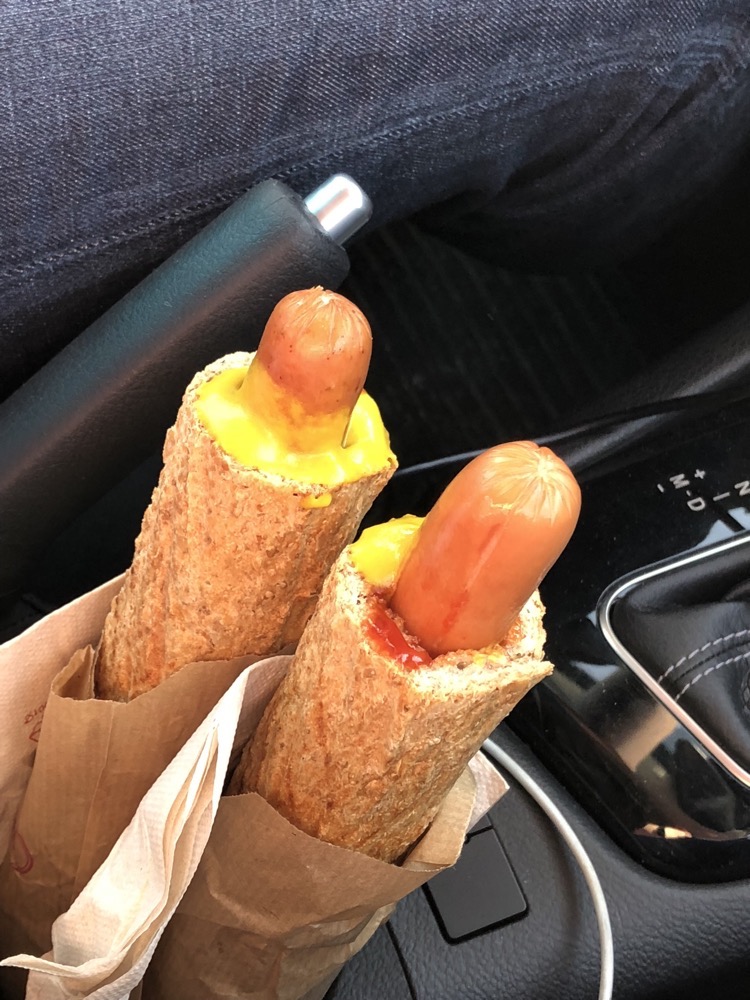 High speed landscape photography of the Polish countryside.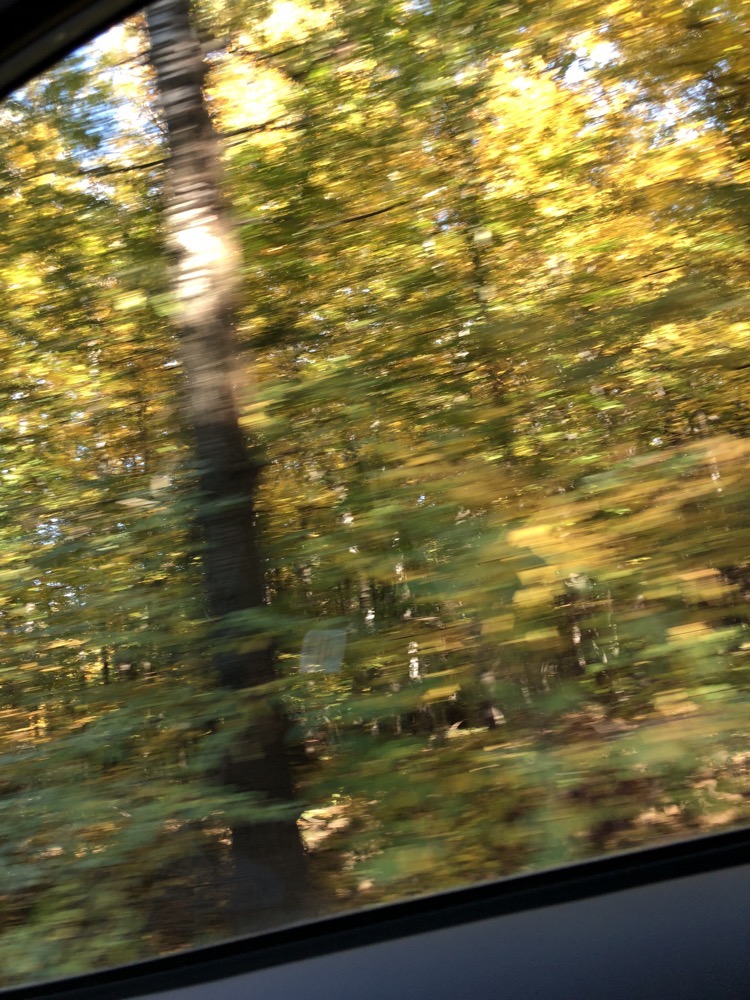 Beautiful though  🙂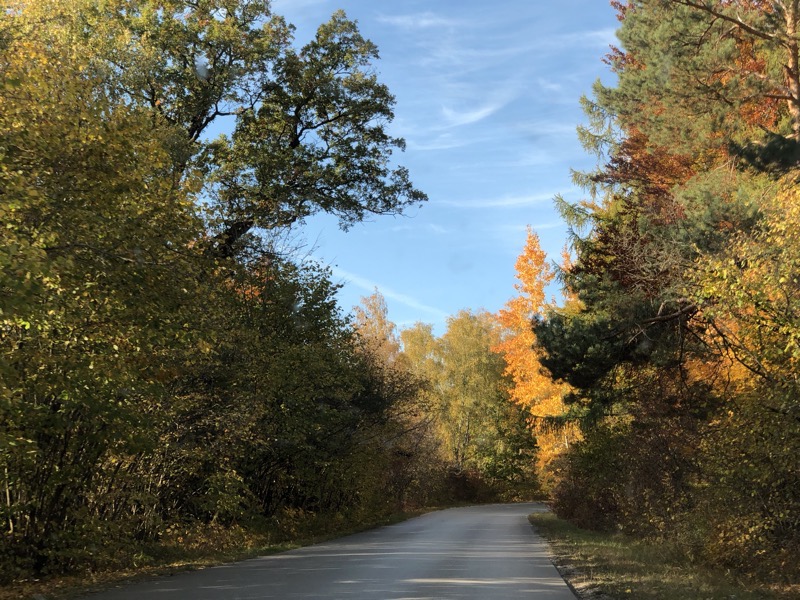 Again we got to experience the feeling of standing still while going 130kmph as crazy Audi and BMW drivers went flying past us weaving in and out of traffic… to be honest, I was kinda glad that out little Corolla wasn't capable of it, or perhaps yale would have put his foot down even more. Amazingly we only saw one small car accident…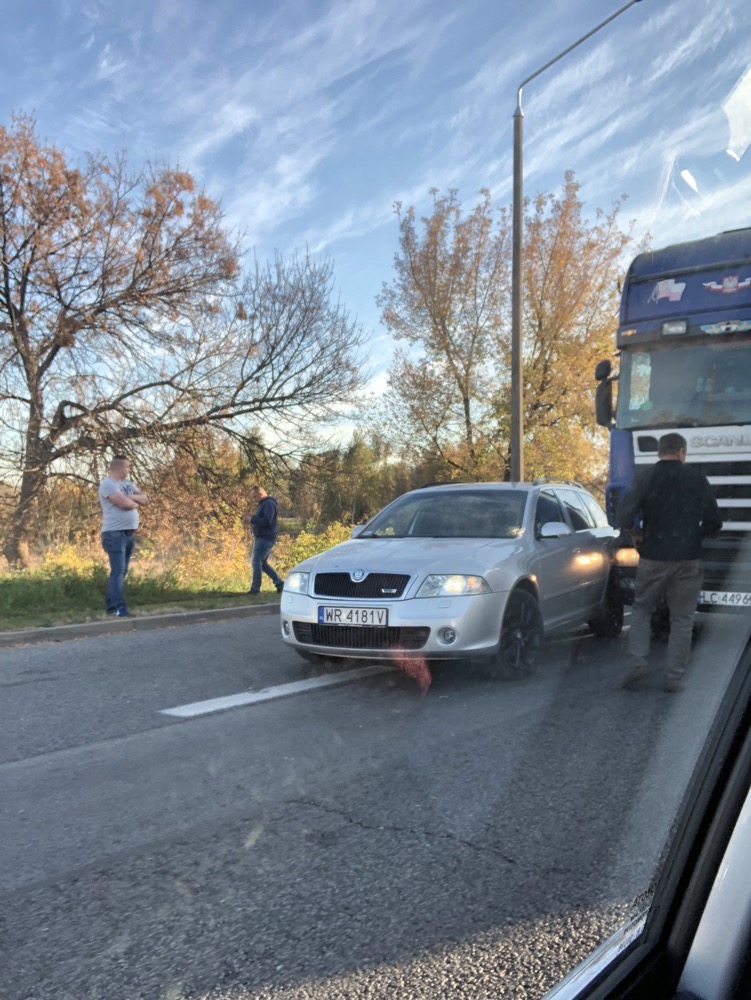 We arrived in Warsaw and went to the place that Booking.com said our accommodation was booked at – only to be met in a carpark by a woman who led us to a different location about two blocks away, and to what appeared to be a private apartment.  I was seriously unimpressed to discover the apartment (while having all the amenities of what we had booked) was nothing like what we had actually booked… for a start, we could not get our luggage all the way to the apartment without taking a very dodgy old lift up 15 stories and then going up through a maze of not very well kept corridors and two flights of stairs.
After the strange woman showed us to our weird accommdations, we immediately went in search of quick food not too far away.  yale opted for massive loaded hotdogs and I had a swiss cheese and mushroom burger at a place called The Brooklyn Bar.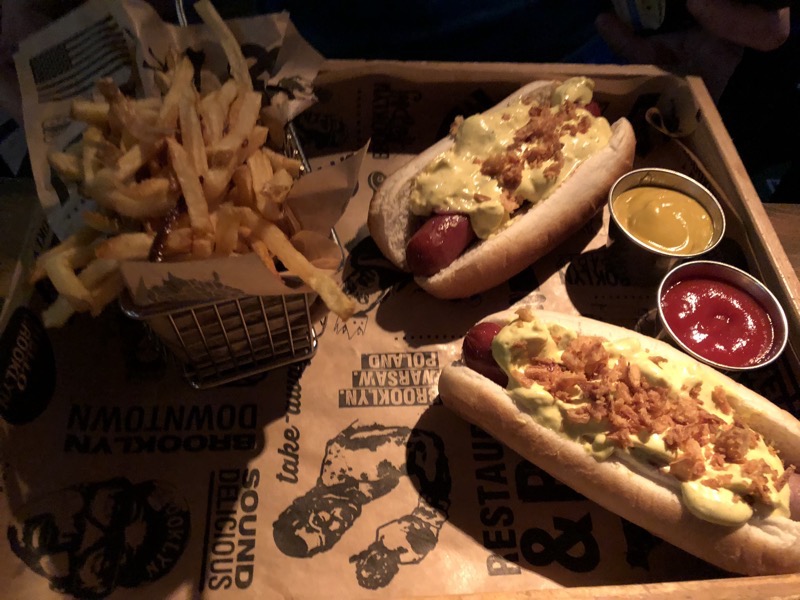 I was not actually sure the owner/designer had ever been to Brooklyn or to a bar in Brooklyn in the last decade – but the food was mostly edible, the loud hip-hop was totally dreadful, but the cheap shots of vodka made the whole thing bearable.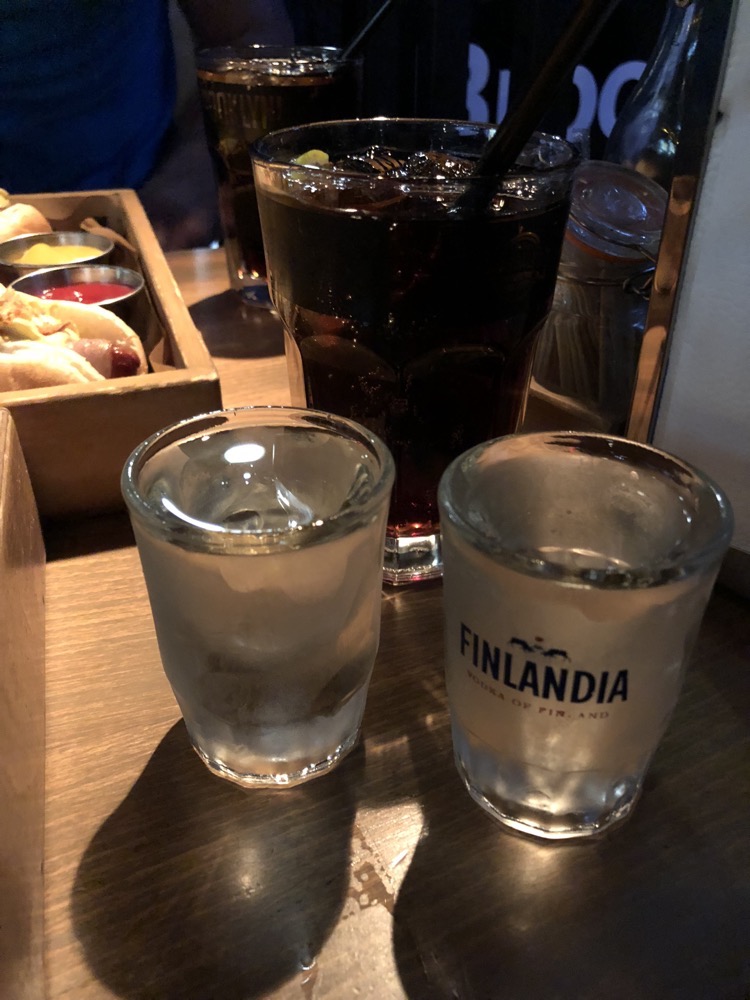 Back to the apartment and yale carried everything up the flights of stairs after taking the scary antique lift to the 15ht floor.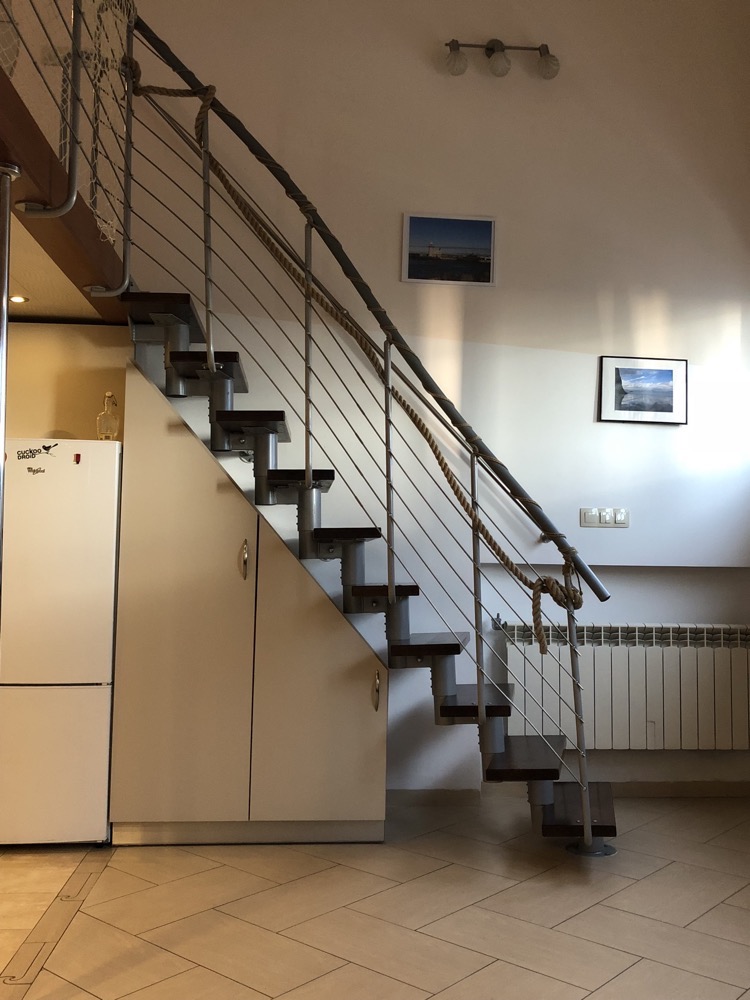 Back in the apartment – bedroom is up a flight of narrow twisty stairs to a low ceilinged loft, that I was going to have to navigate coming down first thing in the morning when my back is at it's absolute worst and walking is sometimes problematic let alone weird odd height staircases. I mean, it was a nice enough space, but I would not have booked it had these been the pictures on the booking website.
We laughed about most of it – especially the tiny pokey shower cubicle – the vodkas over dinner helped.  yale for scale: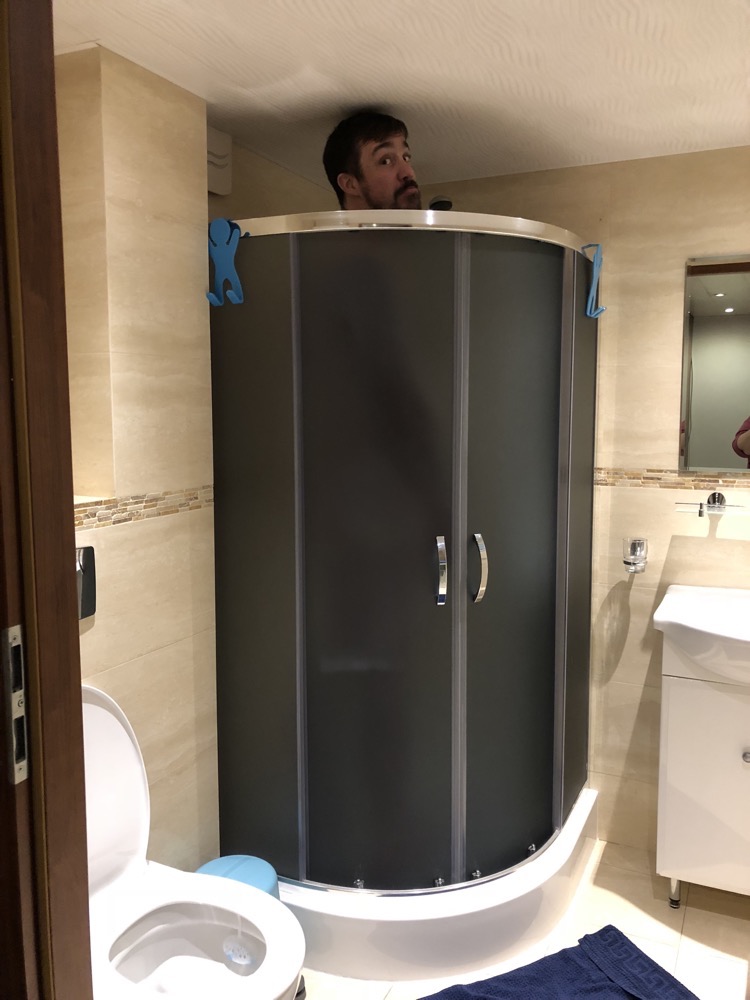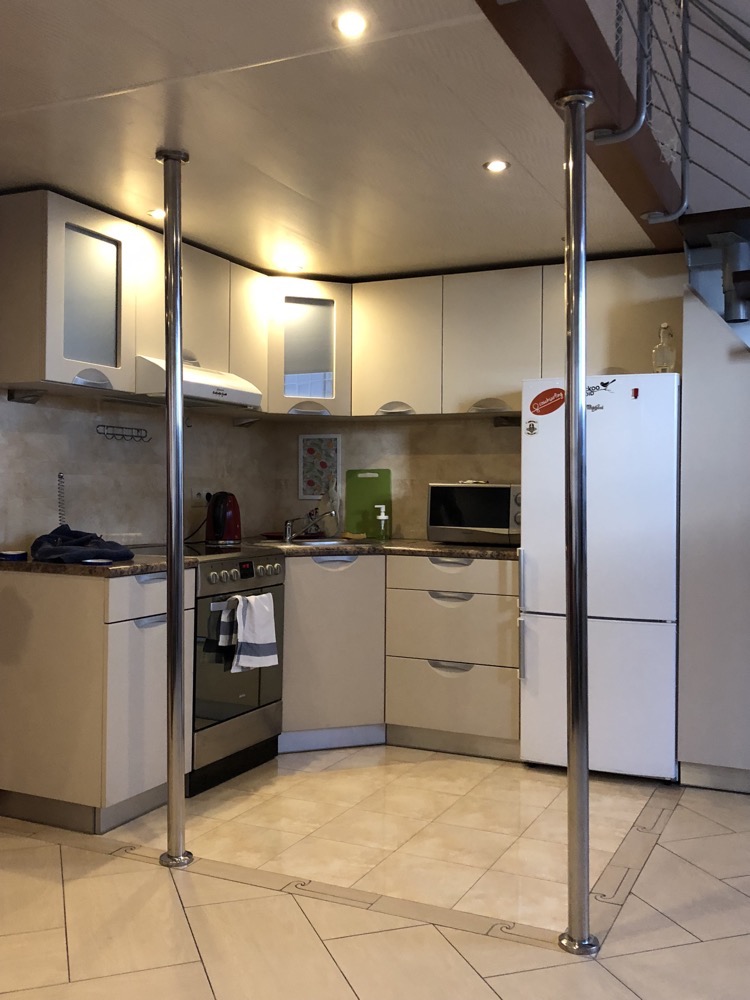 Oh well, we are supposed to be staying here again in a few days time – but have decided to cancel and find something that 1) has no stairs to bed and 2) has a decent chance of a shower that yale can fit it!  Another interesting review coming up for these guys too!