Woke up this morning at the Skútustaðir Guesthouse to see the entire landscape covered in a fresh layer of snow. Which is probably very commonplace if you live somewhere like Canberra 😉 but for us Brisbanians, it's quite the novelty.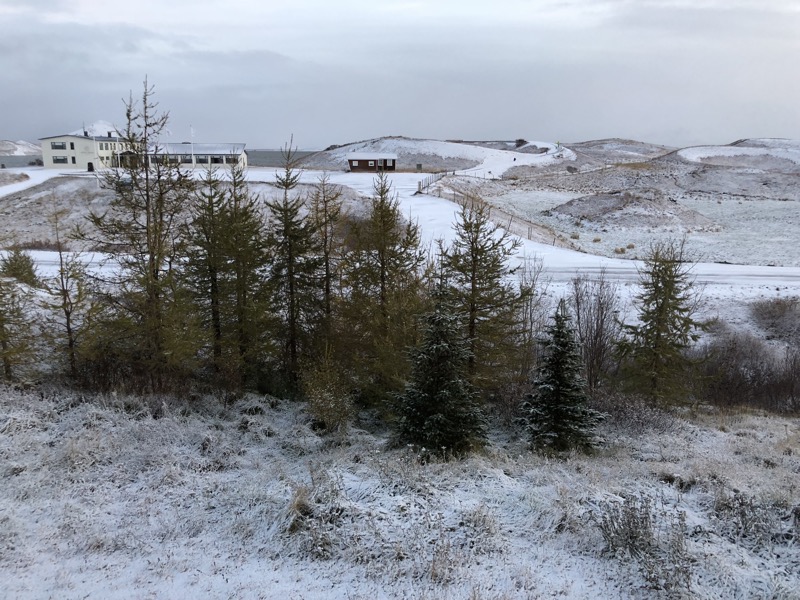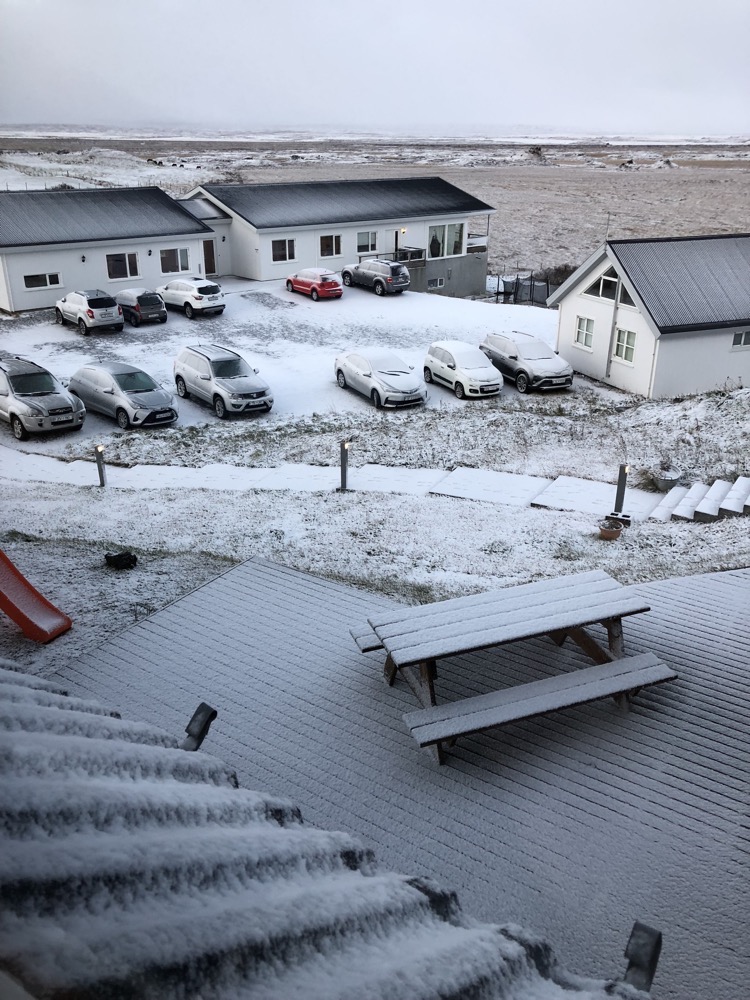 We got ourselves sorted, packed our backpacks, had a wonderful farmhouse breakfast made almost entirely from produce grown locally on the property, scraped the ice off the car, wrestled with doors that were frozen shut, and then made tracks.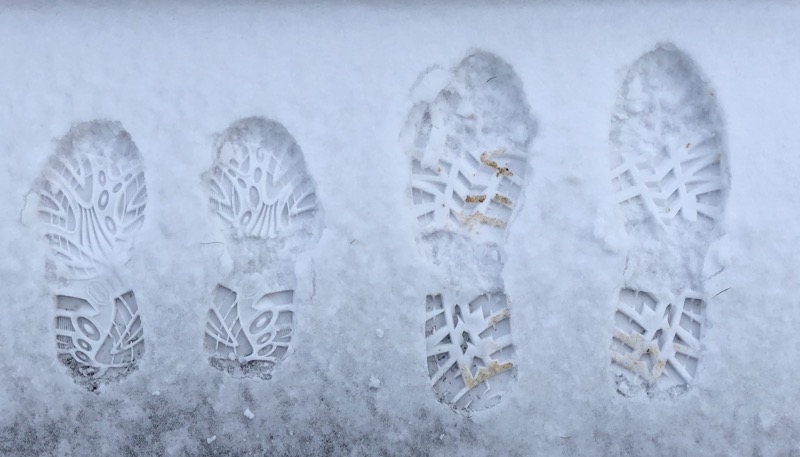 To directly across the road from the Guesthouse to see the Skútustaðagígar craters – they're actually considered pseudo-craters because they were formed by gas explosions that occurred when boiling lava flowed over the wetlands, rather than explosions from actual eruptions. The only craters I've ever seen at home are from meteorite strikes, so I am not sure why the distinction.  Still, they're beautiful all frozen over and covered in fresh snow.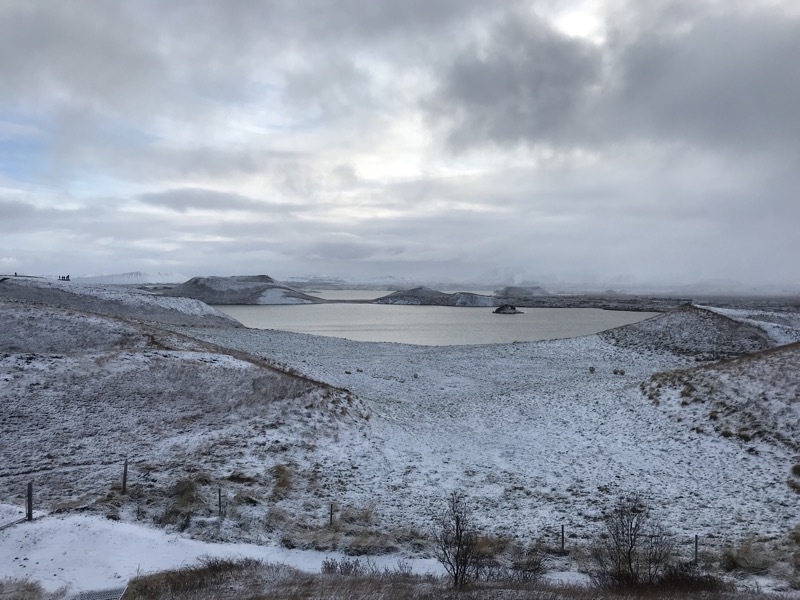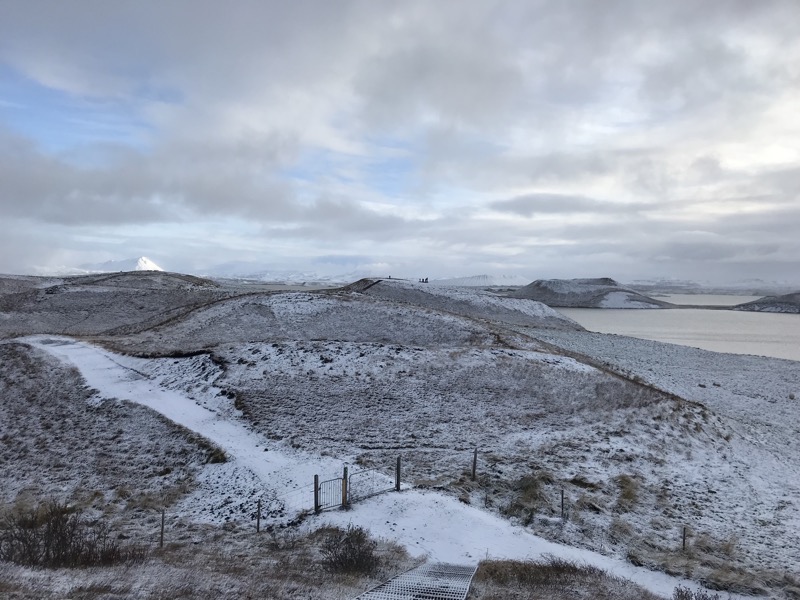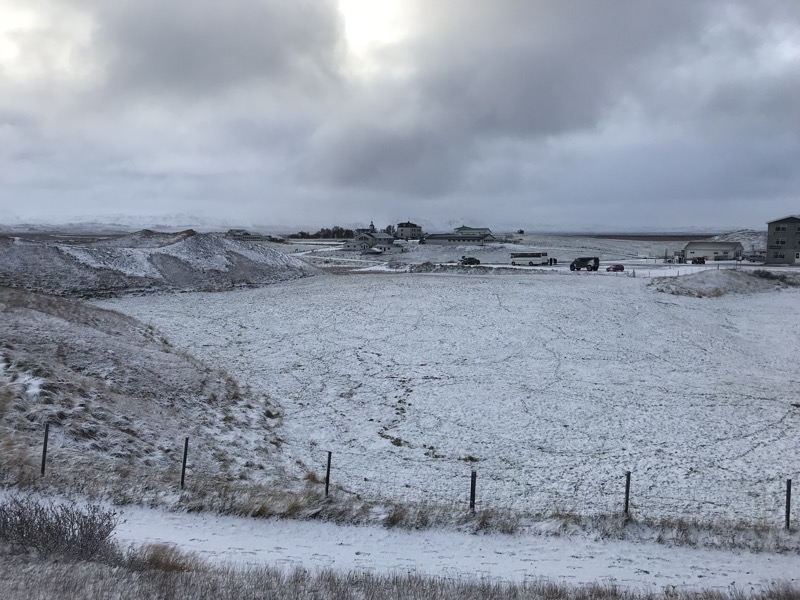 From here we hit the road and were heading to Goðafoss falls. It started out as a beautiful clear day but the roads, of course, were covered in ice and snow which makes for interesting driving when you come from the subtropics.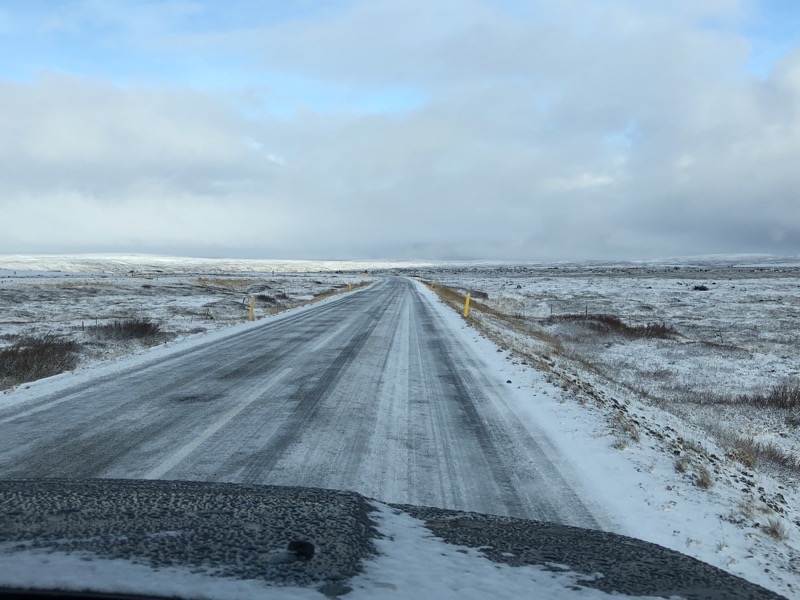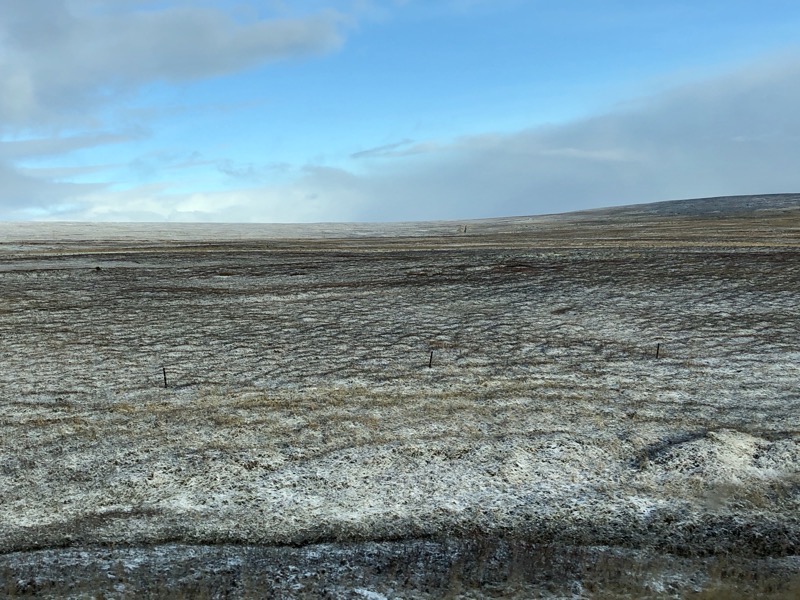 Goðafoss, 'waterfalls of the gods', is on the Skjálfandafljót river and must be my favourite waterfall in Iceland (so far). It is only 12m high and 30m wide, so not as large or as impressive as some others we have seen, but the story from which it gains its name is why I think I have fallen in love with this place.
It is said that in 999AD the lawspeaker at the time, Þorgeir Ljósvetningagoði had decided to make Christianity the official religion of Iceland. According to the legend, when he returned from the Alþing at Þingvellir, Þorgeir threw his statues of the Norse pagan gods into the waterfall.
We passed lots of sheep farms on the way to the falls, only every time you get near the poor sheeps, they start walking away from you – I don't think they like tourists very much… all those noisy cameras and no food!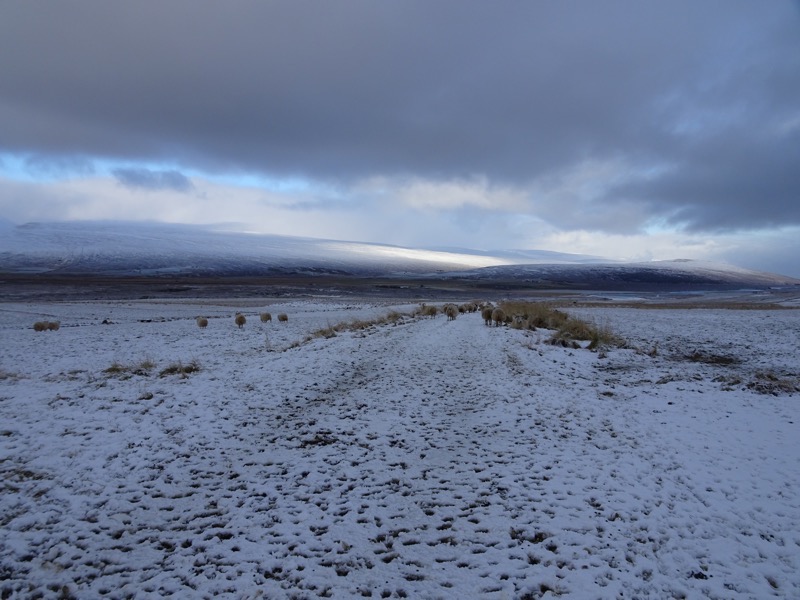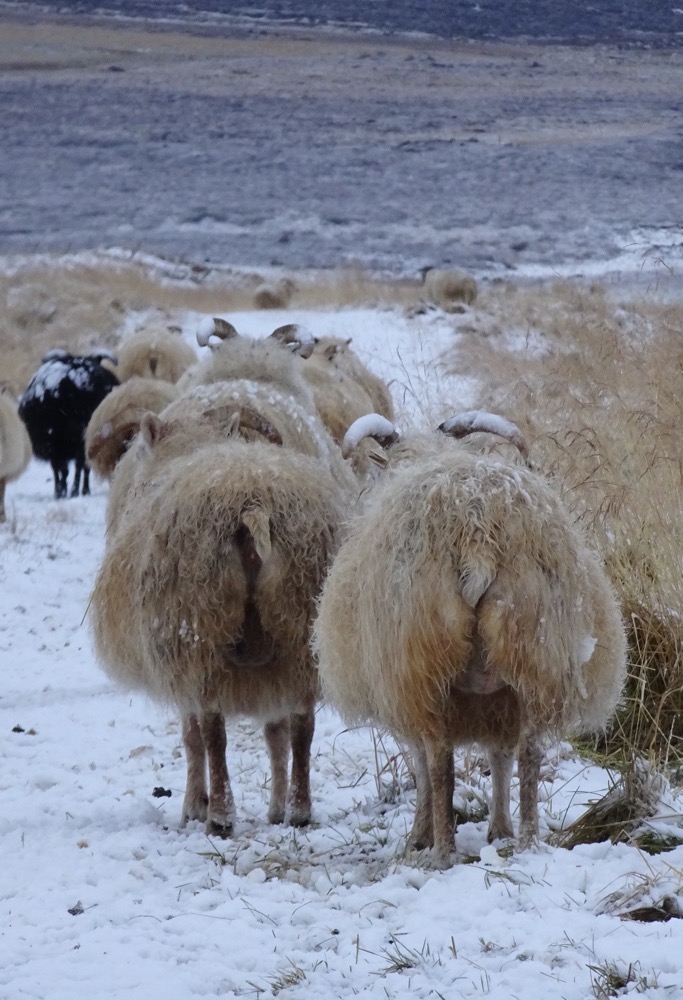 Excited snapshot out the car window of the Skjálfandafljót gorge below the falls as we approached the visitor's area!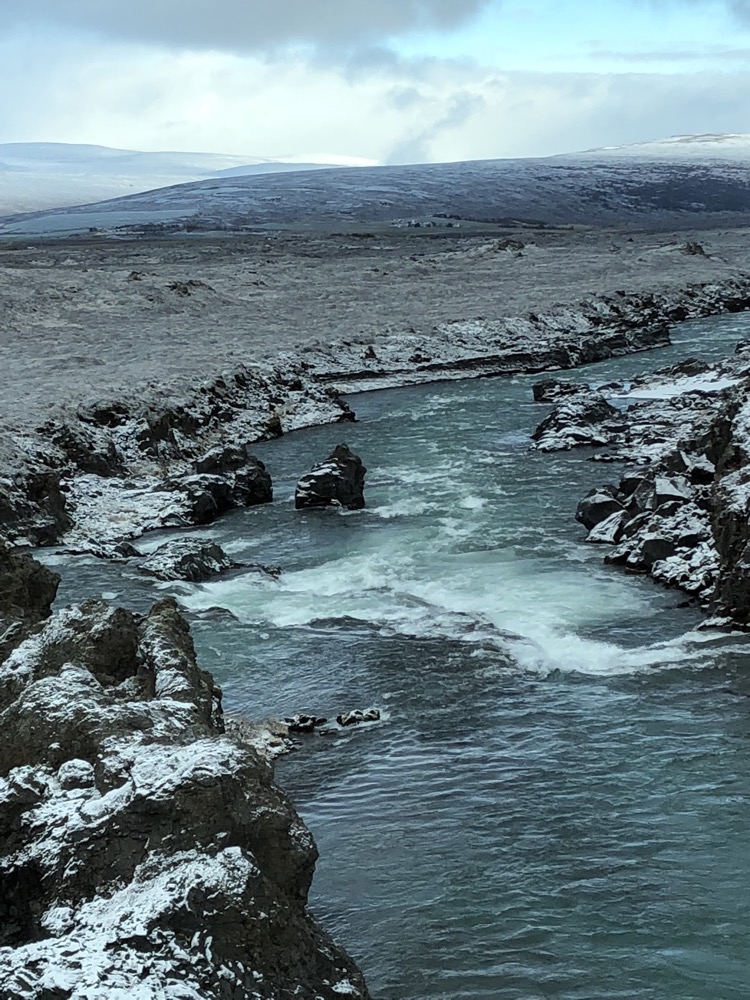 When we finally got there and made the short walk out to the areas, we were confronted by this: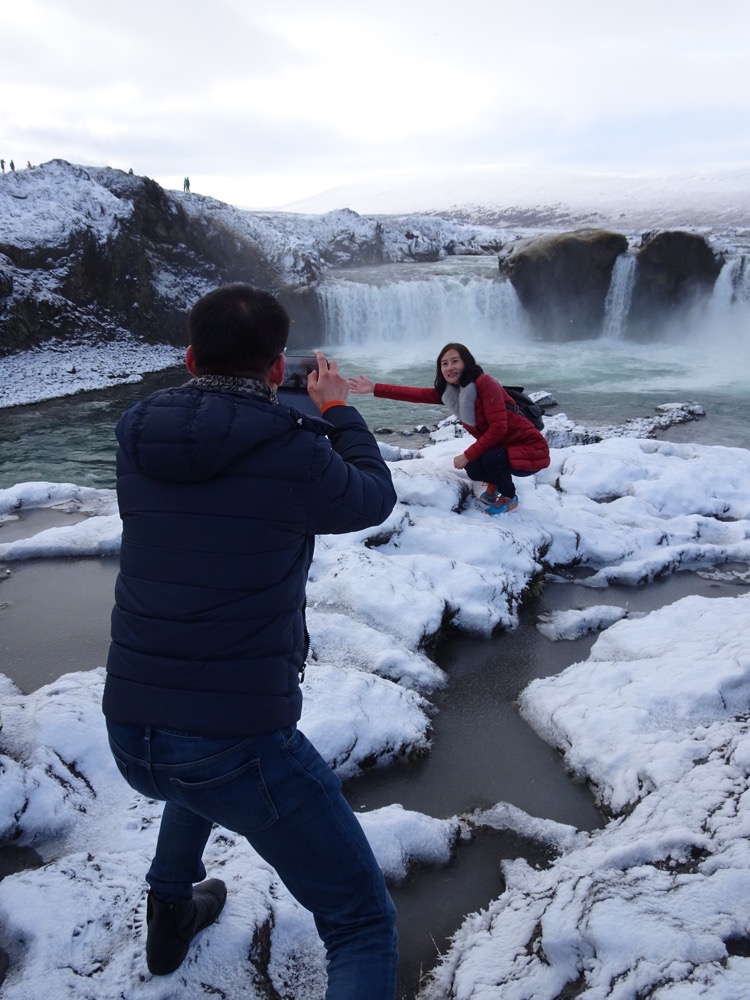 Repeatedly.  He fluffed her and posed her and told her to look this way and that; to smile to look away, to lift her leg above the falls, to point, and to pout.  Finally, after about ten minutes when I thought he was bloody finished with this monumentally important mobile phone photo shoot… he then handed HER the camera, and told her where to stand how low to crouch, how to line him up with the falls and pfaffed around for another five minutes before moving in front of the camera himself!  Then he came back and checked the shots of himself and he made her do them again!  Like, seriously!?  Standing around narcissistically for over twenty minutes taking photo after photo after photo of yourselves while you have people standing around everywhere waiting for a decent view of the object we have all come to see – and these inconsiderate arseholes are in everyone's way for just as long as you please trying to get the perfect photo.  Let you in on a little secret here, people – there's no such thing as a perfect photo. If you take two pictures, ONE of them will be your favourite, if you take ten pictures ONE of them will be your favourite, if you take fifty fucking photos – ONE of them will be your favourite!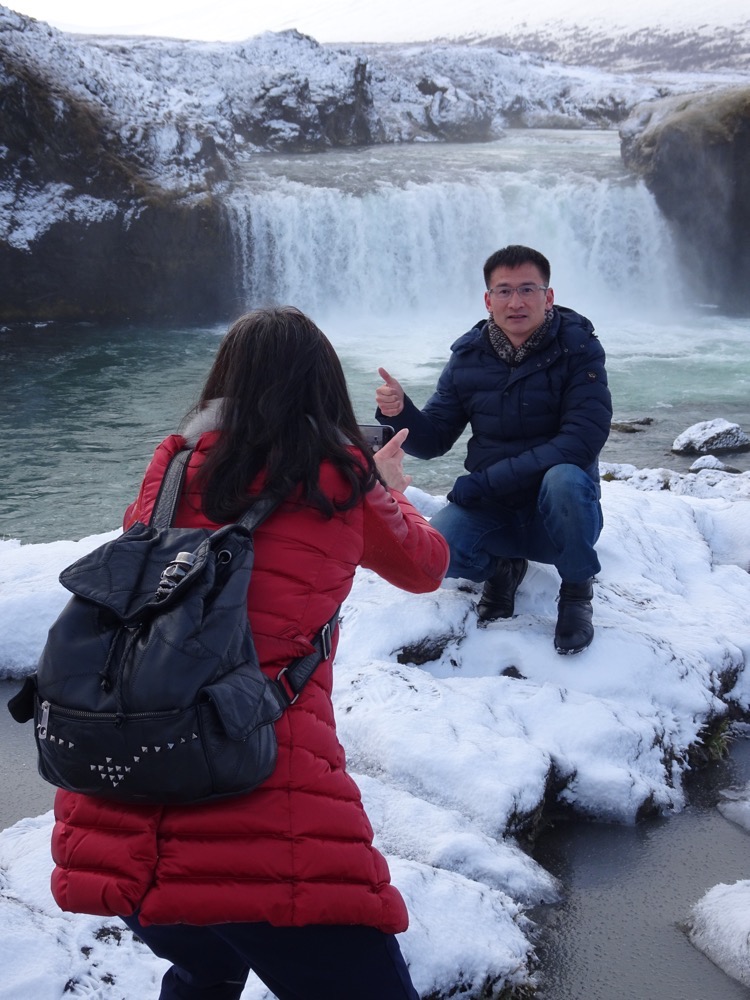 Eventually, he came back to look at the camera again, and then I became *that person* as I then walked out in front of everyone before another pair of self-indulgent, self-absorbed tourists decided to repeat their performance.  I am so frustrated at this shit behaviour, that I resorted to fucking up everyone else's view for all of 60 seconds to take my three or four pictures so I could move on… and do you know how many pictures I took of ME in front of these waterfalls?  Exactly none.  I know I probably shouldn't be posting pictures of strangers on my blog – but fuck them and their privacy. You want to take up a public space like that and be completely ignorant towards the people around you, then you get what you get.
I am so totally over people's obsession with taking all these selfies and twenty million pictures of yourself in front of </important cultural icon>.  Want a photo to show your friends that you were there? Great. Take ONE, maybe two, and then move the fuck on.
Deep breath…  I didn't let it get to me for long – the falls are simply stunning covered in snow.  It hadn't occurred to me that we would end up seeing them looking like this, as it was mid-September when I was here in 2015 and certainly didn't feel like there would be snow any time soon. The weather patterns this year are apparently out the window (which is not helping our hunt for the northern lights).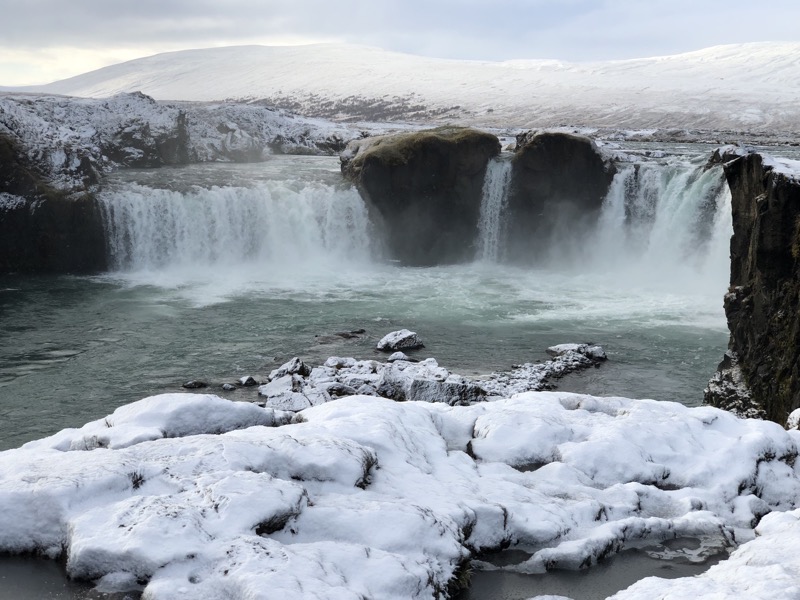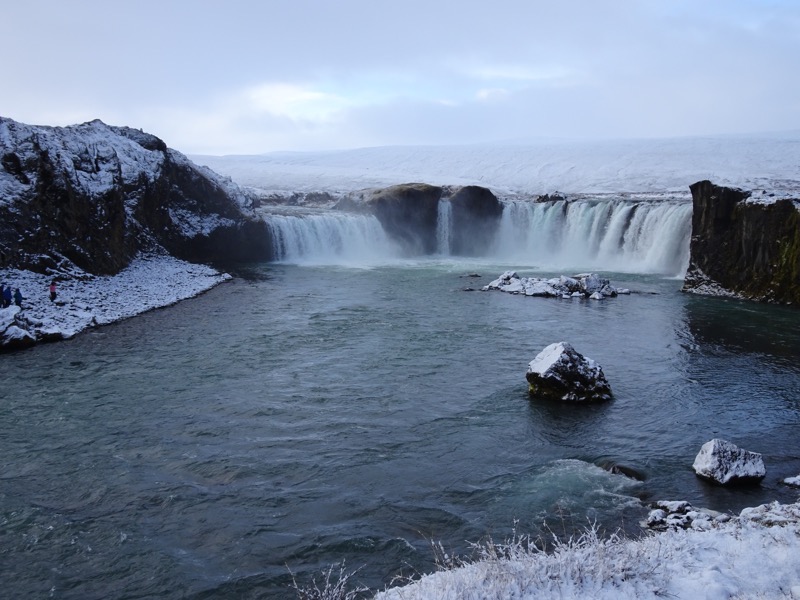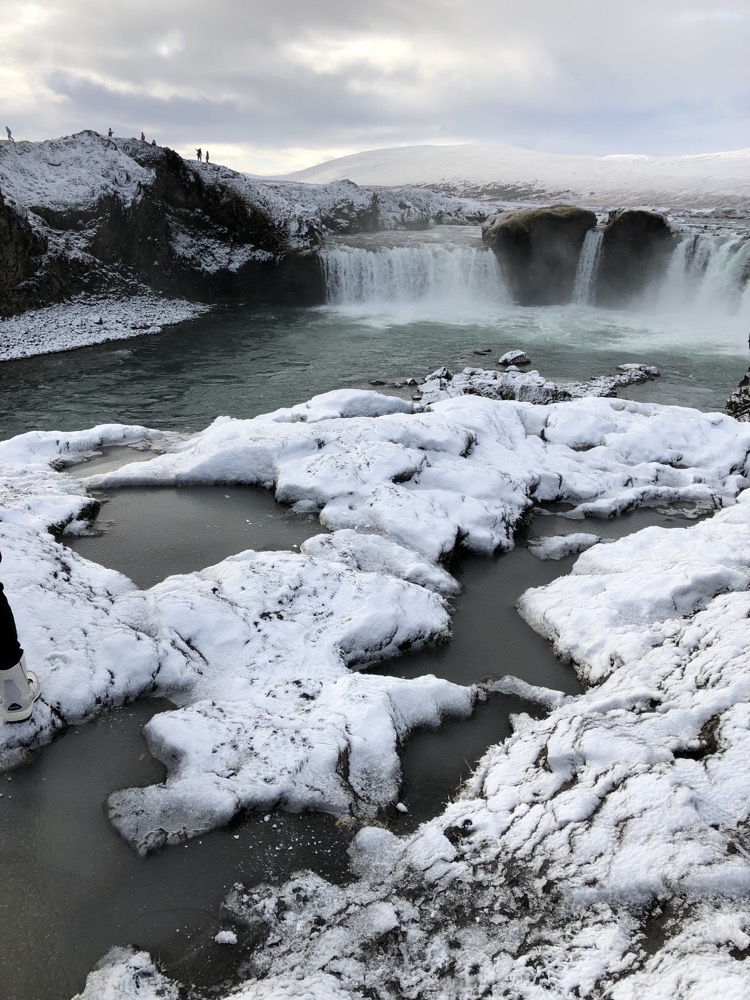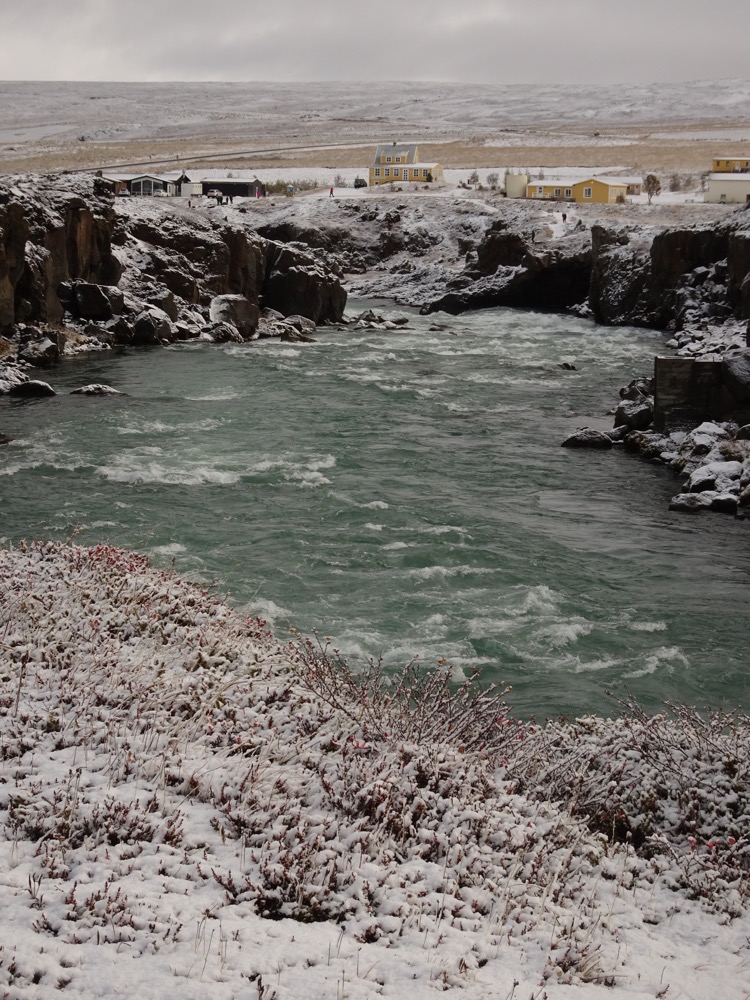 Looking back through my pics tonight, I did take a selfie of myself all rugged up in the cold… See? I was actually at the falls, but I'm not in front of them blocking anyone's view! Behind me is a field full of snowy lava formations that no one is trying to photograph.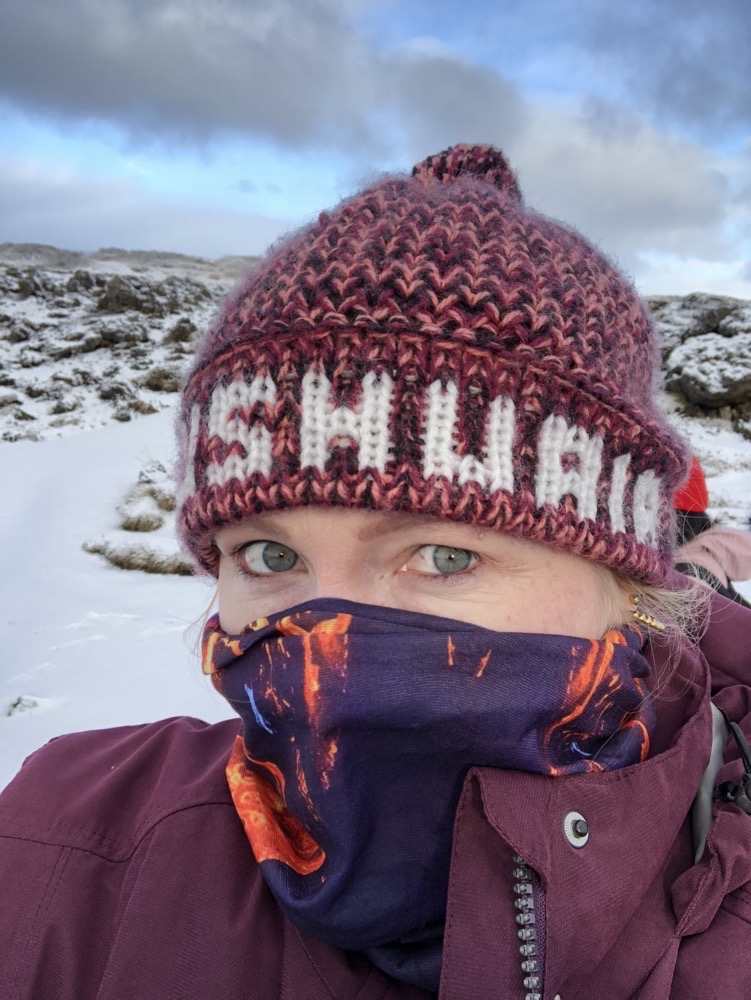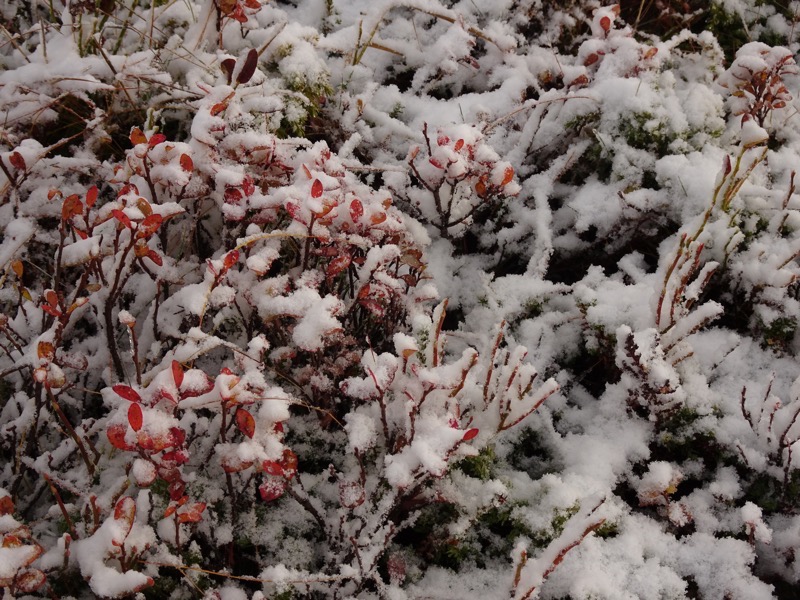 After Goðafoss, we were back on the road towards Akureyri, with is the second largest city in Iceland at the base of Eyjafjörður Fjord.  The weather was not playing nice with us again and the road conditions were still dicey for these Queenslanders.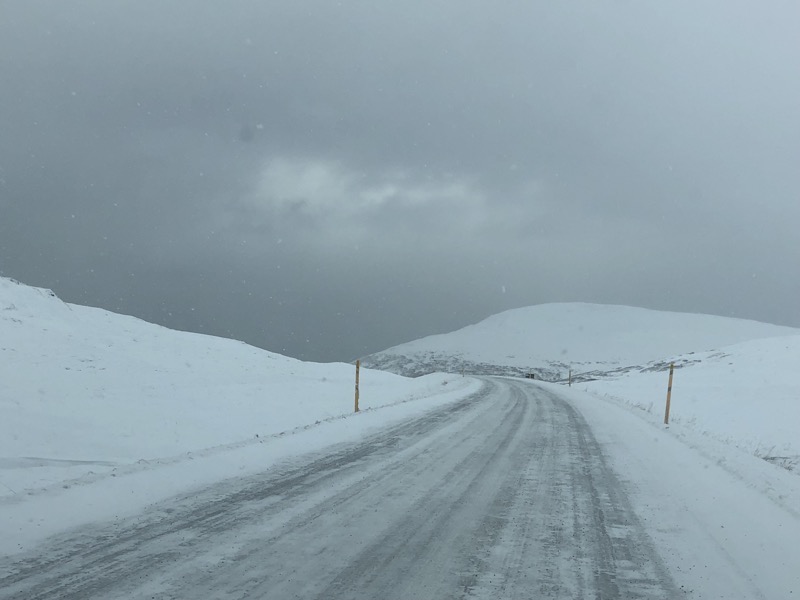 Akureyri seems a little sleepy today, probably due to the weather – everyone is sensibly indoors.  We did a little bit shopping and picked up some supplies, but weren't in town very long.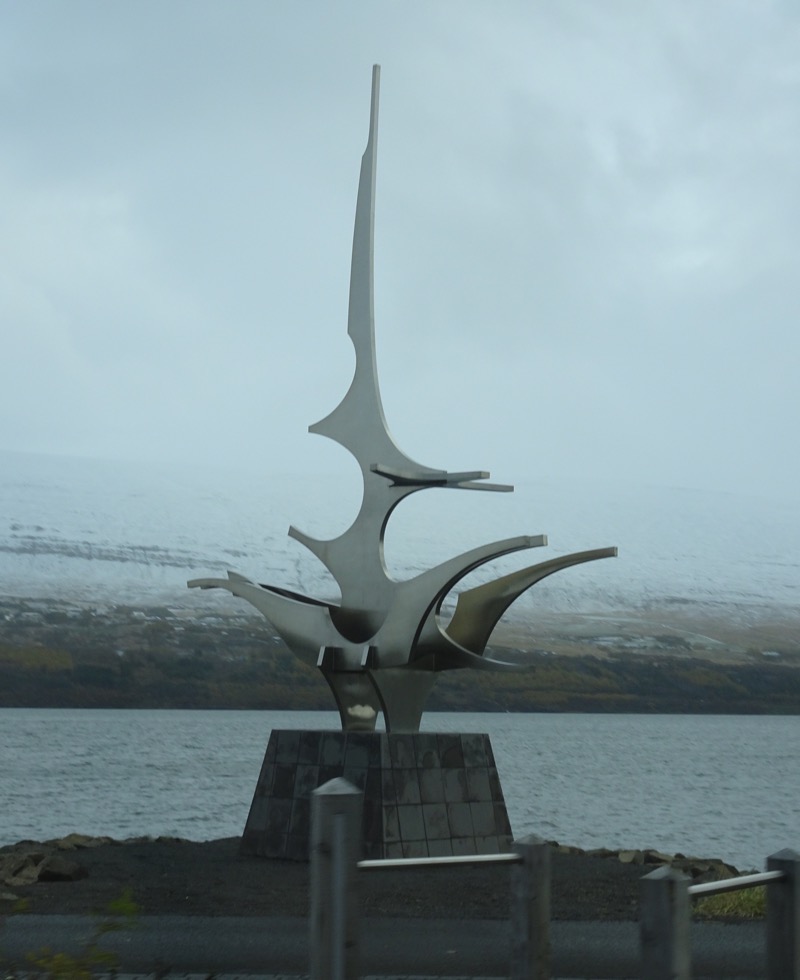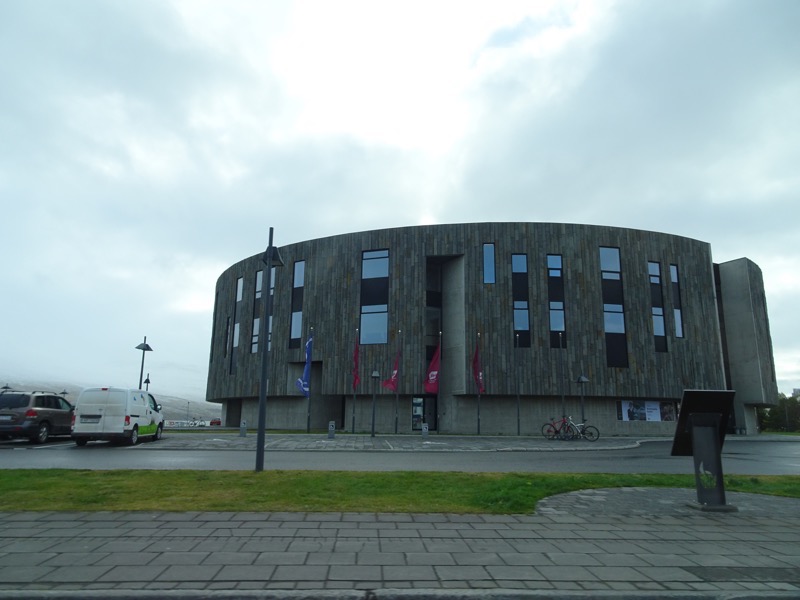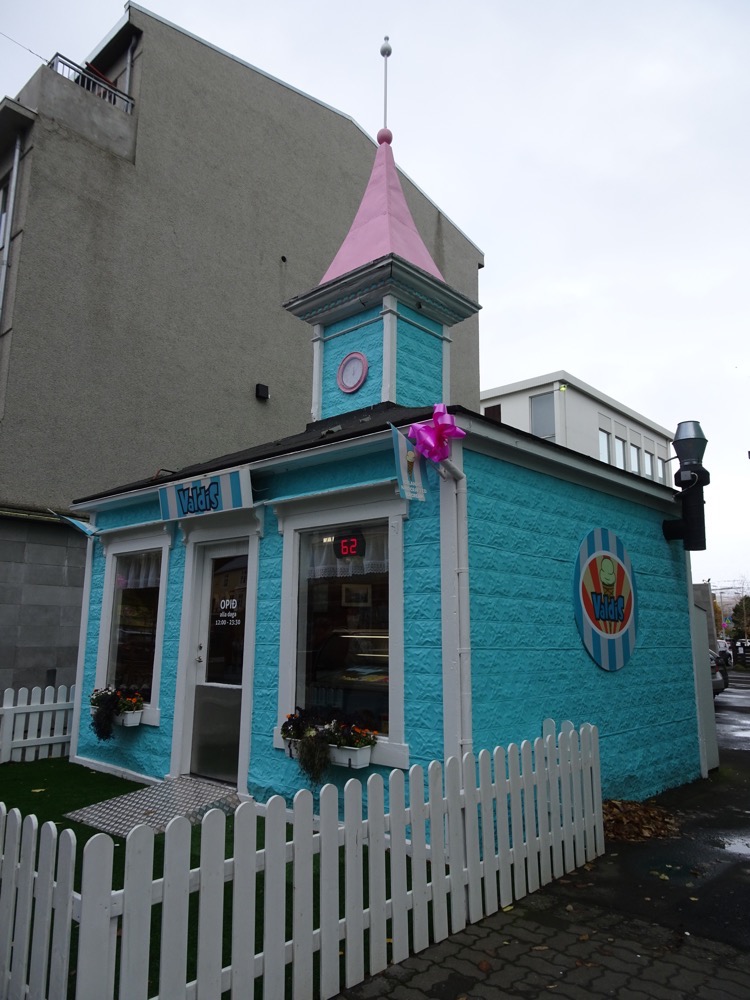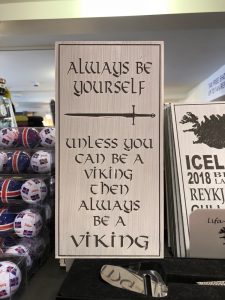 When you look up 'Things To Do' in Akureyri, you will find a list that includes things like Goðafoss, Dettifoss, the Myvatn Nature Baths, the Geothermal lava fields of Krafla and all those places we had just travelled some distance over icy roads to come from.
There is a Herring Museum here – but it isn't open during the winter, and a Natural History Museum, but it too wasn't open. It's a nice little town, but thankfully the 66° North and the Icewear stores were open, and we found a supermarket or we would have kept driving I think.
As soon as we left Akureyri, the landscape changed dramatically – lush beautiful green meadows, with the snow capped mountains somewhere in the distance.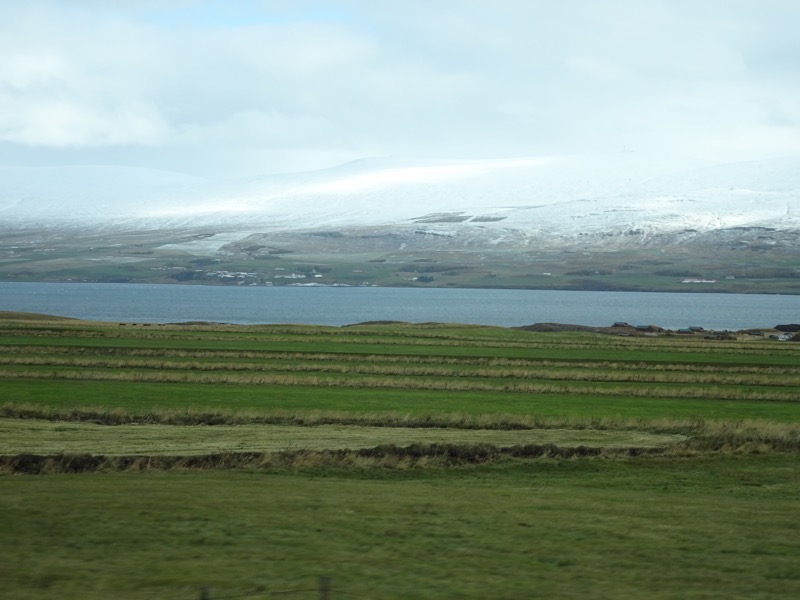 And then you would come over the crest of a hill or around a corner and the vista would dramatically change again.  The temptation to keep picking up the camera was really strong.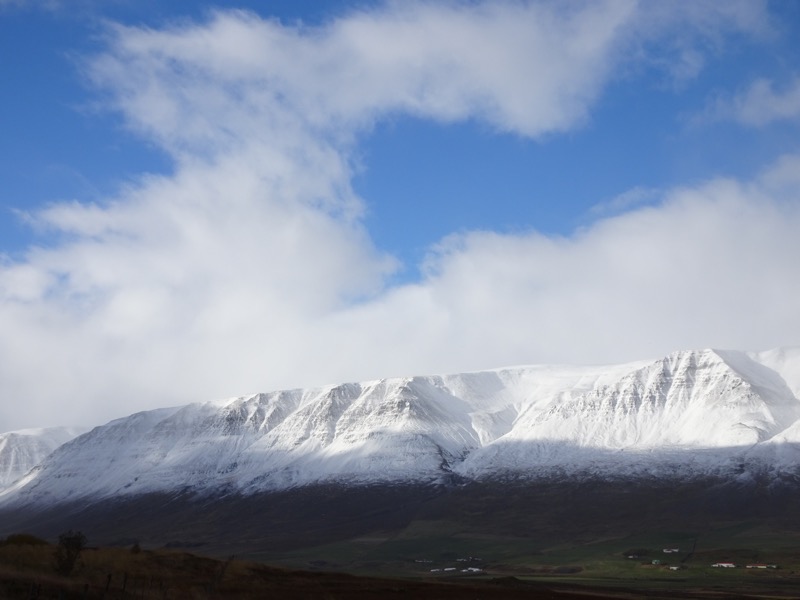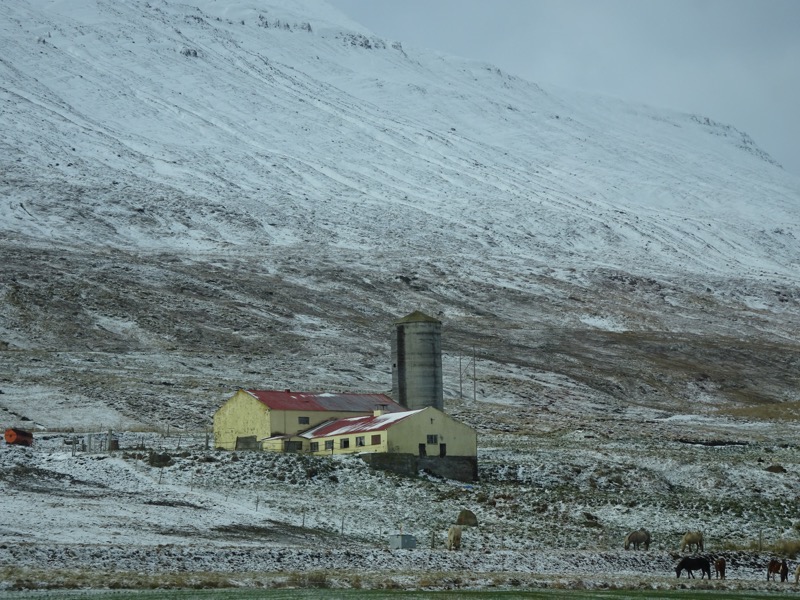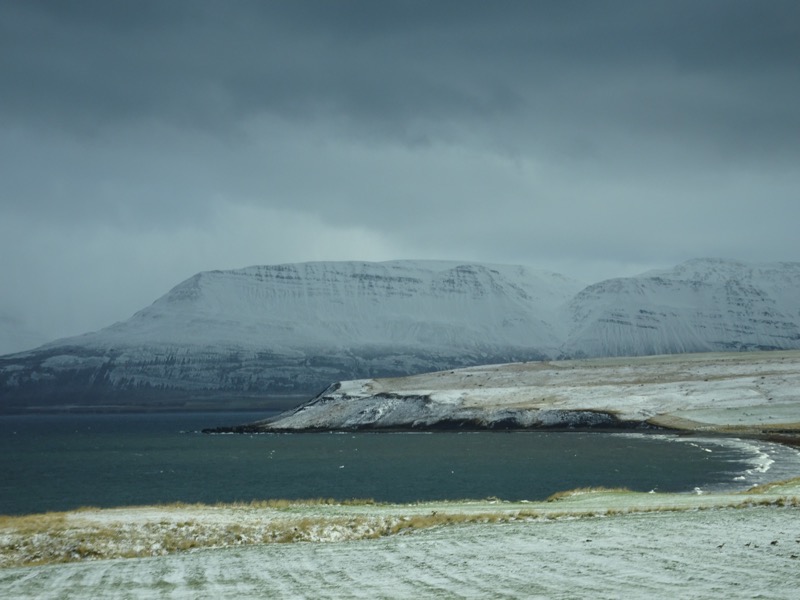 We didn't really need the reminder that the roads were treacherous – but we did see a few upended vehicles which drove the point home more than adequately.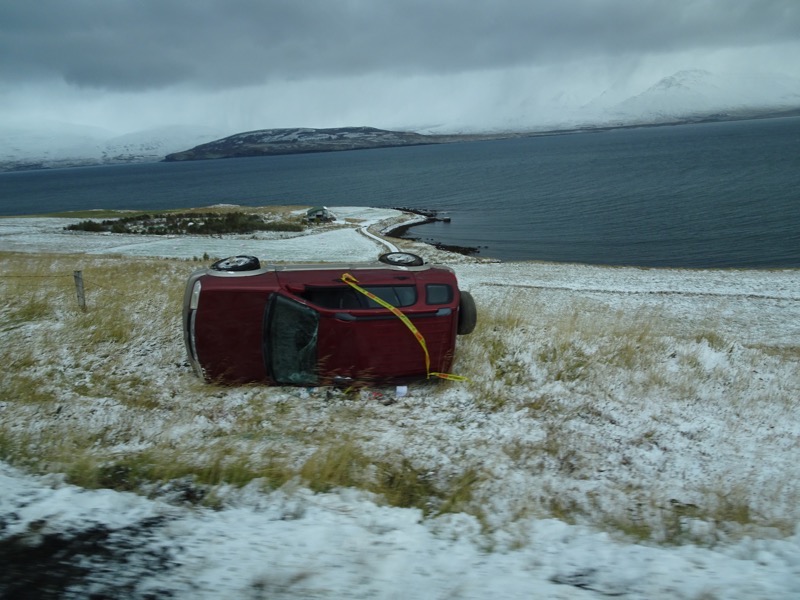 The varying landscapes above are views from north of Akureyri heading towards Dalvik.
Dalvik was a little bit, 'blink and you'll miss it', in spite of its multi-coloured, multi-storeyed buildings, it's a sleepy looking fishing village.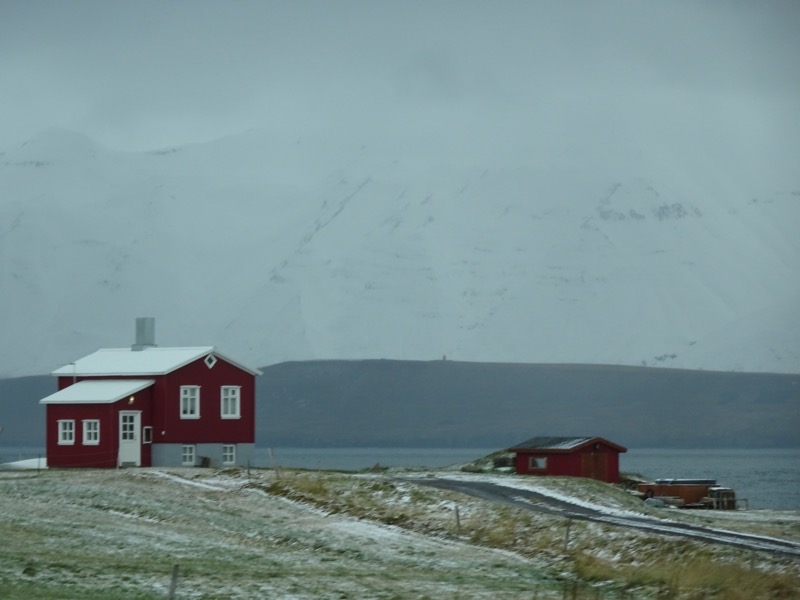 As we left Dalvik, though the road conditions seemed to be worsening and we were back in the snow again. Seeing snow at sea level always seems somewhat confusing to me, even though I have been many places now where it's quite common – I think the association of snow only being on mountain tops is such a strong image imprinted on us in childhood, that it is a bit hard to let go of.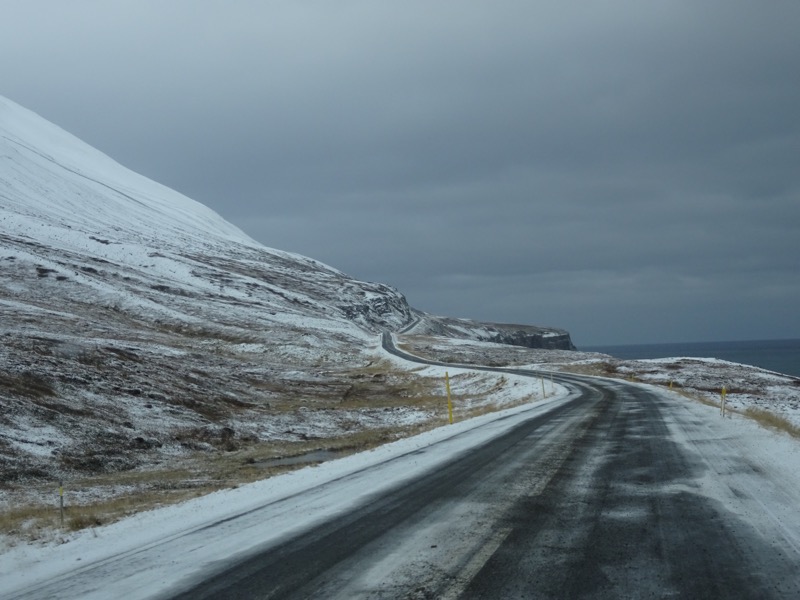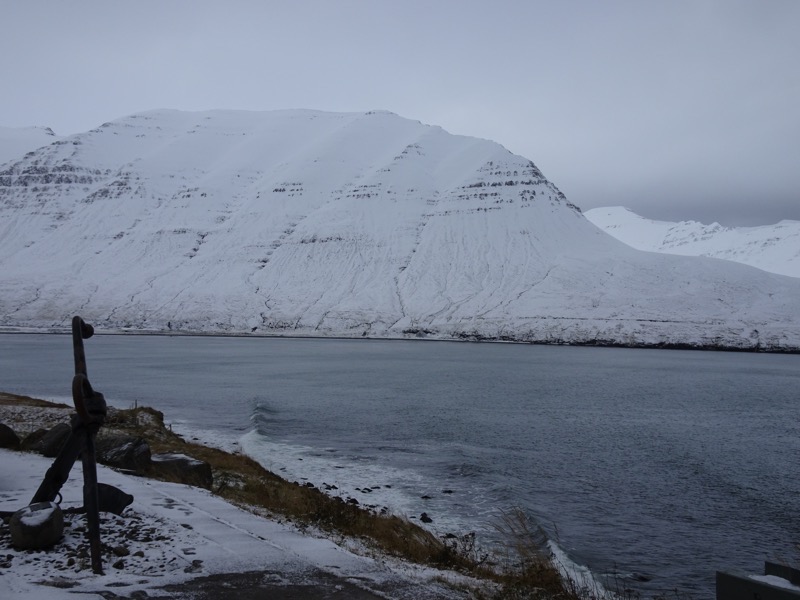 We were about to hit the first of several long tunnels on the Trollaskagi Peninsula.  These feats of engineering have made it much safer and much quicker to travel around Iceland – roads that would have routinely been closed off during much of the winter were now re-routed through mountains instead of around the coastline.  The first smaller tunnel, Múlagöng or Ólafsfjarðargöng goes from north of Davik to Ólafsfjörður and is only 3.4kms long.  The much longer tunnel system goes between Ólafsfjörður and Siglufjörður – you can see on the map below the straight lines they take through the mountains.
Héðinsfjörðargong is the larger tunnel system – comprised of two tunnels of 7.4kms and 3.9kms long… over 11kms of single lane road going through the tunnel with occasional spaces to allow oncoming traffic to pass.  😮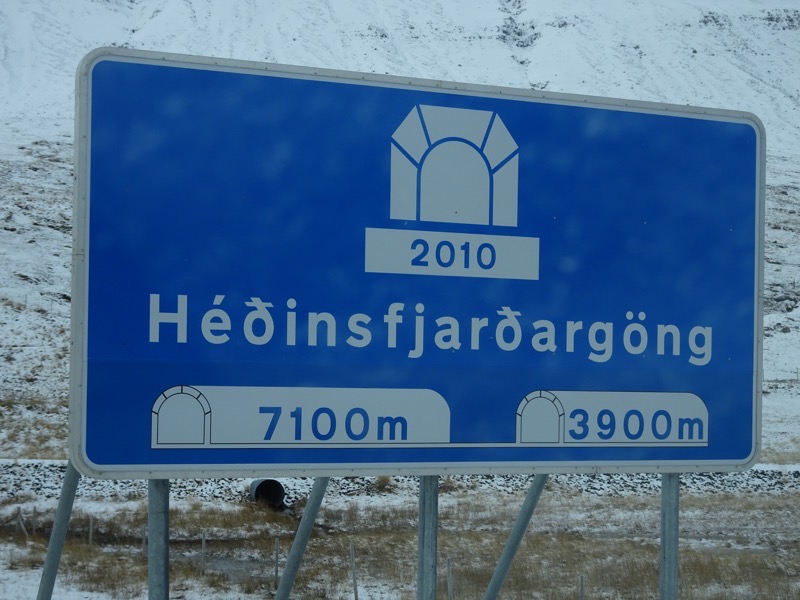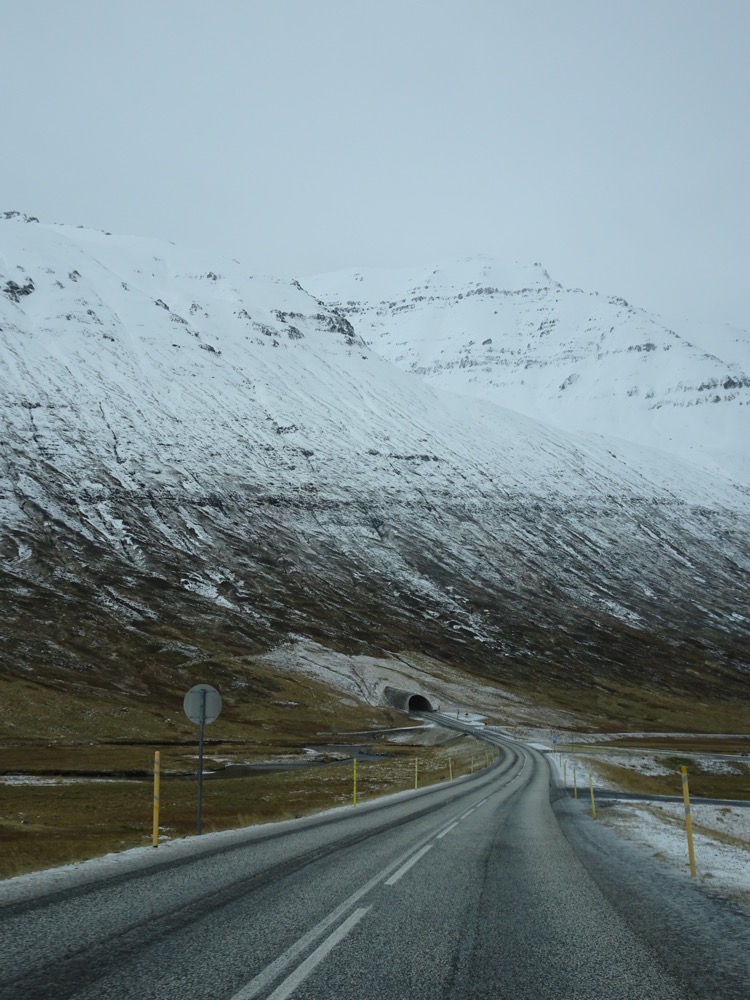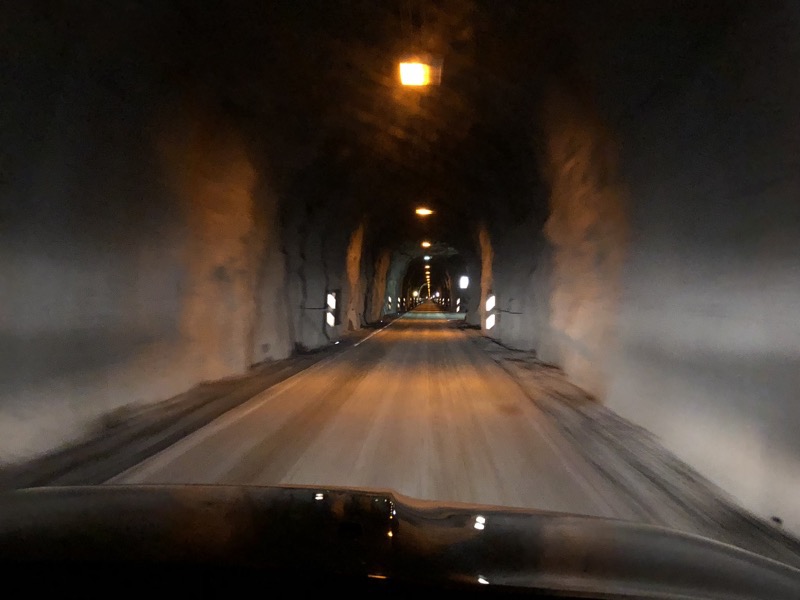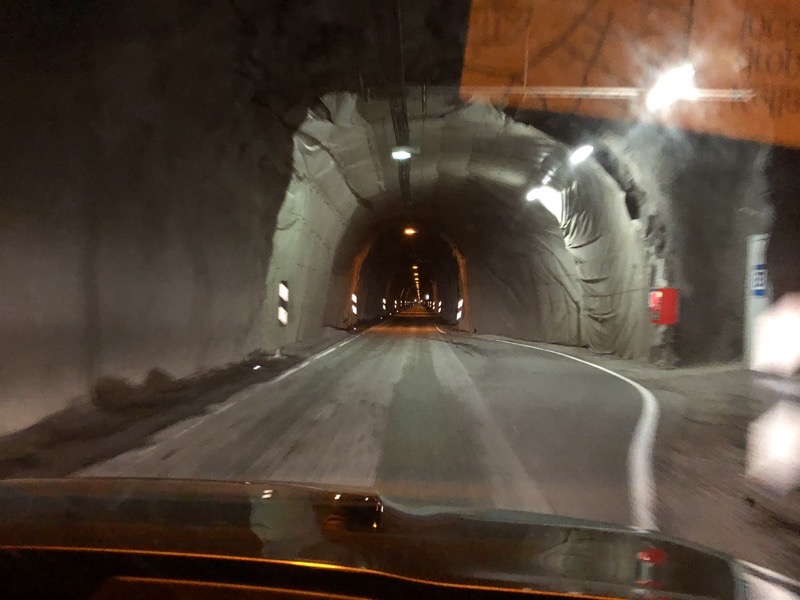 Out the other side of the tunnels and the landscape changes again!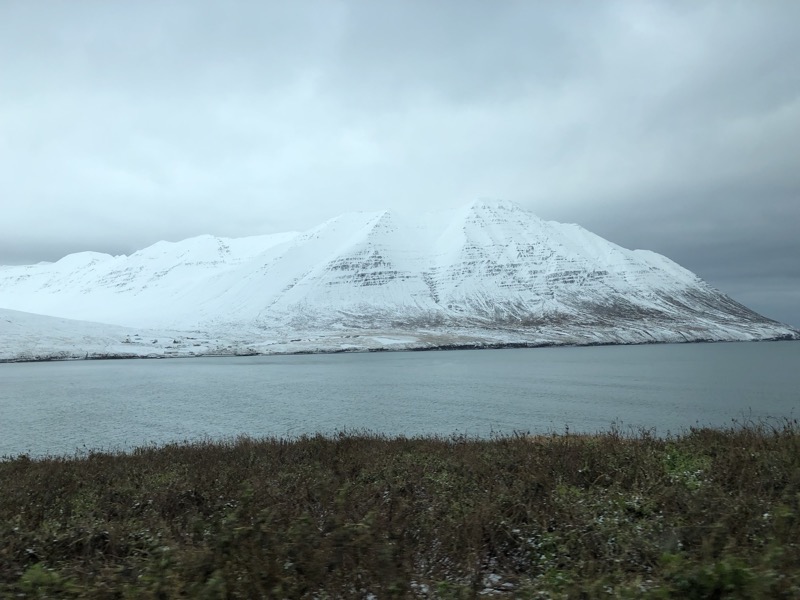 We stopped for a bit of lunch and while the view was amazing – it was a bit too cold for us to use the outdoor picnic tables, so we made do with the dashboard.  🙂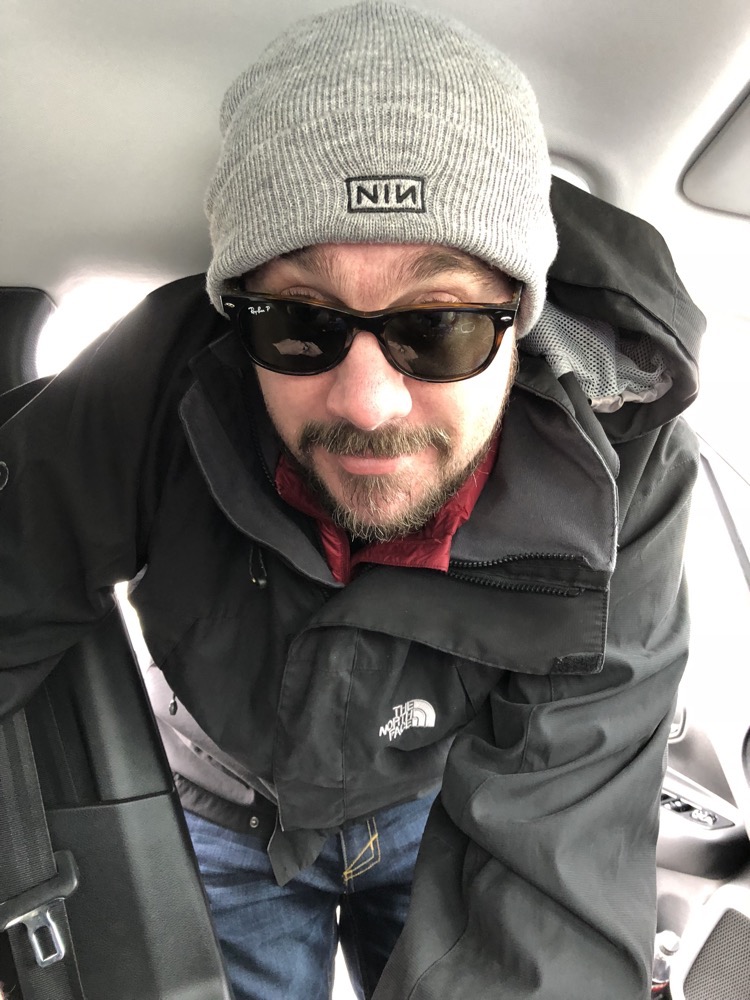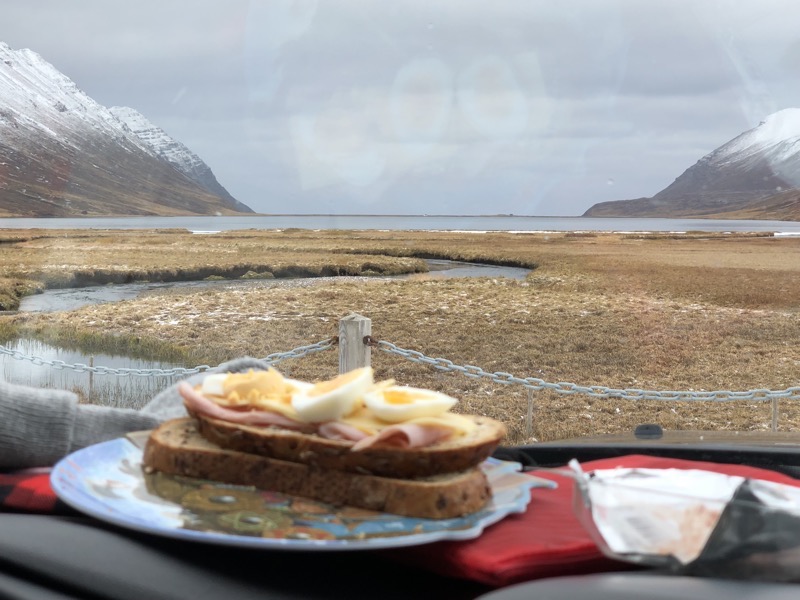 A quick drive through tp Siglufjörður and then onwards around the peninsula.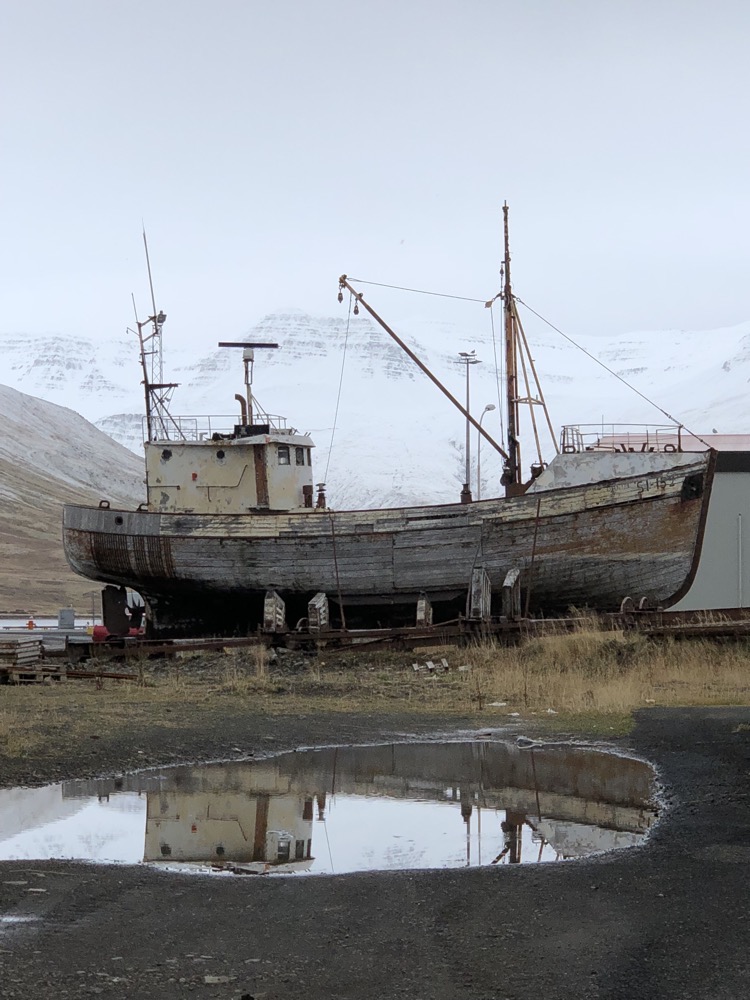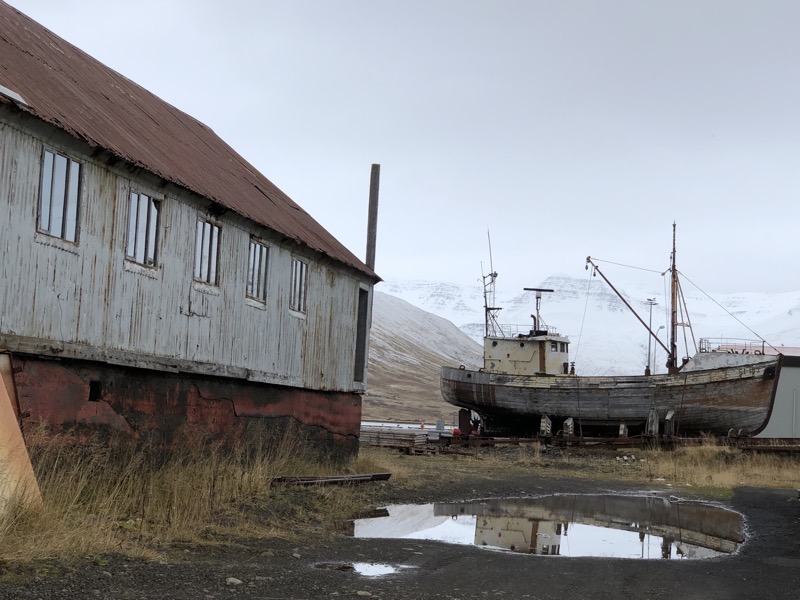 The lighthouse and lookout at Tröllaskagi.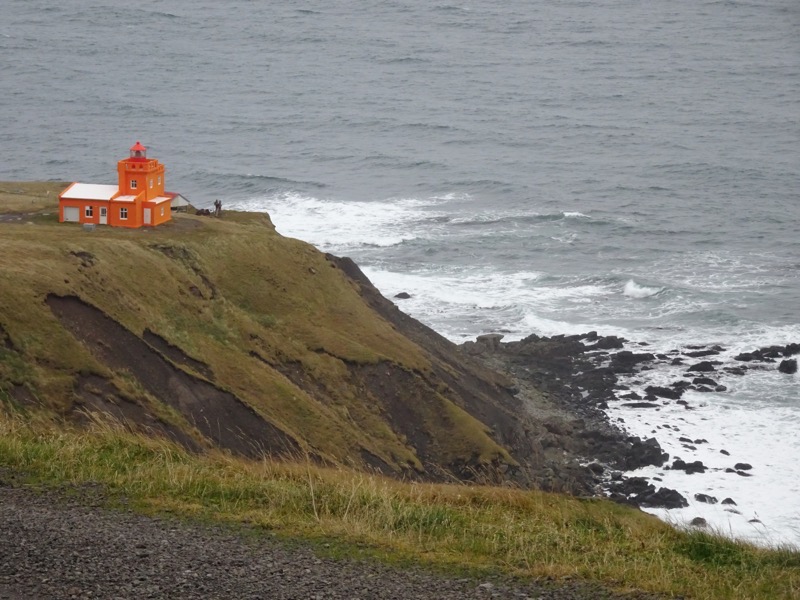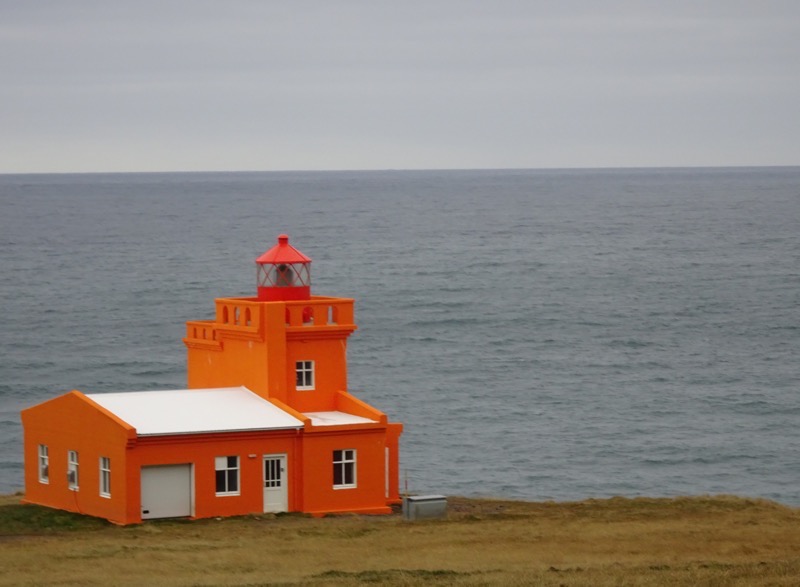 Further around the peninsula, we came to the town of Hofsós, which is one of the oldest trading ports in northern Iceland dating back to the 16th century.  Interestingly, there is little sign of trading here now but for a weird Icelandic Immigration Centre?!
We found a pretty church, the famous Hofsós hot springs infinity pool (which we considered going in for a dip, but at 31C and an ambient temp of about 2C – we thought we'd get too cold too quick and it wouldn't be worth it), some very cool black beaches and some more volcanic formed basalt column rock formations.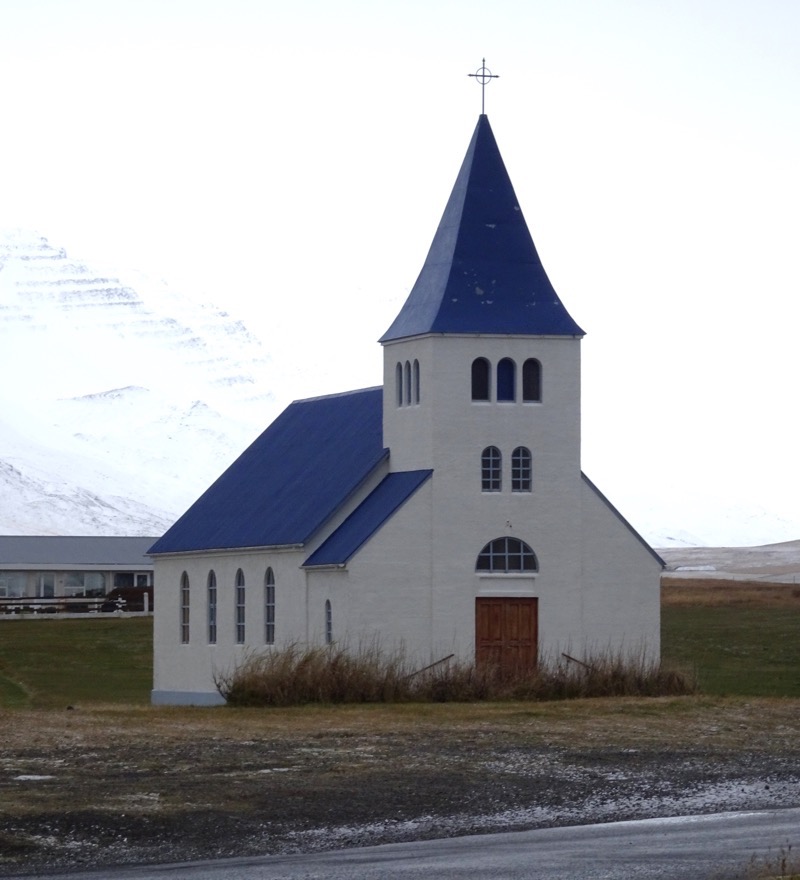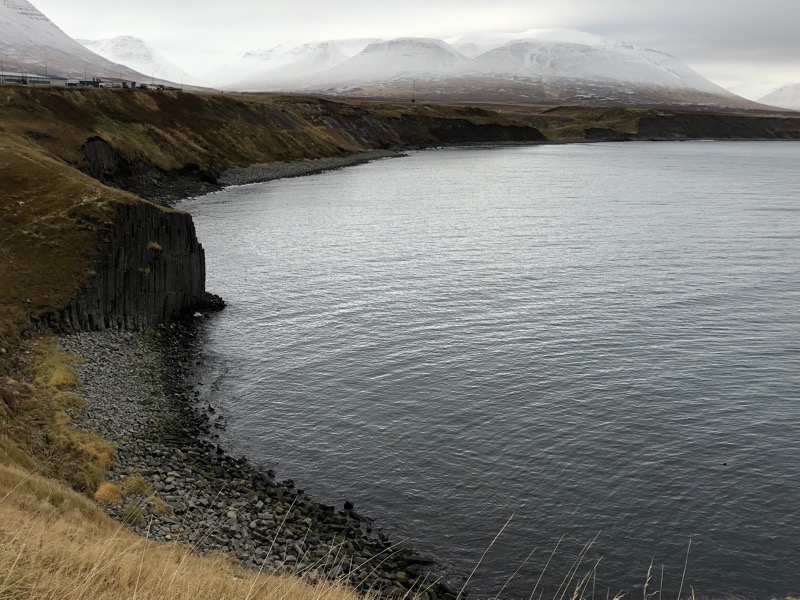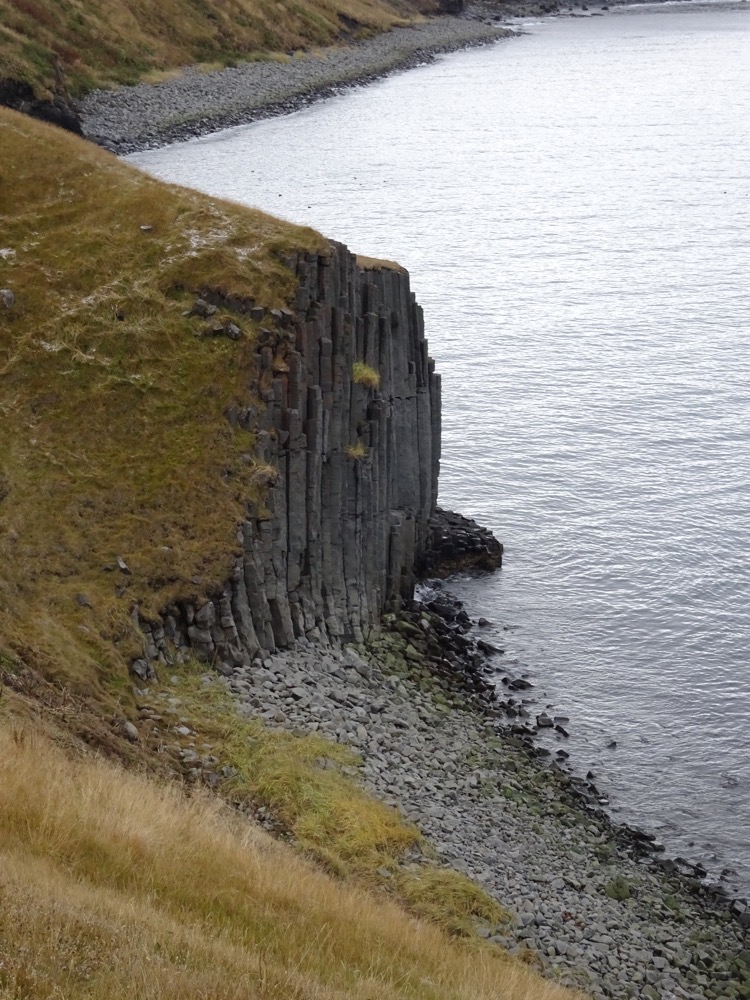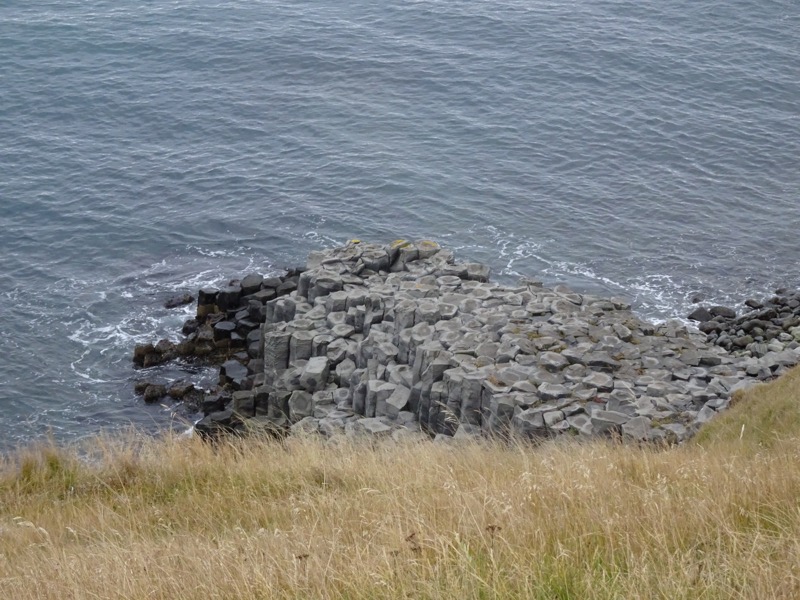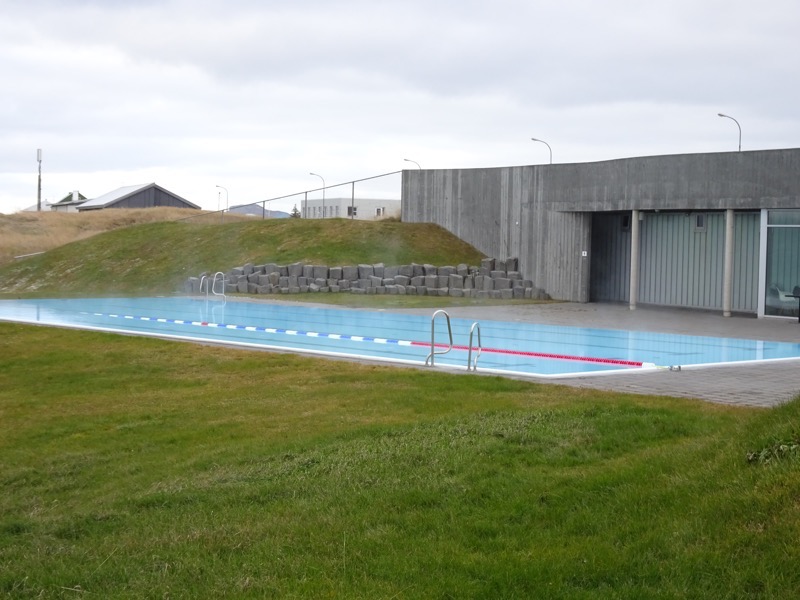 After leaving Hofsós we were heading to our guesthouse for the night, Helluland Guesthouse which is set in a heritage farmhouse built in 1909 and which is still a working farm.  Helluland is known for their Icelandic horse riding tours – you can go for a recreational ride for an hour or you can pack yourself up and go out overnight trail riding (though probably not at this time of year!).  Being a bit of an indoors sort of girl, I'll probably leave the horses for 'other people'.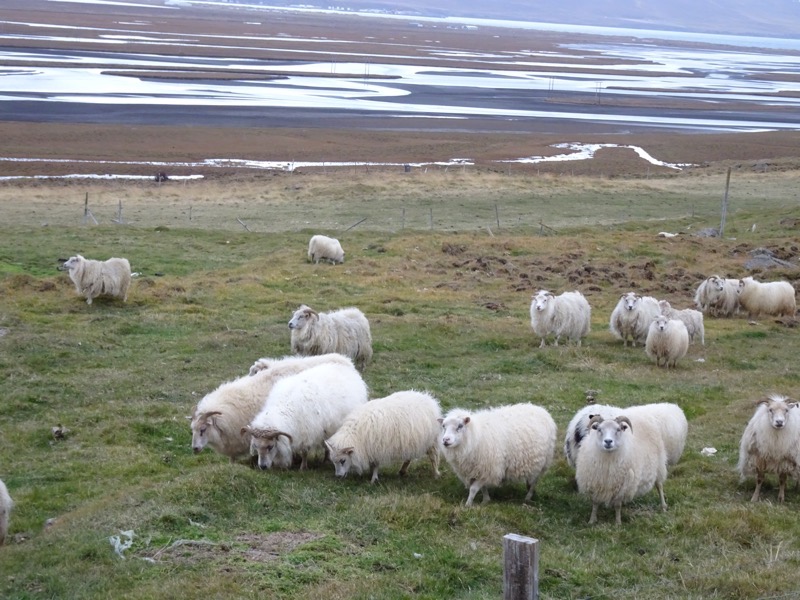 Yes, I know these aren't horses…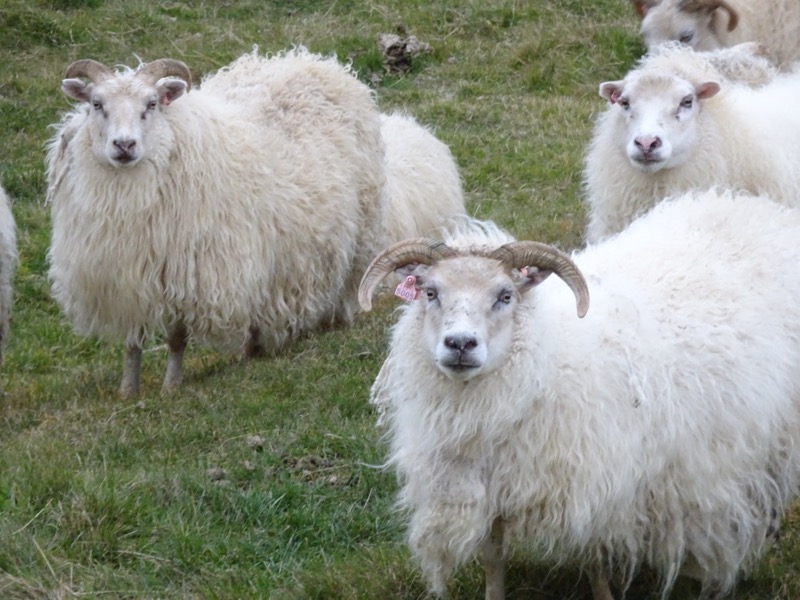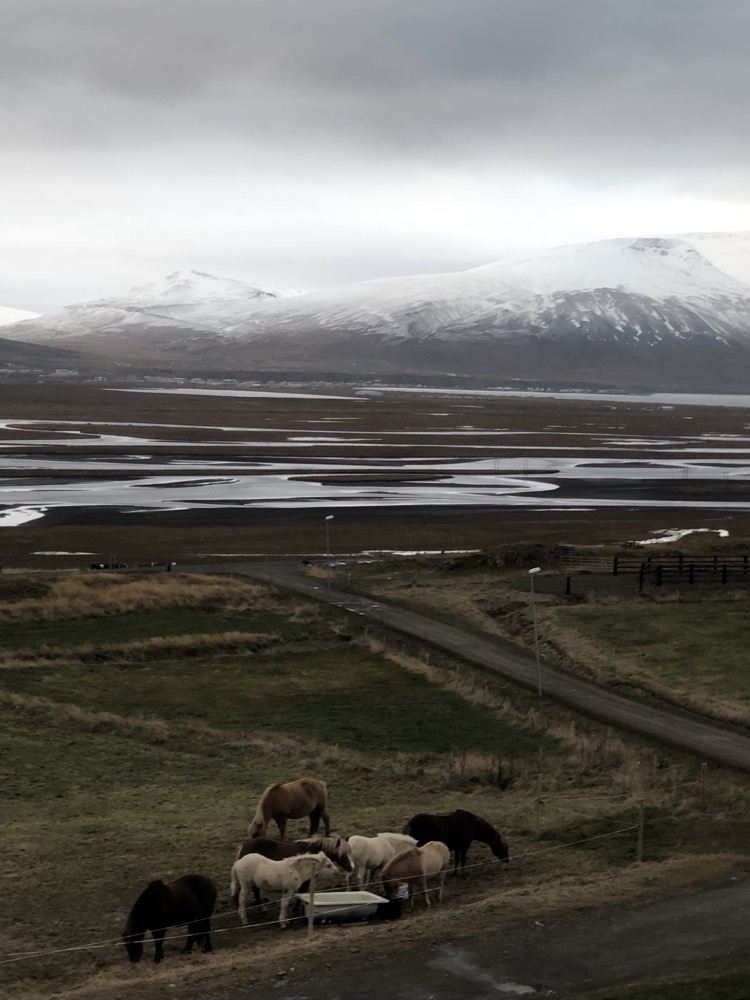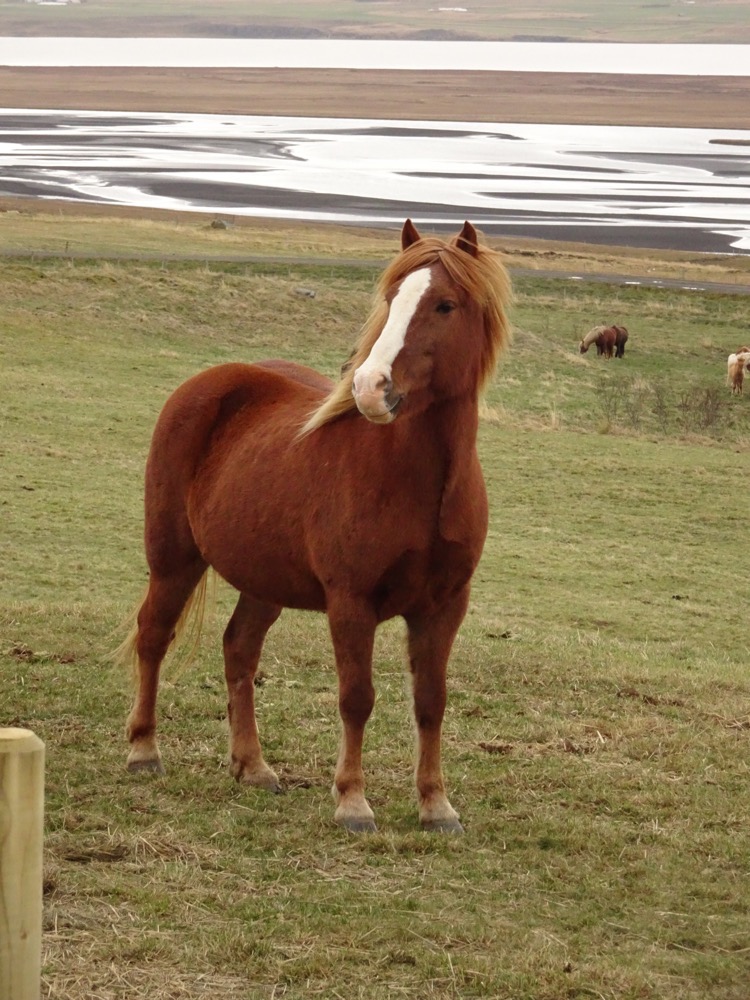 The views from our windows are incomparable – I can't wait to see it in the morning light.  In the meantime, tonight we are on aurora watch… even though we could both do with the extra sleep!