So today we were going to be in port in Corner Brook, Newfoundland and we came to shore with fairly underwhelming expectations… probably something to do with the ship's 'shore expert', Hutch starting off his talk with… "Well, our next port is Corner Brook.  Where are my shoppers? Shoppers? Ah, there you are – you'll be glad to know that Corner Brook has a Walmart." … followed by detailed directions on how to get from the cruise ship terminal to Walmart.  *insert eye rolling here*
Needless to say we had to do a bit of our own poking around to find out what this little town might hold for us to see.  Corner Brook is at the mouth of the Humber River in Newfoundland's Bay of Islands on the western coast.  It's only a small town of about 20,000 people with about another 20,000 or so people living in surrounding communities.  So it's a small and relatively remote town in the Appalachian mountain range and is apparently a jumping off point for people interested in camping and hiking in the glacier/fjordlands of the Gros Morne National Park.
Being mostly known for it's wonderfully lush forrest location (apparently it is an amazing place to come when the leaves are all turning in the autumn), unfortunately, downtown Corner Brook has very few points of interest to recommend it – a small cultural museum, a war memorial, some historic houses and several shops and restaurants.   We went for a bit of a wander around town to see what there was to see.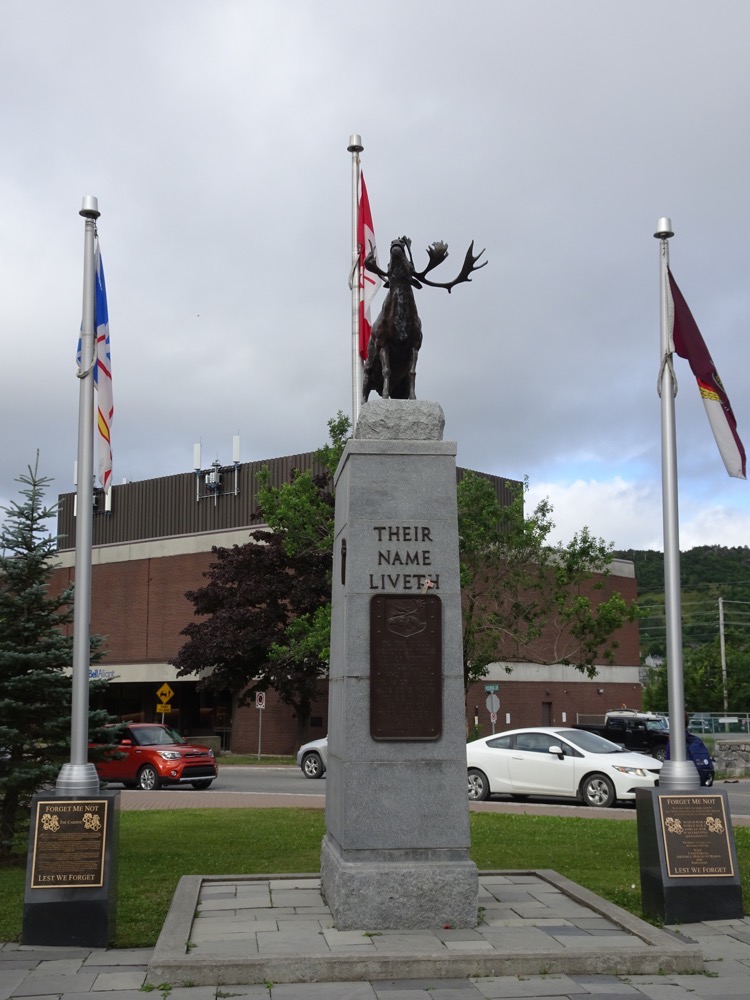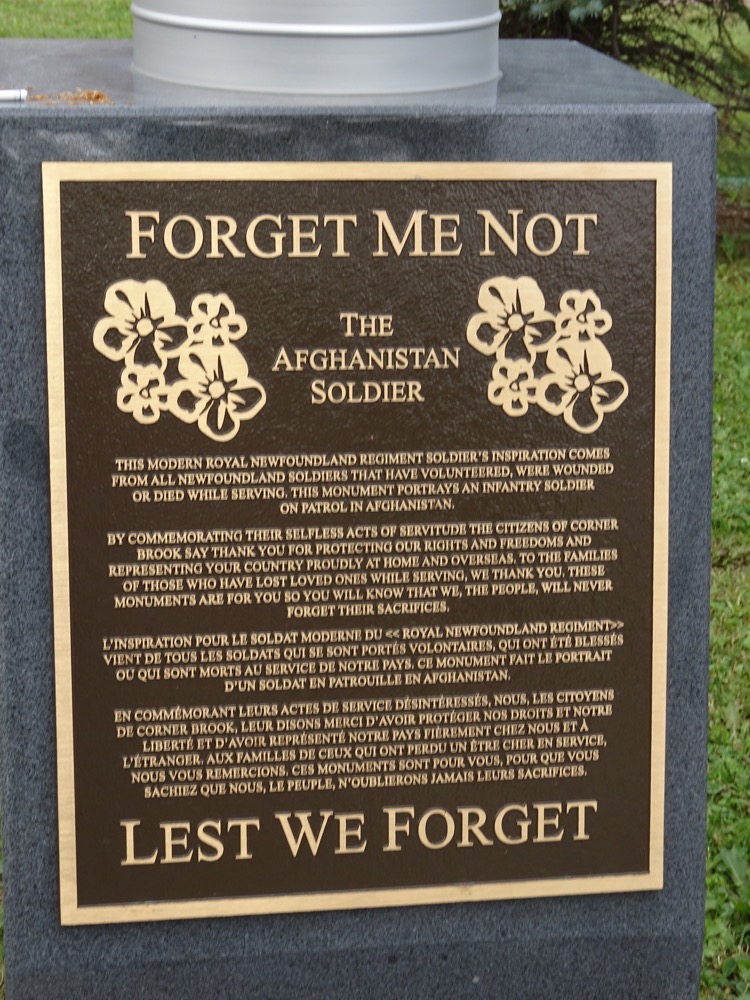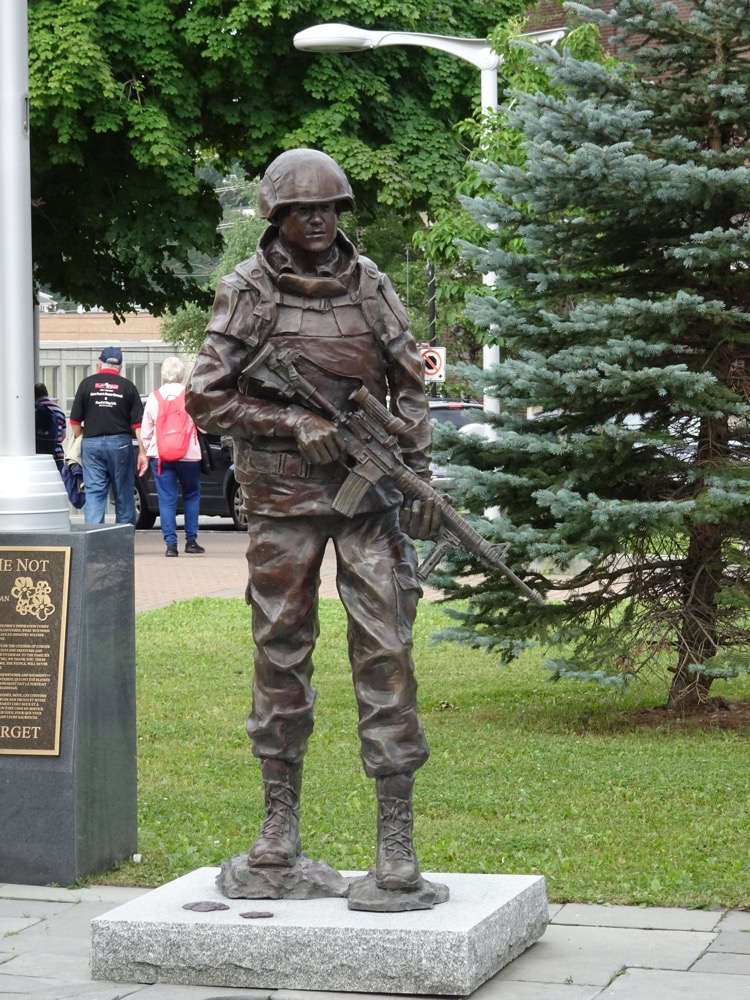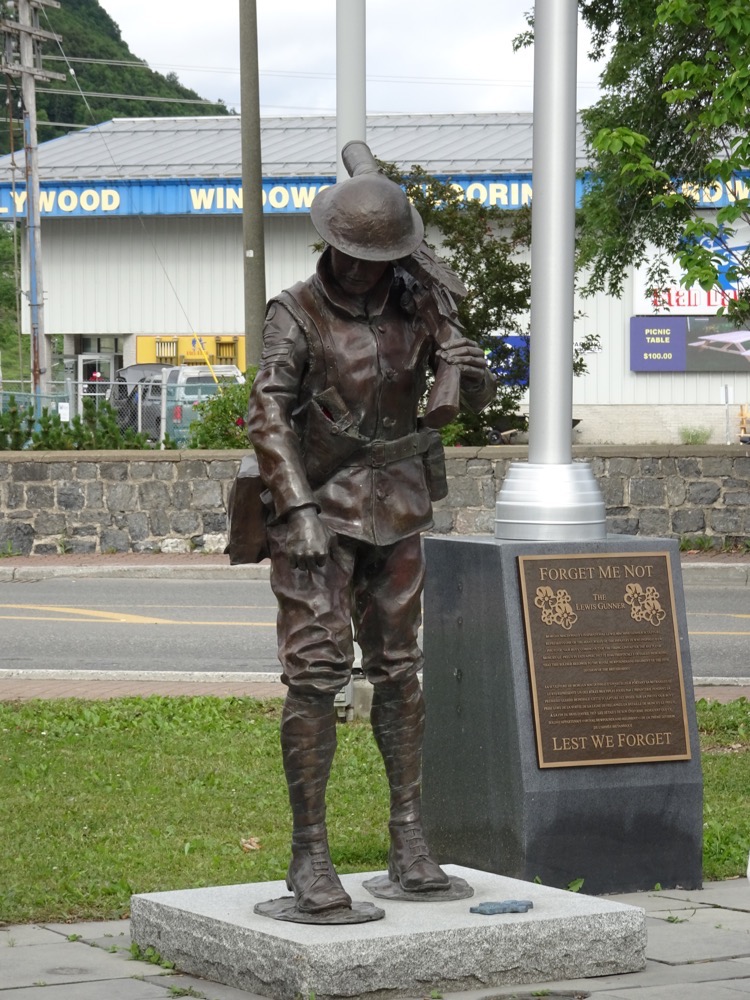 Corner Brook apparently has no snakes, no deer, no groundhogs or any small critters.  Squirrels were introduced to Newfoundland (no idea whether that was deliberate or not) in the 60s and now over run the place… so I was hoping to see them everywhere, but was disappointed not to see a single squirrel running about.  Moose were also introduced to Newfoundland and thrived in the conditions here – but there were none of them around town either… not even on local menus.  😛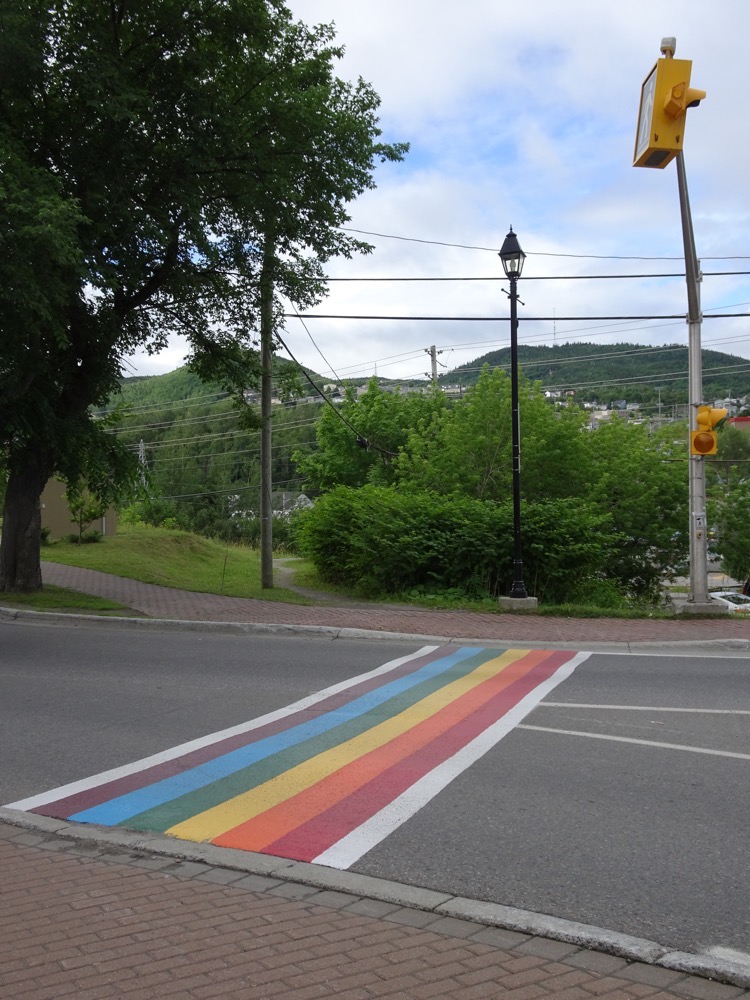 The town centre was fairly colourful with some cool rainbow pedestrian crossings and some colourful hockey related murals.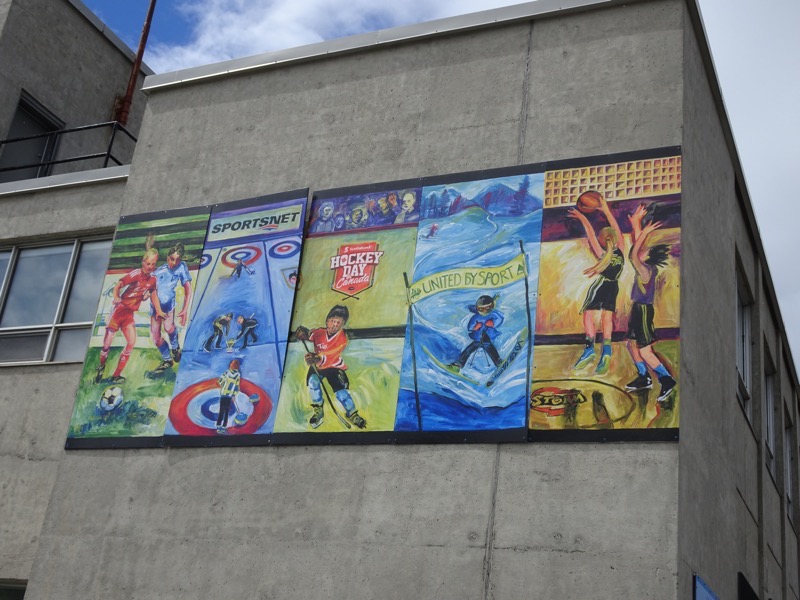 We also did some pottering through a small market set up by local artisans and I saw these very creative pictures of fairies and pixies made out of pressed flower petals.  Gorgeous work.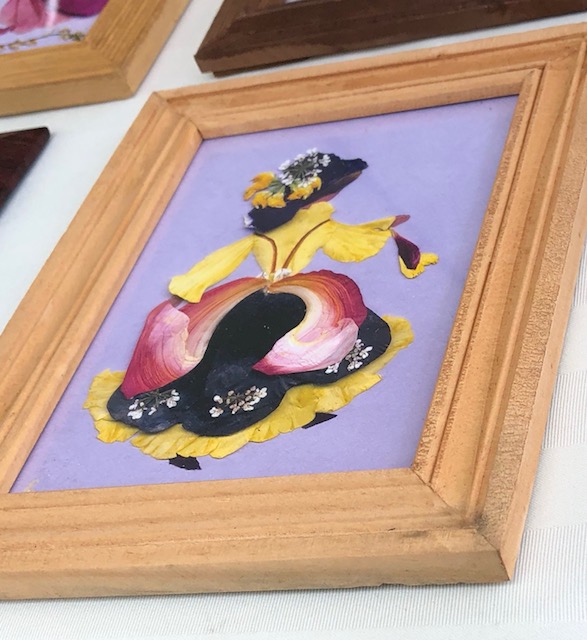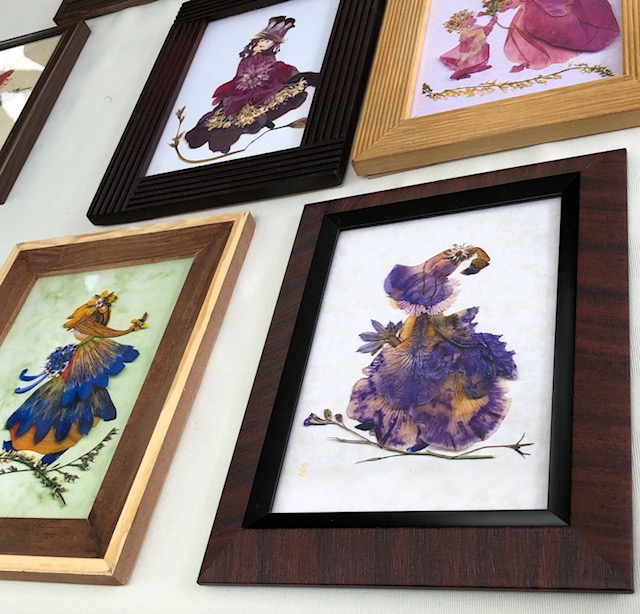 We also saw these mysterious Newfies depicted around the place with white hoods on… with my limited internet access, I have no idea what these are about!  But they seem a bit odd to say the least. We say white hooded Newfie ornaments, paintings, postcards etc., it's obviously a bit of a local 'thing' but we couldn't find any info on them*.
Update:  Apparently the white hood things is called 'mummering' and it is an old Christmas custom from England and Ireland. A 'mummer' is basically a masked or costumed merrymaker, especially at a festival. Mummering involves dressing in hoods and visiting neighbours to entertain in the day leading up to Christimas – its modern form can be traced back in Newfoundland into the 19th century. Although it is unclear precisely when this tradition was brought to Newfoundland by the English and Irish, the earliest record dates back to 1819.  Okay, so that is explained a little – but still odd, yeah?!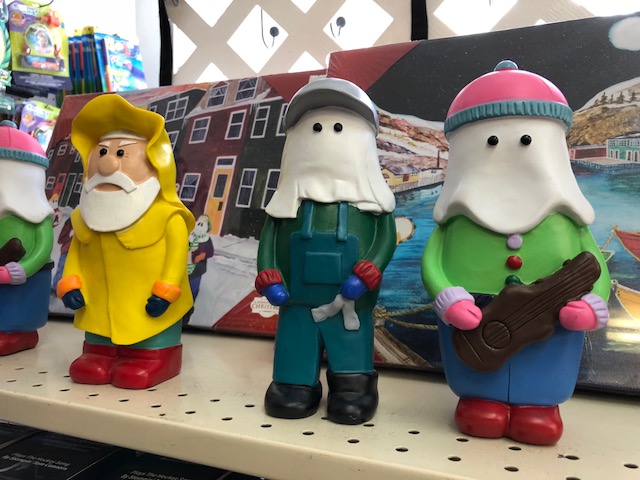 Predictably enough we met up with the Nookies at a local pub called the Crown and Moose (completely false advertising there was no moose!) and managed to have a cracker of an afternoon in a pub that was apparently not expecting an influx of Aussie tourists.  The staff were absolutely run off their feet, calling in reinforcements and trying to cater to an unexpected full house.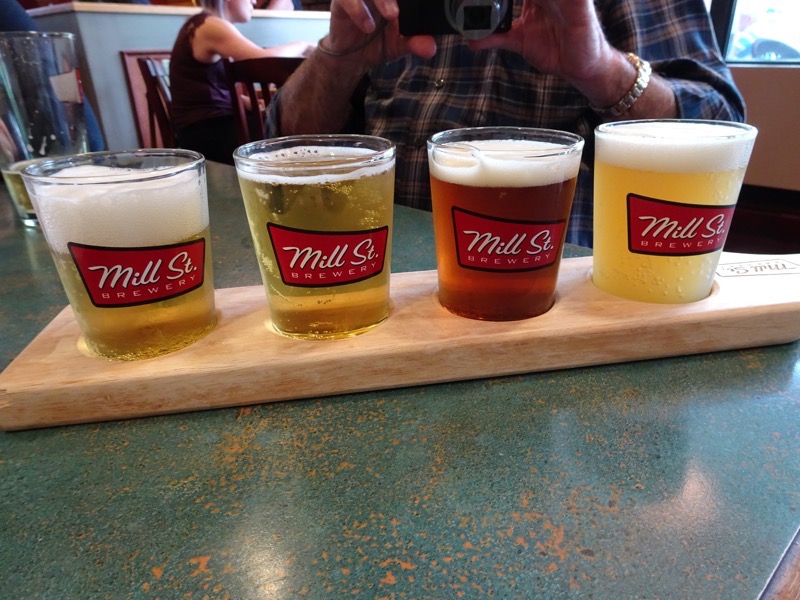 Mr K's paddle of local beers, and below Ms Sandra's very impressive taco salad.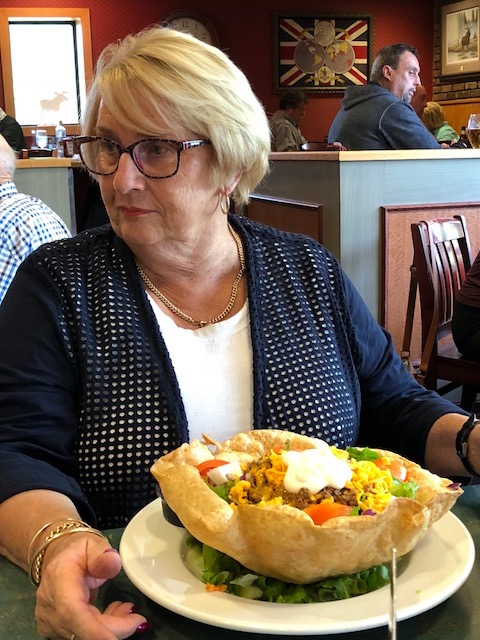 Given we were in eastern Canadia for a few days, we decided we would try and hunt down the best poutine we could find.  Today's offering was quite nice in the fries department and nice politely portioned curds, but the gravy was lacking a bit of body.  Definitely not made to Mom's homemade gravy recipe.  Never fear though,we have several more stops to find some Good Poutine.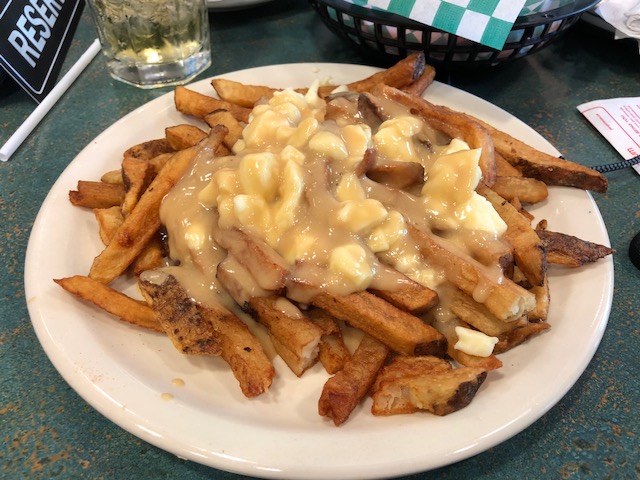 After a few more ciders and stouts we did what we were told and all made our way up to Walmart to stock up on well… mostly shit we didn't need, but when in Rome (ie: Corner Brook in this case), before rolling ourselves back to the ship.  A nice day a shore, but a little on the quiet side.