Where to start?  We had a huge day in St Petersburg today. We have an overnight stop here and the Russian authorities won't let anyone ashore without an official Russian visa, unless they are on an organised tour, and while we have visas because we visited Moscow on the way to Stockholm, doing a tour was going to maximise what we managed to see of the city.  So we chose to do a two-day tour with SPB – the ship tours are just crazy expensive and everything is done in large groups… there are two main companies that people recommend very highly for small group tours in the Baltic, SPB and Alla tours.  We met our guide, Maria, just outside the customs area (which wasn't as bad as we were expecting, about a 30 min wait to be processed, but still…. what a pain in the arse), and we were whisked off to take a ride on the St Petersburg Subway.
Unfortunately, I have no idea which subway station we were at – as we discovered in Moscow, the maps you pick up at the desk are written in Latin alphabets as well as Cyrillic alphabet, but the signs underground are all in Cyrillic so I couldn't even make an educated guess as to where we were.  The stations they chose had some lovely mosaic art works in them, though not as decorative as the Moscow stations we saw…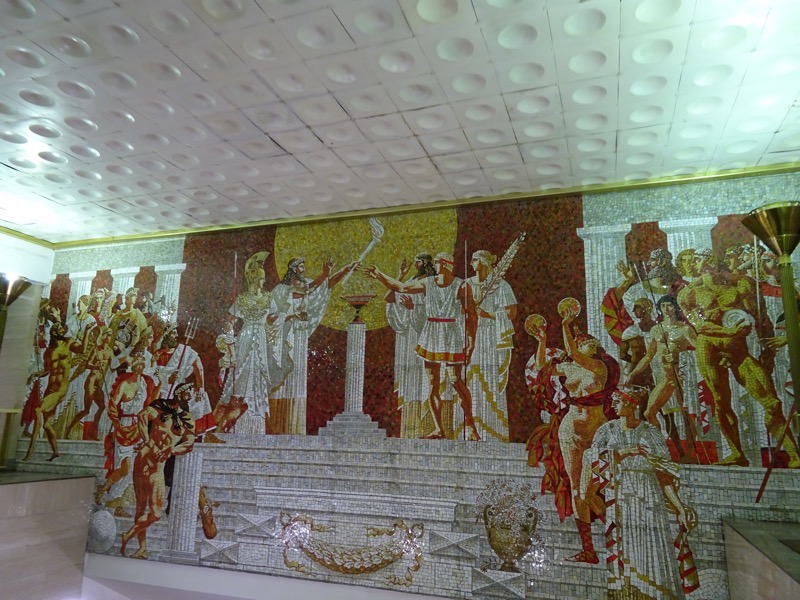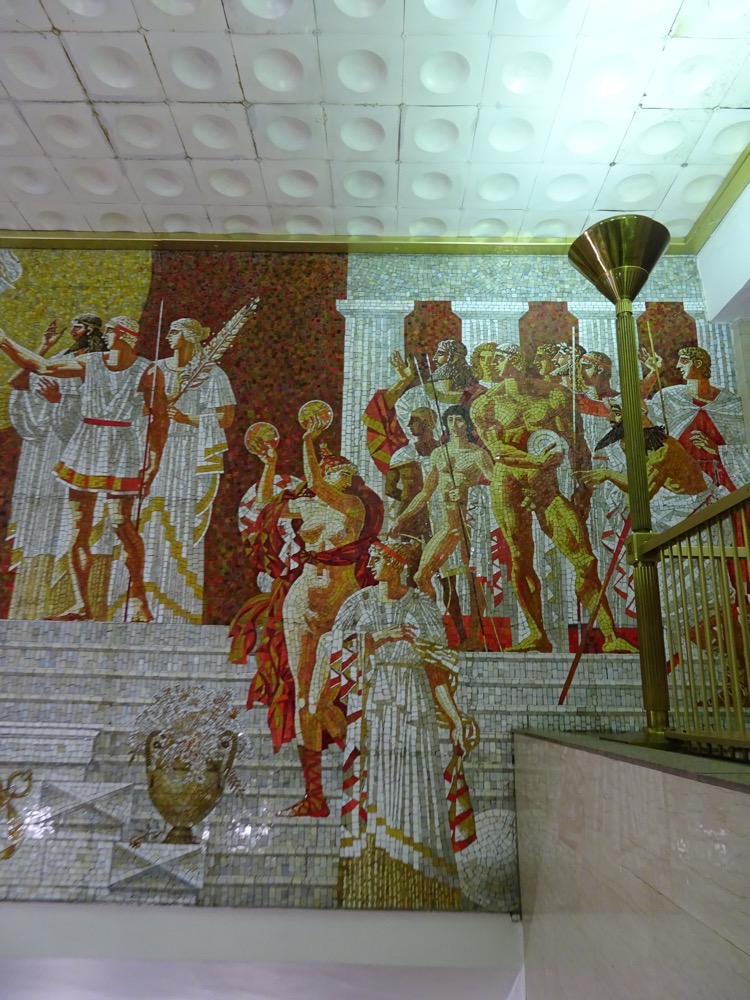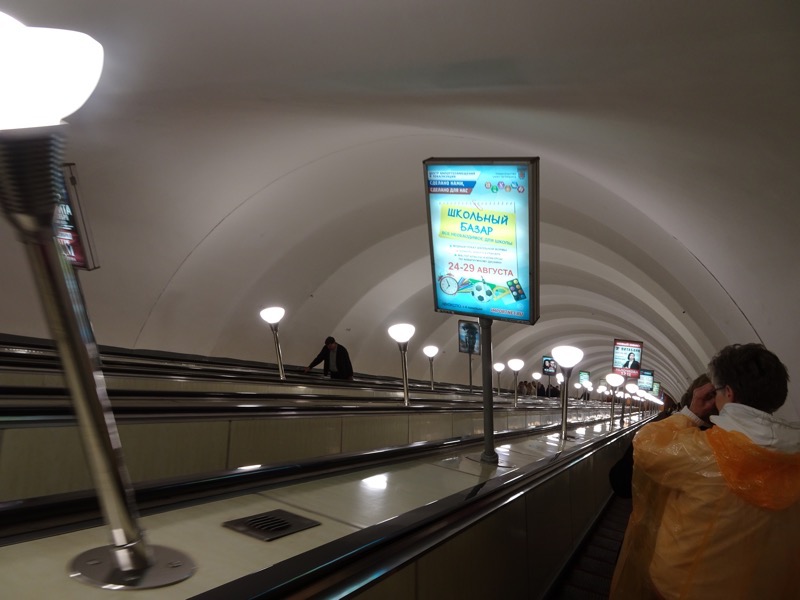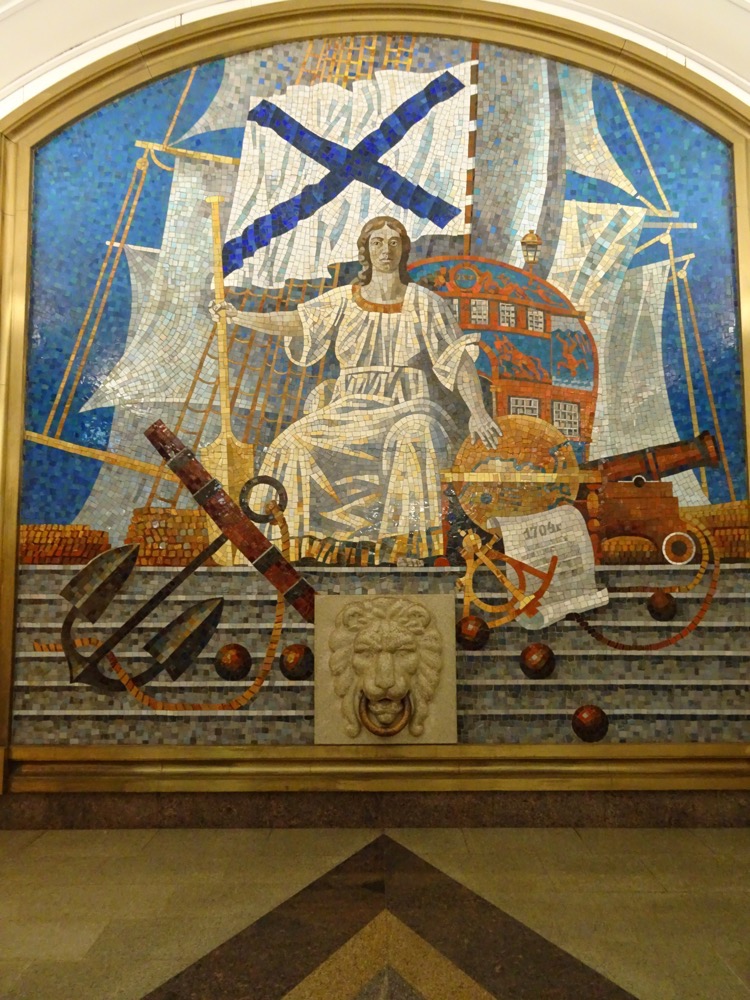 Now, you'd think this was a pretty easy exercise – leave everything on the bus except yourselves and the subway token that Maria had just handed out and off we go for a quick subway ride, but no, we had several people who left their tokens in their bags on the bus!  So they ended up lining up to buy a subway token, which was less than a $1 on their credit cards, because even Maria had left her bag on the bus and no one had any Rubles,  It did not bode well for the rest of the day… between that and the weather I wasn't feeling too positive.  It was raining fairly steadily and looked to be quite set in, so standing around waiting for people who couldn't follow instructions wasn't really going to made for a fun day.  But we would see.
Our next stop was to Kazan Cathedral or the Kazanskiy Kafedralniy Sobor or the Cathedral of Our Lady of Kazan… yep, we were back in the Land of the Mulitple Naming Protocols!  It is a Russian Orthodox Church on the Nevsky Prospekt and is considered one of the most venerated icons in all of Russia.  It was built in 1801 and took nearly ten years to build, the architect Andrey Voronikhin apparently modeled the building on St Peter's Basilica in Rome, according to Maria, but you wouldn't know it; it's very small in comparison.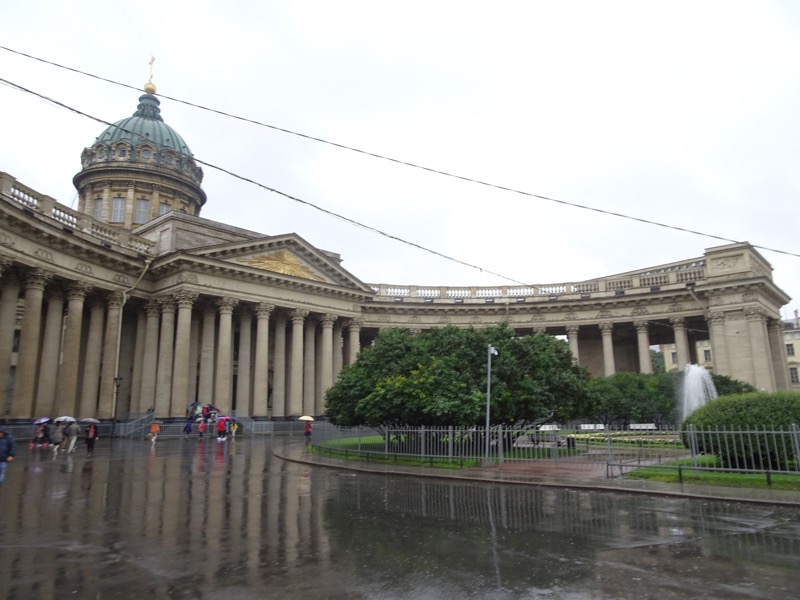 Beautiful inside, the church is still in everyday use, there was a service happening, so only a few photos from the back of the church.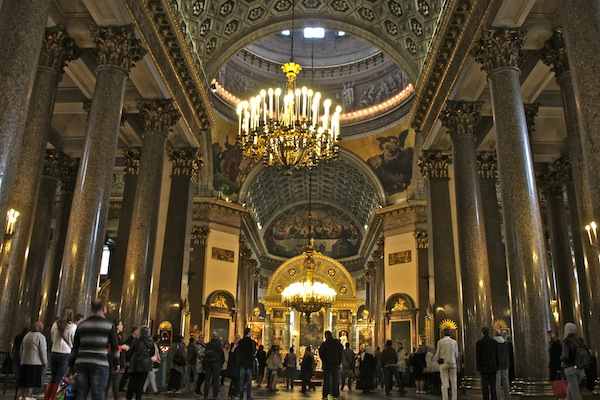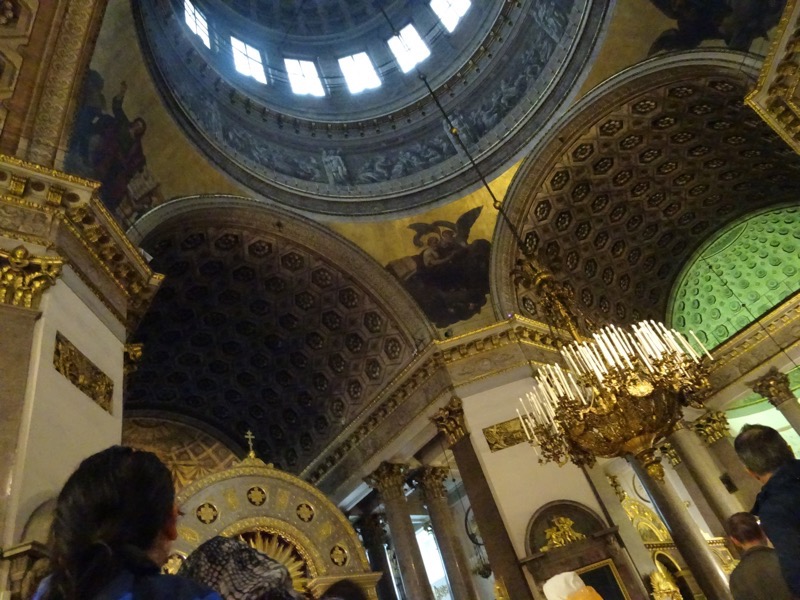 Next, it was dodge the puddles, and head to the famous Peter and Paul Fortress, which is the original citadel of St Petersburg.  It was founded by Peter the Great in 1703 and built by an Italian architect, Domenico Trezzini from 1706 to 1740.  In the early 20th century, the building was being used as a prison and execution square by the Bolshevik government – Maria did not shying away from the less pleasant aspects of the Russian history which was refreshing.  Currently, the fortress complex is part of the State Museum of History.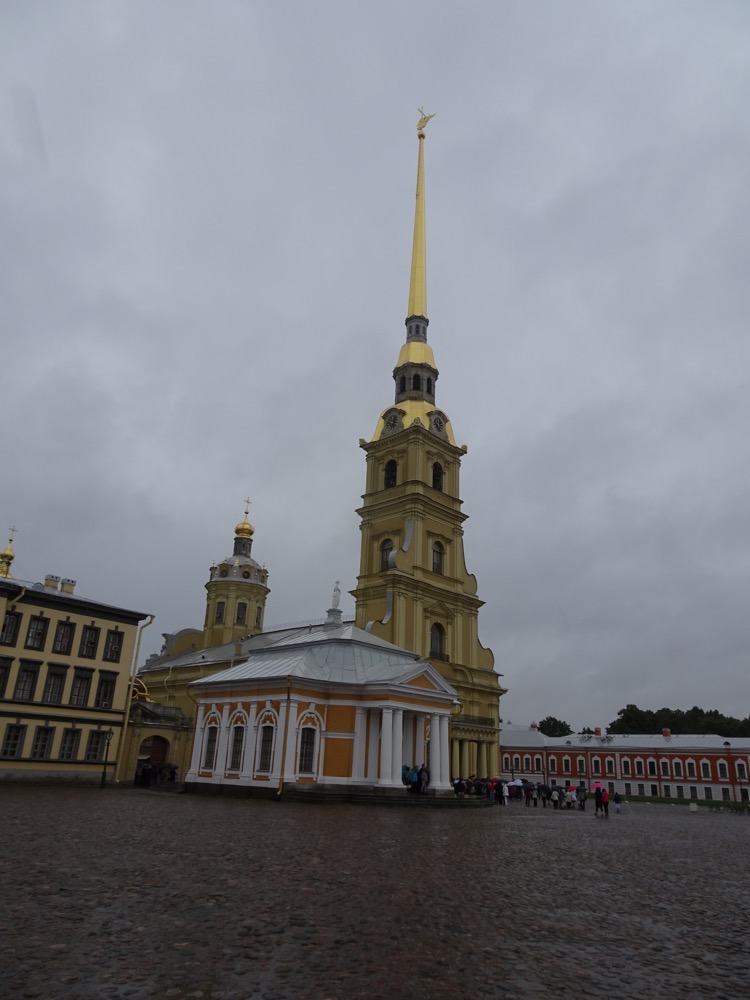 The square is normally flooded with tourists, but the rain seems to have kept many indoors this morning – there was still a ridiculous crush to get inside as the tour guides were vying to get their groups in our of the rains… seriously I got claustrophobic being pushed around in the crowd and was concerned I was going to be hurt.  People need to chill out.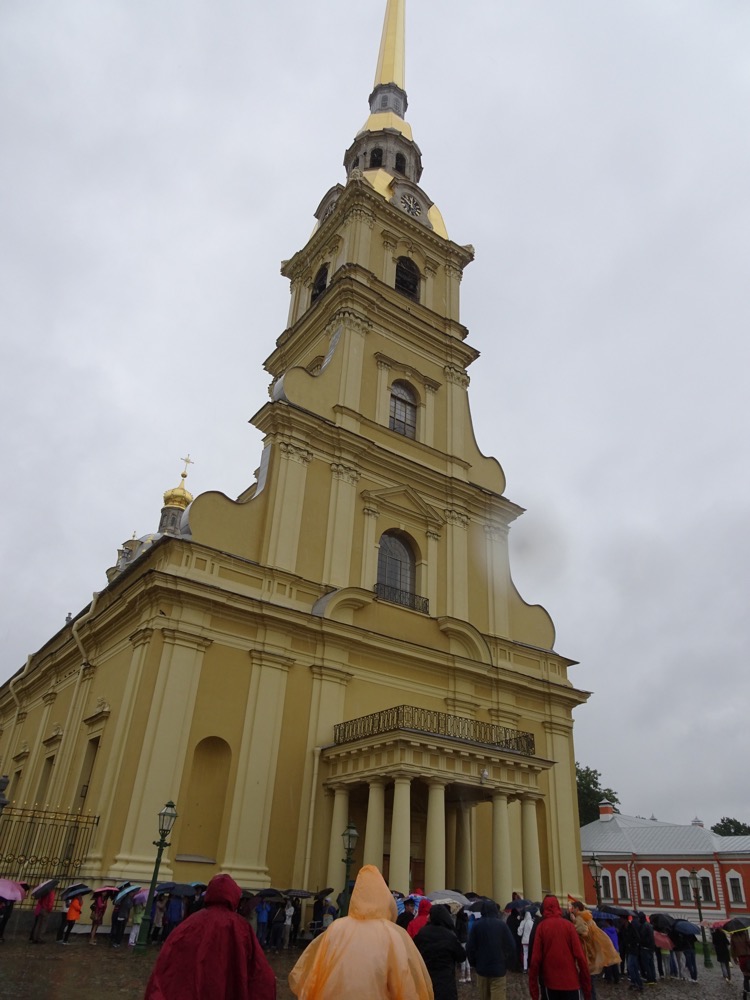 Inside is an extravagant gold leaf interior, in what would become a familiar pastel green colour that was favoured by Catherine II.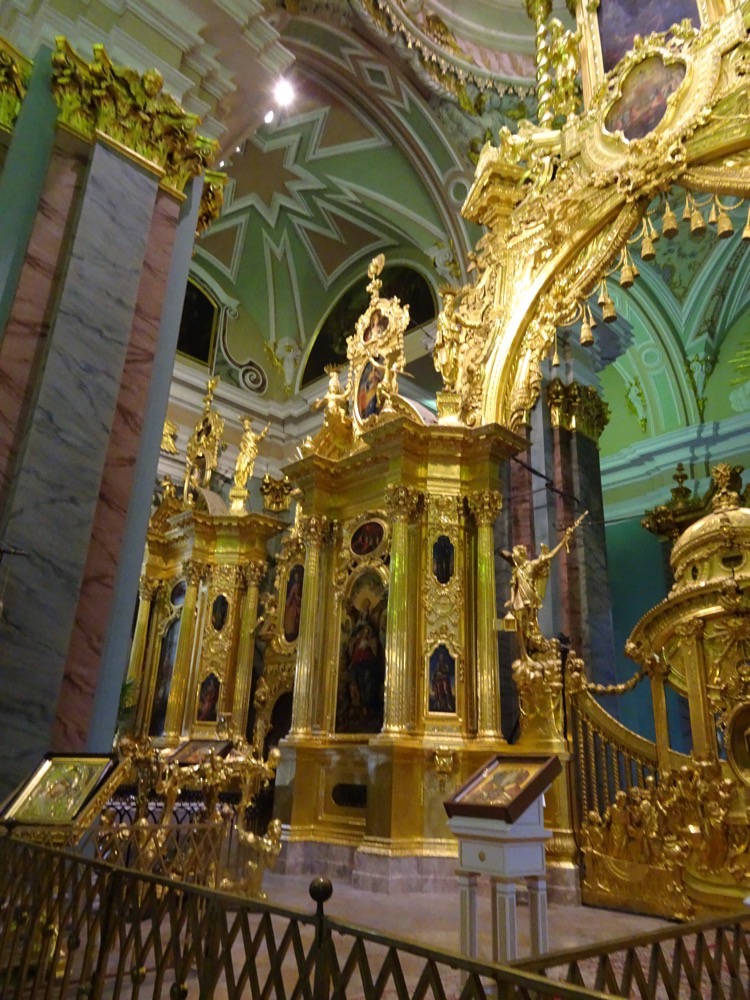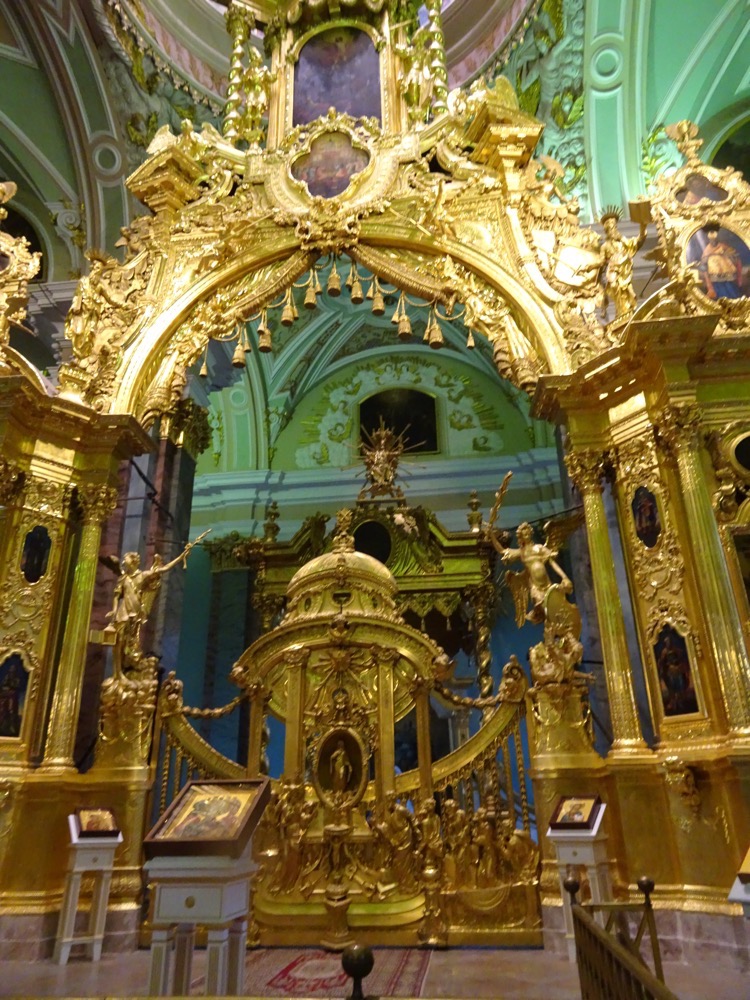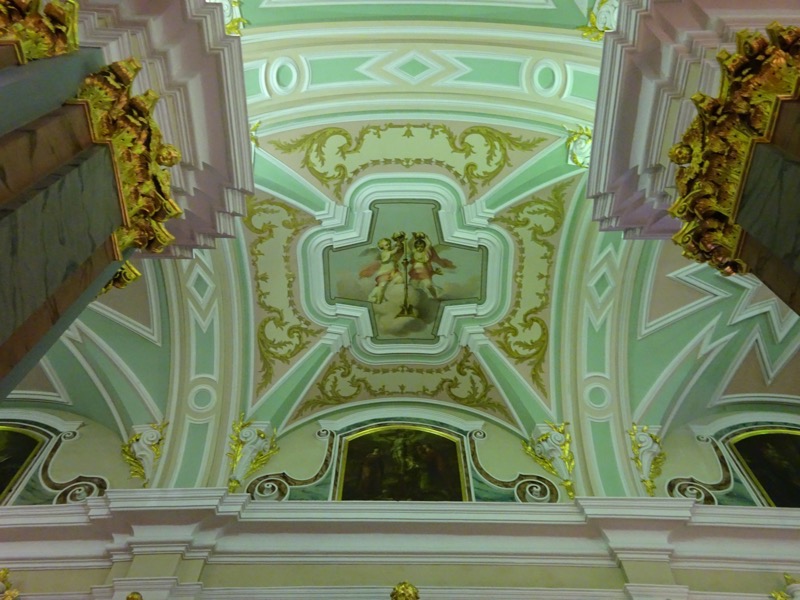 Tombs of Peter the Great, Catherine I and their daughter Alexander who played a large part in public life. The cathedral is the burial place of all the Russian tsars, from Peter I to to Alexander III (with only the exceptions of Peter II and Ivan VI).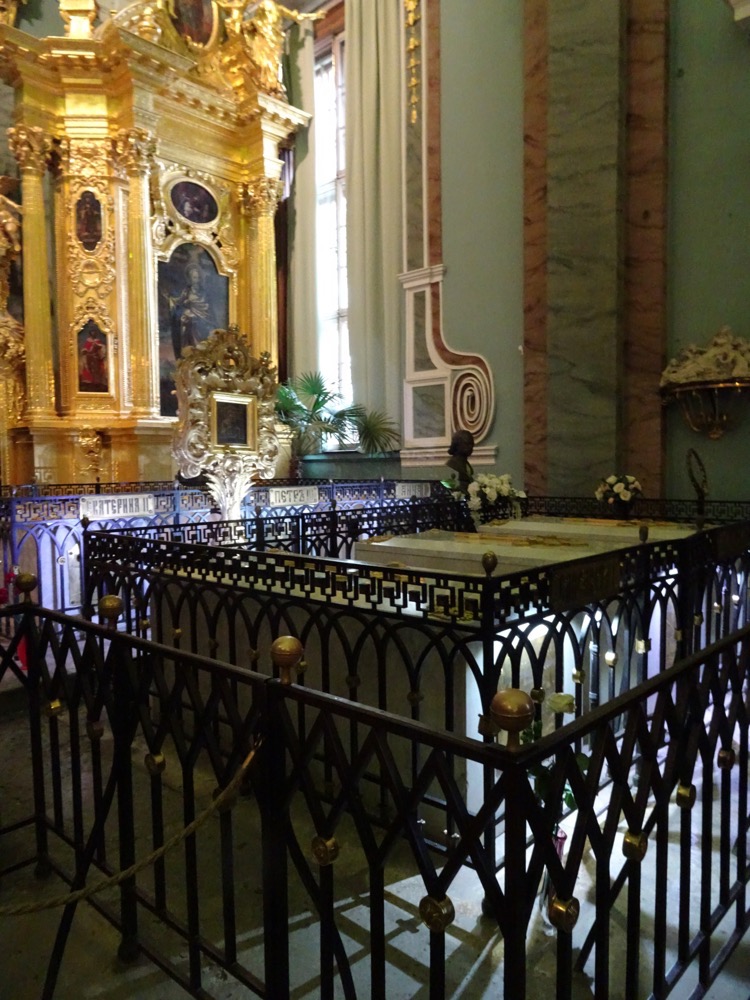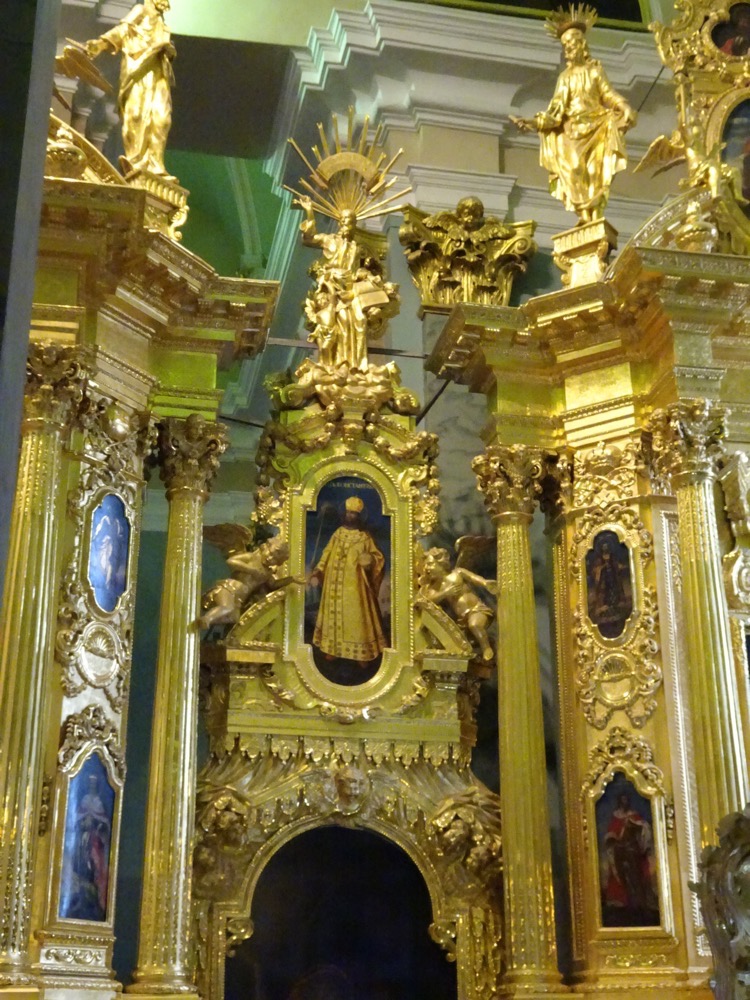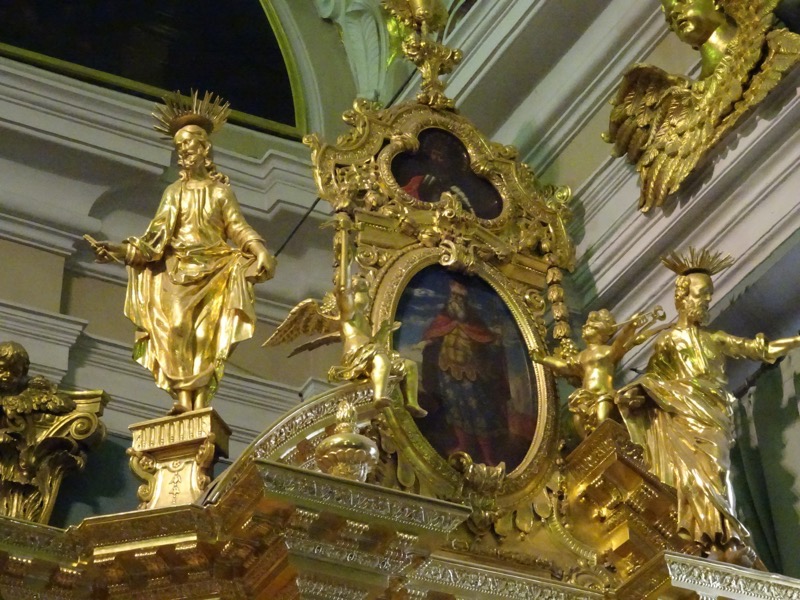 The chapel of St Catherine is dedicated to the Romanovs.  The remains of Nicholas II, his entire family and entourage were reinterred here in 1998 on the 80th anniversary of their deaths. About ten years ago, the remains of Dowager Empress Maria Feodorovna were removed from Roskilde Cathedral near Copenhagen and also reinterred here, beside her husband, Alexander III.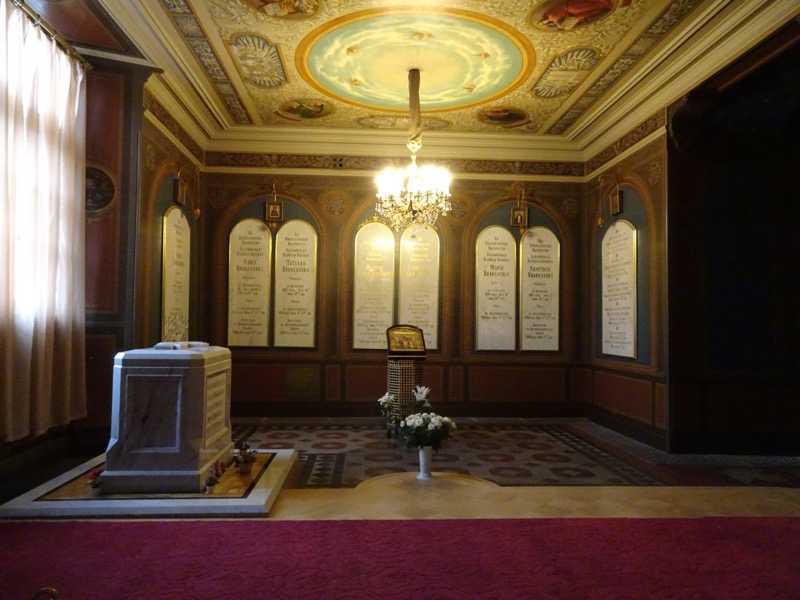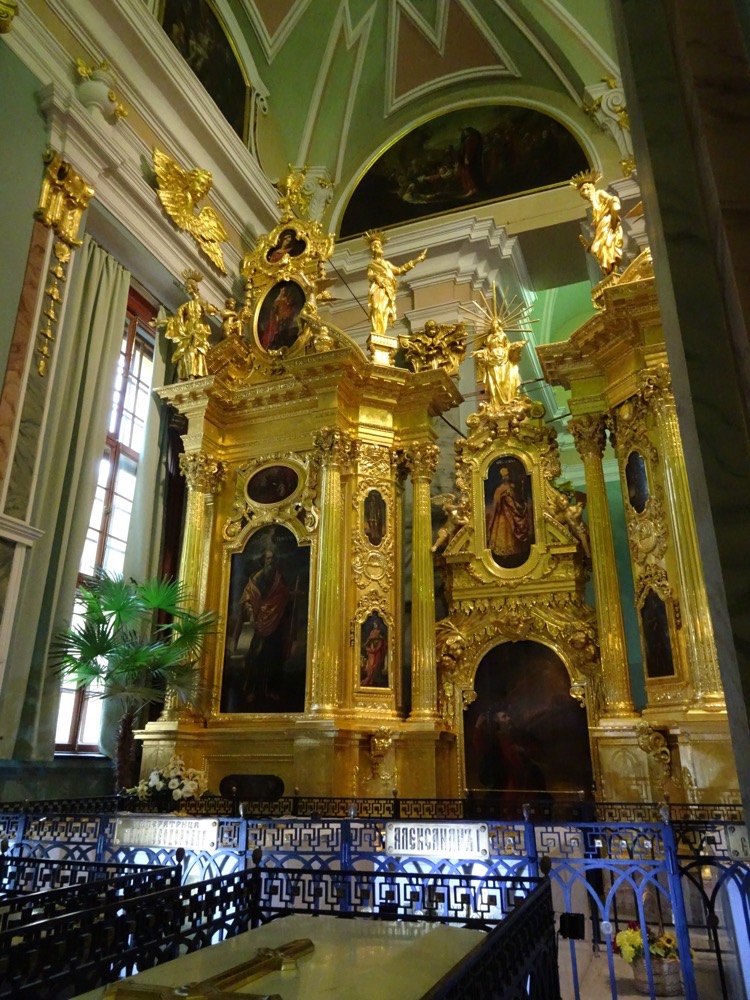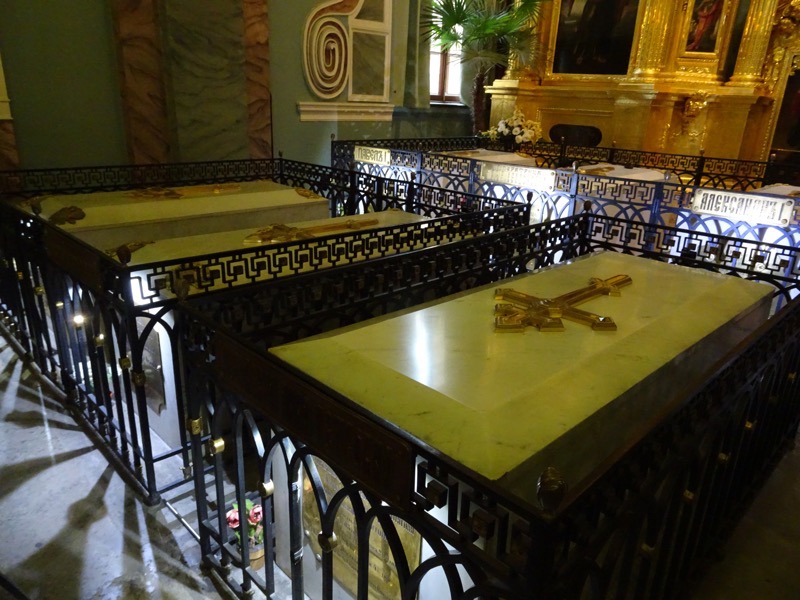 After this we had a stop at the Pushkin Art Gallery… mostly for some souvenir shopping and of course to find some clean bathrooms – very important while traveling!  Here I learned that not all Russian dolls are made equal.  I mean, you can tell the difference between the cheap and quickly knocked out dolls, that are probably made in China, and the ones that are practically works of art… but I didn't know that different artistic schools of Russian doll makers have very different styles, and that the eyes usually give them away.  Interesting.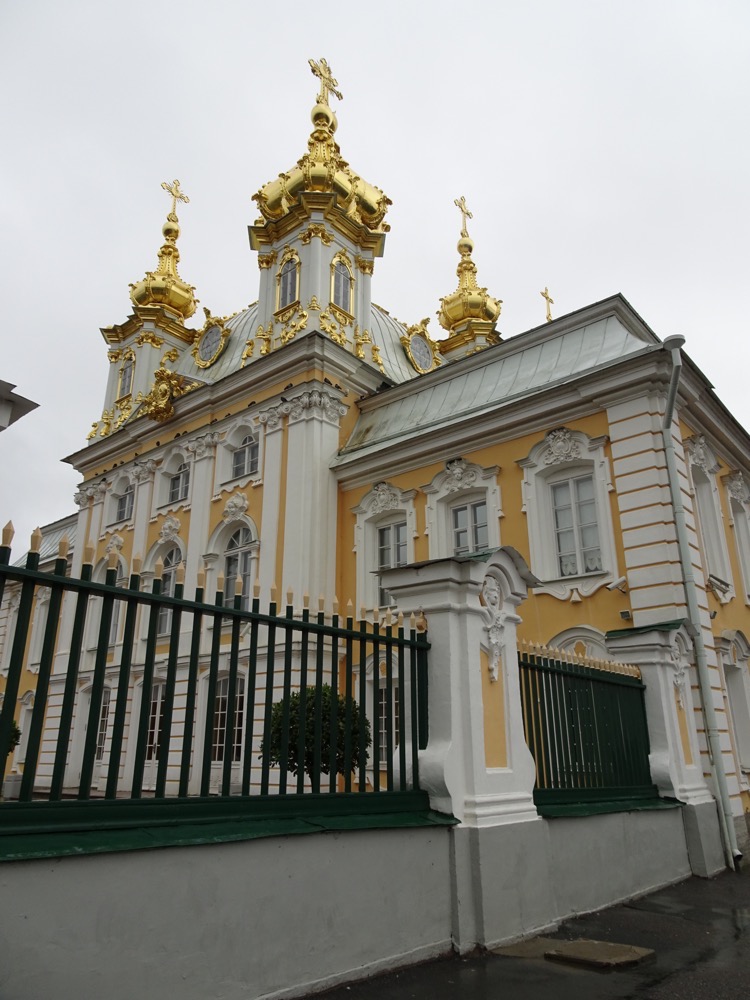 Anyway, next we were off to Peterhof Palace to see the famous, UNSECO World Heritage Site, gardens. These waterfalls are often referred to as the Russian Versailles, and it sounds very much like they were modeled on the gardens that were constructed for Louis XIV.  There is a magnificent cascade made out of an artificial grotto two stories high. The water then flows into a large semi circular pool that contains a large statue of Samson tearing open the jaws of a lion, which is supposed to represent the great Russian victory over Sweden in the Great Northern War – the lion is part of the Swedish coat of arms, and the war was actually won on St Samson's Day (learn something new every day!).  From the lion's mouth shoots a 20m vertical jet of water, which today was blowing all over the place and we couldn't tell if the water was from the rain or the fountains.   The statue was created by Mikhail Kozlovsky but was looted by invading Germans during WWI, and a replica was installed in 1847.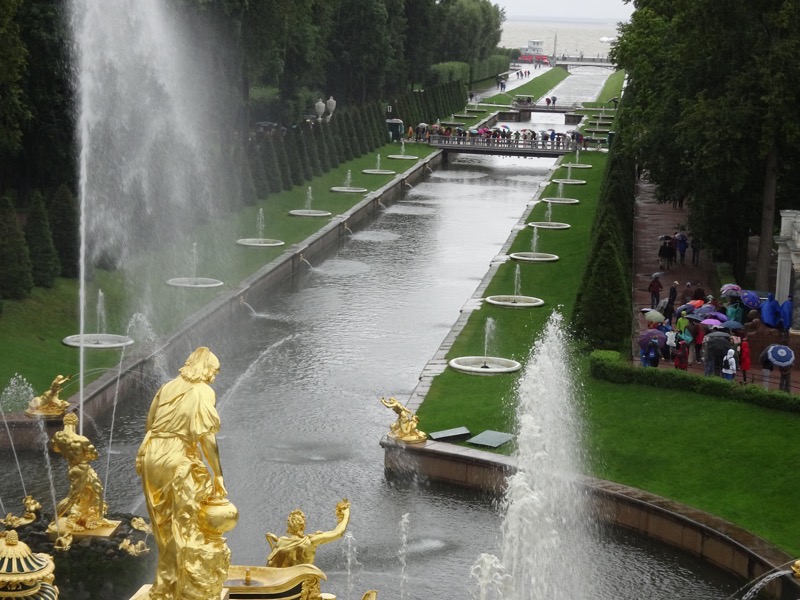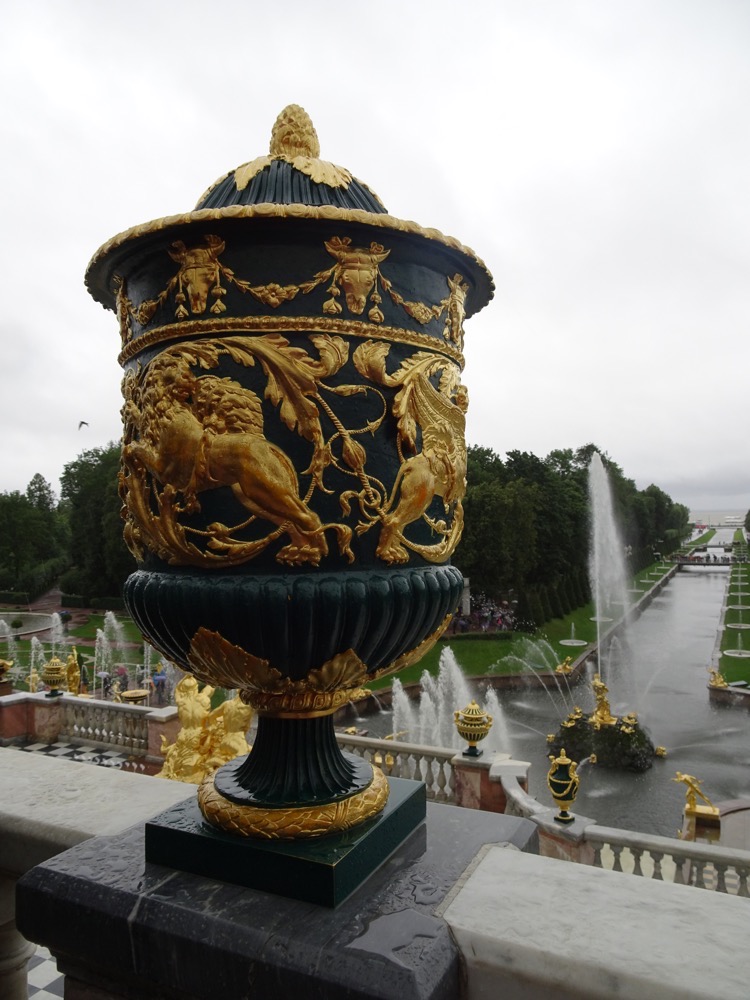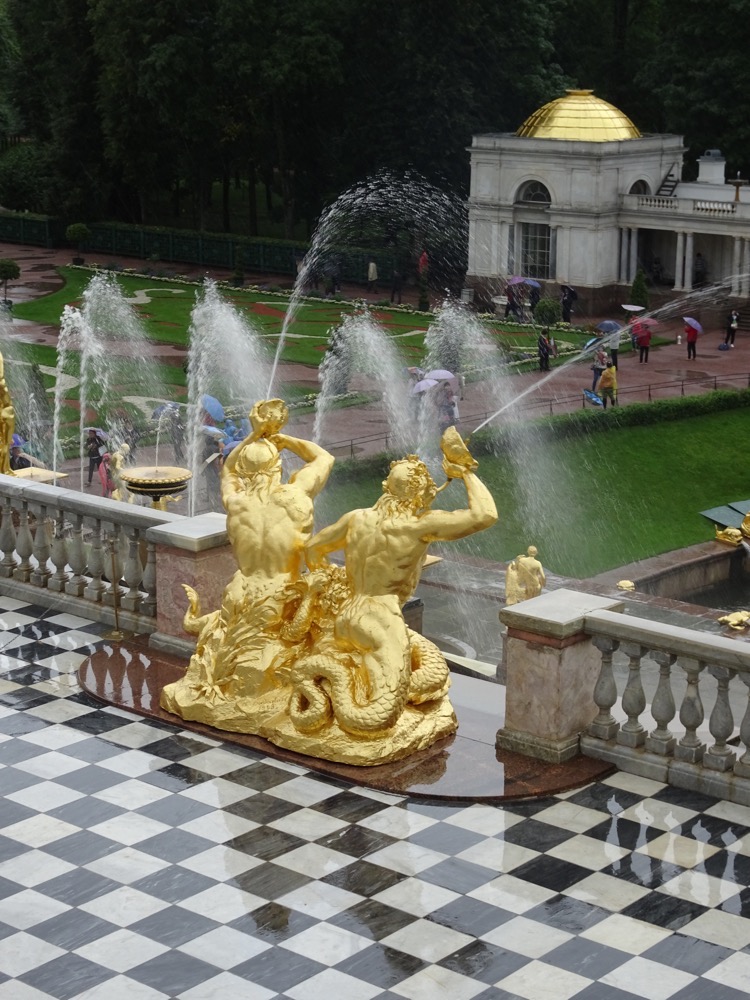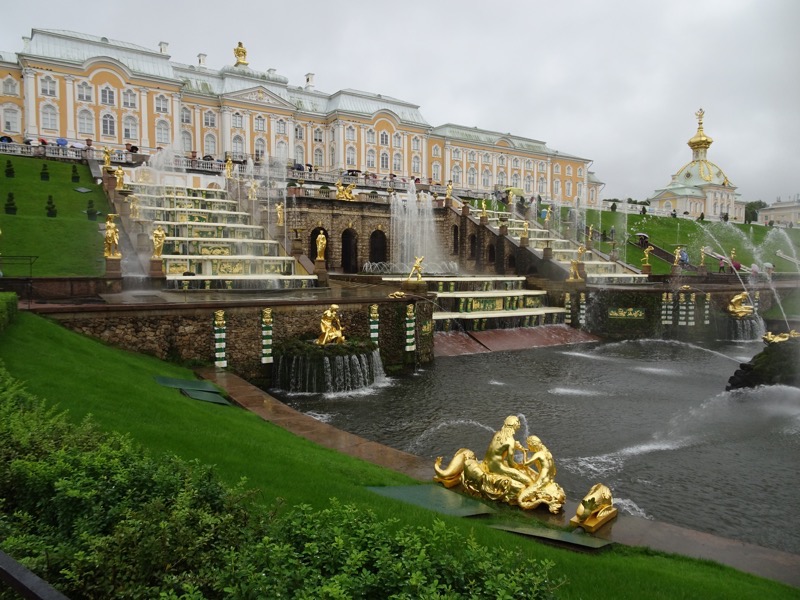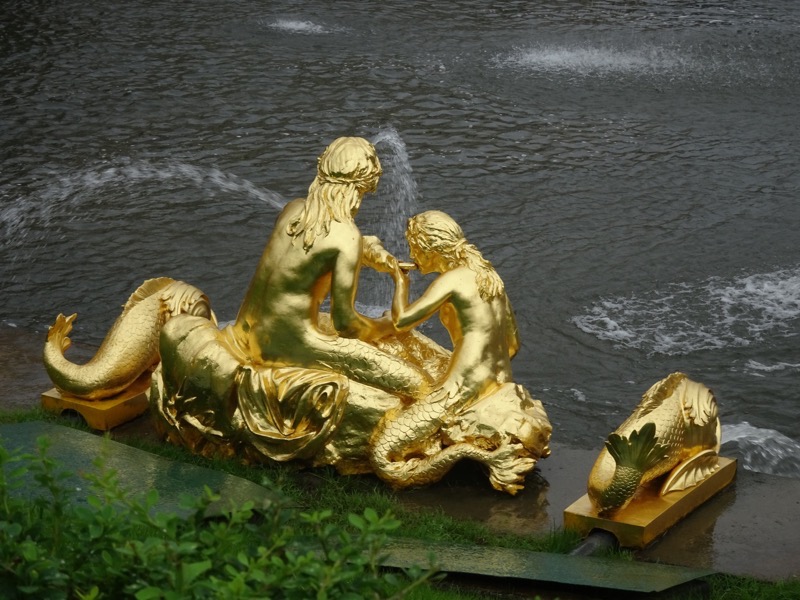 Samson is in there somewhere – there was just so much water.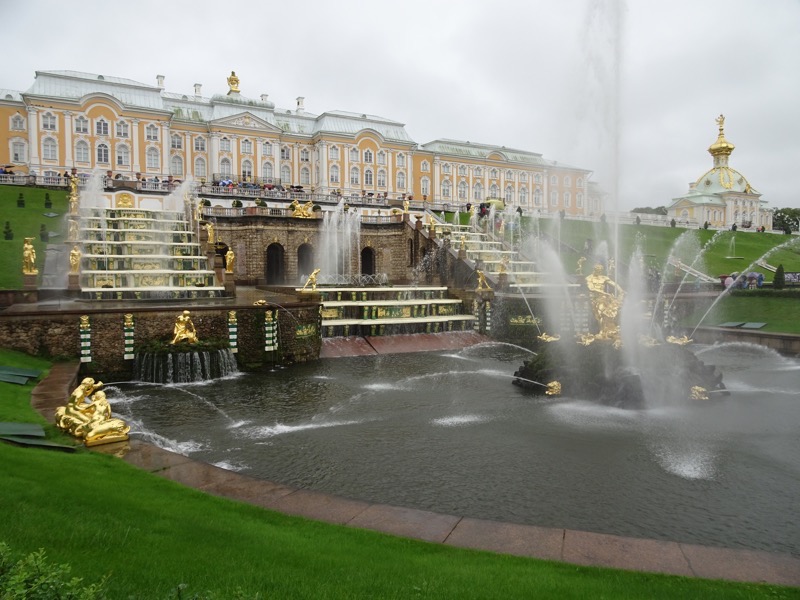 Like Versailles, one of the greatest achievements of these gardens is that all the fountains operated without the use of water pumps.  The water was supposed to come from the nearby Gulf of Finland, but eventually, architects decided to supply the cascade and fountains from natural springs that collect in reservoirs in the Upper Gardens.  The elevation differences allow for enough pressure to create the fountains in the Lower Gardens including the cascades.  The Samson Fountain has an independent aqueduct that is 4km long and draws water and pressure from a higher more distant elevation source.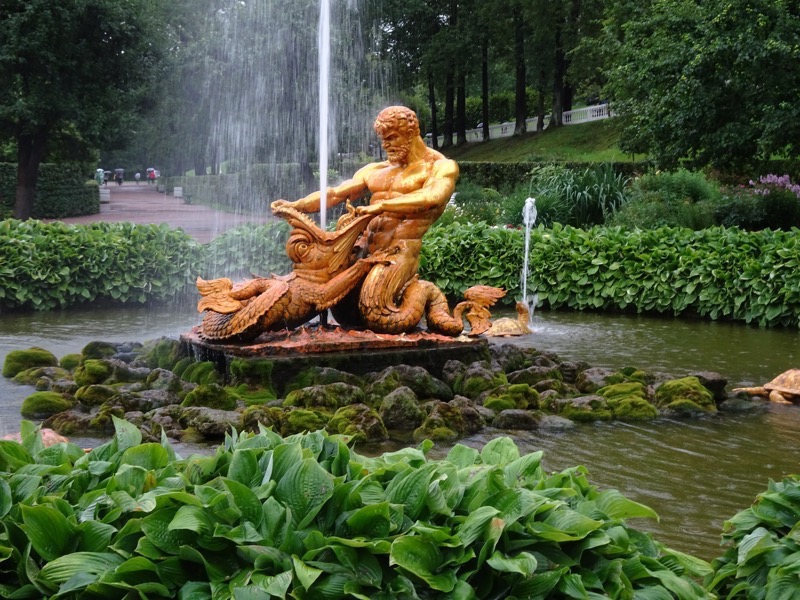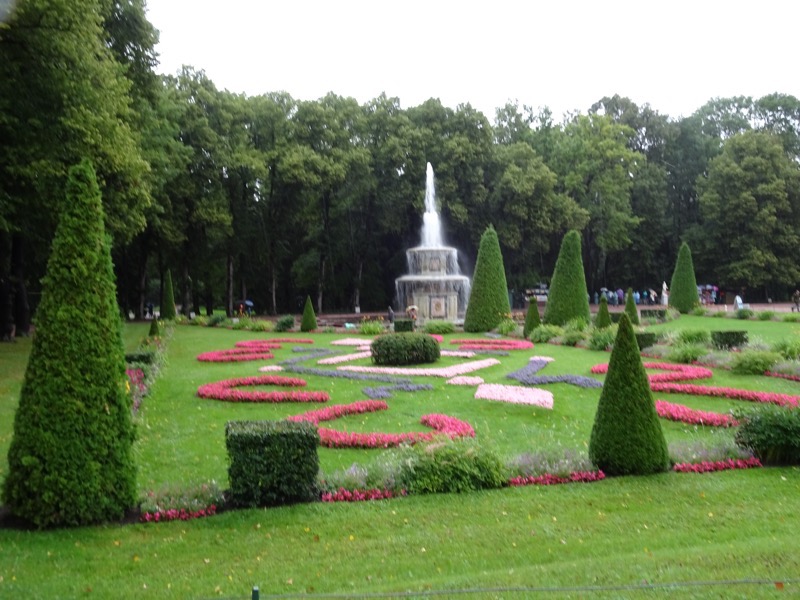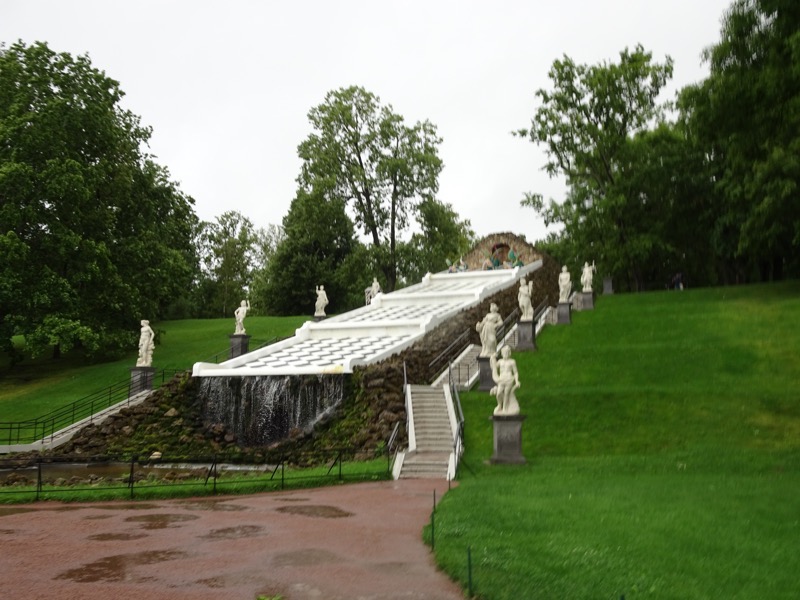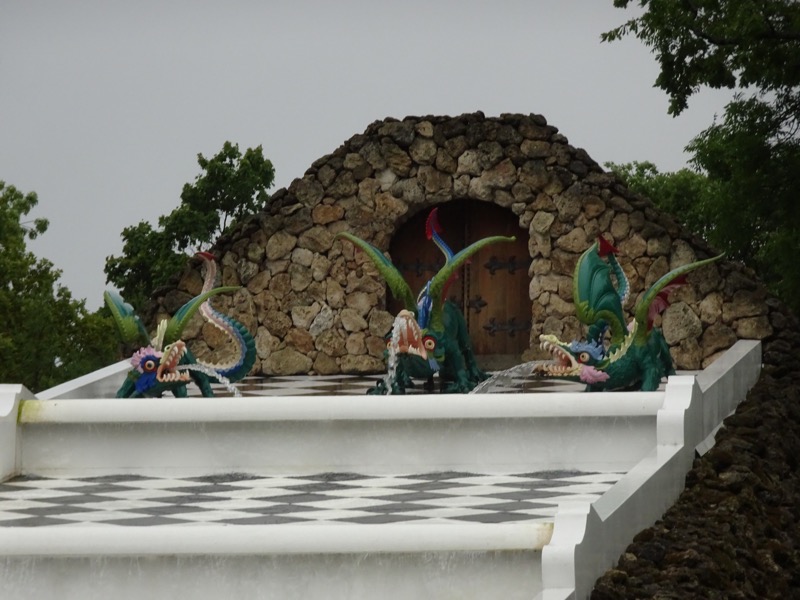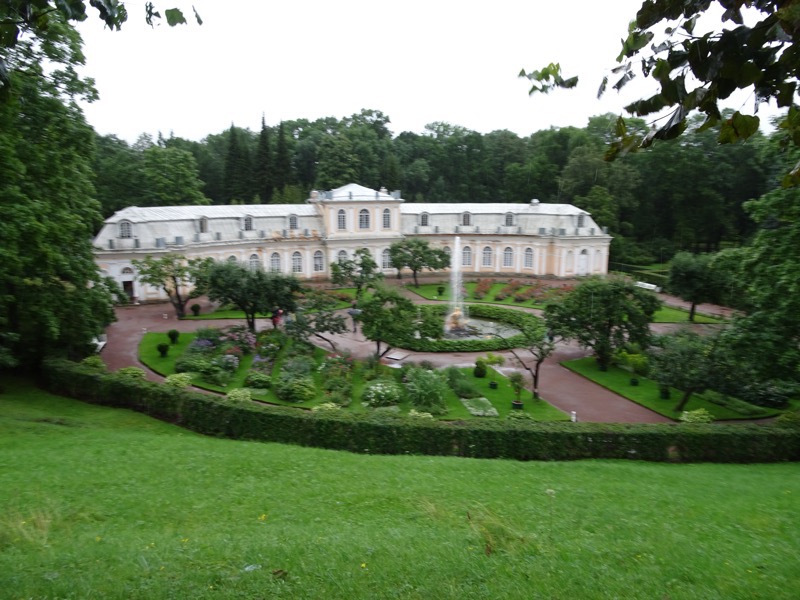 After the lovely gardens, we went to a local restaurant for a bite to eat – and of course, they must feed the tourists local food, so we had vodka, Russian beers, borscht, chicken cutlets and mashed potatoes, (chicken cutlets that were suspiciously like chicken rissoles!), followed by tea and ice cream even though it was such a cold day!  We had quite a relaxing stop at lunch because we rushed through the gardens somewhat – everyone was keen to see it, but not too keen to stand around in the rain.
From there we were off Catherine Palace, which is an enormous rococo palace located in the town of Tsarkoye Selo, 30kms south of St Petersburg.  Peterhof and Catherine Palace were the summer palaces built for the Russian tsars. Maria mentioned many times how Peter and Catherine I didn't really get along, so they had separate palaces and pretty much lived separate lives.
The residence originated in 1717, when Catherine I hired a German architect Johann Fredrich Braunstein to create a summer pleasure palace for her and her friends to recreate in.  In 1733, the Empress Elizabeth commissioned extensions to the Catherine palace, though apparently, Elizabeth found her mother's palace to be 'outdated and incommodious', and in 1752 asked her pet architect, Bartolomeo Rastrelli to demolish the old structures and replace it with a much grander building in a more flamboyant rococo style.  It took four years to build and was completed in July of 1756 – Rastrelli presented a 325m long palace to the Empress much to the amazement of her courtiers and foreign ambassadors.  It's not hard to see why people would have been flabbergasted at the sight of it – it's enormous and at 300m+ long and hundreds of rooms, it seems to go on forever.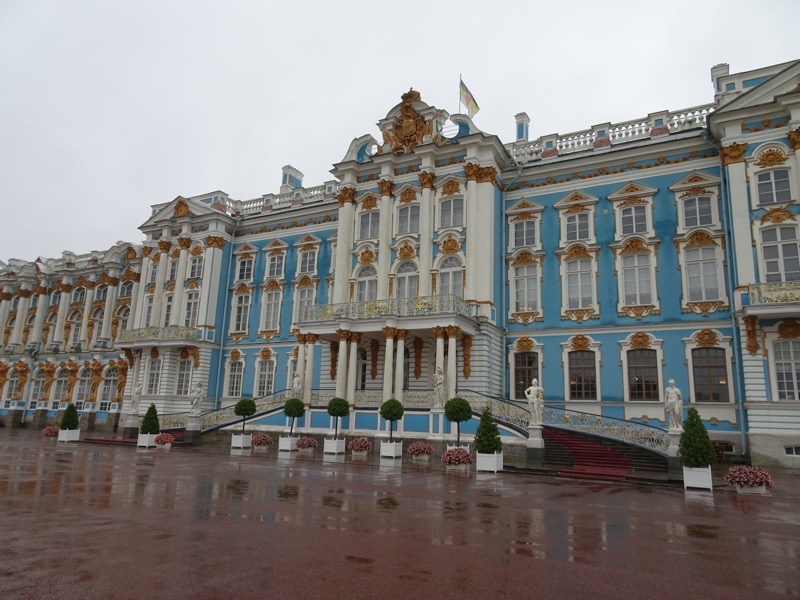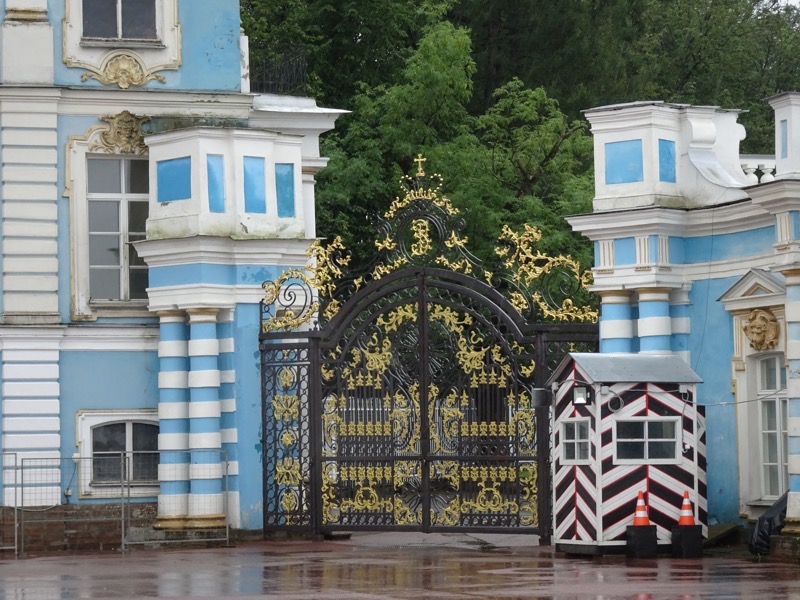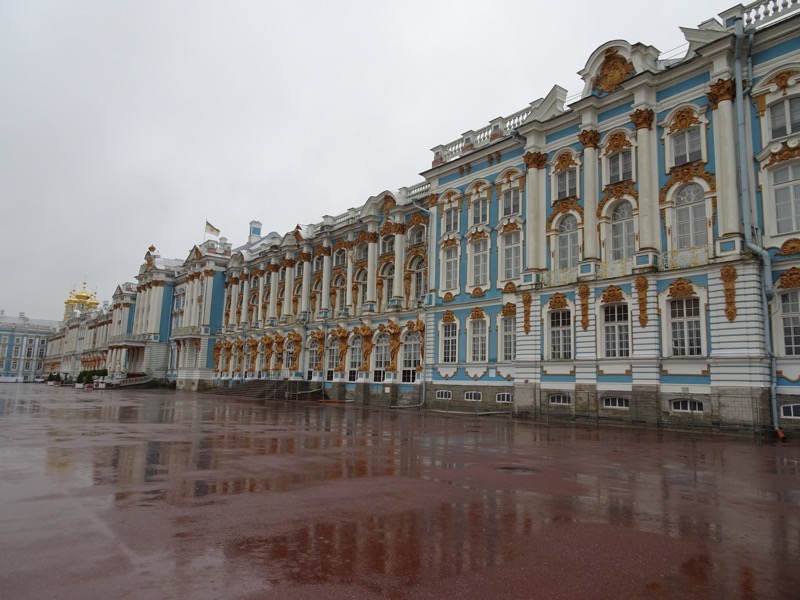 Our guide Maria, doing her best to keep everyone's spirits up as we waiting in the rain to gain entrance to Catherine Palace… she had lots of jokes about St Petersburg weather that no doubt have been used to good effect over the years that she has been showing visitors her city.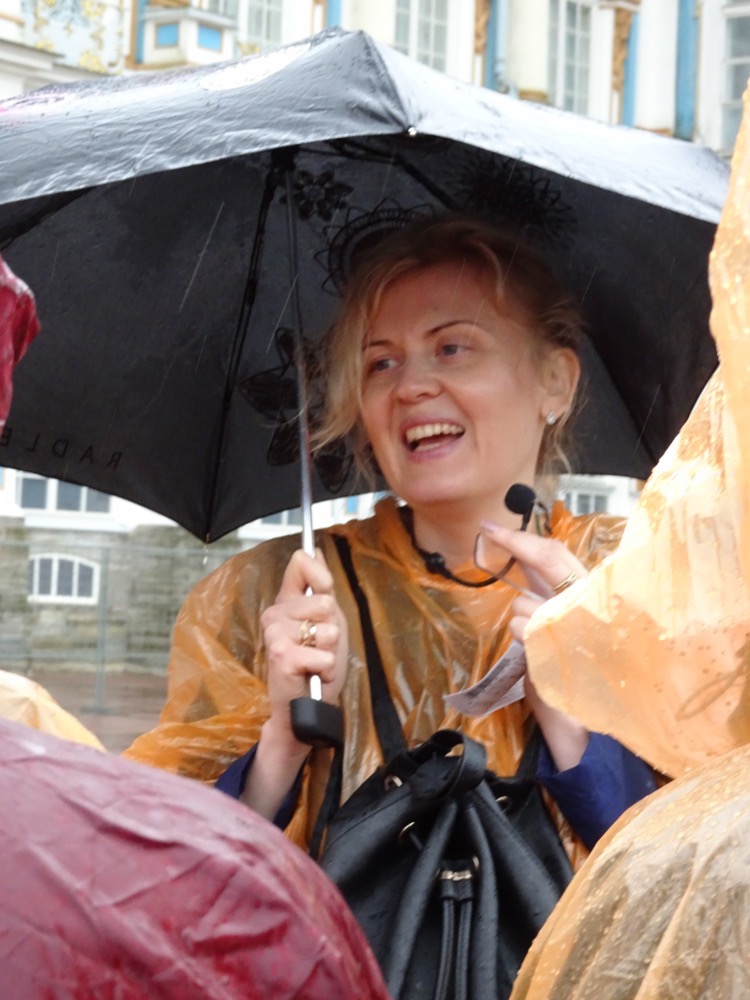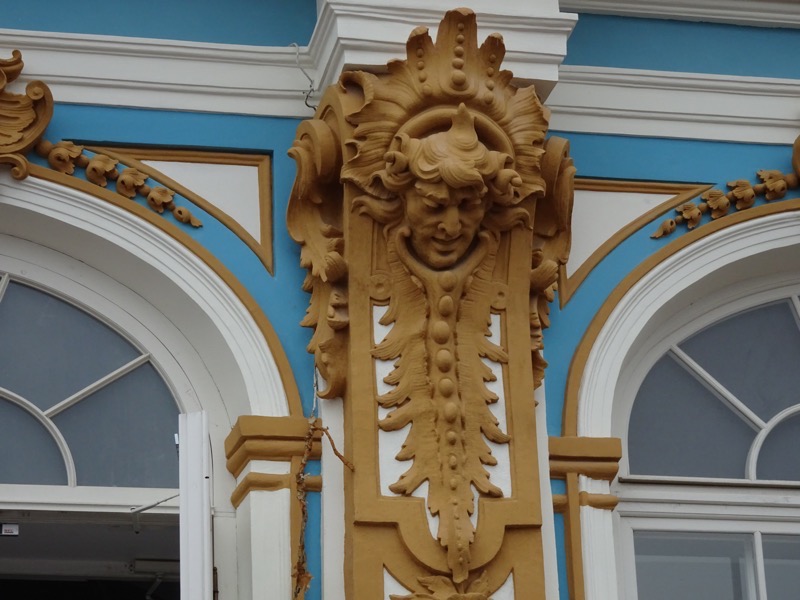 We were given lovely booties to cover our shoes – jeans all rolled up to stop the hems from getting soaked… it was cold, wet, gray and gloomy, but we were in St Petersburg!  So all good.  🙂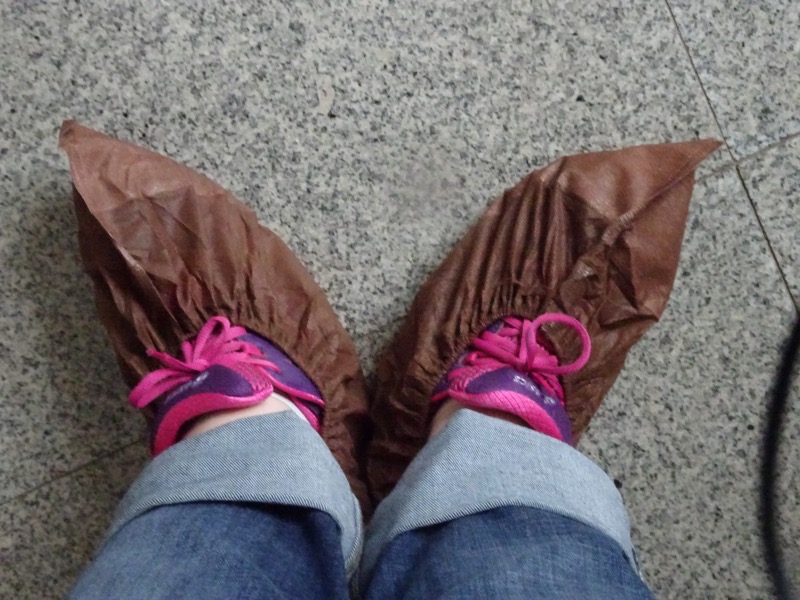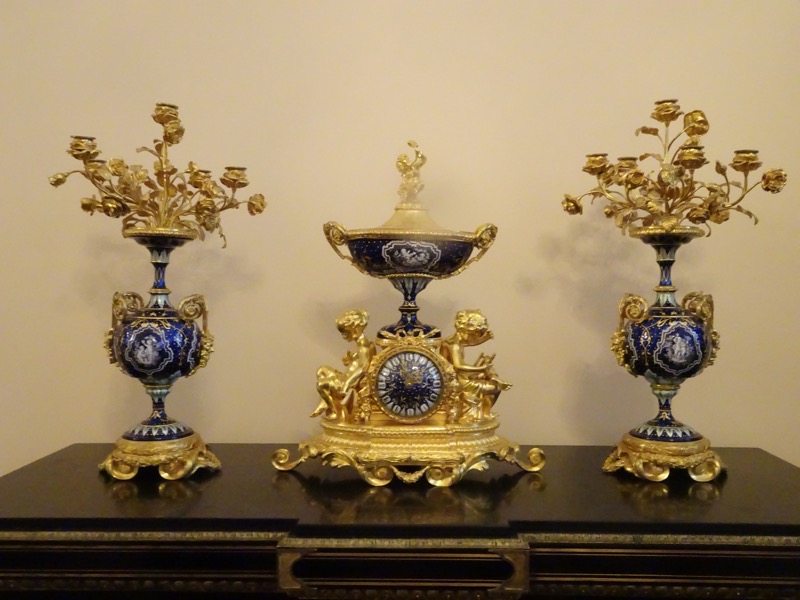 A blue 'dressing room'.  The Empress Elizabeth was reported to have had over 15,000 dresses and would change 7-9 times a day in the performing of her normal court duties of receptions and parties.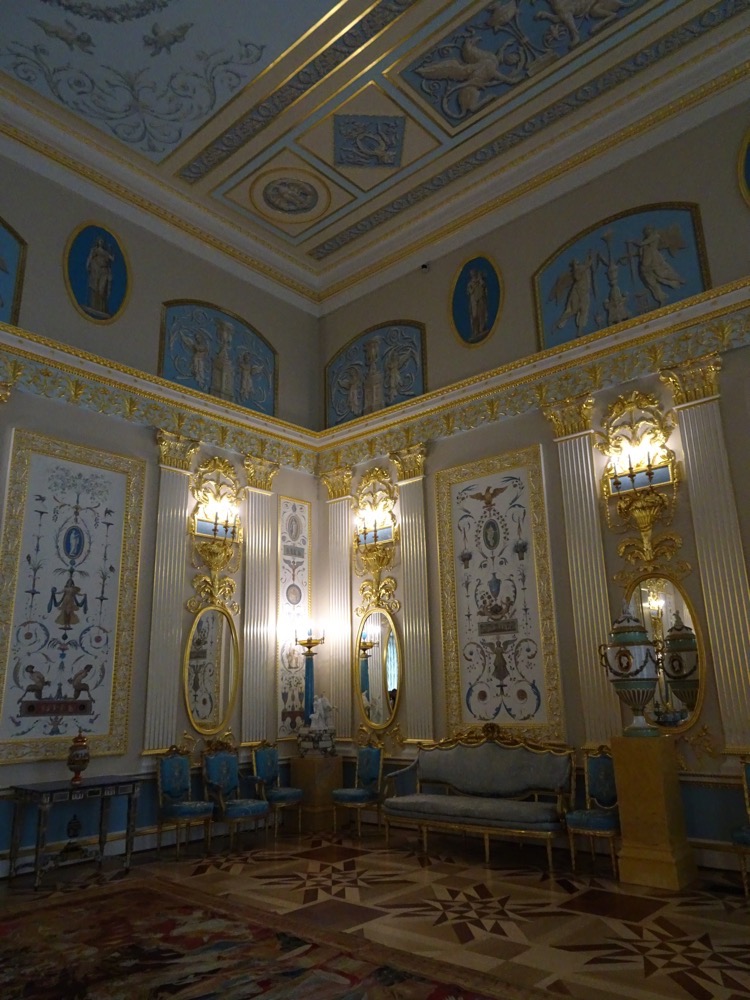 I love the ceilings – we just don't take this sort of care in our building these days.  😉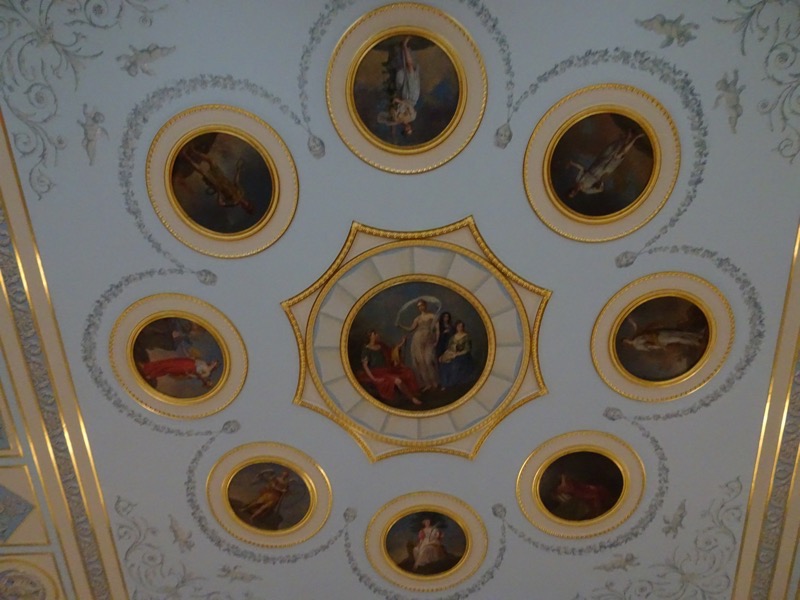 The grand hall… gilded carved timber as far as the eye could see.  The room has large windows on both sides, along with long mirrors inserted into every panel between the windows giving the impression of more light and even more space in what must be a 20m x 10m room.  The amount of light, mirrors, and gold here definitely give Versaille a run for its money.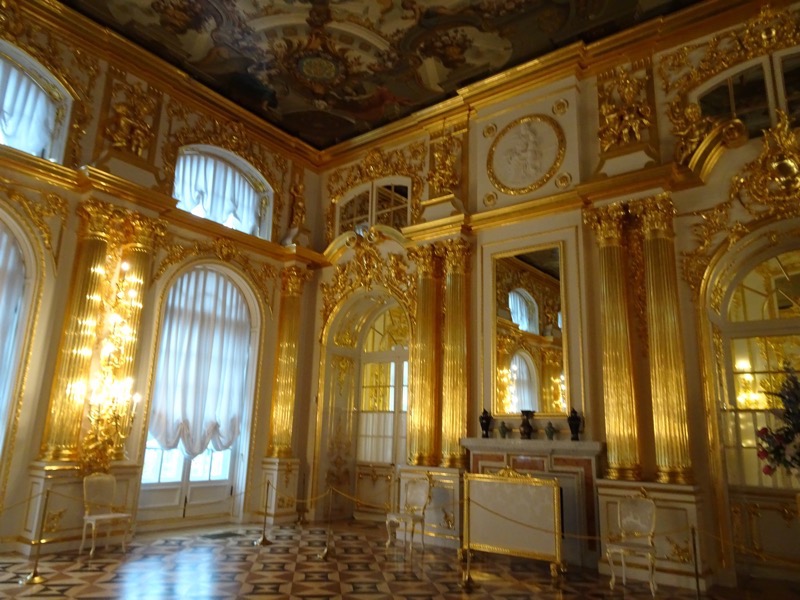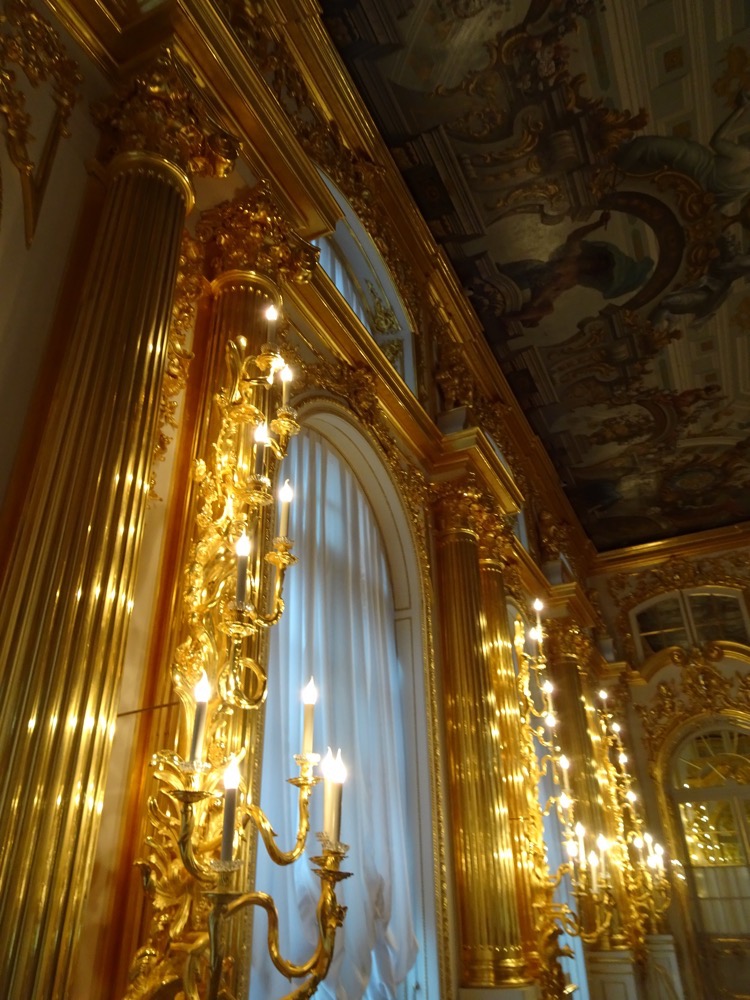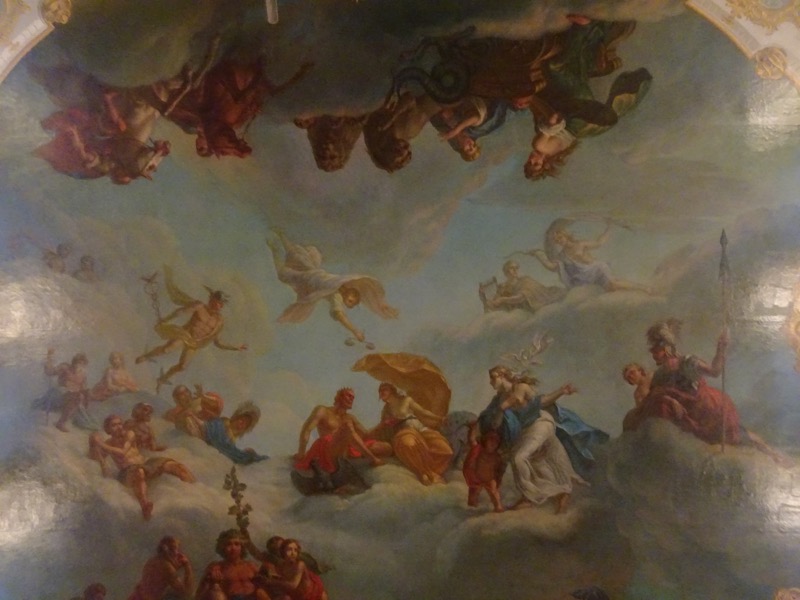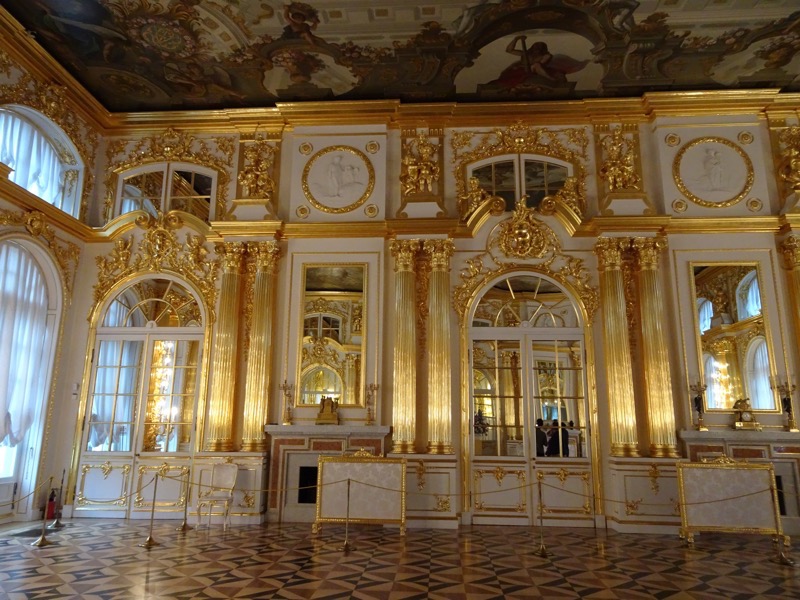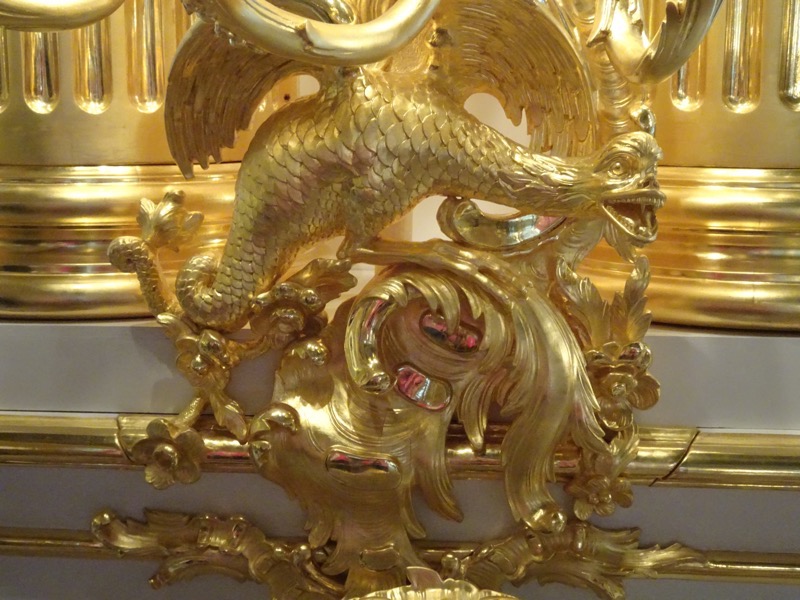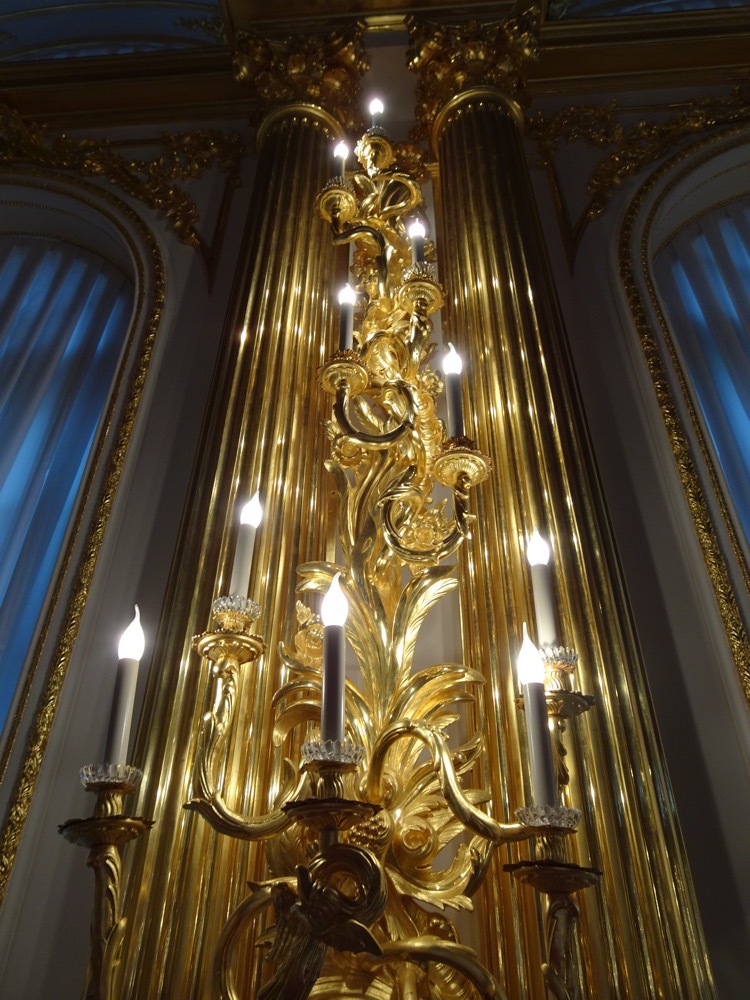 The dining room – for family parties and receptions.  Mostly only family and their private guests were hosted here.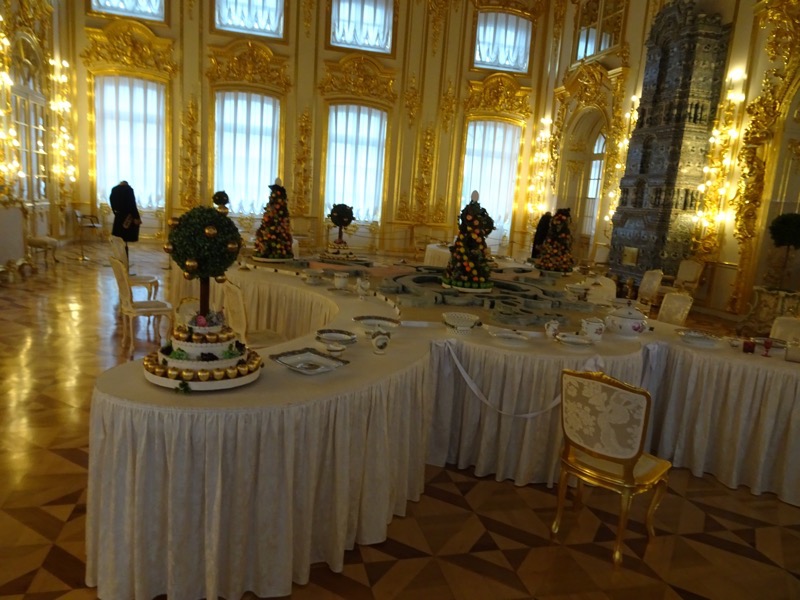 Fabulous ceramic heaters.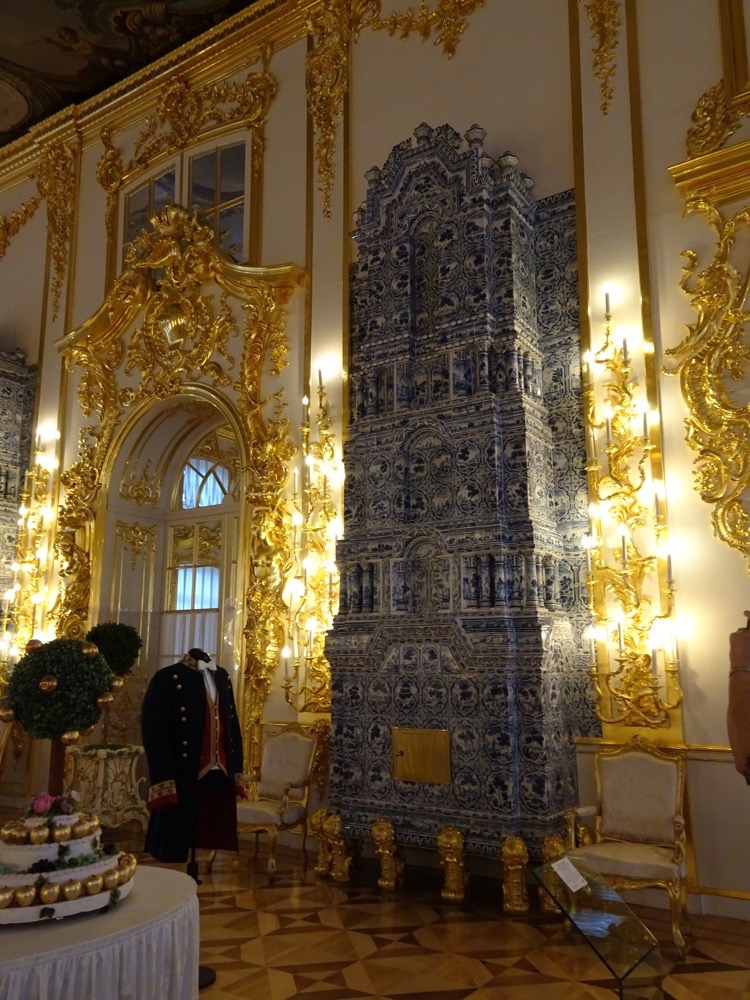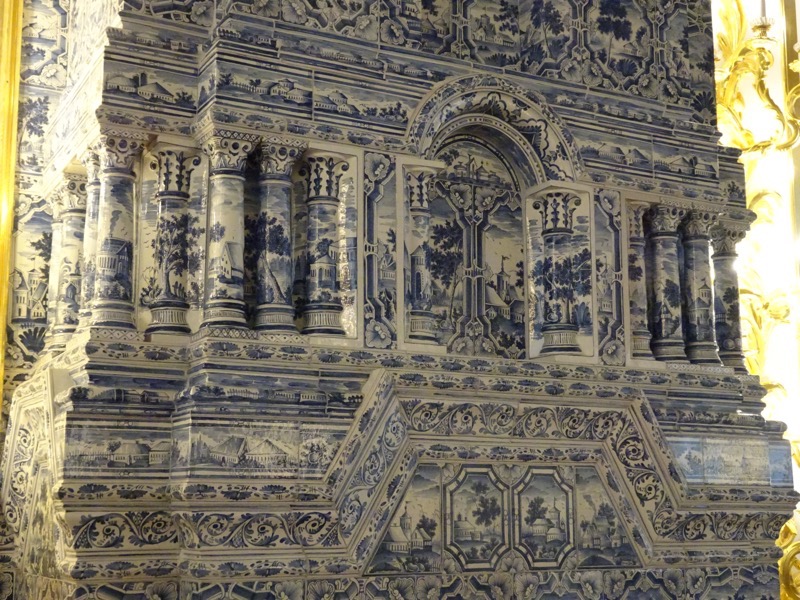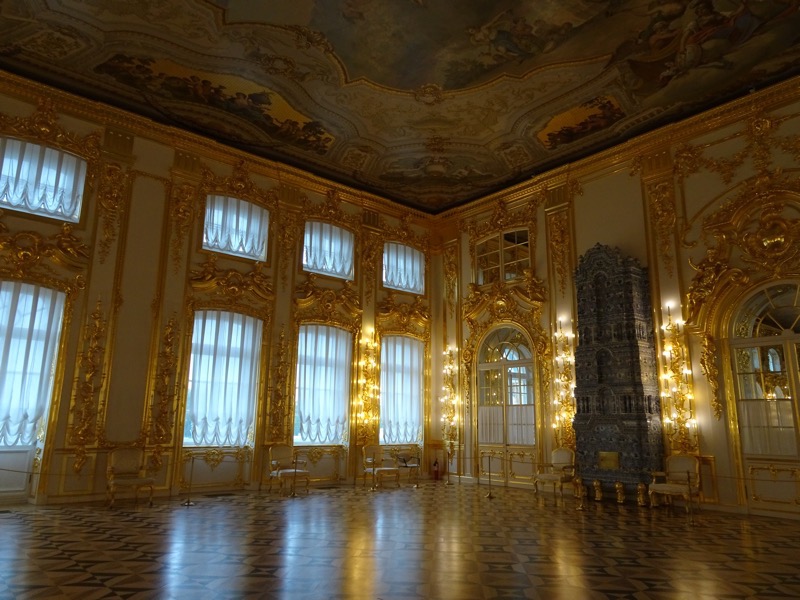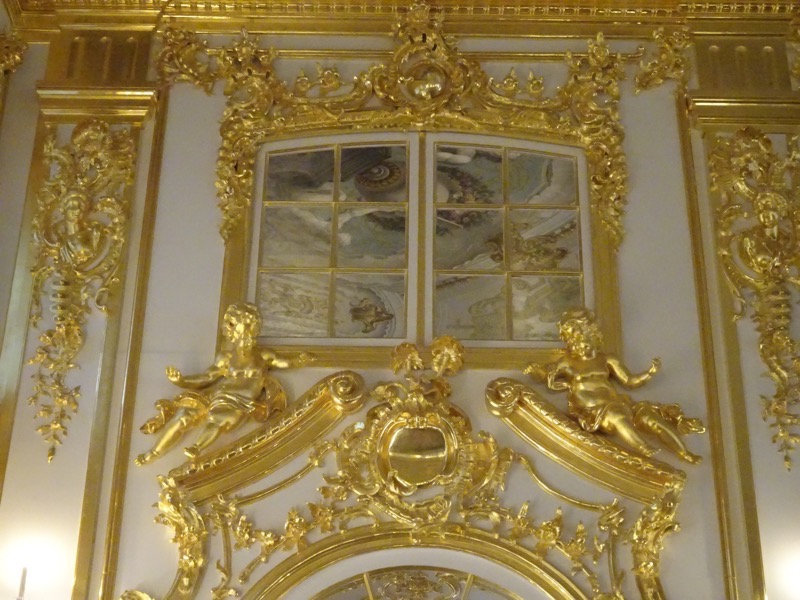 The grand ballroom – which looked as elaborate and lavish as the grand hall, but was about four times as large.  Just enormous… and so much goldwork!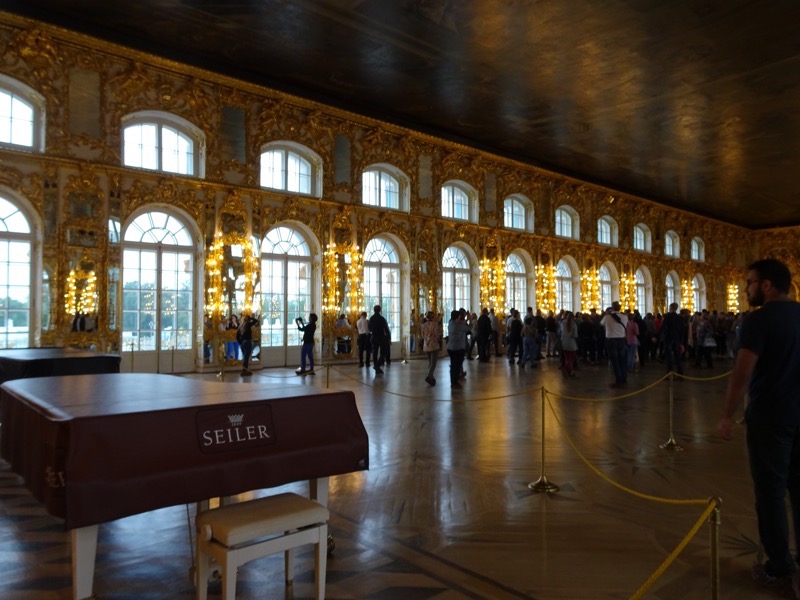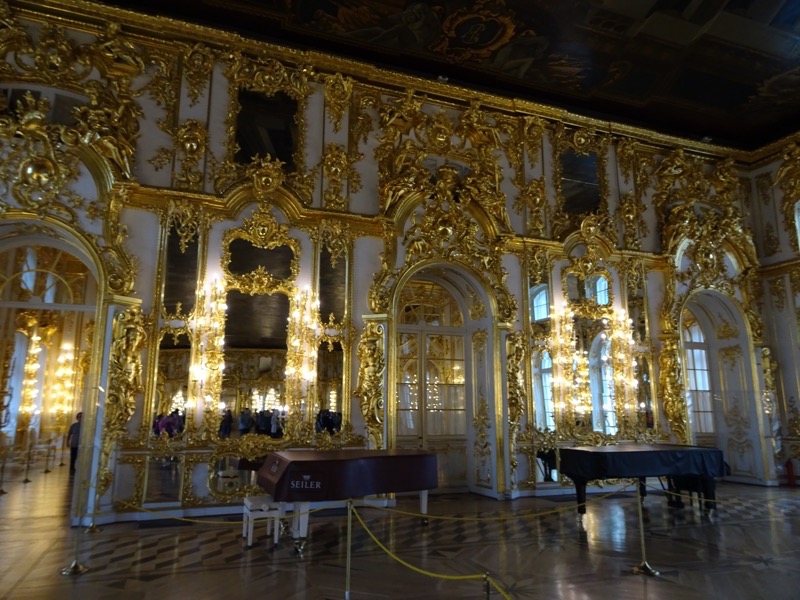 View out to the gardens.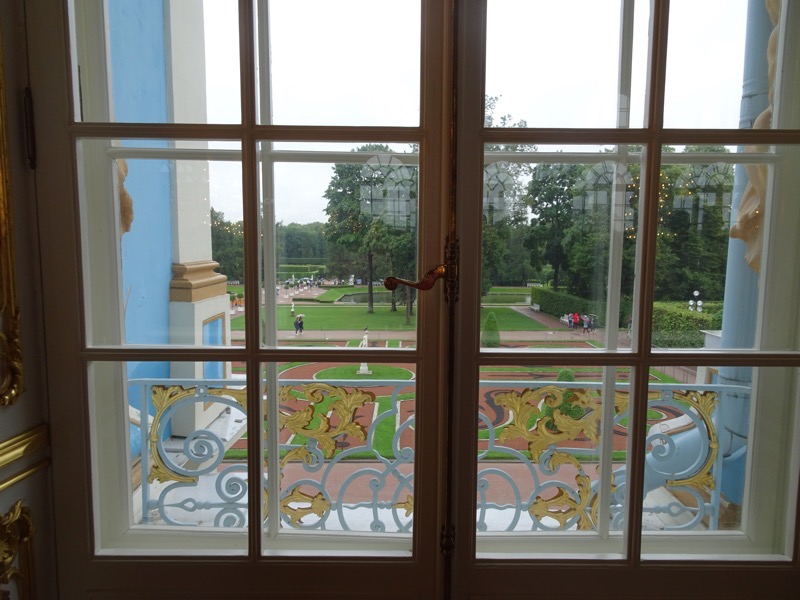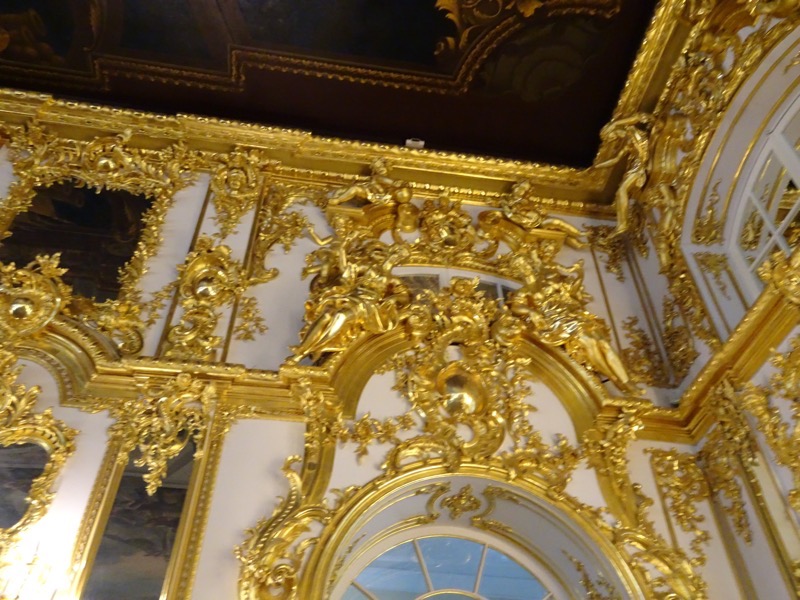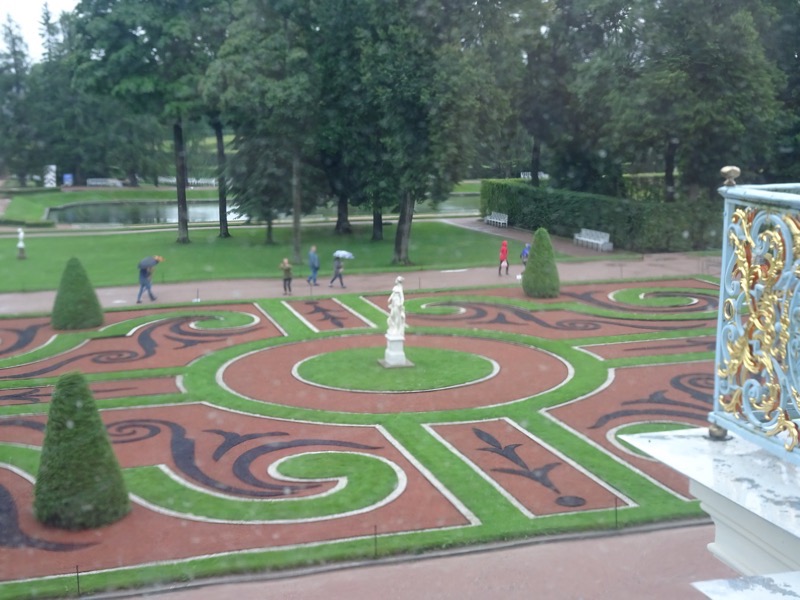 A re-creation of one of Empress Elizabeth's dresses… of which she is reputed to have had over 15,000.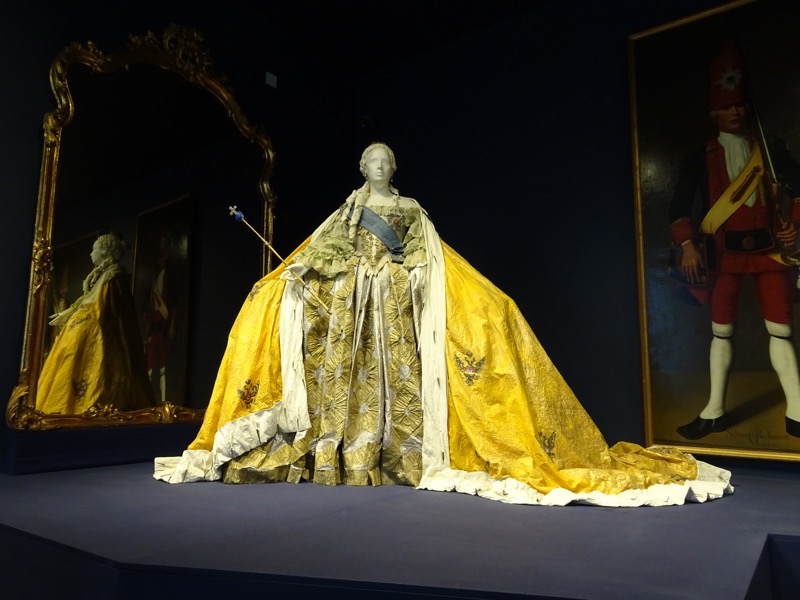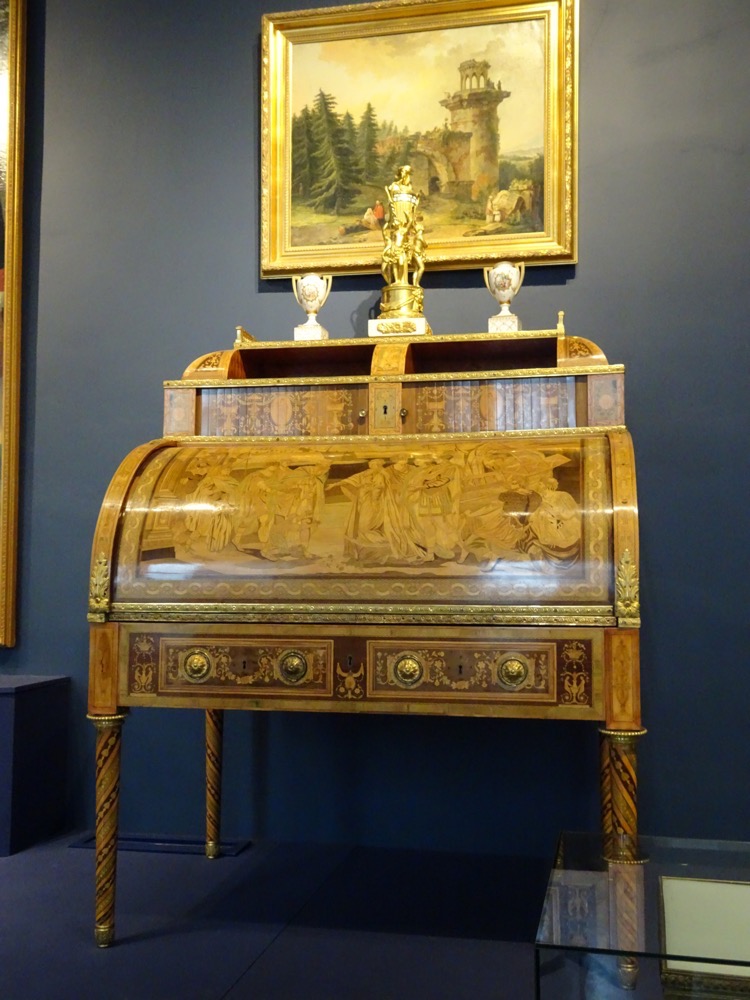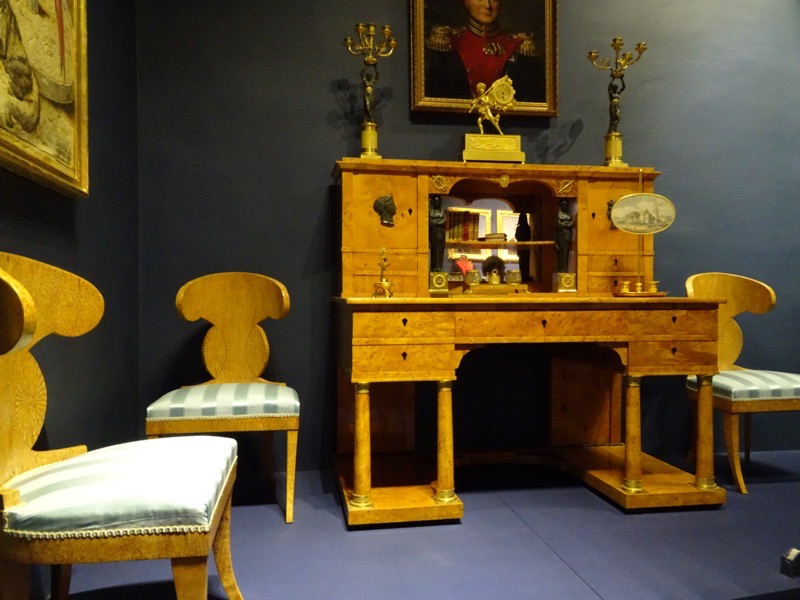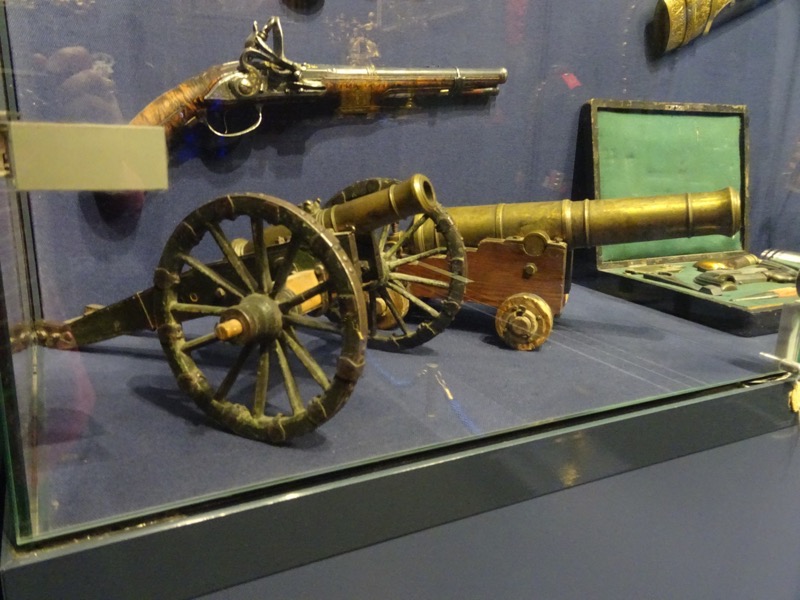 The Amber Room… has an extraordinary history – the TLDR is:  this Amber Room is a recreation only, the original Amber Room was pillaged by the Germans in WWII and the location of the famous amber panels is still unknown (shortest version of that story you'll ever see!).
And yes, of course you are not supposed to take photos in here because they want you to buy the guidebook, and yes, of course I bought the guidebook to get the good photos, and yes, of course I may have accidentally clicked the shutter on my camera that was cradled in my hands a few times.  On the scale of 'good' to 'going straight to hell', this is right up there with having overdue library books – I'm such a rebel.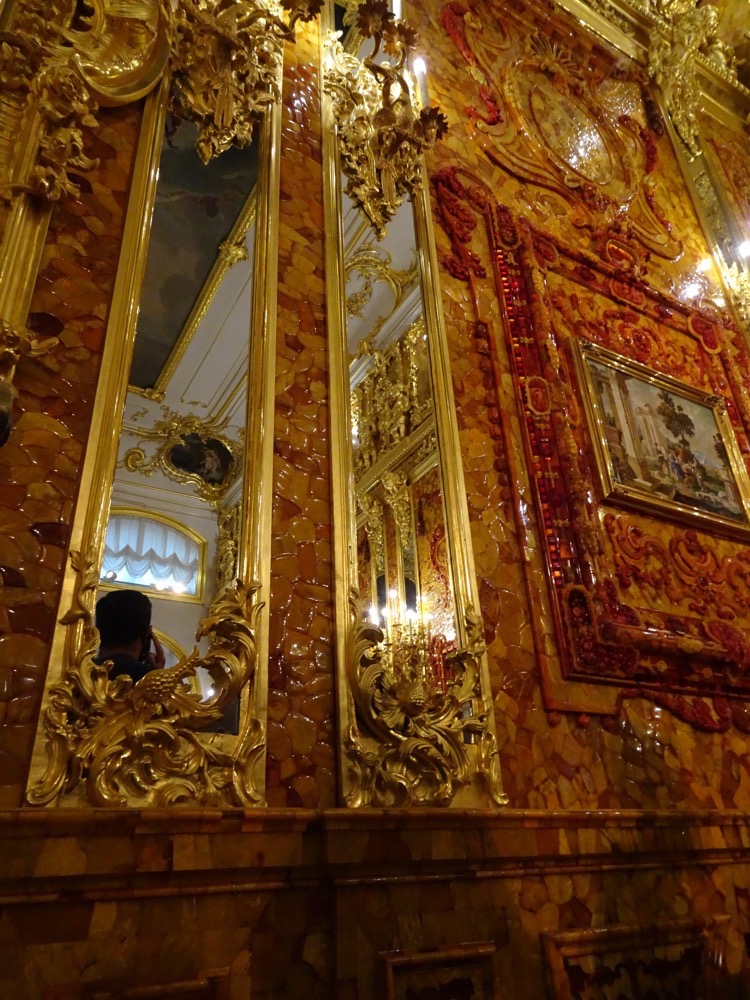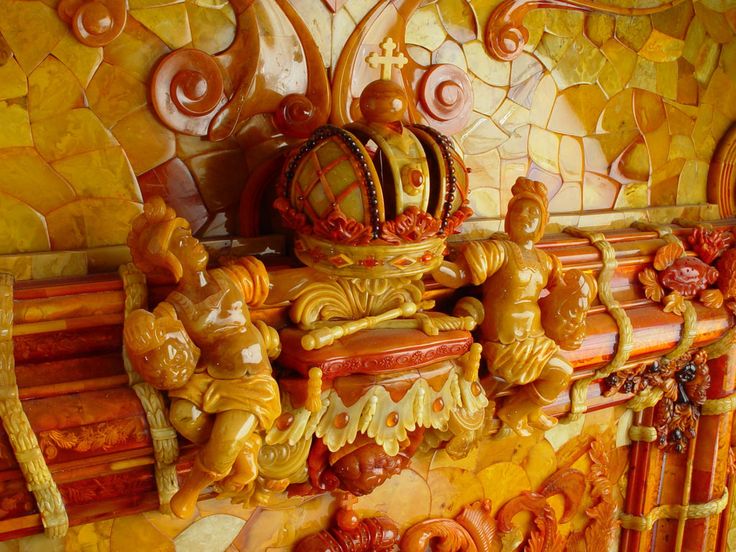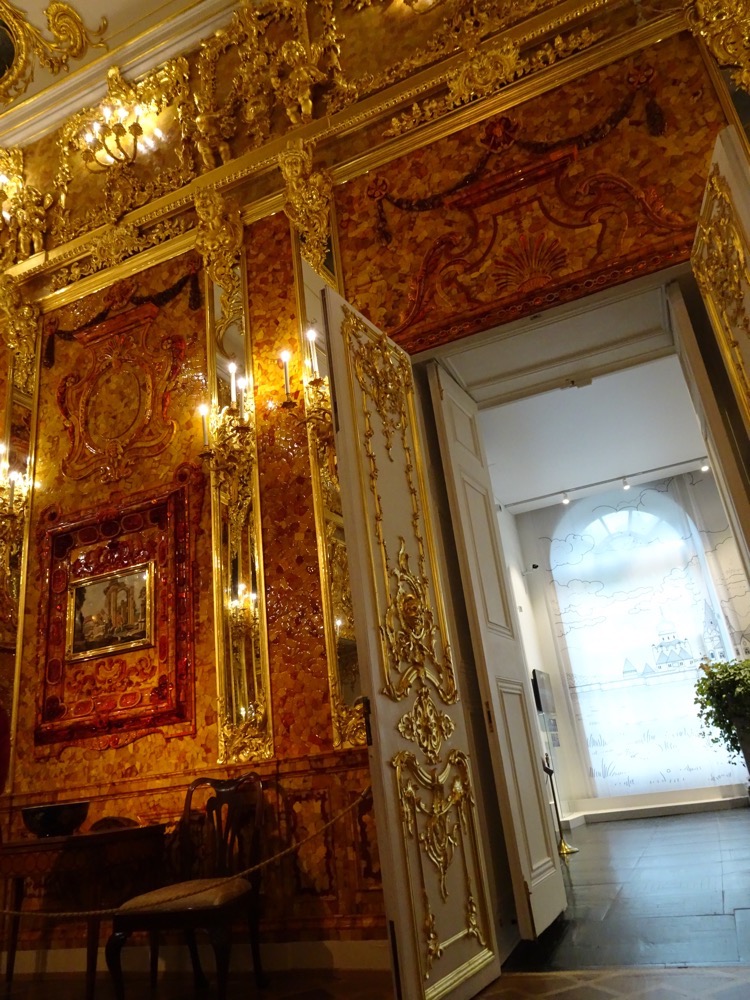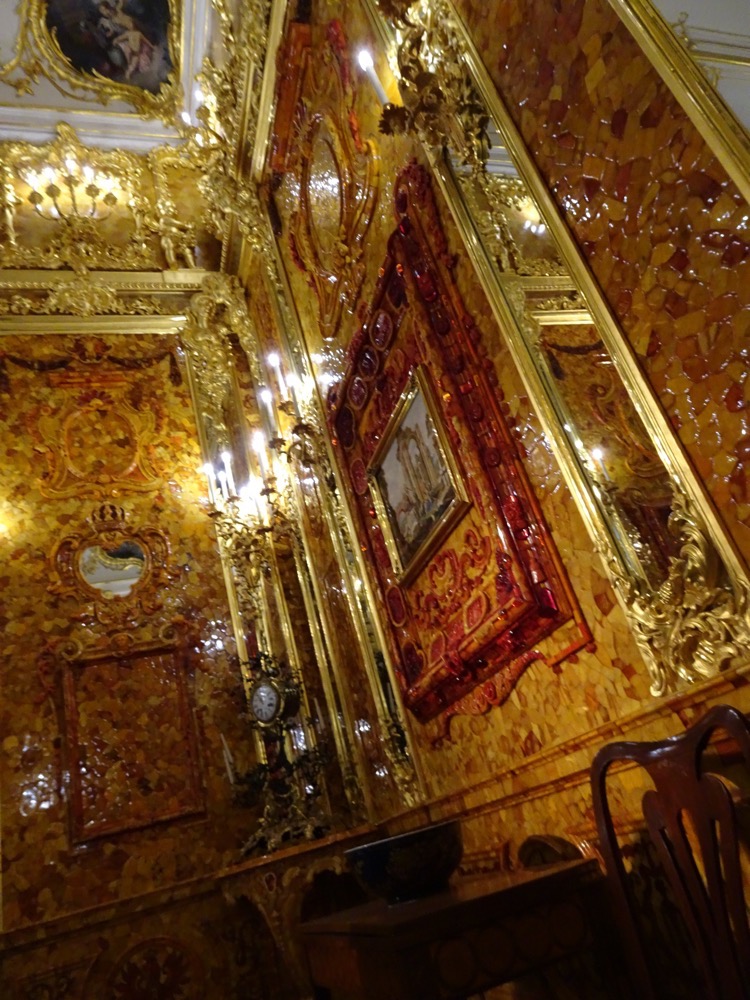 After the Amber Room, there was another grand reception hall.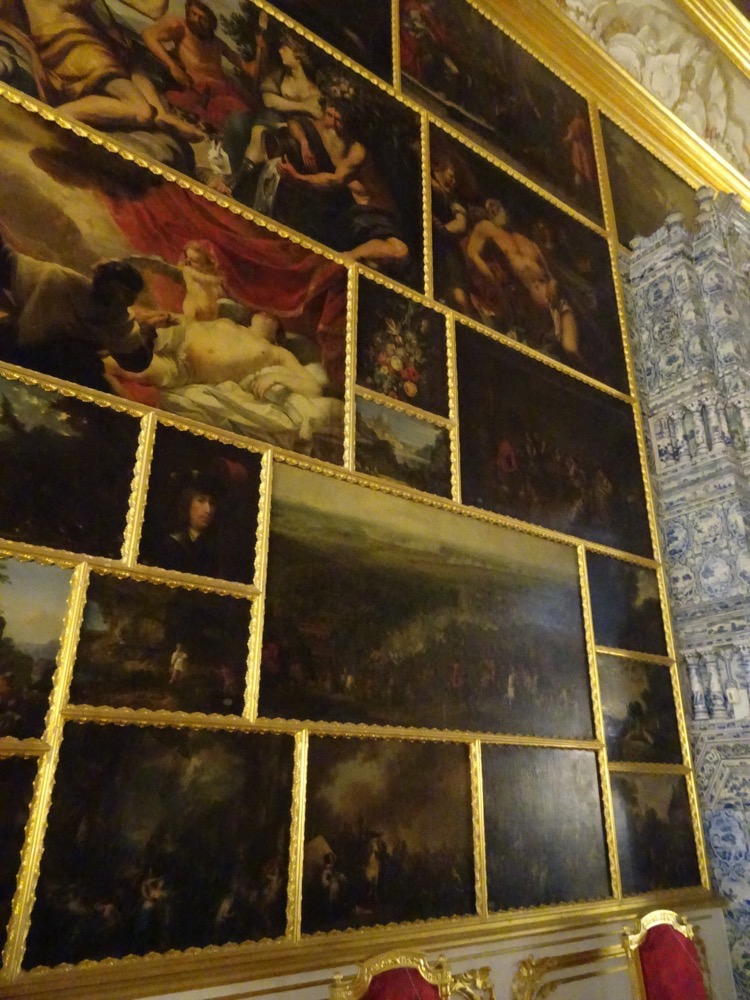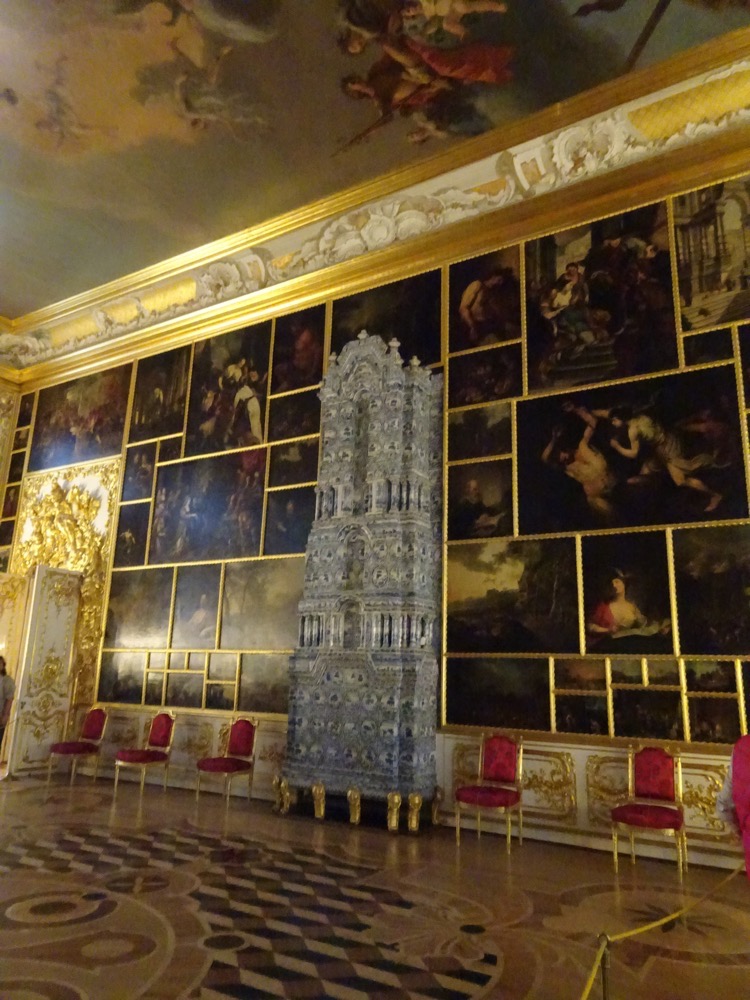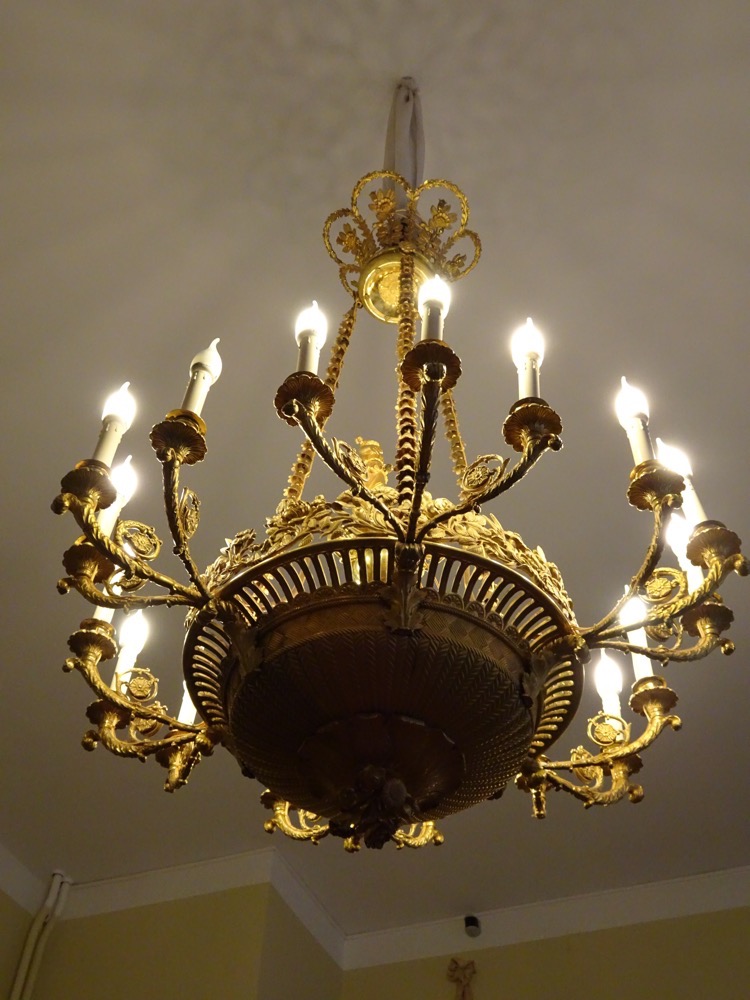 And this was Catherine II's favourite room… she had a penchant for pastel green and light rose decor in a Wedgewood sort of style.  You can see this colour scheme evident in many spaces that were dedicated to her use.  Personally, I find it rather insipid…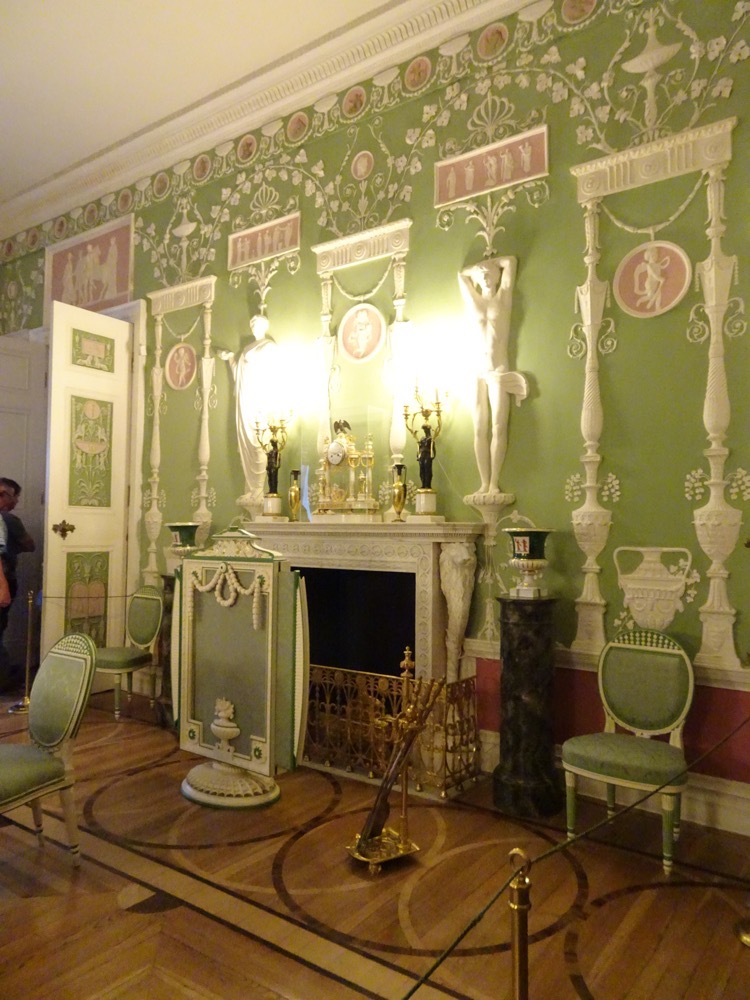 The Palace from the rear garden.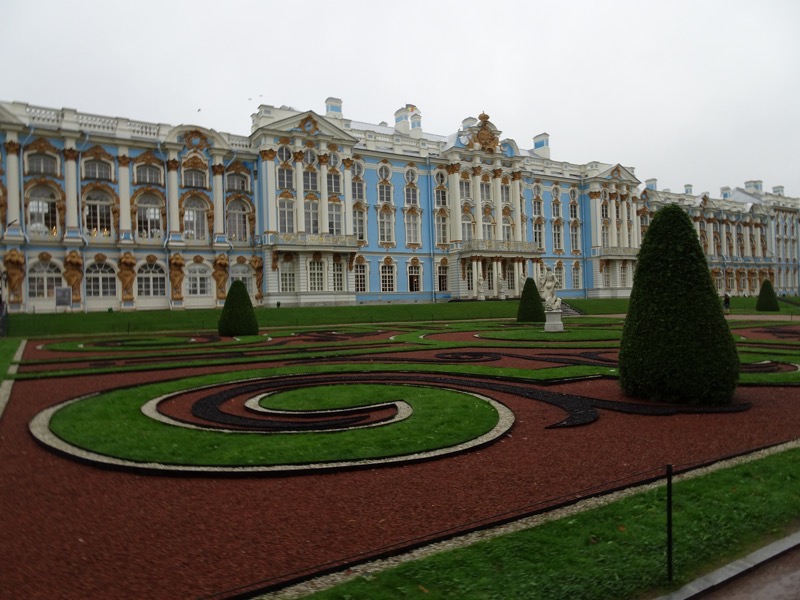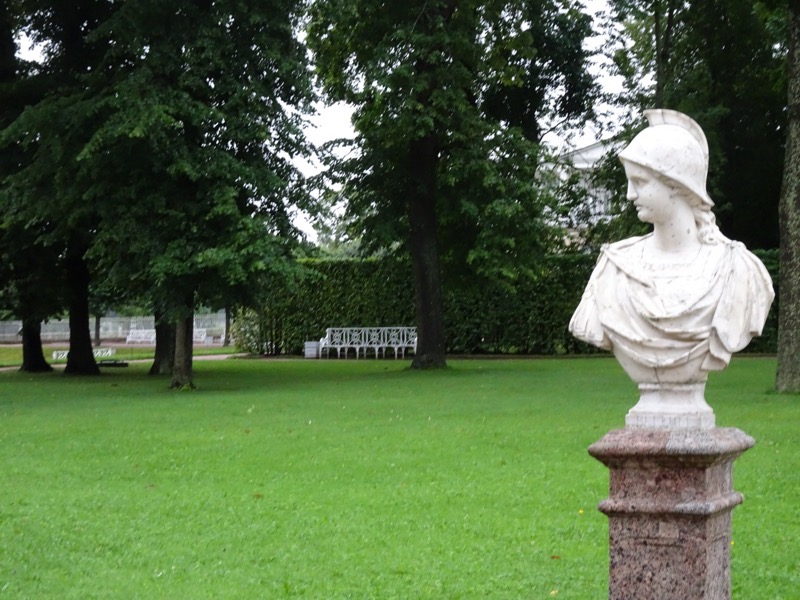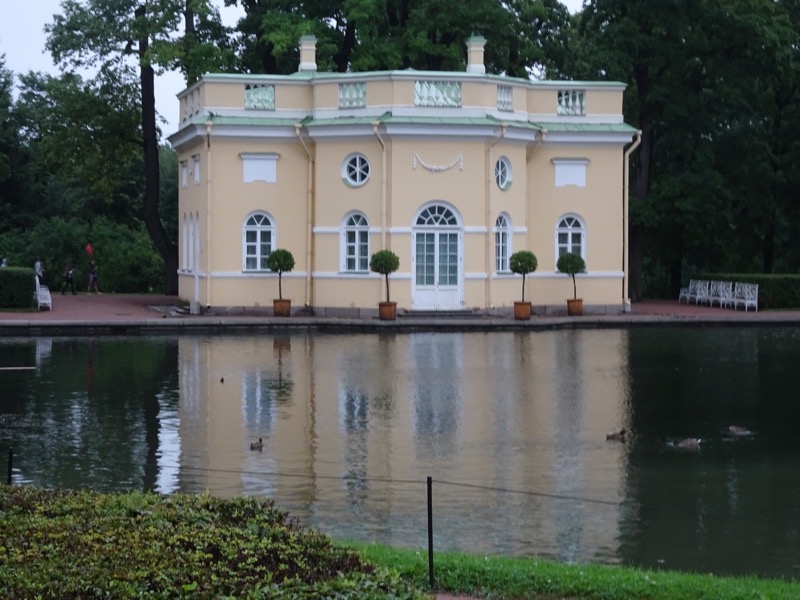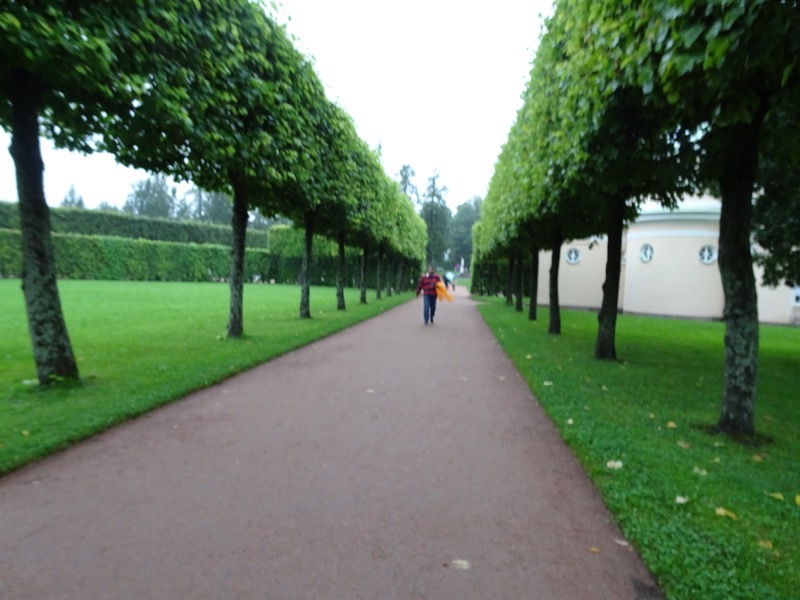 After this we left the rest of our party and went off to have some dinner at a local hotel.  Lots of stroganoff and potatoes all round!  😉
Then a private tour of the Faberge Museum.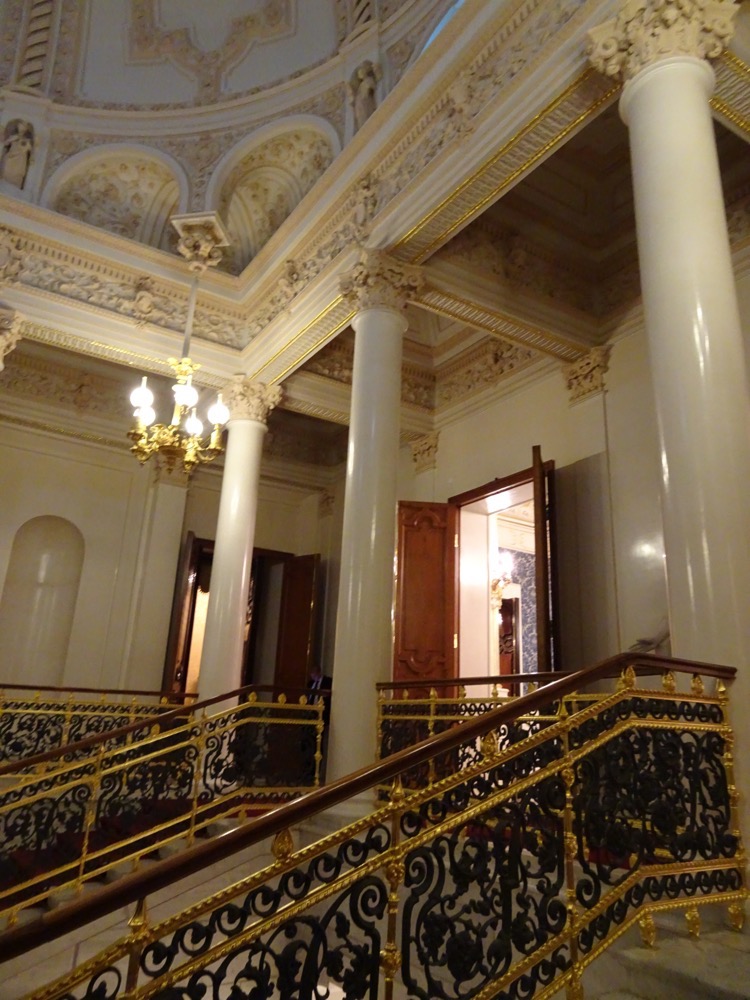 The Faberge Museum is a privately owened museum that was establised by Viktor Vekselberg's Link of Times foundation, which attempst to repatriate lost cultural treasures to Russia.  The musuem has been located in the middle of St Petersburg in a refurbished palce, called the Shuvalov Palace – I love that the city has so many run down or empty palaces that they can just appropriate an amazing building like this and turn it into a museum!  The Shuvalov Palace is on the embankment of the Fontanka River and has only been renovated in the last five years or so – it now contains a fabulous collection of more than 4,000 decorative arts objects, including gold and silver items, porcelain, paintings, bronze ware and so many many beautiful things.  The centrepiece of the collection is the Imperial Easter Eggs created by Faberge for the last two Russian Tsars.
We had a great audio guide that took us through the palace to see all the items, however most items were not labelled in English, and the best guidebook of the museum was also not available in English.  So I have a massive pile of photos here, and not a lot of information on ost of them…  the bulk of items were from the 17th century onwards, and many were fairly locally made.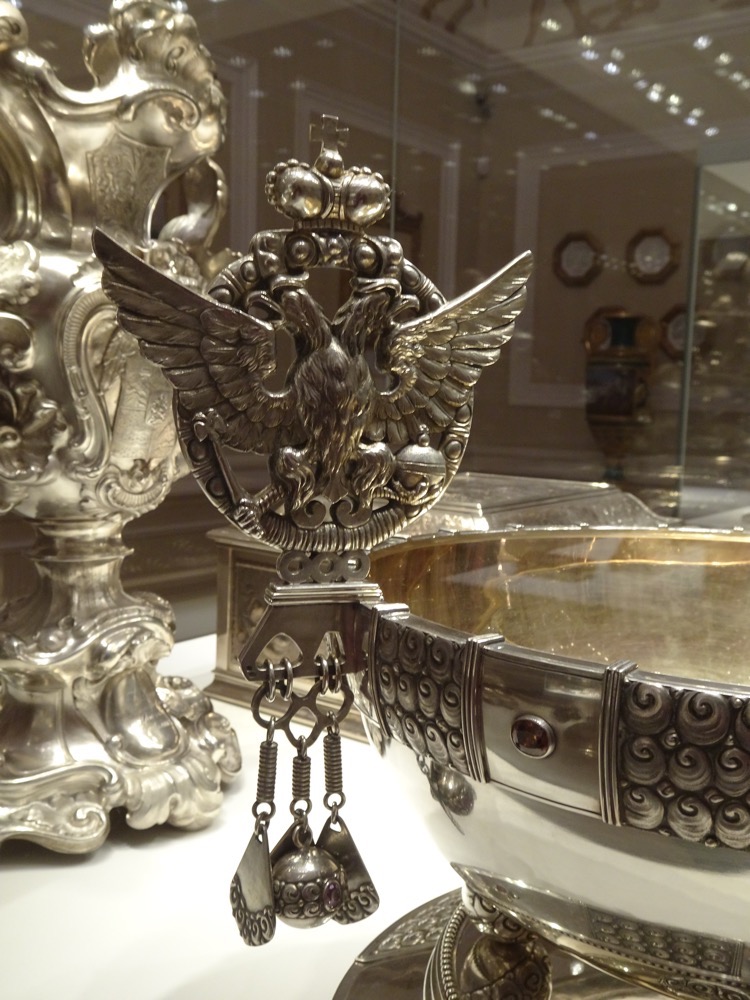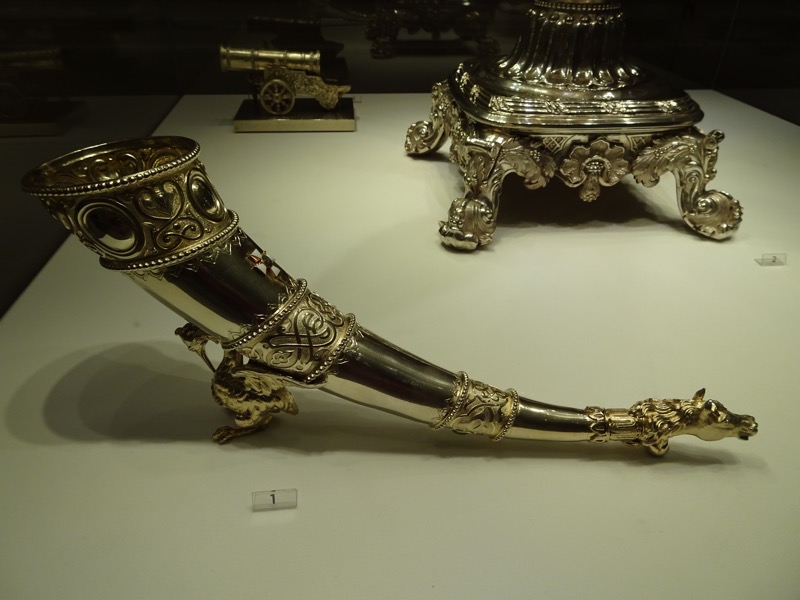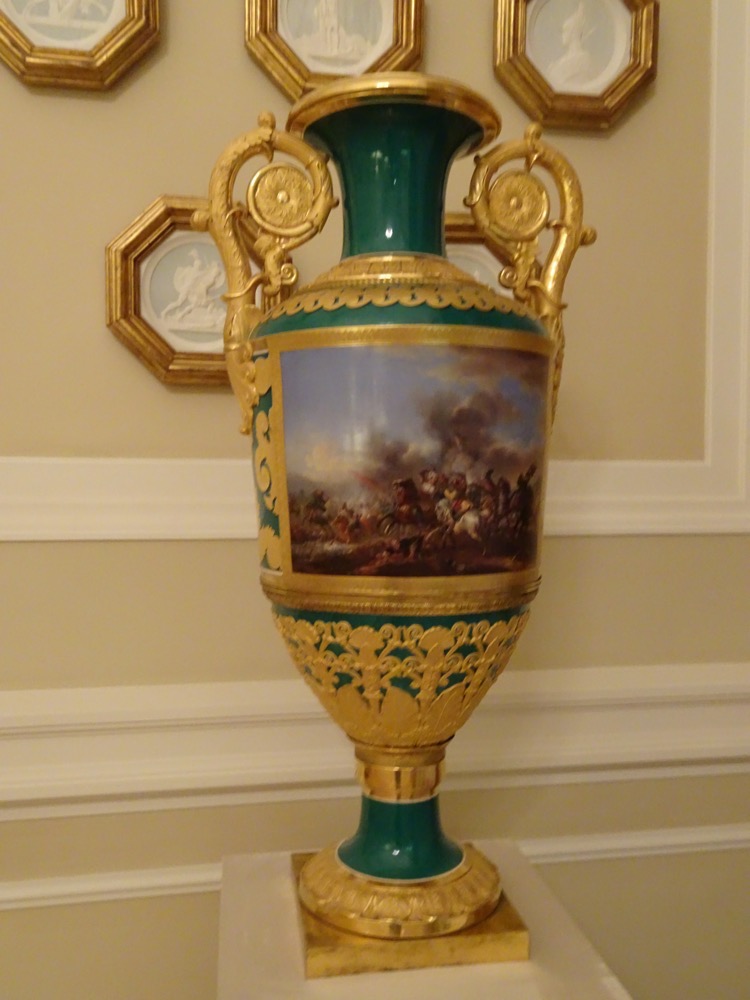 19th century model of the Tsar's Canon that we saw in Moscow at the Kremlin.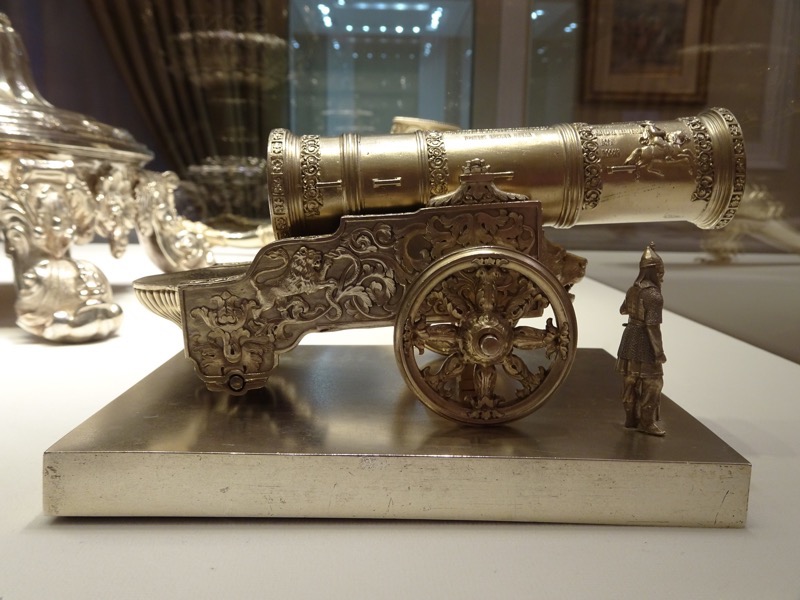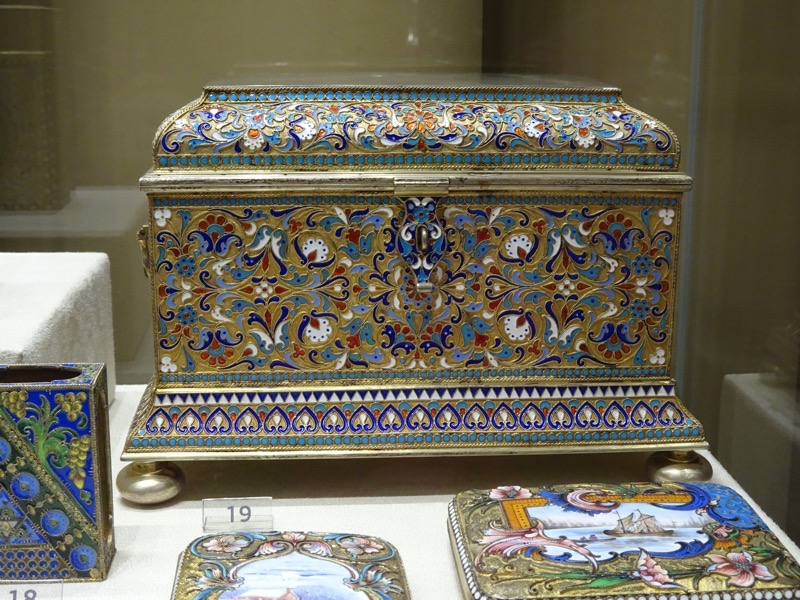 Beautiful 18th – 19th century enamel pieces filled cabinet after cabinet.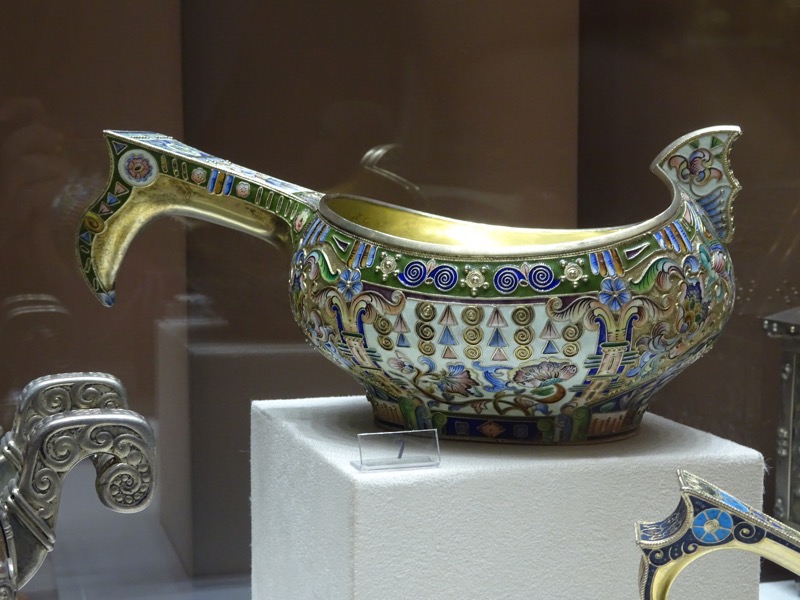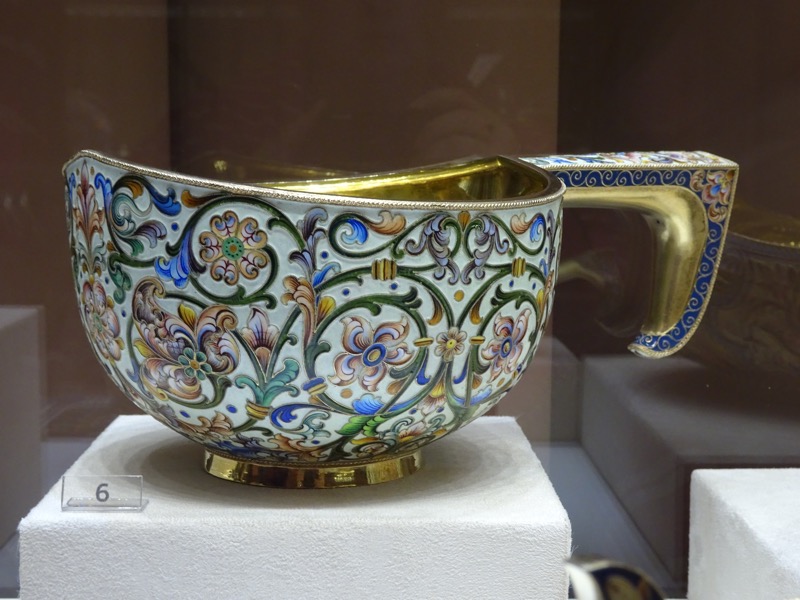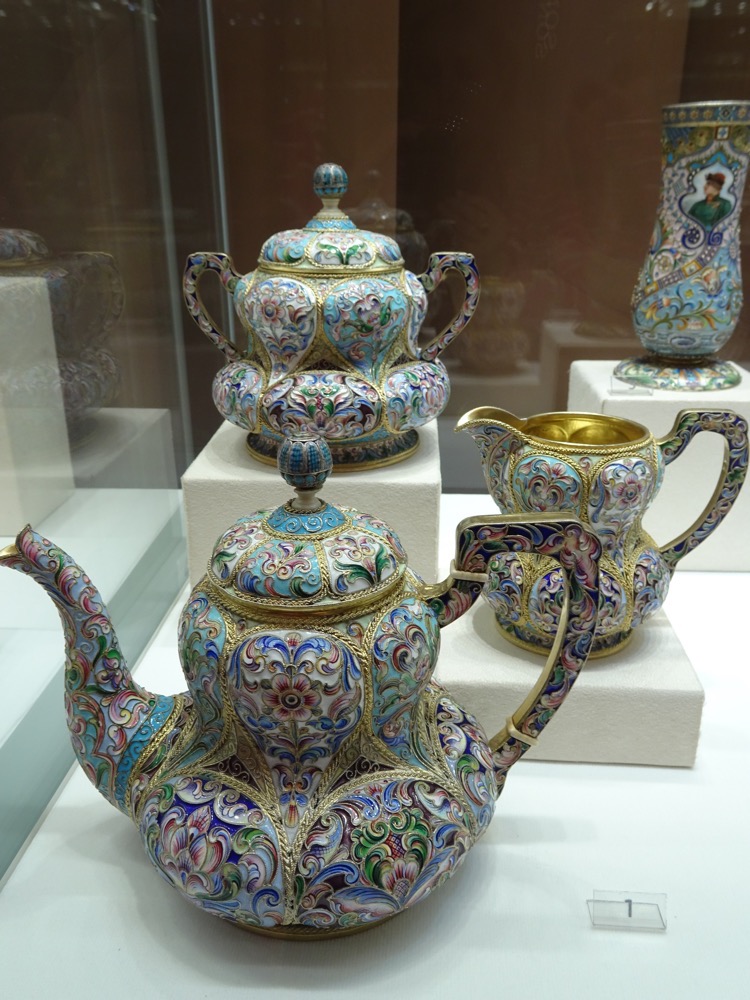 A card holder designed to hold visiting cards, displaying the imperial arms.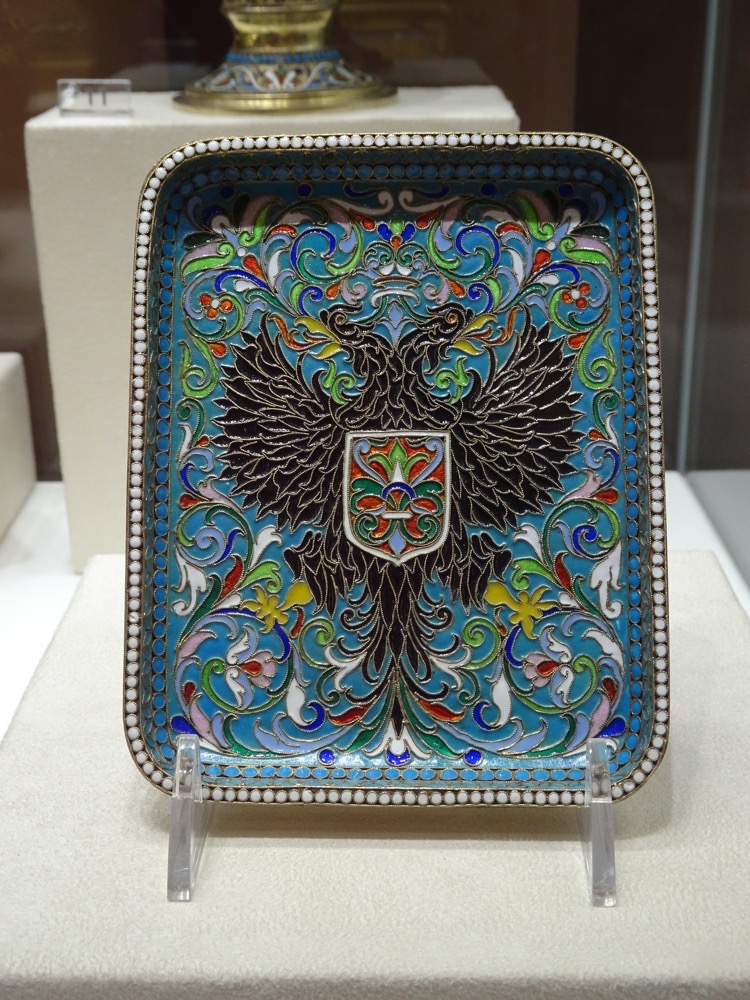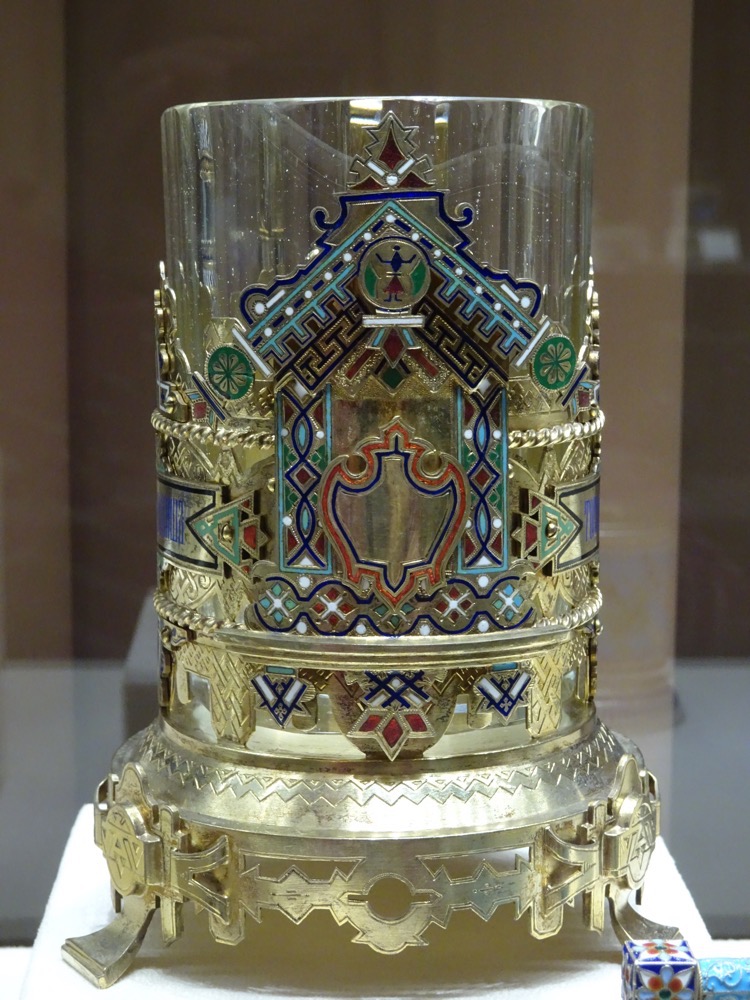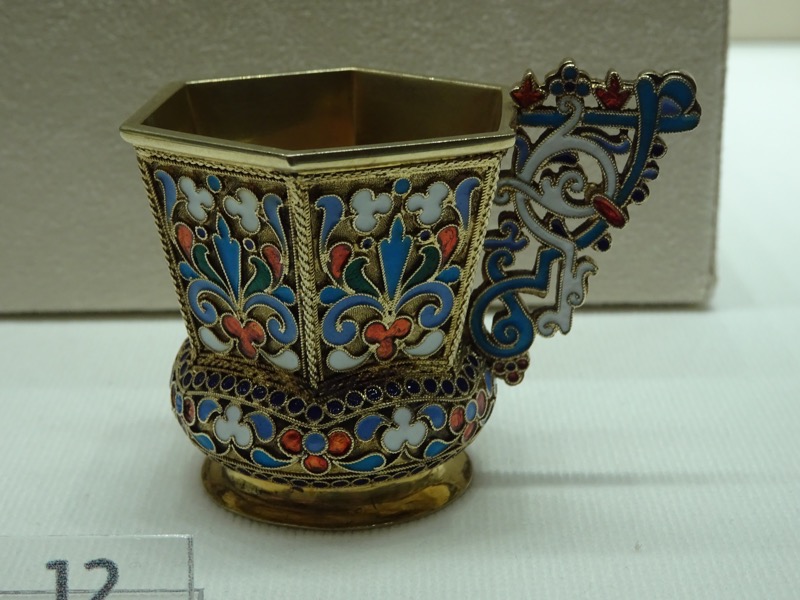 Tea/coffee set.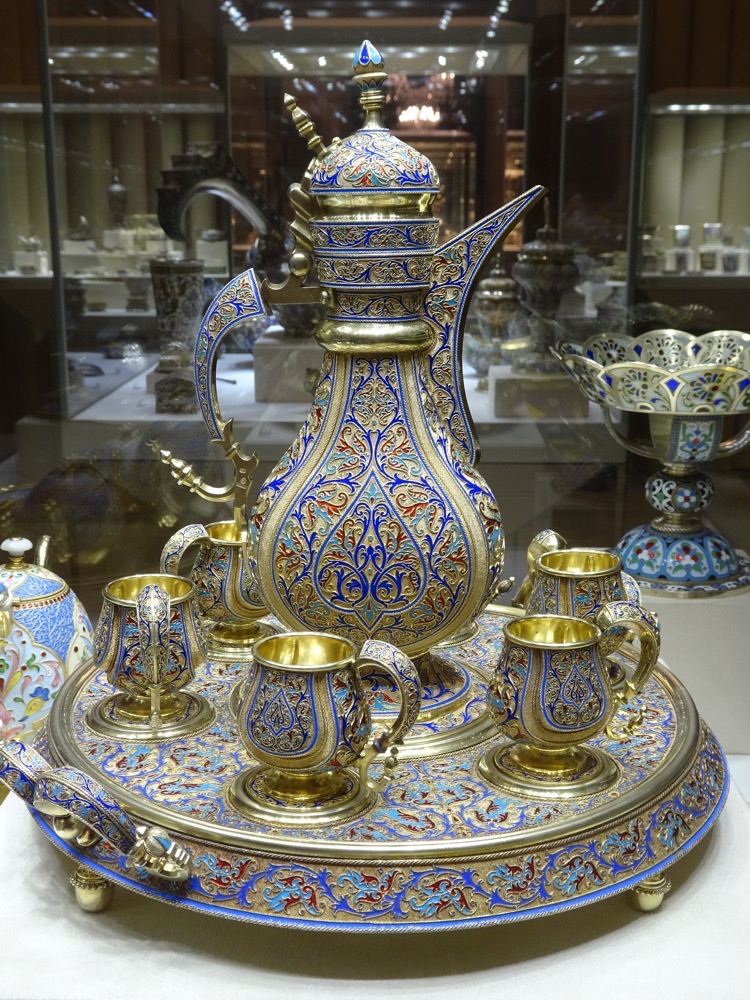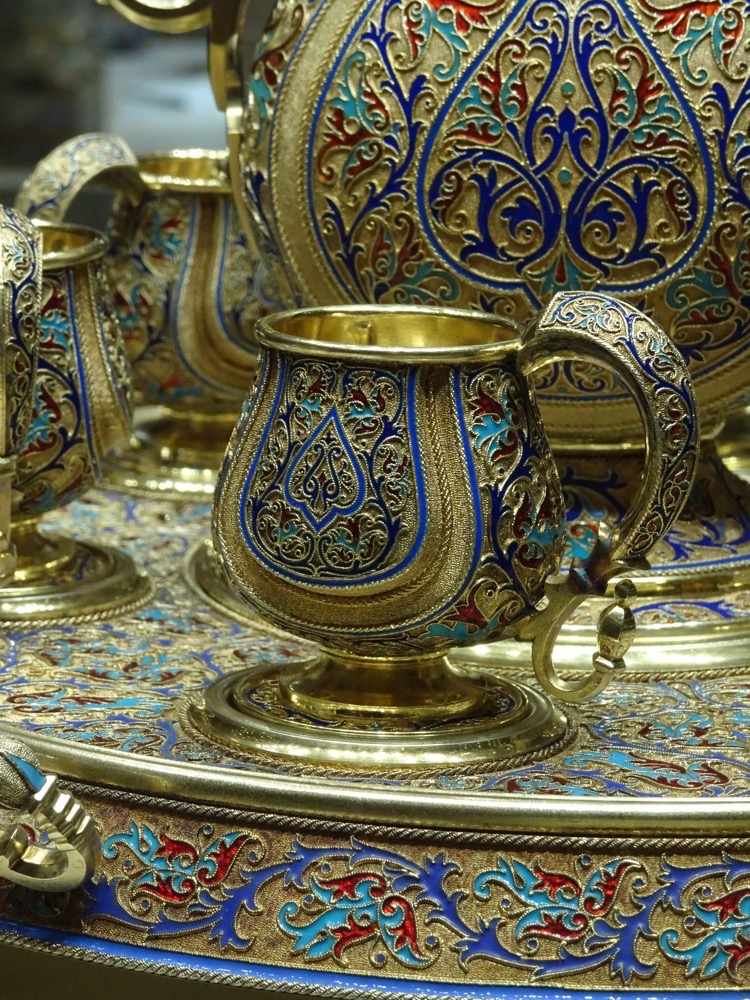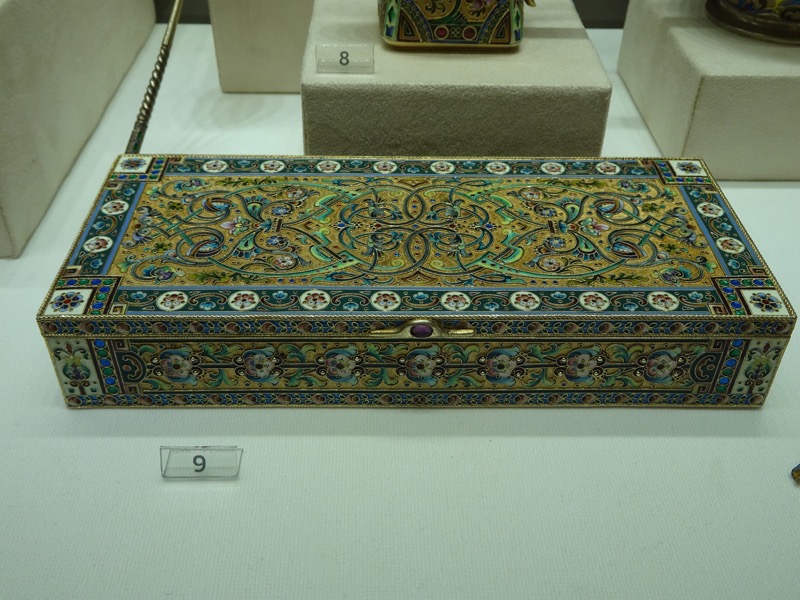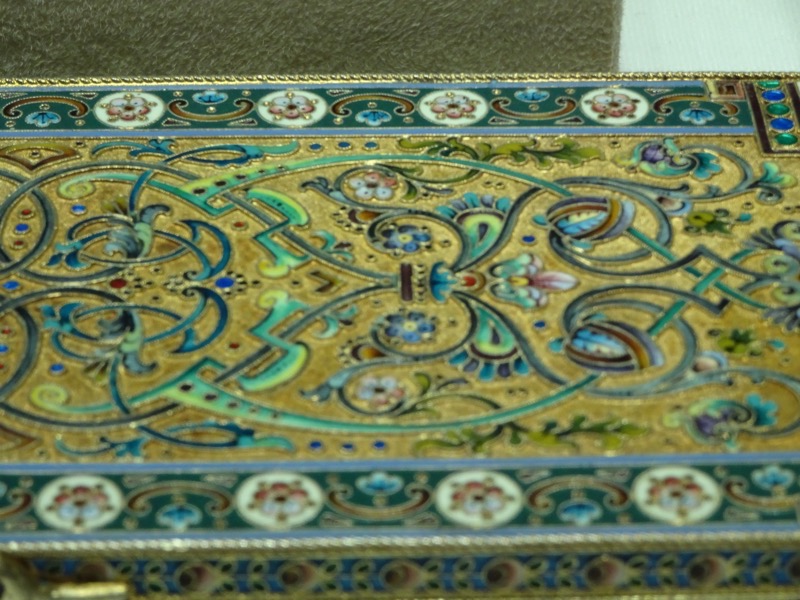 This item appealed to me a great deal – anyone interested in decorative arts would recognise this design as appearing on marble/stone work in places like Athens, Pompeii and Ephesus, though to art nouveau pieces, to the edging on the carpet in my dining room!  It is a truly classical design motif that has been continuously replicated through the ages.
Imperial design on a tea spoon.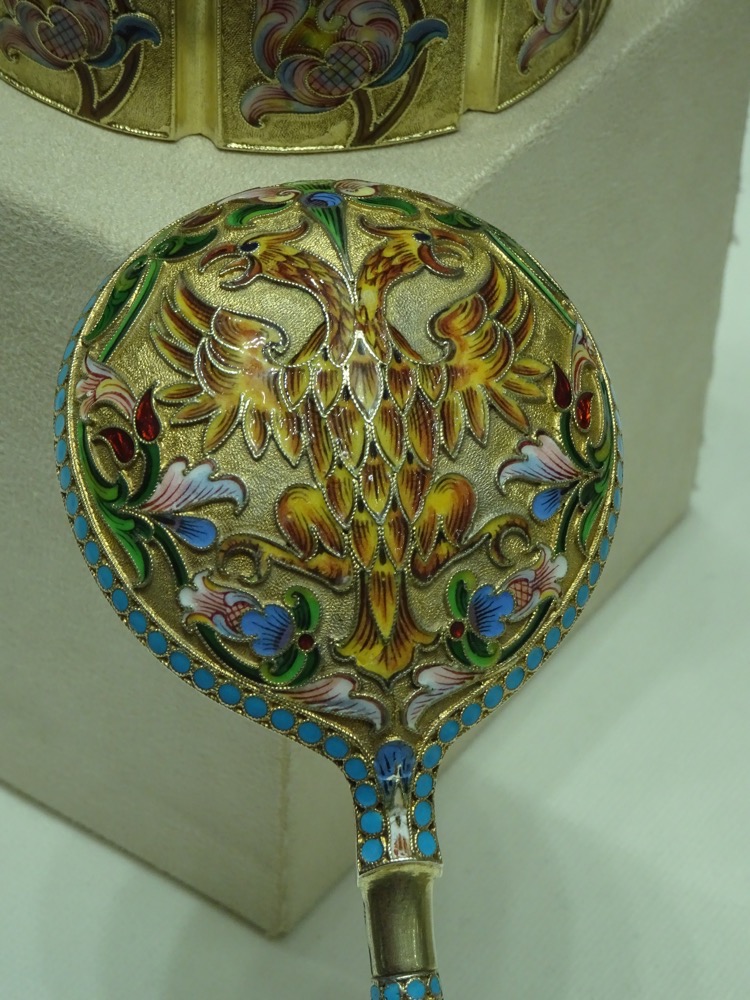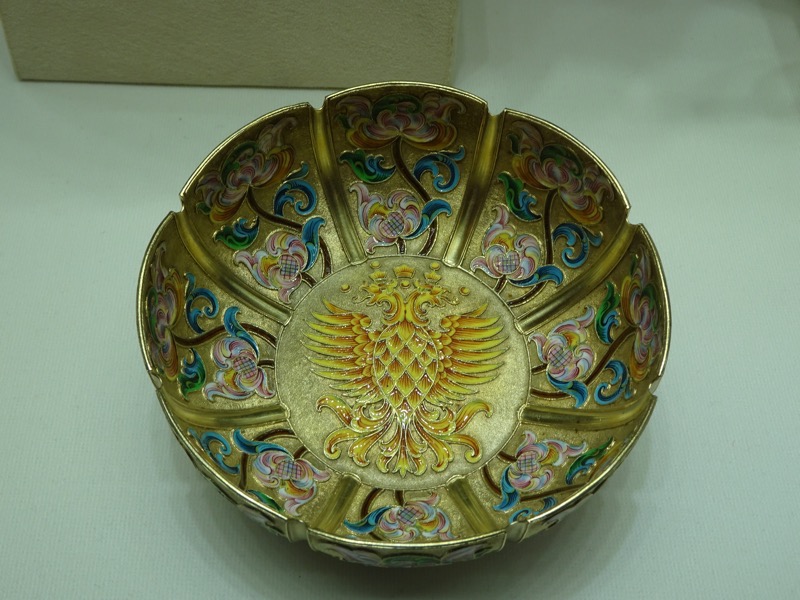 Punchbowl.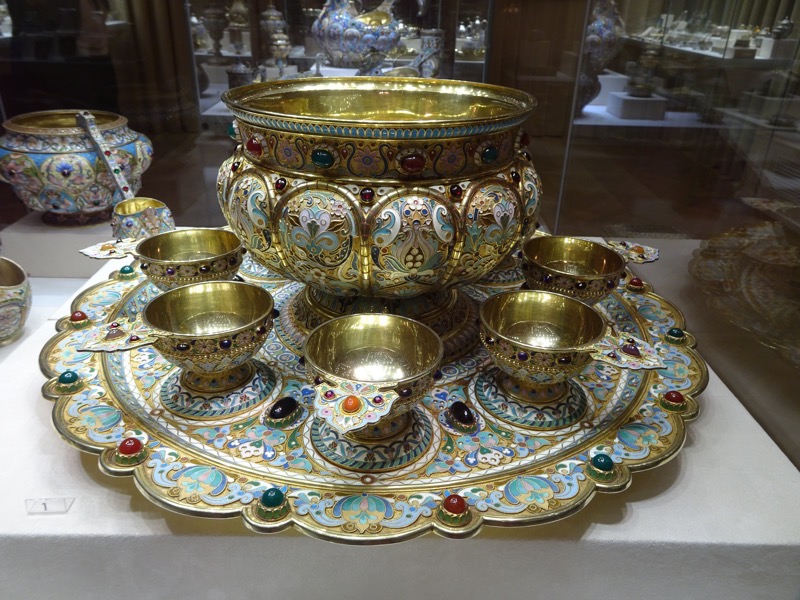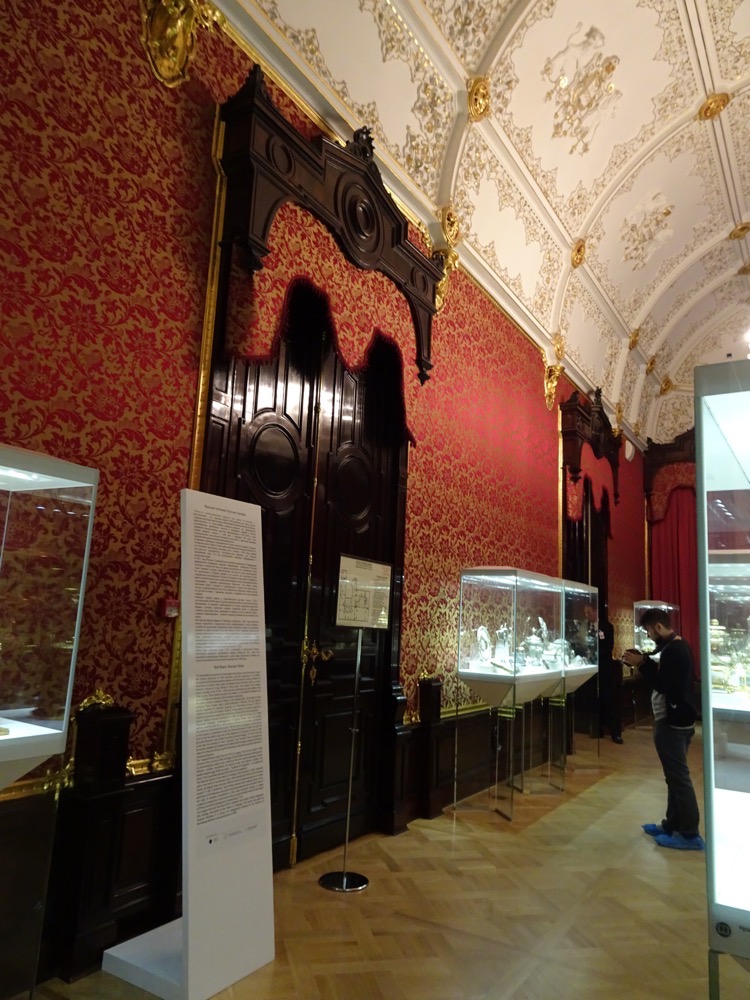 The Red Drawing Room in the palace, with it's beautiful silk damask wallpaper!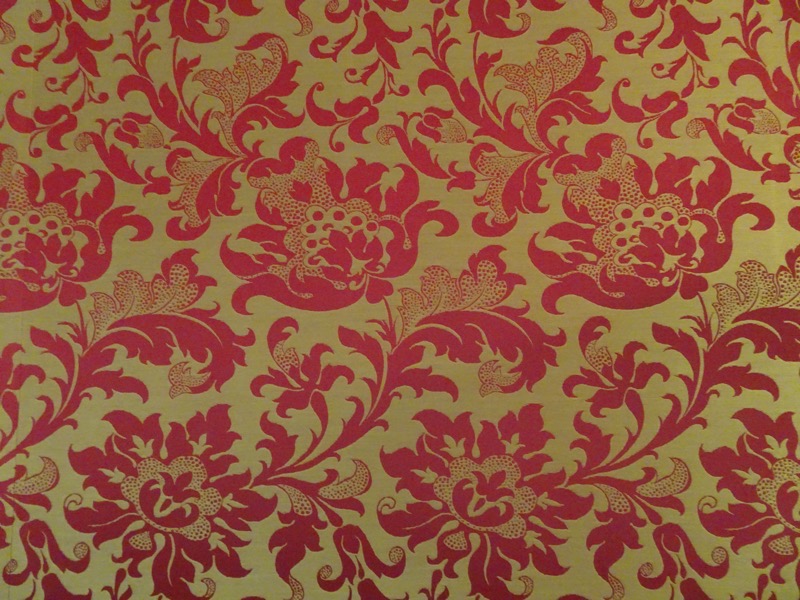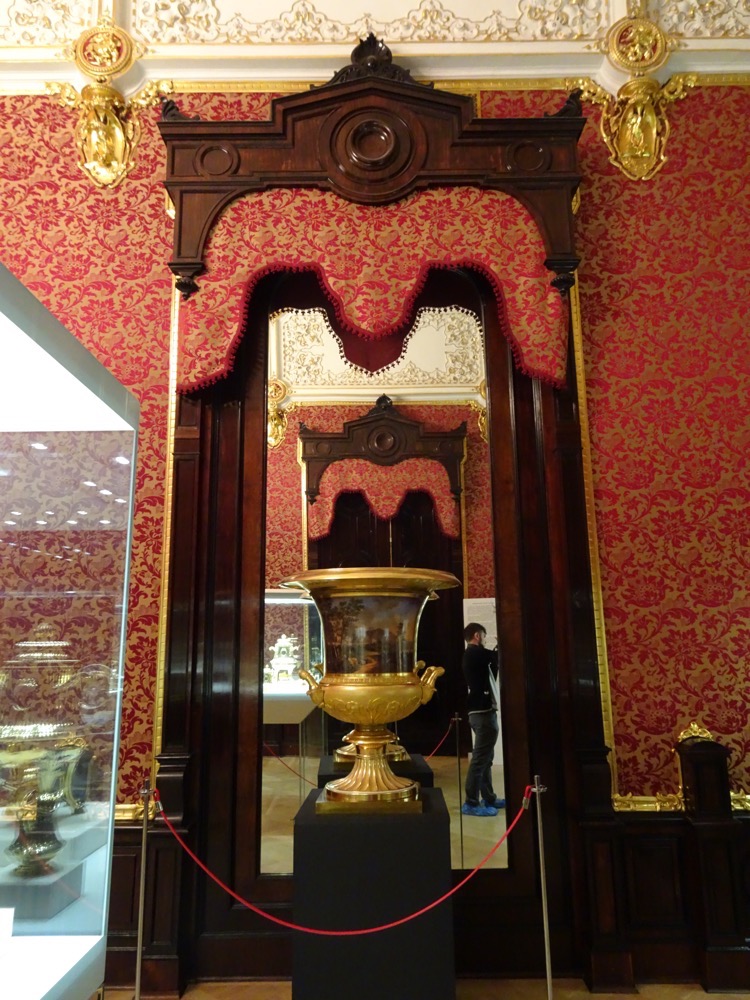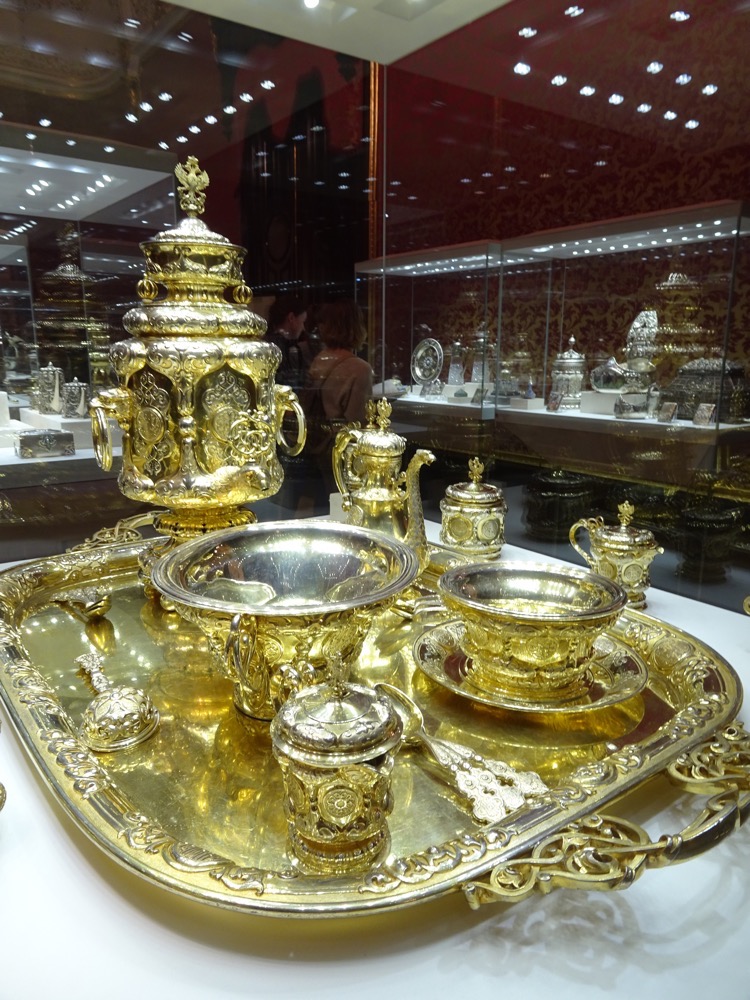 Malachite was a favoured material during the time of the Romanov Family.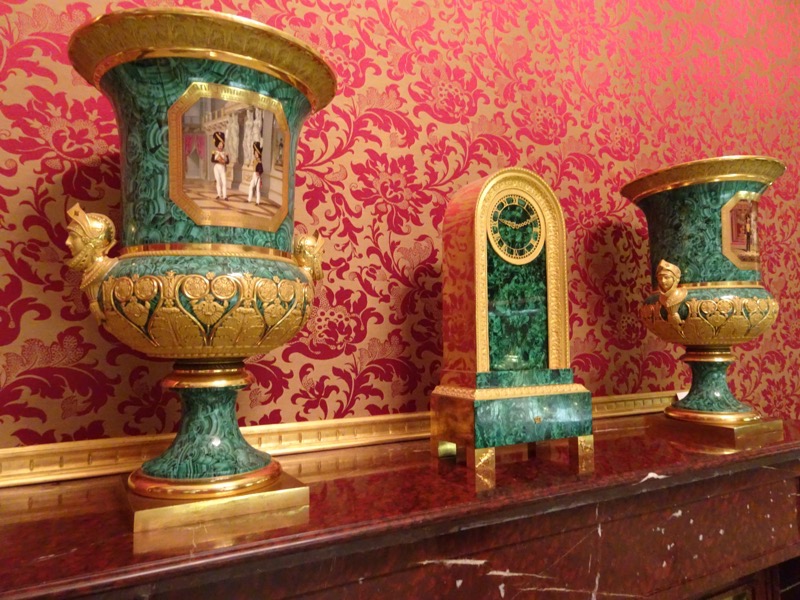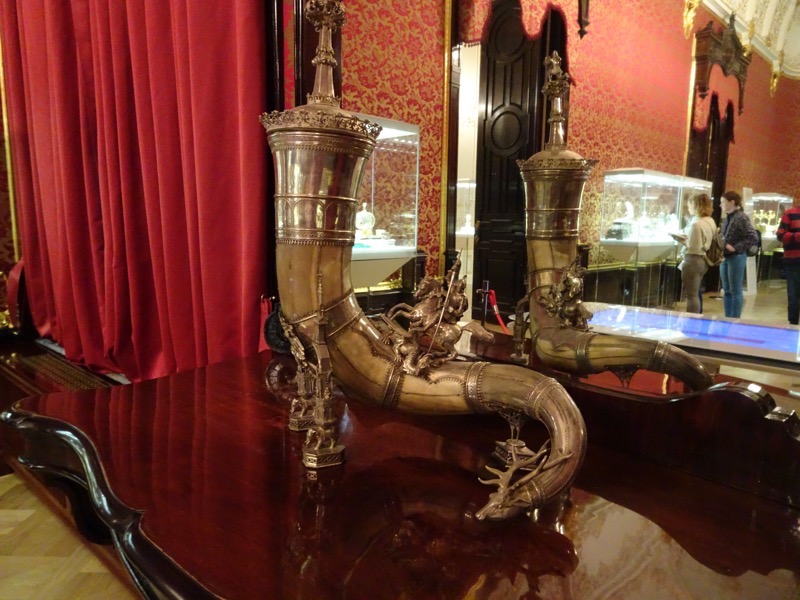 Crazy huge drinking horn adorned by St George slaying a dragon.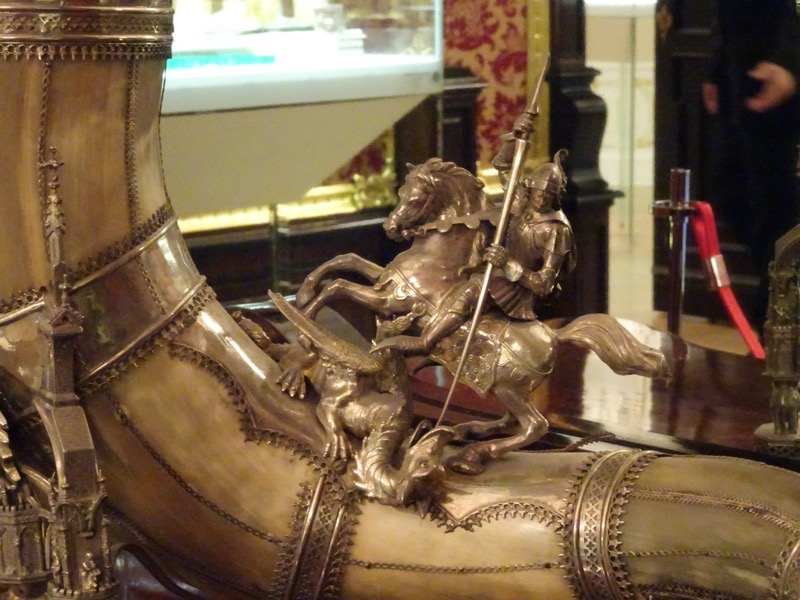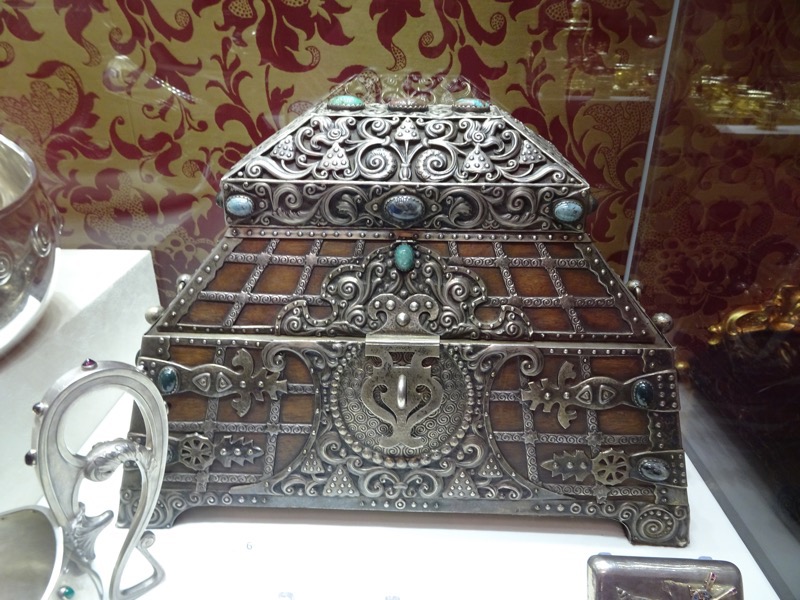 Detail in the restoration – gold filigree work added around the wallpaper.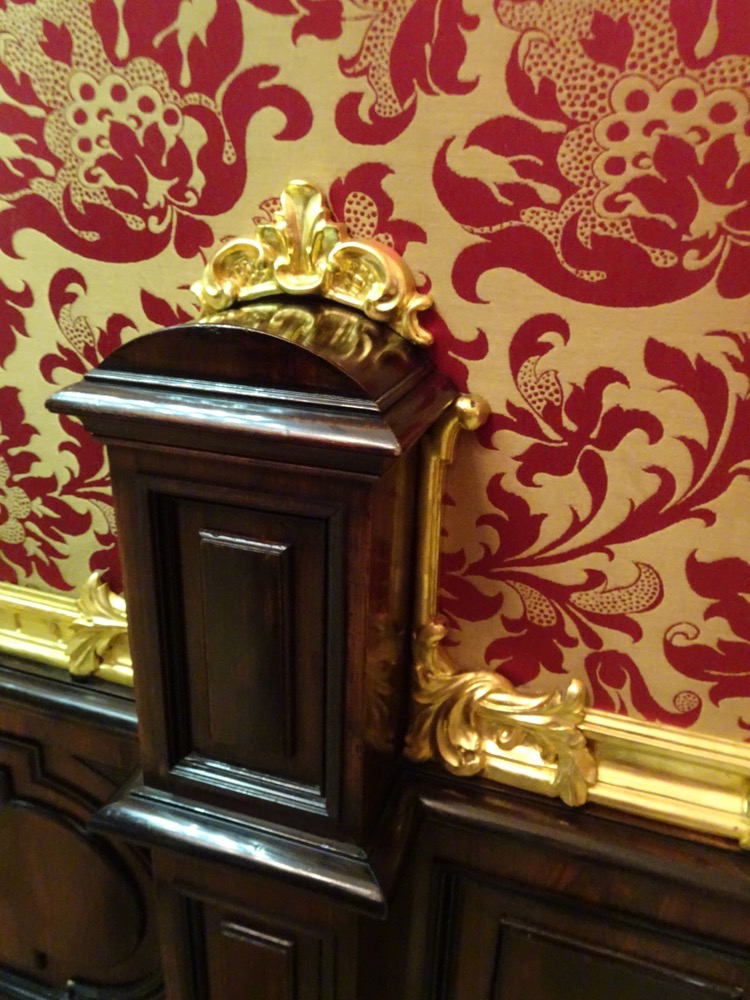 The Blue Drawing Room which houses most of the Imperial Faberge Egg collection.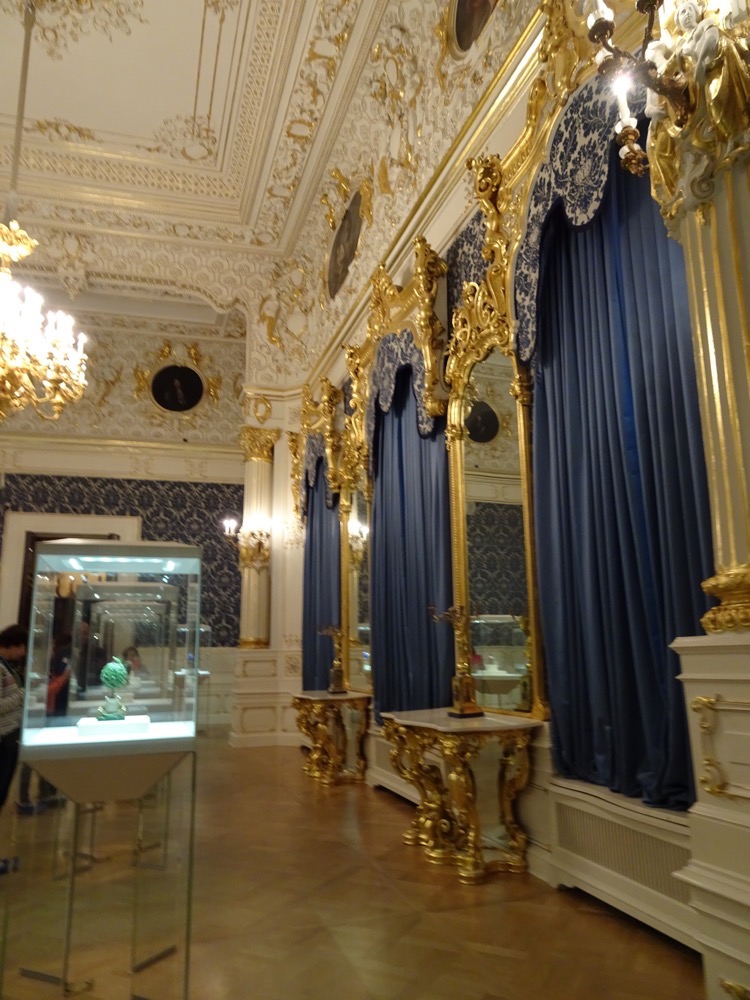 The Order of St George Egg.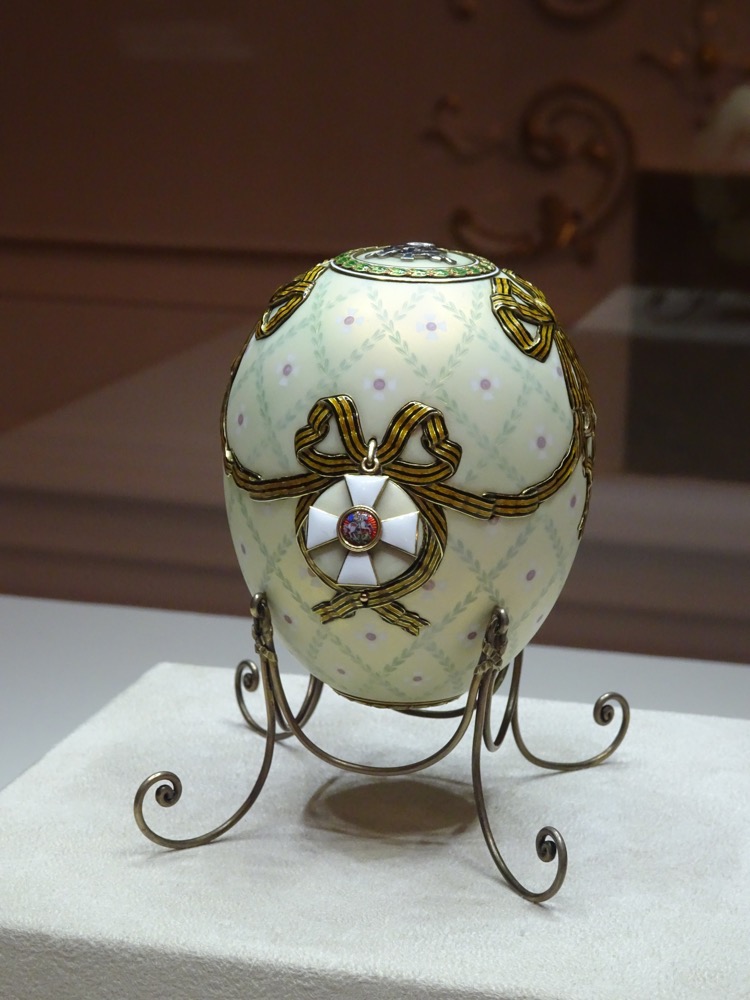 The lovely blue silk damask wallpaper design…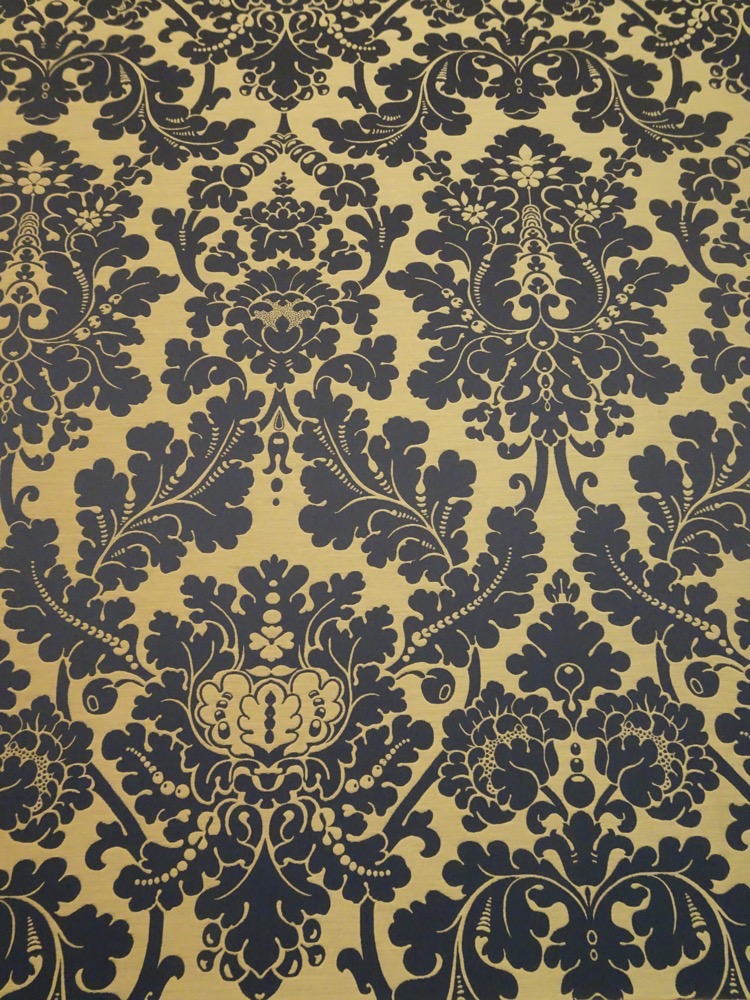 The ceiling in the Blue Drawing Room.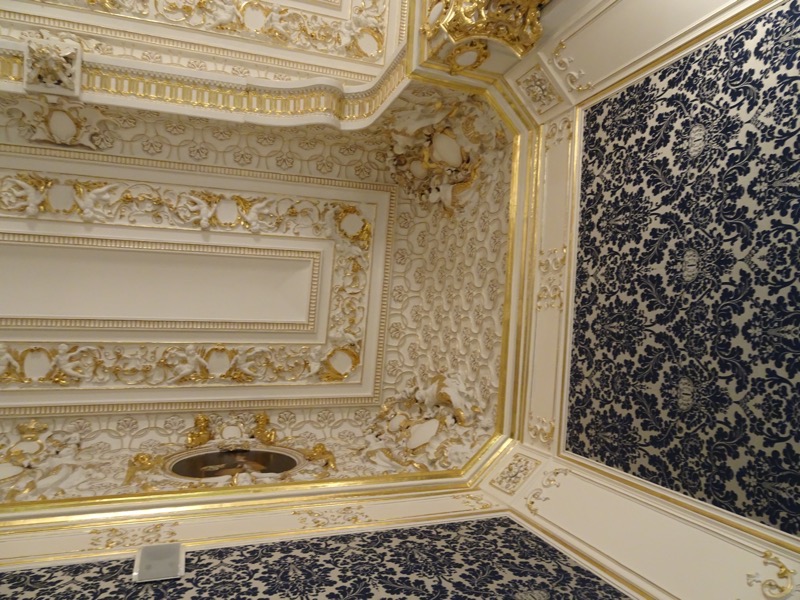 The Duchess of Marlborough Egg, which is also a clock.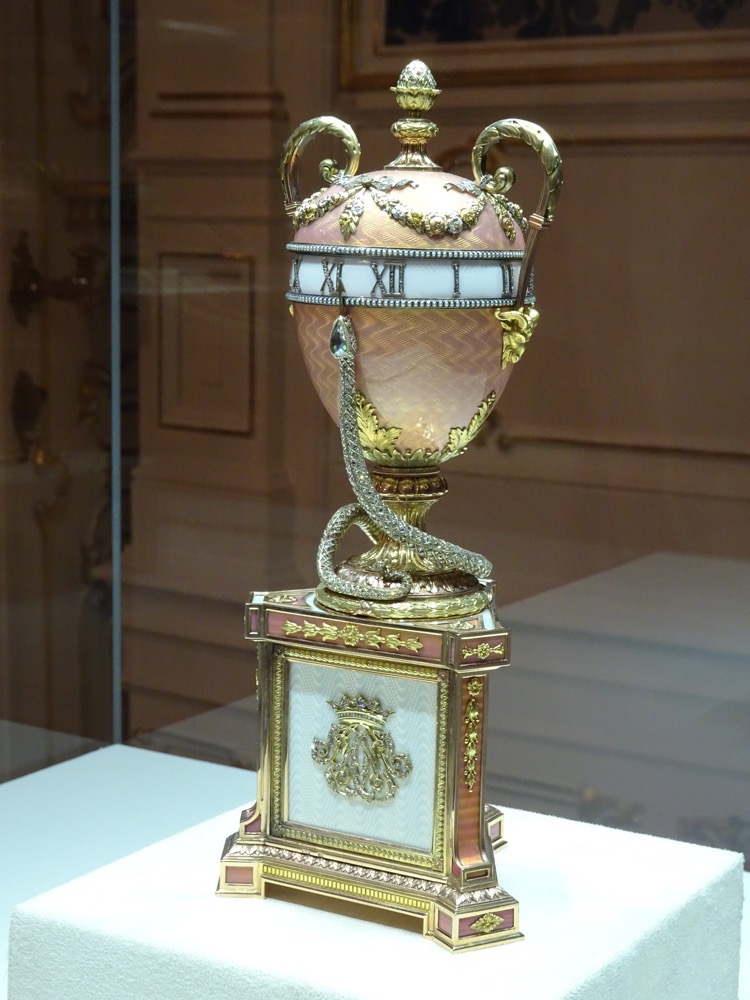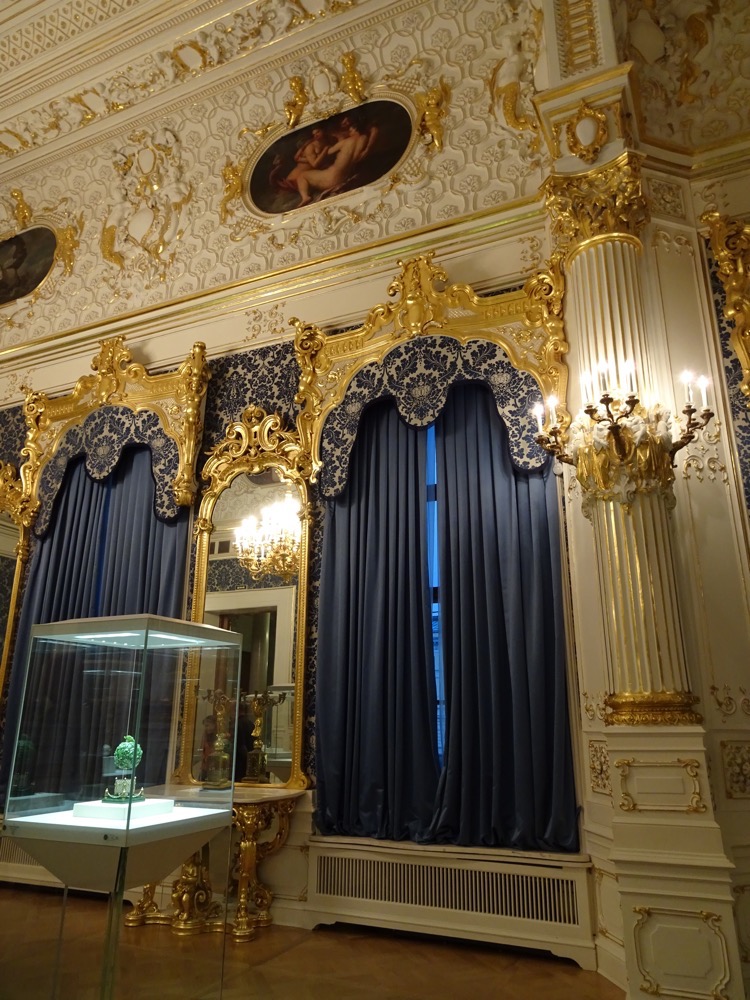 Bay Tree Egg.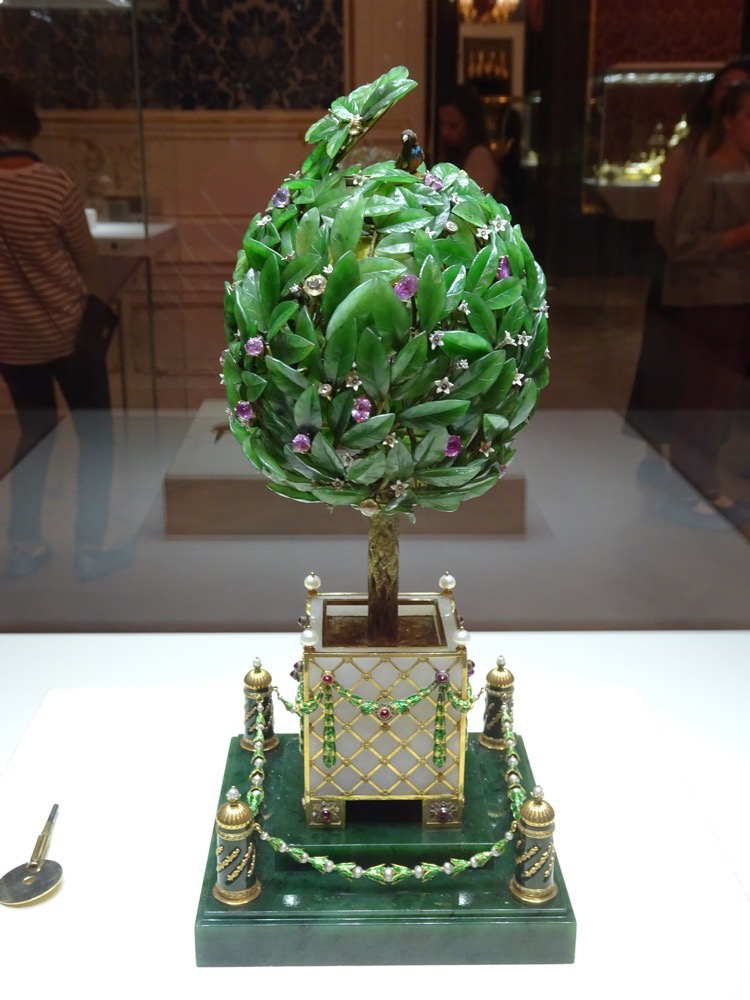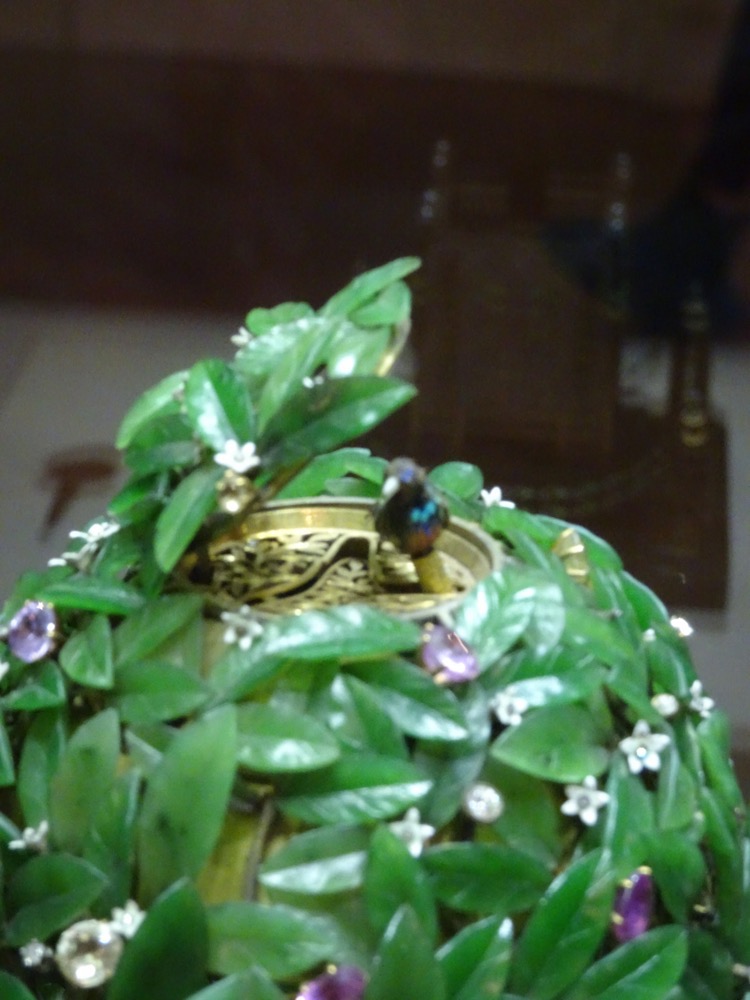 Fifteenth Anniversary Egg.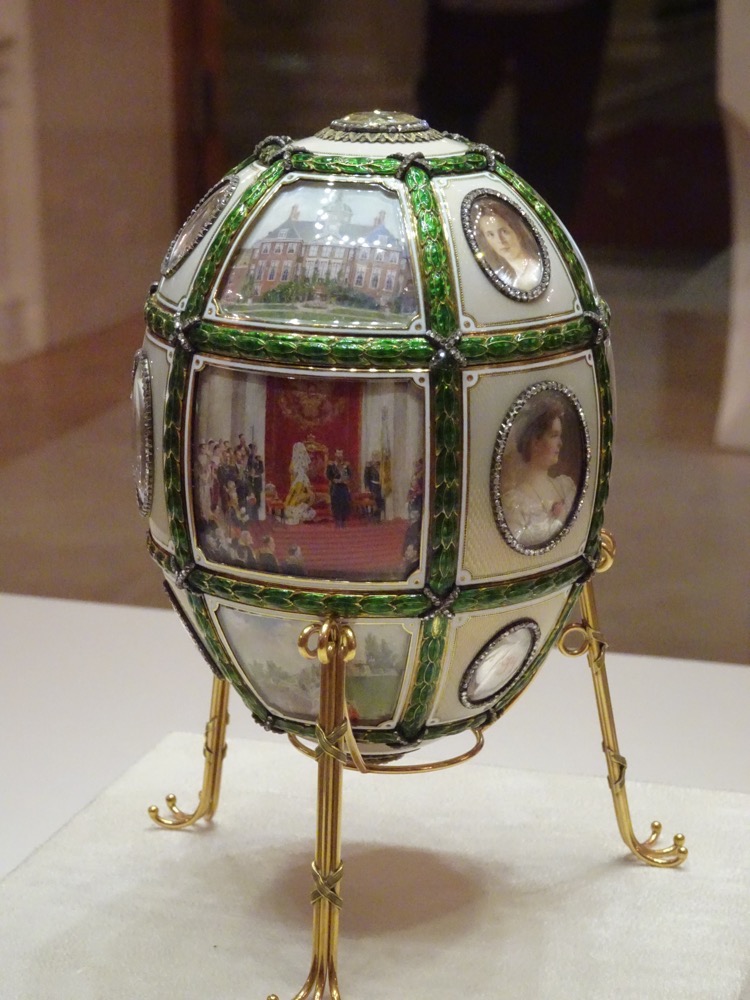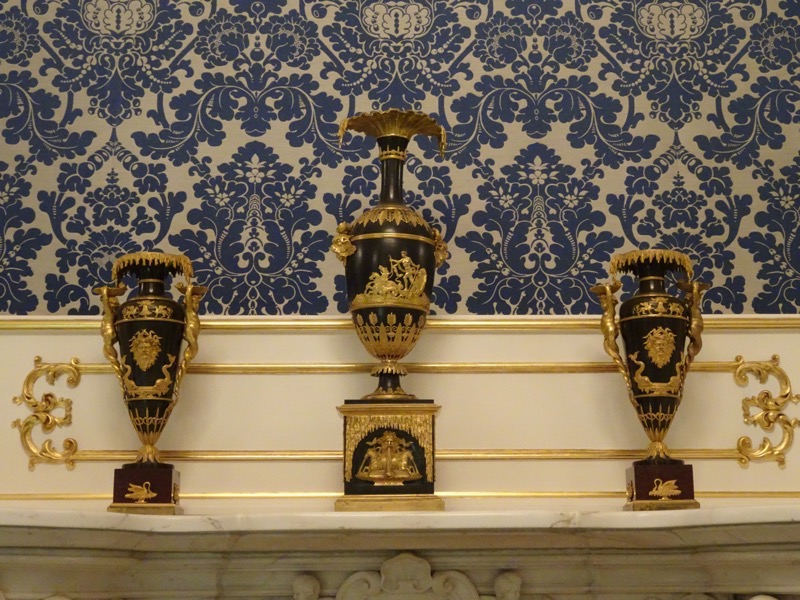 The Renaissance Egg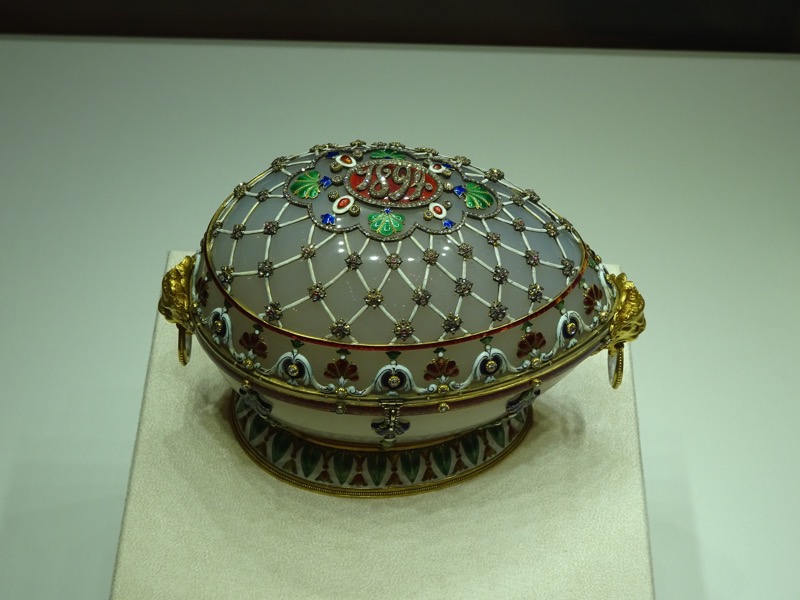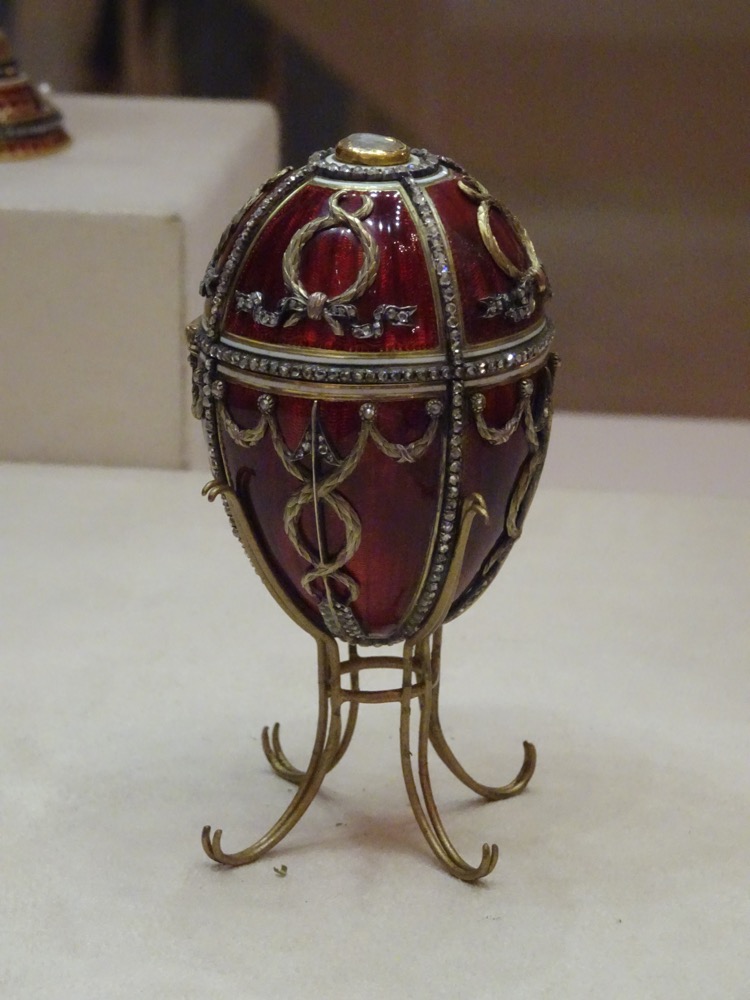 Keith Chanticleer Egg.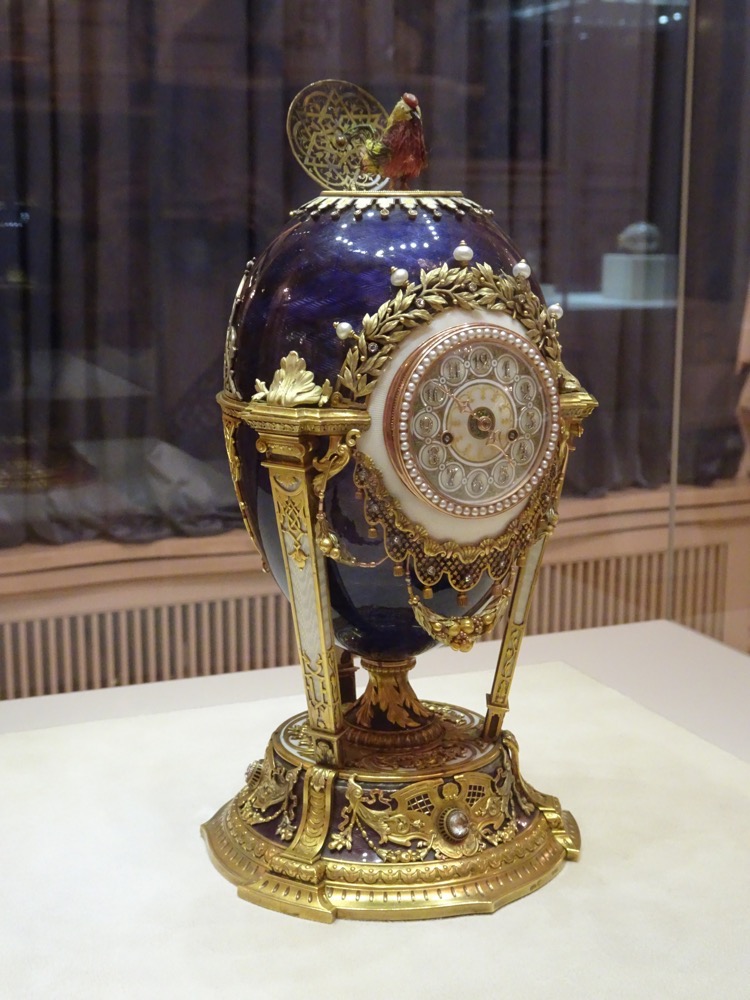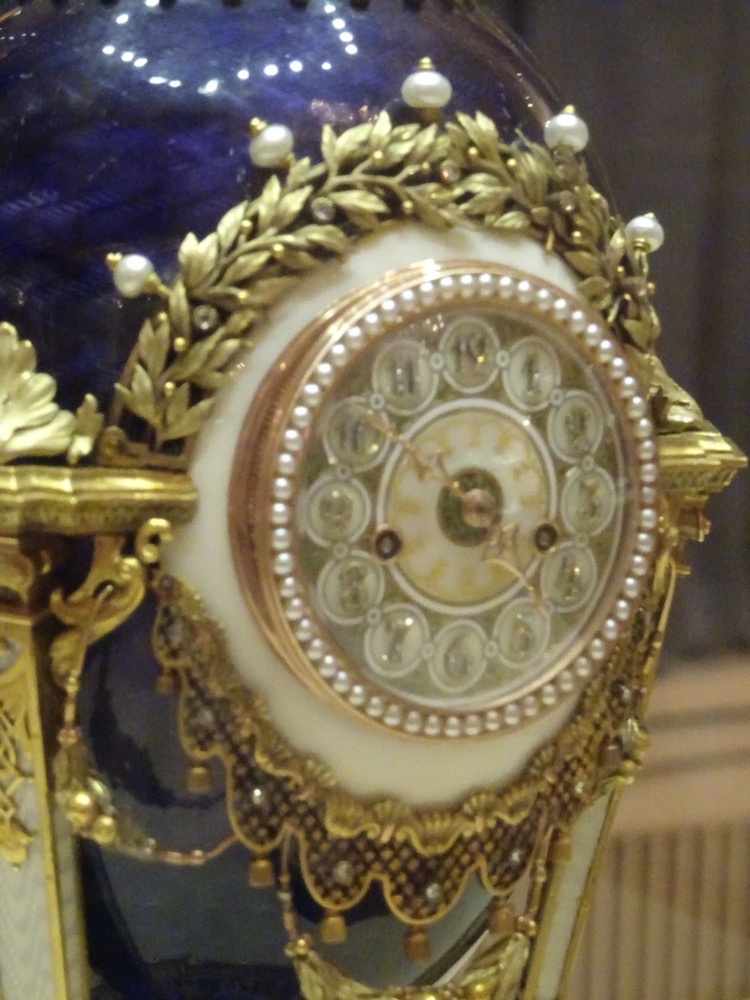 Lillies of the Valley Egg.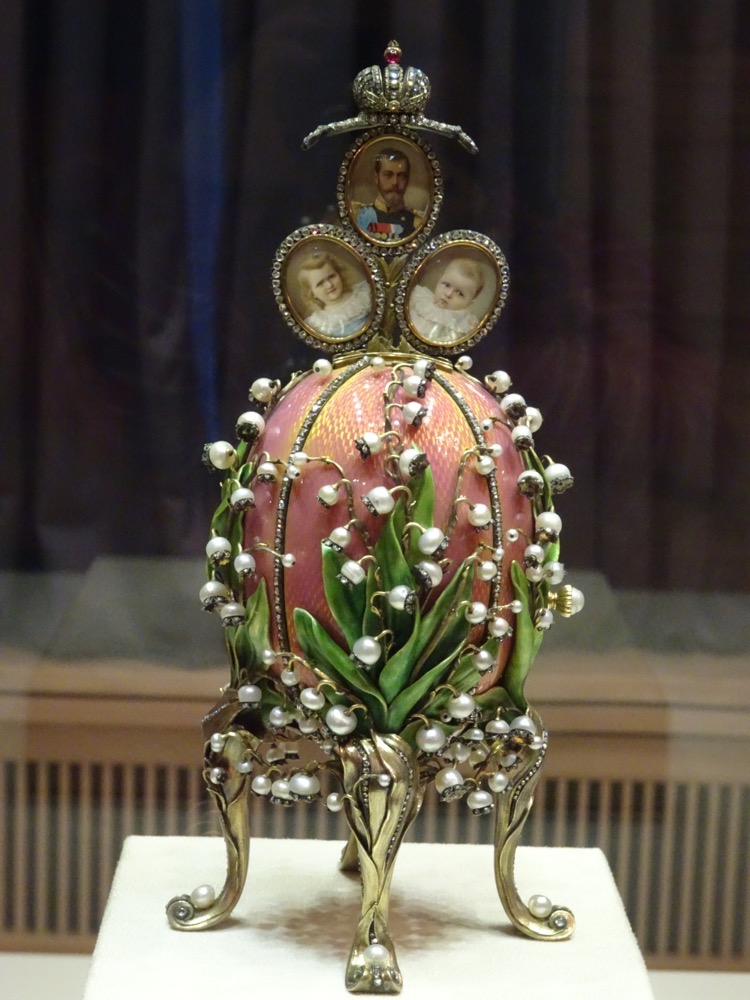 Carriage of the …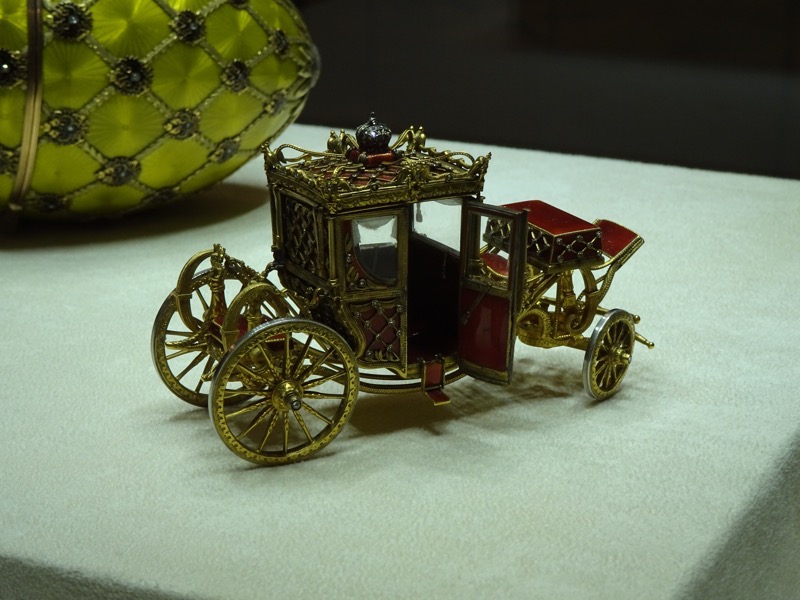 … Coronation Egg.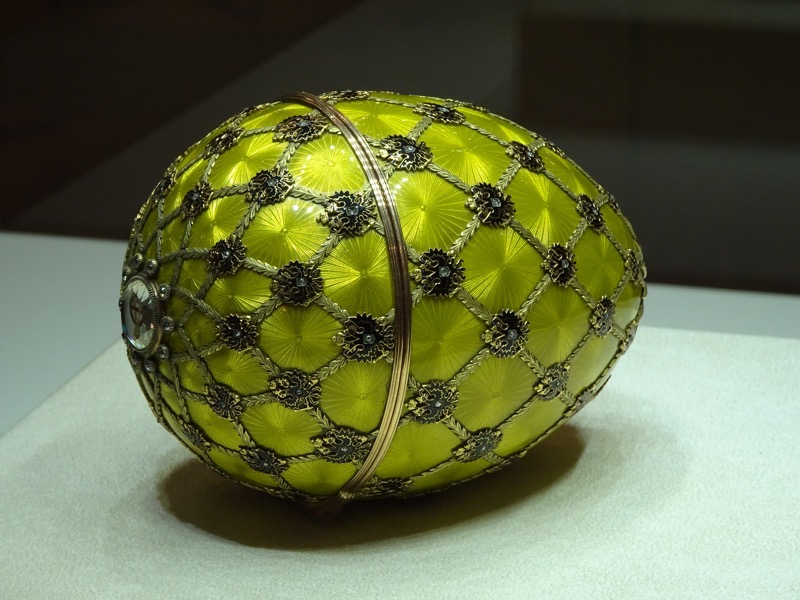 Cockerel Egg.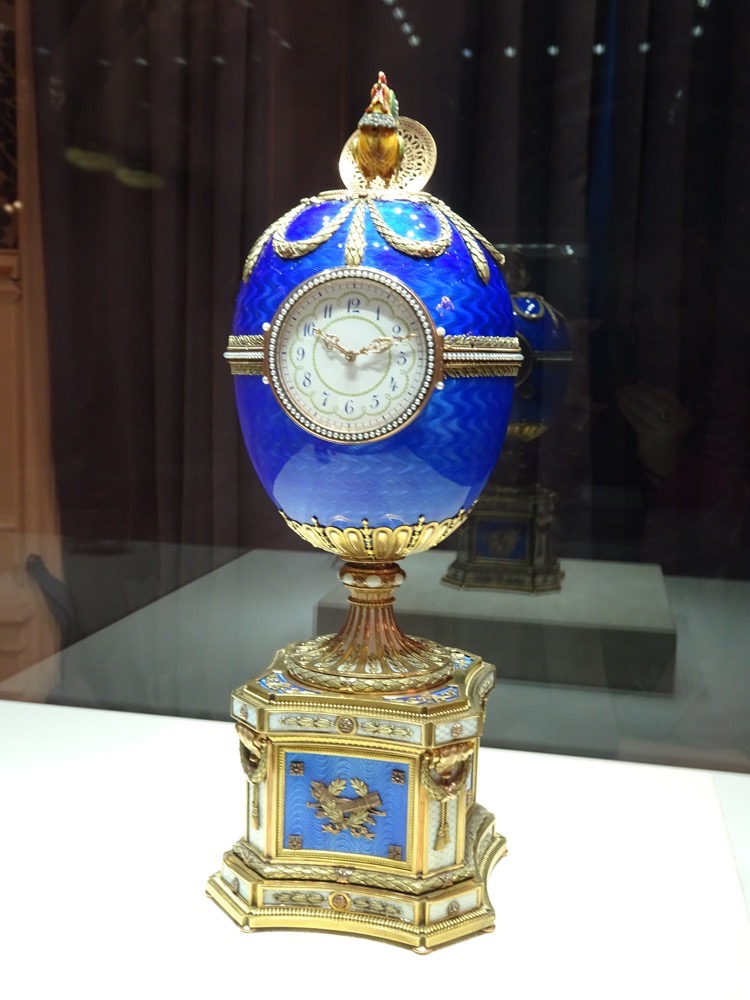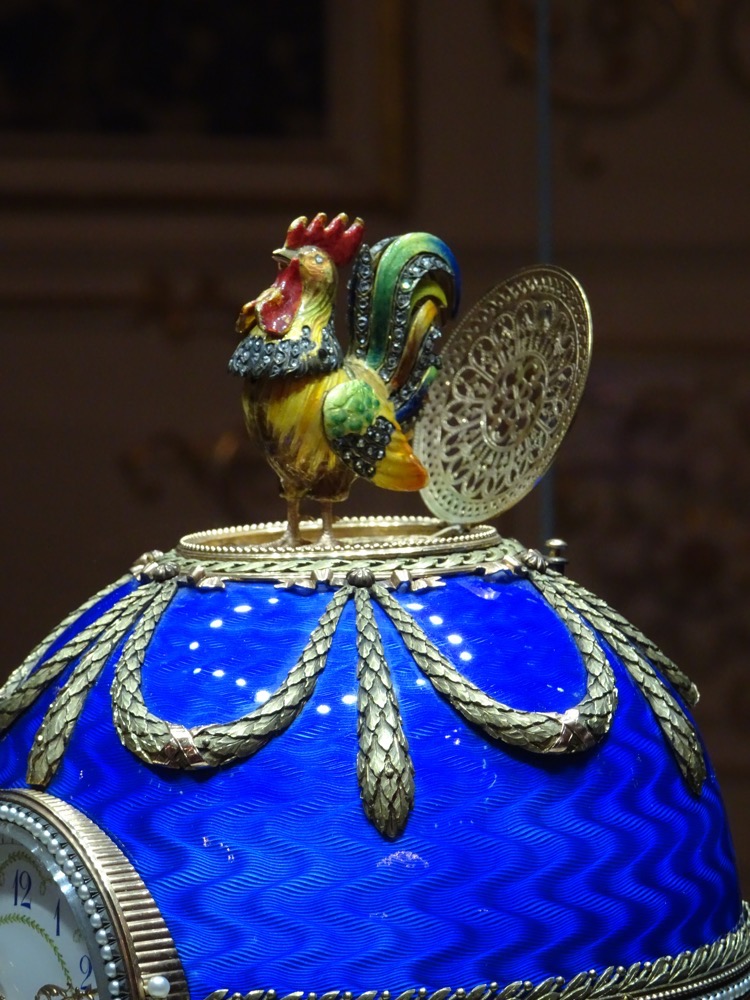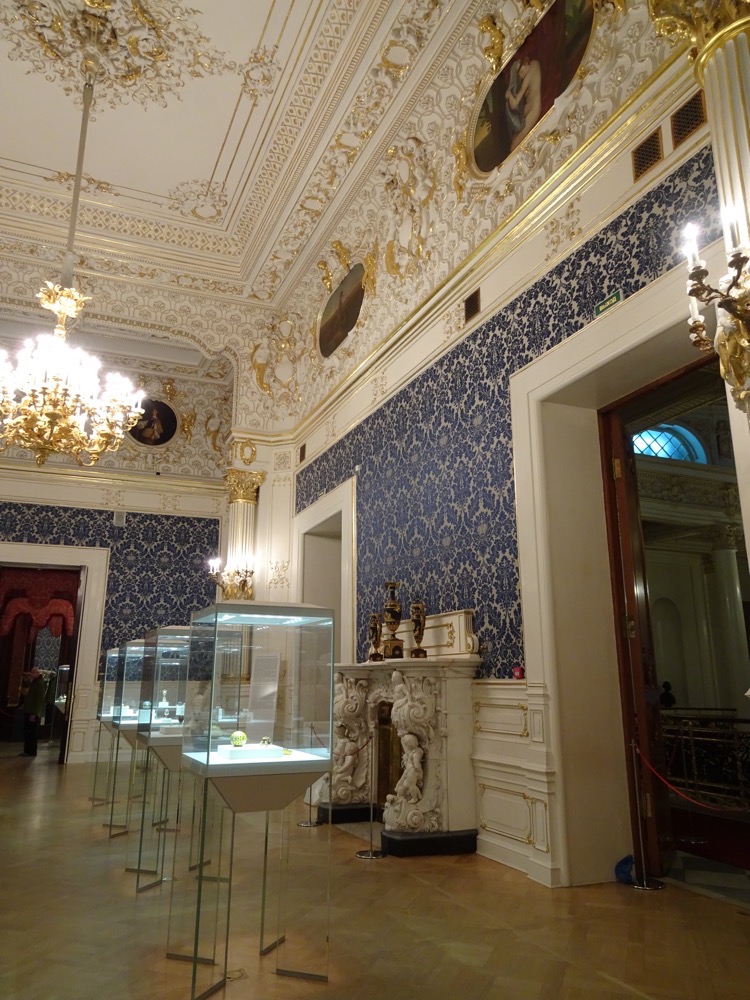 Gold Drawing Room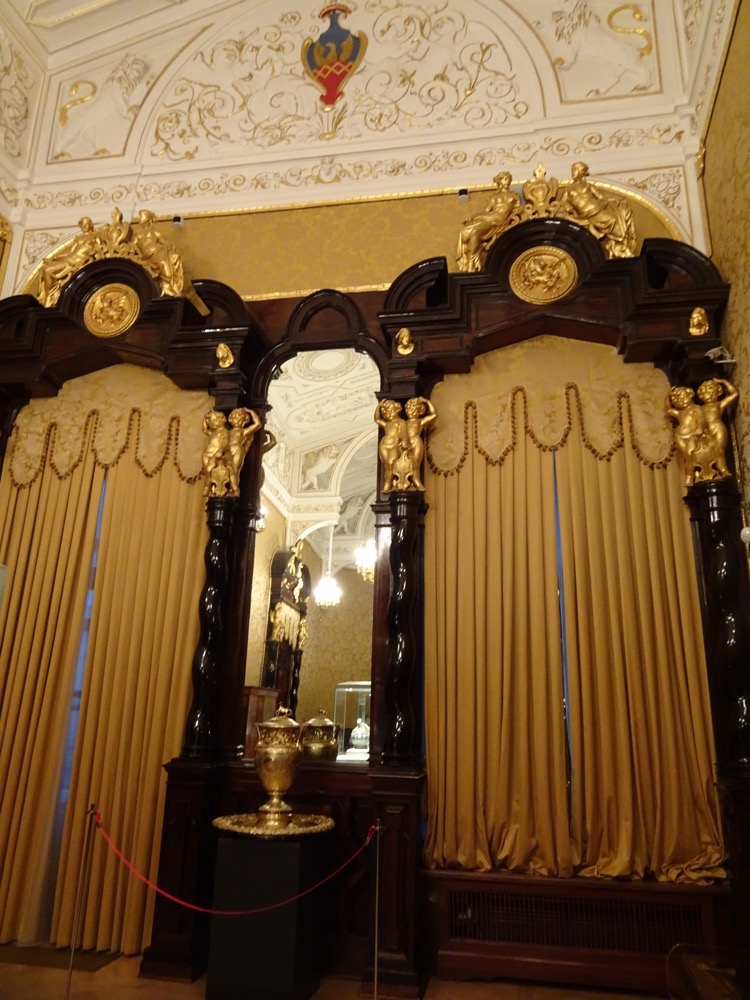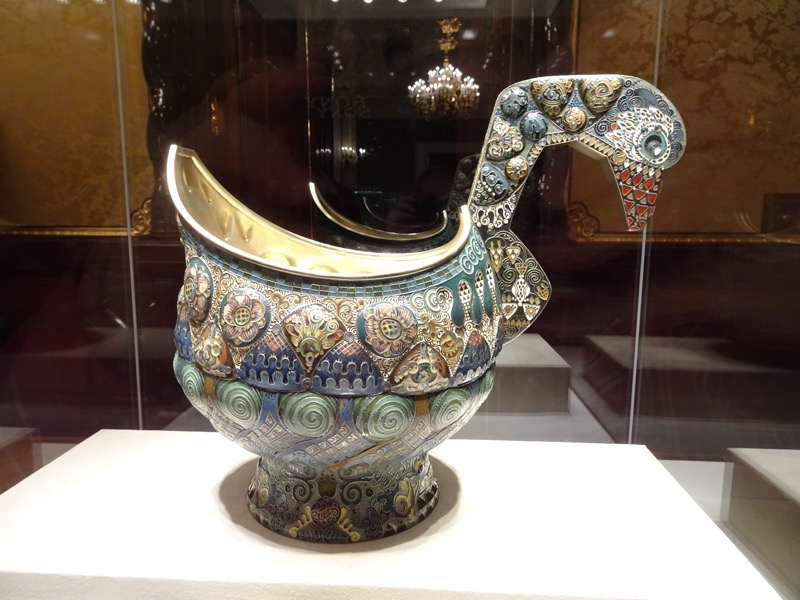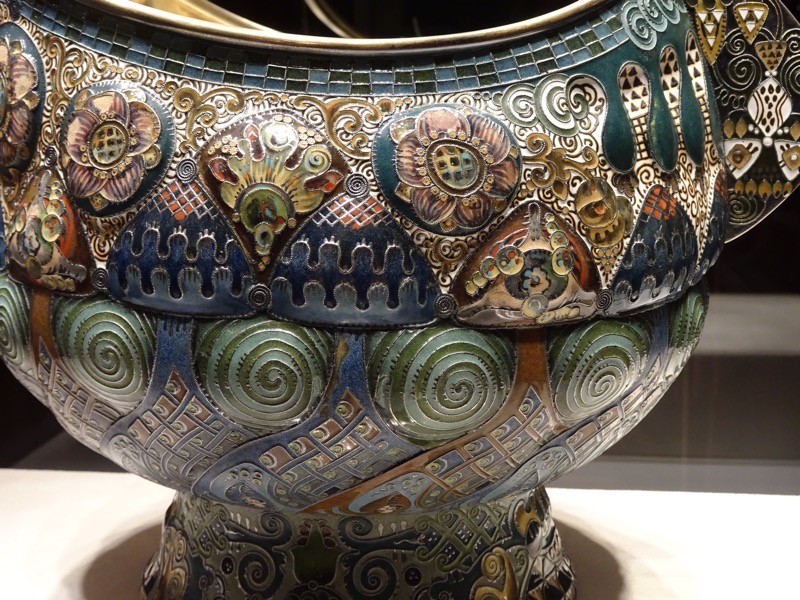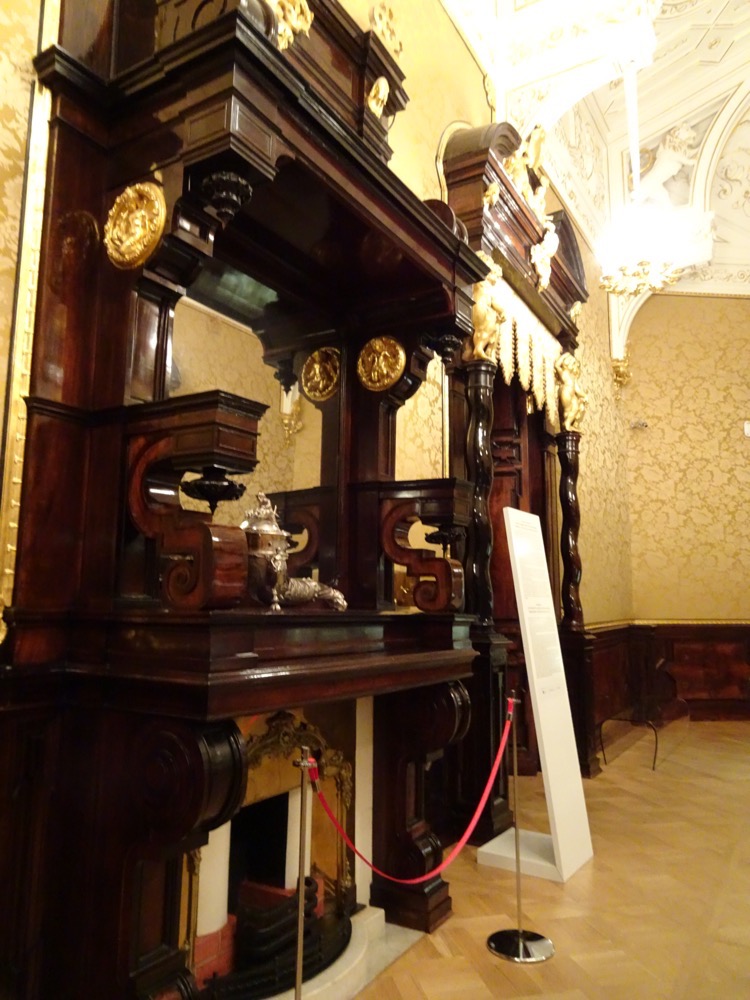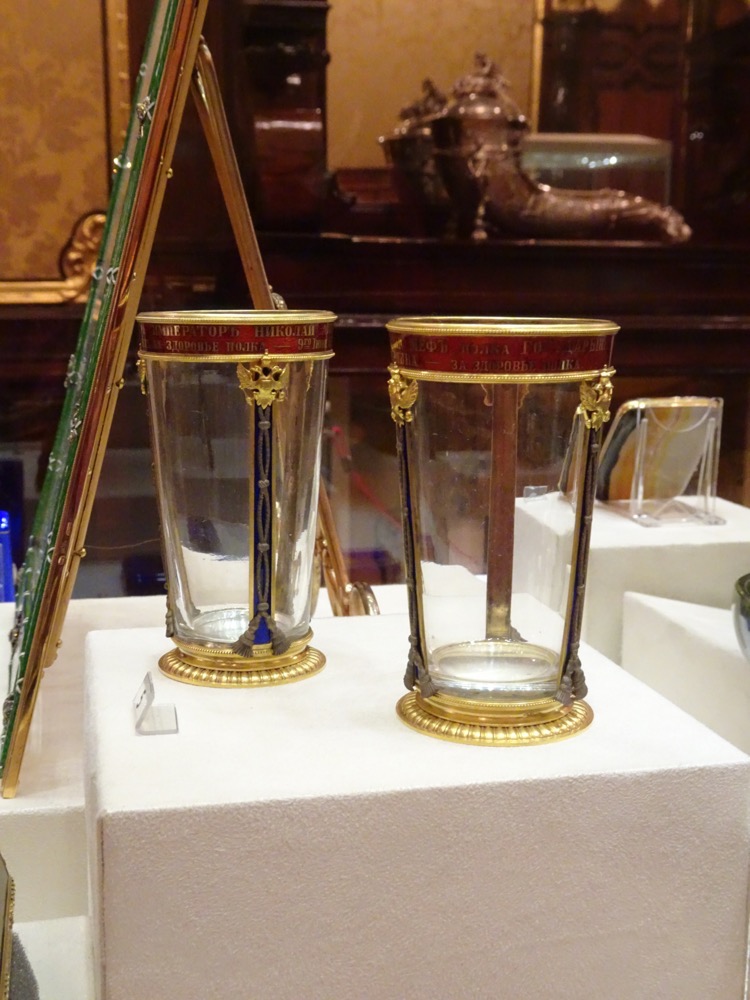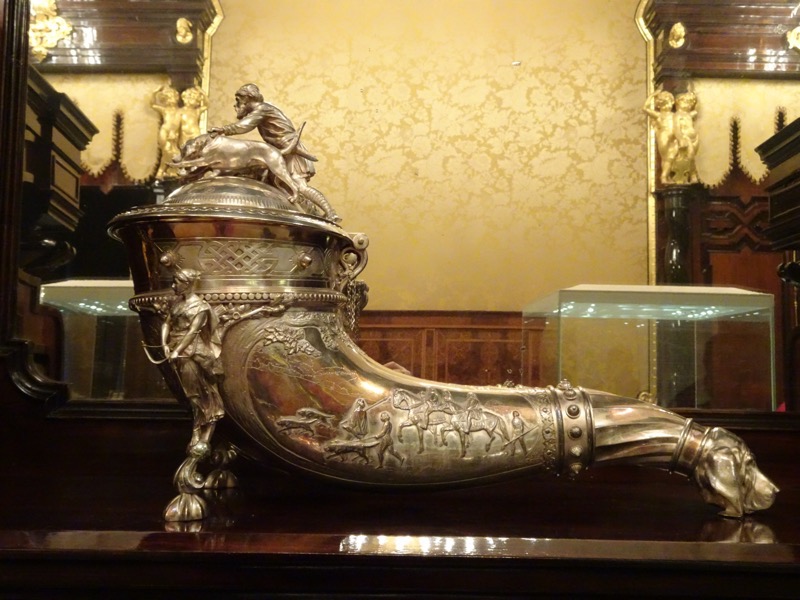 Malachite wax seal.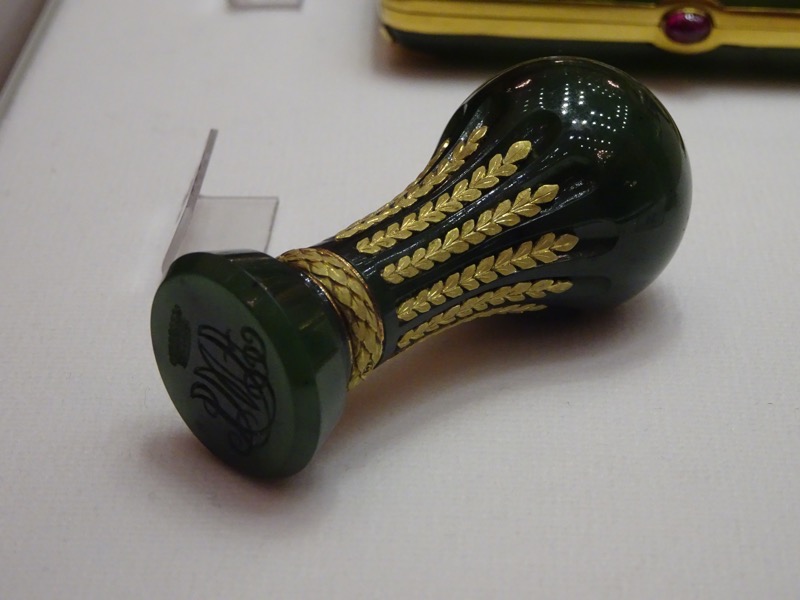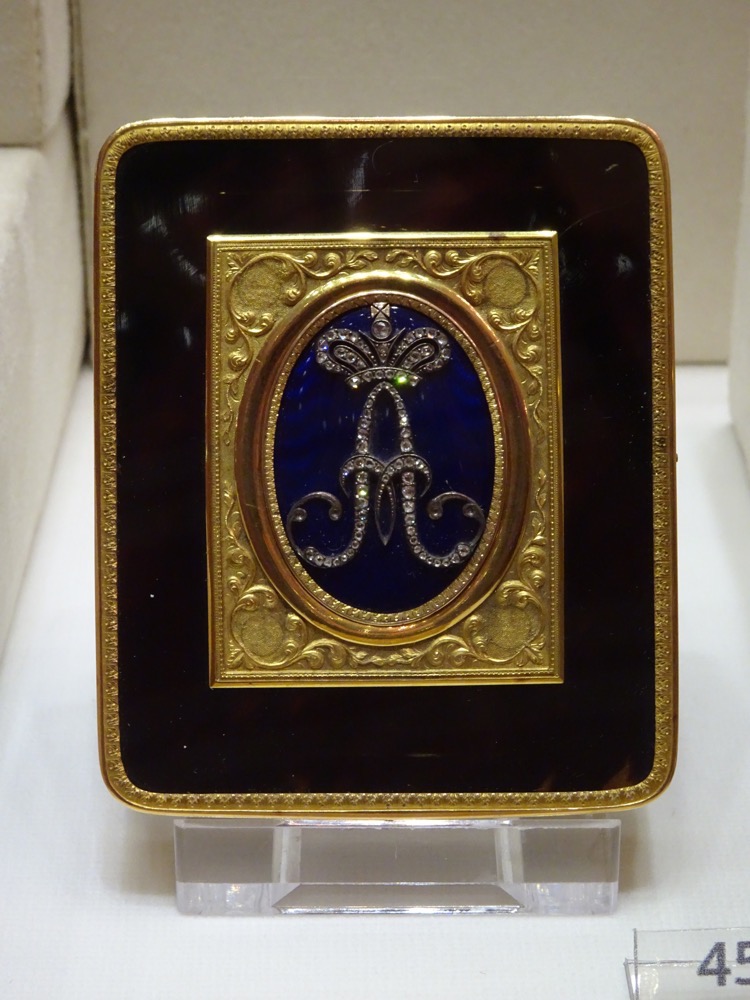 Cigarete boxes, card boxes, pill boxes etc.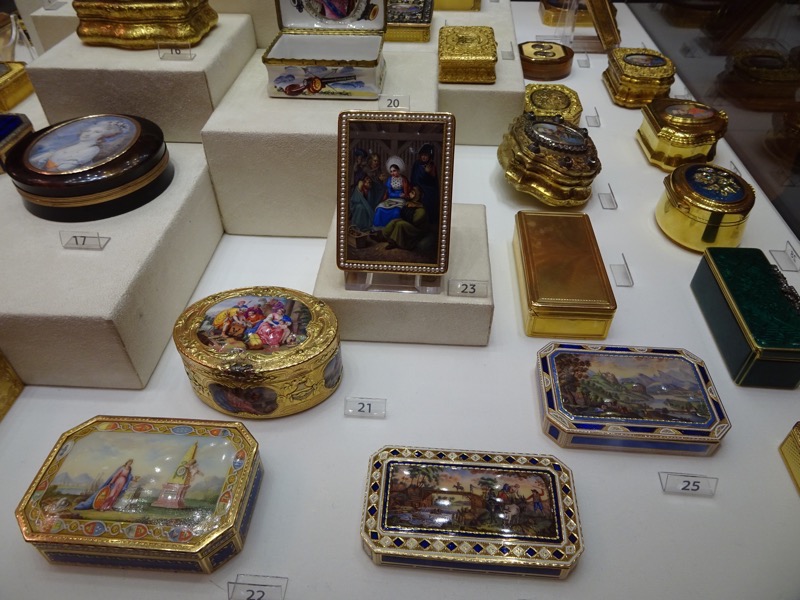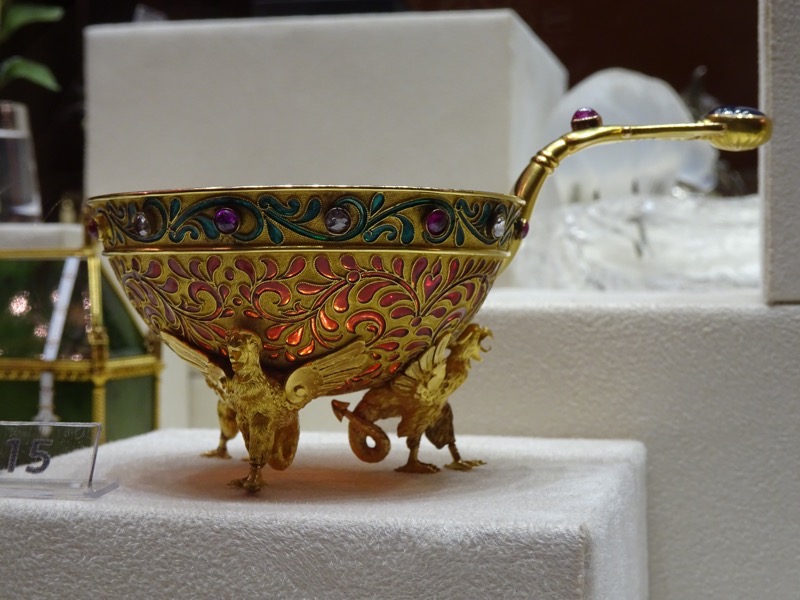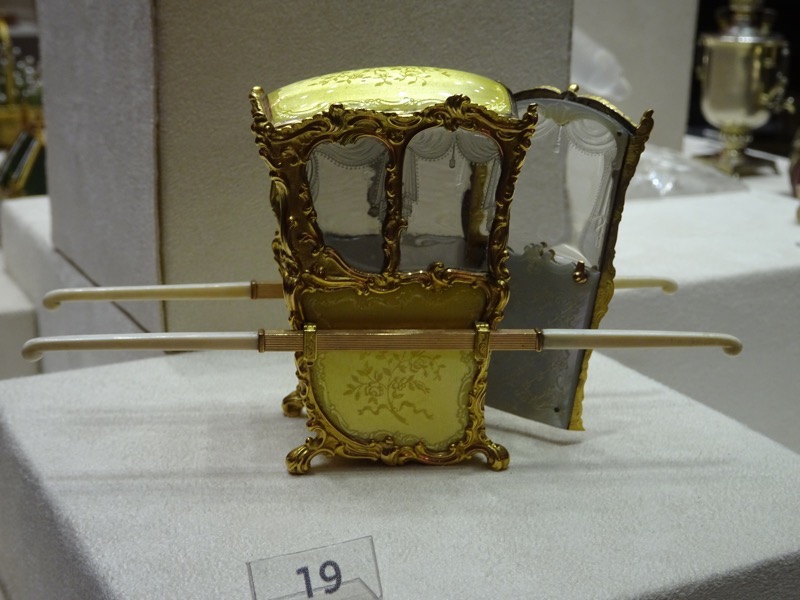 Salmon enamel work.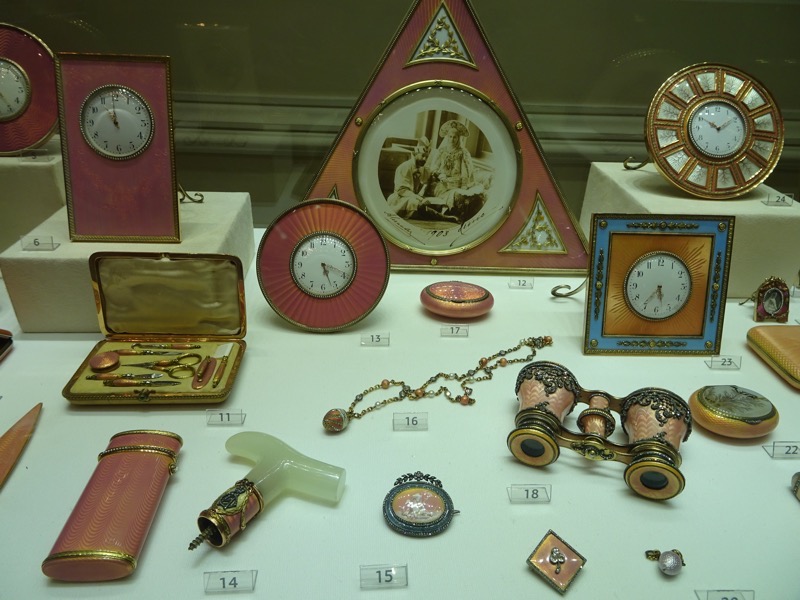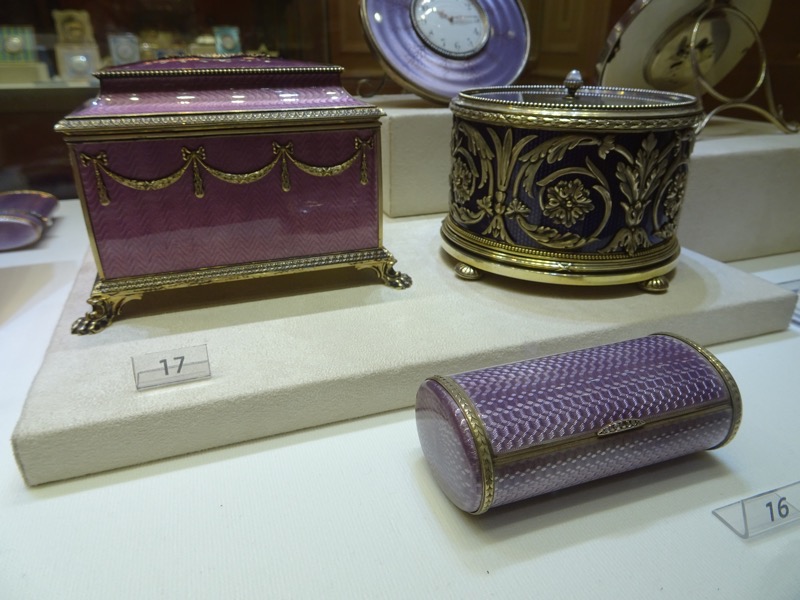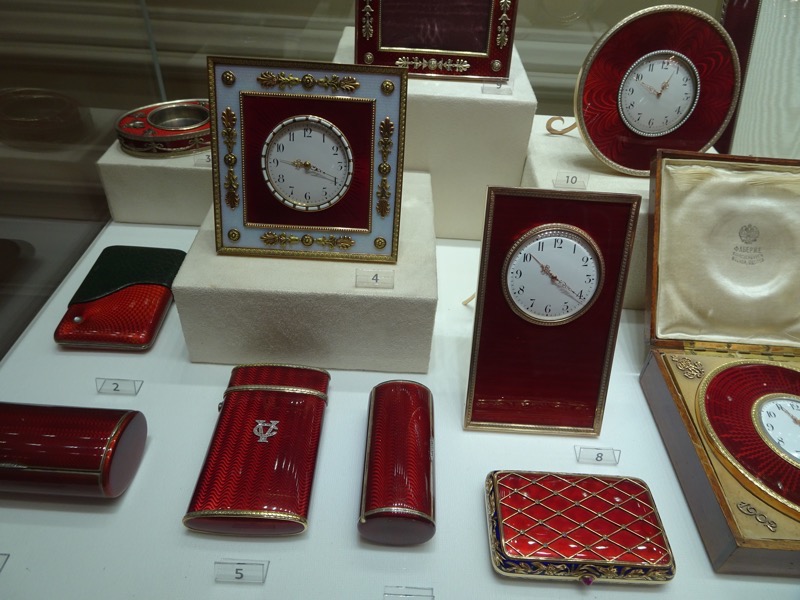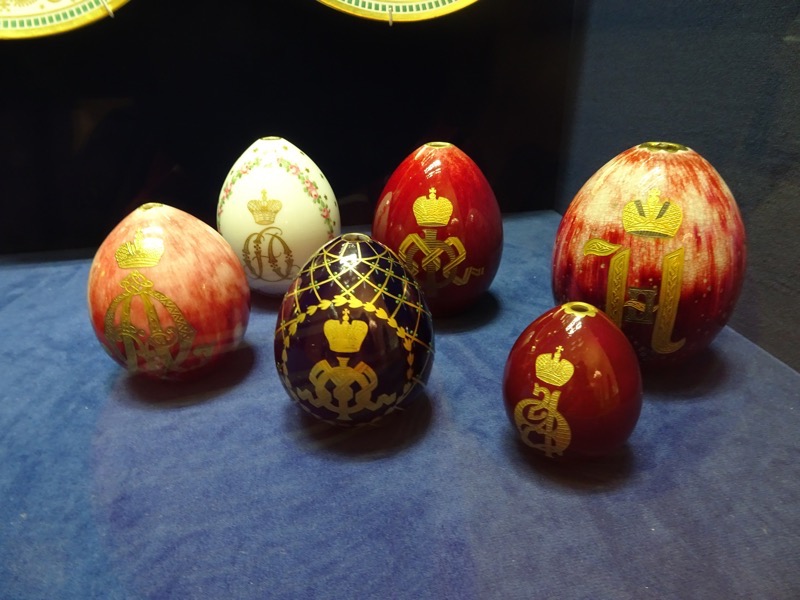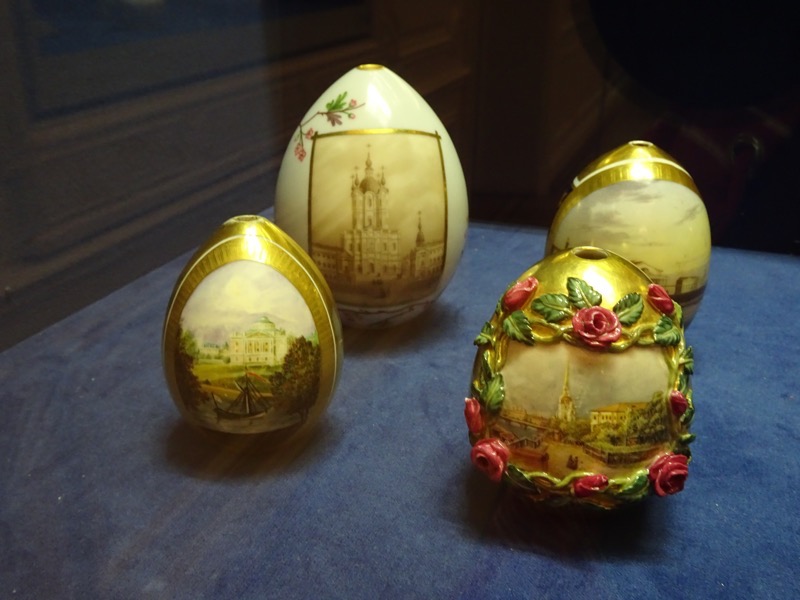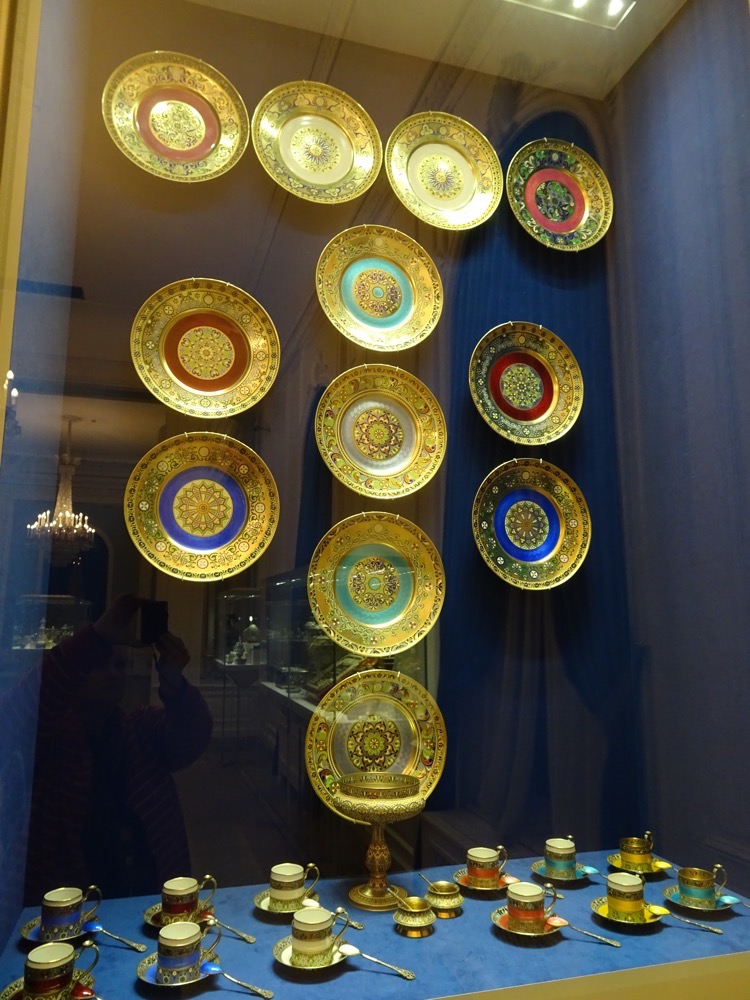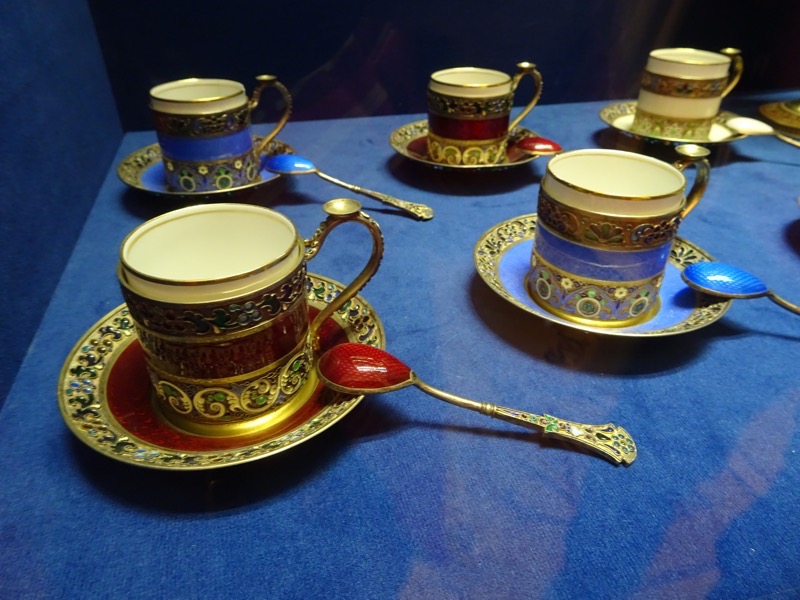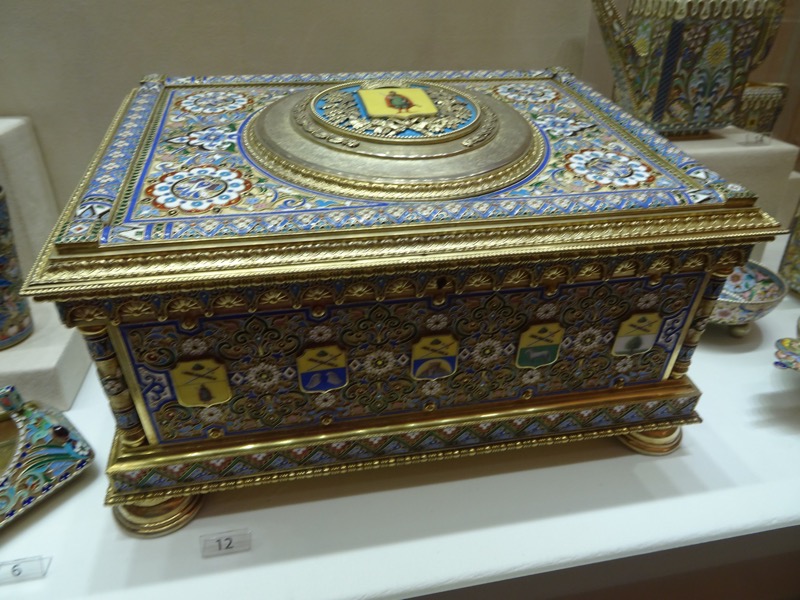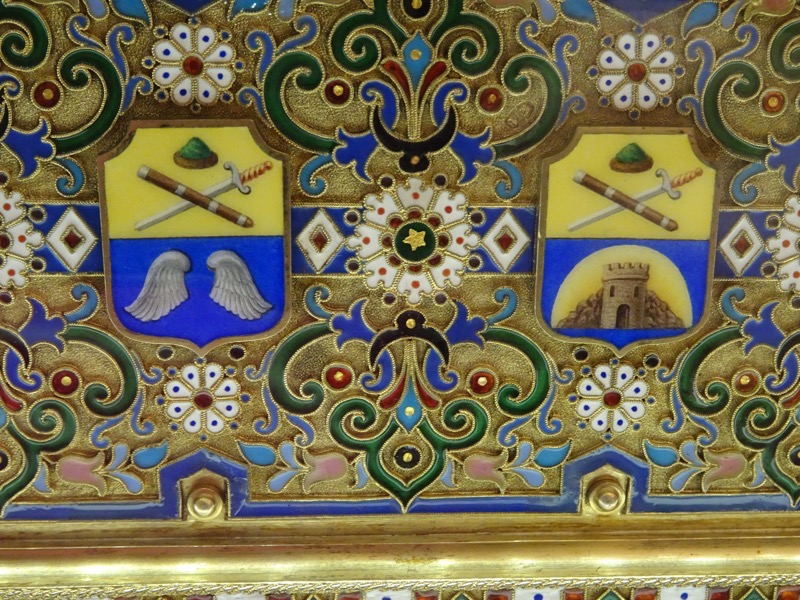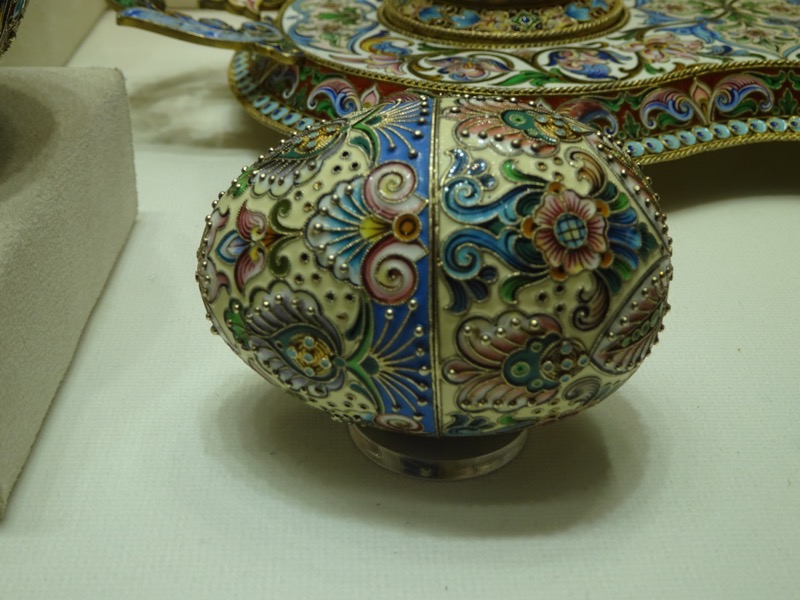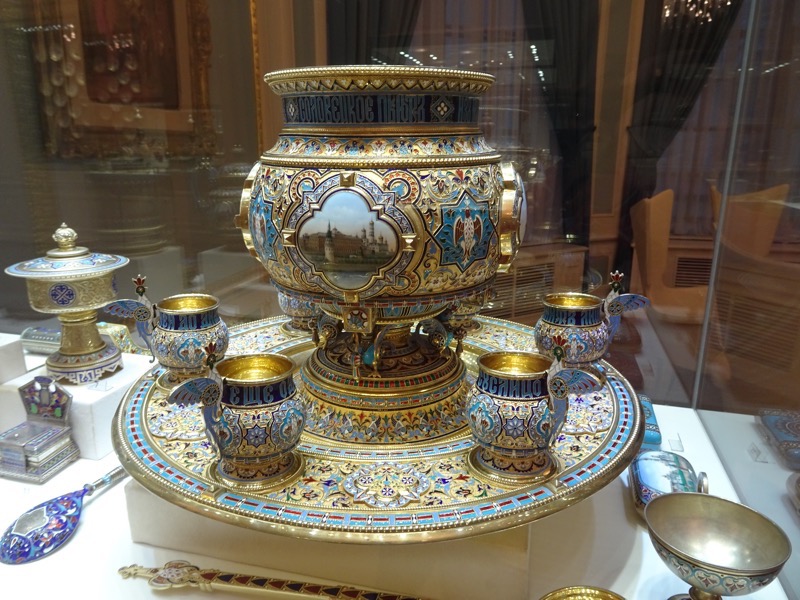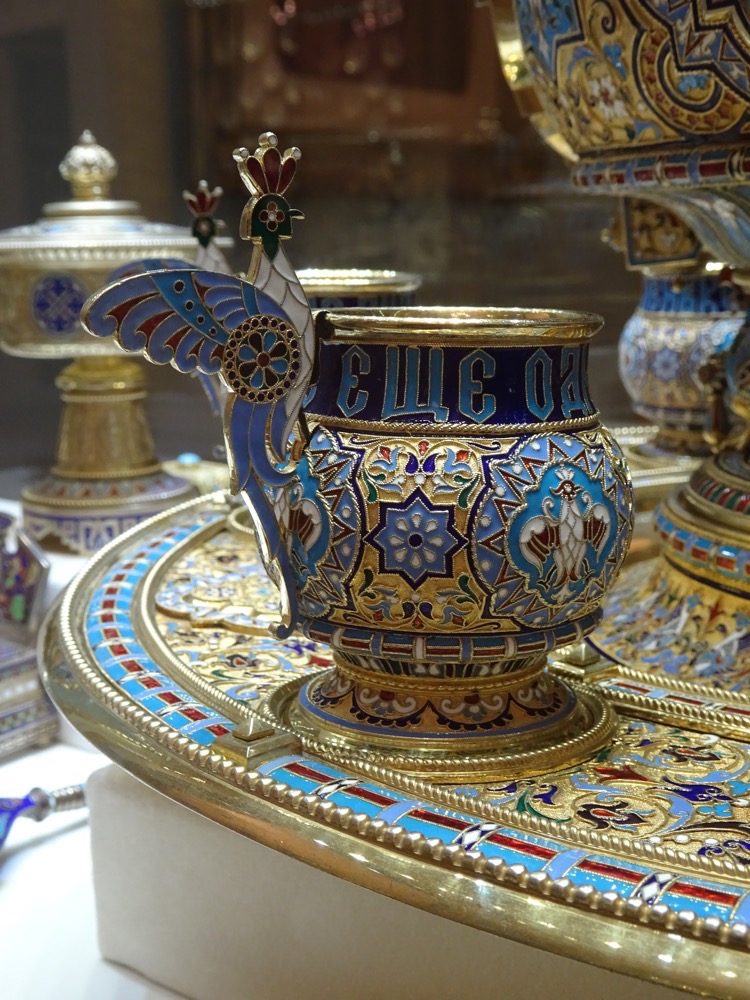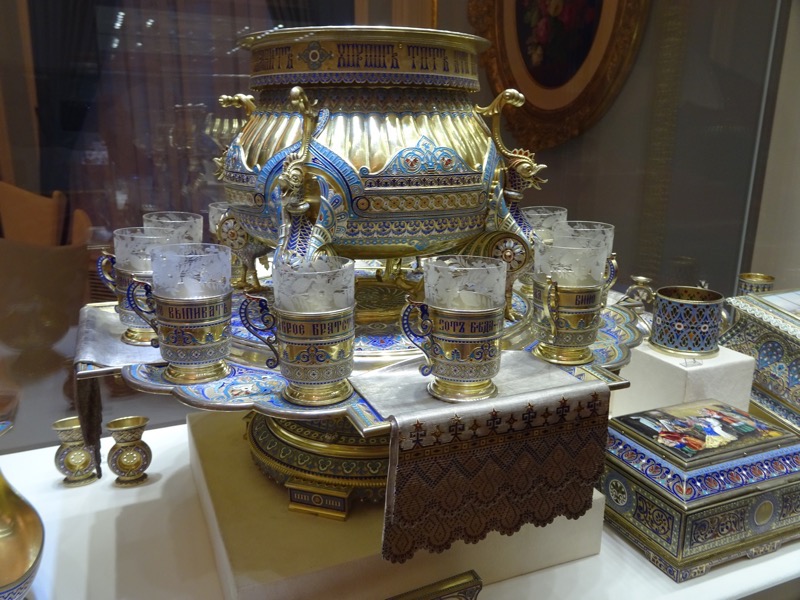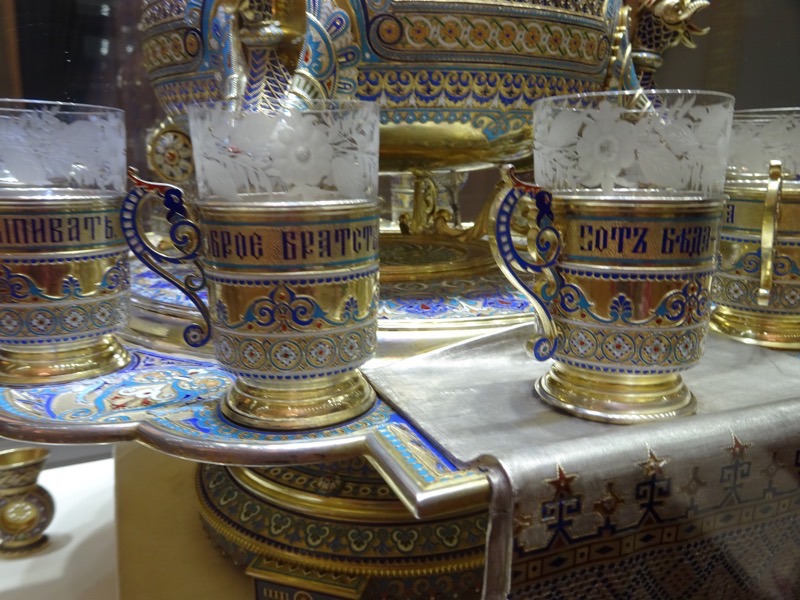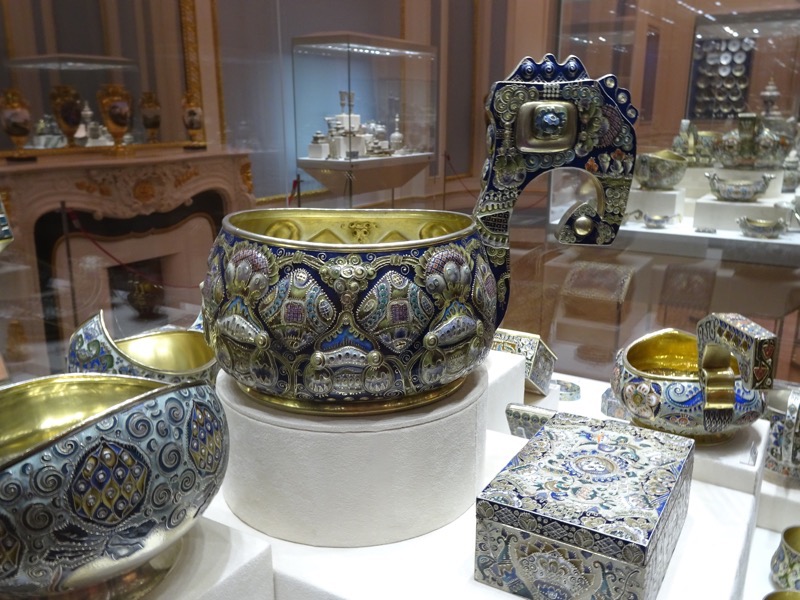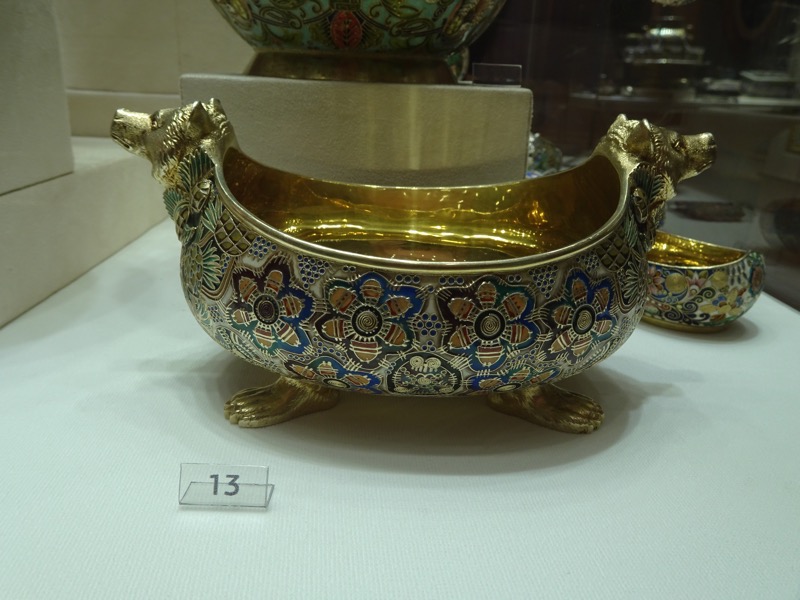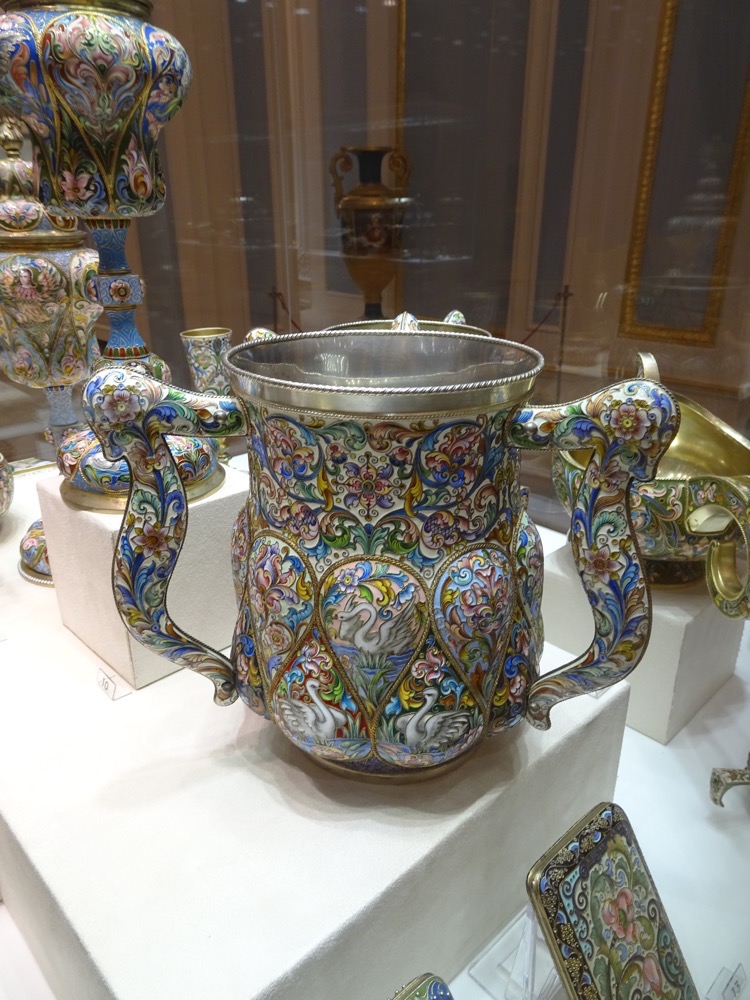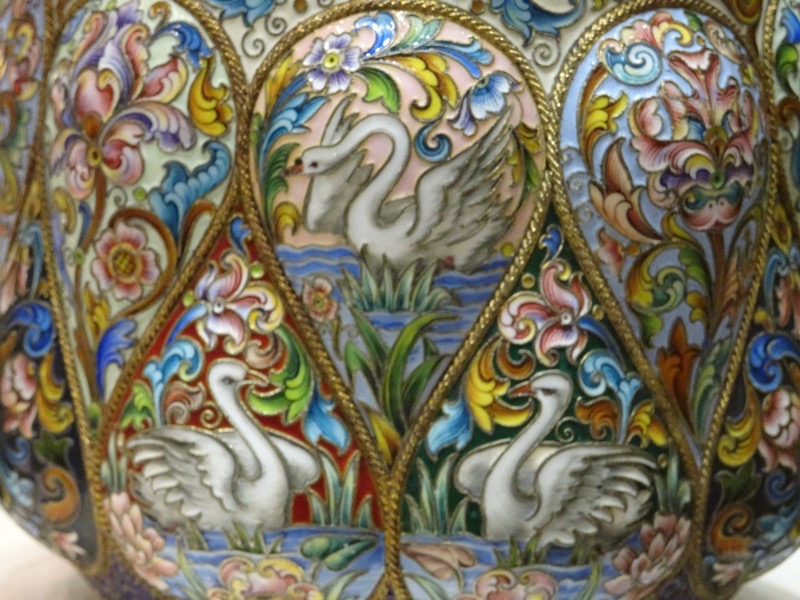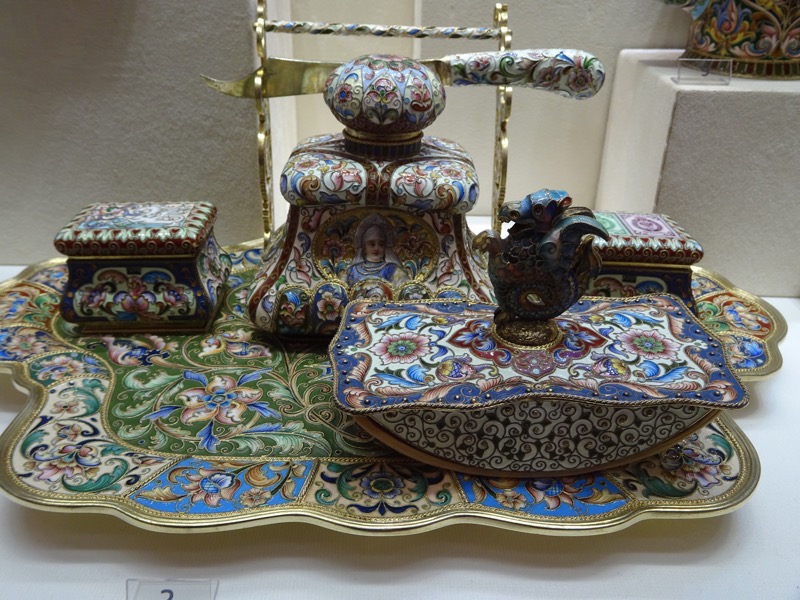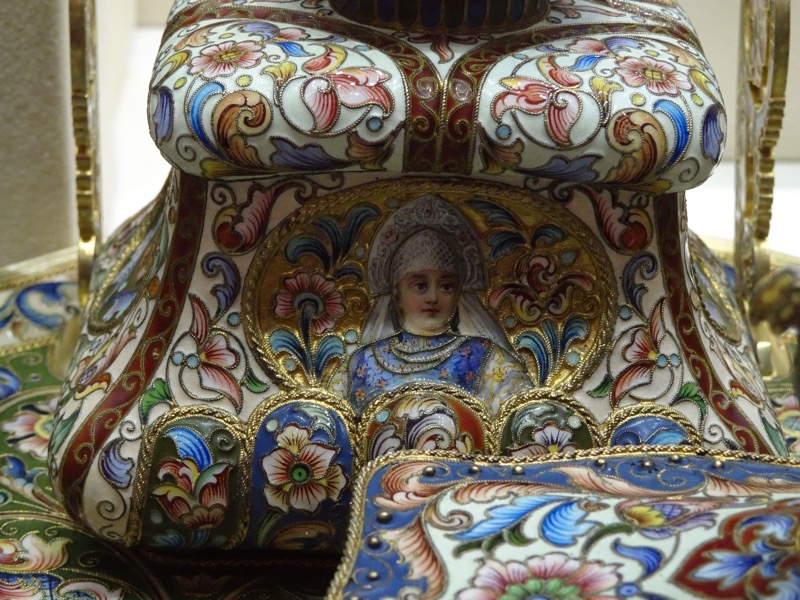 Imperial Fidget Spinner… just kidding, this was a bell.  It used to have a metal dome that sat over central screw there, and was decorated with three enamel coins.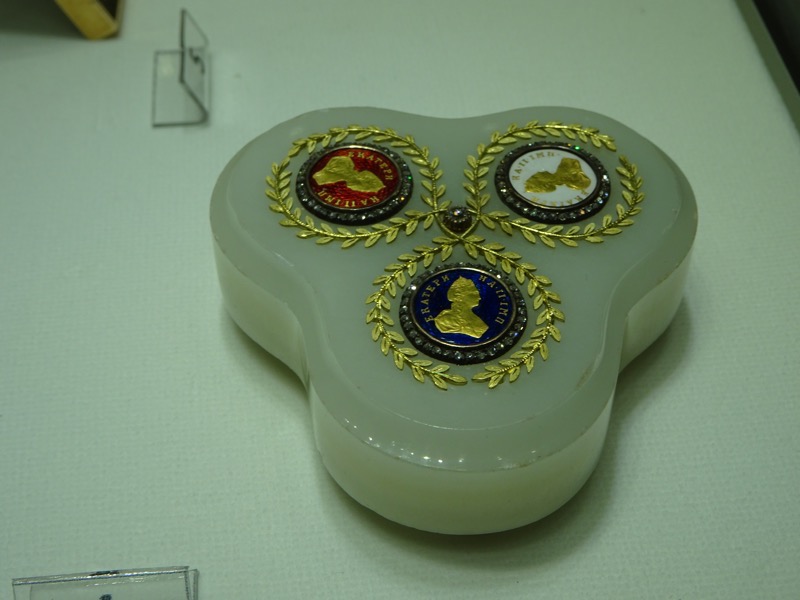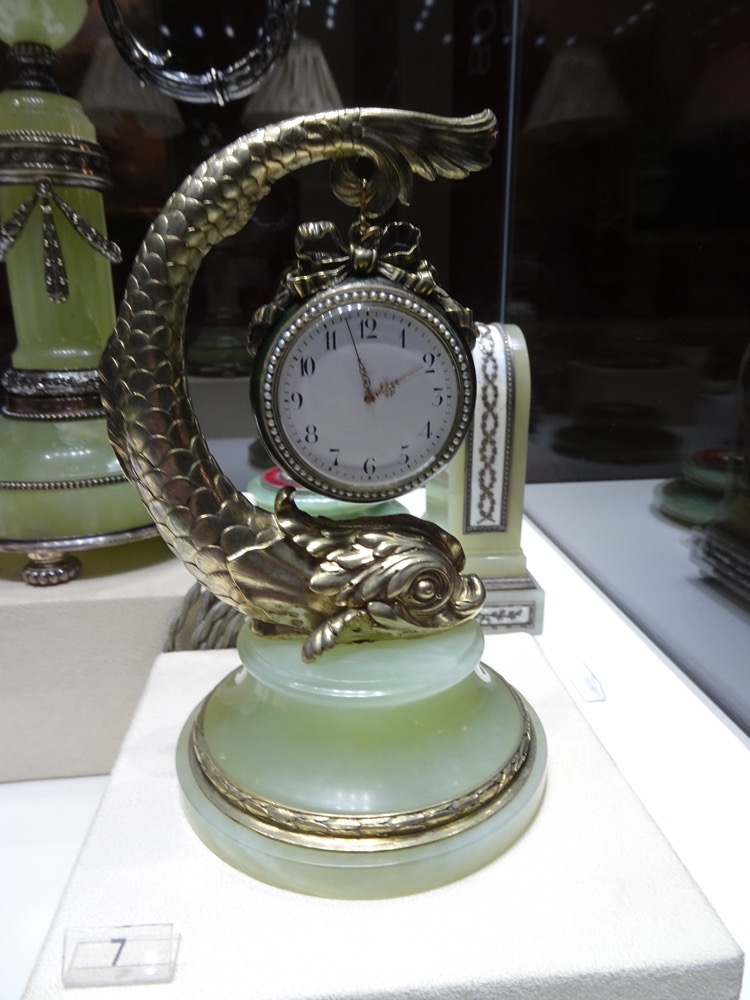 Gothic Room – most of these paintings were medeival in period, but were 'added to' with gold and silverwork and lavishly enameled.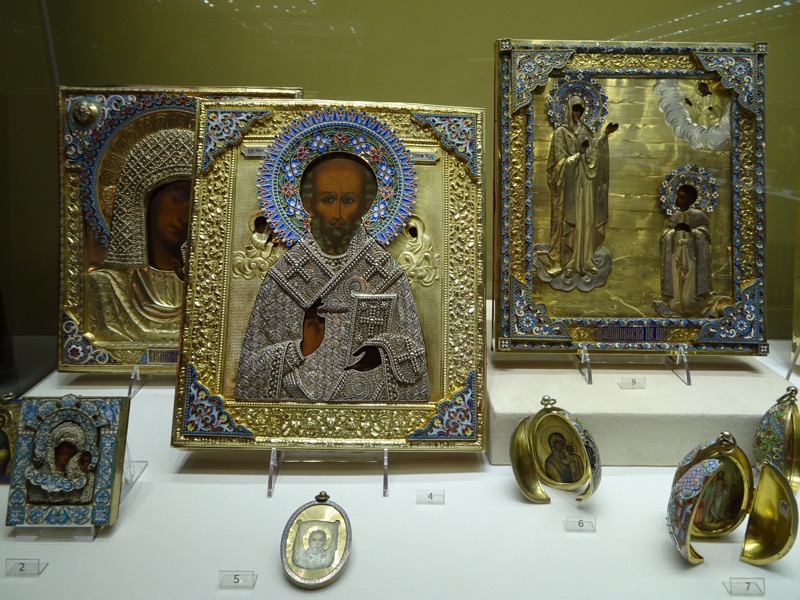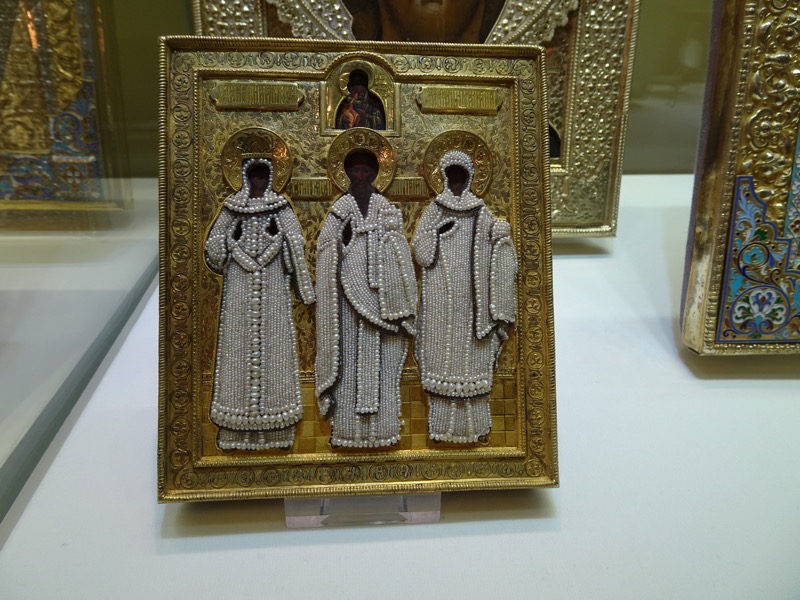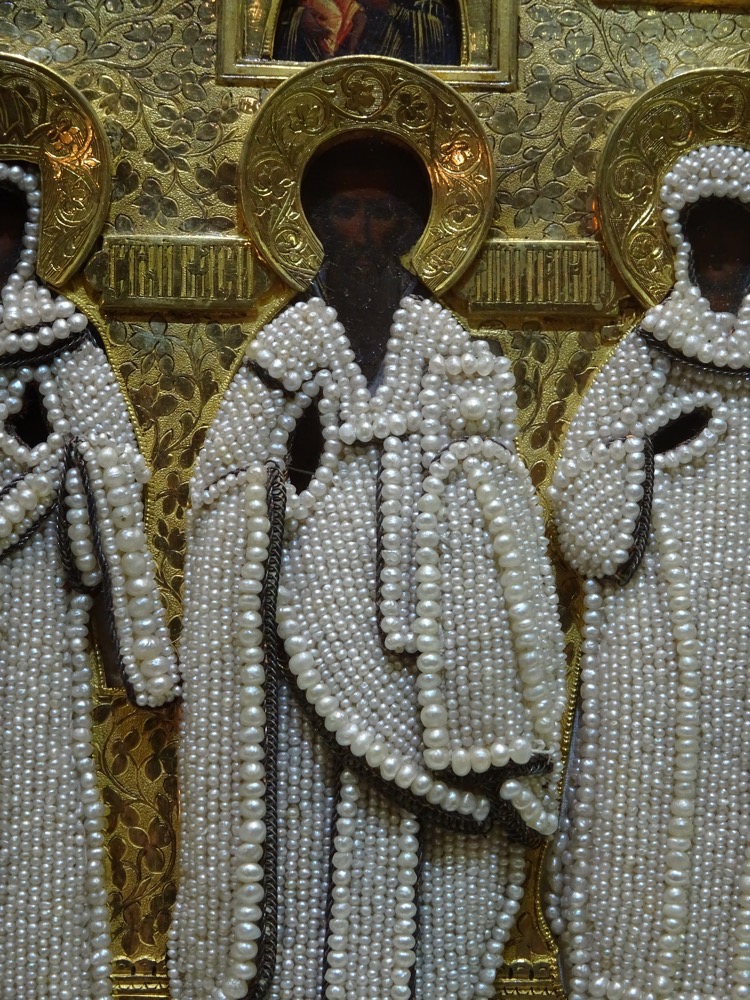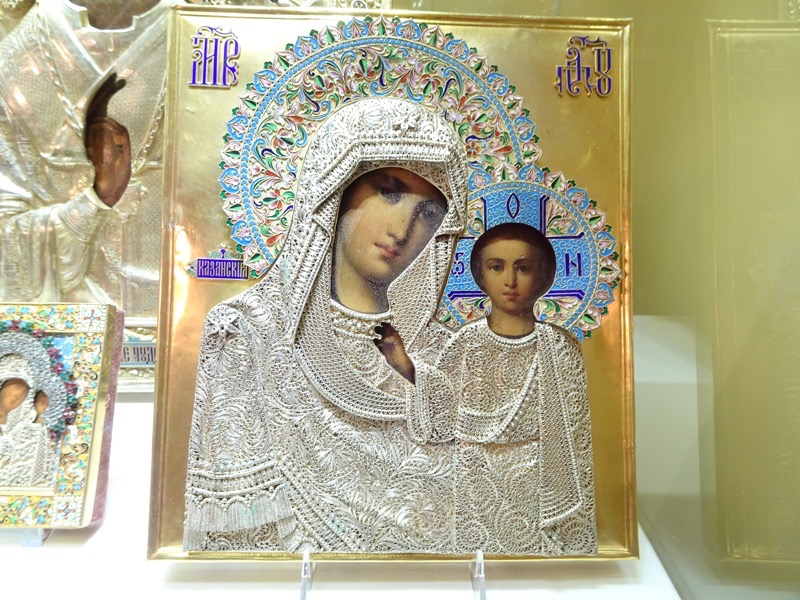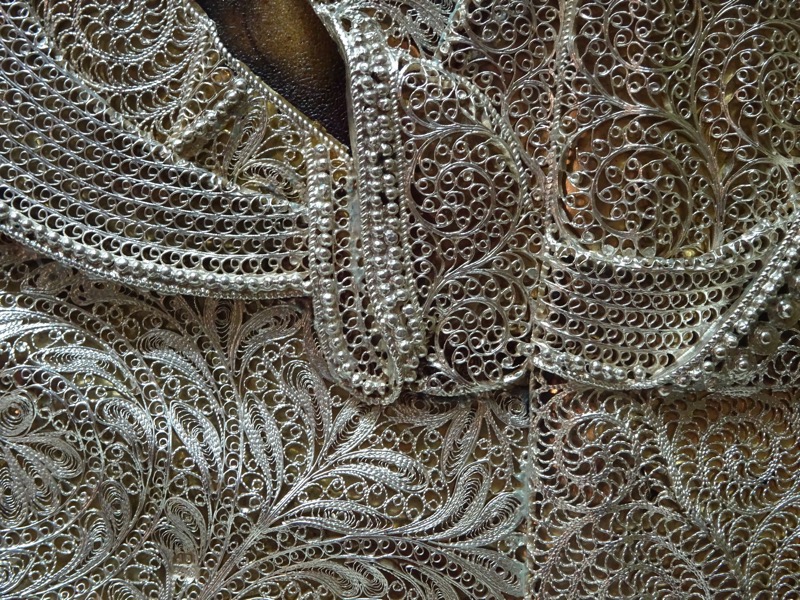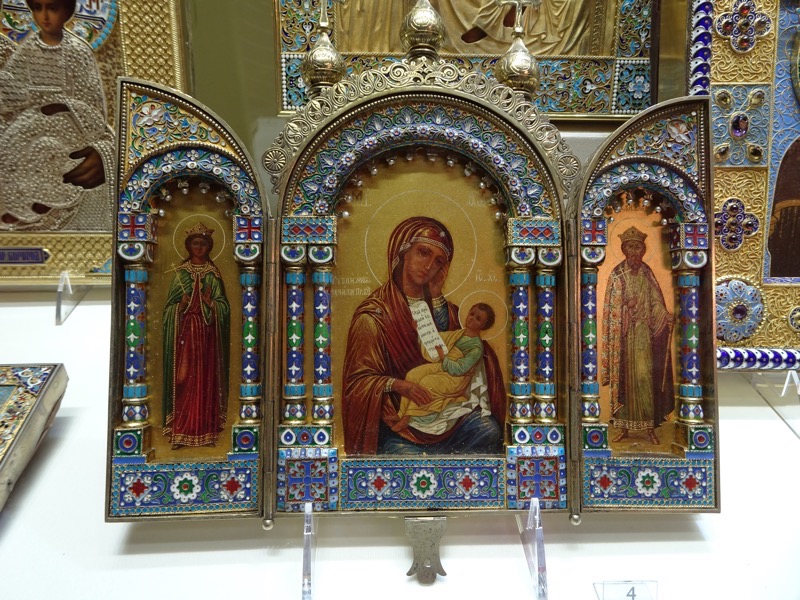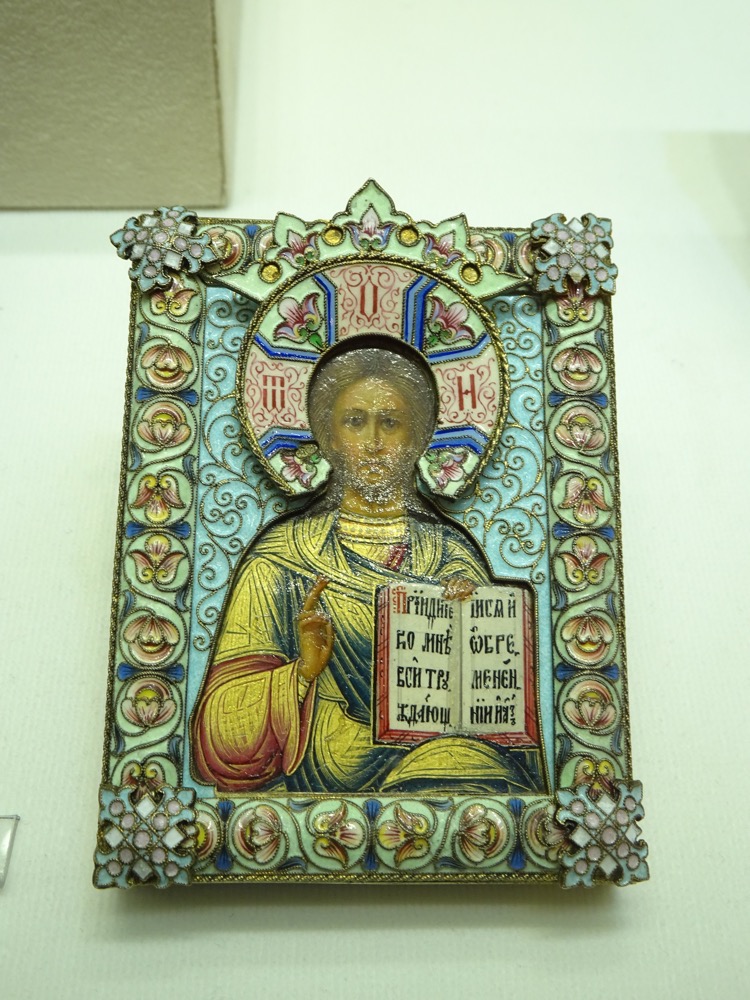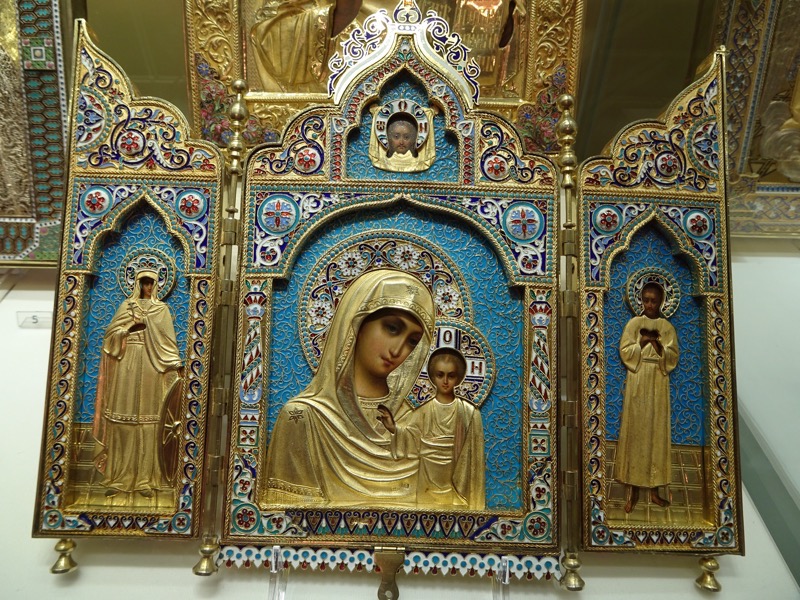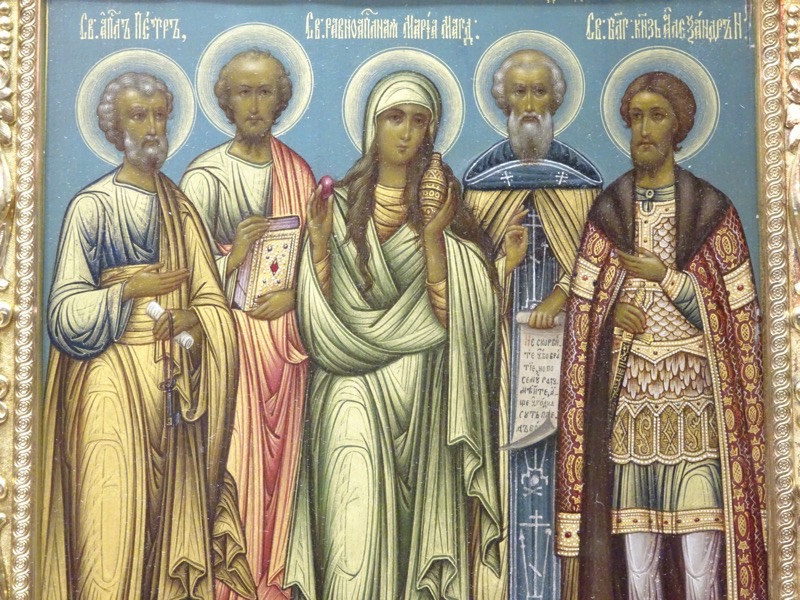 After the Faberge Museum, we drove back to the port.  It was still raining and I attempted to take a photograph of a lighthouse that Mr K liked the look of… as you can see that was spectacualarly unsuccessful, but I kinda liked the image, it summed up out day – lots to see but it was pretty damn wet out!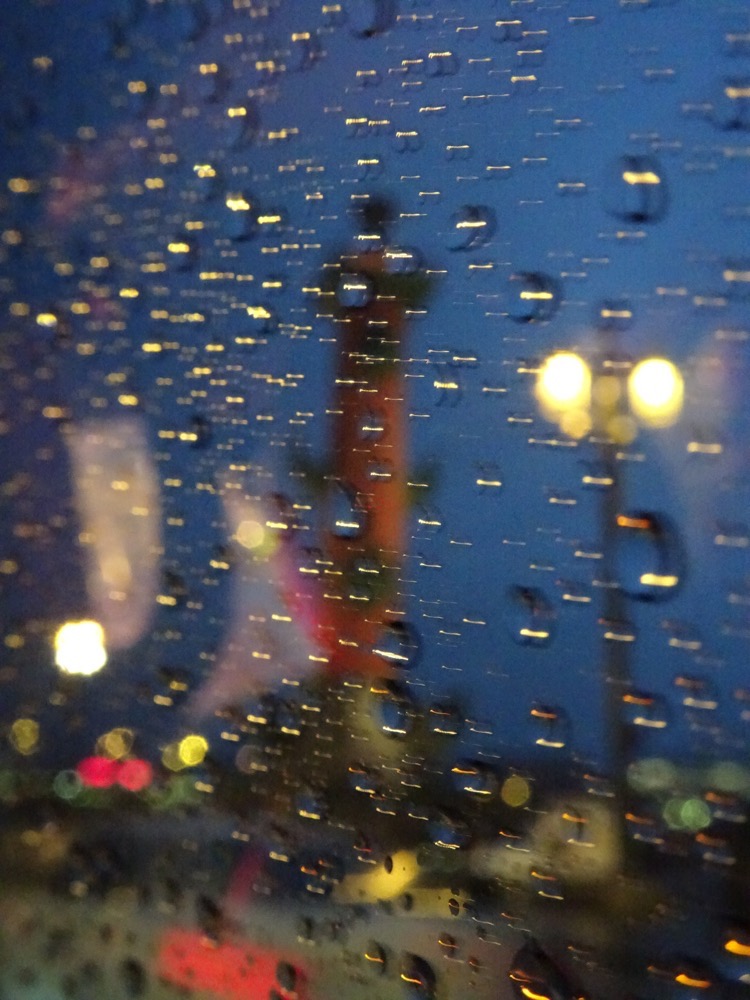 Tomorrow we have another big day – I have rushed this post so I don't fall behind, but I am hoping to come back to it once we have our next sea day.  🙂