Sleeping on a bed that isn't rocking me to sleep was a dreadful inconvenience last night!  I don't know what I am going to cope once I get home.  Like, actual home, home… not home to our beautiful Sea Princess in a few nights time.   🙂 
We have a big day of planes, trains and automobiles in front of us so we started off the day with a lovely buffet breakfast at the Costa del Sol, comprising of fruits, eggs, crepes and whatever you wanted really.  The odd addition of cacao tea for people heading to places of elevation was welcome and while I have no idea of its actual efficacy, if even a placebo benefit was to be had, I was going to try it.  I've had elevation sickness before and while not terribly debilitating to me personally, it isn't pleasant – headaches, nausea, and if it gets bad, nose bleeds.  The tea itself was like a mild green tea, but rather flavourless; but nothing ventured, nothing gained.
We made our way all the way back to the airport, – the entire arduous 120m journey that it was. Seriously, it was so good to be right there!  And checked out luggage and went through security.  Now Jaime had told us that Lima airport on a Monday morning was always, always a nightmare of work commuters, but today we found ourselves whipping through check-in and breezing through security and instead of standing in queues for a couple of hours as expected, we were in and then slothing around the boarding gates and checking out the airport shopping with heaps of time before our flight.
We ran into several Princess friends, while buying cacao chewing gum at the newsagent, who were also heading to Machu Picchu, but who were travelling on one of the ship's tour buses – they told us they had been up since sparrows fart because they had a one hour drive to get from their hotel back to the airport, and had also catered for the fact that Monday mornings at Lima airport are traditionally madhouse.  When I told one of them that we had got up and simply walked across the street from the Wyndham, she was positively jealous!
Our flight was fine, I sat with two local ladies I think, and unfortunately was allocated the aisle seat – when we came in to land in Cuzco, I was desperately straining to see the mountains out the window, while the lady who had the coveted window seat was busy playing solitaire on her iPad.  Le sigh… Oh well, thems the breaks.
On our arrival we were met by our local guide, Luiz who, (instead silent squee! here…) is a qualified archaeologist with a speciality in Inca history!  I was thrilled to hear we were going to be guided through one of the worlds most important ancient sites by someone with a real passion for this amazing place.  First things first though, it had been a long flight and we were now in Cusco, and at 3.300 m (11,200 ft), I was immediately feeling the effects of the altitude.  Not in the form of any elevation sickness symptoms, but most definitely a heaviness on my chest that made breathing feel a bit difficult.  The cacao gum may or may not have helped with other symptoms but nothing was going to change the fact that I live at sea level, have spent the last two months on a ship and was now sucking in thinner oxygen than I'm accustomed to.  Thankfully, my overly cautious GP had packed me off with a Bricanyl inhaler, which is a bronchial dilator, for just this purpose because I had a bad bout of pneumonia last winter.  One puff on that and I felt like I was breathing as easily as I do at sea level… being perpetually pessimistic and therefore prepared for nearly any eventuality, really does have its advantages sometimes.  
Cusco is a city in southeastern Peru with a population of around 400,000 people; I don't know why I was expecting a quaint little mountain town really, but I was.  It is the historical capital city of the Inka Empire which was arguable from the 13th to 16th centuries (arguably, because historians are aware of the Kilke people who lived in the region for thousands of years before this, but through 1200 -1500AD, they had an increasingly empirical structure).
We took a quick drive through downtown Cusco on our way to our lunch stop which was at a farm/colonial hacienda outside of town.  Cusco is a really beautiful town with red Spanish style tiled roofs everywhere. This waterfall is located at the Y intersection of two of Cusco's main streets – the rondel in the centre represents the sun, the Inka people worshipped the Sun God, much like the people of Egypt and their worship of Ra.  The two water falls joining into one large waterfall is a depiction of the two rivers that now run under the two main streets of Cusco and join at this site.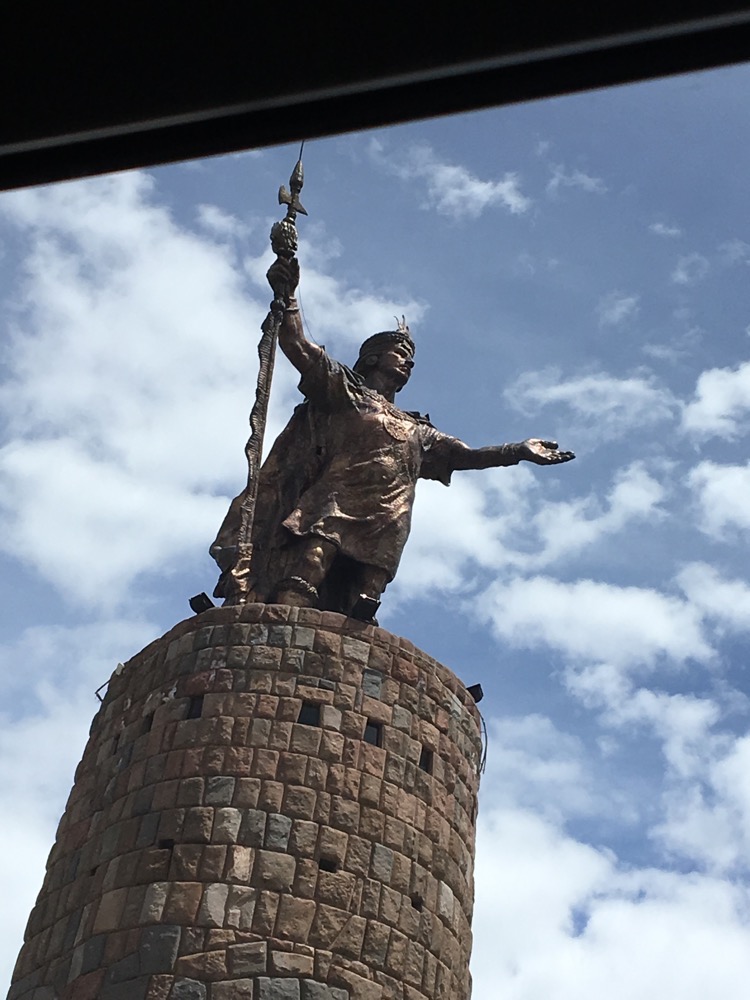 Pachacuti was the 9th Inka King who, according to legend, transformed the Kingdom of Cusco from a quiet city-state into a vast empire called Tawantinsuyu (yeah, no matter how hard I try, I can't pronounce that one).  However, archaeologists feel the evidence shows a slower more organic growth of the city that started well before Pachacuti.  This occurred due to a tradition of split inheritance – when an Inca died, his title would go to his son, but his property and his wealth would transfer to all his relatives, which would then compel each relative to go find new lands to build their own house and as such the empire grew. In 1533, the Spanish conquest occurred and by all accounts, the Spanish seized control over thousands of Inka people fairly easily due to their cavalry, armaments and superior military technology; heralding in the city's colonial period.
Our first stop was a lookout at the We went first to the Christo Blanco – the White Christ, which is placed at an amazing high vantage point that gives fabulous views of the city… and then it was on to lunch.
The lunch venue that greeted us was an unexpected delight… a beautiful old building with a lovely history, and a passion for local food.   
We were greeted by our hostess, Ana Maria Milla Hurbado (what a fabulous name!) and all all welcomed like old friends and made very comfortable.  The room was amazingly beautiful and lovingly presented, and then, oh my goodness, then Ana went through the buffet and explained the dishes we would be sampling.  Ana, as it turns out was born in Peru, but had spent a year as an exchange student in a small town in Kansas, so she had excellent English which she put to good use, sharing her passion for Peru's traditional foods.  Ana has researched and studied the food of the region dating back nearly 14,000 years and our menu today reflected much of the rich cultural heritage of the area.
I had a good long talk with Ana after lunch about the various dishes and she was very obliging in writing some of them down… There was Lomo Salgado – a beef dish with tomatoes, onions, yellow peppers, wine, vinegar, soy, french fries and parsley.  This is the sort of dish that everyone knows how to cook in Peru, and if you ask, everyone will tell you that their own mother makes the best Lomo Salgado.  It was fantastic.
We also had Yuca balls – made from mashed potatoes, stuffed with cheese and deep friend then served with a cheesy, slightly chili sauce.  Warm corn salad – made from a local variety of giant white corn, tomatoes, peas, mushrooms, cheese and olive oil.  
Causa Limena – which was a truly unusual layered dish.  Mashed yellow potatoes made  with puréed yellow peppers and lime juice, then layered with tuna mixed with mayonnaise and layers of avocado, and all presented looking like a lovely cake.
We also had one of 3000 species of potatoes – which out which Ana tells us the global population would be down 200 million on its current levels, served with a spicy smooth salsa verde sauce that was to die for, just the right amount of bite to it.
There was also had pasta with a rich bechamel sauce, a traditional rice dish, a chicken and current scroll dish, and my favourite, the Camote – which are sweet potato chips served with a mango and ginger sauce.  This is a real local dish as well, but also with a bit of tradition about it – people in the region use the word 'camote' for anything connected to crazy beautiful love, that in the first flushes of romance sort of thing.  So they would say, 'Aaah, you have camote for Juan Guillermo' or, 'He is totally camote for her', but it has nothing to do with sweet potatoes! 
All up, it made for a very colourful lunch, and I tried to have a tiny bit of each unusual dish…
Juice made from the purple corn:
Ana and her team of cooks have a real passion for what they do and it was obvious to all.  We had one of the most enjoyable meals I've had in a long time – and this coming from someone who has just spent the last two months being catered to on a cruise ship!

www.laprincesitaeventos.com if anyone is interested.
After lunch we had a quick look around the lovely kitchen gardens attached to the hacienda and then it was off to investigate the area surround Cusco.
We did a bit of a fly by photo stop to see some Inka ruins at the Saqsayhuaman National Park.   And I was a little disappointed not to be able to go in and explore somewhat, but we were on a schedule and I was assured there would be plenty of Inka ruins in store for us.  Our bus ride took us through some amazing countryside through the towns of Saqsayhuaman, Qenqo, Pukapukara and Tambomachay as we traversed the Andes mountain range above the Cusco Valley.
This pass marks the highest point that we were going to be travelling through, and also the highest point on the traditional Inka Trail.  At 3,700m the air was pretty thin here, and some of us were getting a bit headachy at this point.  Amazing views over the Sacred Valley… so called because it aligns under the Milky Way.  The Inka people were very in tune with astronomy and nature. 
In spite of our hectic schedule, we drove a little further into the Sacred Valley and did get an opportunity to quickly visit the fabulous little town of Pisaq, and a chance to shop in the famous Pisaq markets.  Pisaq too, has some amazing archeological remains surrounding the city in the mountains, and is a very beautiful town… lots of tiny winding streets which our bus driver skilfully navigated – and I mean skillfully… there was bare inches between nearly every corner of our 30 seater bus and brick buildings at some points!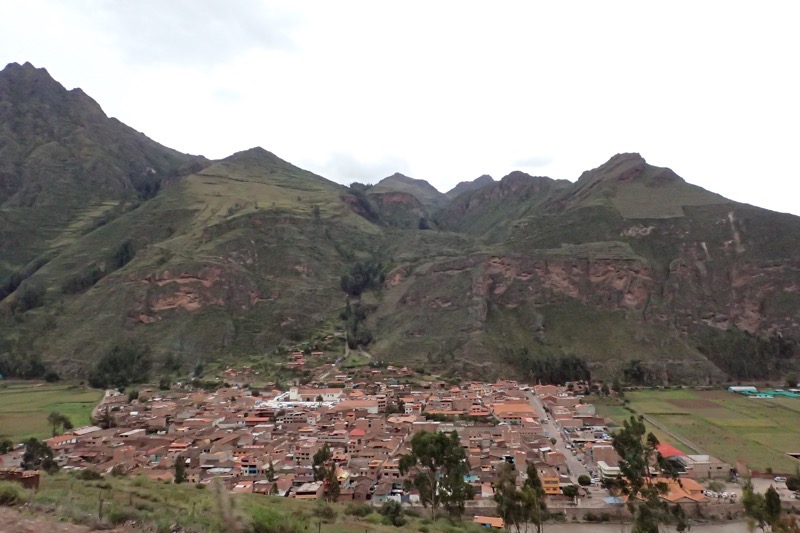 First thing we were greeted by when we arrived at the markets were some children dressed in colourful traditional Peruvian outfits, and carrying baby llamas, inviting us to take their photograph; their mother looking on from nearby.  They looked adorable and of course many of us pulled out our cameras and gave the children some money – this is a common thing in South America… we saw it with the ladies in Cartagena with the colourful clothing and the fruit bowls on their heads and we have seen it other places too.  However, while I think it is nice for the tourists to be able to have an opportunity of seeing some locals in their native dress, it also concerns because these children are effectively being pressed into begging by their parents to make money off the tourists.  Both of these kids were school aged and obviously not in school in spite of it being a regular Monday afternoon.
The markets themselves were so much fun!  We were given barely 45 minutes, as we had a train to catch, to go speed haggling!  The markets were full of beautiful textiles: blankets, jumpers, shawls, ponchos, pashminas, tablet woven bands, table cloths – you name it.  As well as ceramics, paintings, wood work, jewellery, stone carvings and all of it in a multitude of rainbow colours.  We found some gorgeous alpaca shawls and of course had to buy several, with limited time to haggle, we found the best deals were to be had by buying in bulk.  😛  Sound familiar Dr Nick?!   😀
Tablet weaving…
After our visit to the markets, it was back on the bus and driving through the villages of Lamar, Coya, Calca and Urumbama doing some speed landscape photography, before getting to Ollantaytambo, where all the trains leave from to Aguas Calientes – the town at the base of Machu Picchu National Park, where we would be staying for the night at the El Mapi Inkaterra Hotel.  
Not far from the train station in Ollantaytambo, we saw the hotel where our Princess friends on the Princess Machu Picchu Overland shore tour were staying – we had a train booked for 18:30 that would get us to Aguas Callientes by about 20:30, in time for a rather late dinner, but the ship tour stays in Ollantaytambo, and they don't take the train to Aguas Callientes until mid-morning for some reason. Not sure why…?  We walked to the train in a light rain on precariously narrow footpaths and plenty of traffic, only to then find ourselves walking on the train track to get to the right train.  It was very hectic!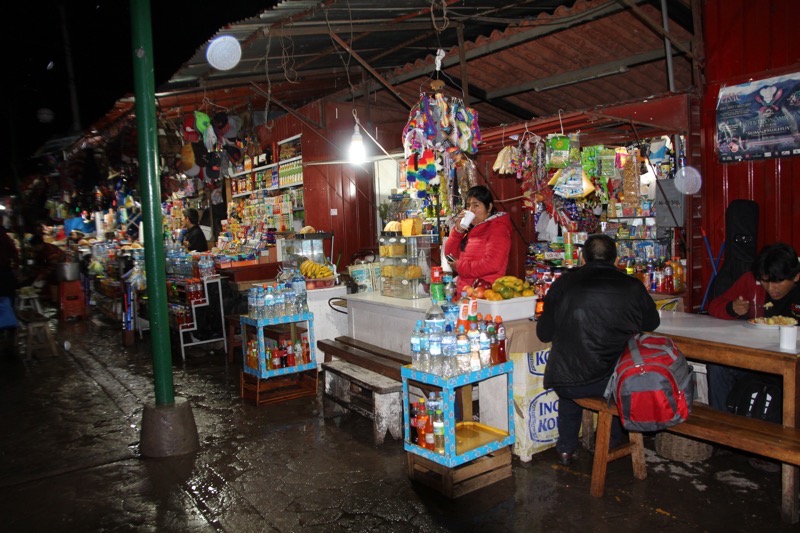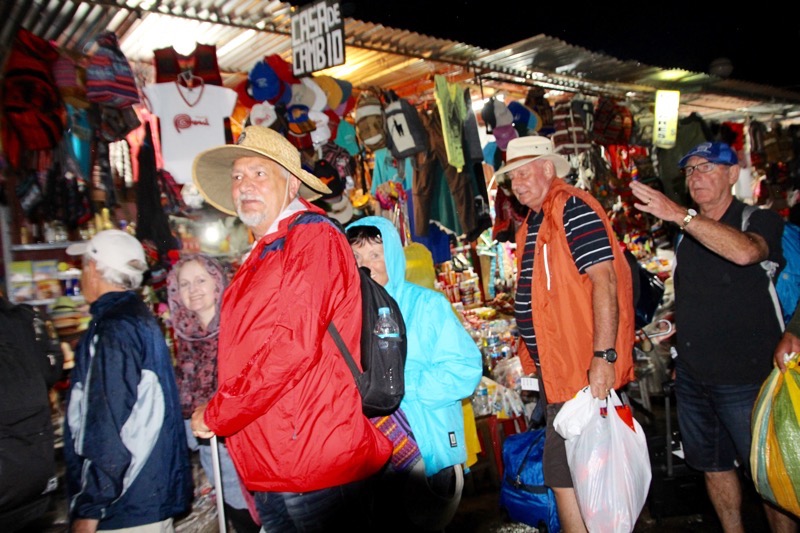 The train trip went okay, we were all feeling the full on, 'planes, trains and automobiles' theme of the day by this point, but were buoyed by the expectation of the adventure to come tomorrow.  The trains are all fitted out with glass domed roofs, but given our train ride was at night – there was not much to see. Our view on the way back was promising to be more interesting.   We arrived to Aguas Callentes amid a real buzz that felt like complete organised chaos!  It was raining a little, dark, and there were hundreds of people alighting from the train, collecting their luggage and then trying to find their way to their hotels.  The town itself has no transport within it – it is pretty much a pedestrian town with a huge set of rapids running through the middle of it, and a train station.  We all marched like ducklings following Jaime to the El Mapi Inkaterra hotel, where we had a speedy check-in process in what turned out to be a lovely modern hotel…
… and then it seemed barely minutes after arriving, we were sitting in a lovely terrace restaurant and being served a gourmet meal, with a free pisco sour and (very importantly) free wifi!  😉 Delicious soups, quinoa tabbouleh, lamb shanks and lemon pie for dessert.  In spite of having had a simply delicious buffet lunch, most of us enjoyed a lovely dinner as well.  

By the time dinner was over, the rain had stopped and a few of us went for a wander around the wee village.  Everything looked like it had been washed clean, and while many of the shops were closed, the restaurants and bars were mostly all still open.  The town is a crazy blend of cultures and influences and it is like no where I have ever been.  Cute little cobbled laneways off the two main streets, and a square in front of a large church.  I was very much looking forward to exploring more here tomorrow. 
Pachacuti welcomes you to Aguas Callientes and the gateway to Machu Picchu… it was about this point, that I was in disbelief that we were actually here.
There were a couple of people in our group who were starting to feel the effects of the altitude during the day – one friend ended up being sick on the way to the train, and a couple of others were having some issues with breathing, but seemed to be revived with a bit of oxygen. So far, I hadn't had any problems – I had been drinking the cacao tea, chewing my cacao gum, and had a second dose of Bricanyl before bed, which seemed to be enough to keep me on an even keel. I had a bad headache, but honestly couldn't tell you if that was from the elevation or from my crappy neck/back being jostled around on buses all day?!  So it was an early night all round – we had alarms and wake up calls all sent for 06:00, so we could have time for breakfast and checking out in order to catch a bus up to Machu Picchu for 07:30!