Sao Salvador de Bahia de Todos os Santos… (or just, Salvador), is the sprawling capital city of the Brazilian state of Bahia. (Did you know that Rio de Janeiro is the capital city of Rio de Janeiro state? I didn't.  It's just like New York, New York thing.  Ship trivia is good for something, I guess.)   Salvador is one of the oldest in the Americas and was one of the first properly planned cities, as in… they actually thought about it before they started significant building.  The city is constructed over fairly rugged, defensible terrain  and it is built on two levels – forming the Cidade Alta (Upper City), which consists of the old Historical District, and the Cidade Baixa (Lower City), which is comprised of long avenues that border the coastline of the Baia de Todos os Santos – Bay of All Saints. 
Our ship was arriving late (due to one diesel generator being out and a struggle against strong currents), and we thought we were going to miss our tour group.  It turns out I have no idea what I am doing because I had booked a private tour apparently, and I completely hadn't noticed.  So our guide, Ronaldo, was waiting for us when the ship did finally come in.  

Anyway, Salvador was established in 1549 as a Portuguese colony by King Dom Joao III, and the area owes much of its early prosperity to extensive sugar cane plantations.  The first governor, Tome de Sousa landed on the beach of Porto da Parra with a fleet of over 1000 people, including labourers, six hundred military, a doctor and Jesuit priests.  While the fleet contained a strong military presence to subdue the indigenous Tupinambas indian people, they brought very few women with them, and perhaps unsurprisingly, this eventually resulted in a demand to the King of Portugal to send brides! Which in due course they did… When the second governor arrived in 1553, he brought more Jesuits and dozens of orphans to be wives for the settlers.  O.o 
Over five millions slaves were transported from Africa (mostly Nigeria, Togo, Benin and Ghana), to Brazil through up until the 19thC to provide labor for the sugar cane plantations, (Brazil was the last country to outlaw slavery in 1888), and the Afro-Brazilian cultural heritage here is a unique blend of African, Portuguese and Spanish. Over 80% of the population consider themselves African/black, and Salvador has the largest number of African descendants in the world (followed by New York).  This influence is particularly evident in the art, music, food and religion… The religion thing is interesting – there are 365 churches in Salvador, most of them are Jesuit/Catholic, but the people are also 'Candomble', which means that they are predominantly Christian, but they have animistic traditions that blend to form rituals that involve direct communication with the spirit world. They have gods of water, fire, health, medicine, agriculture, all sorts, and I am not sure how that gels with the God (capital G) of mainstream Christianity, but they are a very spiritual people.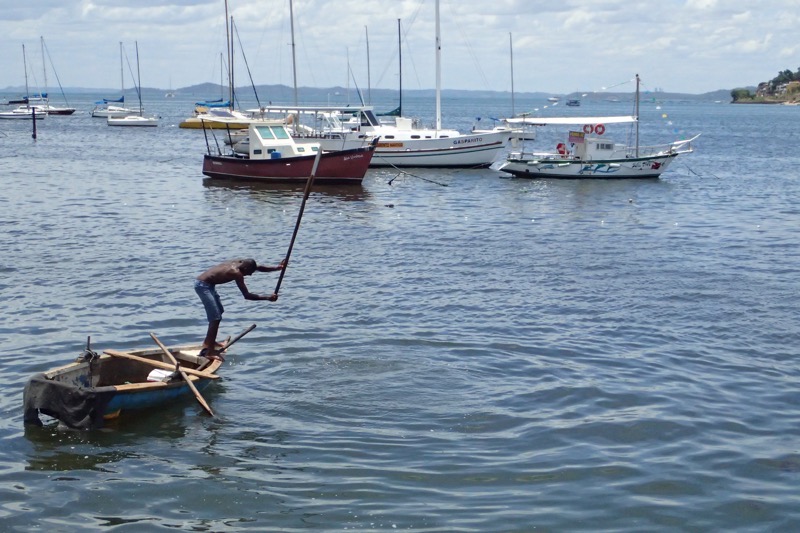 Salvador is mostly known for its colonial architecture (which feels predominantly 16th – 19th C European), its food, and its music, (which is a hedonic blend of Spanish, Portuguese and African), and its Carnivale! Salvador's Carnivale is, according the the Guiness Book of Records, the 'world's largest street party' and rivals Rio de Janeiro for numbers every year – this year they expect 2 million attendees, in a city of 3 million people. According to Ronaldo, Rio is where tourists go for Carnivale, Salvador is where Brazilians go for Carnivale.  And wouldn't you know it – we are here right at the beginning of Carnivale, shame we won't be here overnight!
We started our sojourn taking a drive around the Lower City along the coastline, towards the Fort; where on one side of the bay we could see the neglected, but once highly affluent areas of the Lower City, juxtaposed quite sharply with the favela neighbourhoods just across the harbour.  Salvador has one of the highest concentrations of favelas in Brazil as a result of social inequality, unemployment, violence, lack of street lighting, and disorderly urban growth. While we were walking along the marina, beside us were very beautiful, but dilapidated, colonial architecture homes which are in stark contrast to the sprawling favelas we could see climbing the hills just across the bay.
As we were walking past, the most unusual scene unfolded in front of us… a domestic squabble the likes of which I haven't heard since DYC and FFH lived next door. An older woman was rounding on a younger woman like a person possessed: screaming, yelling, pushing her about.  I said to Ronaldo, 'Oh no. I think one of them slept with the other one's husband.'  He said to me very surprised, 'You speak Portuguese?'.  To which I replied, 'No, but what else would set women to screaming at each other like that in the street?'  He said that I was right, the younger woman had slept with the older woman's husband.  *shrug*  People are people the world over. 
Then we head off to see the famous Igreja do Senhor do Bonfim – the Church of our Lord of Bonfim, which is a Catholic church located on the Sacred Hill on the Itapagipe peninsula. The church is considered a Catholic temple, and for the people of Bahia it is the greatest centre of the Catholic faith, right up there with St Peter's in Rome.  The church was built in the 1750s in a typical neoclassical style with a rococo facade; having usual two colonial bell towers on either side of the frontage.  The church stands prominently on the hill and it is easy to see why it became one of Salvador's most famous churches, just by its dramatic location alone.  
People flock to the Church of Bonfim to tie printed coloured ribbons the fences and gates of the Church and you tie the ribbon, you make three wishes… traditionally for health and/or prosperity etc,. They believe when the ribbon falls off the fence, your wishes will come true.  It is also not unusual to see people wearing Bonfim ribbons, carrying their wishes around with them, waiting for them to fall off.
17thC Portuguese ceramic tiles…

The sacristy,
Water font used as part of cleansing and washing rituals…
My 'wishes' – the yellow one in the middle.
After this we made our way to the Bahia's oldest fort, the Santo Antonio Fort built in 1598, right along the Barra waterfront with amazing views down to Bon Voyage Beach. Nearby was a coconut vendor and we were able to stop and have a refreshing drink… did I mention it was in the high 30s and about 85% humidity today?  You'd think, being from Brisbane, that we wouldn't be too bothered by heat and humidity, but when you'e out and about, and trying to see everything in a short period of time, it's just draining.
Bon Voyage Beach…
Markets on the drive through the Lower City:
Following our stop at the Fort, we made our way back through the Lower City to the Elevator Lacerda, which is one of the world's first urban elevators.  It was opened in 1873 and when it opened it was the highest elevator in the world at 63m (272 feet).  It connects the Prace Cairu in the Lower City with the Praca Tome de Sousa in the Upper City and carries approximately 900 thousand people every month!  The trip in the elevator usually costs 15c of Real (about 5c USD), but for the Carnivale, the elevator is free.
At the top of the Elevador Lacerda, is the iconic Pelourinho district which is the heart of the historical centre of Salvador, with its beautifully preserved colonial architecture and winding cobblestone streets.  The Largo Pelourinho is where much of the city's slave trading occurred and the steep cobbled square is also where public floggings are reported to have been played out: the word 'pelouinho' apparently means, 'whipping post' (which is both fascinating and disturbing).  Much of the Pelourinho district has been declared as World Heritage by UNESCO.  Actually, a great deal of South America seems to be heritage listed; makes me wonder is there a single man made thing in Australia that has made the UNESCO World Heritage list? Probably not.
Rio Branco Palace in the Tome de Sousa Square is at the top of the Elevator Lacerda and was the first government building started by the first governor general, Tome de Sousa, in the mid 1500s. It was originally built in a Renaissance style, but has been rebuilt in the 18th and 19th centuries to be more neoclassical/French style.  The building served as the City Hall and seat of government, but also as a barracks and prison. In 1912 the palace was bombed by the republican reformists, so it has been totally rebuilt anyway.  Today, you can't get a decent photo of the building, as the Tome de Sousa Square is covered in bright coloured ribbons for Carnivale.  
Terreiro de Jesus is the main square beside the largest cathedral in the Upper City.  The square is currently all decked out for Carnivale and that means, the Cathedral is boarded up for its own protection.  We were unable to enter the Cathedral, but it was interesting to see all the locals making their preparations for Carnivale – food and drink stalls all in the streets, decorations everywhere and a party atmosphere.
From here we wandered into the winding, cobblestoned streets looking at the shops, the decorations, the beautiful colonial buildings and indulging in some people watching. It was fun to just listen to people chatter excitedly (even though I couldn't understand a word!), and hear/feel the music emanating from every building and all the speakers on the street.  There was a strong police presence everywhere from about four different branches – the army, the police, the civic police, and the volunteer police!  So security felt tight, but I'm not so sure this place was very safe.  With Salvador attracting tens of thousands of visitors every day, there was no doubt pickpockets and muggers not far behind them. 
Notice about sexual harassment that was given to tourists on a handy fan.
Locals getting ready for the influx of people for Carnivale. 
Winding cobblestone streets.
The Ghandi group selling souvenirs (no idea what Ghandi has to do with a street Carnivale in Brazil, only from what I can ascertain, any group of people can get together over a common interest and create a troupe to dance and parade together – and these guys like Ghandi's message of peace and love).
We stopped for some lunch at a restaurant called Uaua restaurant (pronounced 'oo-wah oo-wah') for a simple bite to eat.  We had some cheese balls with mango, and a beef or chicken dish with carrots and chokko.  I haven't had chokko for about 20 years, my grandparents had a chokko vine at their house in Toowoomba and I don't remember liking it very much, but this was quite pleasant.  We also decided to try the un-pronouncable, 'caipirinha' ( [kajpiˈɾĩj̃ɐ]), which is a national cocktail made of cachaca, lime, and sugar syrup, served on ice.  Even though it was quite strong, it was very refreshing.
After lunch, we wandered the streets a little more enjoying the atmosphere, back up the cobbled streets past more Carnivale preparations towards the Sao Francisco Church.

On the way we stopped and tried some fresh coconut milk with lime juice – it's delicious, and thanks to this sign, I had 'put the lime in the coconut and mix it all up' going through my head for the rest of the afternoon!

A shop owner dressed as a rich Bahia woman for the Carnivale… white was for wealthy people, and colours for working class people.
On the way to the Sao Francisco Church, we encountered some locals kicking off the Carnivale for the evening.  They were brightly dressed in orange tops and rainbow coloured skirts, dancing in the street with the sound of African drums reverberating through the buildings.  Their faces painted in bright coloured make up with lots of glitter, the people were all ready for tonight's party.  
I also saw these gorgeous little girls dressed up to participate, but they were drawing so much attention that they were too shy to dance.  🙂  I was very gratified to see them wearing hearing protection if they were going to be surrounded by these drums for hours.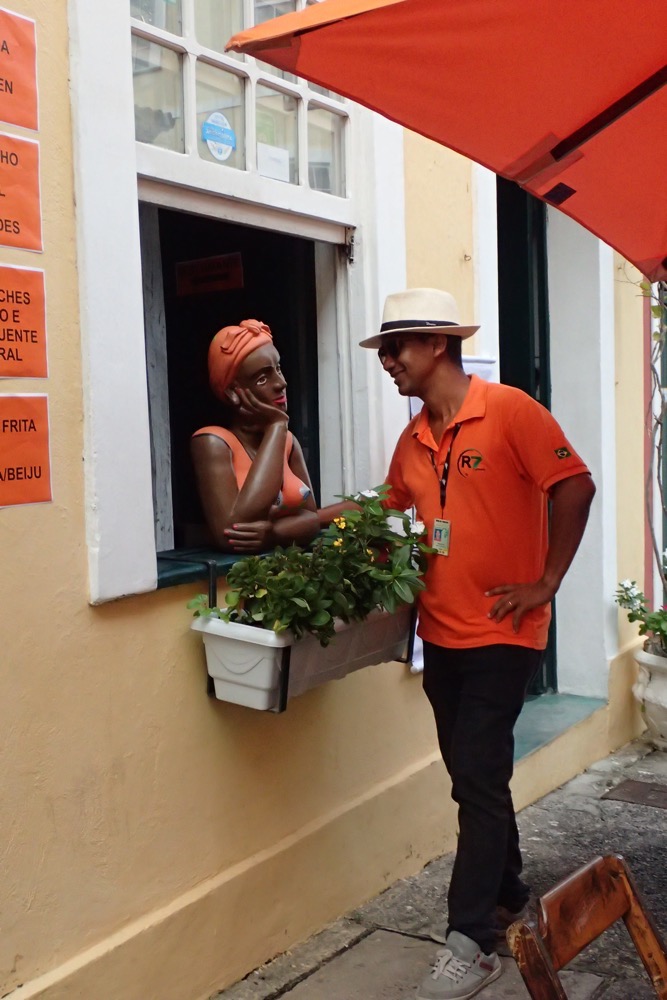 The Sao Francisco Church was built by affluent sugar traders in 1723, it is known as one of Brazil's most impressive churches due to its majestic sandstone facade, and lavish gold baroque decorative interior.  Lavish being one of the understatements of the year at this point.  We entered the foyer and were immediately greeted with some very fine frescoes and paintings in enormous timber frames.  Through from there, was a large cloistered courtyard surrounded by more of the beautiful 18th century painted Portuguese tiles that we saw at Bonfim.  It was odd to see such a familiar style of architecture that you can see in monasteries all over Europe, that has been appropriated and given over to a Portuguese style of decorative art. It was unusual and very interesting.

Then, we stepped inside the church itself… it is hard to look at these lavish and obviously very rich churches and stop yourself from wondering how much did all this cost, and how any people were starving at the time it was built? It is most certainly a stunningly beautiful spectacle, and an amazing combination of artistic skill and expression, but at the moment, it is falling into disrepair.
The frescoes in the lobby are in need of restoration, they are showing signs of extended exposure to light and humidity; the tiles in the courtyard are showing signs of deterioration and in bad need of renovation before they fall from the walls and become unrecoverable; all the ornate gilt timberwork in the church is covered in a layer of dust, which attracts moisture and then causes the gold work to tarnish.  

 This place is a treasure and is a hugely important part of the region's history, but it needs an enormous injection of cash and a lot of work to keep it for future generations. But at the same time, how can modern Brazil justify that sort of expense, when right outside this historic district are areas of abject poverty?  It's a conundrum; the modest entry fee and the occasional fundraiser are not going to be sufficient to save this place from the damage caused by time.  It is beautiful but also somewhat sad.
Back out on the streets and preparations for Carnivale were still ongoing.  More street hawkers were appearing, and more tourists/participants were showing up with their party shoes on and dressed in costumes.
I don't know what this guy is supposed to be – but I bet he had a ball being it!
It was already about 4pm by this time, and we wanted to head back to the ship by 5pm, so we made our way back to the elevator to go back to the Lower City to have a look around the Mercado Modelo; a large undercover handicraft market.  It is always very interesting to see the different crafts that people make in different parts of the world – here there are lots of typical souvenirs (magnets, mugs, shot glasses, t-shirts), but also lots of handmade crocheted table runners, ceramic dolls, beaded necklaces made from coconut shell, brightly coloured clothing, musical instruments and local pickled chilis.  Markets like these are always a feast for the eyes and potentially an assault on the nose… but this market was so hot and stuffy, I thought Aunty Mary was going to faint on me, so we weren't there very long.
All up we had a fabulous, but exhausting day, in Salvador.  Like most places you visit from the ship, you barely have time to get a taste of the city, and it leaves you with a desire to come back and explore more of the place.  While the Carnivale atmosphere is fun, I think I would like to come back when it wasn't full of chaotic energy and you could poke around the back streets more easily.