Valparaiso was a bit of a mystery.  Other than the meagre tidbit that it is a large international sea port, I knew very little about the place, so I had booked us a tour with Patagonia Shorex – which I should probably admit, I booked so long ago, that as I got off the ship this morning, I had no recollection whatsoever as to where the tour was taking us.  So yeah, today, as a travel agent I'd probably make a good brick layer.
We were met by our lovely guide, Dixianna (Dixie for short), who was going to be showing us around.  Dixie turned out to be full of interesting information, which of course is a very desirable trait in a tour guide!  Valparaiso has been an important Chilean city throughout modern history, as it served as a major stopover point for ships traveling between the Atlantic and Pacific Oceans, as they passed through the Straits of Magellan and around the Cape.  The city's 'golden age' saw the area grow enormously as it attracted many European immigrants, from Britain, France, Italy, Germany, and Switzerland – all of these European influences are evidence in the architecture throughout the city.
We first went north towards a township that is adjacent to Valparaiso (the city limit/s apparently run straight through the middle of a public school!), called Vina del Mar – a place where once vineyards were common, but now is a city best known as a major tourist attraction, and the town sees travellers all year round.  Dixie informed us that the area was originally populated by the Chango people, who were nomadic and primarily lived on fishing endeavours.  The first Spanish explorers (I didn't catch the names – Amergo? Amagero? Not sure and can't google it just now) arrived in 1536.  The Chango people originally called the Vina del Mar area, the 'Burned Land' which referenced the frequent bush fires that still plague the region.  Thankfully, nothing looked even remotely of recent bush fire activity, and instead we went to visit what we were told is South America's first 'flower clock'.  It is currently planted with red and pink flowery things (big gardener type, me).  The flowers are changed every three months apparently, and there is a tunnel beneath it for maintenance.  Personally, I don't see the significance of such things, but I've stopped and taken photos of many a weirder town monument, so there it is.
As mentioned earlier, Vina del Mar is a huge tourist town, and it's wide esplanade is usually bustling with tourists enjoying the seaside restaurants and shops.  However, this week, the ocean has been particularly rough, and the waterfront area was completely closed to pedestrian traffic. No storms or anything, just really huge waves rolling right up to the town's edge. In recent years Vina del Mar has frequently had to close the waterfront area due to the rough ocean weather crashing onto the breakfront… This is largely due to climate change – historically this sort of weather was very rarely experienced, but it is becoming increasingly common and is causing severe erosion. The town is constantly taking measures to repair buildings and walkways that were getting damaged by these crazy high tides and the brutal onslaught of the constantly crashing waves.  Houses and buildings in lower income areas that are affected by the rough seas are generally either left derelict or repaired slowly over time, but the fancy art deco casino and the lucrative public boardwalk shopping and restaurant areas are always repaired very quickly.  It is becoming a very significant concern for local authorities, and the local constabulary will fine people that go past the barriers that are put in place for people's safety.
Next we went to see a genuine 'moai monument from the Easter Island that was relocated to Vina del Mar at great expense, and after much negotiating with the Chilean government and the local tribal councils on Easter Island'. I guess Dixie wasn't to know that we have all recently just visited the island and seen hundreds of the enormous and impressive monuments in situ a few days before; she was genuinely puzzled that no one seemed particularly interested in the lonely monument that to us seemed sadly out of context, set as it is, outside the Fonck Museum.  Instead, we spied the spire of a nearby church and all wandered around the corner to see what it looked like.  The church was beautiful, with it's gothic style architecture, select stained glass windows, mosaic tile floor and beautiful timber and gold nave, and quaint confessionals.  Again, our poor guide was puzzled at our interest in the church, and I found myself explaining that in Australia, many churches are unfortunately designed in the same style as a 1960s brick toilet block, so sandstone churches such as these are quite rare for us, whereas Dixie shrugged and said many churches in Valparaiso look similar to this one.
After the church we made a quick stop at a botanical garden that leads to a huge modern amphitheatre that was preparing for the music festival that was starting soon, and then we hit the road back to Valparaiso proper.  Along the way, I caught glimpses of some of the city's famous street art.
As we drove along the highway that connects Valparaiso and Vina del Mar, we were informed that the port continued to be a significant centre for resupplying and supporting ships during the Californian Gold rush of the late 19thC, as well as being a huge export centre for copper and various produce.  Unfortunately for Valparaiso however,  from the 1950s onwards, there was a fairly significant socio-economic decline after the opening of the Panama Canal, which caused a serious decrease in ship traffic.  Many eminent families moved to Santiago, and the port-based economy suffered for quite a long time.  In more recent years, Valparaiso has started to stage a recovery by becoming the 'Cultural Capital of Chile', attracting artists, musicians, chefs, writers and culture vultures, who have reinvigorated the city's historic districts. The city also has four major universities to attract international attention, and is constantly hosting music festivals and community street art projects.
Our first stop on our return to Valparaiso, was to Neruda House, also known as La Sebastiana.  Located high in the hills of Valparaiso, the house once belonged to Pablo Neruda, the famous poet who had taken over the unfinished house started by architect, Sebastian Collado who had died before finishing the home.  It is now a museum dedicated to the poet, and is full of Neruda's eclectic things from the mid-20thC.  Neruda obviously had a striking sense of interior design, and the house is full of many original pieces of furniture, pictures and objects, but nothing in the house is quite so impressive as the views, visible from every window, over Valparaiso Harbour.  The house was designed to make best advantage of the sweeping panorama below and it is absolutely beautiful.  It was a twisting windy little narrow house built over five floors, and I can't imagine living there with all those stairs, but the views would make it worth it!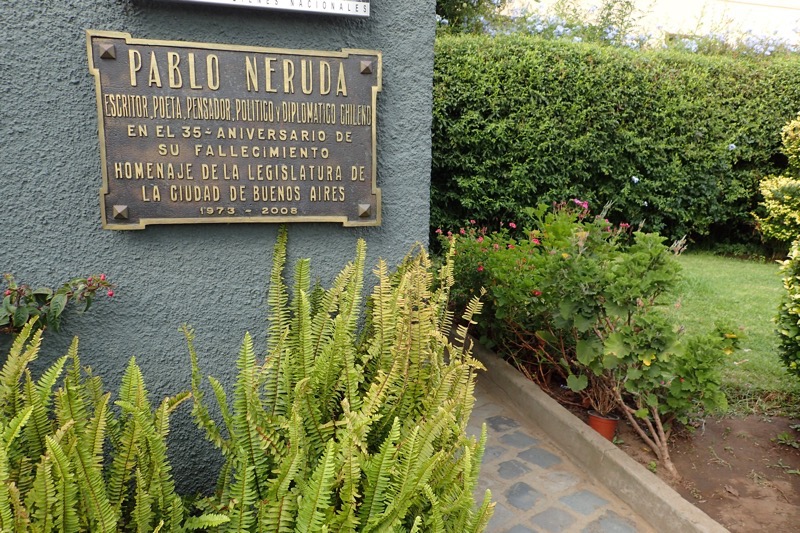 After this we drove further into the historic older district of Valparaiso, with more fabulous street art and more fabulous views of the city.  Tourism now makes up a good portion of Valparaiso's economy as people come to enjoy the cobbled alleys and maze-like streets, the colourful buildings and the creative murals and almost overwhelming amount of street art.
The city is nicknamed 'The Jewel of the Pacific' and its historic district was named a UNESCO World Heritage site, in particular its unusual funicular lifts.  Built onto the steep hillsides that overlook the bay, Valparaiso is a winding labyrinth of narrow streets and cobblestone alleyways, between crazy diverse architectural and cultural centres, there is system of ascensore (funicular) lifts that help the locals get around.  For 100 CHL (Chilean pesos), you can take one of these funiculars up a hillside and cut large sections off your steep uphill walks.  This beautifully kept bright yellow house (above) is at the top of one of the ascensores that take people into the historical district. There are 15 of these rickety old ascensores, that are located in different parts of the city.  Dixie also mentioned there was one other that was not for public use, but belongs to a local hospital. These funiculars are also protected by world heritage status and therefore all kept in (at least, barely) working order.  The most popular spot for tourist is to ascent to the Conecpcion and Alegre historical district, or Bellavista hill which is known as an 'open air museum' as it contains so much street art.
Next stop was this crazy street corner covered with its bright red paint and ceramic tile mosaics, called the Resting Corner or Resting Place, (which is a bit grave, and way less than cheerful in English!).  The Resting Place was a community street project where artists and members of the local community who are interested come together to create a space.  All of the art works are very much encouraged by the city authorities, and Dixie was saying that if you wanted to paint your house a bright colour, all you had to do was tell the council and they would provide the paint and the workers.  If you wanted a mural on your house, you had to apply to do one (presumably for design approval) and they would come paint a mural on your house, but you would be charged a little extra for mural painting.  No wonder the city is so colourful and covered in art work – it is all subsidised by the city.
The rest of our afternoon was spent walking back down the hillside, winding through the historic district and marvelling at the brightly painted buildings.  There were painted tributes to Easter Island, to penguins, elements of Chilean culture, backpacker hostels painted with bright red double decker buses, a Van Gogh tribute, stairways painted like piano keys, a rock sculpture wall, and all mixed in with beautiful views down over the city.   This liberal attitude towards painting the town is evident everywhere and while there is a LOT of graffiti covering the town, none of it is over the top of the beautiful murals.
Valparaiso is certainly a beautiful and interesting city with so many interesting pieces of street art, that I have gone totally overboard with images in this post… and these aren't half of the pics I took!
After this, it was time to head back to the ship – but not before ferreting out a fabric store to try and find some fabric for Aunty Mary's hand sewn quilt that she has been working on.  We found two fabric stores, but weirdly could not find any material that was 100% cotton in either?!  In the end, we gave up and head for a local department store, where we found, in the men's department, a 100% cotton shirt with a print that will do quite nicely, so we bought it to take back to the ship to cut up into little hexagons to be added to her quilt.  Everyone needs a decent project for these long sea days, there's only so much bingo and trivia you can handle!  🙂