Last day on the ship woke up to the most beautiful sunrise I have seen in years. Simply spectacular…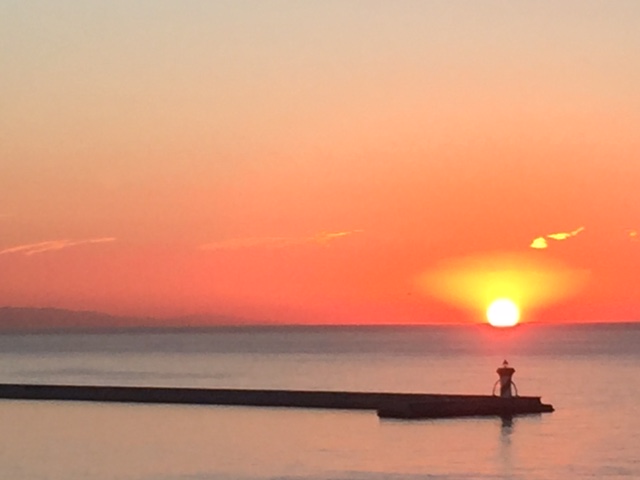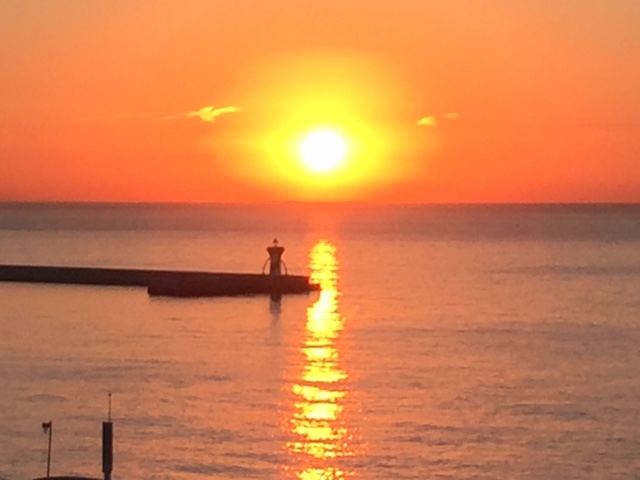 Also woke up to the news of a violent military coup in Turkey affecting Istanbul and Ankara and oh shit – Mum is supposed to be flying to Istanbul in less than 20 hours.  So, of course that meant as soon as we got to decent wifi, I spent the better part of two hours trying to call travel agents, tour operators and travel insurance providers to find out how to cancel, rebook, claim a whole bunch of messy shit to change her plans.  The tour operator – Peregrine for anyone who is interested – were originally adamant that the tour was still going ahead.  That once they got out of Istanbul that everything would be safe enough for their passengers.  They did seem to be overlooking the fact that there were tanks in the streets in Istanbul, citizens rising up against the rouge military, a President holed up at Ataturk airport, and orders to shoot down planes that were not following lawful military commands!  There were over 80 people killed and hundreds injured when I was doing this, and later in the day some 3000 soldiers arrested and court judges exiled.  So yeah, saying you're going to continue with your tour in a country with no stable government seems a bit well, fucking stupid to me.
Eventually, they came to their senses and cancelled the tour and were offering a full refund.  But the whole thing made for an extremely stressful morning, what I am sure is an enormous phone bill, a huge amount of disappointment… and a deep sadness for the people of Turkey that followed us around all day.  I love Turkey, and Istanbul has long been my favourite city in the world.  I hope things settle down for them.
By the end of that it was nearing lunch time… oh yeah, we ate, but you know.  There was jugs of sangria.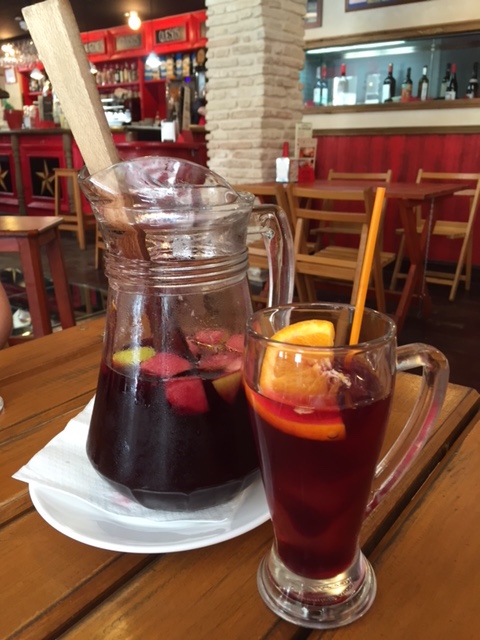 Public fountain on the corner of some building… so cool.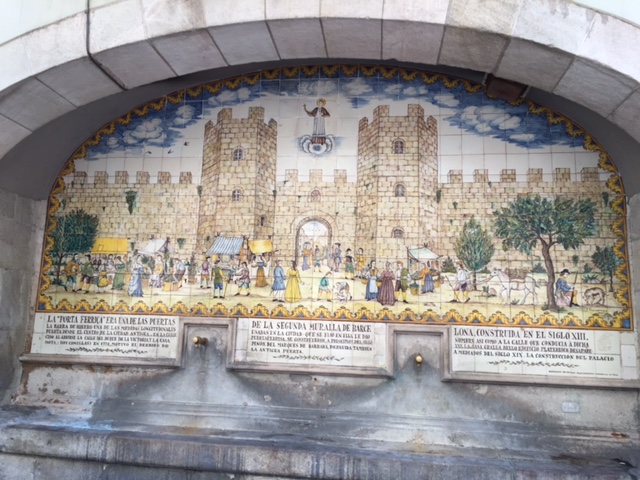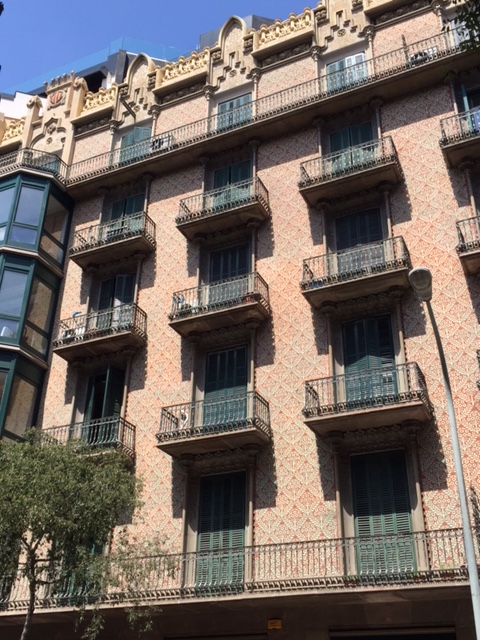 On our way back from the Ramblas area where we found some lunch, we wandered past the Barcelona Cathedral and decided to go in and have a look.  It's a brilliant gothic cathedral and very imposing just in its sheer size.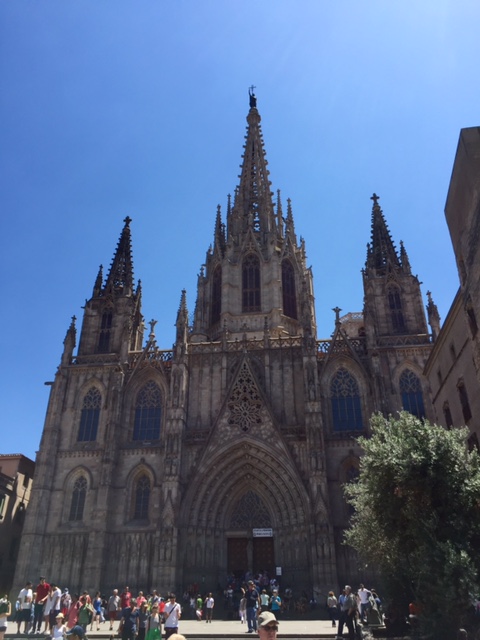 Saints looking down at you as you walk in.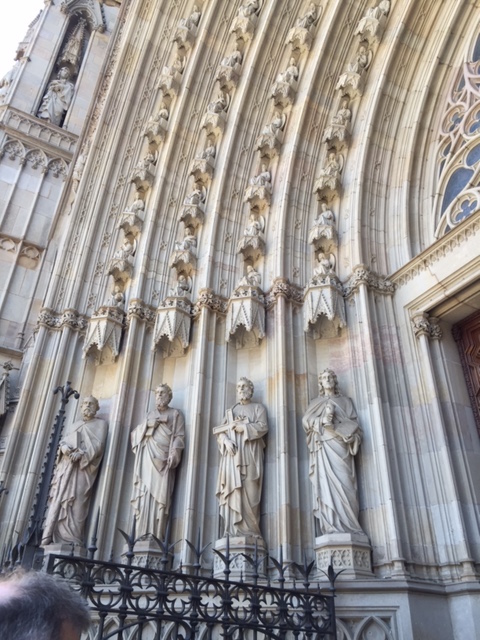 Above the doorway into the cathedral…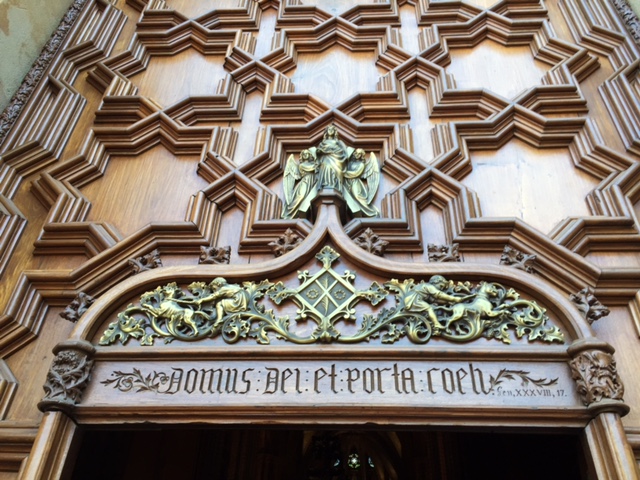 This cathedral has the typical high vaulted gothic arches and is lined with little naves on either side of the main part of the church.  Each one is dedicated to another saint and holds a scene with elaborate paintings, statuary, tapestries, and ornate gold painted carvings.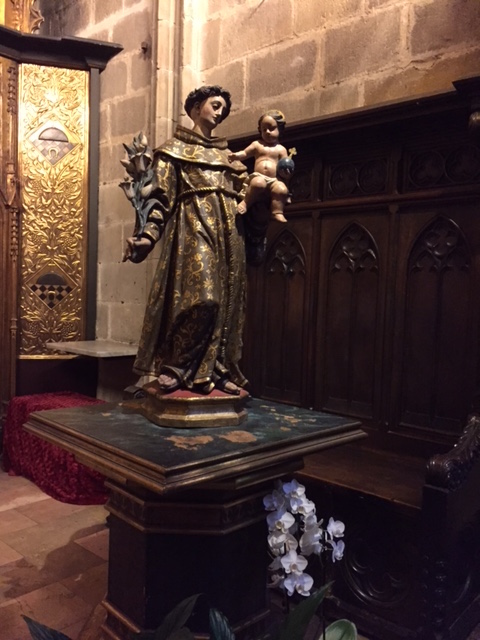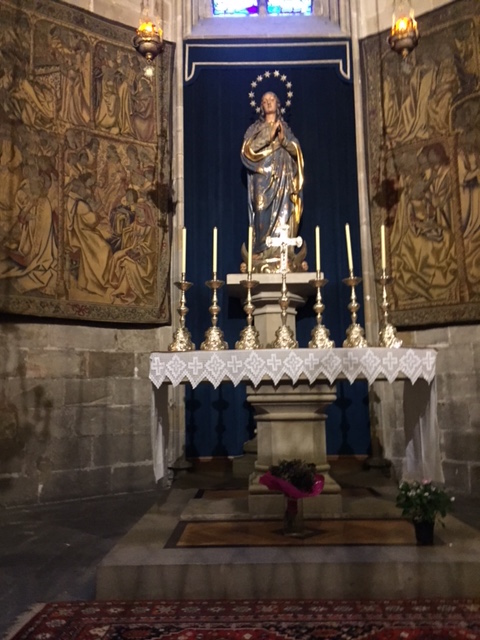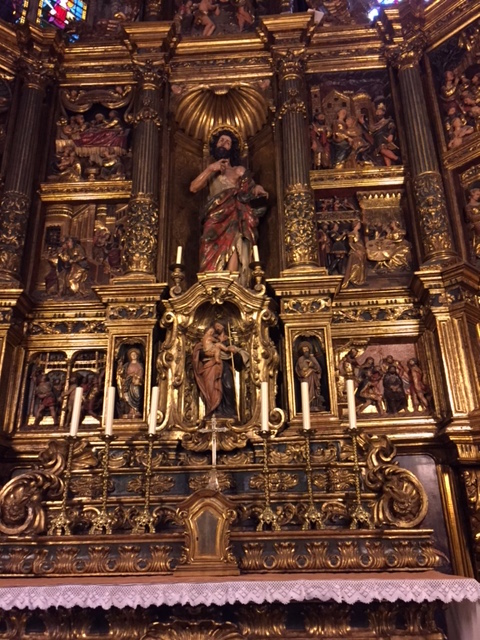 There's a lift that goes up to the roof, so we got a chance to go up and have a look at the city roof tops, as well as see some of the restoration efforts that are happening as they repair the roof.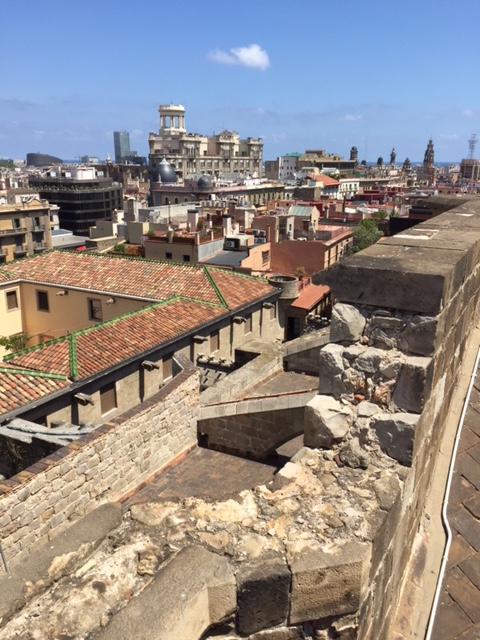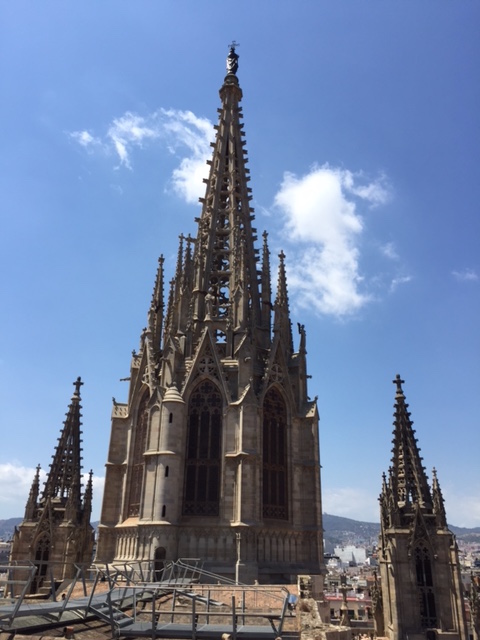 The outside of one of the stained glass rose windows – there are many of these above the buttresses, but from the ground inside you can hardly notice them they are so high off the ground.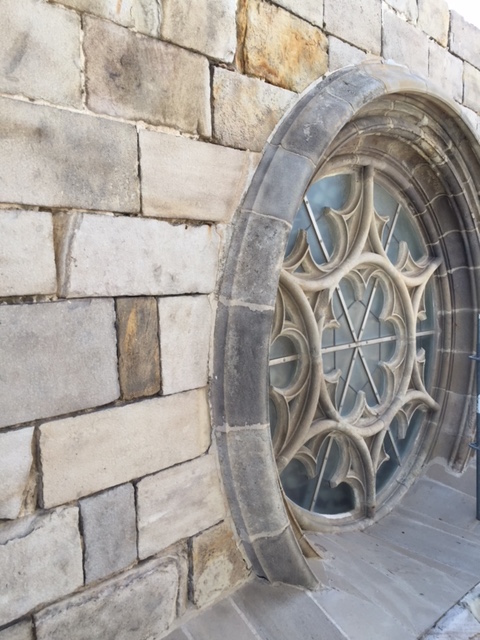 We also had a chance to go out the side where there is a huge cloistered courtyard, with many tombs of important cardinals and bishops, as well as more naves dedicated to saints.  This beggared belief to me – there were 13th-15thC paintings out in the courtyard naves that were not protected, not in humidity controlled environments and just outside!  Bizarre.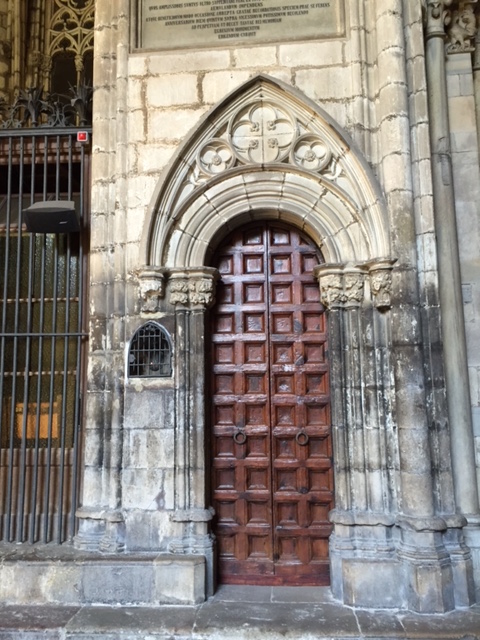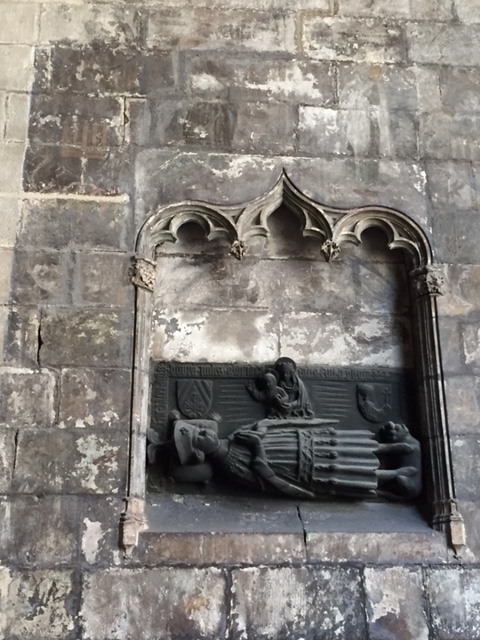 Naves in many nooks to the right…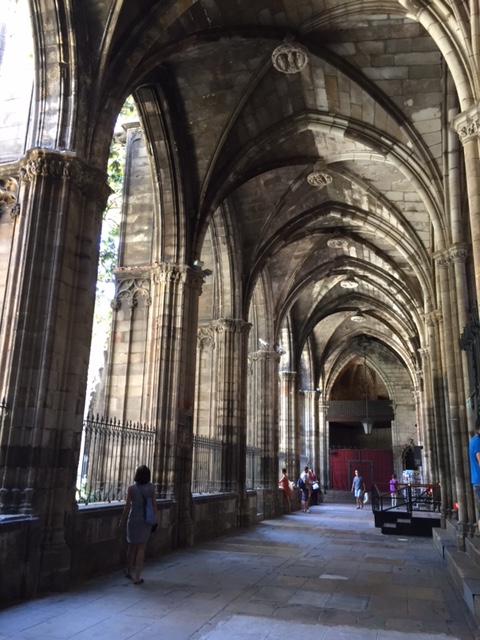 This nave is OUTSIDE!  Paintings and all.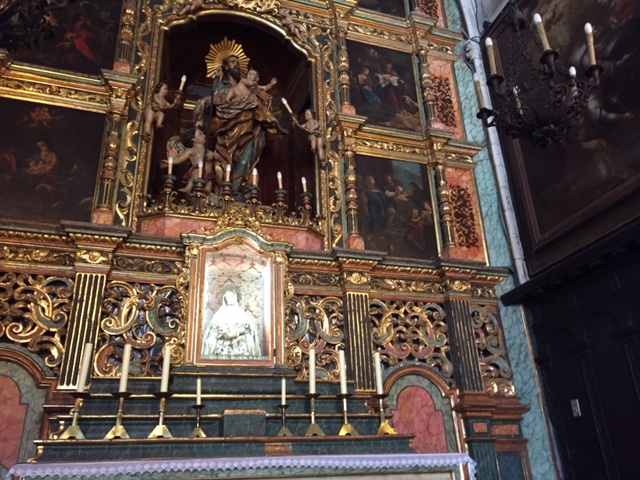 Centre of the courtyard.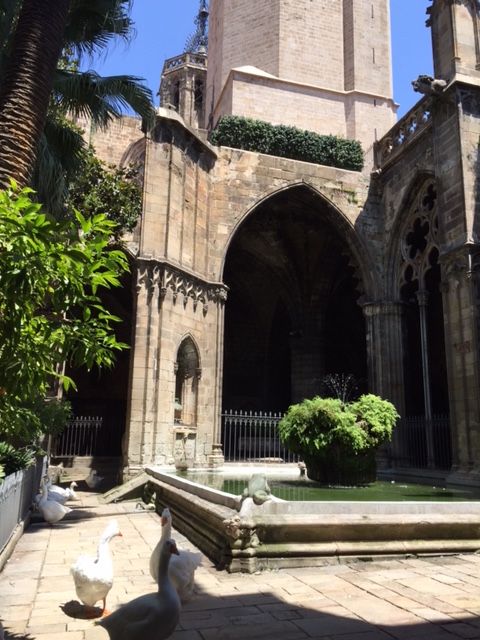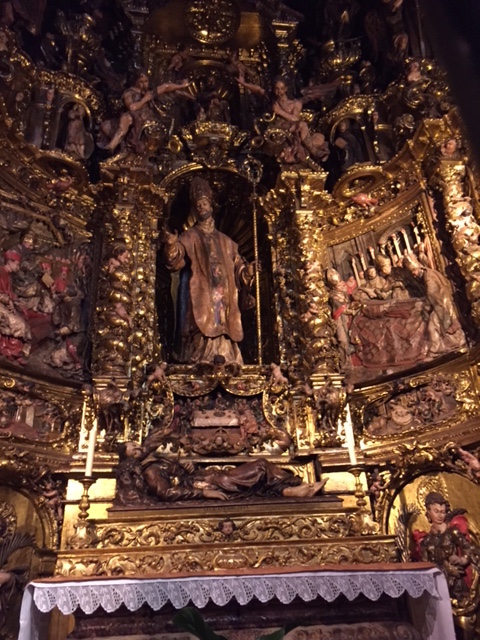 There was also a museum area within the complex, which was a 'no fotos' area.  But we still managed to get a snap of this Rowan Atkinson look alike on the ceiling…

In the centre of the cathedral were stalls heavily decorated with heraldry of members of the Order of the Golden Fleece.  I've seen these images on the internet for years (and yes, have a whole bunch of them on Pinterest under Heraldic Achievements), but it was amazing to seem them all together.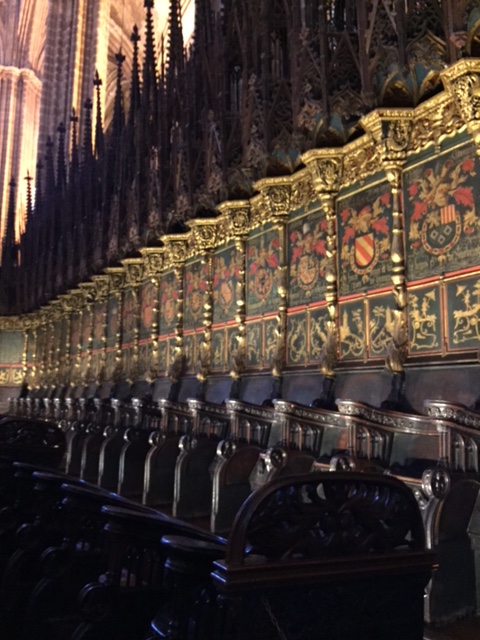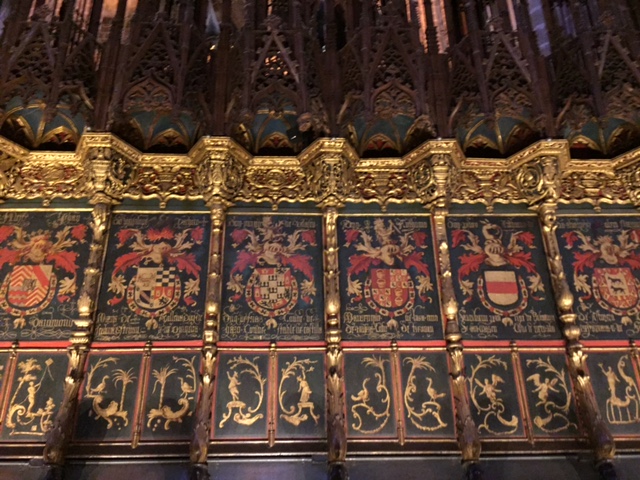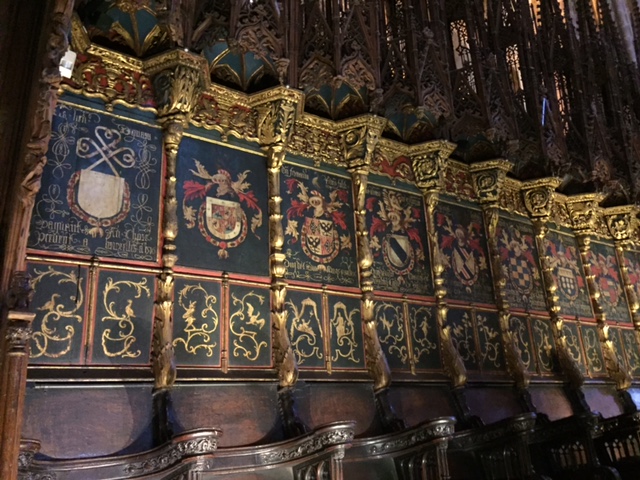 Last nave as we were leaving the cathedral.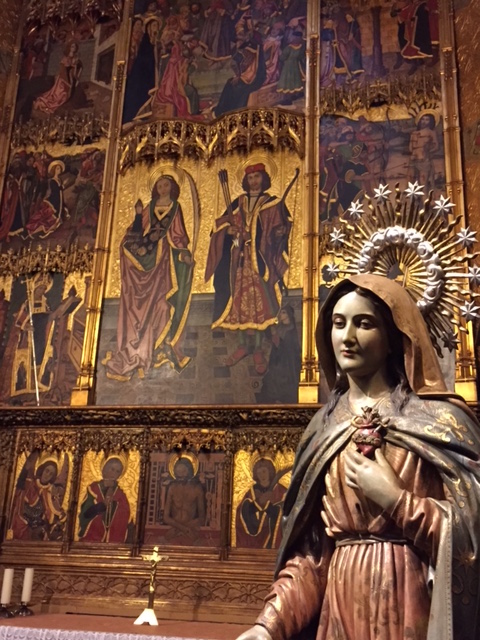 We eventually got back to the hotel, picked up our luggage and then went to find our own hotel.  By happy coincidence – or just me being forgetful – it turns out we have a rooftop pool, and nothing could have been more welcome this afternoon.  We went up for a quick swim, cooled right down, and came down for a bit of a nap before meeting back up with the others for some dinner.
They took us to a quaint little tapas bar that they had found when they were in Barcelona last year and we hooked into the sangria and shared a lot of delicious tapas.  It's called Rebelot, and is one of those dodgy looking places full of old furniture, mismatching chairs and weird stuff on the walls, but seriously good food.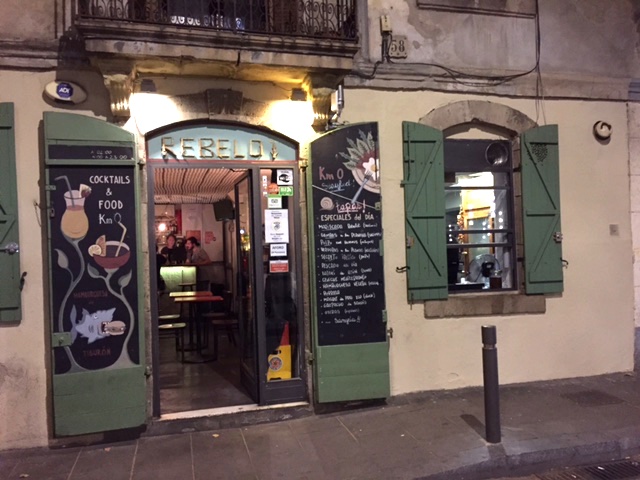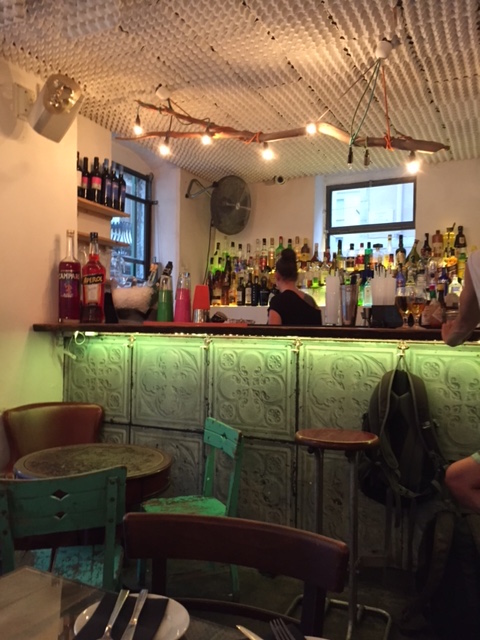 Grilled octopus with chorizo on hummus.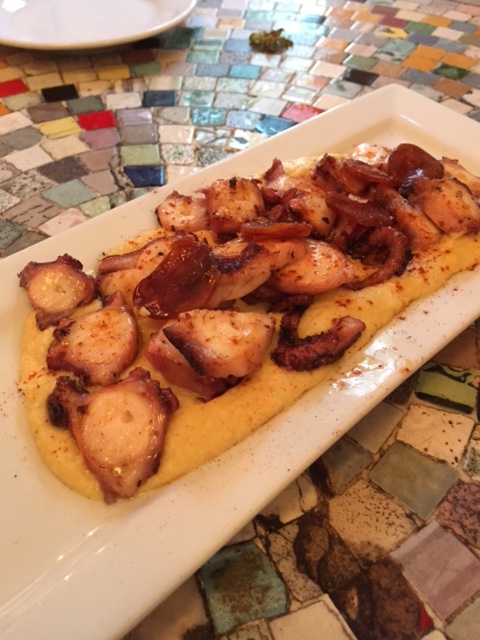 Marinated duck breast with asparagus and orange flavoured puree something? 😛
Mini lamb burgers with cheese, caramelised onions and salad – sans burger.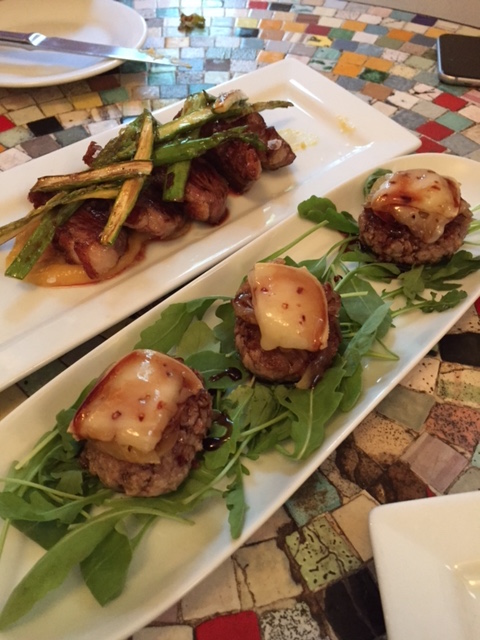 Scallops carpaccio with avocado and tomato salsa with dill or something.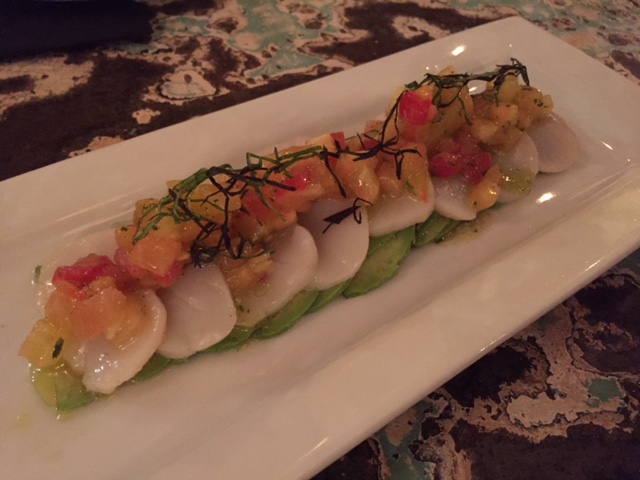 All fantastic – 10/10. Would go again.
It was then onto another bar for more drinks, then eventually back to the hotel.  All up a very stressful day to start with, followed by a bit of touristy stuff, and a great relaxing meal with good company to finish the evening.  I am exhausted – and know not how to say that in Spanish!