"Set within the lapis blue Aegean Sea, the Greek Island of Mykonos is a dazzling gem of a destination.  Dating back to antiquity, sophisticated Mykonos maintains its old-world charm, welcoming visitors with blue- domed churches, whitewashed houses and golden sandy beaches."  And that ladies and gentleman is Mykonos in a nutshell.
We arrived in Mykonos this morning – sun is shining, sky is blue, sea is sparkling, breeze is lovely.  It's perfect.  The ship organised a shuttle into town (a shuttle which btw actually drops you about 1.5kms from town, but so be it), and there we find a winding maze of cobbled stone streets that make up the village of Mykonos.  Apparently the original design of the town's layout was to confuse pirates – but for tourist the winding little narrow corridors that pass for streets in Mykonos provide a beautiful backdrop of white and blue to the cute little town.  We got to town quite early – seemingly before the patrons of the Rhapsody of the Sea that was also in town for today (they were tendering, we had the only cruise ship dock) and managed to have a goo look around before the place got too busy.
Mykonos has only one major historical/archeological point of interest and it is the ruins at Delos on another nearby island which date back to 3000BC.  You can get to Delos by ferry but we were warned that weather could make returning a bit unpredictable given the strong afternoon winds the island gets.  Mykonos is simply beautiful, though, as you would expect, way too touristy.  With streets lined with jewellery stores and items for sale that cost almost as much as my house – you can tell this island, (along with Corfu, Crete and Santorini), is one of those playgrounds for the truly rich and famous.   One of the first things we saw on entering the harbour was a long row of beautifully appointed luxury yachts, which makes you wonder about the people able to enjoy that lifestyle.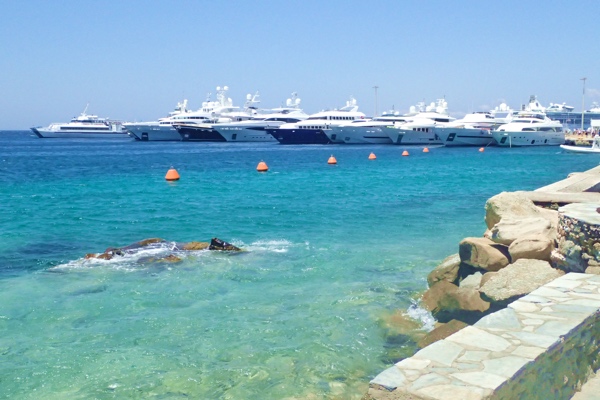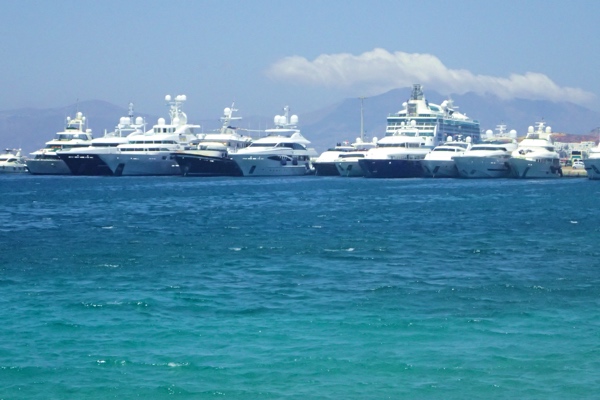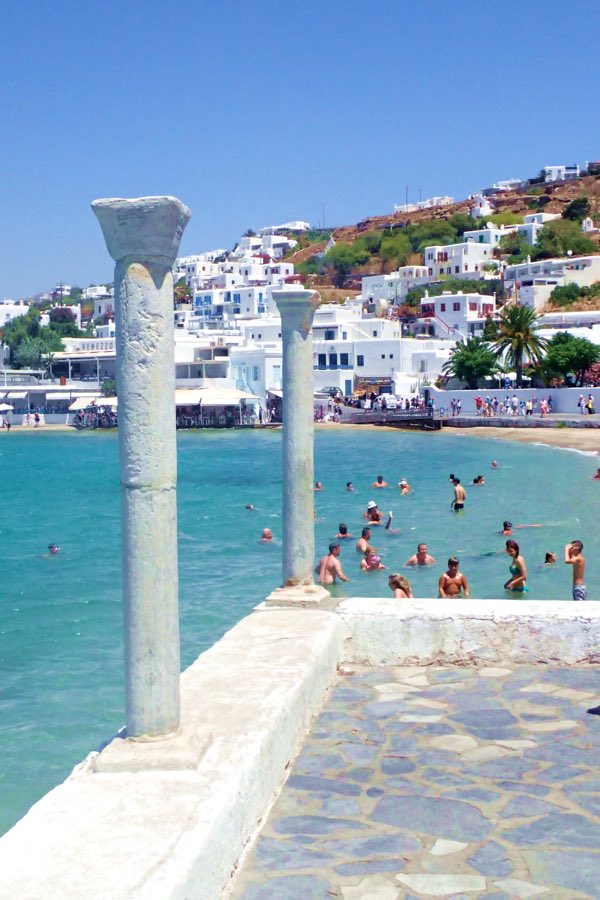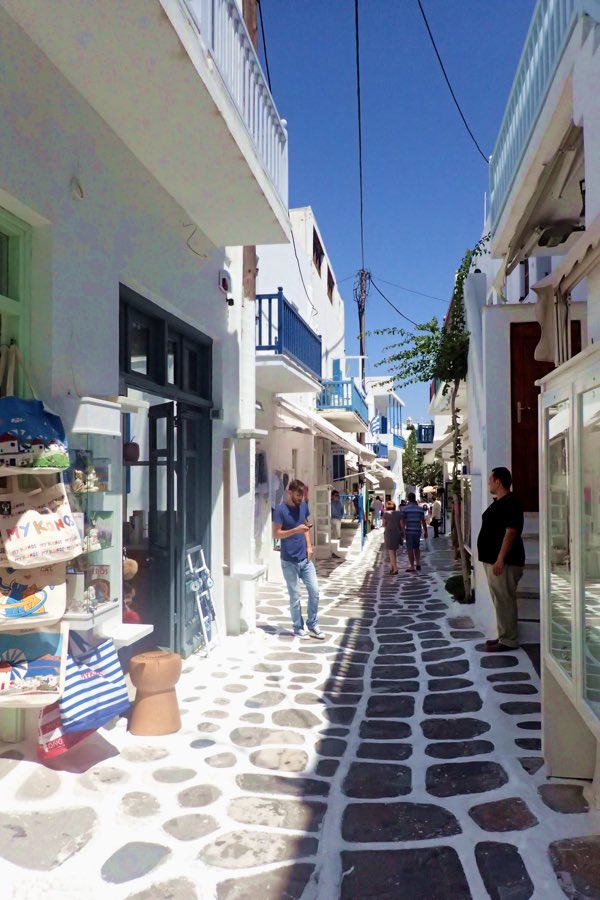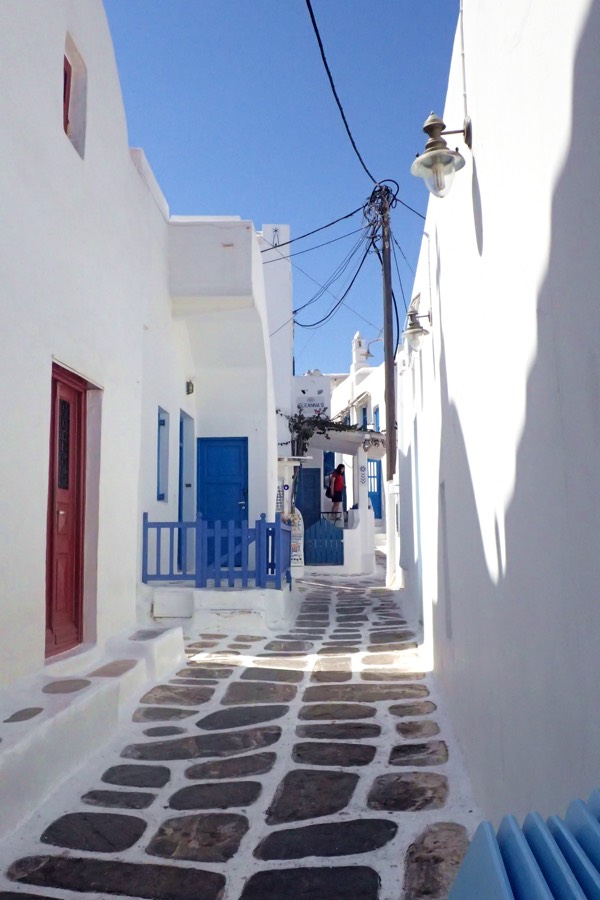 Familia restaurant…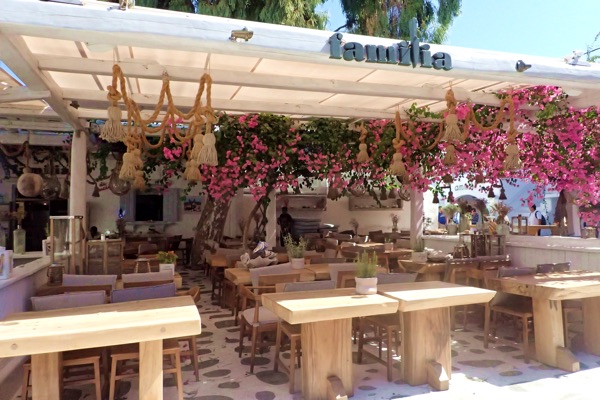 Flowers, white wash, blue paint, lovely lovely lovely!  Must be in Greece!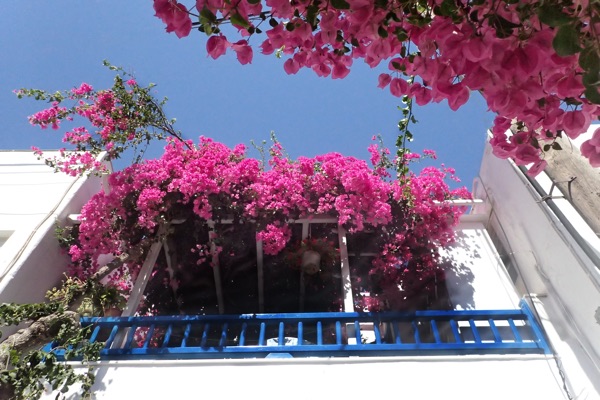 I think I saw this in a coffee table book somewhere…