Weird dreams ahoy!
Just woke up from one strange arse dream.  I was on a mission, a stupid and inane misson to buy (wait for it…) a large orange plastic hippopotamus called Fix Me Hippo that was designed for budding little doctors and nurses to diagnose and cure.  Fix Me Hippo came with a veritable plethora of accessories with which to 'treat' Fix Me Hippo' including stethescopes, dental tools, little pretend scalpels for surgery etc.  The exact sort of toy I always hated for the Small Child when he was smaller as the bits would inevitably go missing or end up underfoot in the dark.
Well, Fix Me Hippo had just gone on sale so I called around to every toyshop in the vicinity trying to locate one for my son… I have no idea why because he's way too old for a toy like that anyway, but we had to have one.  Everywhere I phoned I got told they were sold out or they hadn't received their stock yet. After a dozen frustrating phone call I hit the internet and found a little known toy wholesaler that sold to the public, so I jumped in the car and went to see them.  For reasons beyond my understanding, their toy shop was hidden behind a Flight Centre shop front but I went in anyway, because that is where they were supposed to be.
Inside, I was met by a 'greeter' (hateful horrible waste of time job that is) who pressed her clicker to count me in, and then I went looking for the Fix Me Hippos.  There were large stands of Fix Me Hippo accessories, big cutout displays designed to attract kids attention, a large banner declaring it was the 'Must Have Toy This Christmas', and all the staff were calling each other 'Dr. Melanie' and 'Dr. Mitch' etc, as part of the promotion.  I went up to a counter and asked what looked like one of the more senior personnel, where I could find the Fix Me Hippos. I was promptly told they had heaps of other items in the range, by no actual Fix Me Hippos left and that they weren't getting any more.  Naturally, I asked if they were expecting any more in before Christmas and the Sales Chickie typed something into the computer and said 'That's odd, the system says we have plenty of them, but we definitely don't have any.'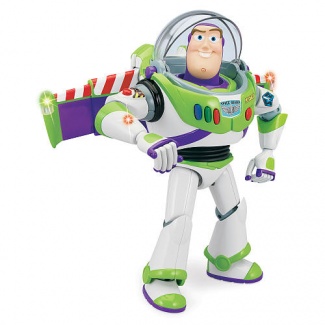 Now, I don't know if it's because I lived through the Buzz LightYear fiasco of the late '90s at the Disney Store, and therefore dealt with more irate parents than you could count, as we had to keep telling them the delivery date was being pushed back and back because the stores down south kept gobbling up the stock… or if it's because I've had an absolute gutful of things not quite going to plan this year and had more than my fill of dealing with ineptitude and bureaucratic fucktardary… but suddenly this Sales Chickie was squarely in my sights.
I asked her, politely, to please check their stocks and see if they have any, especially given their stock system seems to think they are on site.  She replied that there was no point because she knows they don't have any but that I'm welcome to look around the store.
Bzzzzt.  Wrong answer.
It was like a red flag to a bull. I quietly and calmly reiterated my request to this woman to please have a look for the stock. Not only did she repeat that she was convinced they had none, but she suggested I try a competitors store in a neighbouring suburb, which gained her the following response 'Your job is to assist me, the customer.  I am fulfilling my end of the social contract by clearly communicating to you what my requirements are, and you are refusing to look the matter on my behalf… Where. Is. Your Manager?'
Oh yep. It was on. For reasons beyond my understanding I needed the bright orange Fix Me Hippo and no silly little Sales Chickie calling herself 'Dr. Katy' was going to get in my way and piss me off by being unhelpful. She prevaricated and danced about a bit saying she couldn't (I heard wouldn't) help me and told me she was the Stock and Supply Supervisor and that she knew there was no stock in the store. But I didn't care. I was convinced that their system was right (as if!) and was demanding she help me locate the toy. I distinctly remember asking her, 'Are you going to help me here? Or am I going to have to write another letter to people ten rungs above your head?  Because you don't want me writing complaint letters about you 'Dr. Katy'. My complaint letters get people fired. My complaint letters get people evicted. My complaint letters get members of parliament sending me apologies! So where are the goddamn Fix Me Hippos?'  Yep. Borys was on the retail rampage.
'Dr. Katy' by this time getting tearful and backing into her boss' office saying there was nothing she could do and I was stalking after her in noisy high heels (wtf? I never wear heels). She gets to her manager or whomever and called me a 'Customer' – at Disney, all our shoppers were 'Guests'… unless they were being watching as potential shoplifters, or being a right pain in the arse at which point, we referred to them as 'Customers' so everyone knew to keep an eye on them or call for back up to deal with them!  Again I just saw what I like to think of as 'Retail Red'.  It's a special type of rage and indignation that we spare for those whose job it is to assist us in our retail nightmares, but who are particularly ambivalent or obstructionist in their so called 'assistance'. So I told her that as a customer service representative she made a damn good bricklayer, now could someone please find me the damn Fix Me Hippos!
Her pimple faced (?) teenage supervisor went to a large compactus in the room next door and said 'Here you go, how many do you need?' and handed me the much coveted Fix Me Hippo… whereupon I woke up simultaneously thinking "Oh my God!" and "What the fuck?" and "Sigh…I need a holiday."
MIght come back and attempt to analyze a bit of this later, but am unsure I will gain anything from the endeavour that I care to know anyway!  Farkenell.  :S