I have spent some time over this weekend looking for a new watch. You see a few weeks ago, Mr K had the audacity to suggest that my watch, which is 11 years old, might be in want of replacing soon…. and I think it heard him. I've had the same Citizen Ecodrive watch since about May 1998 and it's never missed a beat (with the solar panel face it's never even need a new battery!) until HE mentions that I've had it for quite a while and maybe I'd like a new one. Naturally it's out of warranty and getting it fixed with the complex solar technology in these things is apparently prohibitively expensive so… watch shopping I went.
Normally I rarely set foot in a retail jewellery store… Surly (my brother in law) is the most talented jeweller in the whole damn pizza business so we've often been able to get unique and lovingly handcrafted jewellery items through him. So wandering around the retail jewellers always feels kinda odd nowadays. I managed to find a very lovely watch… it's certainly far more dressy than my old one and is nothing like what I thought I was originally looking for, but I think it is quite elegant and I will no doubt suit me well enough with my manicured nails and expensive looking jewellery. I've already come to think of it as my Flashy Tits watch!!! 🙂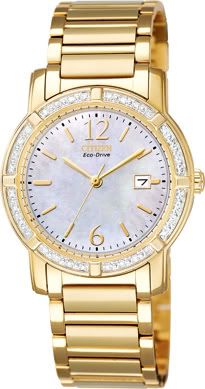 Oh my God! I've just seen what the
RRP
is for this watch!
Never pay full retail people!
Last time I found myself trolling jewellery stores like this was when my Dad asked me to arrange a Christmas gift for my mother when he was wheelchair bound so myself, my little sister Trish and Surly (yes if I thought wandering around retailer jewellers was surreal I can't imagine how Surly felt about it ?!?!?!) hit the shops to find the perfect gift. The perfect gift from a dying man for his wife. Yes 🙁 This was pretty much the task at hand and this was our brief – he wanted a gold and diamond dress ring that was delicate and feminine but well made enough to withstand daily wear and it must NOT look like an eternity ring. He was quite specific on that last point. It was a rather sombre shopping trip to be hitting the jewellery stores with a hefty budget looking for a particular special ring for Dad to give our Mum on what would be their last Christmas together.
So I guess that is another good reason to avoid jewellery stores….